Ultimate Guide To Turn Shopify Store Into App [2023]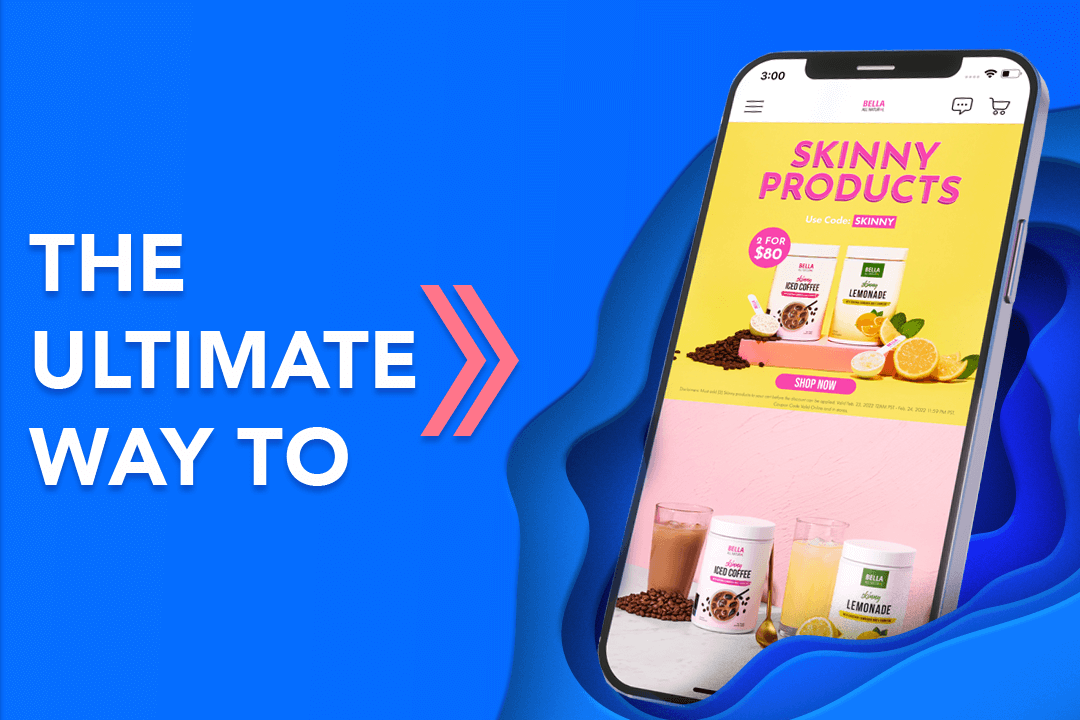 Updated September 2023 to help you turn Shopify store into mobile app.

Commerce has been ever-changing and evolving throughout history. From ancient bazaars of ages ago to today's online marketplaces, there is one strong rule that remained the same at the heart of the subject: Necessity of accordance with the shopping habits of customers.
Every change brings along a natural selection so does the change in commerce. The sellers who satisfy shopping habits survive and thrive. Those who can't get eliminated. Today, a new change has arrived with a mobile. If you want to be one of those who will thrive, you are reading the right article now. Because the survivors will be the mobile sellers, and here we tell you how to do it at its best as a Shopify merchant!
What is a Shopify eCommerce Mobile App?
A Shopify eCommerce mobile app is an application for mobile devices to help consumers browse and purchase products/services online. eCommerce mobile apps can be of one retail store, or connect shoppers to online marketplaces, giving access to a wide range of products from different brands.‌
‌The popularity of eCommerce mobile apps is growing—60% of consumers prefer to shop via mobile apps because of better user experience, and 88% of consumers have at least one shopping app on their phone.
Why Should You Build A Mobile App For Your Shopify Store?
As you know, Shopify is the biggest eCommerce website builder today with +2.000.000 merchants like yourself, using its service. It provides a basic website that also works in mobile browsers, but the effective mobile commerce starts beyond a mobile website.
Long ago, in 2016, Shopify emphasized the importance of converting your store in to a mobile app. Now it's 2023, and that importance got way bigger in past 7 years. Because, a mobile app for your Shopify store converts and sells more than mobile browser. Look at the striking conversion rate difference in favor of mobile shopping apps.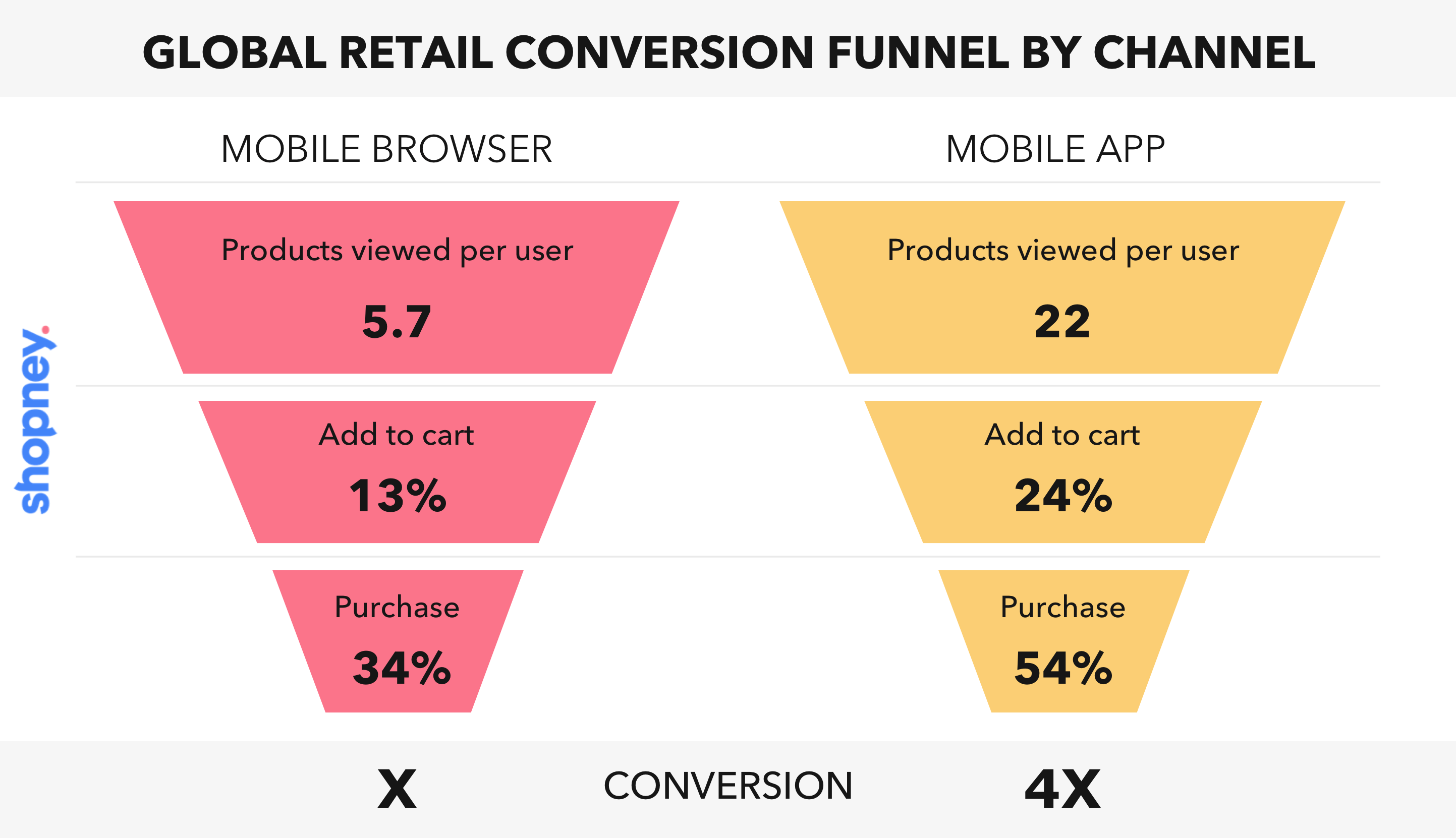 As far as the huge impacts of small differences in the conversation rates concerned, the numbers above are shocking. And they clearly tell why you need to turn your Shopify store into an app.
1. Engage customers better
Mobile apps help provide more data about customers that can be used for personalization, such as age, gender, location, browsing patterns, etc. Such data can be used for sharing personalized product recommendations that help boost engagement and customers' purchasing experience.
2. Collect valuable customer data
Think about the various eCommerce marketing components such as wishlists, comparing products, or getting recommendations. eCommerce mobile applications are better able to learn about user preferences from these features and provide personalized shopping experiences. Mobile apps enable you to obtain better insights and customer data.
3. Stay ahead of competition
Conversion rates from mobile apps are three times higher than mobile sites. A large number of small and big brands are launching eCommerce mobile apps for their businesses. And it's highly likely your competitors have mobile apps, too. If so, you will have to stay one step ahead of them, or you could quickly lose out on high-value potential customers and revenue.
4. Customers prefer shopping via mobile apps
Tech savvy modern customers prefer to use mobile apps on smartphones more than logging into your eCommerce website. This is due to the fact that a mobile app is more responsive and convenient for purchasing than a mobile-optimized website. Consider this: 42% of smartphone users plan to shop more from their mobile devices in the coming year.
5. Increase site traffic
Mobile devices offer many marketing and engagement opportunities; for example, push notifications, paid ads, etc. These notifications and ads are clickable and can help you lead browsers to your mobile app, thus increasing your app traffic, downloads, and engagement.
6. Have a global reach
Owning an eCommerce business gives the benefit of allowing you to operate internationally. Technology makes it simple to reach a global audience for your brand and products. Add to it, a mobile app, and you can be much closer to expanding your eCommerce business's reach internationally.
7. Faster speed
Pages on eCommerce websites take longer to load, particularly when the user's internet connection is poor or the page is unable to manage high volumes of rapid demand.
Potential customers who may have encountered slow navigation and website load times may become irritated during these times. These can cause them to stop visiting your site and end their surfing sessions. On the other hand, mobile apps can handle load and are unaffected by sluggish network connections.
8. Higher optimization
Since eCommerce mobile apps can give you more data, it also means you can conduct A/B testing and optimize your mobile app in a better manner. Mobile apps can allow a higher level of personalization tailored to each customer's preference.
9. Lower cart abandonment
eCommerce mobile apps have a 20% cart abandonment rate compared to 97% on mobile sites. Factors such as mobile push notifications and prompts play a significant role in lowering cart abandonment. Besides, when compared to websites, mobile apps help generate greater average order values because of fewer abandoned carts.
10. Higher customer retention
Customers who use mobile apps generate 3.5 times more revenue for eCommerce brands, and are three times more likely to make more purchases. The reason: mobile apps make it easy to advertise and market products and services.
Additionally, customers can easily comment at any time and get answers to questions while on the go via mobile chat assistance in the app. These basic, yet essential factors, contribute to a nearly 40% increase in consumer retention.
How Can You Have A Mobile App For Your Shopify Store?
Shopify's app store is where you can find great solutions for almost any need of your store. And it's the place where you should look for any kind of add-ons or specific tools to implement to your Shopify store.
On the other hand, you can also develop a mobile app for your Shopify store from scratch which is always time and money consuming. Let's cover those two options quickly.
Can I develop mobile app using Shopify?
Yes, as we mentioned above. However, it's going to cost you arms and legs, let alone the time and effort you will put in. First of all, you will hire developers for both iOS and Android. Plus, there will be a need for backend as well. Last but not least, you will have to update and maintain the tech of it with Shopify's platform updates.
In todays terms, a proper shopping app you develop from scratch using Shopify will cost you at least $50.000 a year. So, it's not a good option. You will understand why in the next section.
You will either require specialized knowledge and coding experience, or you will need to hire developers who will help you develop your app from scratch. This could be a huge cost for your Shopify business.
Besides, it's not an easy task to find an experienced developer who will do a quality job. And even if you find a good and affordable developer, you will have to coordinate, follow up and ensure they understand your requirements clearly and are able to execute it.
In contrast, using a mobile app builder can help you turn your Shopify store into a mobile app in just a few clicks. What is more, you won't have to worry about the bother of locating the best developers, designers, and other experts to create your mobile app from scratch when you use a mobile app builder like Shopney - it's as simple as a no-code mobile app builder.
You can quickly construct a fully complete mobile app using a drag-and-drop interface. It's a quick and low-cost approach to launch your mobile app without losing quality or going over budget.
Can I Turn My Shopify Store Into An App?
Yes, you can! It's way more easy than you might think. Like so many other sides of eCommerce, there are great solutions for converting Shopify store into a mobile app.
There are reputable Shopify mobile app builders on the store. The process is pretty similar no matter which one you go with. In the next part, we will learn the basic steps of the process.
However, you must ensure your Shopify mobile app is designed for your specific industry. To help you, we've created these industry wise guides that will give you actionable points and checklists.

What Are The Steps For Converting Your Shopify Store Into A Mobile App?
The Shopify apps taking developers and designers out of mobile app development game. You don't need to have design or coding skills once you have a great Shopify mobile app builder. Below are the steps to follow.
◉ Choose A Shopify App That Converts Web Store Into Mobile App
◉ Install The App To Your Store And Set Your Account
◉ Customize And Design Your Mobile App
◉ Publish Your App in Both iOS & Android Application Stores
◉ Promote Your Mobile App To Get Installs
Let's go over the details of each step.
How To Choose The Best Shopify Mobile App Builder For Your Store?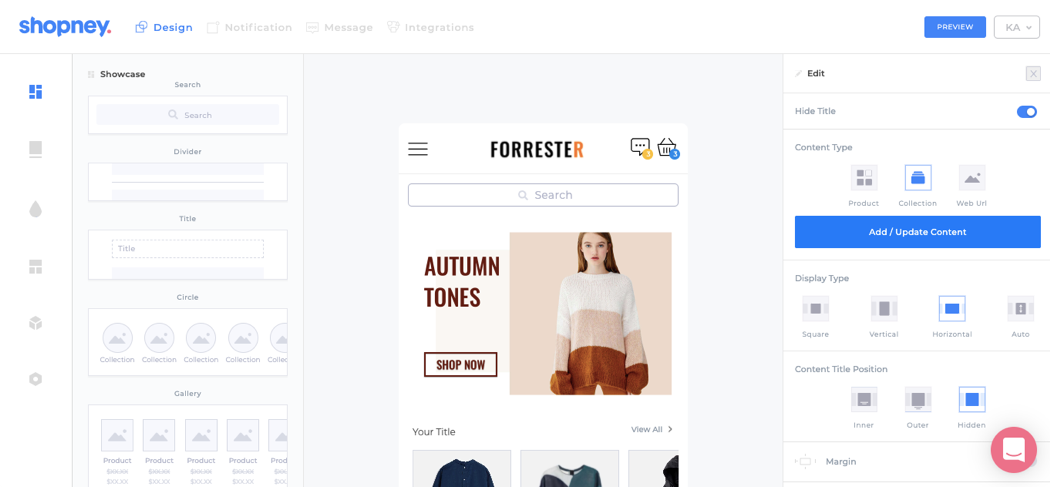 But as for anything in life, there are good and mediocre options for building a mobile app. To have a great start to your mobile commerce journey in 2023, you should know what to check before starting with a mobile app builder. Otherwise, you may struggle or at least feel the lack of important functionalities.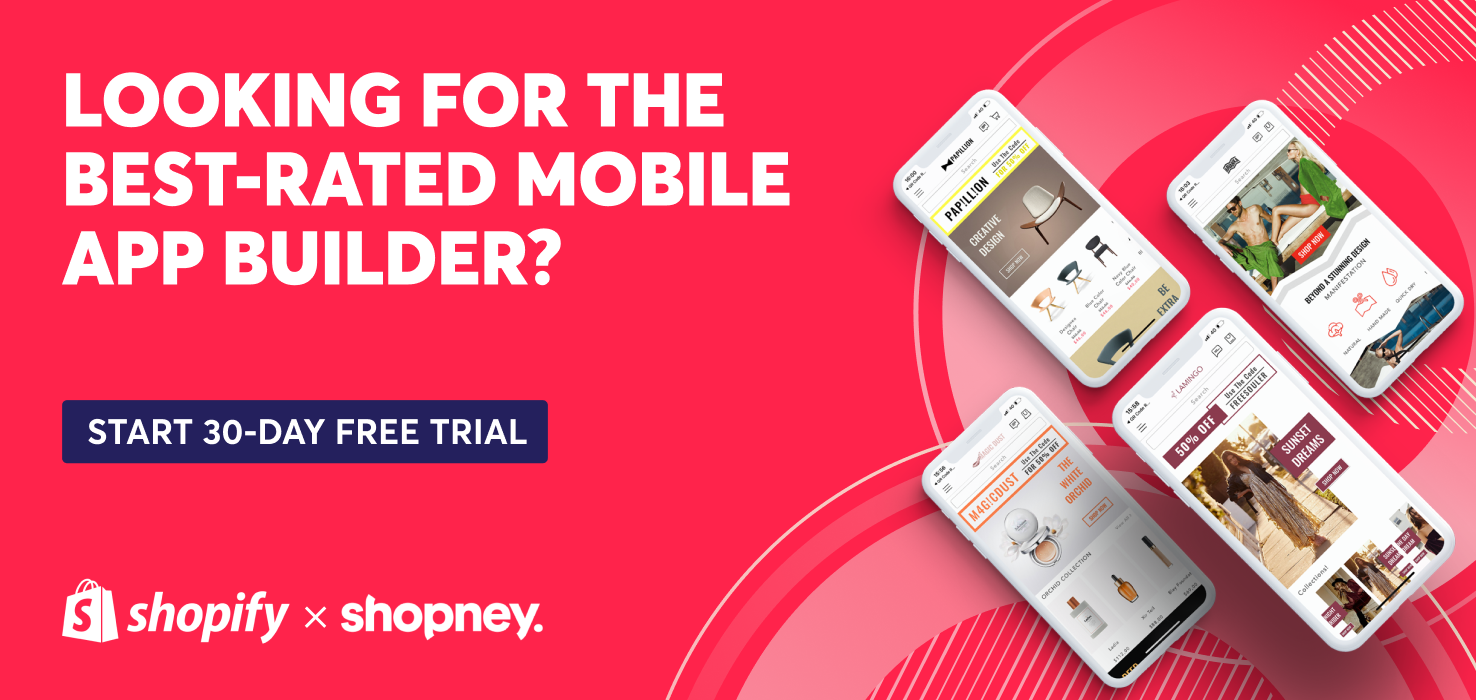 How To Decide Which Mobile App Builder Is The Best For You?
There are many factors that impact how well your mobile app functions, for example, its ease of use, visual appeal, user experience, integration capabilities, etc. Here are some key factors to consider when choosing a mobile app builder:
Customer Service: Make sure the app has a great customer service. The reviews are important indicator for it. However, the customer service 'you get' in the very moment from the app is more important than what their other customers got in the past. Check if they are responsive, timely and trying to help you. Relatively older apps that have more reviews, might be fed up and lost their excitement for new clients. Don't forget to consider new apps in your search as they will be so excited to welcome a new client and offer extra effort.
Features: The feature set of an app really matters. You should look for an app that offers not tons of unnecessary features, but smart features that you will leverage like in-app messages. Judge the set of features and decide if you will really benefit from them.
Ease of Use: All of the app builders 'offer' an easy way of building app. But when you land on most of their design dashboard you get lost. You should look for a clean feeling in the dashboard and be able to find everything at where you'd expect them to be. Besides, if the customer service offers you a hands-on help for design, you can feel you are at the right Shopify mobile app creator. Because, even for some experts, a new place might take some time to get used to.
Integrations: An ordinary Shopify store uses 5-10 apps for different purposes like customer loyalty, order management etc. The more of your other apps kept functional in your app, the better for your mobile commerce performance. Remember, your mobile sales channel will be your mobile app and it should support the important apps you use in your web store.
Beauty of the Mobile App: It depends on many different factors. But the drag-n-drop design is not at the highest level of flexibility in all mobile app builders. Ask for different mobile app examples that they created for their former clients to get some inspiration and check if their platform capable of building beautiful mobile apps.
Theme Options: A very important point you should check is if they offer different theme options. Your products should look in your mobile app as beautiful as in your web store. Imagine, you have square framed product photography and it's not supported by the mobile app builder. Your products would look freaky and you don't want that. Make sure you brand and its beautiful products fit into your mobile app perfectly.
Native iOS & Android Apps: If your shopping app is not a native for iOS & Android, it is not a shopping app but app-like creature. This is not an issue that you fake it till you make it. Make sure you will get native mobile apps for iOS & Android for offering the best mobile shopping experience to your app users. Don't compromise in this issue.
Language Support: Localization and Internationalization are two important things in eCommerce. And language support is at the heart of those issues. Whether or not you sell internationally, your store language should be supported by your mobile app. If the app user's language is not supported by your app, it will be a bad experience. And it's always better to have more languages available. Who knows, maybe you will become the owner of an international business soon.
Customer Reviews on Shopify App Store: The reviews other customers are always important. They will give you an idea if the Shopify app you are about to install is a good fit or not. However, there are things to pay attention while checking the reviews to get the right insights. It's not all about the number of positive reviews. On the contrary, the real insight is hidden in the negative reviews. You need to read all negative reviews to understand what can happen the worst with the app. How bad the experience can be. Because you can be one of them and you don't want it, right?
Merchant Success: It is advisable to pick a mobile app builder that prioritizes user success over and above customer assistance. You want a partner who can assist you in turning your Shopify store into a mobile app and in developing the best marketing plans to draw more customers to it and increase sales. For instance, Shopney offers a team of professionals who collaborate with you to determine how to enhance your eCommerce mobile app to increase sales.

Engagement Capabilities: If you want to attract new customers, increase app usage, and improve repeat purchases, you'll have to do more than just set up a good Shopify eCommerce app. Does your app have enough features to engage customers?

For example, one of the most effective engagement strategies is push notifications—they not only convey your message, but also drive actions via CTAs. Similarly, a live chat feature can help customers feel heard and attended to, improving engagement. Both these engagement features work well for mobile.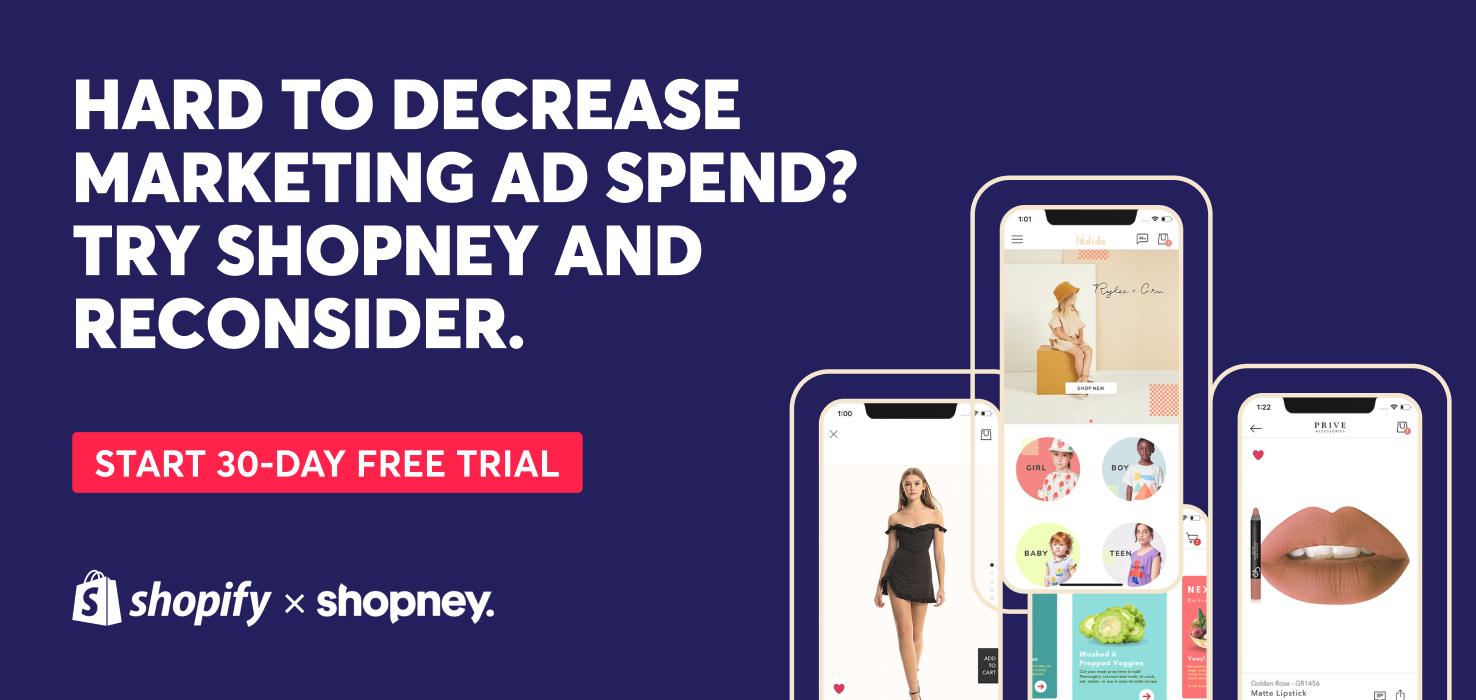 Install The App To Your Shopify Store And Set Your Account
The initial process with mobile app builders is no different than other apps that you are familiar with. Once you install the app, you will need to create your account.
And, you shall wait 1 or 2 hours to let the mobile app builder get synced with your Shopify store inventory. Then, you can use your store content and inventory in your mobile app design.
Customize And Design Your Mobile App
If you've decided the mobile app builder according to the pro tips we gave you above, then it should be pretty easy to onboard with the new dashboard and design your mobile app.
An easy-to-use user interface and proper onboarding will make and keep your life easy. Not only for the first time, but also anytime you want to change the mobile app design. Keep that in mind, your customers will expect to see new home page designs every once in a while. Especially, in special occasions like BFCM and xmas!
How To Design A Mobile App For Your Shopify Store?
In this video, you will learn about every single detail on Shopney's design dashboard. The narrator will guide you through all processes and demonstrate how to design your mobile app with simple drag-...
Publish Your App in Both iOS & Android Application Stores
You will need to have App Store and Play Store developer accounts to launch your app in those stores. It take different amounts of steps and times for Play Store and App Store to create the accounts. Below you can check our step-by-step guides to learn each.‌
‌‌
‌How To Create Apple Developer Account for Mobile App Launch?‌
‌How To Create Google Developer Account for Mobile App Launch?
They also cost differently. Creating an Apple Developer Account will cost you $99/year, whereas the Google Developer Account costs only $25 one time.
How To Promote Your eCommerce Mobile App To Get Installs?
Merely setting up a good mobile app will not get you downloads. You will have to smartly and consistently promote the app. Follow these marketing strategies to promote your eCommerce mobile app and see your downloads multiply.

1. App store optimization
One of the most basic steps to take is to optimize the app store—constantly update keywords, icons, descriptions, titles, images, etc. Try A/B testing to see what works and what needs to be changed. In addition, collect more customer reviews, which will work as social proof and increase backlinks.
2. Promote the app on your website
Your website visitors are already interested in your brand, products/services, and so, promoting the app on the website can help you attract more downloads from shoppers who are already familiar with you. You can use some tactics to entice shoppers to download the app, for example, app-exclusive prices, first app purchase discounts, etc.
3. Promote the app on social media
With 60% of the world's population using social media, if you're not using social platforms to promote your other channels, you may be missing out on many opportunities. However, you must put together an effective social media marketing strategy to get the best results from your efforts. Learn more about how to promote your app via social media in this guide.
4. Referral marketing
Another marketing strategy for your eCommerce mobile app is referrals. You can reach more users and persuade them to download the app via your existing subscribers. Studies show consumers are more likely to rely on recommendations from friends and family. Run campaigns that urge your current users to invite their friends to download your app, and reward them and their network with rewards for doing so.
5. Leverage content marketing
Your potential customers will know about your brand, products/ services through the content you create—blogs, website content, how-to videos, social media content, manuals, etc. To ensure your content marketing efforts pay off, follow best practices such as creating engaging and relevant content, distribute it widely, be consistent, follow SEO rules, publish regularly, etc.
6. Run ads on search engines
Ads are an effective way to increase your reach and app downloads. Even though they add to your marketing expenses, ads produce significant outcomes. Consider this: there are 5.9 million searches conducted on Google every minute.
You can run search engine ads to promote your Shopify mobile app, depending on your target audiences' preferences and on different search engines where you can find them.
7. Leverage user-generated content
Another way to promote your eCommerce mobile app downloads is via user-generated content. You can encourage current users to provide reviews and testimonials about their satisfaction with your app. Encourage them to tag your brand in their photos or to use a hashtag you developed. Then, you may promote your app's advantages and satisfying user experiences on social media by sharing user-generated content.
8. Get your app featured on review sites
By having your app featured on review sites, you can increase awareness of your brand and app. Review sites seek out high-quality, reliable apps. Ensure you describe your app well, share screenshots, high-quality images, include links to videos and a download app link. In addition, you could also include a discount code to boost downloads.
9. Utilize localization
Depending on the geographical region you serve, you can apply localization strategies to increase your eCommerce mobile app engagement and downloads. For example, provide translation in multiple languages, create region-specific campaigns based on seasons, trends, etc. Localization is one of the best ways to expand the reach of your app, especially globally.
10. Use email marketing to promote the app
Email marketing works! Since email is a personal channel that provides a lot of space, you can generate a better response and wider reach by personalizing email campaigns. Follow the best practices to leverage email marketing, such as email list segmentation, set up drip campaigns to increase app downloads, etc.
How Much Shopify Mobile App Builders Cost?
There are plenty of companies claiming that they convert your Shopify into mobile app. And those Shopify mobile app builders offer various levels of service and technology.
Depending on the company and pricing plan you choose, the amount you will pay on a monthly basis will differ. It starts with some $49/month with average quality product at lowest. But if you want to start with a decent native mobile app, you will need to invest at least $99/month for minimum packages which as limited design capabilities and integration available.
However,  if you want more integrations and full functionality, it climbs up with $200, $500 and $999+ with enterprise level options in many companies like Shopney.
It might seem like a lot, however, you can get the ROI with a single mobile app push notification. The issue you need to think over before picking the Shopify mobile app builder is how big the bang will be for the buck?
Isn't It Time To Build To Build Your Own Mobile App?
We've given you the whole lowdown of what it will take to turn your Shopify store into an eCommerce mobile app. It might seem overwhelming at first. But as you follow each of the above step by step, you'll see it's not as difficult as you thought. Moreover, you'll start noticing results sooner than you can imagine.
And an eCommerce mobile app is imperative in today's fierce competitive eCommerce market. In other words, you have to give customers what they demand for. Today's customers prefer to transact via mobile apps. Don't lose out on it!

Explore Shopney, the best Shopify mobile app builder. Trust more than 1500 Shopify merchants who are using Shopney's capabilities to grow their profits. That's because not only does Shopney offer unique capabilities, it also has a team of mobile commerce experts that offers support to ensure customers meet their goals and beyond!