Ultimate Guide To Turn Shopify Store Into App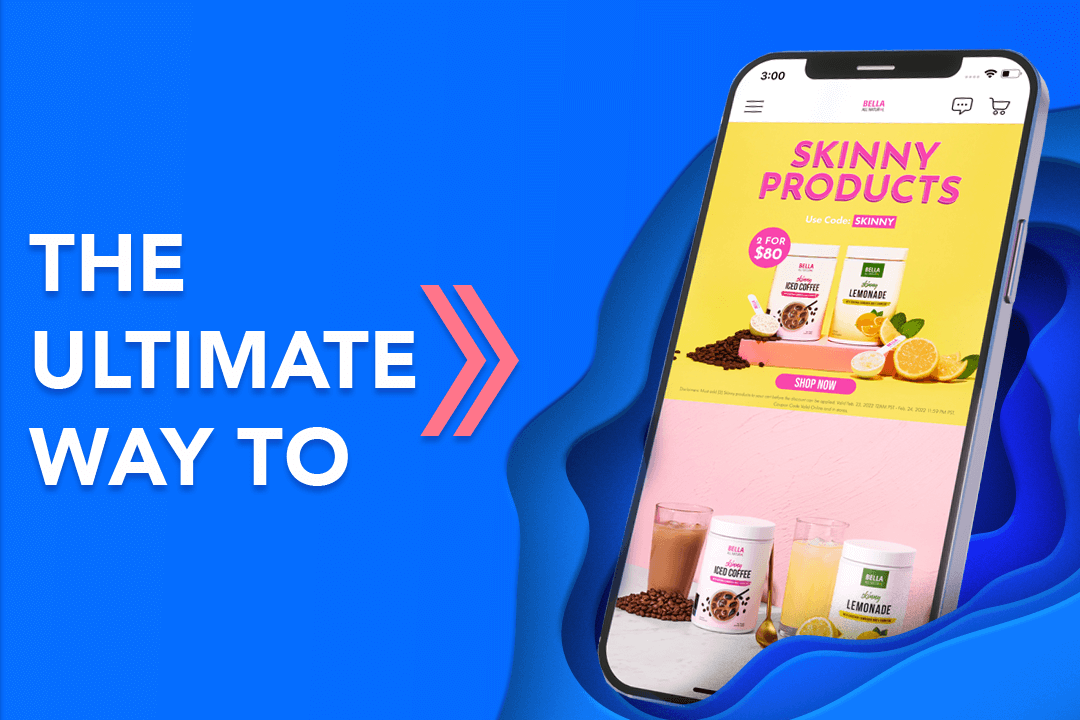 Commerce has been ever-changing and evolving throughout history. From ancient bazaars of ages ago to today's online marketplaces, there is one strong rule that remained the same at the heart of the subject: Necessity of accordance with the shopping habits of customers.
Every change brings along a natural selection so does the change in commerce. The sellers who satisfy shopping habits survive and thrive. Those who can't get eliminated. Today, a new change has arrived with a mobile. If you want to be one of those who will thrive, you are reading the right article now. Because the survivors will be the mobile sellers, and here we tell you how to do it at its best as a Shopify merchant!
Why Should You Build A Mobile App For Your Shopify Store?
As you know, Shopify is the biggest eCommerce website builder today with +2.000.000 merchants like yourself, using its service. It provides a basic website that also works in mobile browsers, but the effective mobile commerce starts beyond a mobile website.
Long ago, in 2016, Shopify emphasized the importance of converting your store in to a mobile app. Now it's 2023, and that importance got way bigger in past 7 years. Because, a mobile app for your Shopify store converts and sells more than mobile browser. Look at the striking conversion rate difference in favor of mobile shopping apps.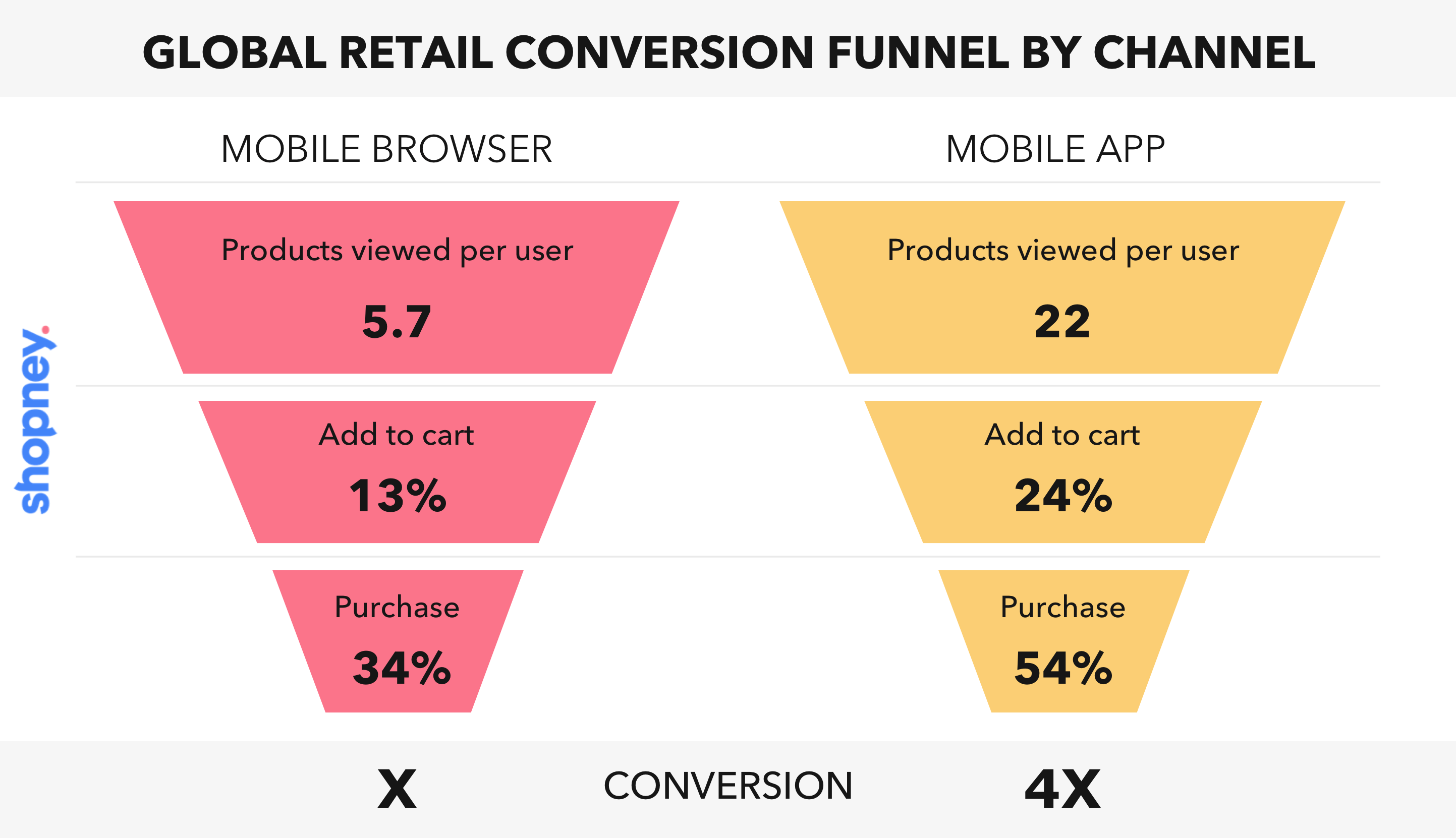 As far as the huge impacts of small differences in the conversation rates concerned, the numbers above are shocking. And they clearly tell why you need to turn your Shopify store into an app.
How Can You Have A Mobile App For Your Shopify Store?
Shopify's app store is where you can find great solutions for almost any need of your store. And it's the place where you should look for any kind of add-ons or specific tools to implement to your Shopify store.
On the other hand, you can also develop a mobile app for your Shopify store from scratch which is always time and money consuming. Let's cover those two options quickly.
Can I develop mobile app using Shopify?
Yes, as we mentioned above. However, it's going to cost you arms and legs, let alone the time and effort you will put in. First of all, you will hire developers for both iOS and Android. Plus, there will be a need for backend as well. Last but not least, you will have to update and maintain the tech of it with Shopify's platform updates.
In todays terms, a proper shopping app you develop from scratch using Shopify will cost you at least $50.000 a year. So, it's not a good option. You will understand why in the next section.
Can I Turn My Shopify Store Into An App?
Yes, you can! It's way more easy than you might think. Like so many other sides of eCommerce, there are great solutions for converting Shopify store into a mobile app.
There are reputable Shopify mobile app builders on the store. The process is pretty similar no matter which one you go with. In the next part, we will learn the basic steps of the process.
What Are The Steps For Converting Your Shopify Store Into A Mobile App?
The Shopify apps taking developers and designers out of mobile app development game. You don't need to have design or coding skills once you have a great Shopify mobile app builder. Below are the steps to follow.
◉ Choose A Shopify App That Converts Web Store Into Mobile App
◉ Install The App To Your Store And Set Your Account
◉ Customize And Design Your Mobile App
◉ Publish Your App in Both iOS & Android Application Stores
◉ Promote Your Mobile App To Get Installs
Let's go over the details of each step.
◉ How To Choose The Best Shopify Mobile App Builder For Your Store?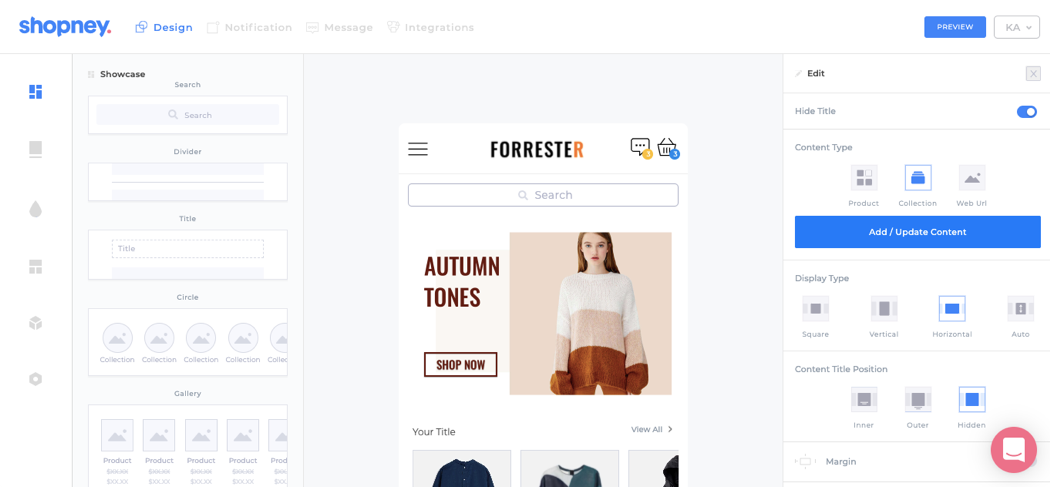 But as for anything in life, there are good and mediocre options for building a mobile app. To have a great start to your mobile commerce journey in 2023, you should know what to check before starting with a mobile app builder. Otherwise, you may struggle or at least feel the lack of important functionalities.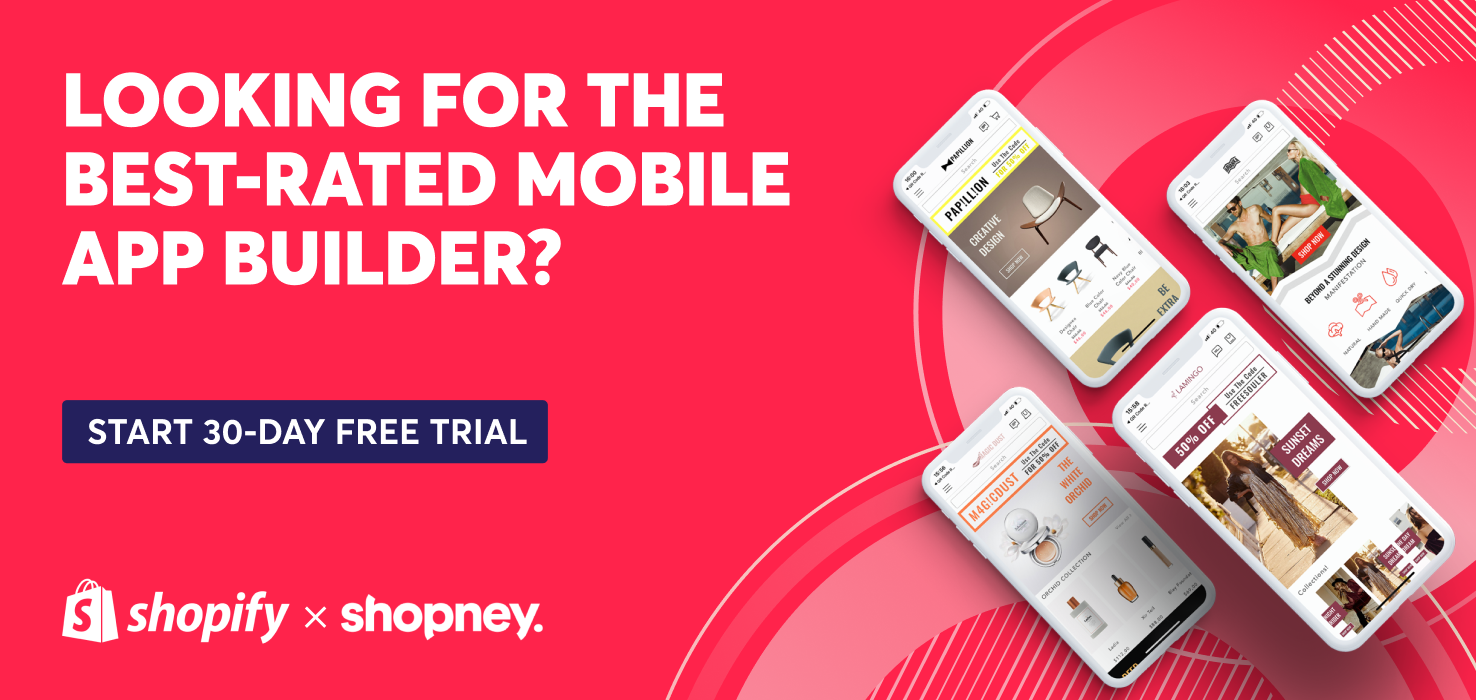 How To Decide Which Mobile App Builder Is The Best For You?
Here is a check-list for you to decide which app builder is the best for your business.
Customer Service: Make sure the app has a great customer service. The reviews are important indicator for it. However, the customer service 'you get' in the very moment from the app is more important than what their other customers got in the past. Check if they are responsive, timely and trying to help you. Relatively older apps that have more reviews, might be fed up and lost their excitement for new clients. Don't forget to consider new apps in your search as they will be so excited to welcome a new client and offer extra effort.
Features: The feature set of an app really matters. You should look for an app that offers not tons of unnecessary features, but smart features that you will leverage like in-app messages. Judge the set of features and decide if you will really benefit from them.
Ease of Use: All of the app builders 'offer' an easy way of building app. But when you land on most of their design dashboard you get lost. You should look for a clean feeling in the dashboard and be able to find everything at where you'd expect them to be. Besides, if the customer service offers you a hands-on help for design, you can feel you are at the right Shopify mobile app creator. Because, even for some experts, a new place might take some time to get used to.
Integrations: An ordinary Shopify store uses 5-10 apps for different purposes like customer loyalty, order management etc. The more of your other apps kept functional in your app, the better for your mobile commerce performance. Remember, your mobile sales channel will be your mobile app and it should support the important apps you use in your web store.
Beauty of the Mobile App: It depends on many different factors. But the drag-n-drop design is not at the highest level of flexibility in all mobile app builders. Ask for different mobile app examples that they created for their former clients to get some inspiration and check if their platform capable of building beautiful mobile apps.
Theme Options: A very important point you should check is if they offer different theme options. Your products should look in your mobile app as beautiful as in your web store. Imagine, you have square framed product photography and it's not supported by the mobile app builder. Your products would look freaky and you don't want that. Make sure you brand and its beautiful products fit into your mobile app perfectly.
Native iOS & Android Apps: If your shopping app is not a native for iOS & Android, it is not a shopping app but app-like creature. This is not an issue that you fake it till you make it. Make sure you will get native mobile apps for iOS & Android for offering the best mobile shopping experience to your app users. Don't compromise in this issue.
Language Support: Localization and Internationalization are two important things in eCommerce. And language support is at the heart of those issues. Whether or not you sell internationally, your store language should be supported by your mobile app. If the app user's language is not supported by your app, it will be a bad experience. And it's always better to have more languages available. Who knows, maybe you will become the owner of an international business soon.
Customer Reviews on Shopify App Store: The reviews other customers are always important. They will give you an idea if the Shopify app you are about to install is a good fit or not. However, there are things to pay attention while checking the reviews to get the right insights. It's not all about the number of positive reviews. On the contrary, the real insight is hidden in the negative reviews. You need to read all negative reviews to understand what can happen the worst with the app. How bad the experience can be. Because you can be one of them and you don't want it, right?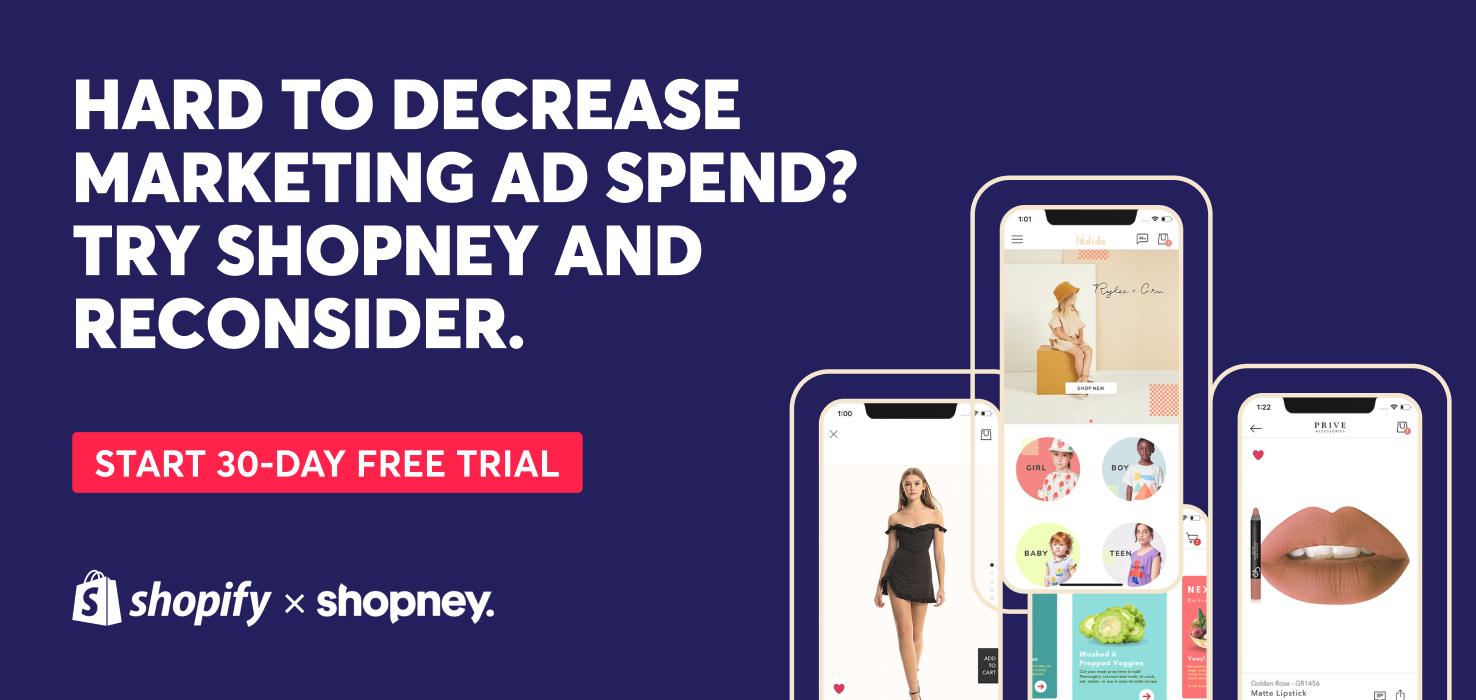 ◉ Install The App To Your Shopify Store And Set Your Account
The initial process with mobile app builders is no different than other apps that you are familiar with. Once you install the app, you will need to create your account.
And, you shall wait 1 or 2 hours to let the mobile app builder get synced with your Shopify store inventory. Then, you can use your store content and inventory in your mobile app design.
◉ Customize And Design Your Mobile App
If you've decided the mobile app builder according to the pro tips we gave you above, then it should be pretty easy to onboard with the new dashboard and design your mobile app.
An easy-to-use user interface and proper onboarding will make and keep your life easy. Not only for the first time, but also anytime you want to change the mobile app design. Keep that in mind, your customers will expect to see new home page designs every once in a while. Especially, in special occasions like BFCM and xmas!
How To Design A Mobile App For Your Shopify Store?
In this video, you will learn about every single detail on Shopney's design dashboard. The narrator will guide you through all processes and demonstrate how to design your mobile app with simple drag-...
◉ Publish Your App in Both iOS & Android Application Stores
You will need to have App Store and Play Store developer accounts to launch your app in those stores. It take different amounts of steps and times for Play Store and App Store to create the accounts. Below you can check our step-by-step guides to learn each.‌
‌‌
‌How To Create Apple Developer Account for Mobile App Launch?‌
‌How To Create Google Developer Account for Mobile App Launch?
They also cost differently. Creating an Apple Developer Account will cost you $99/year, whereas the Google Developer Account costs only $25 one time.
◉ How To Promote Your eCommerce Mobile App To Get Installs?
Building your Shopify mobile app doesn't mean that you will immediately sell like crazy. Just like your website, it won't attract any customer by itself, so you need to drive traffic.

In order to get the installs on a constant basis, we have a checklist for you to follow. They are all easy things to do and most of them are processes that you're familiar with. You can also visit our mobile app promotion blog article for details of each.
Setup a smart mobile app banner on your website
Add visual banners to your website to display your app
Optimize your app listing on App Store and Play Store
Prevent push notification abuse
Invest on email marketing
Influencer marketing
Offer app-exclusive discounts
Promote app-exclusive products
Keep your design fresh
How Much Shopify Mobile App Builders Cost?
There are plenty of companies claiming that they convert your Shopify into mobile app. And those Shopify mobile app builders offer various levels of service and technology.
Depending on the company and pricing plan you choose, the amount you will pay on a monthly basis will differ. It starts with some $49/month with average quality product at lowest. But if you want to start with a decent native mobile app, you will need to invest at least $99/month for minimum packages which as limited design capabilities and integration available.
However,  if you want more integrations and full functionality, it climbs up with $200, $500 and $999+ with enterprise level options in many companies like Shopney.
It might seem like a lot, however, you can get the ROI with a single mobile app push notification. The issue you need to think over before picking the Shopify mobile app builder is how big the bang will be for the buck?
Isn't It Time To Build To Build Your Own Mobile App?
It's not hard to build and publish an app for your Shopify eCommerce store. Once you determine that you're ready to proceed, you can have a world-class mobile app with Shopney in less than 4 business days.
Offering unique features and a top-notch customer service, Shopney is not only app builder but also team of mobile commerce experts that your can benefit from at every step of your mobile journey. Start your mobile journey today with Shopney as +1500 Shopify merchants. You can build a beautiful mobile app like Ladida's below!

If you'd like to see more examples like Ladida, you can check more than 50 of them out here.