Complete Guide to App Store Optimization for eCommerce Businesses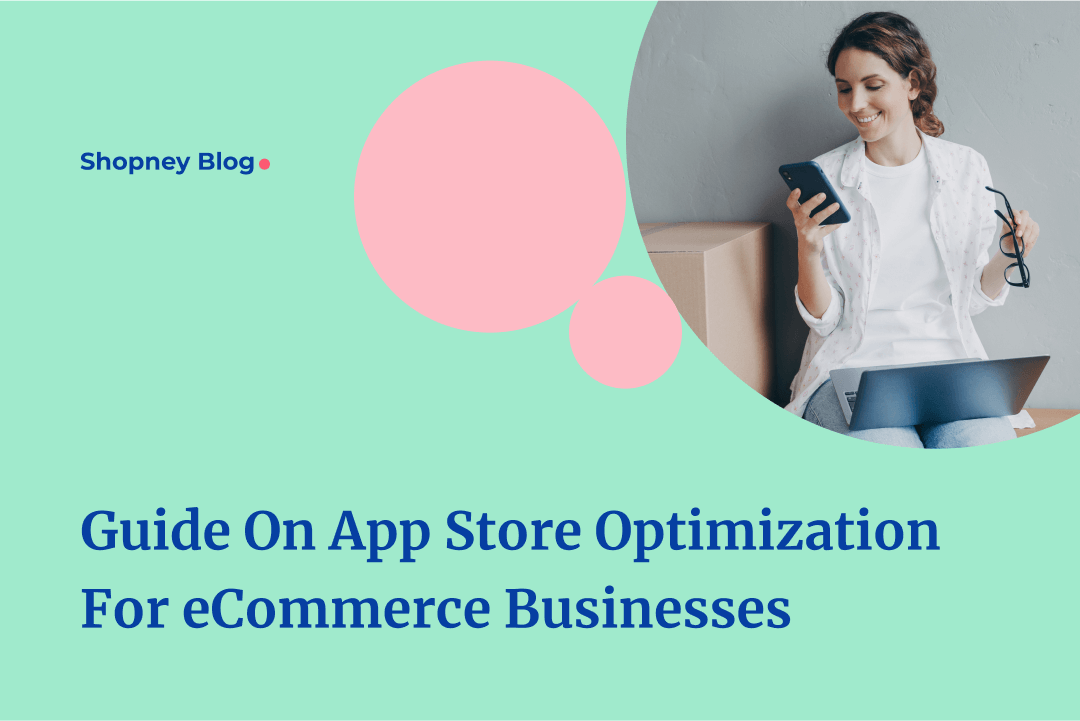 You have created an app for your eCommerce brand and are now excited to launch it on the app stores – this is an excellent step towards making your brand as accessible to your customers as possible. Or maybe you have launched your app on the Google and Apple stores; however, are you struggling to see the results you expected?
Either way, there is always time to learn how to better your app store experience to help you scale. M-commerce is a booming space, and in 2021 alone, ecommerce businesses made $3.56 trillion from app revenue alone!
So if you are wondering how to maximize your app store potential, the answer lies in app store optimization (ASO). Just as you optimize your website so search engine crawlers can favor you in the search results– you can replicate the same for mobile apps.
In this blog, we explain how you can excel in app store optimization for ecommerce with just a few simple but effective steps.
What is app store optimization?
App store optimization (ASO) is the process of consistently improving the experience of your brand on an app listing platform to help rank better and improve conversions. This includes making the content appealing and using high-quality images that reflect well on your brand and other factors.

Most of the market share in app stores is currently occupied by Google Play Store and Apple App Store. However, there are other app stores, too, such as Samsung Galaxy Apps, LG SmartWorld, Sony Apps, Huawei App Store, Amazon Appstore, and more. While you may not be able to optimize for each one or even have a listing in each of them, optimizing by thinking about the primary app stores should be the goal.
Why is app store optimization important?
App store optimization for ecommerce opens up several doors. Once optimized and ready, brands will see a ripple effect in the increase of downloads, brand awareness, reviews, and more.

Therefore, paying attention to appearing on the search results of app stores is crucial even for your app. Once you create and launch, you cannot magically expect results without some ASO magic. Here are the different ways ASO makes a difference:
1. App discovery
The competition in the ecommerce industry is fierce. It was significantly accelerated by the pandemic, where more people resorted to online shopping. This trend has since continued, and the numbers only increase each year.

Therefore, to ensure your brand comes up as much as possible on app store searches, app store optimization for ecommerce is essential. This ensures your app discovery is easy for potential customers, and you show up for all the right search keywords and categories.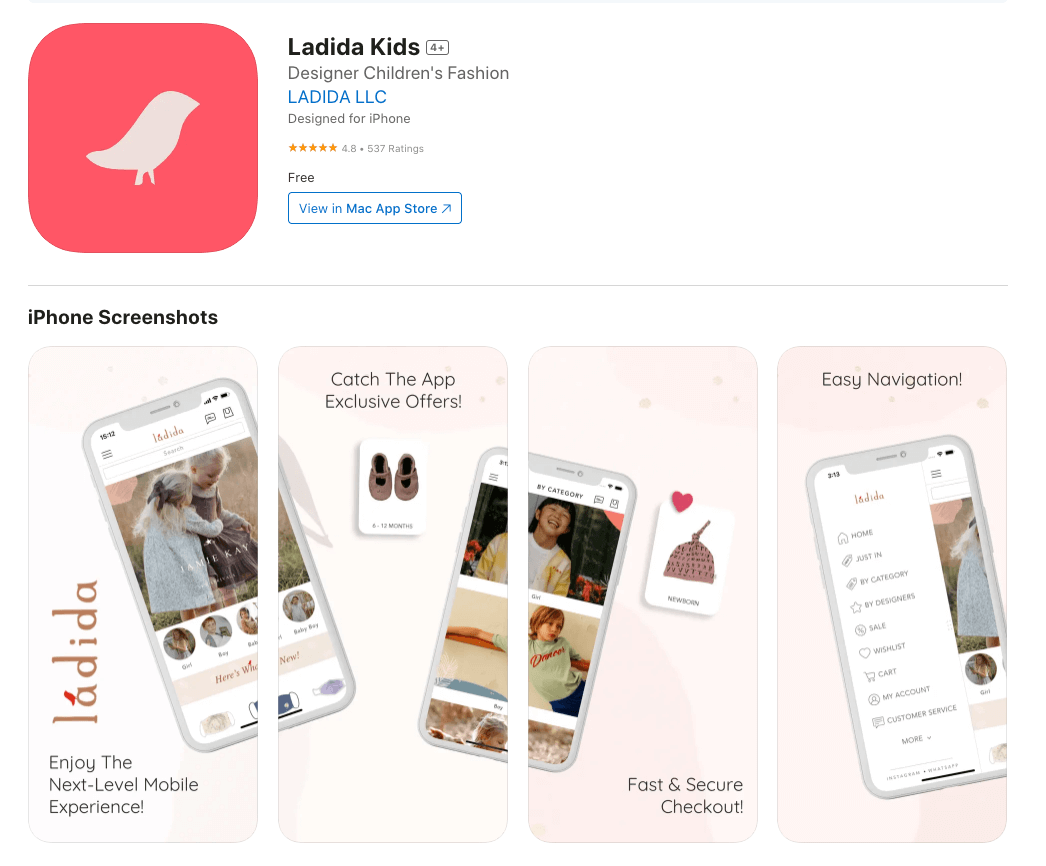 2. Brand awareness
When you pay attention to app store optimization, you will see an increase in your rankings. This opens up your brand to appear in more people's searches and has a wider reach, improving your brand awareness.
Once they click on your app, the rest of the work you do on the app listing page is what will help improve downloads.
3. Cut user acquisition costs and get continuous growth
Similar to search engine optimization, once you optimize for app stores and update regularly, you will begin to see results without having to promote the app continuously. The app will garner enough attention on its own and show up in the result pages, improve the rankings, and maximize the potential of downloads.
This way, app store optimization for ecommerce can significantly cut down on new customer acquisition costs. Once you've done the work, you only have to wait for a while until you see results of growth.
4. Saves you money and brings sustainable marketing
Encouraging users to download your app can be challenging, especially through ads. However, if you organically appear in their search results, they are more likely to explore your app.
An effective app store optimization strategy can help you create a sustainable marketing model with organic traffic without spending too much on ad dollars. You can then diversify the funds into different marketing initiatives, freeing up your time and money.
5. Targets your audience
Of course, you want the right people to explore your app. If you are selling women's clothing catering more to the style of Gen Z and Millenials, then you want the larger demographic of the app to be people who will like such clothing styles. If you own a cruelty-free makeup brand, then you want people who like makeup products and are also looking for cruelty-free alternatives to find you.
However, reaching your target audience can take a lot of work. But people who are shopping are always looking for more brands. If your app is optimized well, you appear in their search results for all the right keywords. Let your target audience find you!
6. Increases revenue
If your app can convey its potential when the users find you in the app store, it will result in more downloads. Therefore your brand will acquire new customers and increase the overall revenue possibilities.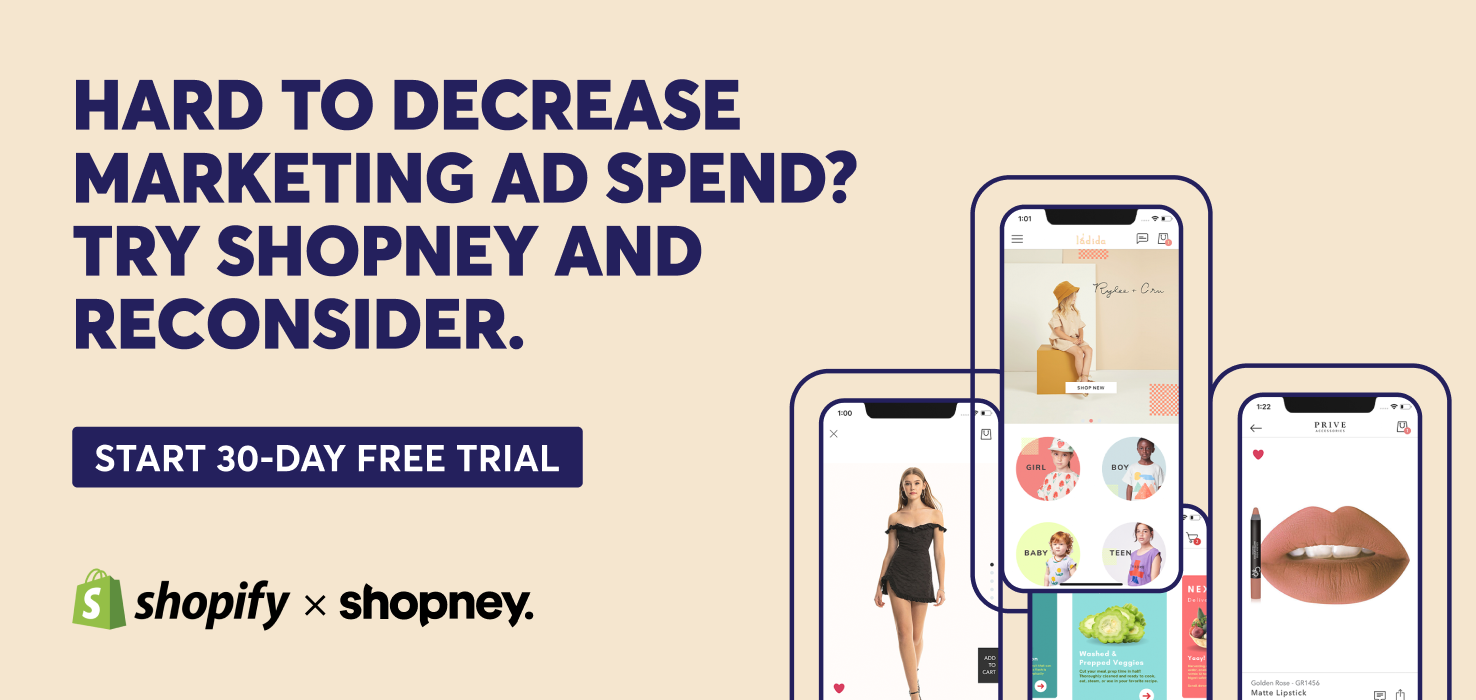 How can ecommerce businesses do app store optimization to get their brand discovered?
Now that we covered why it is crucial to do app store optimization for ecommerce, here are 9 steps to improve your brand's visibility.
1. Create a descriptive title
Your customers will find you through keywords that make the most sense to them; therefore, when they do look for it, your title should be engaging enough for them to download.
The tricky part is that Apple and Google Play store only allows up to 30 characters for the main title. Use the limited characters well by including your brand name and an appealing keyword if you can.
In the example below, you can see how Ulta Beauty has their app title first, followed by makeup & skincare. This small difference can make the brand's name more appealing and reiterates the user's search intent when they see it.

2. Use good descriptions
Whenever someone clicks on your app listing, you need to give them a reason to download it.
Your job in optimizing gets interesting here. The descriptions in an app tell the users exactly what you offer before downloading; therefore, you want to be as thorough and convincing as possible.
Google allows for two types of descriptions—a shorter description of 80 characters and a longer description of 4000 characters. And Apple allows only a kind of long description of 4000 characters. In both instances, all the descriptions will help in ranking and can affect downloads.
Here are some tips for writing the description well:

Make the description compelling. Think of creative ways to sell your brand through copy by appealing to the interests of your target audience. In the example below, you can see how Nike talks about amplifying one's style, which can be an essential factor for their customers.

Explain what kind of products they can buy once they download your app. You don't want to over-promise on the range of products you have by saying all sorts of women's apparel, only to find jeans and t-shirts once they download. Then you will end up with a bad conversion rate. Explain what you sell, even if it is one product, but do it well.

Tell your customers why downloading the app would be more beneficial than just using the web version. In the example below, you can see how Nike explains the benefits of push notifications through the app. They talk about being the first ones to get their hands on a new shoe when they launch. Such smaller details will encourage users to download and shop.

Use the right keywords. Keywords tell you about a user's search intent and what you should be talking about in your listing. Additionally, you want to use the right keywords that will give you search results. But remember not to overuse them—more on keywords in the next step.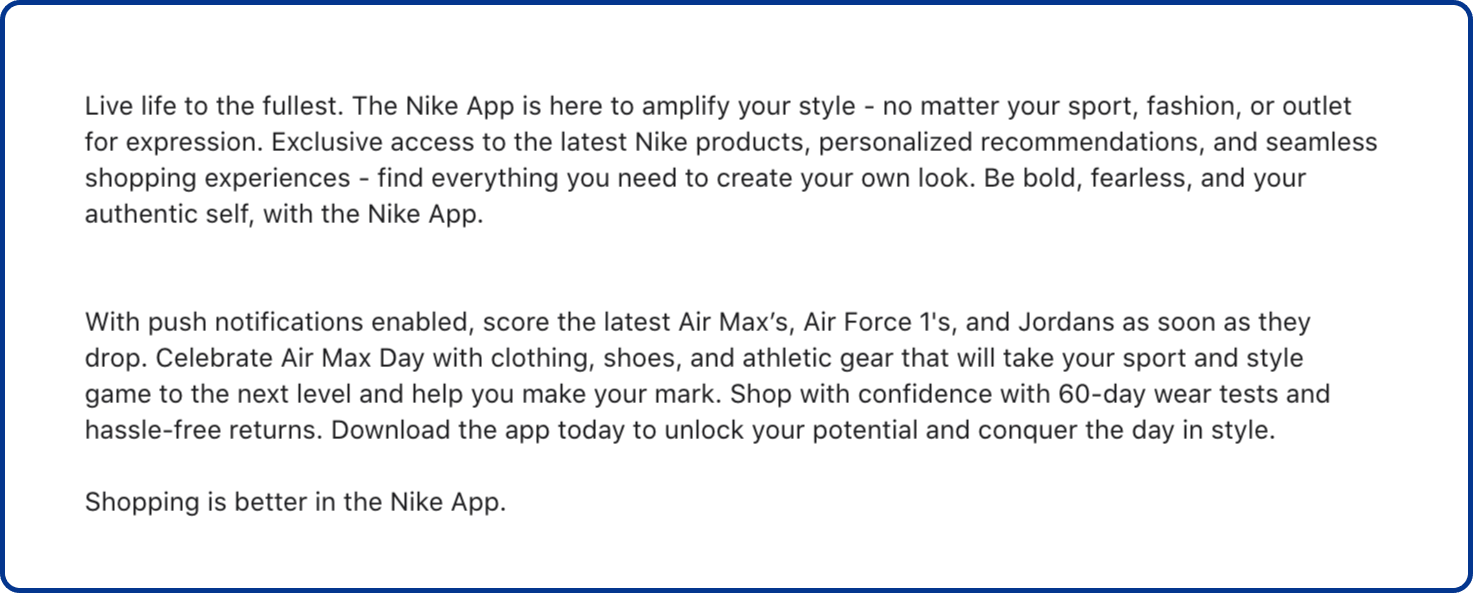 3. Use relevant keywords
Keywords help the app stores index and learn what kind of search results are relevant to your app. The Apple app store has a specific keyword section where you can enter up to 100 characters worth of keywords separated by a comma. Make sure you utilize that section to the fullest by using different types of keywords relevant to you.
In the descriptions, include keywords that flow organically in the sentences. Refrain from attempting to overstuff the keywords; they will sound forced.
Here are some tips to help you use the right keywords:
Don't just use keywords with the highest search traffic; pick a mix of long-tail, common and uncommon keywords.
Use plurals in your keywords as well. You can check the difference it makes in a search result.
Use a keyword tool to help you understand which keywords are best for your brand on the app store.
The Apple store will consider space as a character, and you don't want to waste the keyword section's real estate by using them. Instead of "men's shoes, converse, socks," use "men's shoes,converse,socks." This way, the keywords will be separated, and you can add more keywords.
The keyword algorithm is smart, so you don't have to repeat keywords to appear in the search result. So instead of "makeup products, makeup brushes, makeup foundation," you can just use "makeup products,brushes,foundation." The relevance of the keywords will remain the same.
Use the primary keyword you want to use in the app title, as mentioned in the first point.
Keywords are exciting ways to make sure your visibility is continuously increasing. Once you decide on a few keywords and add them to the app store listing, you must be patient. Wait for a few weeks and then assess the results. You can always update the keywords and revisit which combination might work better.
4. Pay attention to quality images
When a potential customer comes to your app listing, you have to give them multiple reasons to click on that download button. One of the essential factors is photos.
Visually appealing photos will influence how people will perceive your brand. You want users to get an idea of their experience once they download the app and a sneak peek into the ordering experience. You want to convince them about how seamless it will be.
To do this well, Apple gives you 10 slots, and Google gives 8. Weave a story from one image to another, just like the example below. Walmart's Apple app store listing has photos that show how easy it is to order groceries online. Convenience is a significant factor for potential customers, and they reiterate it at every step.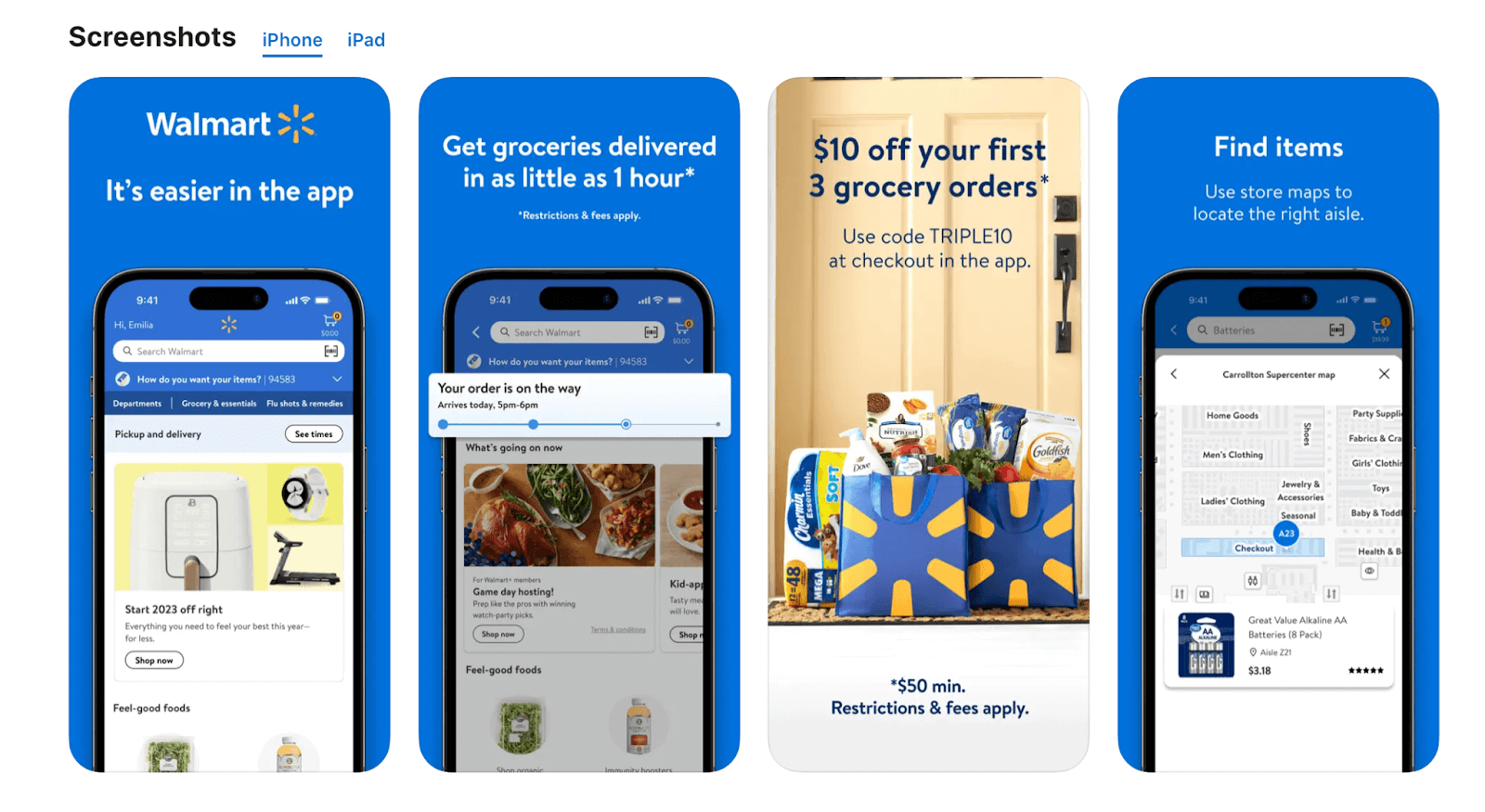 5. Choose the right category
Adding the correct category is important to your app's relevance in the app store. However, narrowing it down to a single category can be challenging.
To do this well, here are some tips for you:
Choose the category most relevant to your brand. In the example below, you can see the brand GymShark's listing. Their category here is "Shopping." However, they mainly provide sports and gym apparel. So they could've gone that route and selected sports as a category. However, this would limit their search and wouldn't justify all the products listed.
Analyze competitors' keywords and categories and check your potential in the mix. There are some helpful tools that give you a deep insight into how their categories are performing, how many app installs they get, and how much they invest in promoting the app.
Switch categories if you need to, but with data. If you have been in one category for a long enough time and don't see the results you were hoping for, you can always switch between categories. But, before doing that, note down the metrics for the current category, such as how many installs, conversion, and engagement rates. Then compare if the new category can beat this after a fair amount of time. Additionally, if you switch a category, remember, you need a new app store optimization strategy as well.

6. Focus on the design
You have paid attention to images and added some great creatives to the listing. Yet, there is no point if the first image your customers see, which is the logo, isn't inviting enough.
Your logo needs to reflect your brand and be simple yet effective. Amazon, as shown below, is a classic example of a memorable logo. They have a consistent color and most people who shop will be able to recognize them.
However, building this brand identity takes time. To set yourself up for success and be on this path, you must follow some basic rules. Here are some tips:

Do not change your logo too often. Customers will associate your brand with a logo if they see it long enough. And if you switch it up often, they will find it harder to make this association.
Use logos that reflect what your brand does. Amazon uses an envelope-like logo that is fitting to its brand. Either use such icons and shapes or patterns that are easy to remember.
Use fewer colors and use them consistently.
Don't use photographs in your logo. Photos of any kind are not ideal for logo usage. Additionally, Google or Apple can reject your app listing if it has pictures on the logo.  

7. Encourage user testimonials
Nothing speaks to new users more than reviews and ratings. They are like a stamp of approval and are the most reliable sources of information for customers. Therefore, you want users to leave good reviews as often as possible.
Here are some tips to get good reviews:

Encourage users to leave an app store rating after they complete an order with your ecommerce brand. Assuming their experience is positive, they will be most likely to give a rating whenever they purchase from you.
If a user is consistently engaging with your app, they may not be ready to purchase, but they may still like your app. Prompt them to leave a rating and a review after noticing such actions.
In the beginning, it might be hard to get reviews. Encourage the users you know to leave a rating. You don't want to rig the system, but asking someone to leave a review is entirely okay.
Ensure you don't end up with lower ratings. This often happens when customers are frustrated with their shopping experience and get limited help from the company's support team. Therefore, make it easy for app users to seek help or complain about anything with a chatbot, support team, or email.
Apple allows you to seek ratings only thrice in 365 days. Hence, you want to be mindful of how you use this feature. While Google doesn't specify a restriction, you still don't want to spam users.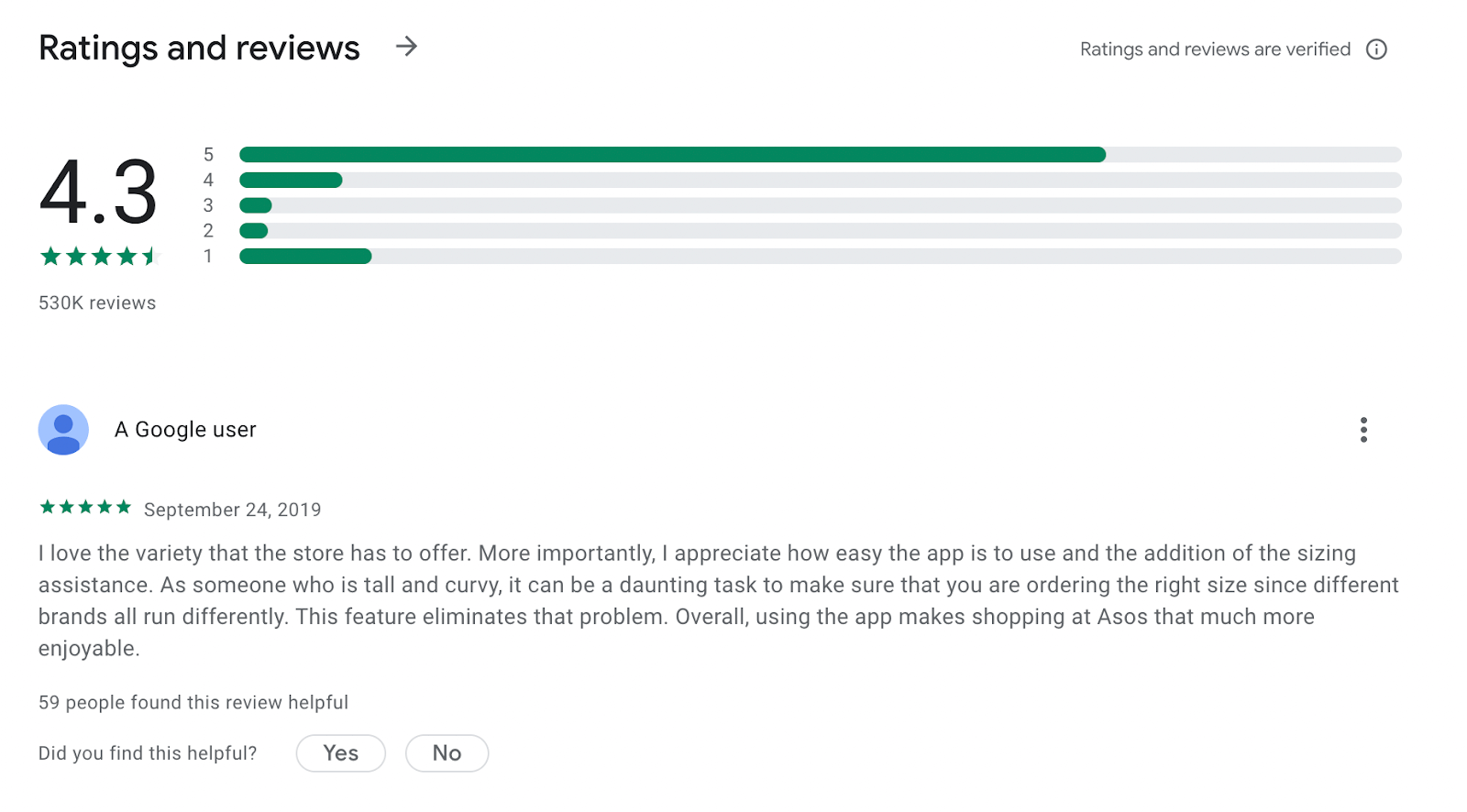 8. Consistently analyzing, testing, and improving
App Store optimization for ecommerce is a consistent process. You cannot optimize one day and then forget about it for the next month. You need to be on your toes to improve continually.
You can do this by analyzing the data app stores give you, such as downloads, redownloads, the performance of marketing campaigns, app sessions, active devices, keyword performances, and so much more. Apple Analytics and Google Console are among the many tools you can leverage for analytics.
After analyzing, make sure you implement changes that can better your performance. Look into the different app store optimization examples and see what worked for others. You can also monitor your competitor's performances and see what they are doing. There might be some insights you can use to improve your app's performance and rankings.
Don't be afraid to make informed changes. Conduct A/B testing and see what works and what doesn't. Only when you experiment can you see significant changes.
9. Index your app on Google
Traffic to your website through Google search results can play a huge role in your organic traffic. This happens because crawlers move through your content and index the pages. Then the ranking is done based on several factors.
The same way, you can index your app as well so that it shows up in search results.
For Android, app indexing is through the HTTP URL. Then the app is linked to your website, setting up deep links and then signing in to the Google Search Console.
For iOS, app indexing is through the HTTP URl as well. However, the steps your developer needs to take to complete it is through Universal Links. The documentation on allowing apps to link to your content will serve as a guide for the process.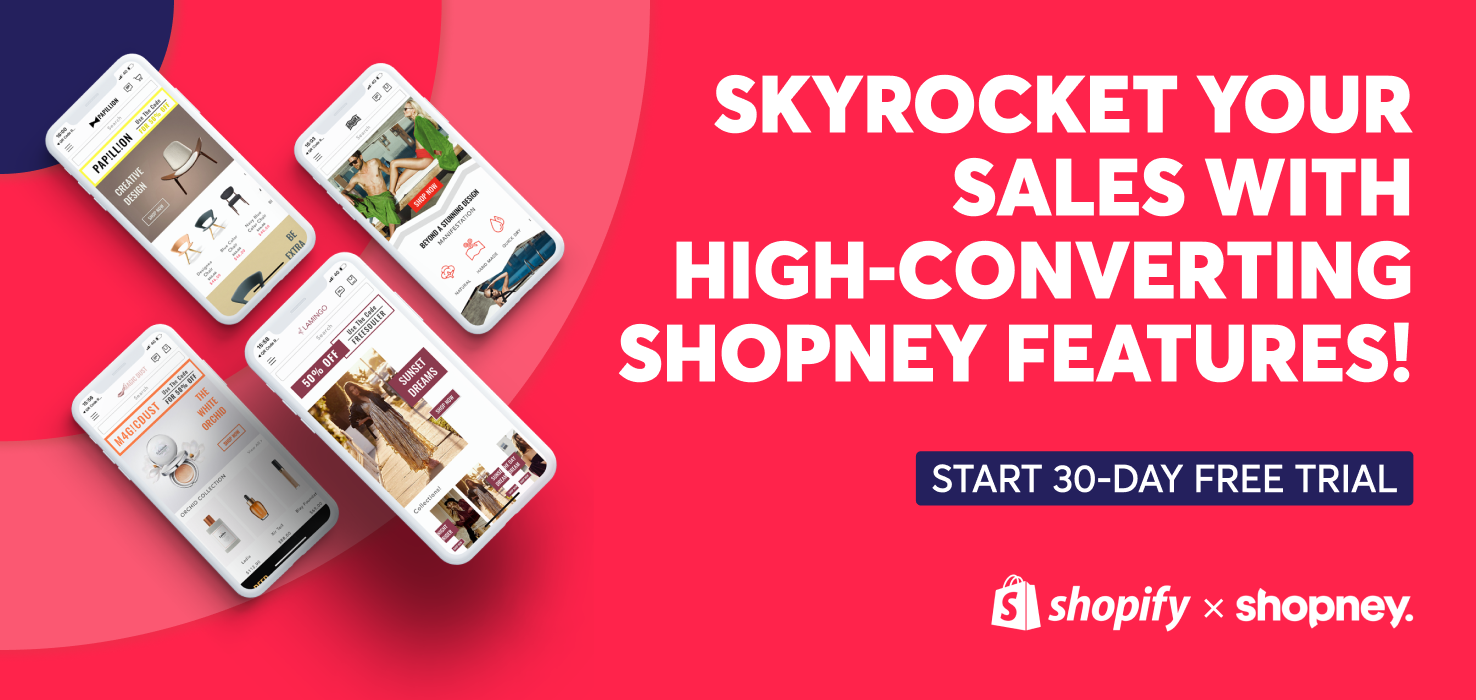 Go ahead and optimize your brand's eCommerce mobile app today
You now know the different steps you can take to improve the app store optimization process. Use the 9 steps above as an app store optimization checklist to start the process. The most important thing to remember is that it is a process – it has to be continuous and ever-improving.
When you are on top of the game and are looking to make consistent changes, you are less likely to be affected by changing algorithms and new competition. Learn from every week and optimize your app store optimization strategy.
However, you can always leverage the expertise of others to help in ASO. Shopney is one such brand that can help optimize your ecommerce app easily. From intriguing designs to make your user's experience smooth, Shopney can help you with it all.
Try Shopney today and experience seamless app store optimization.