Convert Shopify Store Into Mobile App: How to Choose the Best Shopify Store Mobile App Builder
Customers are slowly moving towards mobile shopping over desktop or in-person shopping. The reasons are obvious – convenience, efficiency, and speed.
Reports predict m-commerce sales to exceed $510 billion in 2023 and over $710 billion in 2025. Currently, m-commerce apps take up 54% of mobile commerce payments over mobile browsers and desktops.
This rising demand for apps makes it essential for e-commerce brands to have an in-app experience for their customers. However, this can be an expensive endeavor costing tens and hundreds and thousands of dollars. Not all businesses can afford this expense and its consistent upkeep when they just have a simple Shopify store.
This is where mobile app builders can transform your brand's digital experience with a turnkey solution for an app. But in the competitive space of ecommerce, you might be wondering which is the best Shopify mobile app builder?
To help you make an informed decision on how you convert your Shopify store into a mobile app, we've created a checklist of things you should be seeking.
How to choose the best Shopify mobile app builder for your store
There are several solutions that promise to convert your Shopify store into a mobile app. But which one should you choose?
Here are some of the key aspects you should consider when choosing a Shopify mobile app builder:
1. Integration with Shopify store
The very first thing that a Shopify mobile app builder should offer is an easy integration with your online store. This is to ensure that the data moves smoothly between the online store and the eCommerce mobile app, offering customers the same branded experience. For example, product images, videos, description, pricing and more.
2. Ease of use
Mobile apps can be hard to build. You don't want to find a mobile app builder that becomes as complicated as hiring developers and building an app. Hence features such as a no-code drag and drop editor are crucial. This feature will allow you to treat every entity of your app pages as a separate block which can be moved to create the desired look and feel.
3. App themes
When you create an app for the Shopify store, you want it to reflect your brand's essence. Think about how intentional you were with your website and how you want the theme to be. Similarly, the best Shopify mobile app builder will help you find a theme that works well with your niche. Apps like Shopney, come with ready-to-use and editable themes for eCommerce mobile apps that makes it further simpler.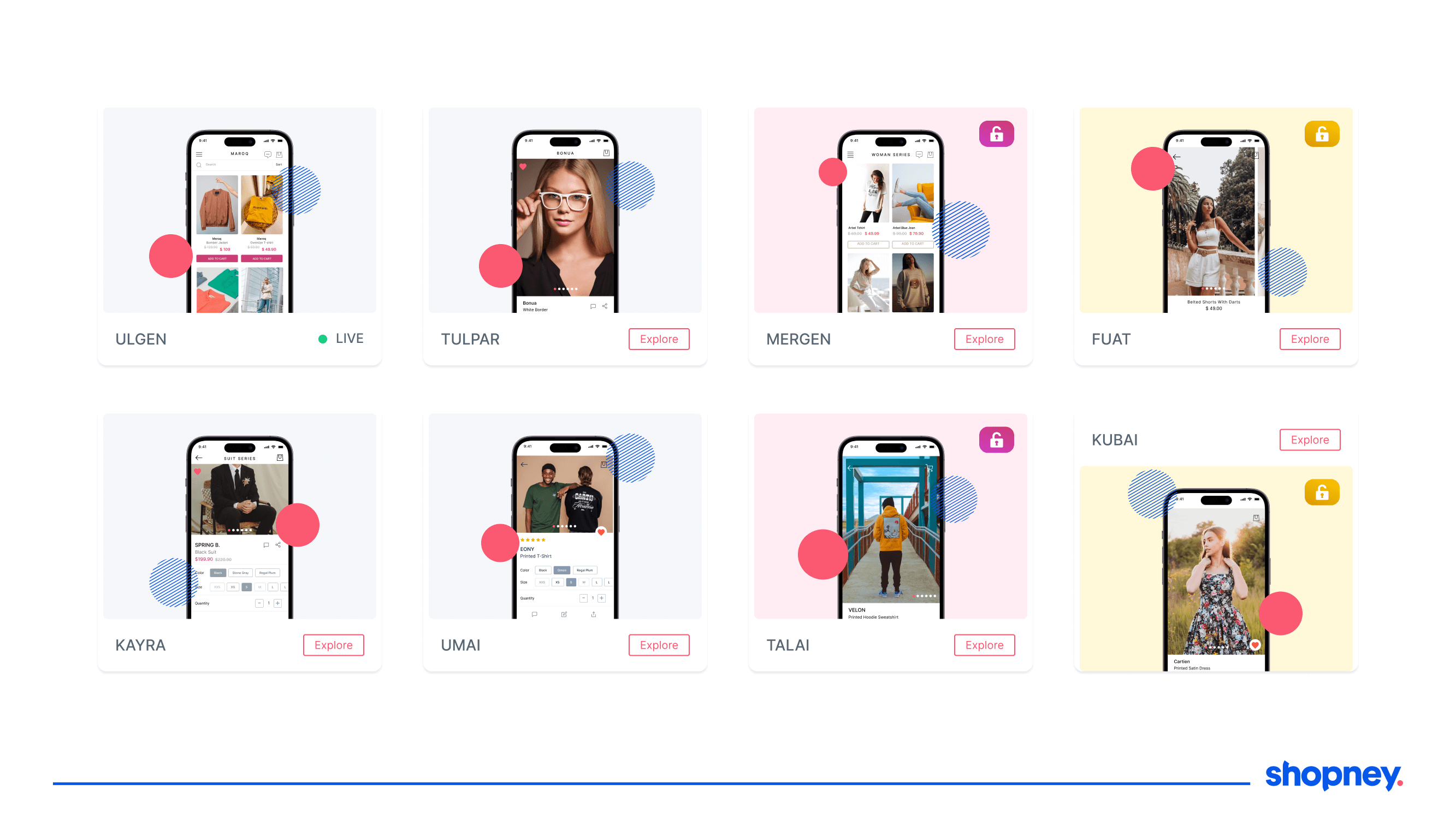 4. Merchant reviews  
Before you choose a mobile app builder for your Shopify store, take a good look at the reviews shared by other merchants or brands in a similar space as you. A good place to start is the Shopify app store itself as the reviews are vetted and not posted by promotional companies. Take a look at both positive and negative reviews to get a complete picture of the pros and cons of using the app.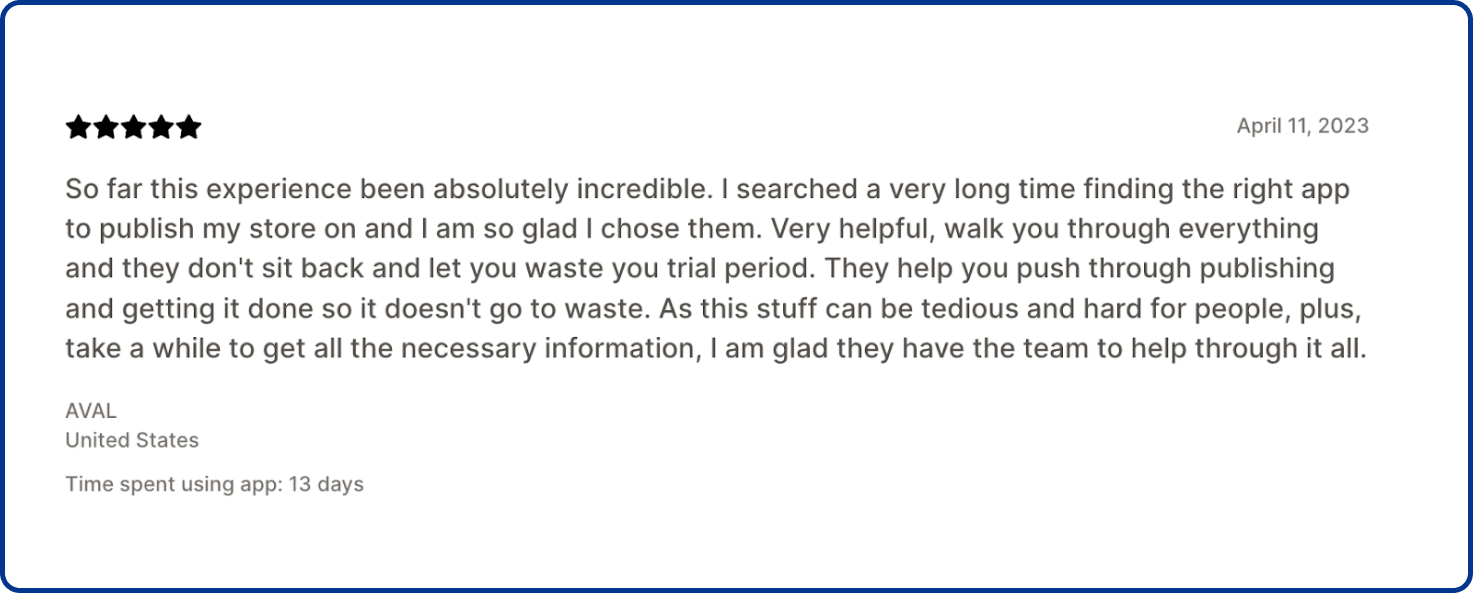 5. Customer support
If you are going to create your app, you will need consistent assistance. The best Shopify mobile app builder will have efficient customer support to help you along the way - right from the point of app installation. Evaluate them based on how proactive and prompt they are in helping you.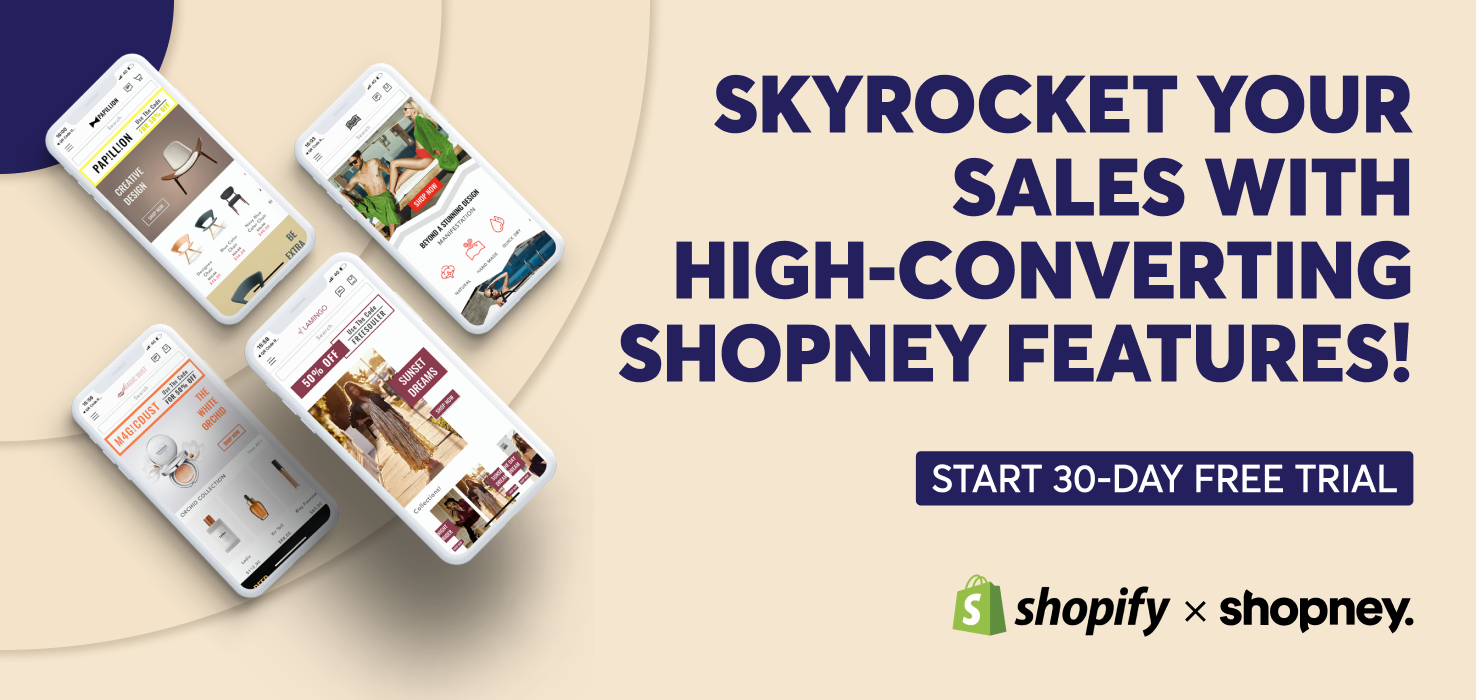 6. Customer success
We also recommend choosing a mobile app builder that goes above and beyond customer support with customer success. You want a partner who helps convert your Shopify store into a mobile app and also helps you create the right marketing strategies to drive more users to it and get more sales. For instance, Shopney has a team of app commerce experts that work alongside you to uncover how to improve your eCommerce mobile app to get more sales.
7. Integrations
To run a successful Shopify mobile app for customers, you will need to integrate with different Shopify apps and make it a complete package of offerings. So you want to find a mobile app builder that can easily carry out these integrations.
Shopney offers different integrations for various purposes for a holistic experience on your mobile app. Here are some apps that you can easily integrate with:

Growave, Stamped, and Yopto. - These apps help with getting reviews and ratings with loyalty programs
LoyaltyLion and Smile.io - These apps help by creating a dedicated rewards program to boost your customer's experience
Kiwi Sizing - This app helps by recommending sizes for a personalized experience for customers
Gorgias and Shopify Inbox - These apps help provide help desk services
Langshop and Weglot - These apps help in the translation of your Shopify app into the visitor's language
There are many more app integrations and customizations that you can make by using Shopney as your mobile app builder.
8. App engagement features
Converting your Shopify store into a mobile app is not enough. If you want to get more users onto the app, acquire more customers and encourage repeat purchases, you will need to have a proactive engagement strategy in place. This is similar to how you've been using SMS and emails to drive traffic to your online store site. But in this case, you need mobile-centric channels like the following:
Push notifications - A good mobile app builder should come with an ability to help you set up automated mobile push notifications. These could include welcome notifications for new users, abandoned cart reminders to bring back purchase abandoners, promotional push messages to get your deals, discounts and offers noticed.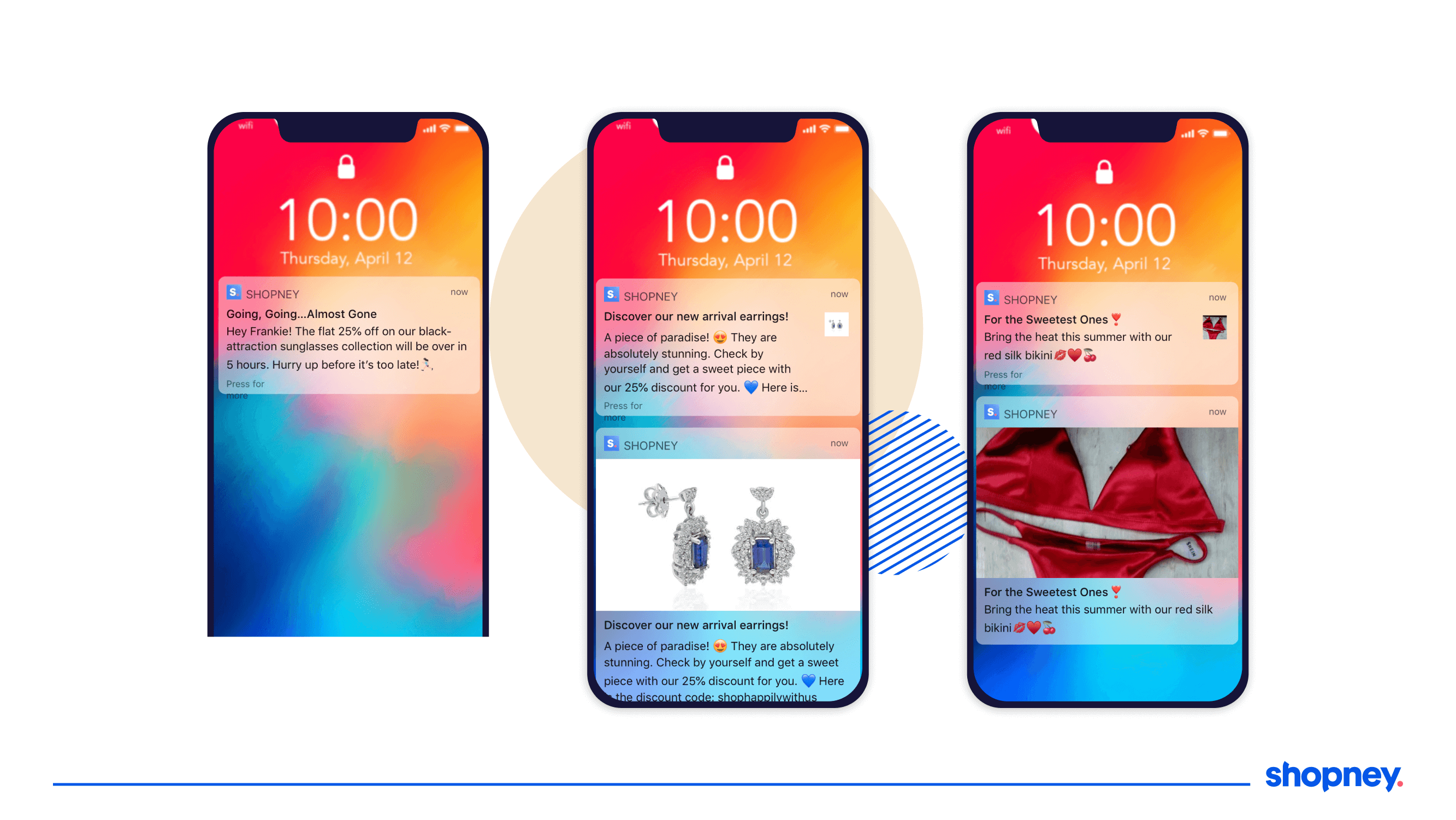 In-app chat - Similar to how online store visitors have the option to seek shopping assistance through live chat, your eCommerce mobile app should be able to do the same. Shopney enables you to implement an in-app chat to ease communication between your brand and the consumer.
What are the benefits of using an eCommerce mobile app builder for Shopify?
As a brand, you always have the option to hire a web developer or mobile app developer to build out an eCommerce mobile app for your brand - well, that's what industry's leading brands do!
So why should you consider using a Shopify mobile app builder instead? Let's take a look at some of the benefits:
1. Saves time
Designing and developing an eCommerce app could take anywhere between weeks to months or even years. The continual testing and the need to further develop features to meet current consumer demands, can extend this time period.

Considering the increasing competition in the eCommerce industry, brands cannot risk taking this long. With Shopify mobile app builders, you can install the solution and convert your Shopify store into a mobile app in just a few days - customizations included.
2. Saves money
Developing an app from scratch can be an expensive undertaking costing hundreds of dollars or more. Not all businesses can afford such expenses in the beginning. Therefore, finding alternates is essential. A Shopify mobile app builder is the best alternative to developing an app, and it requires no budget for developers or extensive testing and designing.
3. Maintain industry standards
Another reason we recommend using a Shopify mobile app builder is the assurance that you will be able to follow industry best practices, benchmarks and standards. This ensures that the eCommerce mobile app you create for customers, is able to keep up with the shopping experience they expect from your brand.

For instance, at Shopney, we update our drag and drop editor and other conversion features regularly so that you can turn your eCommerce mobile app into a sales channel for your brand.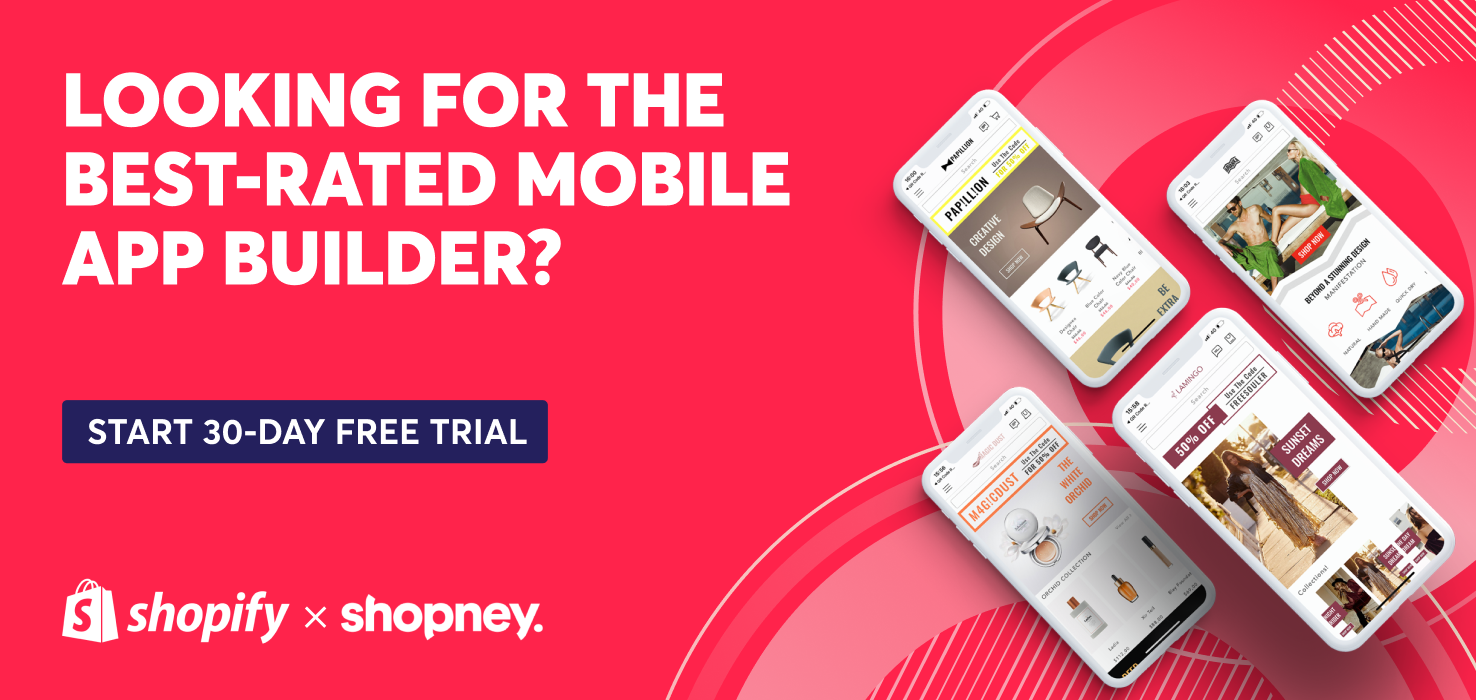 Build the best Shopify app for your online store
Building an eCommerce mobile app for your Shopify store may seem like a daunting task.
But a Shopify mobile app builder is here to make it as easy as setting up landing pages to promote your sales.
Shopney has not just built an easy plug and play app to convert Shopify stores into mobile apps. We have also built out a suite of features that are designed to help you offer in-app shopping experiences that are bound to stick with customers, helping you boost mobile conversions, sales and loyalty!
And to introduce you to all the features and Shopney capabilities, we offer a 30-day free trial to all brands!