Push notifications.
Your free marketing tool!
You don't need to pay for social ads anymore. Effectively retarget your mobile app users with push notifications. It's totally free and unlimited!
Get started
Rich push notifications
Email marketing is good! But push notifications are amazing!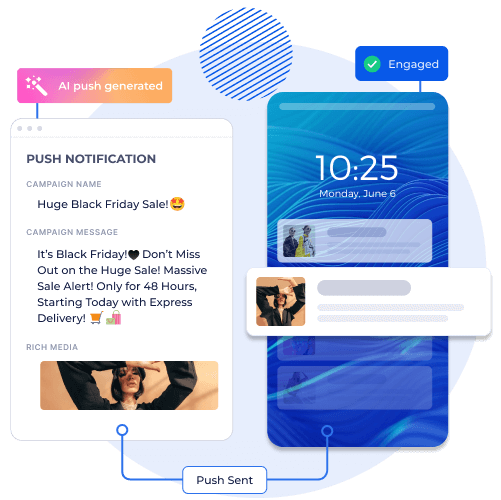 Deliver your brand message to where your customers' attention is at during entire day with push notifications!
Get 3x more results than your email marketing campaigns with free and unlimited rich push notifications.
Instantly retarget your customers again to promote your products or campaigns to save on your marketing ad spend!
Use Emojis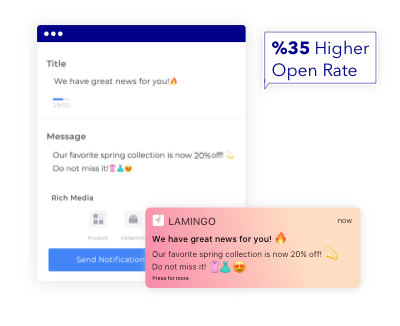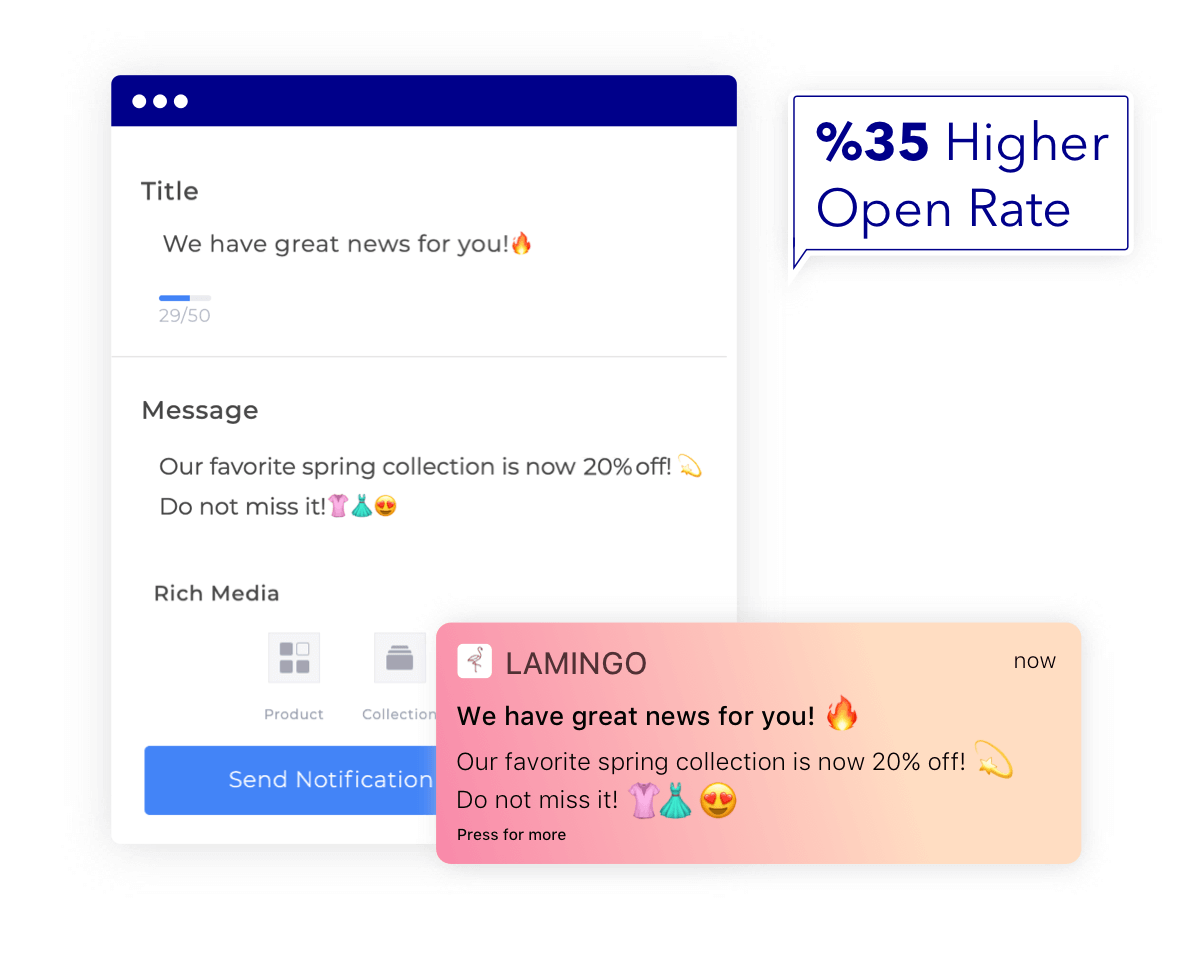 ''Emojis are always fun and help you communicate the emotion. A better connection with customers gives better results!''

Use Custom Image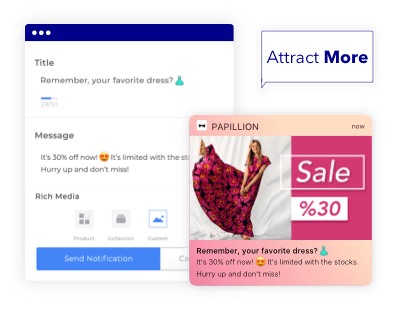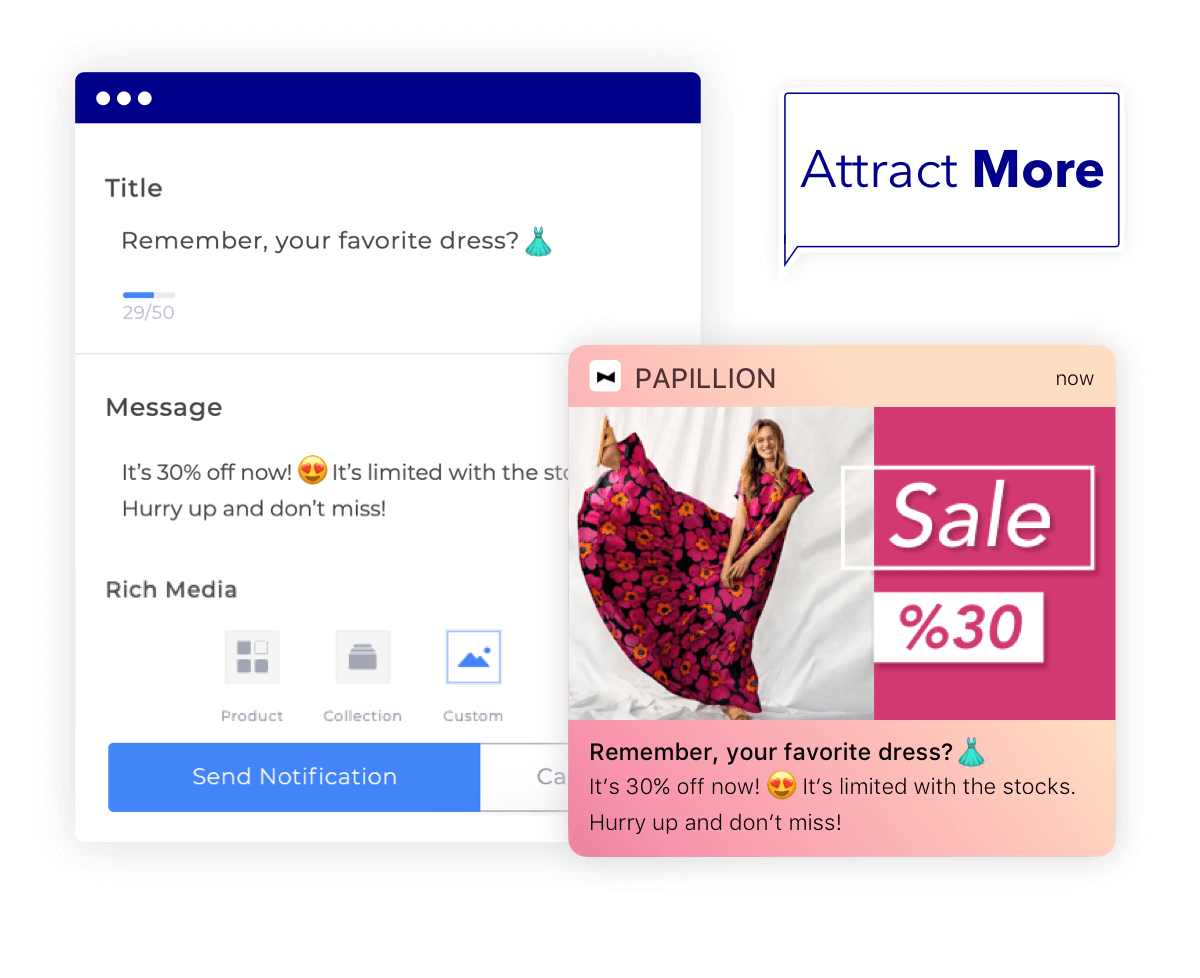 ''Push notification is the biggest marketing tool for us. Using custom images makes them more intriguing for sure.''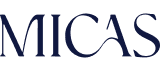 Abandoned cart push notifications
The cart abandonment rate in your store is at least %50. Let's fix it!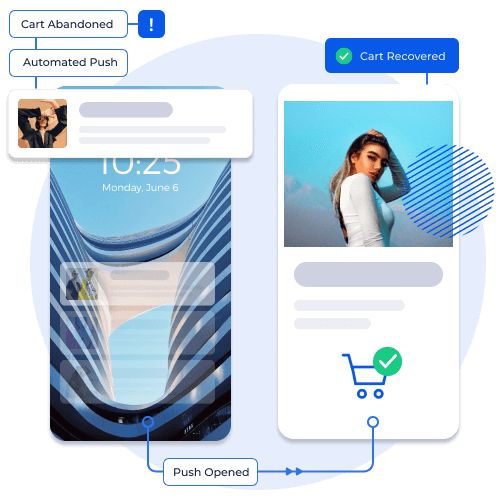 Shoppers abandon their carts so easily. Optimizing the checkout flow is a matter of months and takes so much money.
Yet, notifications are automated and free! Moreover, reminding them of the items they left may be just the push that the customers need to buy them.
Change Time Frequency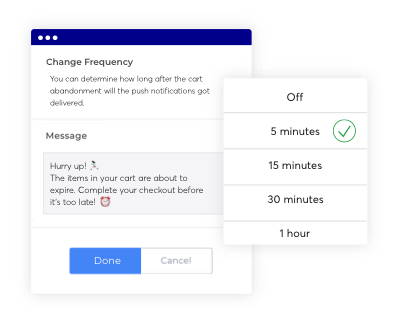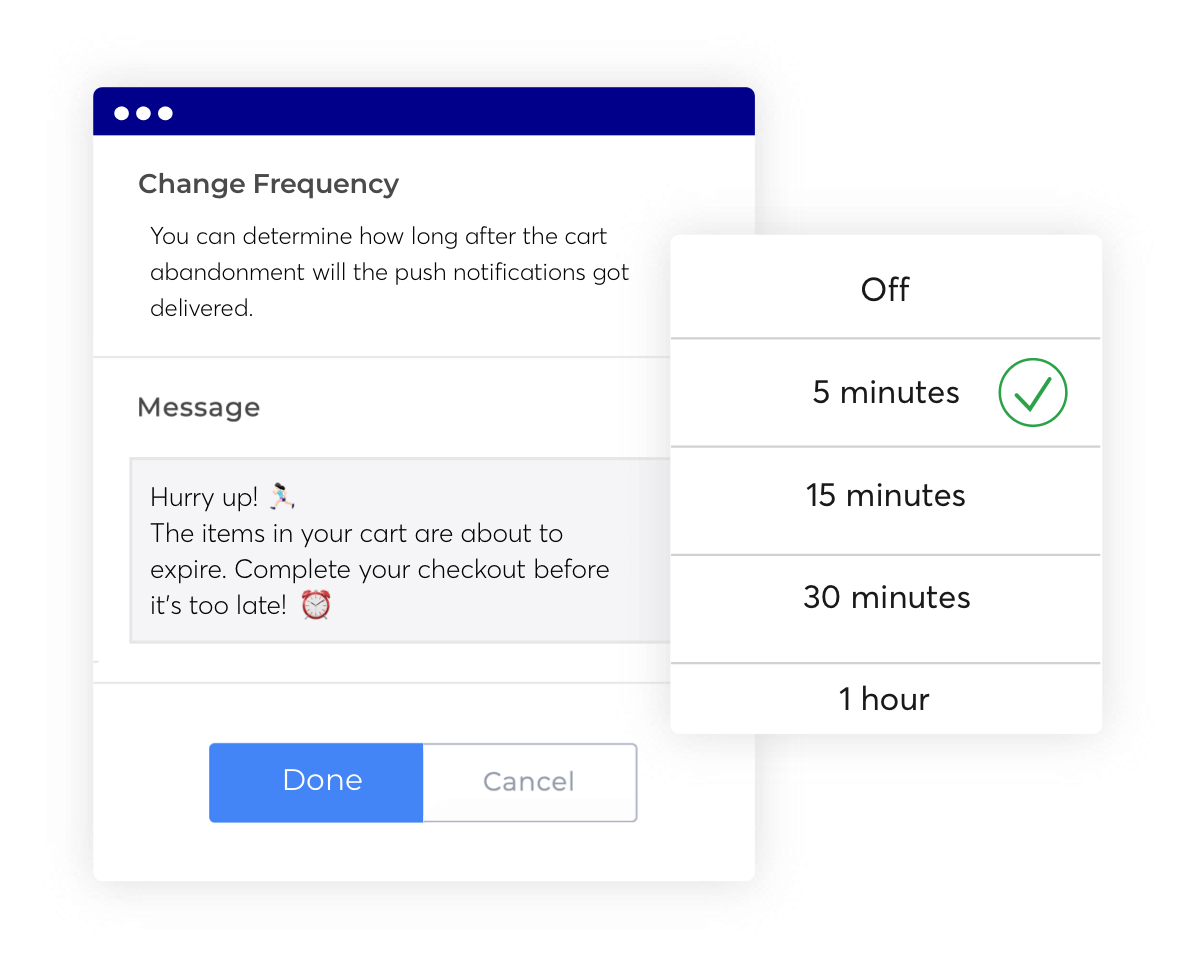 ''It all depends on your audience. We have A/B tested the timing and found the best. Having that option is a great value!''

Customize Title/Message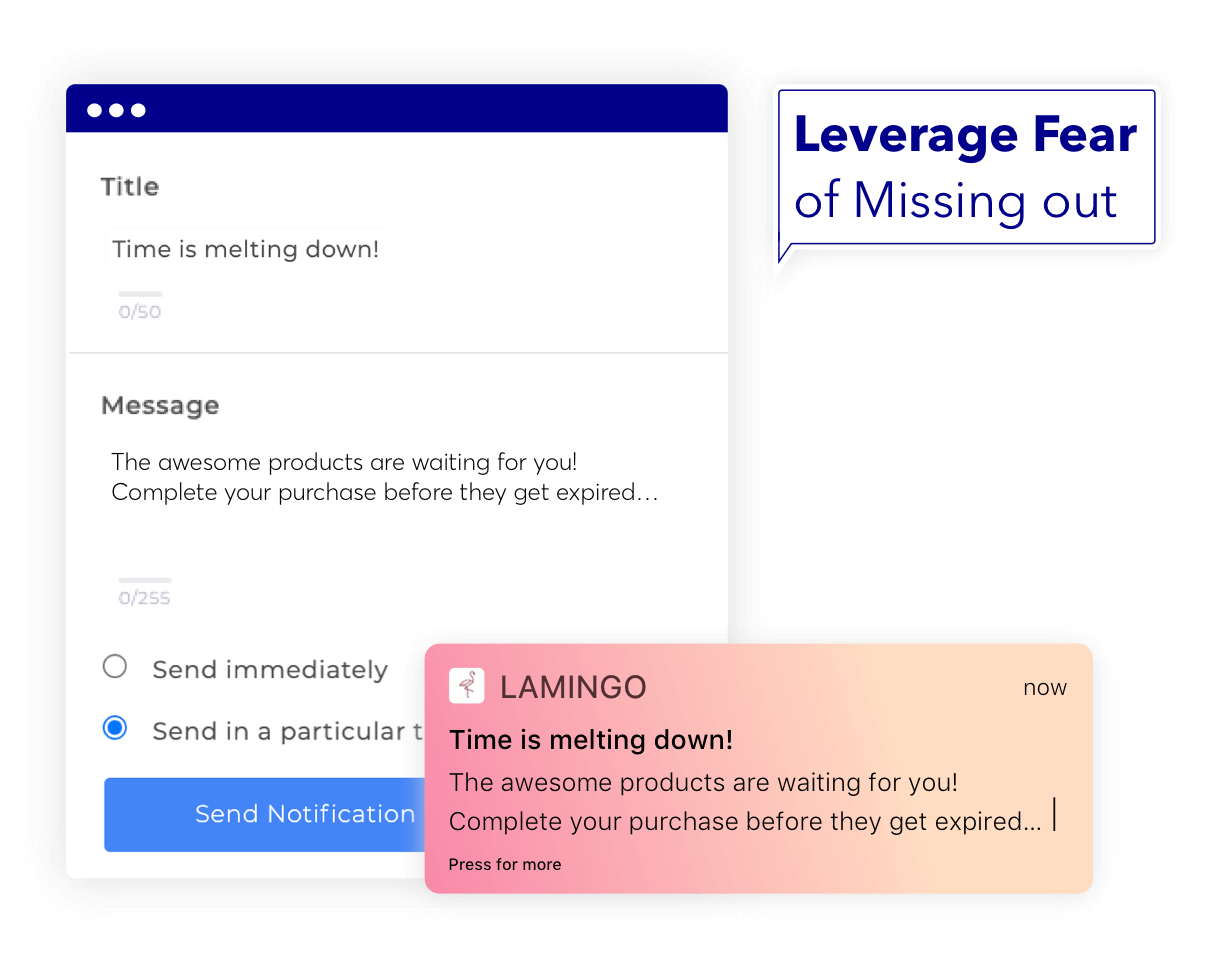 ''With the customizable abandoned cart push notification texts, we increased conversion rates dramatically.''

Back in stock push notifications
Know who is waiting for the restock. Notify them instantly!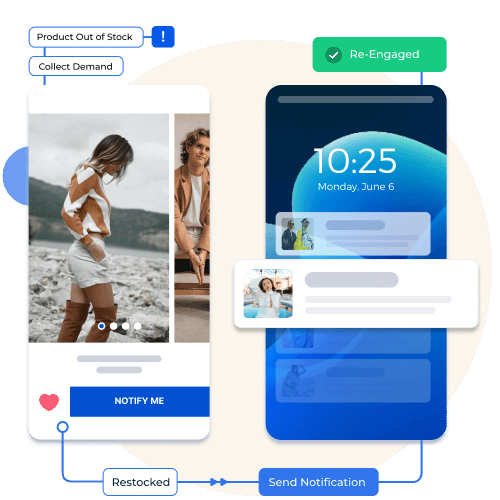 Send personalized and automated push notifications when a product gets back in stock. Balance supply and demand with data. Increase the sales!
Through our integration with the Back In Stock app, your customers get notified not only with a push notification but also with an email. So you make sure you notify your customers about restocked products through all possible channels.
Request Count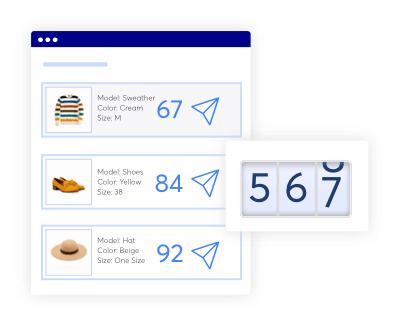 "Being able to know how many customers demanded a certain product is awesome. Everytime, we restock accordingly."

Integrated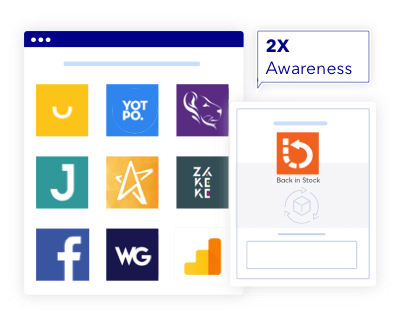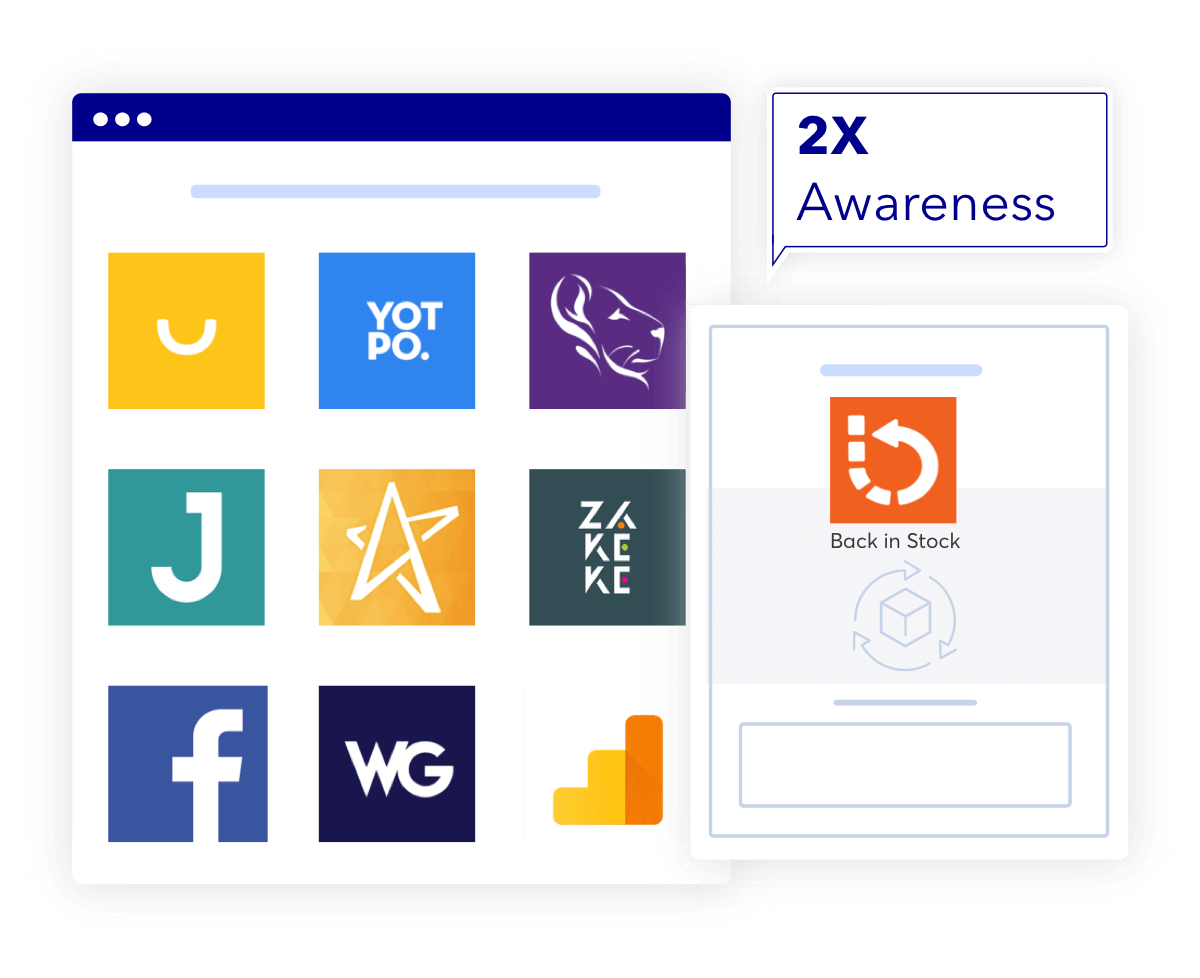 "With Back In Stock integration, we notify our customers both on mobile app and email. It increases the sales dramatically."
Reduce facebook ads spend with push notifications!
Convert your Shopify store into mobile app.
Start your free trial
Welcome push notifications
Enhance the first impression of your mobile app and keep it in their mind for the next shopping!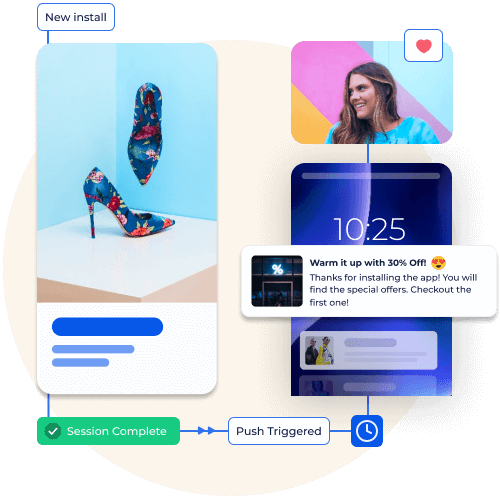 A good welcome is the key to the next visit! Delight your customers with a beautifully crafted push notification after their first session end.
Build a greater experience right off the bat to satisfy your customers and unlock more sales!
Segmented push notifications
Leverage highly-targeted audiences to deliver push notifications with ultimate relevance!
Your mobile app will generate more sales through push notifications almost immediately once you segment customers based on user behavior and location with this amazing feature.
Getting available with Klaviyo integration, segmented push notifications allows you deliver personalized brand messages at scale.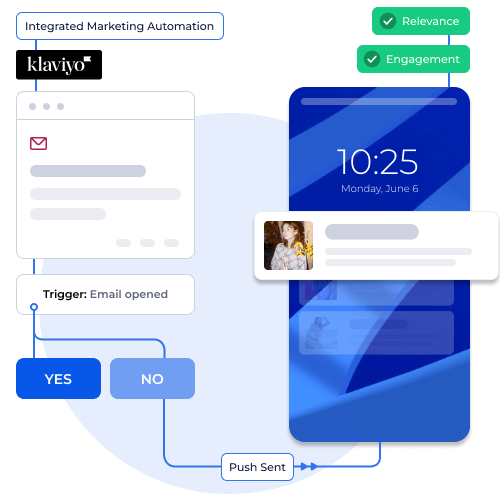 Scheduled push notifications
Deliver your notifications just when they will make sense and bring profit!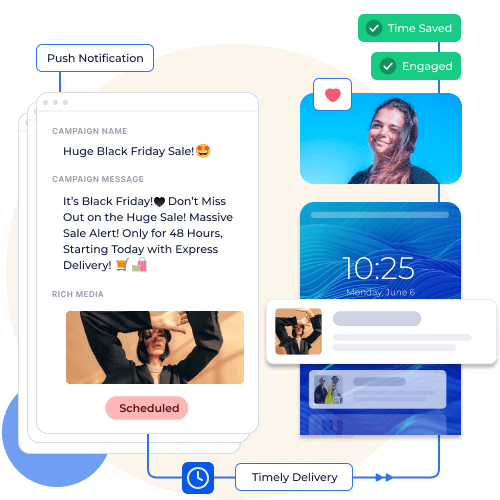 Schedule your push notifications according to when your customers will most likely buy. Avoid disturbance, attract more!
Coordinate push notification campaigns to drive more engagement to your mobile app!
Get your daily dose of insight