Complete Guide on Setting Up a Shopify Store Mobile App for Beauty and Cosmetics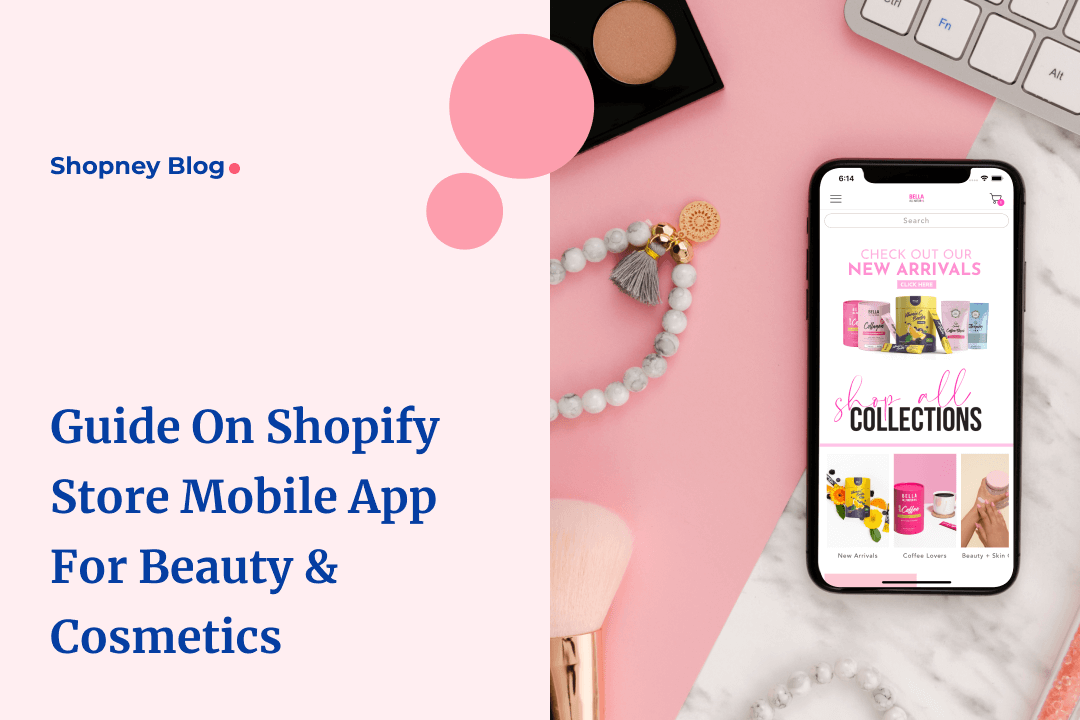 Learn why and how to set up an eCommerce mobile app for Shopify beauty and cosmetics online stores.
Beauty and cosmetic brands are on a dream run. With consistently increasing YoY growth in the past two years, this industry has emerged as one of the strongest eCommerce segments.
In 2022, the beauty and cosmetics industry reported a growth of 143% in order volume and a 132% growth in order value. This growth was far more than what the fashion industry, the biggest eCommerce segment, posted (60%).
Sometimes massive disruptions, like COVID-19, can act as a catalyst for some businesses. And it surely gave a much-needed boost to the online share of the beauty and cosmetic industry.
But it's not all roses for beauty brands; there's also a growing list of challenges. And the three major ones are — high competition, increasing customer acquisition costs, and low brand loyalty. These three are co-related and affect the success of your brand even if your product is top-notch.
When the competition increases, customers have more options, resulting in low brand loyalty and retention rate. A low retention rate means you will be less profitable because the conversion rate for existing customers is over 65%, which is only 5 to 20% for new customers.
Long story short, just having an eCommerce store is not enough. What you need is a Shopify Store Mobile App for your Beauty and Cosmetic brands.
In this guide, we discuss why beauty and cosmetic brands need a Shopify mobile app and how they can build one.
So grab your coffee, take a pen, and make some notes!
What Is a Shopify Store Mobile App for Beauty and Cosmetics?
A Shopify store mobile app for Beauty and Cosmetics acts as an extension of your Shopify store. It allows customers to browse and purchase beauty products using their mobile devices without having to open the browser and search for their favorite brand.
And considering that more than 40% of all eCommerce purchases are made via mobile devices, having a Shopify mobile app is a solution that can help beauty and cosmetic brands significantly increase their sales and loyalty. ‌‌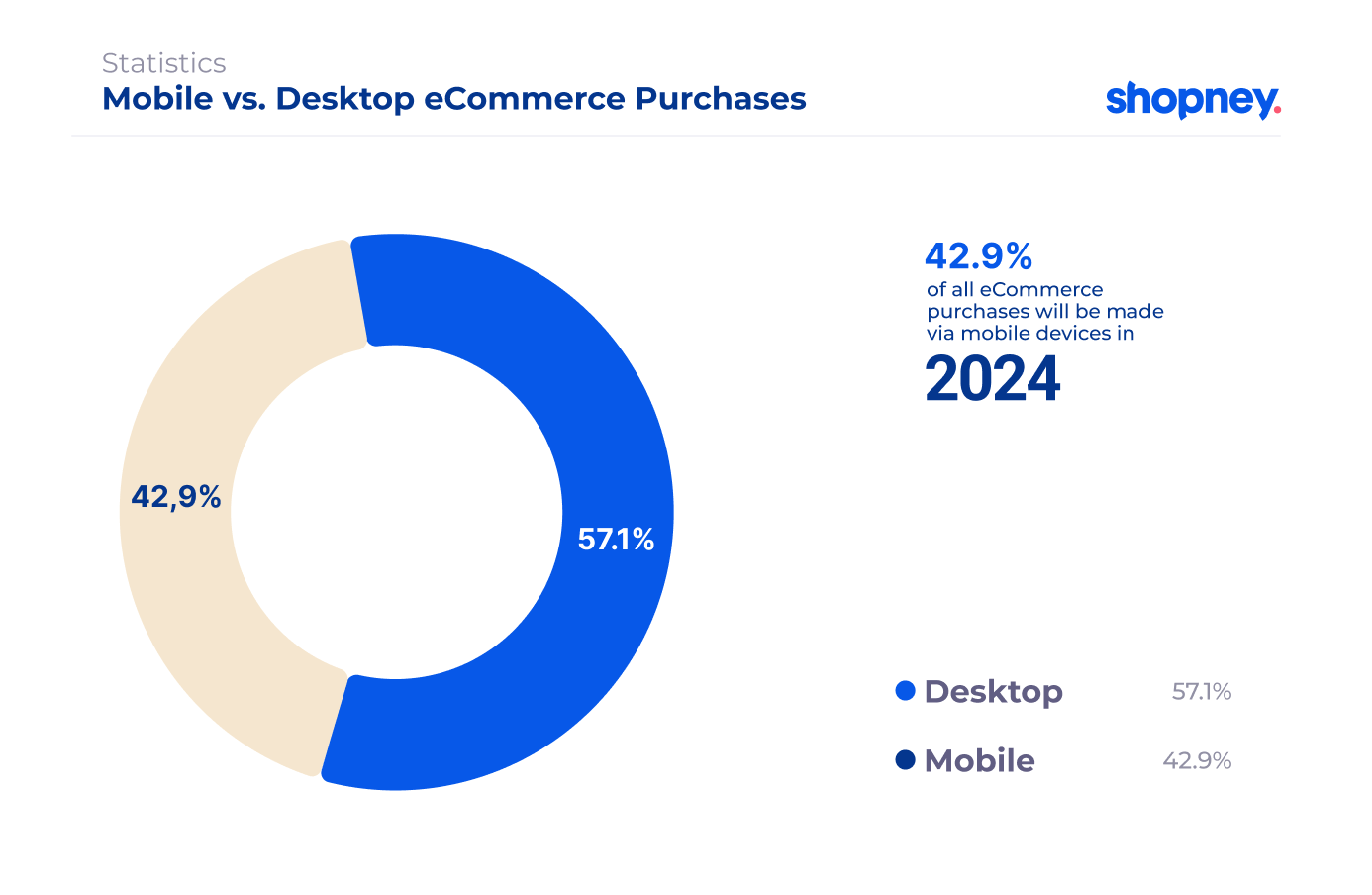 These are native mobile apps (for both iOS and Android devices) and not some half-cooked mobile-optimized version of your Shopify store that uses the browser to load the app's content.
However, the app is still synced with your beauty and cosmetics Shopify store to ensure that you don't have to make the same changes on your app. When you add, update, or delete a product on your store, it automatically reflects on your app.
A mobile app for your beauty and cosmetics Shopify store ensures you deliver a fabulous mobile-first experience to your customers; in return, they will shower more sales and loyalty on you.
Why Should You Turn Your Shopify Beauty and Cosmetics Store into a Mobile App?
There are a lot of ways to fight increasing competition and increase customer loyalty. You can work more on the quality of products or offer massive discounts. But implementing these solutions is possible only to an extent. This is where Shopify mobile app for beauty and cosmetics comes in.
An eCommerce app can help you adapt to changing customer behavior, who no longer want to browse the internet to find the right eCommerce store and select products from cluttered pages.  
It was important to have a mobile app for your business way back in 2016. It's 2023 now. And if your beauty and cosmetic brand doesn't have a Shopify mobile app, you're basically competing in a Formula One race with nothing but a mere bicycle. ‌‌
Take a look at some of the reasons why you need to turn your Shopify beauty and cosmetics store into a mobile app:
1. Mobile Commerce is Not Just a Trend
80% of all eCommerce sales are made via a mobile device. So yes, it's not just a trend. It's here to stay.
In the next two years, more than 85% of the eCommerce sales will be coming from a mobile device. So not having one means that you'll be left behind.
Moreover, "shopping" mobile apps are growing at a stunning rate of 54% year-over-year. This growth rate is higher than any other app category's growth, making it essential for beauty and cosmetics brands to convert their Shopify store into a mobile app.
2. Customers Prefer Mobile Over Websites
If given an option, 78% of customers would rather use a mobile app to browse products instead of using a mobile site. ‌‌
Gone are the days when having an app used to be a luxury. With customer preference changing from website to mobile, it is now more important than ever to have an app.
Customers prefer mobile apps because they are faster and more convenient, which makes their experience better. And if your beauty and cosmetic brand doesn't have a Shopify mobile app, you're neglecting the fact that customers only stay with brands that work on delivering great experiences.
3. Stay Ahead of Your Competitors
If you start building your Shopify app now, you'll have an early mover advantage over competitors that don't have an app. You will have a chance to not only acquire their customers but also gain their loyalty.
When you have a Shopify mobile app, customers are more inclined to download it, even if it's just for trying or in lieu of discounts. But once the app is downloaded, you'll be the first brand they'll come to when they need beauty and cosmetics products.
Moreover, every beauty and cosmetic company competes with brands like Amazon, Nykaa, L'Oréal, etc., making it crucial for beauty and cosmetic brands to meet the same standards. And if you don't have a mobile app for your Shopify store, you don't stand a chance against these giants.
4. Increase Conversion Rate With Push Notification
When you have a Shopify mobile app, you can promote your new products for free. These notifications can also be sent as a sales reminder, abandoned cart recovery, or other promotional messages. This can assist you in strengthening customer relationships and encouraging repeat purchases.
According to a report by Sales Cycle, 75.6% of shoppers add items to their online shopping cart but abandon the cart without completing their beauty and cosmetic purchase. And if these customers are not brought back, the marketing efforts made to bring them to the store will end up in the trash, just like the abandoned cart. ‌‌
With push notifications, you can send subtle reminders to customers to complete their purchases, increasing your conversion rate.
And why just push notifications? ECommerce apps can also reduce the friction of the checkout process and simplify it, making customers more likely to complete the purchase. Moreover, customers can save their shipping details on the app which further improves the experience.
5.  Increased Brand Recognition
For beauty and cosmetics brands, a mobile app that embodies your unique logo and colors is a powerful tool to improve brand recognition and leave a lasting impression on your customers.
By having your brand's app icon on their phone, customers will be constantly reminded of your brand and are more likely to return to your store. Moreover, your app provides the perfect platform to showcase your brand's distinct personality and values, which helps build a deeper connection with your audience.
Seize the opportunity to stand out in a competitive market and establish a stronger bond with your customers by leveraging the potential of a dedicated Shopify mobile app for your beauty and cosmetics brand.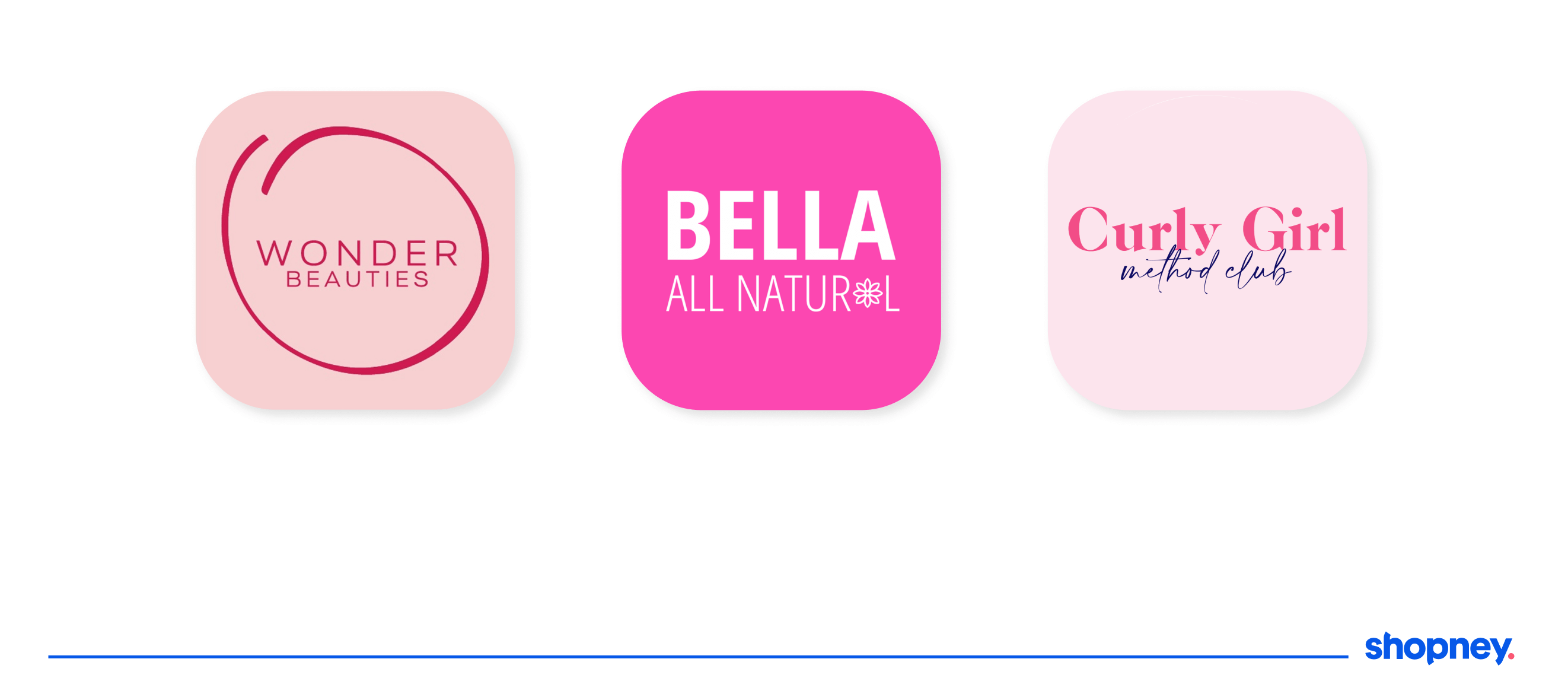 6. eCommerce Mobile Apps Increase the AOV
Mobile apps for beauty and cosmetics Shopify stores generate a higher average order value than desktops and mobile browsers.
Browsing beauty products is more convenient for customers on an app than on mobile browsers or desktops. When customers keep seeing the app icon on their home screen, they are more likely to open it and spend more time on the app.
This means customers will browse more beauty products. And the more they browse, the more they are going to purchase, increasing the average order value (AOV) of your beauty and cosmetics brand.
7. Data Collection for Personalization
The beauty industry is all about personalization —- a customer with dry skin will never want to have a product built for an oily skin type. And when customers see products that are not meant for them, it frustrates them, and 71% of those customers will probably switch to a competitor. ‌‌
Having a Shopify mobile app for your beauty and cosmetics store helps you tackle this, as it allows you to collect valuable customer data.
You can use this data to create personalized marketing campaigns, understand customer behavior, and improve your overall customer experience, helping you succeed in the long term.
Moreover, you can also integrate augmented reality into your app. For example, if someone wants to buy lip shades, they can just try how a particular shade will look on their face. Or you can recommend products that go well based on the customer's skin tone. This personalized experience will make customers hooked to your app, and they'll always return to buy more.
There are a lot more benefits to converting your Shopify store to a mobile app. But the ones listed in this guide should be enough for you to determine how beneficial having an app can be for your beauty and cosmetics brand.
Moving on, let's discuss money!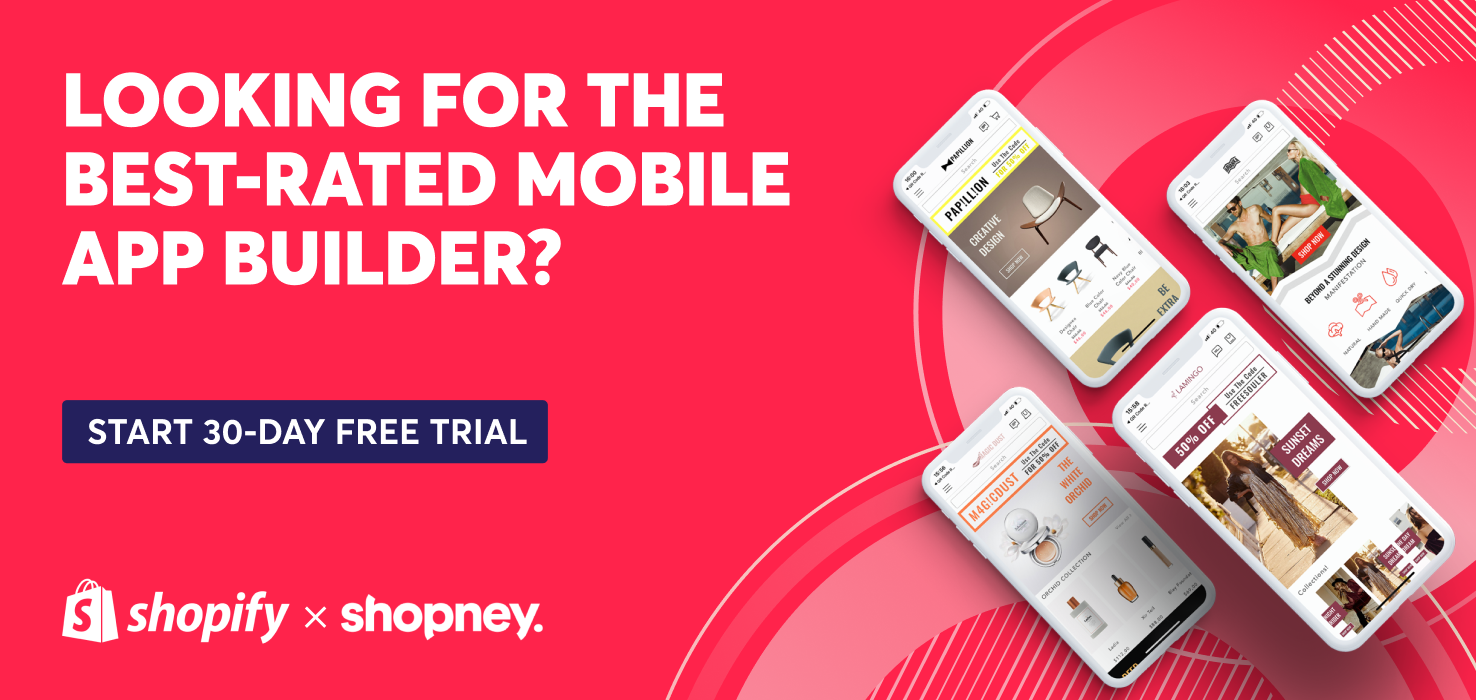 How Much Does It Cost to Build an eCommerce Mobile App?
This number might come to you as a shocker — building an eCommerce mobile app can cost $2000 to $30,000. The charges vary depending on the number of pages your beauty app will have, the number of product categories, and of course, the complexity and number of features you want to include.
And it doesn't end here. To keep the app up and running, you must also pay maintenance costs, which can be around 20 to 30% of the initial development cost.
If you choose the traditional beauty app development path, it'll take a long time to launch the app, considering the manual coding process and bug fixes. And by that time, many of your competitors will already have a launched app, working as a magnet to attract even your customers.
We have an easy way out for you.
Have you ever used WordPress website builder or Canva, where all you have to do is drag and drop the elements and select which button performs what task? Launching an app with a Shopify mobile app builder can be as easy as that. And you can also save thousands of dollars and launch your app for as low as $99 per month.
However, don't just jump on to taking a decision. First, you must understand how to approach the app development process methodically. So, let's dive right in!
How to Build a Mobile App for Your Beauty and Cosmetics Shopify Store?
1. Analyze Your Target Audience
Building an eCommerce mobile app for your beauty and cosmetics Shopify store requires a comprehensive understanding of your target audience.
How do you get this understanding? You can start by developing customer personas that provide insight into their demographics, shopping habits, preferences, and mobile usage patterns. With this knowledge, you can customize your app's features, design, and functionality to cater to their unique needs and expectations.
It's also essential to determine the frequency with which your target audience uses mobile devices to purchase from your store. This understanding enables you to appreciate the significance of building a mobile app for your store and its potential impact on sales and revenue.
By studying your audience and their mobile behavior, you can optimize your beauty and cosmetics brand's mobile app to drive conversions and create an unparalleled user experience.
2. Make a List of Features
Now that you have thoroughly understood your target audience, it's time to start thinking about the features you want to integrate into your beauty and cosmetics brand's mobile app.
You can start by reviewing the current features on your desktop site and considering which ones to incorporate into your mobile app. For instance, if your Shopify store allows customers to shop for products based on their skin type, you may want to replicate this feature in your Shopify mobile app to provide continuity and convenience.
Furthermore, it's crucial to include other indispensable features that can elevate the user experience, such as a user-friendly search bar, smooth navigation, a wishlist, and a seamless checkout process.
As you compile your list of features, prioritize them according to their significance and relevance to your target audience. This prioritized list will serve as a guide as you develop your mobile app, ensuring that you deliver your customers a user-friendly, feature-rich, and uncompromised experience.
3. Create a Shopping Workflow
After making a list of the features you want to include in your beauty and cosmetics brand's mobile app, it's time to create a shopping journey that's easy to follow for customers.
This involves mapping out the steps a customer takes from entering the app to when they purchase a product and even after. The sequence of screens and buttons should be mapped for the convenience of customers.
You start by identifying the different stages of the buying process and the points where the customer interacts with the app.
A basic shopping journey includes browsing products on the homepage, adding items to the cart, and going through checkout. Then there are drop-offs too, for which you need a separate workflow, where customers who abandon the cart get a push notification.
It's also essential to consider what happens after the customer makes a purchase, such as order tracking and customer service options.
Planning out the entire shopping process, you can pinpoint areas where customers may have trouble and improve the app to make their shopping experience seamless.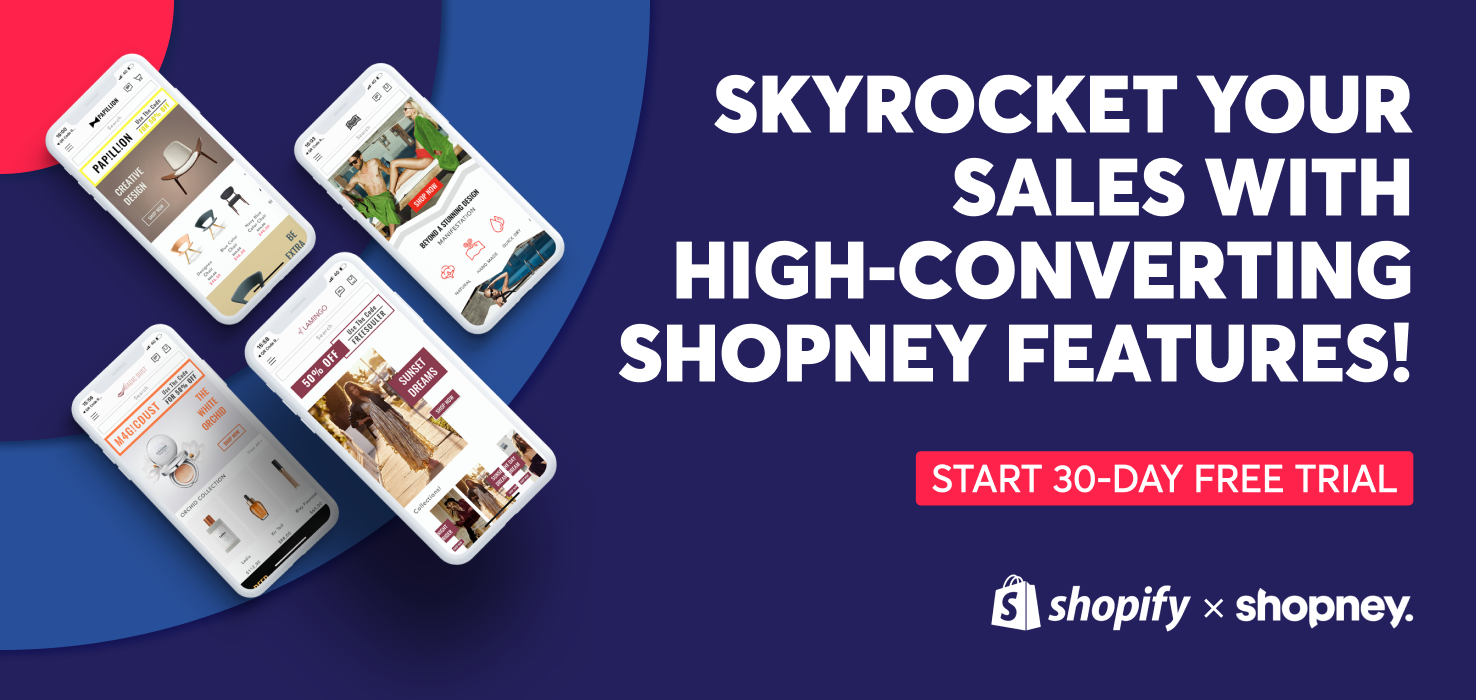 4. Choose the Right Shopify Mobile App Builder for Beauty and Cosmetics
When choosing a Shopify mobile app builder for your beauty and cosmetics store, it's essential to go for the one that delivers all the features and user experience your customers expect.
All Shopify app builders are not created equal. Therefore, you need to do your research before making a decision.
Here are some points you need to consider before picking a Shopify mobile app builder:
4.1. Ease of Use
The design dashboard of the Shopify mobile app builder should be easy and intuitive. The app builder should have a clean interface that lets you quickly find everything you need to create an app. Moreover, if you're not experienced in app building, choose the Shopify app builder that offers hands-on help with the design.
4.2. Customer Service
When choosing a mobile app builder, it's essential to consider their customer service. Look for an app with responsive and helpful support, as this will be crucial if you encounter any issues or have questions during the app-building process.
4.3. Features
Your Shopify mobile app builder should offer smart features that you will actually use and benefit from rather than an overwhelming number of features that you'll probably never need.
4.4. Integrations
Do you use other apps for managing your business and data? If yes, you should look for a Shopify mobile app builder that integrates with those apps. This will help ensure a seamless experience for your customers and help streamline your business processes.
4.5. Native iOS and Android Apps
You should always go for a Shopify mobile app builder that offers native iOS and Android apps rather than an app that just looks like a shopping app. This will help ensure that you provide your customers with the best possible mobile shopping experience, irrespective of the device they use.
4.6. Flexible Mobile App Design
How your beauty and cosmetics Shopify mobile app looks is critical for creating a positive impression on your customers.
Look for a Shopify mobile app builder that offers drag-and-drop design options and various themes. If you want to get a true sense of the builder's design capabilities, ask their team to share some examples of the apps created using their solution.
4.7. Language Support
Localization and internationalization are key considerations for any eCommerce business, especially for beauty and cosmetics. Look for a mobile app builder that supports multiple languages, even if you currently don't sell internationally. This will help prepare your business for future scaling.
4.8. Reviews on Shopify App Store
Finally, you need to research what customers who have used the Shopify mobile app builder are saying about it.
While researching, don't just focus on the positive reviews; look for people's problems and how the support team helped solve the issue. This will help you make an informed decision and avoid any potential issues.
99% of customers who used Shopney rate it as a 5-star solution to convert the Shopify store to a mobile app.
The best Shopify mobile app builder will have all the above-mentioned features, from ease of use to flexibility, to integrations and design. And you can't compromise on any of that.
5. Plan Out Your Homepage
After choosing your Shopify mobile app builder, it's time to plan the homepage.
You need to ensure it doesn't look too crowded; otherwise, customers might get confused and delete your Shopify beauty and cosmetics app.
Based on our analysis of hundreds of eCommerce mobile apps for beauty and cosmetics, here are some things that we suggest having on the homepage:
Note: Always put your brand name and logo on every page to help customers remember your brand.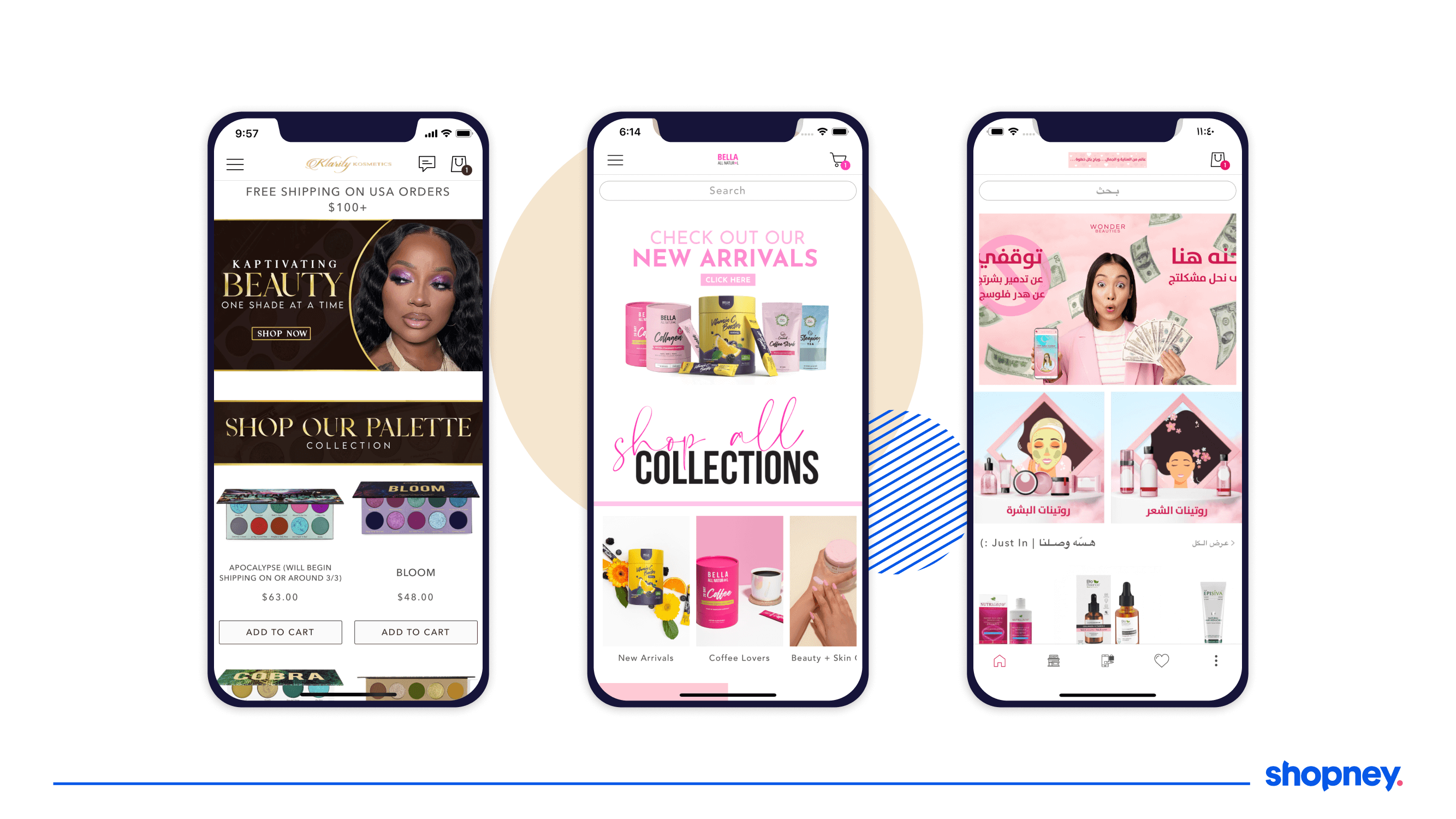 5.1. Search Bar, Cart, Wishlist, and Menu Button
On your beauty and cosmetics app, place the search bar at the top of the homepage, so customers can easily search for specific products or categories. For example, if a customer has come to your store, especially for an "anti-aging serum," they can quickly find relevant products by typing it in the search bar.
You should also add icons for the cart and wishlist beside the search bar to make it easy for customers to keep track of their favorite products and shopping carts.
Keep the top section static across all mobile app pages so that customers can access it quickly from anywhere. This ensures a seamless and user-friendly experience.
Consider placing the menu button at the top of the homepage so customers can easily access their account page, track orders, and explore categories and the complete store.
5.2. Category-wise Sale Banner
After the static top bar, you should display a category-wise sale banner, especially when launching an app, because 80% of customers admit trying new brands that offer discounts.
If you sell skincare products for both men and women, you can have their separate clickable images on either side.
This banner should highlight the range of discounts (like 50-80% off) and the dates for which the sale is live. It would drastically help increase sales.
5.3. Categories Section
After showing them what's on offer, you must show them everything you have. You can display the available categories divided into subcategories.
The top-level categories can be: Makeup, skincare, bath and body, haircare, sanitizing, kits, etc.
These categories can be divided into face, eyes, lips, nails, makeup kit, makeup combo, etc.
By segmenting your products into categories, you ensure that customers can easily explore all the products of a particular category and purchase the product they like the most.
5.4. Flash Sale
On your beauty and cosmetics app's homepage, you can run flash sales, sales that are only live for a couple of hours or minutes.
Because the deals are unmatched, you get maximum purchases on your beauty app. You can place a time on the flash sale banner, which creates a sense of urgency and encourages customers to purchase.
The homepage is the best place to display these flash sales because if you put it somewhere else, the customers might never see it.
5.5. The Bottom Panel
The bottom-most section, just like the top-most, is also static. It should have navigation buttons like categories, an account page, a home button (to come back to the home page), and any other page that customers frequently visit on your store. The idea is to make navigation easier for customers.
These are the most critical elements that must be there on your homepage for it to convert more.
Adding so many buttons and pages can be a little overwhelming if you think about the coding process. But with a drag-and-drop Shopify app builder, these pages can be made in no time.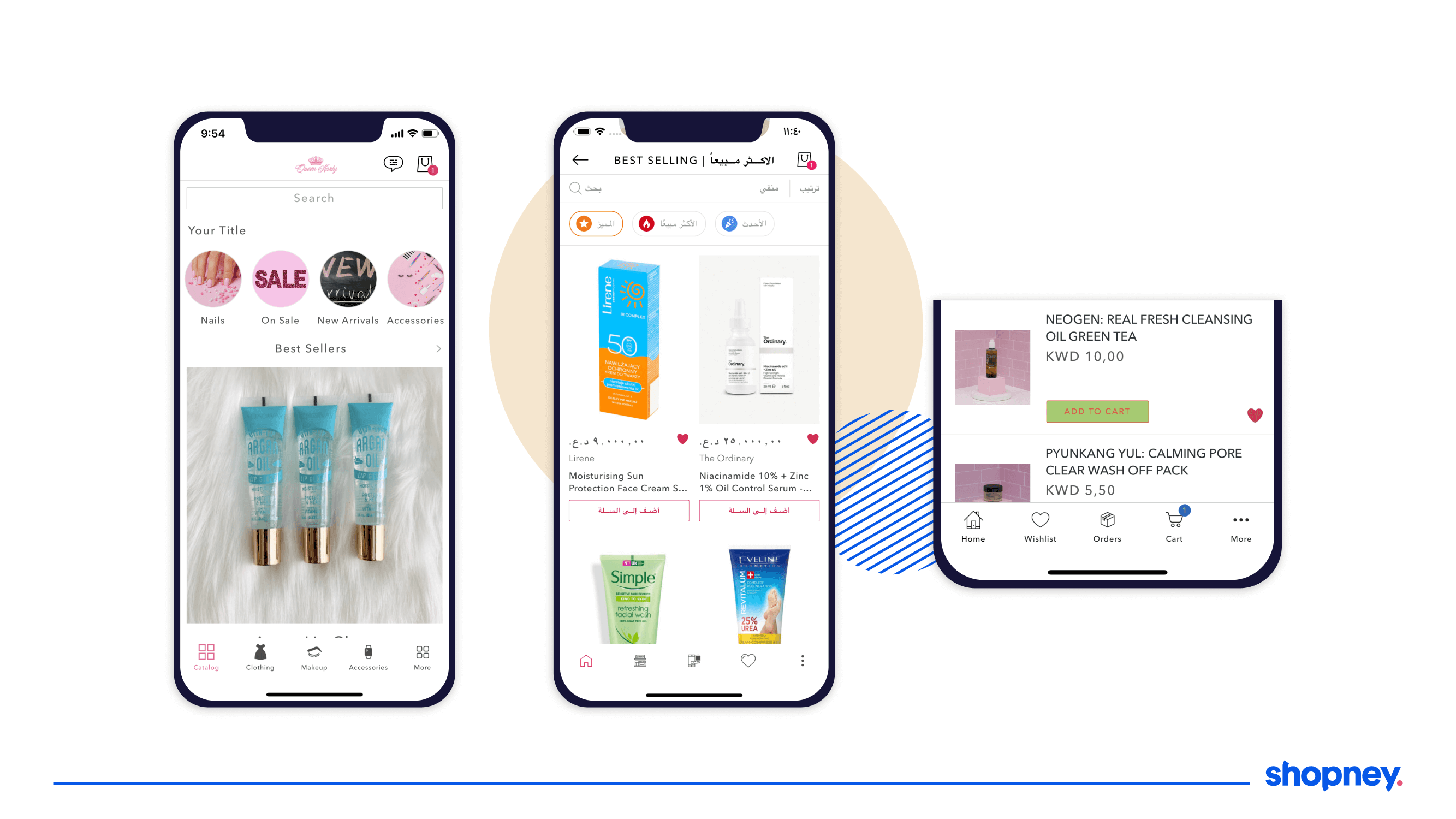 6. Plan Out Your Collection Pages
When it comes to beauty and cosmetics, organizing your products in a meaningful way can make it easier for customers to find what they're looking for. Here are some essential elements to consider when planning out your collection pages:
Simplify your categories: Display a reasonable number of categories or collections to avoid overwhelming the customer.
Descriptive names: Name your collections in a descriptive way so that customers can easily understand what they will find inside.
Visual representation: Add visuals to represent your collections, such as a featured product or banner image.
Consistency: Keep your collection pages consistent with your online store as much as possible, so customers can seamlessly navigate between the two.
7. Plan Out Your Product Pages
When creating your beauty and cosmetic brand's mobile app, it's essential to plan out your product pages to provide customers with all the necessary information to make informed purchases. Here are some essential elements to include:
High-quality product images: Customers want to see the product they're interested in from multiple angles and in high-quality detail.
Product Description: A well-written product description that explains the product's features, benefits, and ingredients can help customers understand what they're buying.
Size and color options: Information on available sizes, colors, and shades will help customers choose the right product.
Customer reviews: Including reviews from other customers can provide social proof and help customers understand the product's quality and performance.
Ingredients and usage information: Customers want to know what ingredients are in the products they will apply on their skin and how to use them properly.
Clear pricing and shipping information: Being transparent about pricing and shipping details can help customers make confident purchases.
Related products: Including related products can help customers discover more products they may be interested in purchasing, leading to a higher average order value.
A pro tip: Add a share button on your product pages to make it easy for customers to refer your products to their friends and family, increasing sales and lowering customer acquisition costs.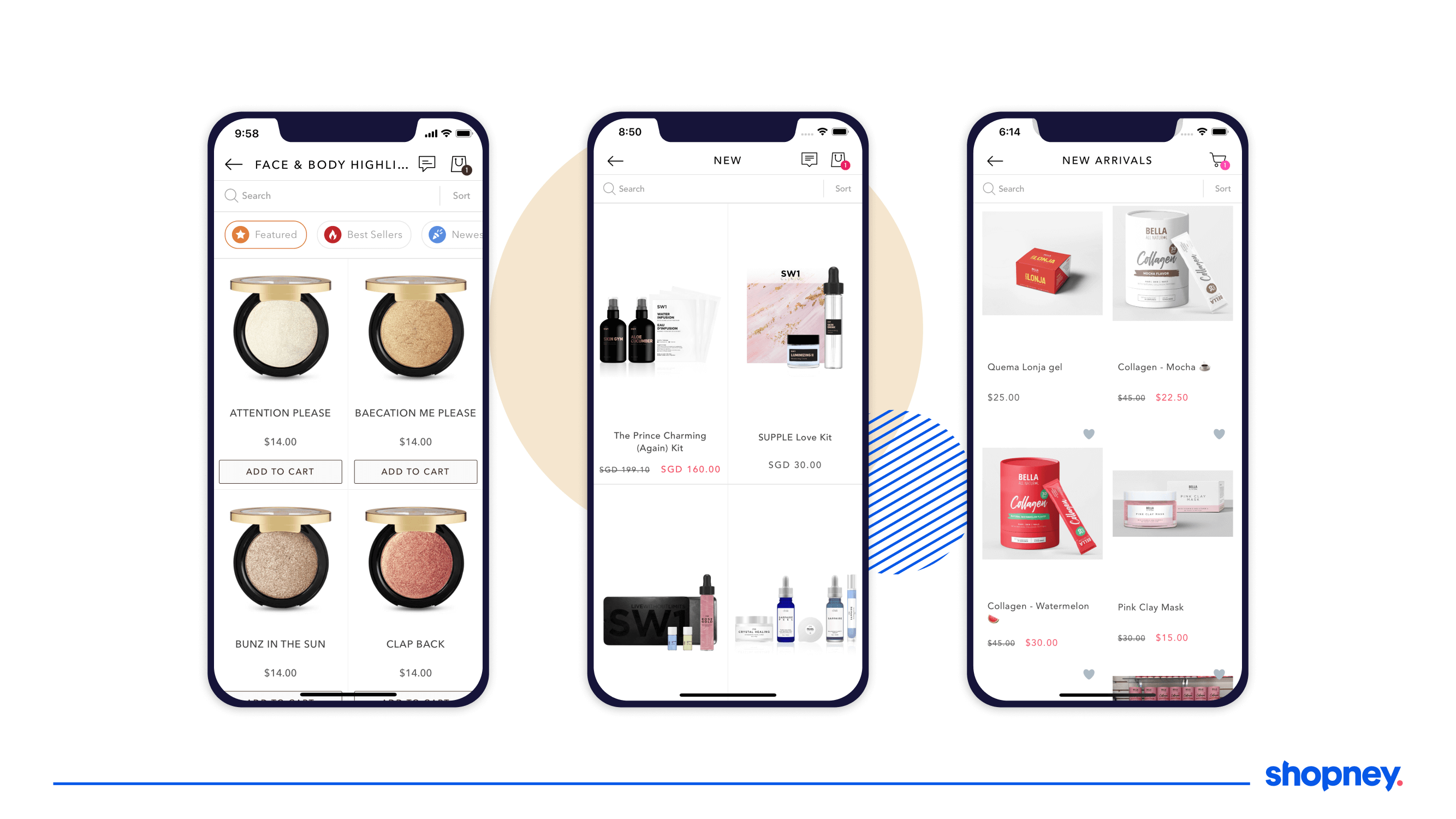 8. Streamline Your Menu
The menu on a beauty and cosmetic app is crucial to providing easy navigation for users to find what they are looking for. It also helps organize the app's content clearly and concisely, improving the user experience.
Moreover, a well-designed menu makes the app more professional and increases the perceived value of the brand.
Here are some sections that should be on the menu of your beauty and cosmetics app:
Shop: This is the primary section where customers can browse and purchase products. It should be easily accessible from the menu for a seamless shopping experience.
Products: Customers can easily filter and find specific products by navigating through various product categories, such as makeup, skincare, haircare, etc. This helps in better organization of products and easy access to related items.
Account: This section enables customers to create an account, track their orders, view order history, and manage their personal details.
About Us: This section provides customers with information about the brand, its history, and its values. It helps to build trust and establish a connection with the customer.
Contact Us: This feature enables customers to get in touch with the brand for any queries or concerns, improving customer service and satisfaction. Additionally, you could also include sections such as 'Trending,' 'New Arrivals,' 'Offers', or 'Blogs' on the menu to enhance the customer experience.
9. Set Up Search and Filters
Filters are crucial in beauty and cosmetics apps, allowing customers to find products they want to buy quickly. This feature leads to higher engagement and conversions.
Here are some best practices to consider when implementing a filter feature in your Shopify beauty and cosmetics app:
Keep the filter simple and easy to use: use clear and concise labels and provide straightforward options.
Ensure accuracy: the filters should return accurate and relevant results, avoiding false matches.
Make it responsive: ensure your filter feature works well regardless of screen size.
Prioritize critical filters: display the most commonly used ones at the top and the less frequently used ones below.
Use relevant filters: include filters relevant to your products and your customers' needs. For example, if a customer selects lip shades, filters should show them all available shades.
Multiple selection options: allow customers to select multiple options within a filter category.
Allow for clearances: provide an option for customers to clear all filters and start over.
If you turn your Shopify store into a mobile app with Shopney, you can leverage the product filter & search with Shopney <> Boost Commerce integration and offer a better customer experience.
10. Optimize the Checkout Process
If the checkout process of your beauty and cosmetics store is complicated and time-consuming, the cart abandonment rate can go up.
On the checkout page, a progress bar shows the number of remaining steps to complete the order. When it is clear to customers how much more information the brand needs, they tend to complete it more.
Moreover, try reducing the number of form fields as much as possible. Having fewer fields expedites the checkout process and lowers the drop-off rate.
11. Ensure Thorough Branding
Have you ever downloaded a beauty and cosmetics app and thought that it was not the right one because it looked different from the actual site? You're not the only one who faced this issue. When brands don't give enough importance to branding, customers get confused.
Your mobile app is an essential part of your brand, and it should look and feel like your online store. This means you need to customize it with your logo, colors, fonts, and messaging to create a consistent brand experience.
Shopney, a Shopify mobile app builder, can help you with this. They provide pre-built templates that can be customized to match your online store's theme, creating a similar look and feel within the app. You can also tailor every little detail of your mobile app with their customization capabilities.
12. Integrate Your Payment Gateways
When customers are shopping on your beauty and cosmetic app, it's essential to ensure that the checkout process is easy and convenient for them. One way to do this is by offering multiple payment options.
By integrating multiple payment gateways, your customers can choose their preferred payment method, which can help build trust and credibility with your brand. This can also lead to more sales and revenue because customers are more likely to complete a purchase when they have a payment option they trust.
The right Shopify mobile app builder can provide you with multiple payment gateways like Apple Pay, Google Pay, PayPal, Amazon Pay, Alipay, Klarna, Sezzle, and more to ensure your customers have a seamless and stress-free checkout experience.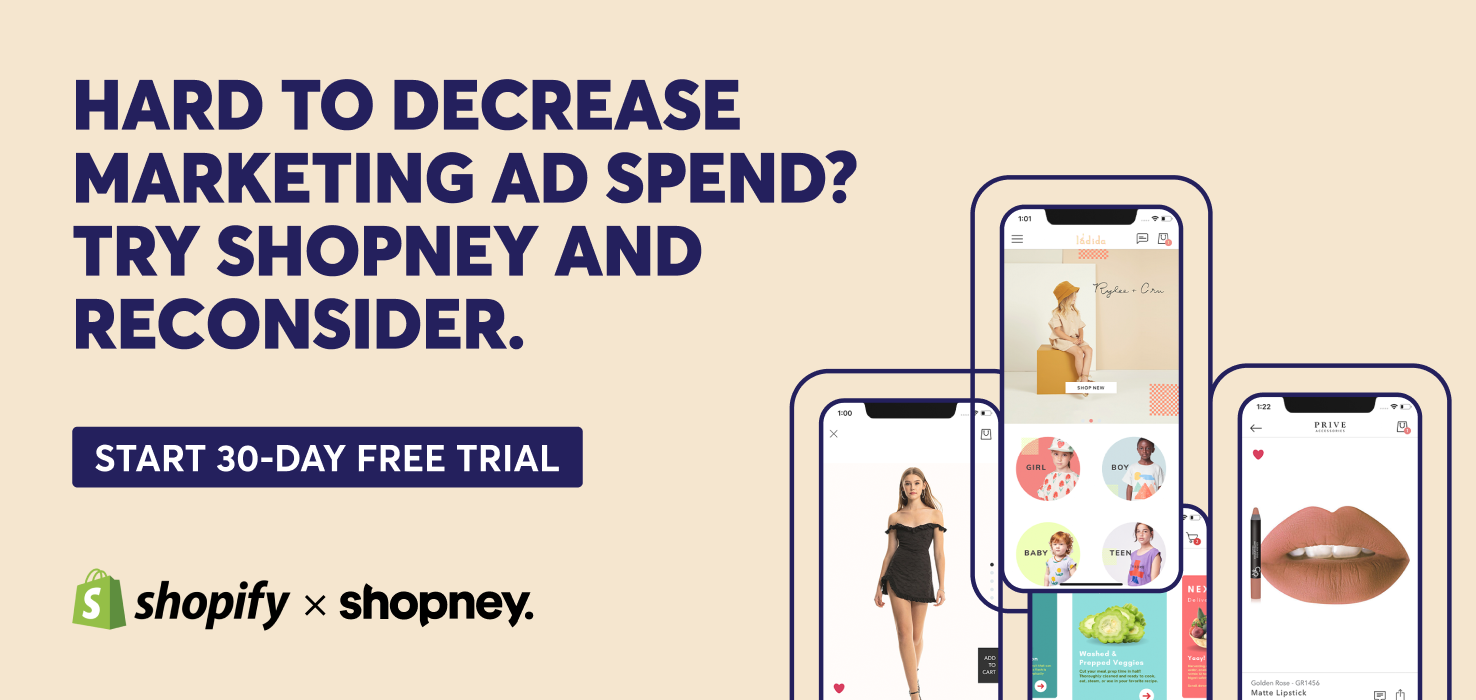 13. Set Up Push Notifications
One of the biggest challenges for beauty and cosmetics brands is the cart abandonment rate. Almost 76 out of every 100 customers leave the beauty and cosmetics store without completing the purchase.
Push notifications can help navigate this issue. By sending reminders to customers about their abandoned carts, personalized offers, and new arrivals, push notifications can encourage customers to return to the app and make a purchase.
Shopney, a Shopify mobile app builder, allows you to send media-rich push notifications with attractive visuals and graphics. These push notifications can get 35% higher open rates than text-only notifications, which can help bring customers back to your app.
With Shopney, you can also send targeted push notifications based on your customers' preferences, behavior, and location. This helps you build better relationships with your customers and increase your chances of making a sale.
14. Test the App
Once you've finished setting up your beauty and cosmetic app, it's essential to check it thoroughly to ensure everything works correctly.
You must test the app on different devices to ensure it's easy to use and works correctly. Make sure the checkout process, payment gateway integration, and push notifications work well.
If you find any problems or bugs during testing, don't worry. You can always go back to your Shopify mobile app builder and fix the issue.
This is where choosing a builder that offers excellent customer service helps. Because if you can't fix the issue on your own, you can take help from the customer service team.
15. Launch and Promote the App
Now that you have made the necessary changes and tested your beauty and cosmetics app, it's time to launch and let your customers know about it.
The process of submitting, getting approved, and publishing your app on the app store takes around three weeks.
You can promote your app by adding smart app banners on your website and offering app-only discounts to your existing customers. You can also use social media platforms to reach out to your followers and promote your app.
After launching, track your app's performance, collect customer feedback, and make necessary improvements to ensure a great shopping experience.
Examples of Beauty and Cosmetics Brands Using Apps
ECommerce mobile apps are now more common than ever. Here's taking a look at some of the beauty and cosmetics brands that have built their mobile apps to meet consumers where they are the most active:
1. Bella All Natural
Bella All Natural was founded in 2014 by Daisy Cabral. As the name suggests, all the products are made using natural ingredients.
On the homescreen of their app, there's a huge banner for sale. It encourages the customers to look for the products on sale; the more they browse, the more they purchase.
Their app, powered by Shopney, has a clean user interface with a static cart button and a search bar.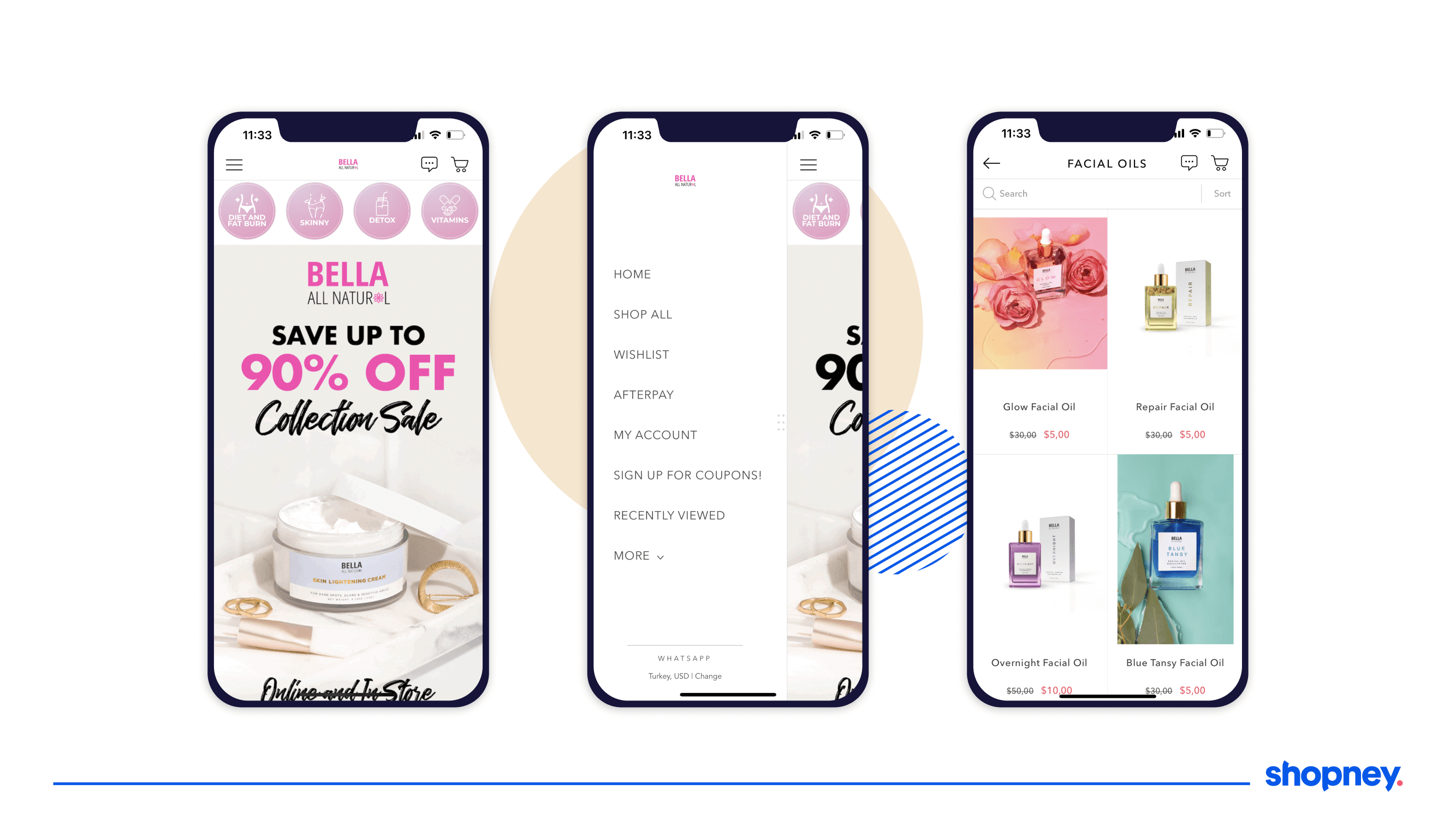 2. Nykaa
Derived from the Sanskrit word 'Nayaka,' meaning actress or one in the spotlight, Nykaa is about celebrating each woman's star and being her confidante.
Nykaa does a brilliant job of segmenting products into different categories. The products are segmented category-wise, brand-wise, luxe, bestsellers, and new launches.
Moreover, they also have a sale banner on the homepage, encouraging customers to buy more.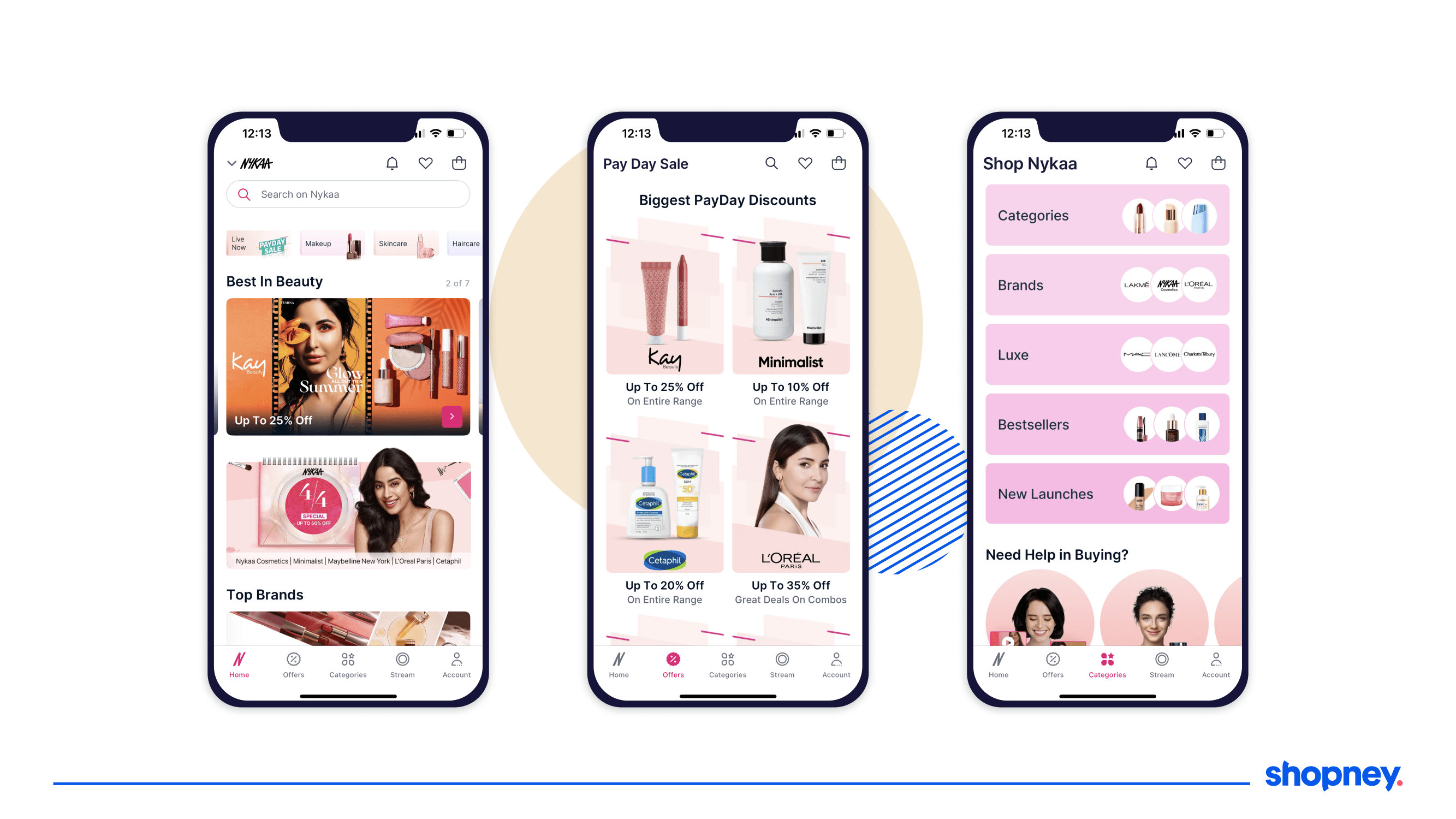 3. MyGlamm
MyGlamm is an Indian e-commerce company that sells cosmetics and personal care products. The best thing about their app is the gift icon on the bottom center. It asks customers to refer the app to their friends; in return, they get to redeem gifts. This brings new customers for MyGlamm by spending little to nothing.
Want an App for Your Beauty and Cosmetics Brand?
A decade ago, it would've looked like a far-fetched dream. But not anymore. Creating an app for your Shopify store is much easier now with Shopify app builders. It doesn't require much work, simple drag-drop-optimize, and you're good to go.
And with changing buying behavior of customers and increasing competition, if your beauty and cosmetic brand doesn't have an eCommerce app, you'll be left behind.
Convert your Shopify beauty and cosmetics store to an app today with Shopney.