10 Signs Your Shopify Store Needs an eCommerce Mobile App to Grow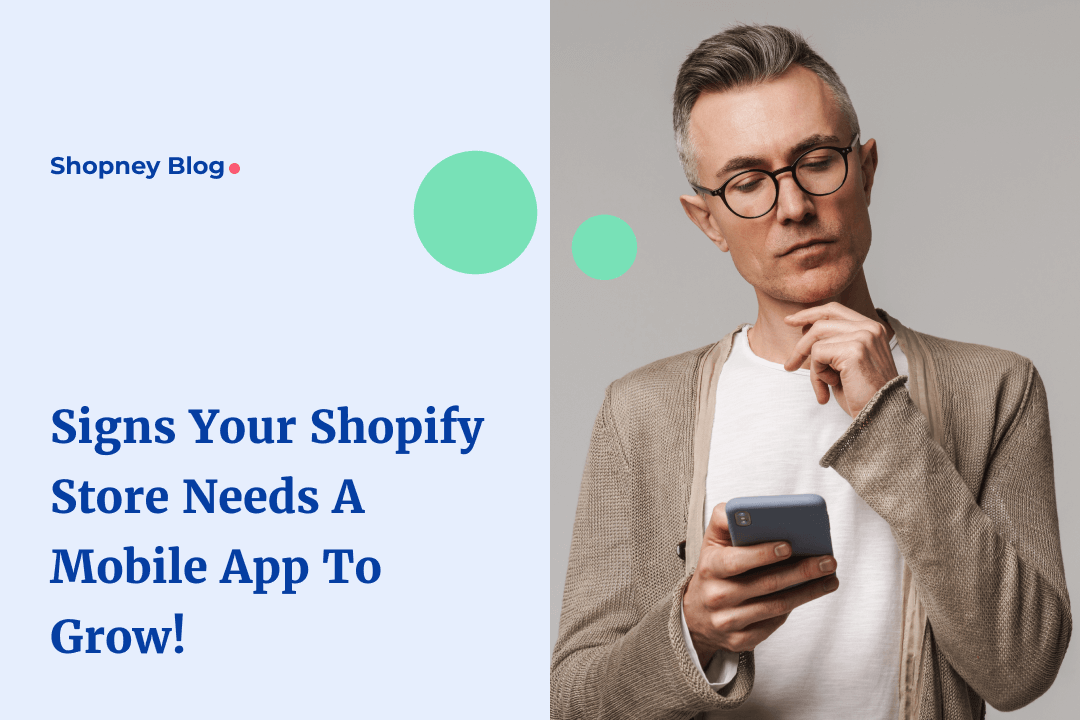 Smartphone adoption has shown an upward spike over the years. And over 85% of the world's population now owns smartphones. eCommerce brands are heavily banking on this rise and using it to their advantage and attract online traffic.
But most businesses don't realize that online store traffic could be largely achieved from a mobile app instead of just optimizing their website to be mobile-friendly.
So if you're one of them, read on to understand the signs around your eCommerce business that indicate the immediate need for a mobile app.
What is an eCommerce mobile app for Shopify stores?
An eCommerce mobile app is designed to run on smartphones or tablets and lets consumers browse through products of an online store, purchase items, and chat with customer support.
Customers often find tracking their orders through a mobile app easier rather than logging into your store's website each time. Apart from this, a mobile app can offer users personalized recommendations, send push notifications, and make browsing seamless.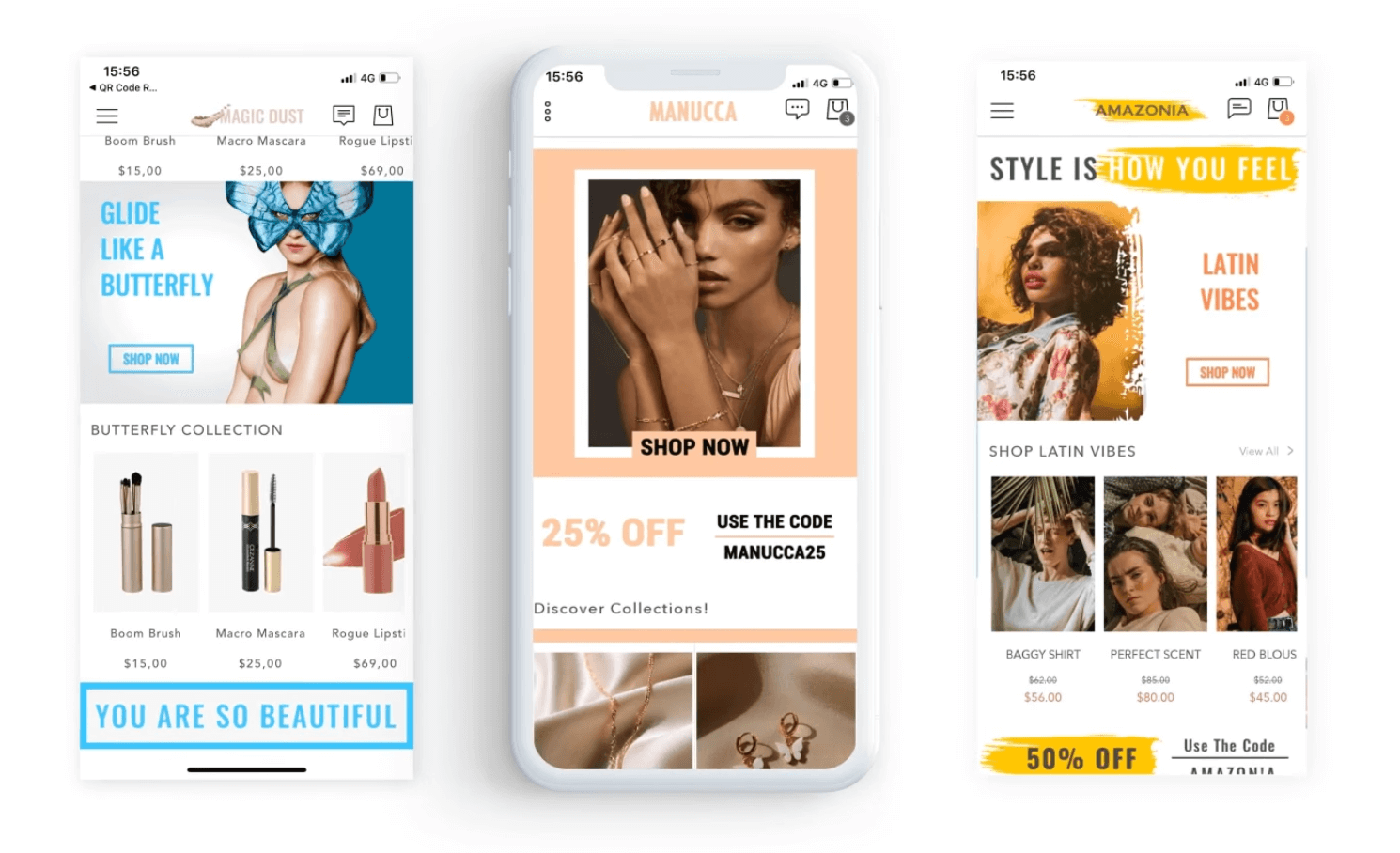 Let's look at some top signs proving your eCommerce store needs a mobile app.
10 signs your eCommerce business needs a mobile app ASAP
1. Your website visitors aren't engaged enough
If you're constantly witnessing declining website visitor engagement where visitors have stopped interacting with your offers or recommendations, it's a clear sign to launch a mobile app.
That's because a mobile app can enhance personalization based on users' demographics, like gender, age, location, or browsing history. This way, you can offer more streamlined product recommendations over the app. Doing so elevates your consumers' shopping experiences and encourages engagement.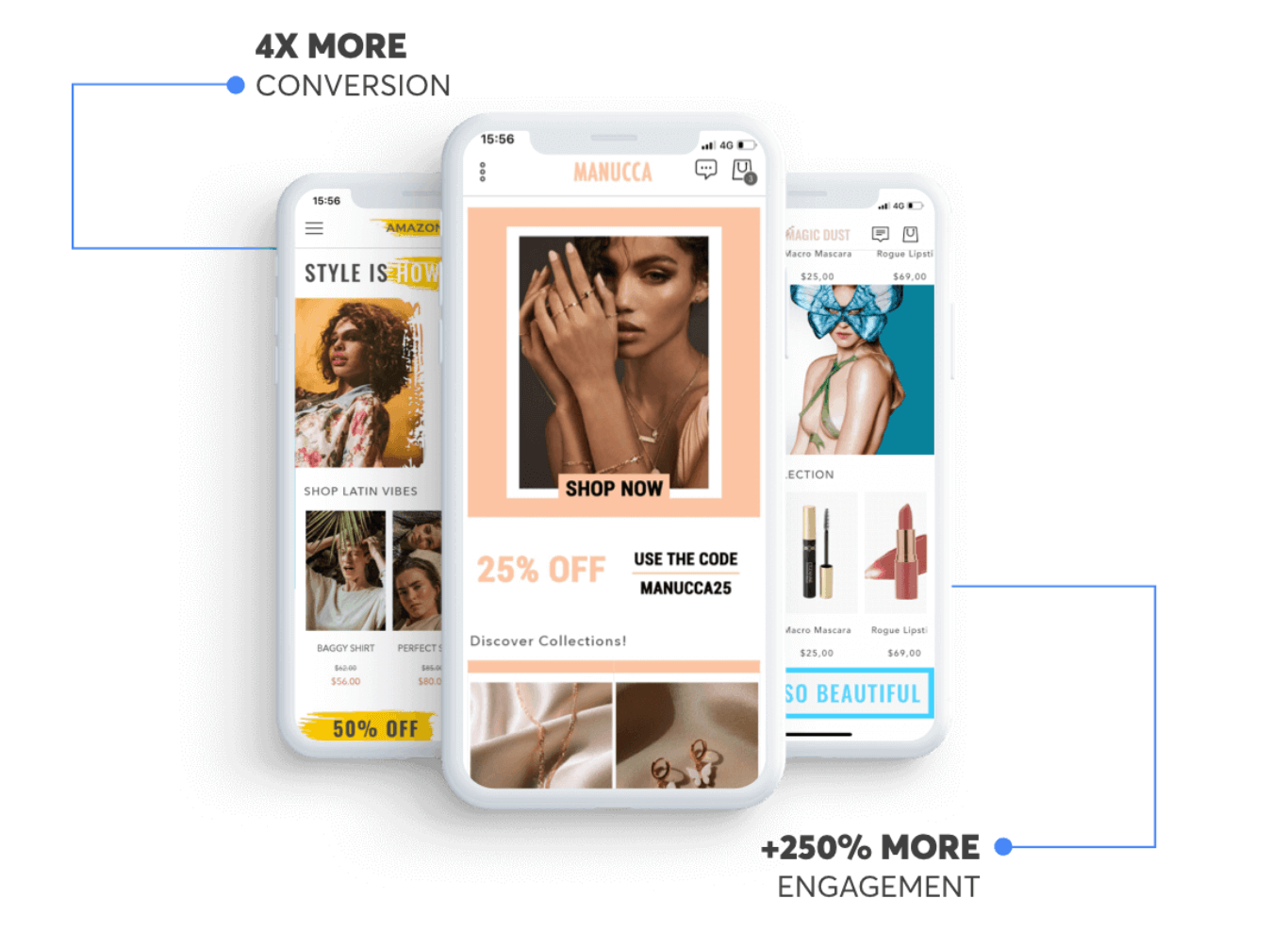 2. Your competitors already have a mobile app
Take a look at your competitors in the market. Do they already have a mobile app for their online store? If yes, it's a wake-up call for you to build one ASAP.
Since you share your target audience with your competitors, if you're not staying ahead of your competition, you will lose out on high-value potential customers and revenue in no time.
3. You want your eCommerce brand to reach globally
The advantage of owning an eCommerce brand is that you're not limited to borders. You can easily make your brand and products accessible to a worldwide audience thanks to technology. And having a mobile app is one step closer to making your eCommerce business globally reachable and increasing revenue.
4. Customers are asking for it
Modern consumers are more inclined towards using mobile apps on their smartphones than having to log in to your eCommerce website. That's because a mobile app is more convenient for shopping and highly responsive than a mobile-optimized website.
Look out for your customer's requests or collected feedback. If they're asking for it, it's an obvious sign that the right time is now to invest in a mobile app for your brand.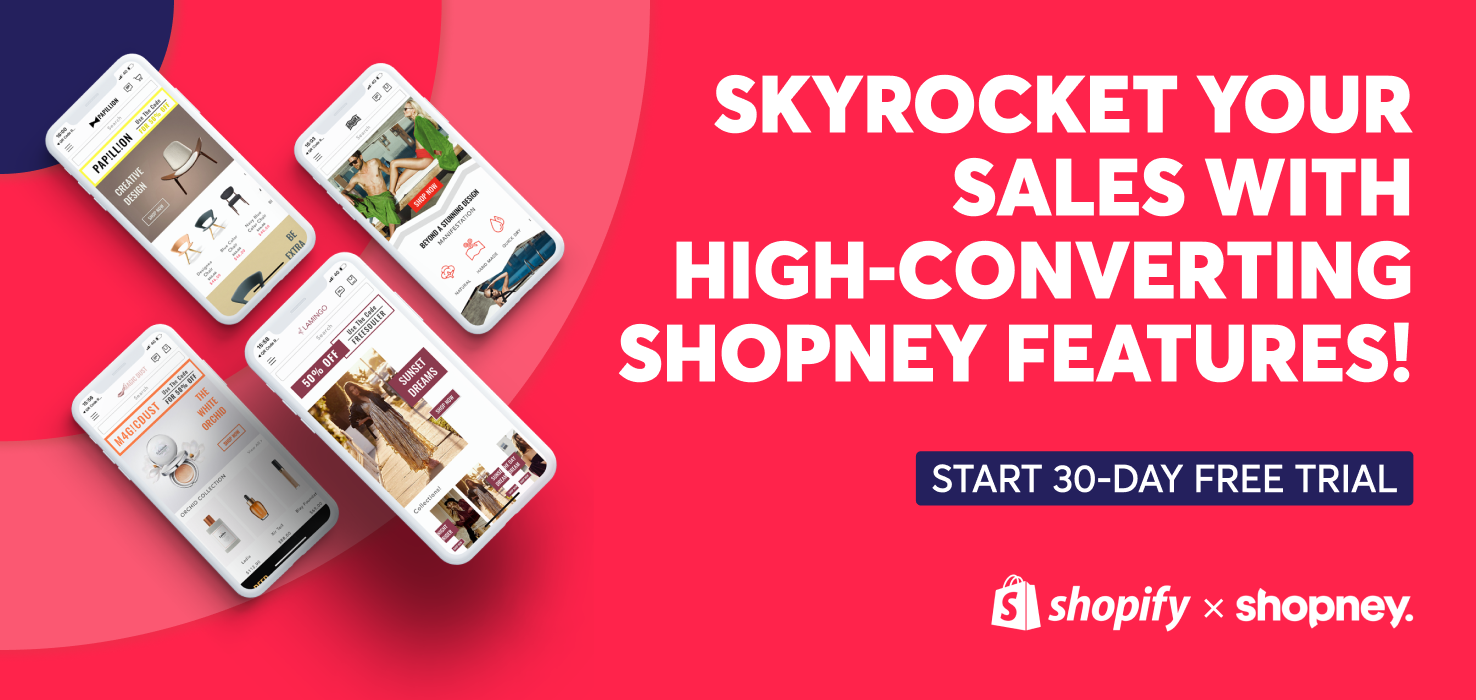 5. You wish to increase your store's traffic
One major advantage mobile apps have over websites is push notifications. They are easy to spot and clickable.
So if you're noticing a significant amount of website traffic from mobile devices and wish to leverage it, then having a mobile app could bring this vision into reality.
6. You notice declining conversion rates
As a website-only eCommerce brand, you could miss out on opportunities like more personalization and user engagement.
Mobile apps also let you easily A/B test marketing strategies, make changes, and optimize as per each user's preferences.
Picture this: if you have a mobile app for your eCommerce store, a customer can easily pick up their last browsing session, unlike websites that may ask them to re-login to their accounts. This shows that having a mobile app lets you drive higher conversion rates.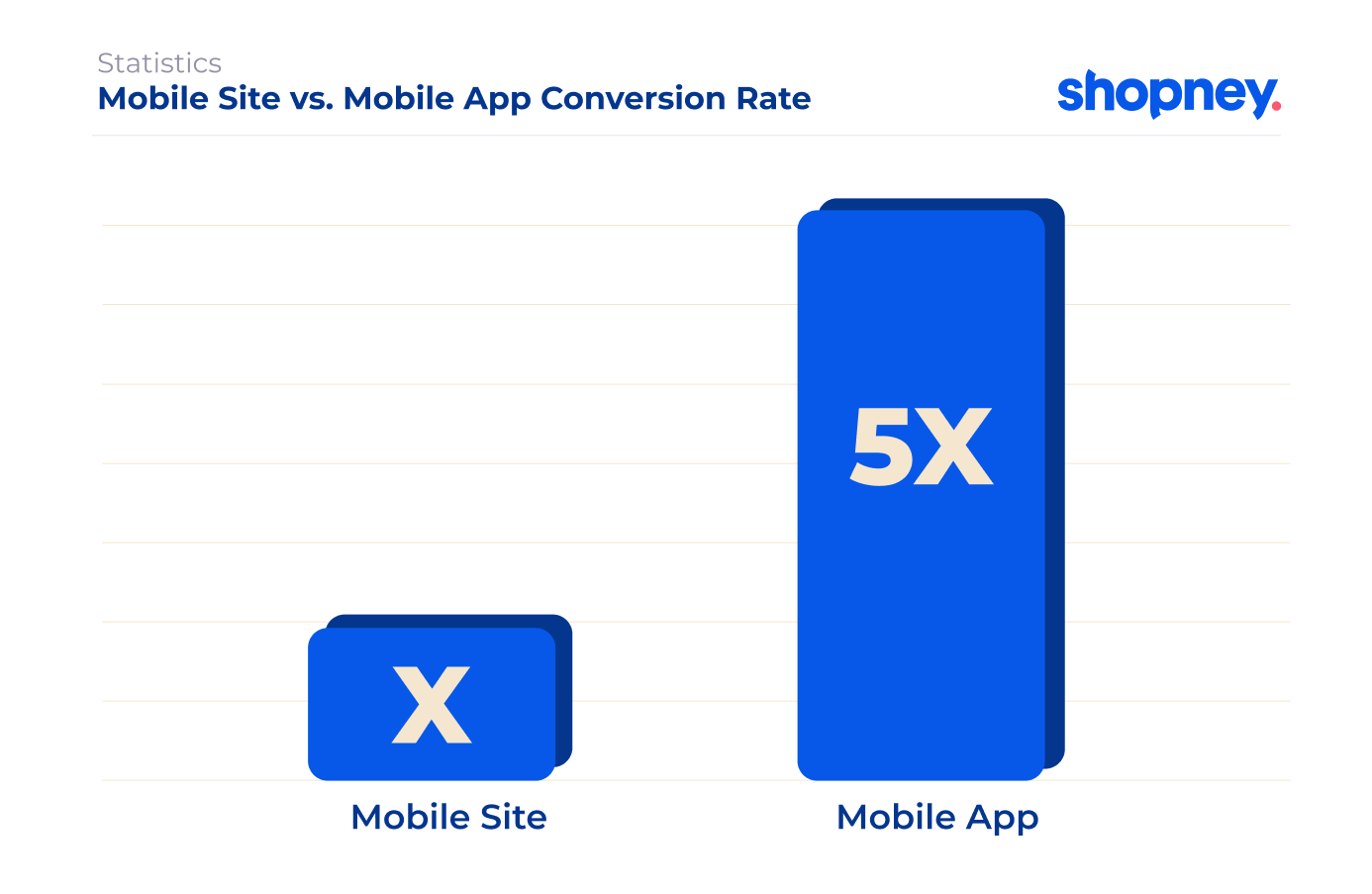 7. You want to achieve higher order value and reduce abandoned carts
Mobile apps are much more capable of limiting abandoned carts than websites. Again, this extra advantage is majorly due to mobile push notifications.
Due to reduced abandoned carts, mobile apps help fetch a higher average order value compared to websites.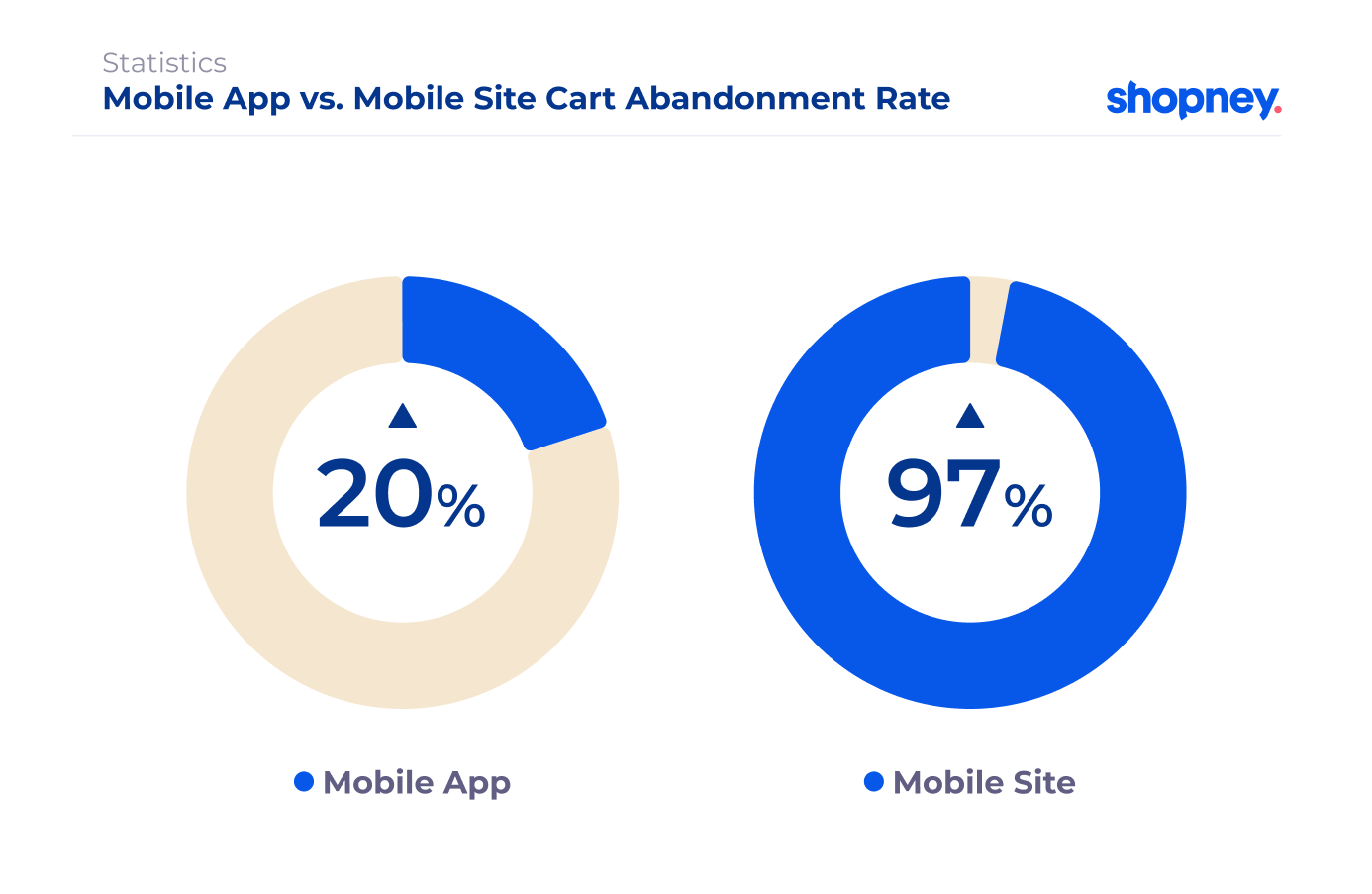 8. Slow website load time
Websites often take longer to load pages, especially when the consumer's internet connection is weak or the page cannot handle excessive and sudden traffic.
During such times, you might frustrate potential customers that may have faced slow navigation and page load. These could lead to them abandoning your site and not continuing their browsing sessions.
Mobile apps, on the other hand, are capable of handling traffic and are not affected by poor network connections.
9. Difficulty retaining customers
If you're finding it hard to increase repeat purchases and retain customers, implementing a mobile app for your online store could be the answer to gaining a loyal customer base.
eMarketer found mobile app users resulted in 3.5x more revenue and 3x more likely to repeat purchases than regular website users. How? Mobile apps help promote your brand and offerings easily. They let you notify customers about discounts, custom deals, giveaways, etc., directly on their devices.
Also, when you have customer chat support enabled on your mobile app, customers can share feedback 24/7 and get answers to queries on the go. Such simple yet vital features help improve customer satisfaction by almost 40%.
10. You need access to valuable customer data
eCommerce mobile apps are more capable of sourcing user preferences and offering custom shopping experiences, be it adding items to wishlists, comparing products, or receiving recommendations.
Mobile apps let you access insights and customer data based on the above actions. You could use them to improve your future marketing strategies and optimize campaigns.
Differences between eCommerce mobile apps and mobile-optimized websites
Here's a quick breakdown of the differences between the two most powerful eCommerce solutions: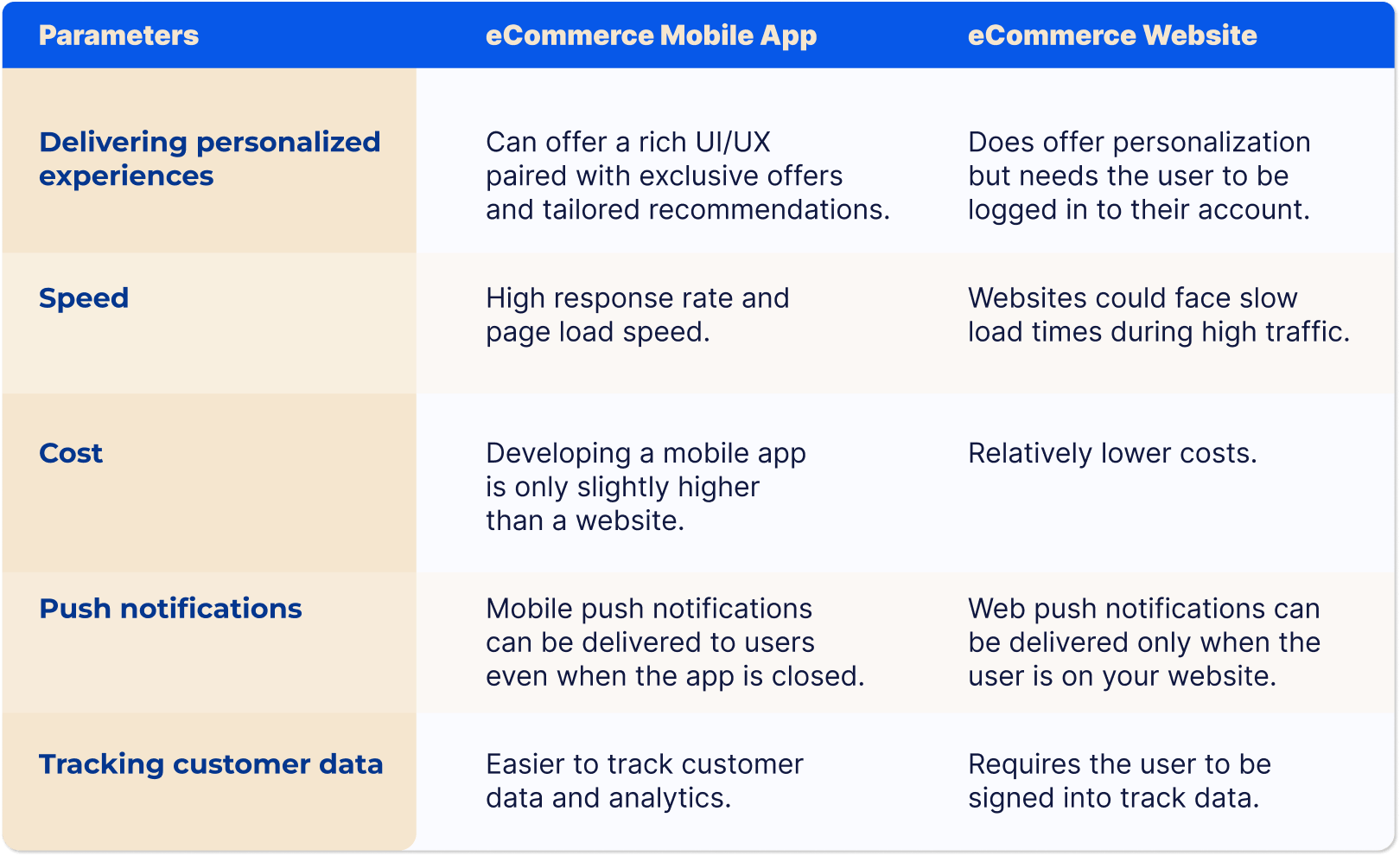 Now that you have clarity over the signs your brand needs a mobile app let's understand how to identify the right mobile app builder.
What to look for in an eCommerce mobile app builder for Shopify stores?
1. Ease of use
Building a mobile app no longer requires you to have exceptional design or coding skills. The no-code/low-code approach to development lets you just drag and drop components and build a fully functioning mobile app from scratch.
The app builder must also let you explore your creativity and design elements based on your brand's style and tone.
2. Customization options
While choosing a mobile app builder, ensure you have the freedom to select a theme and layout from which users can instantly recognize your brand.
Customization options, such as product layouts, grids, or interfaces, must be highly user-friendly.
3. Integrations
App integrations are what make mobile apps undisputed. How else would you track analytics and ratings, for instance?
An ideal mobile app builder lets you integrate your mobile app into top eCommerce-specific apps and platforms like Google, Facebook, Stamped, etc.
4. Offer in-app customer support
In-app chat support for customers offers the much-needed human touch to shopping experiences. Your customers may look for suggestions and help with products 24/7. In-app chat messages let you increase retention and put a cap on abandoned carts and browsing sessions.
In-app messages can also be used to provide customer-specific discounts. So look for an app builder offering a live chat feature to convert your visitors into loyal customers.
5. Push notifications
We've already discussed how powerful push notifications can be. An app builder must enable you to automate intelligent push notifications and use them to your eCommerce brand's advantage. For instance, the tool must let you automate notifications for abandoned carts, real-time deals, discounts, product launches, etc.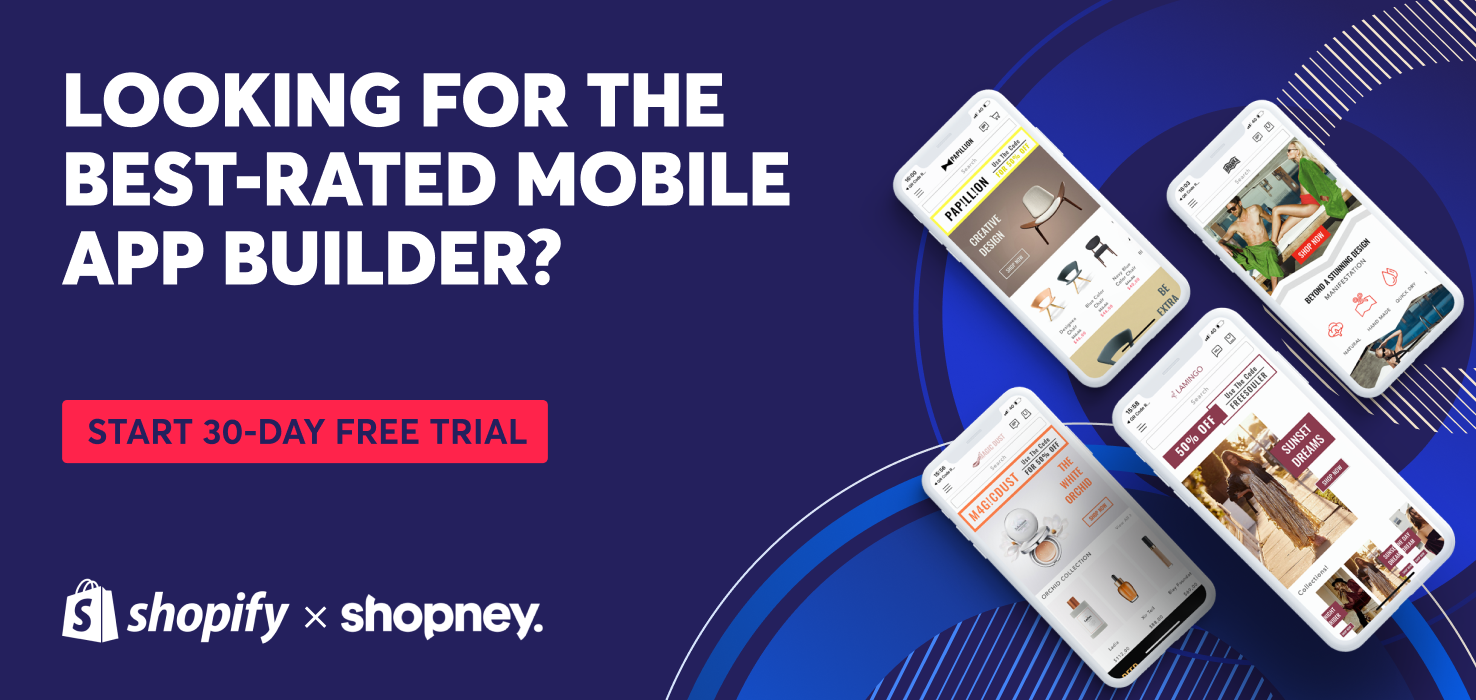 Wrapping up
Launching a mobile app for your eCommerce business in 2023 is neither a challenge nor needs you to invest thousands of dollars and learn to code.
Shopney is a mobile app builder specialized for eCommerce businesses with an interface as easy as a landing page builder and lets you create and launch a robust app that fits perfectly into your Shopify store.  
Shopney's simple zero-code drag-and-drop design editor and A-Z functionalities let you create native Android and iOS mobile apps for your Shopify store in under a week.