Complete Guide on Setting up a Shopify Mobile App for Health and Wellness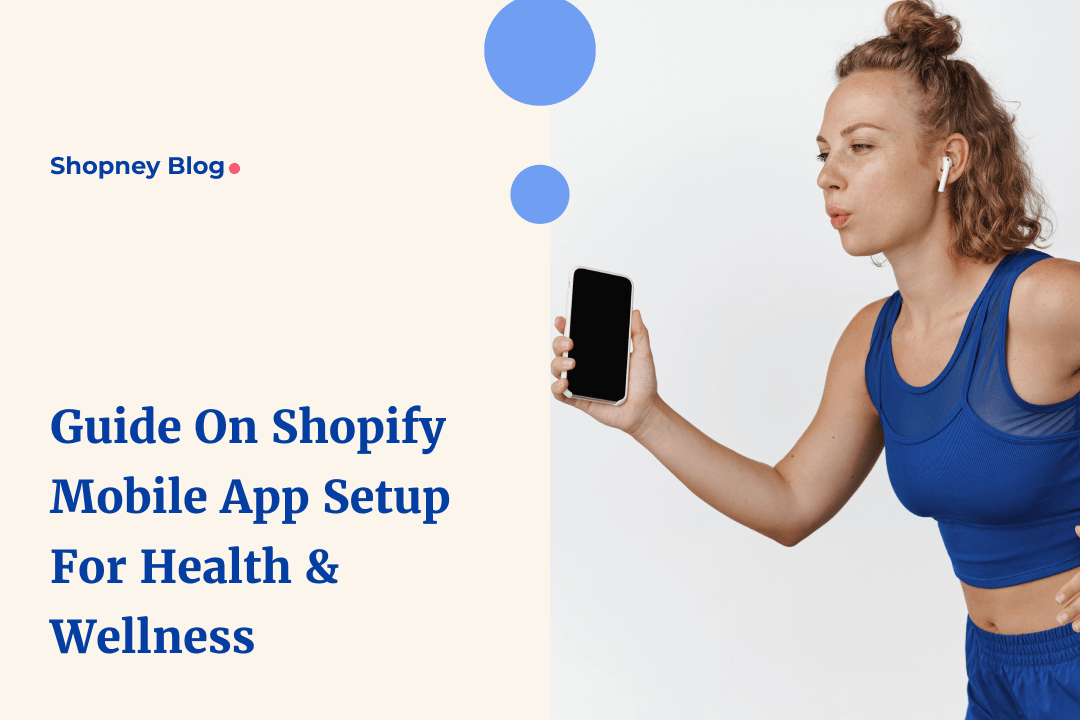 Learn why and how to set up an eCommerce mobile app for Shopify health and wellness online stores.
In recent years, eCommerce has seen tremendous growth across the globe. Irrespective of the industry, brands can be seen taking their business online to reach their target audience and make consumer purchases easy - the health and wellness industry is no different.
As per statistics, at an average annual growth rate of 9.9%, the health and wellness economy is expected to hit $7 trillion by 2025. This will result in the health and wellness industry generating almost 5.3% of the global economic input.
Taking the pandemic into account and the shift of focus on staying healthy, consumer behavior, preferences, intent and interests, highlight an opportunity for businesses - but also competition.
So is having an online store enough?
In this article, we're going to look into why leading brands in the health and wellness industry are launching their mobile apps to meet consumer needs.
What is an eCommerce mobile app for Shopify health and wellness brands?
An eCommerce mobile app, also referred to as mobile commerce app for health and wellness, is a software that allows consumers to browse through and purchase items from an online store on the go, using their mobile devices.
It is important to note that these are native mobile apps on Android and iOS devices; these are not the same as a mobile optimized website that uses the system browser to enable online shopping for consumers. It is also not the same as setting up shop on social media platform apps, as the key owner in this case, is your business.
Why does your health and wellness brand need a Shopify store mobile app?
Having a Shopify store for your health and wellness brand may seem enough. But online shopping is rapidly changing and it's important for your eCommerce business to adapt with the same.
Let's take a look at some of the reasons why we recommend a Shopify health and wellness brands to set up a mobile app for their customers:
1. Mobile commerce is on the rise
About 67% of all eCommerce sales worldwide come from mobile devices as they are more convenient to shop from. They also enable consumers to shop on the go, not limiting them to desktop screens that can be harder to use while on the move.
Research also shows that 15% of Americans today are smartphone-only. This indicates that consumers today are not just mobile-first, but in most cases mobile-only and this includes eCommerce.
2. Consumers prefer shopping mobile apps
Shopping mobile apps are growing at an average of 54% year on year; which is much higher than any other app category. It was also found that 78% of consumers would rather use an eCommerce app than a mobile website to make a purchase and an average user has at least 2-3 of them installed.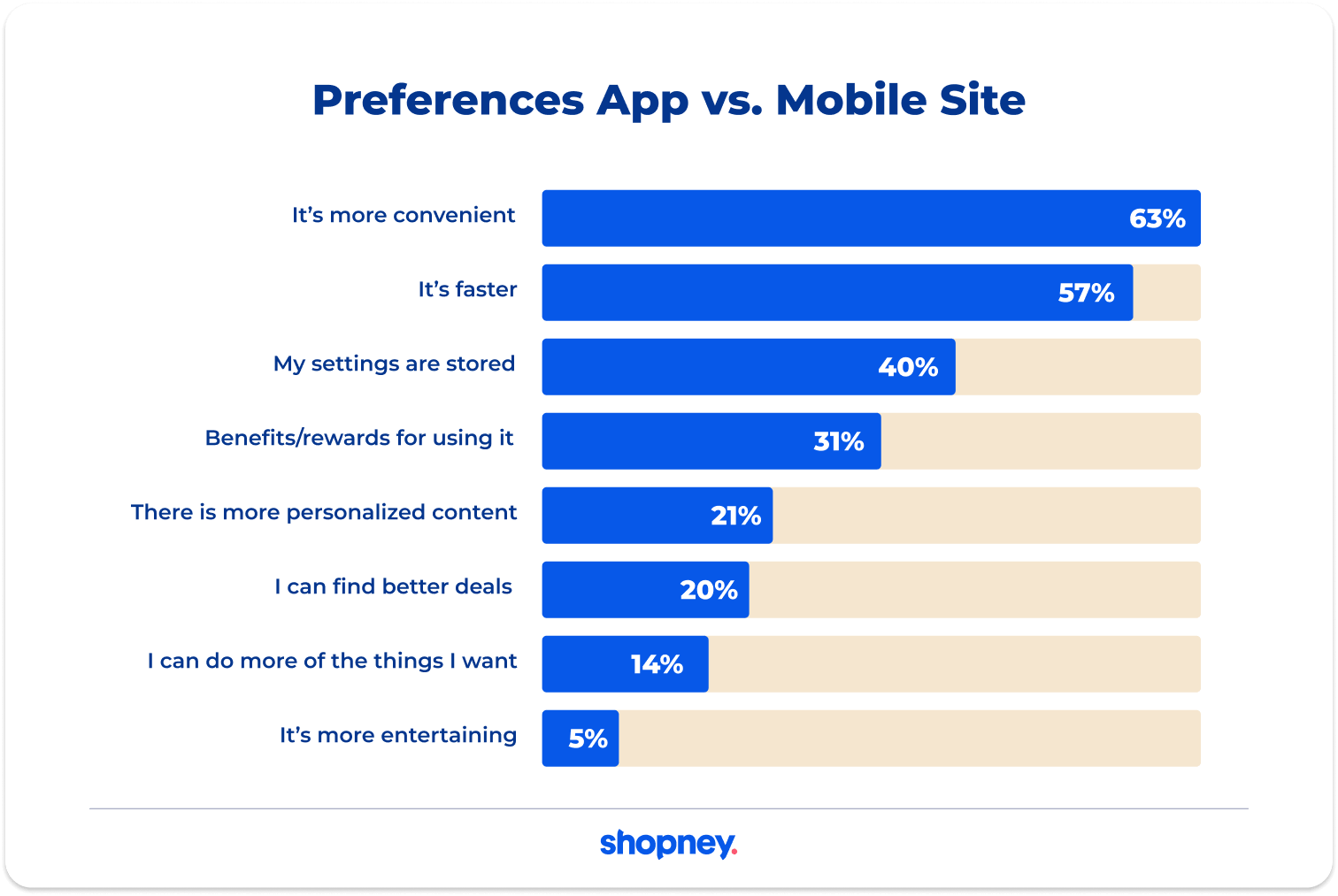 3. Mobile apps are more actively used
Our data has also found that eCommerce mobile app users are twice as likely to return to the store within 30 days. In comparison to those on mobile browsers who may not return owing to multiple bookmarks and tabs, or simply forgetting the URL they were on.
4. Higher conversion rates
To put the above reasons into number-based perspective, here is a look at how the conversion rate varies on mobile browsers vs mobile apps.
Due to ease of discovery, consumers view 22 products on average per session on apps
As compared to mobile browsers, apps see 24% add to carts during the explore stage of a buyer
The ability to check out on the go results in 54% purchases on apps as compared to 34% on mobile browsers
TLDR; eCommerce mobile apps can increase your Shopify store sales and revenue dramatically.
5. Increased average order value
When it becomes easier for consumers to explore products, they become more likely to buy more products too. On average, mobile apps tend to see a higher average order value as compared to desktop and mobile websites.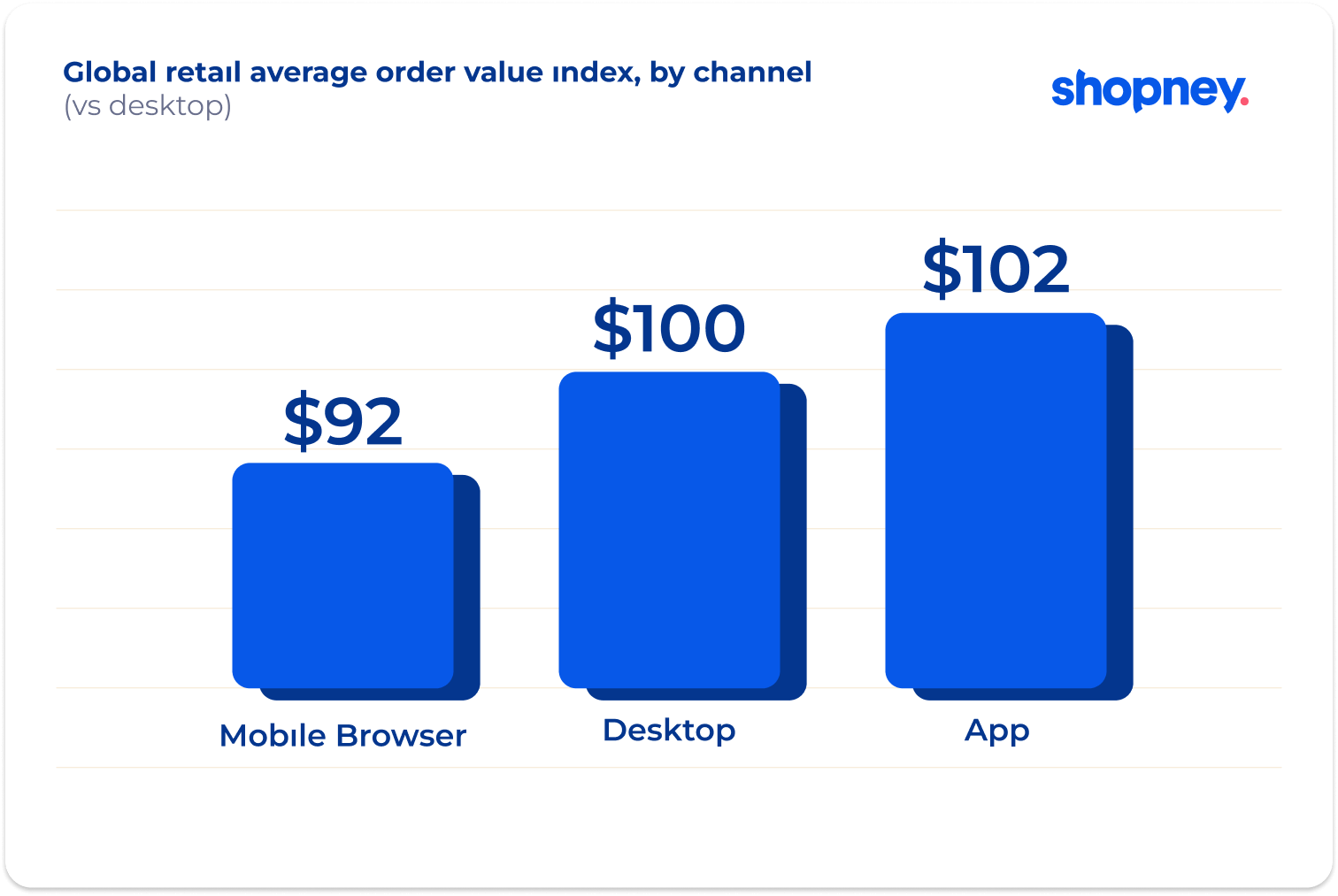 6. Better customer retention and customer loyalty
Most Shopify stores have a customer loyalty program set up to keep their existing customers engaged. But imaging having to visit a site on desktop or mobile browser to access loyalty rewards - the number of steps one needs to take is exactly what reduces the likelihood of participation.
Studies have found that having an eCommerce mobile app increases the participation rate in loyalty programs.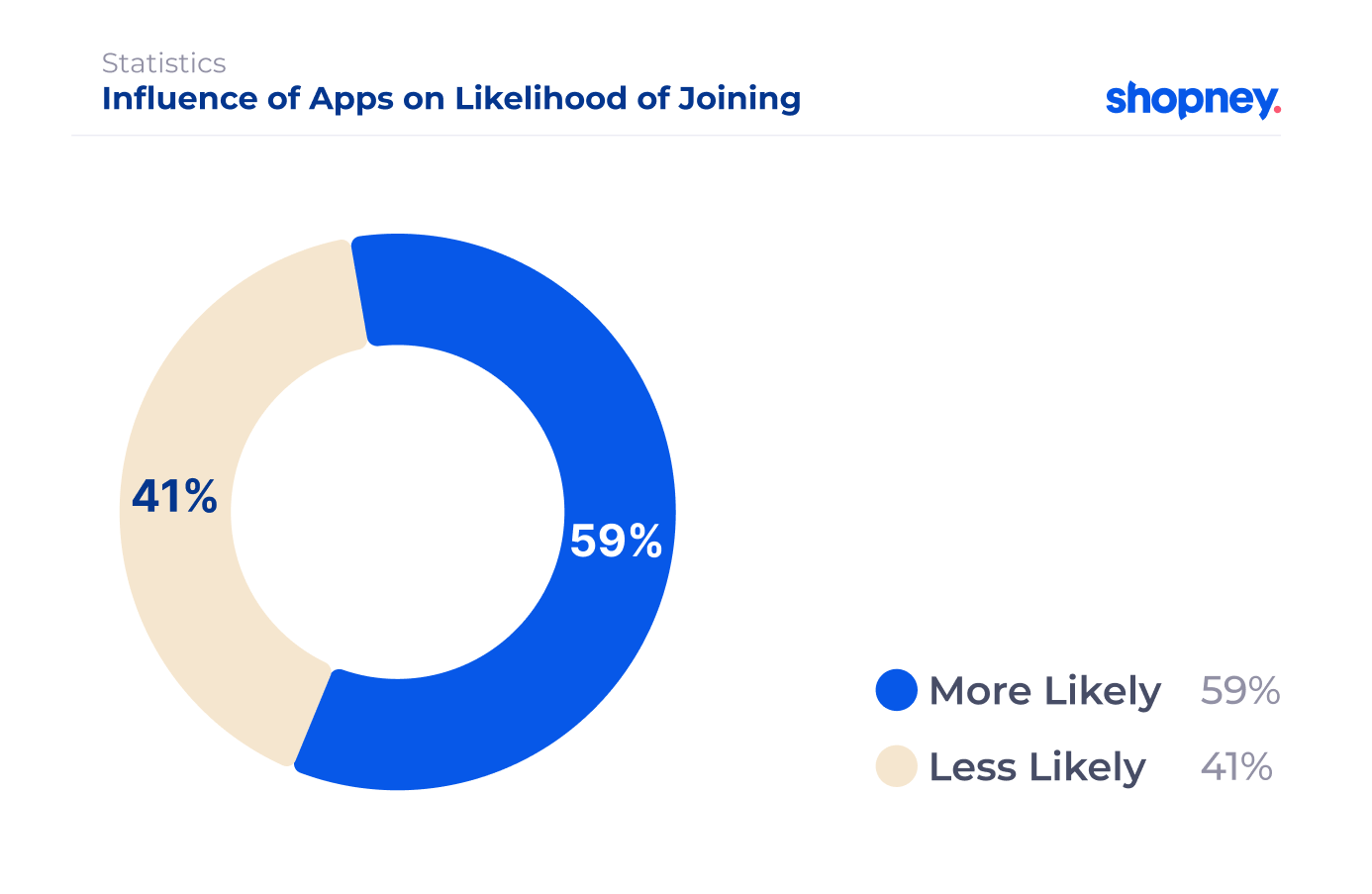 We already know how loyalty programs impact customer retention and how retention rates are now as important as new customer acquisition.
This is where eCommerce mobile apps for your Shopify store combined with the loyalty program can increase your average customer retention rate.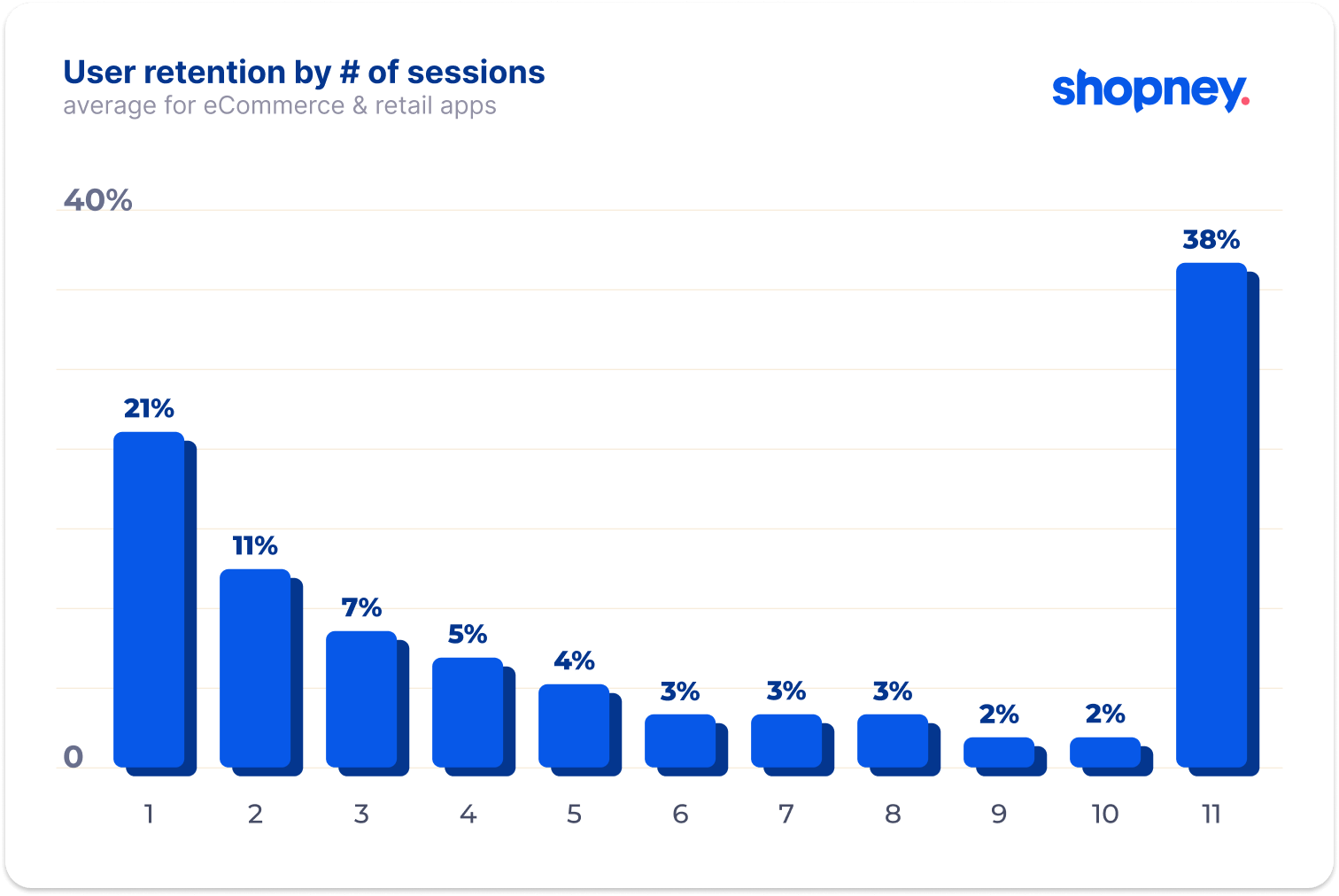 7. Better marketing communication
Be it emails, social media, SMS and other channels of communication, eCommerce businesses today find it challenging to reach their customers. The increased competition across all channels has resulted in a dip in open rates, click through rates and engagement - negatively impacting the conversion rate and the ROI.
While having each of these channels is still important, eCommerce mobile apps open another that is proven to be more effective - push notifications.
Push notifications take your message straight to the palm of your customers - their delivery format and interface is what makes them impossible to miss (but of course, you do require opt-ins).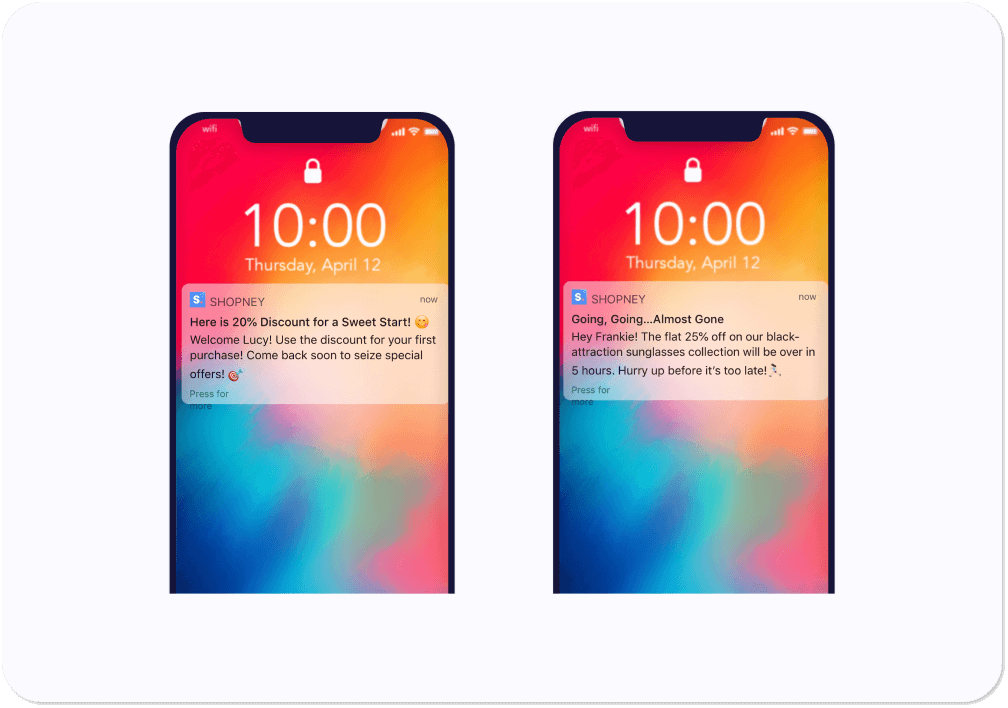 8. Reduced cart abandonment rate
We have also found that the ease of shopping combined with direct communication using push notifications, and an optimized checkout process, leads to lesser cart abandonment on mobile apps.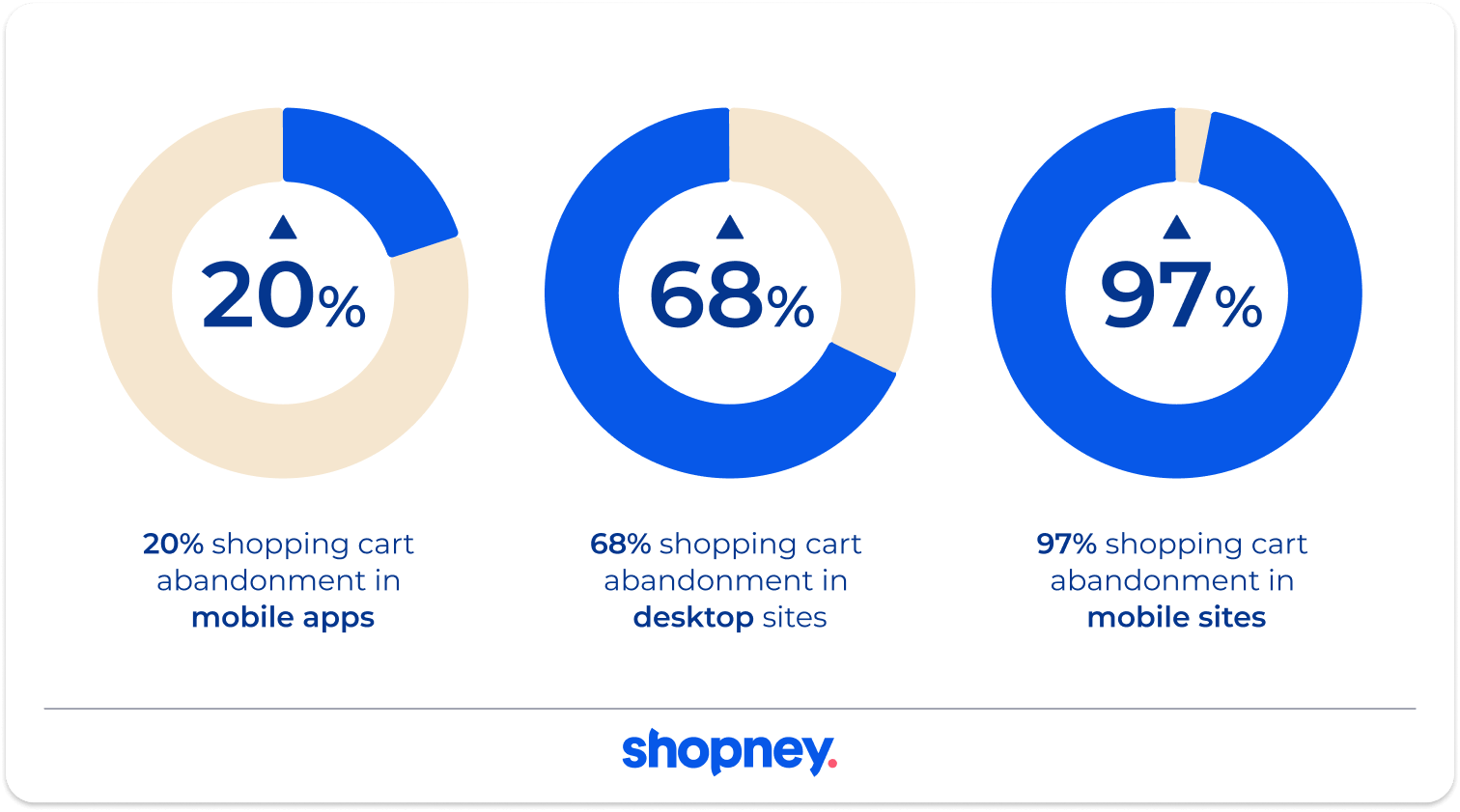 9. Better personalization
Navigating the cookieless world is challenging for eCommerce businesses.
While 72% of consumers still expect brands to offer personalized shopping experiences, gathering data that can help brands tailor online shopping journeys is becoming tougher.
But when you have a mobile app for your Shopify store, you get to naturally (and ethically) gather customer information. This includes their interests, engagement and the data they willingly share - the events can then help you tailor how the consumer experiences your app during every session and how you market to them thereafter.
In a world where everyone is compared to Amazon, this can help deliver better customer experiences.
10. Enhanced customer service
Statistics have found that 73% of online shoppers are willing to spend more money with a brand if offered a good customer service experience.
Traditionally, seeking customer service requires consumers to locate the contact details of a brand and reach out to them on social media, email or phone calls. While these channels are still important today, the volume of messages gets overwhelming to handle for both the consumer and the business.
This is where mobile apps can simplify eCommerce customer service with features like in-app chats.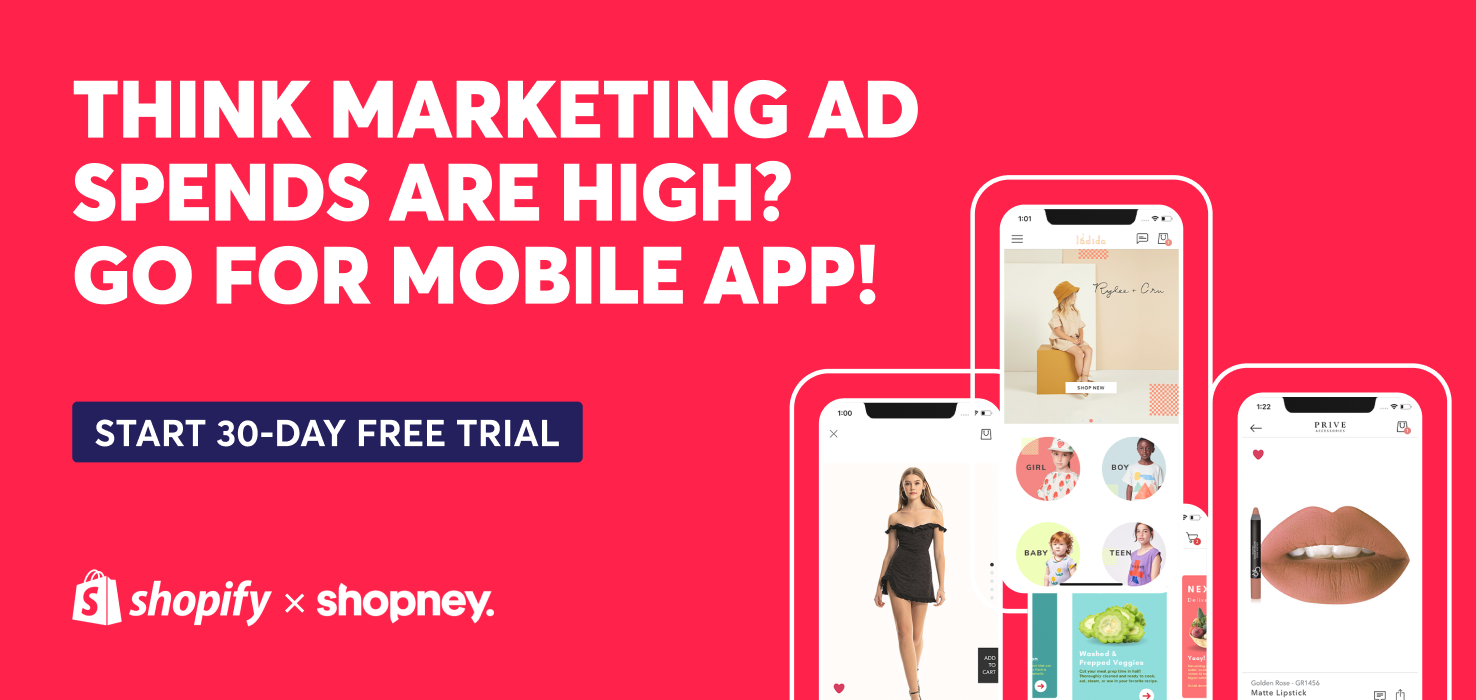 How much does it cost to build an eCommerce mobile app?
Now that you know the several benefits of having an eCommerce mobile app for your health and wellness Shopify store, let's take a quick look at how much it costs to build them.
As per surveys, eCommerce mobile app development and design costs can total around $20,000 and upwards. The cost may vary depending on the platforms you choose, the features you enable, integrations and customizations, design and other aspects.
Add to that the fact that it takes almost 6-9 weeks or longer to build, test and launch eCommerce mobile apps, and you have already lost sales worth thousands of dollars!
But wait, what if we said this cost can come down to $99 per month only?
With Shopify mobile app builders like Shopney, building and launching eCommerce mobile apps is now possible for even small businesses.
We're not joking, take a look at the pricing of our Shopify mobile app builder here.
How to build a mobile app for your health and wellness online store on Shopify
Now before you jump the gun, let's strategically explain how to build a eCommerce mobile app for your health and wellness Shopify store:
1. Identify your target audience and ideal customer persona
Before you dive into building a mobile app for your Shopify store, do a raincheck on who you're addressing with it. This requires looking into your target audience demographics and ideal customer persona. You should be able to answer the following questions in general:

Who is your target audience?
Who is your ideal customer?
How does this customer engage with brands similar to yours?
What are the types of products they need the most?
What does their average mobile usage look like?
Have they made a purchase from your mobile site before?
Why would they want to use your eCommerce mobile app?
What are the challenges they face shopping from your mobile site?
2. Make a list of the features you want to offer
Based on the answers above, you need to next list down the features you will need on your eCommerce mobile app.
Get down to the absolute basics, good to haves and must-haves based on what you sell, who you are addressing, their purchase behavior and motivation, the assistance they may need and so on.
For example, if you're a health supplements brand, you may want to display your best sellers on the home page. But at the same time, setting up a quick quiz inside the app to help understand the consumer's needs better before recommending products can also be a good idea.
Some of the must-haves we recommend taking into account for Shopify health and wellness stores include:

Streamlined navigation menu based on categories, collections, use cases or concerns
Search and filter capabilities
Best selling product recommendations
Detailed product pages with description, FAQs
Product visuals with descriptive media like videos, infographics
Think about the features in detail - similar to your online store.
3. Create a shopping workflow
Before you start designing your Shopify store's mobile app, go into detailing out what your shopping workflow may look like.
Describe the channels through which a consumer may discover and install your eCommerce mobile app, the sign up process they have to complete, the first screen visible to them on log in, how the search and filters will work, how they will interact with the product pages, add items to the cart and proceed to checkout.
Creating customer journey maps is a strategy often overlooked by eCommerce businesses. But it is exactly what will help you build out features that consumers actually want and will convert on.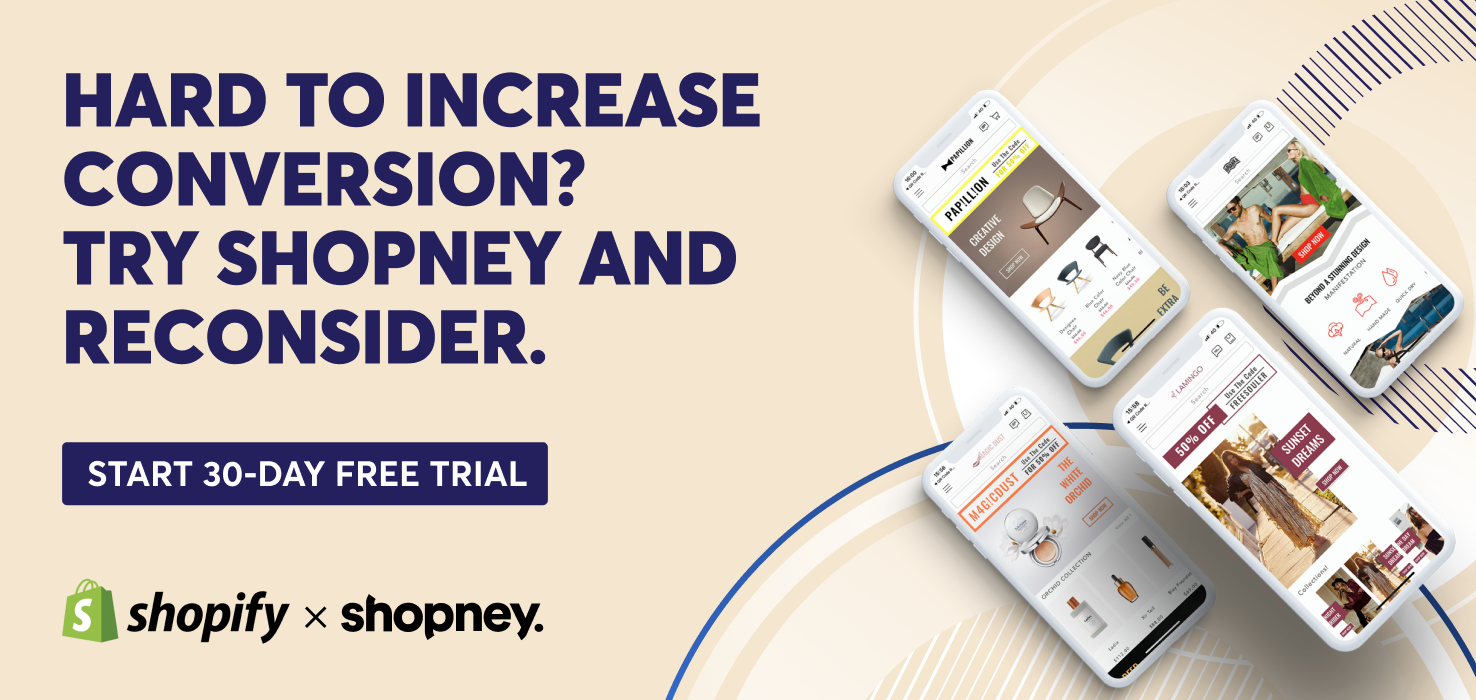 4. Choose a good mobile app builder
Building an eCommerce mobile app is a costly affair - it can go from a few hundreds to thousands and ten thousands of dollars in no time, based on how extensive you want the features to be. That's why many health and wellness brands shy away from AppCommerce!
This is where choosing a Shopify mobile app builder like Shopney comes into the picture.
Shopney is built keeping in mind the business goals and objectives an eCommerce brand can have from their mobile apps. It comes with an easy to use drag and drop editor that lets you design the mobile app as easily as a landing page builder on Shopify.
The Shopify app also comes with a set of templates that can be edited and customized to match your branding, look and feel to create a consistent visual experience as your online store.
In addition to the same, Shopney also accounts for conversion optimization needs and marketing. It comes with an extensive feature set that includes in-app live chat, announcement bars, push notifications and more.
Pro tip: Choose a Shopify mobile app builder that easily integrates with other Shopify apps to create connected experiences for customers. For example, Shopney integrates with review apps like Stamped.io, loyalty apps like LoyaltyLion and many more.
5. Plan and design your eCommerce mobile app homepage
The next step is for you to tailor the look and feel of your home page.
Remember that this is the very first page that a consumer sees on installing your app. The experience on the home page can make or break how a consumer feels about the app, the overall shopping experience it can offer to them and the next steps they take!
Here are some of the things we do recommend including on the home page:
Banner image promoting best sellers and discounts
Popular categories and collections of products available
App-exclusive discounts, deals and offers available
Announcement bar promoting a time-sensitive deal
Here's an example: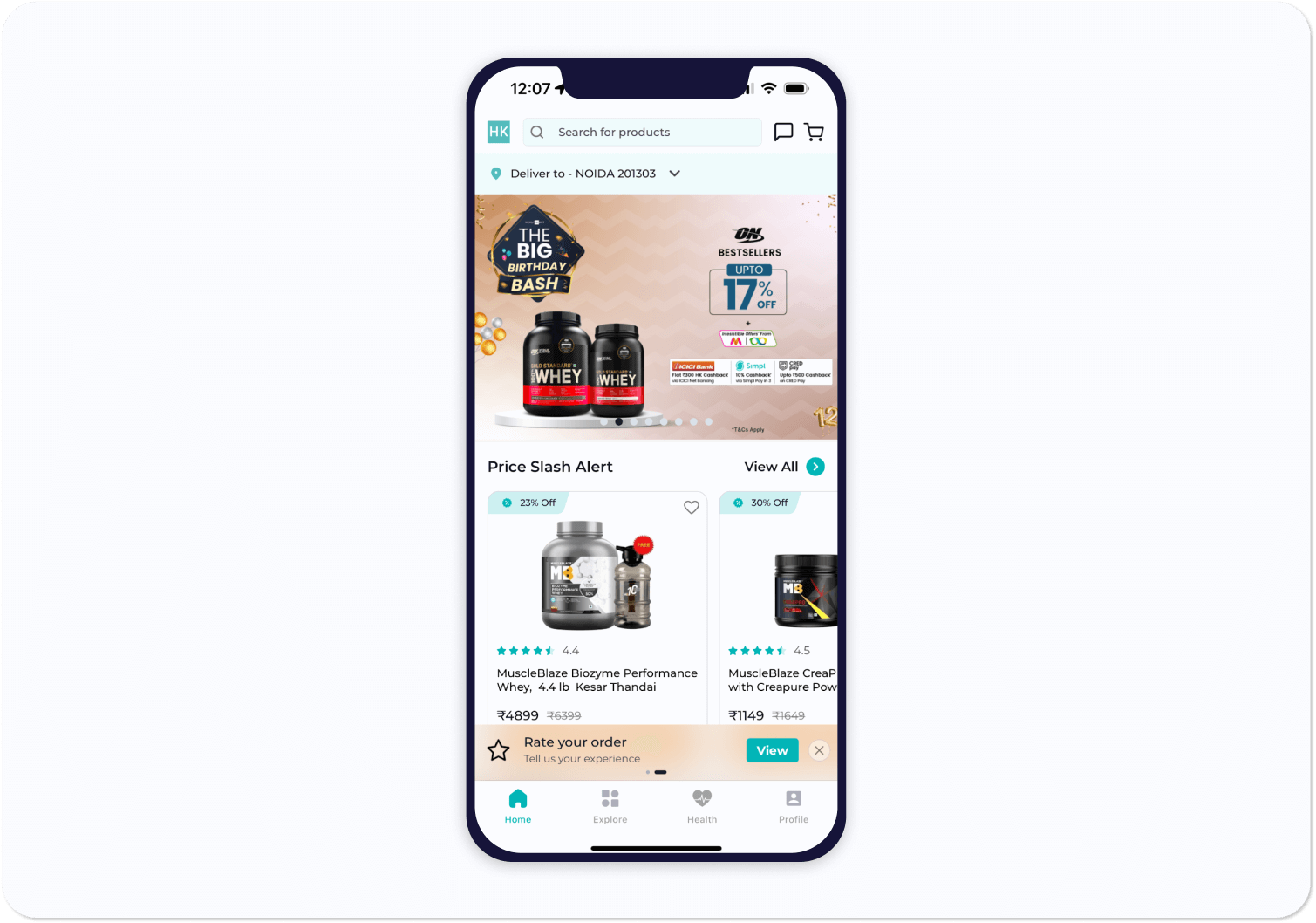 6. Design your product collection pages
Health and wellness products are the type of purchases that consumers learn about on the go. As they start to explore your products, you want to make it easier for them to find what suits their needs the best.
Group products based on the purpose they serve and display them as collections so that mobile app users can browse through them methodically. Here are a few things to keep in mind:
Streamline the number of categories or collections you display
Name your collections in a descriptive way
Add visuals to represent your collections
Keep them consistent with your online store as much as possible
Here's an example of the same: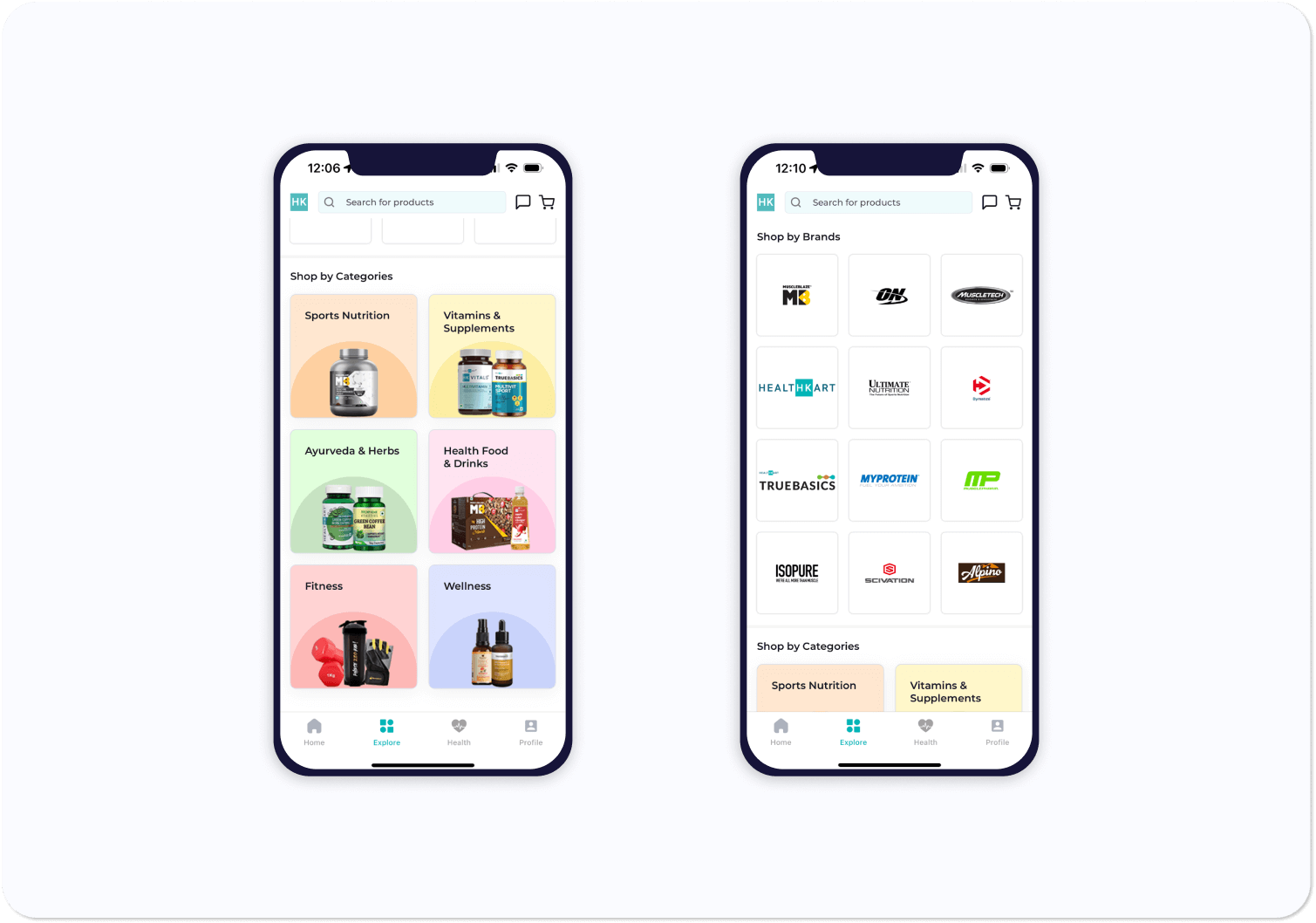 7. Design your product pages
One of the most important pages for a health and wellness online store, is their product page. This is where you get to lay out the details of the product, the problems it addresses for the consumer, benefits, ingredients and more information that can help them make an informed purchase decision.
Here are a few things we recommend keeping on your product page:
Product images and videos
Easy variant selector
Discounts and offers on the product
Product description
Product ratings and reviews
Supplement details
How to use/ recommended use
Product recommendations
8. Streamline your navigation menu
Even if you have an extensive catalog, it is important to keep in mind that mobile screens are smaller than the desktop. This impacts how a consumer interacts with the menu items you list in the navigation.
While setting up your menu on the eCommerce mobile app, we recommend keeping the following in mind:
Group similar products, collections and categories together
Limit the number of nesting menu items
Keep collection names shorter
Account for fat finger design
9. Set up smart search and filters
Almost 70% of online shoppers come seeking specific products - the same holds true for eCommerce mobile apps.
A few things we do recommend to health and wellness online stores when creating a mobile app, is to have the following capabilities:
Synonym search and autocomplete
Typo tolerant search
Ability to view recent searches
Filter by price, brand, category/ purpose
Sort by popularly, rating, discount, price
If you create your mobile app with Shopney, you can utilize the product filter & search with Shopney <> Boost Commerce integration and provide a better user experience.
Here's an example of what this can look like: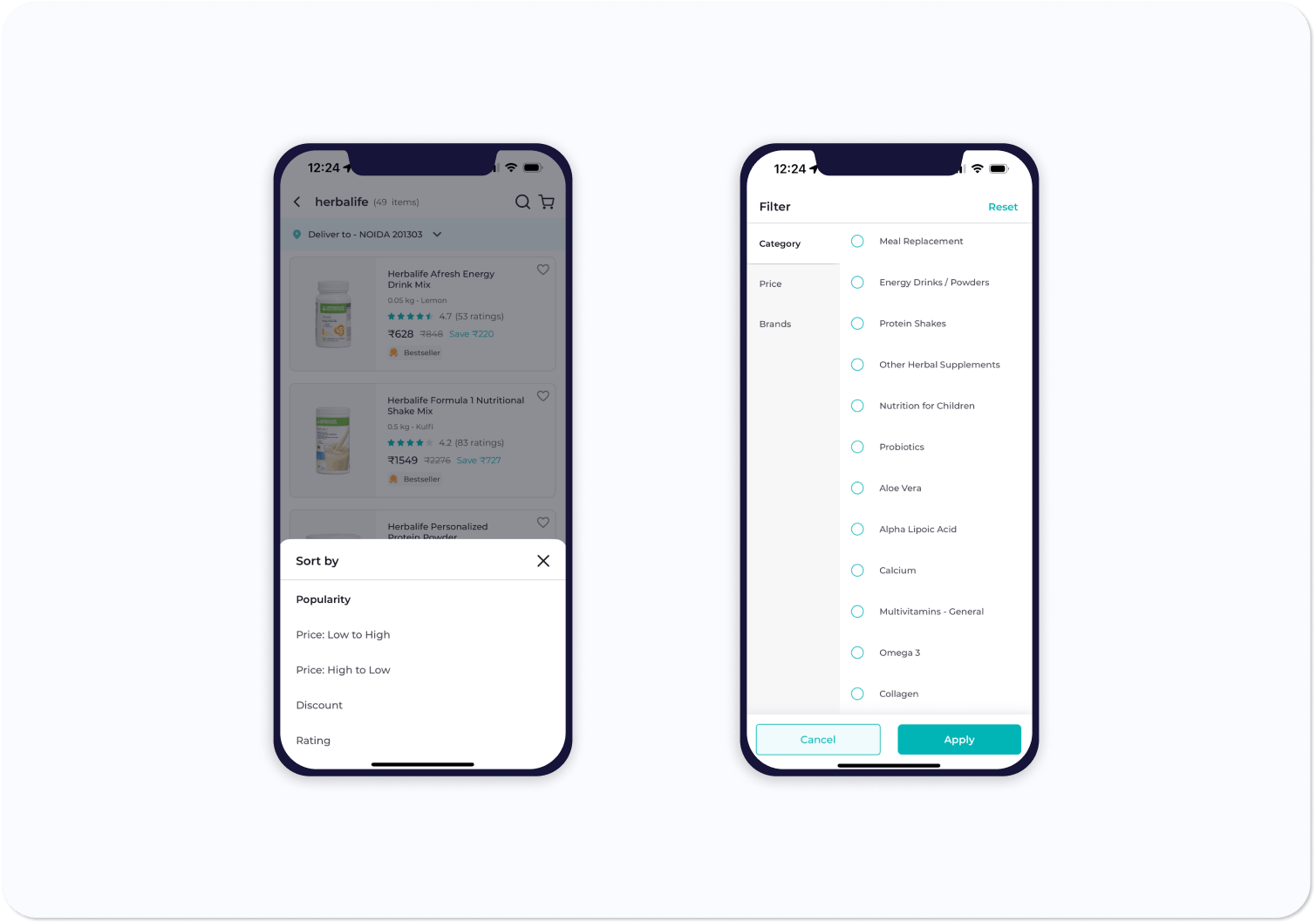 10. Optimize your app checkout
Shopping on the go needs to be easy - this is why you need to optimize your checkout process for speed. When designing your checkout process, we recommend following the basics:
Eliminate Distractions
Display the Most Important Product Information
Automatically Complete Fields
Use Inline Labels for Short-Form Fields
Maximize Trust During Checkout
Never Link Outside of The Mobile Checkout Process
Use Appropriate Input Fields
Use Buttons for Forward Progress
Use a Progress Indicator During Checkout
Make Sure Checkout is Optimized for Speed
Don't Force Registration
Use Floating Labels
Kill Popup Error Messages
11. Ensure end to end branding
Remember that the mobile app is an extension of your brand and it needs to reflect the same.
Similar to how you customize your Shopify store's look and feel - logo, colors, fonts, messaging, etc, your eCommerce mobile app should do the same.
With a Shopify mobile app builder like Shopney, branding your app is easy. We have pre-built templates that can be customized to match what your Shopify store theme looks like online to replicate a similar visual experience within the app.
We have built out customization capabilities that can help you tailor every little element of your mobile app.
12. Integrate mobile payment gateways
The payment methods you enable will have a big impact on your mobile app conversion rate.
But an additional aspect you need to take into account here are the payment gateways or methods that are exclusive to mobile devices.
Take a look at your target audience and how they tend to pay for orders using their mobile devices.
For instance, including Apple Pay, Venmo, PayPal, Wise, Samsung Pay, Stripe, etc along with the usual credit card, debit card and netbanking payment methods can help cater to wider audiences.
13. Set up push notifications
As we mentioned before, the good thing about mobile apps is that they provide you with a direct line of communication with consumers.
Owing to the extensive use of mobile apps, push notifications serve as a great way to keep consumers engaged, informed and also drive purchases.
While you may not be able to plan all your deals and discounts in advance, we do recommend setting up at least a few push notification automations from day zero:
Welcome notification
First-purchase discount notification
Abandoned cart recovery alerts
Price drop alerts
Product review request notifications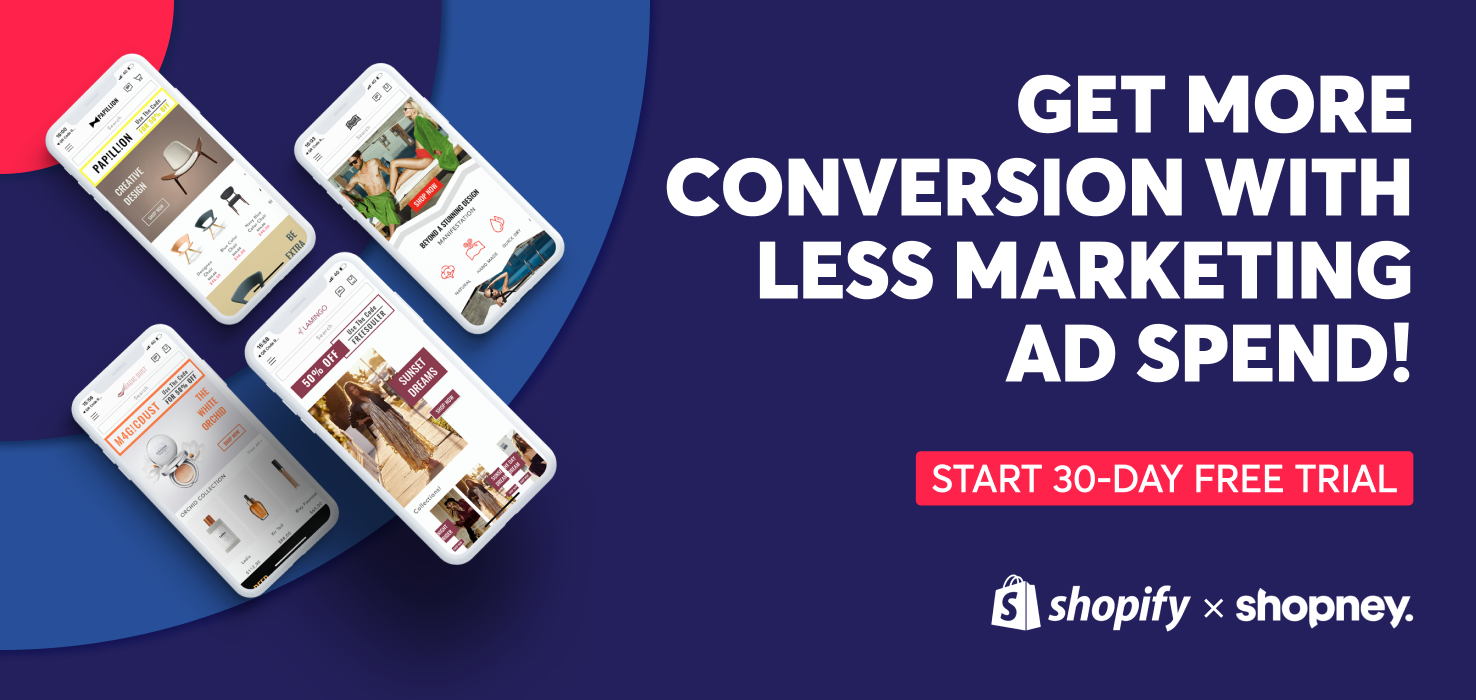 14. Test your Shopify store mobile app
Similar to your online store on Shopify or Shopify Plus, we do recommend going through a series of checks before you launch the mobile app.
Once you have finished configuring and designing your Shopify store mobile app with the smallest of nuances - branding, adding social login, sign up pages, page layouts and more, test if each of these things are displayed and working as per your business objective.
Before you introduce your Shopify store's mobile app to consumers, play around to get a feel of how users will experience interacting with your brand on it. The easier it is, the more likely you are to find success in turning the mobile app into a sales channel.
The Shopney team proactively works with brands to help them test and evaluate their Shopify store mobile apps before launch.
15. Launch your Shopify store mobile app and promote it
And last but not the least, once your mobile apps are approved on both iOS and Android app stores, you need to get it into the limelight.
Create a comprehensive Shopify marketing strategy that is focused on driving app installs from your existing customer touchpoints. This can include the following:
Optimize your app store listing with visuals that present what shopping on the app looks like (include discounts)
Set up announcement bars to launch your mobile app
Offer mobile app exclusive discounts and deals
Promote your mobile app and offers in emails
Send out an SMS marketing campaign to promote your app with a custom discount
Use social media and search ads to promote app discounts in lieu of installs
Pro tip: Measure and optimize your Shopify store mobile app
While we know that setting up a mobile app for your health and wellness Shopify store is a step towards creating another sales channel, we do recommend following an iterative process.
Instead of simply launching the apps and driving installs, look into other parameters like how many consumers are uninstalling the mobile app, which features are the most used, the payment methods preferred, the drop-off points, what type of discounts get availed the most, app conversions, sales and revenue.
The Shopney Shopify mobile app builder <> Google Analytics integration comes with a detailed analytics and insights dashboard. We don't just help you build and launch a mobile app, but also measure how effectively it adds to your business revenue.
Examples of health and wellness brands with Shopify store mobile apps
eCommerce mobile apps are now more common than ever. But let's take a look at some of the health and wellness brands that have built their mobile apps to meet consumers where they are the most active:
1. iHerb
A health and wellness supplements brand known for its natural products, iHerb is available on both iOS and Android. The apps aim to make it easier for their consumers to stick to their supplement regime with ease of shopping, and stay up to date with the new products and deals they launch.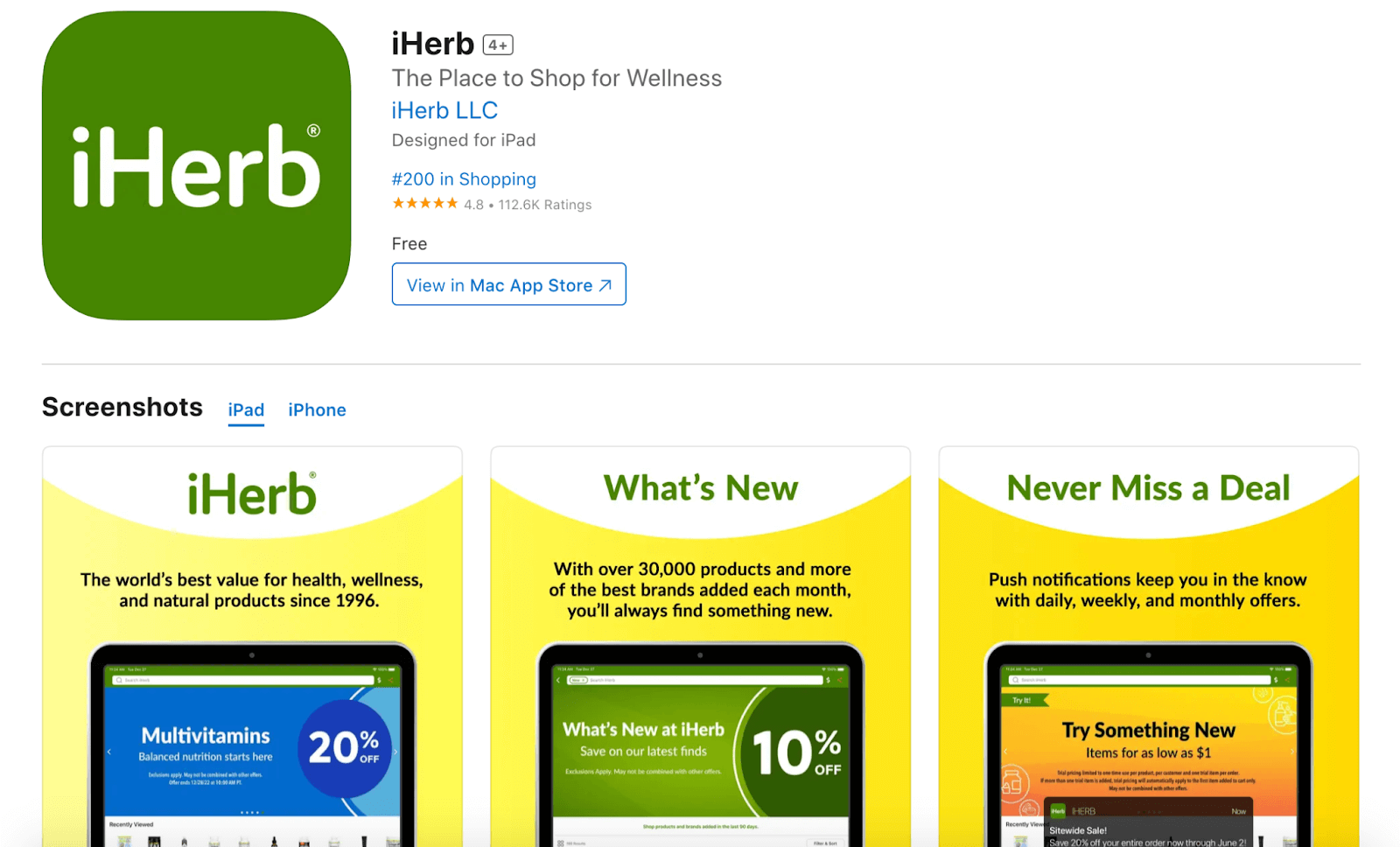 2. Lemonaid
A comprehensive health and wellness mobile app, Lemonaid brings together the commerce and consulting experience for its consumers. The mobile app allows you to book consultations with doctors and at the same time purchase the items in the prescription from the same.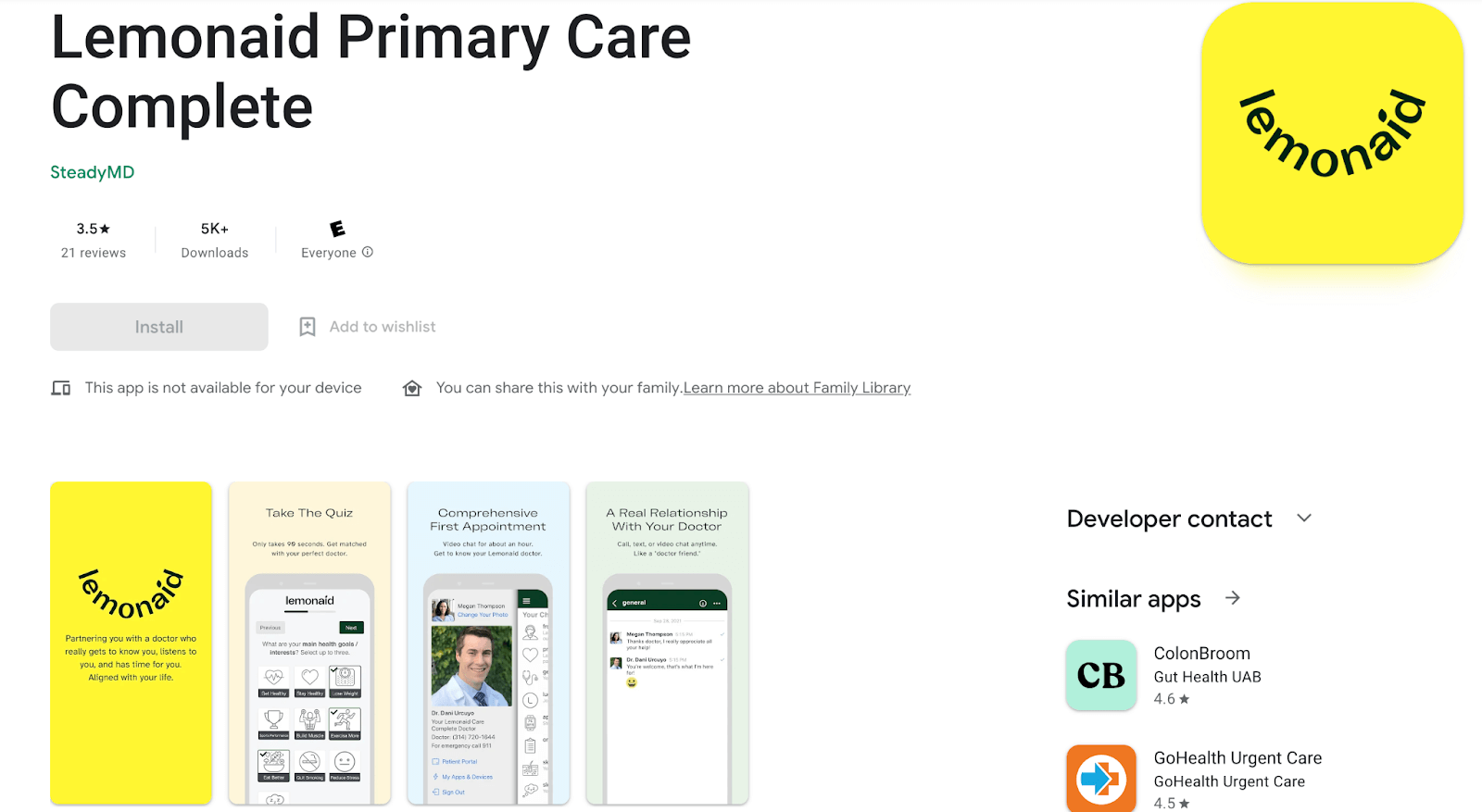 3. HealthKart
A popular health, wellness and fitness mobile app, HealthKart is like a marketplace for everything you need. From vitamins and supplements, health food and drinks, sports nutrition, ayurvedic herbs and more, the brand has it all and makes their app the one stop shop for all consumer needs!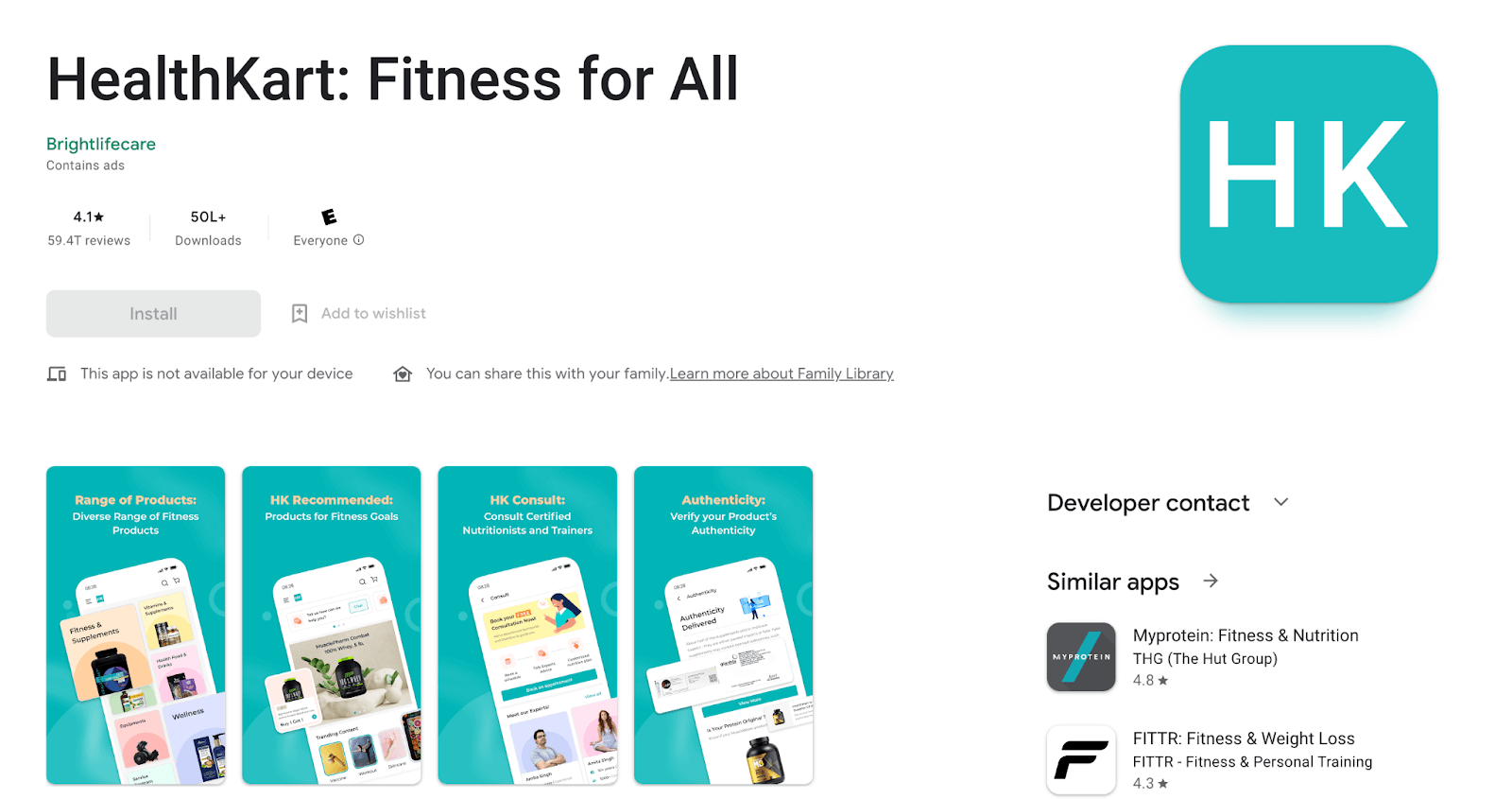 4. Myprotein
A popular global brand for fitness and nutrition supplements, Myprotein also knows the importance of having a mobile app for their store. It targets health enthusiasts by making it simpler for them to buy products on the go as their body demands with well thought out categories displayed in the app.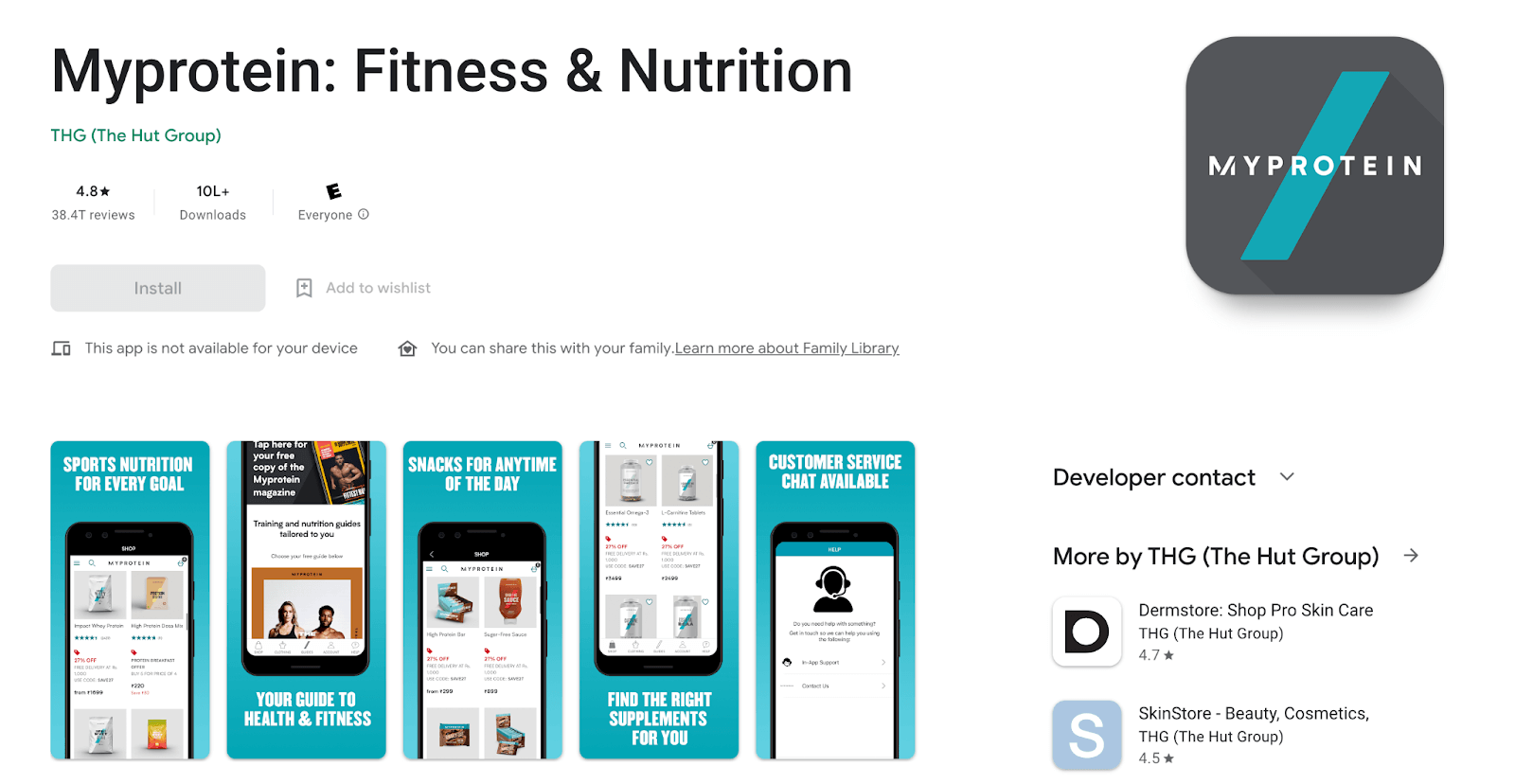 Want to know which brands on Shopify have built their mobile apps and the opportunity it holds for your business? Reach out to our Shopify experts here.
Build an eCommerce mobile app for your health and wellness brand on Shopify with Shopney
Traditionally, building an eCommerce mobile app for online shoppers was a strategy used only by leading brands in the industry. This was either due to the lack of resources to build a mobile app or the inability to continually update the apps to meet consumer expectations.
But with mobile shopping on the rise, Shopify store mobile apps are no longer just good to have. They are a must have strategy that health and wellness brands need to tap into in order to grow sustainably in increasing competition.
When the future of shopping is on-the-go, why should it take your store months to launch an app?
With the Shopney no-code Shopify mobile app builder, you get to build an app for your online store in just a few days or weeks.
Drag and drop to create the look and feel you want to offer customers on the app and launch it with the help of AppCommerce Shopify experts.
Ready to grow your Shopify store?
Install the Shopney app today or book a demo with us to know more.