Complete Guide on Setting Up a Shopify Store Mobile App for Fashion and Apparel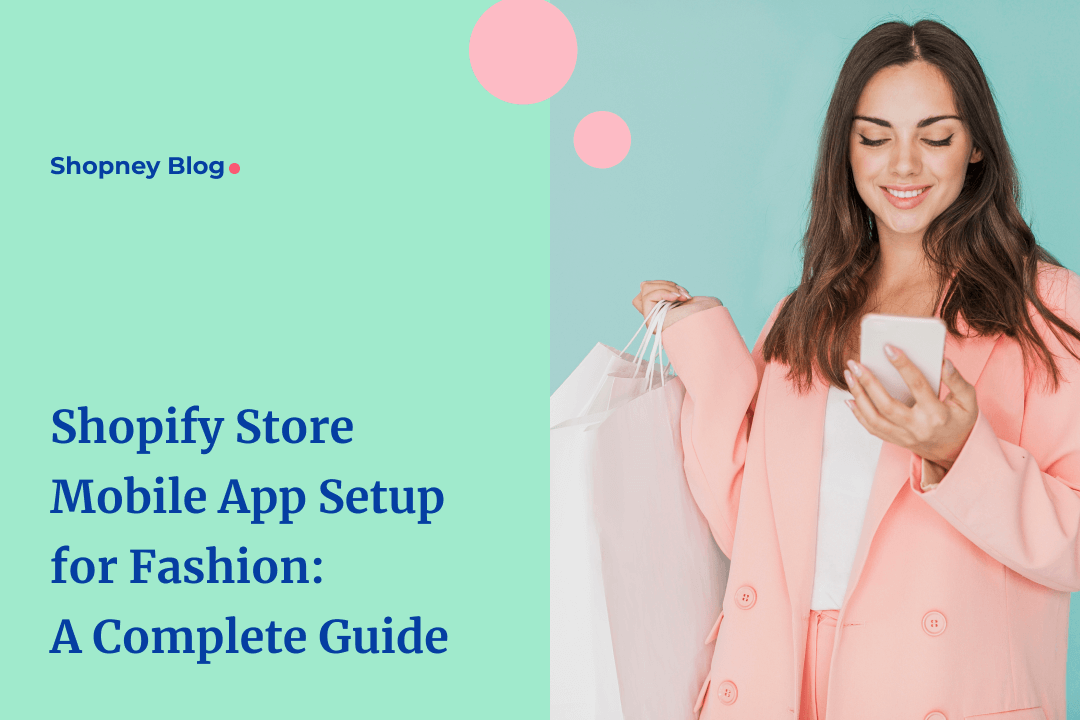 Learn why and how your fashion and apparel brand on Shopify needs an eCommerce mobile app.
Currently valued at nearly $800 billion, the fashion and apparel industry is unrivaled in the eCommerce space. And this industry is all set to reach a $1.2 trillion valuation by 2025.
Trends suggest that 2023 is going to be the biggest year for the fashion and apparel industry yet.
But these growth reports are not all roses for the fashion and apparel brands. They introduce new challenges — like increasing competition.
This increasing competition means brands will have to pay more to acquire the same number of customers. And because customers will also have more options, the retention rate drops.
The dropping retention rate significantly affects the success of a fashion brand. Because the probability of selling to an existing customer is over 65%, but for new customers, it's only 5 to 20%.
It's a huge problem we're talking about. And leading fashion brands like Zara and H&M have found an excellent solution to tackle this rising competition challenge — a Shopify mobile app for your online store.
In this guide, we'll uncover all the secrets about the Shopify mobile app for fashion and apparel online stores, from why you need it to how you can build it.
So, let's dive right in and whip up something special!
What Is a Shopify Store Mobile App for Fashion and Apparel?
A Shopify store mobile app for fashion and apparel acts as an extension of your Shopify store. It allows fashion brands to deliver a mobile-first experience to their customers, which is essential considering almost 42.9% of all eCommerce purchases will be made via mobile devices.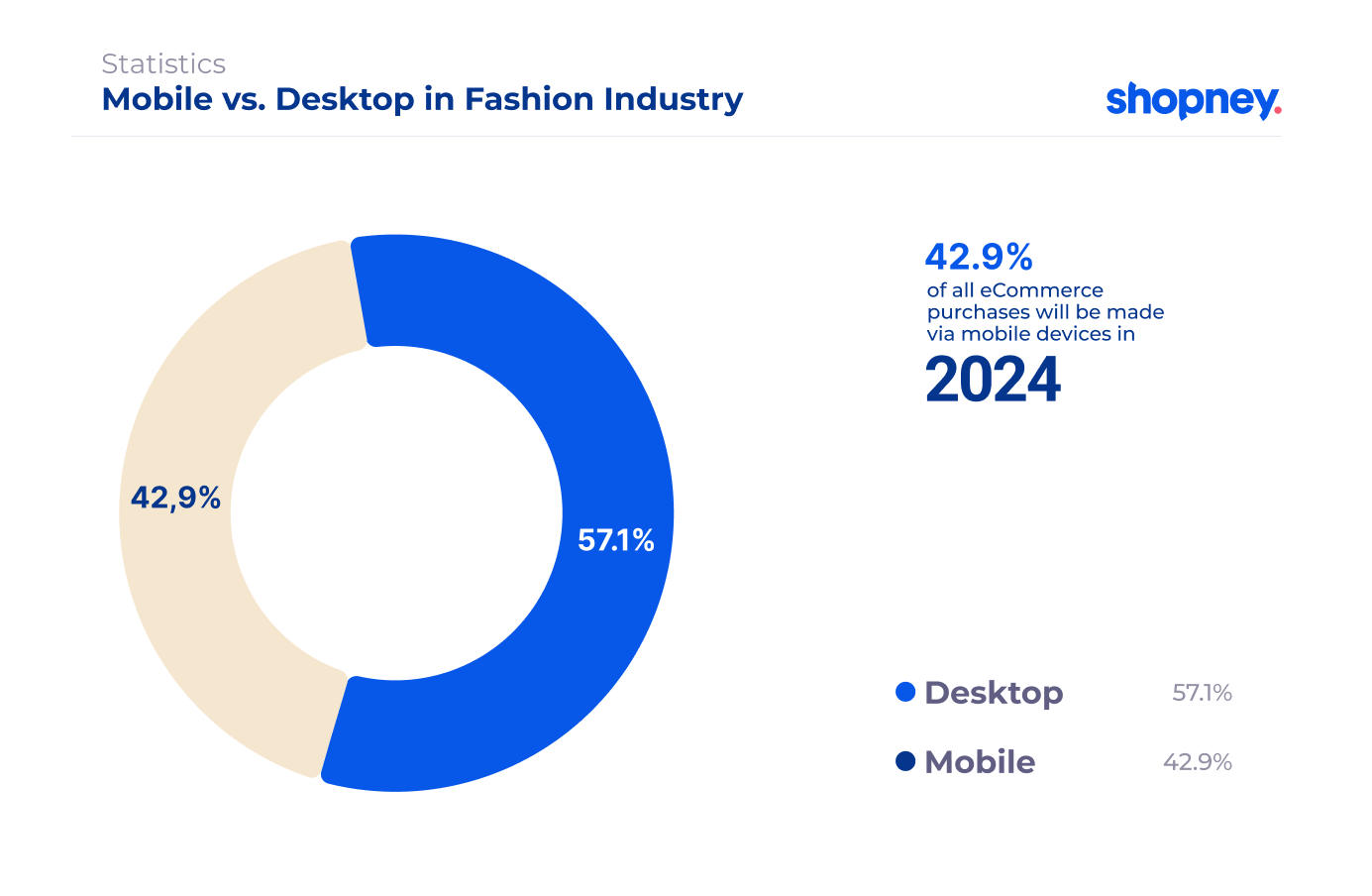 Unlike traditional eCommerce apps, you don't have to manually add or update product details in the Shopify store mobile app. The app is synced with your Shopify store, meaning any changes made to the store automatically reflects on the app.
A mobile app for your Shopify store ensures that you deliver a fantastic experience to your customers; in return, they give you more sales and loyalty.
Why Does Your Shopify Fashion and Apparel Brand Need a Mobile App?
Many fashion and apparel brands feel that just having an eCommerce store is enough to bring customers and retain them for a long time. And that's where they go wrong.
The way customers used to shop is changing. They no longer want to browse the internet to find the right eCommerce store and select products from cluttered pages.
More than 85% of eCommerce buyers prefer apps over websites because it's easier to find and order the right products on an app.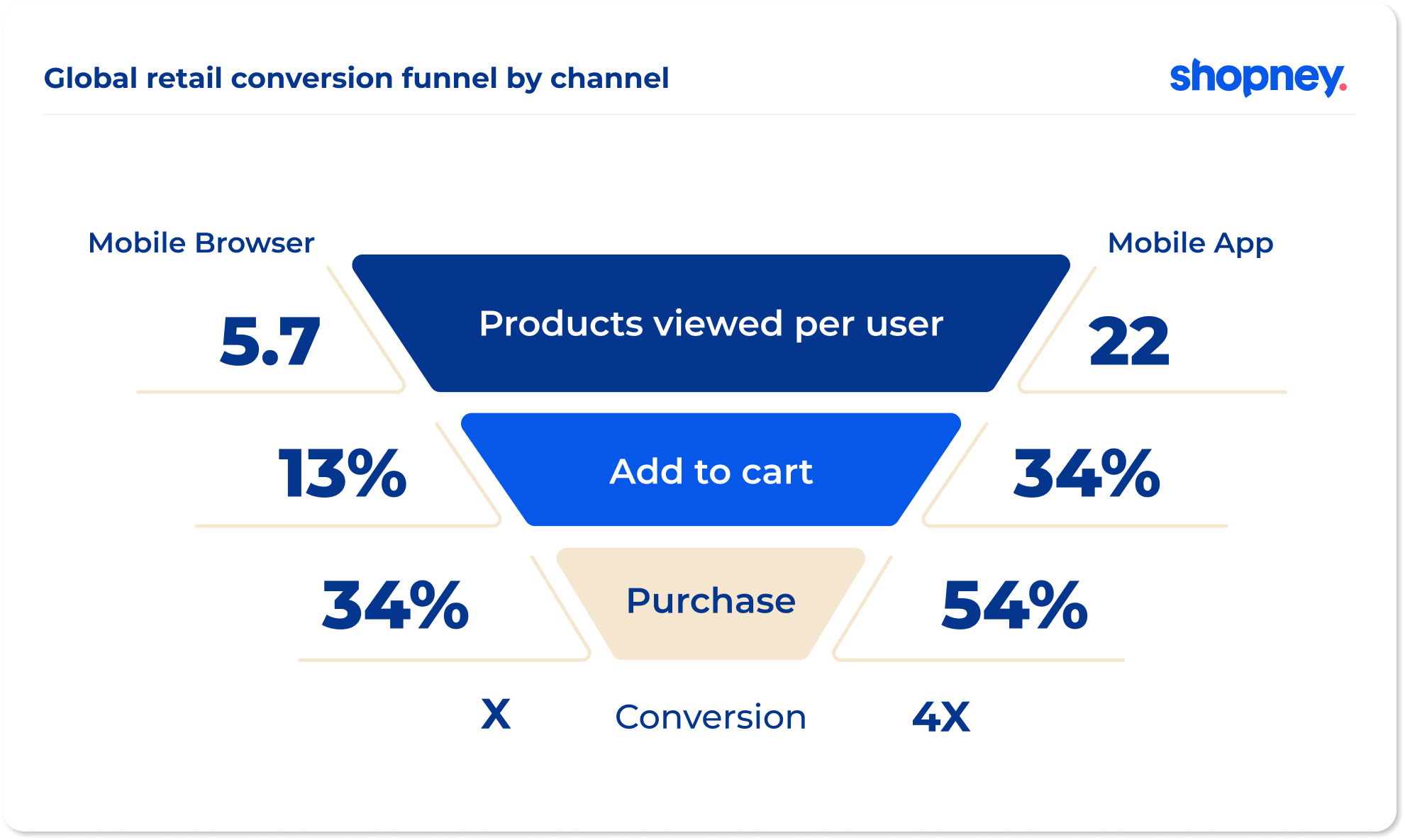 Having a mobile app for your Shopify store was important way back in 2016. We're in 2023. And now, if you don't have a mobile app for your Shopify fashion and apparel brand, then you're basically competing in a formula one race with a bicycle.
Here are some of the reasons why you should consider building an eCommerce mobile app for your Shopify store:
1. Mobile Commerce is Trending
Mobile sales have taken over the eCommerce industry, with over 80% of all eCommerce sales worldwide coming from mobile devices.
Within the next two years, mobile commerce is projected to control over 85% of all eCommerce sales globally.
Shopping mobile apps are growing at an astonishing rate of 54% year-over-year, which is the highest growth rate compared to any other app category. This makes it essential for fashion and apparel brands to convert their Shopify store into a mobile app.
2. Customers Prefer Mobile Over Websites
78% of consumers would rather use a mobile app to buy from an eCommerce shop than a website.
Mobile apps offer better convenience and speed, resulting in a more optimized user experience.
If a fashion and apparel brand doesn't have a mobile app, they're neglecting the fact that customers stay with brands that offer great experiences.
3. Stay Ahead of Your Competitors
Being an early mover and building an eCommerce mobile app gives fashion and apparel brands an advantage over competitors that don't have one.
How? Customers would rather shop from mobile apps, so having one gives customers a reason to buy from a brand over a competitor.
Moreover, every eCommerce retailer competes with Amazon, making it crucial for fashion and apparel brands to meet the same standards. If you don't have a mobile app for your Shopify store, you don't stand a chance against the giants like Amazon and Flipkart.
4. Increase Conversion Rate With Push Notification
The cart abandonment rate in the fashion and apparel industry is 88.57%. If you don't bring these customers back, most of your marketing efforts will end up in the trash, abandoned like a cart.
A mobile app for fashion and apparel Shopify store unlocks the push notification feature. It allows brands to send notifications to customers to remind them of abandoned carts, promotions, or new products.
These reminders can bring customers back to complete their purchases and increase the conversion rate.
And not just push notifications, eCommerce mobile apps can also increase conversion rates by reducing friction in the checkout process.
Customers can save their payment information and shipping address for future purchases, making the checkout process faster and more convenient.
5. eCommerce Mobile Apps Increase the AOV
Mobile apps for fashion and apparel Shopify stores generate a higher average order value than desktops and mobile browsers.
Mobile apps for your online store are more convenient and user-friendly than mobile browsers or desktops. Therefore, it encourages customers to spend more time on the app and explore the offerings.
This means customers will browse more products in a single session. And the more they browse, the more they are going to purchase, increasing the average order value (AOV) of your fashion and apparel brand.
6. Data Collection for Personalization
Did you know 71% of customers feel frustrated when the shopping experience is not tailor-made for them?
Having a mobile app for your Shopify store helps you tackle this, as it allows you to collect valuable customer data.
You can use this data to create personalized marketing campaigns, understand customer behavior, and improve your overall customer experience, helping you succeed in the long term.
These reasons are just the tip of the iceberg. There are a lot more benefits to converting your Shopify store to a mobile app. But the ones listed in this guide should be enough for you to determine how beneficial having an app can be for your brand.
Moving on, let's discuss money!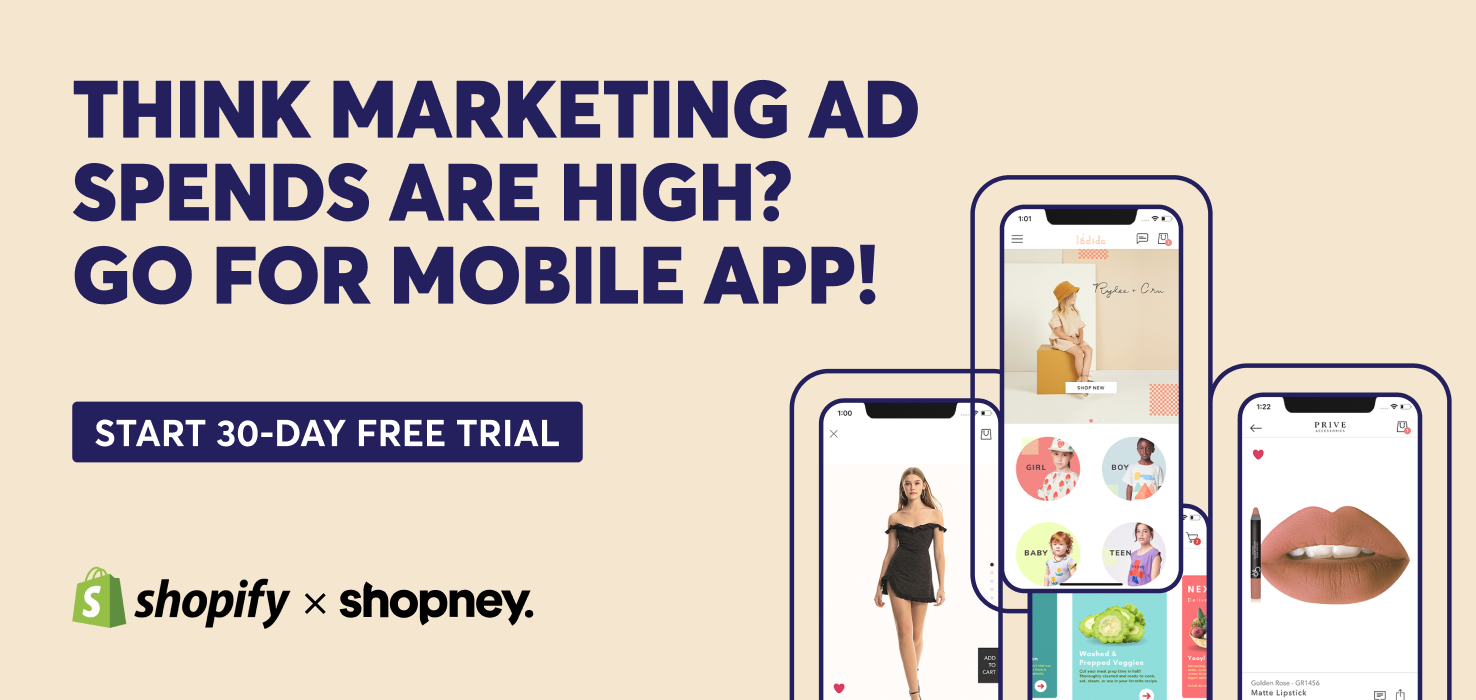 How Much Does It Cost to Build an Ecommerce Mobile App?
This number might shock you — building an eCommerce mobile app can cost $2000 to $30,000. The charges vary depending on the complexity of the app and the features you want to include.
And it doesn't end here. You also have to pay maintenance and cost, which can be around 20 to 30% of the initial development cost.
If you choose the traditional fashion app development path, it'll take a long time to launch the app, considering the manual coding process and bug fixes.
But we have an easy way out for you.
Have you ever used Canva or a landing page builder, where you just have to drag and drop the elements and select which button performs what task? With a Shopify mobile app builder, launching an app can be as easy as that. And you can also save thousands of dollars and launch your app for as low as $99 per month.
However, don't just jump on to taking a decision. First, you must understand how to approach the app development process methodically. So, let's dive right in!
How to Build a Mobile App for Your Fashion and Apparel Shopify Store
1. Analyze Your Target Audience
Before building an eCommerce mobile app for your fashion and apparel Shopify store, it's essential to identify your target audience and create customer personas. This helps you understand their demographics, shopping behavior, preferences, and mobile usage patterns. You can use this information to tailor your app's features, design, and functionality to meet their needs and expectations.
Additionally, you should note how often your target audience has used mobile devices to purchase from you. This information will help you identify the importance of building a mobile app for your store and the potential impact it could have on your sales and revenue.
Once you clearly understand your target audience and their mobile usage patterns, you can move on to the next steps of building your mobile app.
2. Make a List of Features
After analyzing your target audience, it's time to list features you want to include in your app. Think about what features are currently available on your desktop site and if you want to replicate them in your mobile app.
For example, if you allow customers to customize their apparel on your website, you might want to include this feature in your mobile app as well.
Additionally, you need to consider other essential features that will enhance the user experience, such as a search bar, easy navigation, a wishlist, and an easy checkout process.
Once you've made a list of features, prioritize them based on their importance and relevance to your target audience. The feature list will act as your roadmap when you start developing your app, ensuring that you don't miss any critical features your customers expect.
3. Create a Shopping Workflow
After listing the features, it's time to create a shopping workflow for your fashion and apparel mobile app. It involves mapping out the user journey from the moment they enter the app to the point of making a purchase and beyond.
Start by identifying the key stages of the buying process and consider the different touch points along the way.
A basic workflow starts with the customers browsing products on the home page, adding items to their cart, and proceeding to checkout.
It's also essential to consider post-purchase touchpoints, such as order tracking and customer service options. By mapping out the entire shopping process, you can identify areas where users may drop off or encounter friction and optimize the app accordingly.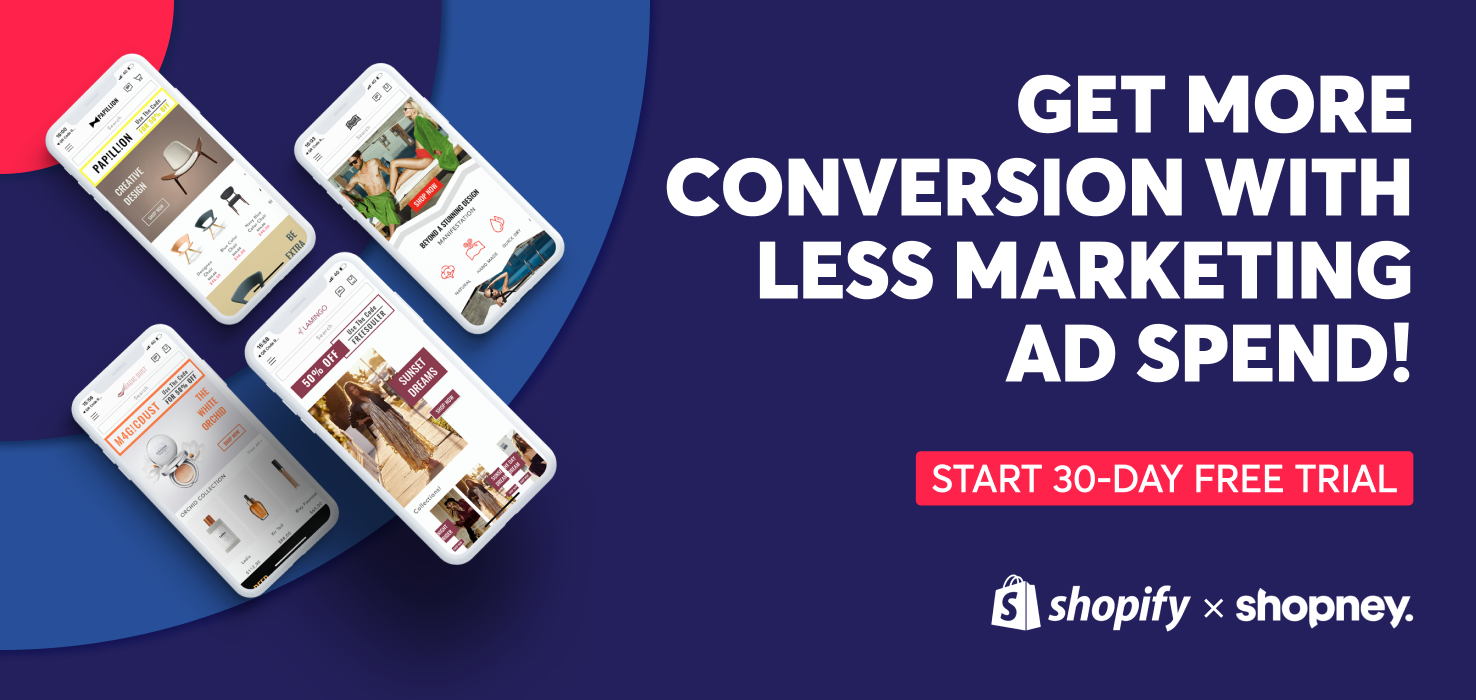 3. Choose the Right Shopify Mobile App Builder for Fashion and Apparel
When choosing a Shopify mobile app builder for your fashion and apparel store, it's essential to choose one that delivers all the features and user experience your customers expect.
And because not all Shopify app builders are created equal, you need to do your research before making a decision.
Here are some points you need to consider before picking a Shopify mobile app builder:
1. Ease of Use
A Shopify mobile app builder should offer an easy and intuitive design dashboard. Look for a clean interface where you can easily find what you need, and consider choosing an app that offers hands-on help with design if you are not experienced in app building.
2. Customer Service
When choosing a mobile app builder, it's essential to consider their customer service. Look for an app with responsive and helpful support, as this will be crucial if you encounter any issues or have questions during the app-building process.
3. Features
Look for an app that offers smart features that you will actually use and benefit from rather than an overwhelming number of unnecessary features.
4. Integrations
If you already use other apps for your business, look for a mobile app builder that integrates with those apps. This will help ensure a seamless experience for your customers and help streamline your business processes.
5. Native iOS and Android Apps
Go for a Shopify mobile app builder that offers native iOS and Android apps rather than an app that just looks like a shopping app. This will help ensure the best possible mobile shopping experience for your customers, irrespective of the device they use.
6. Flexible Mobile App Design
Your mobile app's appearance is a significant factor in creating a positive impression on your customers.
Look for a mobile app builder that offers drag-and-drop design options and a variety of themes. You should also ask for examples of mobile apps created by the builder to get a true sense of their design capabilities.
7. Language Support
Localization and internationalization are key considerations for any eCommerce business. Look for a mobile app builder that supports multiple languages, even if you don't currently sell internationally, as this can help prepare your business for future growth.
8. Reviews on Shopify App Store
Finally, it's important to research customer reviews of any mobile app builder you are considering. Pay attention not only to the number of positive reviews but also to negative reviews and the issues that customers have encountered. This will help you make an informed decision and avoid any potential issues.
99% of customers who used Shopney rate it as a 5-star solution to convert the Shopify store to a mobile app.
The best Shopify mobile app builder will have all the above-mentioned features, from ease of use to flexibility, to integrations and design. And you can't compromise on any of that.
4. Plan Out Your Homepage
Once you've found your Shopify mobile app builder, it's time to plan out the homepage. You need to pre-plan it to ensure that it doesn't get cluttered; otherwise, customers will find it overwhelming and probably uninstall your fashion and apparel app.
After reviewing hundreds of eCommerce mobile apps for the fashion and apparel industry, here's what we think are the good-to-have elements for the homepage:
Note: The logo and brand name should be on each page to improve brand recognition.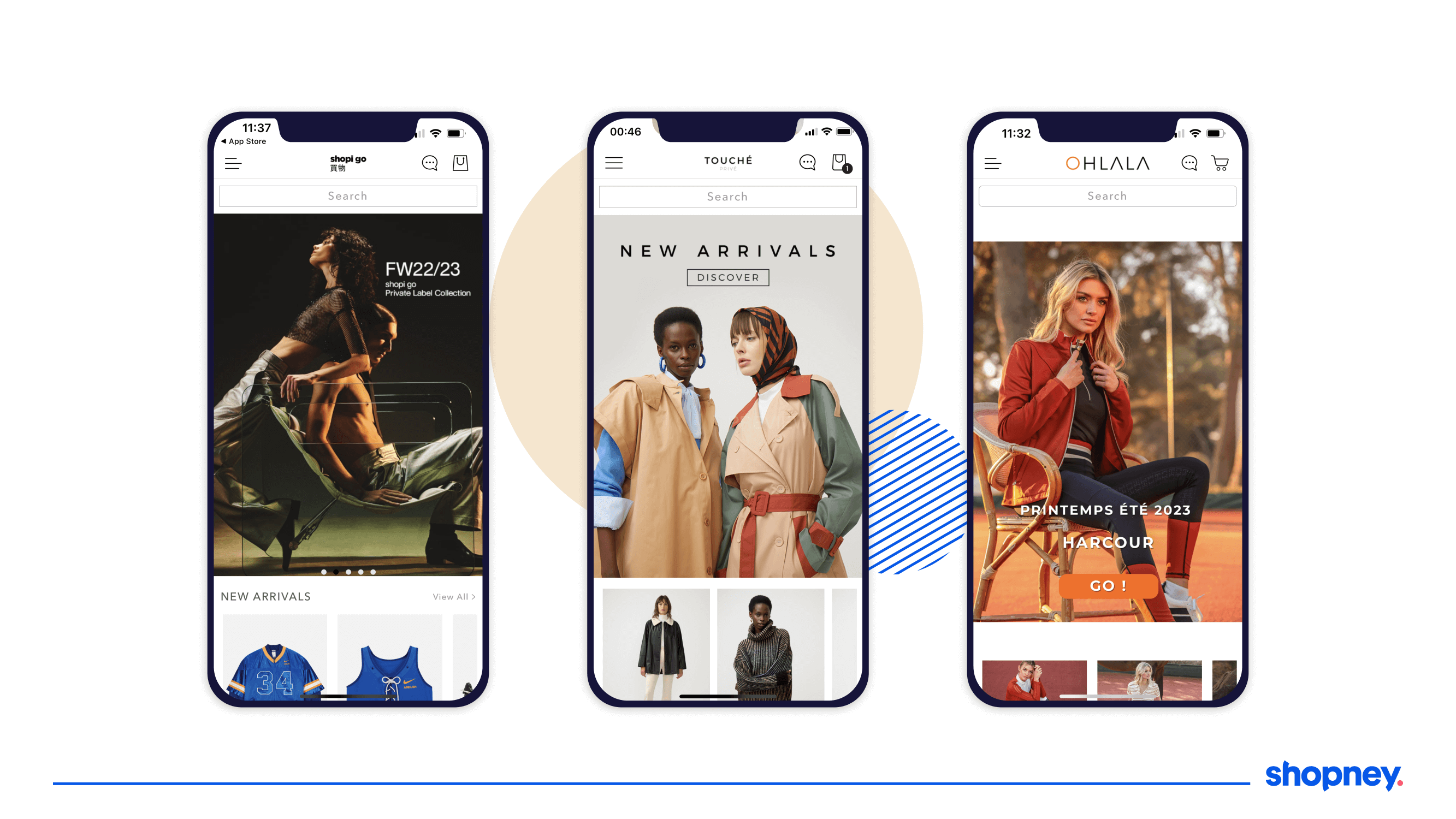 Search Bar, Cart, Wishlist, and Menu Button
On the top of the homepage, there should be a search bar. It ensures that customers who've come to your store for a specific product find it seamlessly.
You should also add the cart and wishlist icons beside the search bar because customers love keeping track of those. And this top section should be static. It should stay the same across all pages of your online store mobile app.
The menu button will allow customers to go to their account page, track orders, and explore the categories and the complete store.
Category-wise Sale Banner
After the static bar, displaying a category-wise sales banner is a good practice, especially when launching an app, because 80% of customers admit trying new brands that offer discounts.
If you sell products for both men and women, you can have their separate clickable images on either side.
This banner should highlight the range of discounts (like 50-80% off) and the dates for which the sale is live. It would drastically help increase sales.
Categories Section
After showing them what's on offer, you must show them everything you have. You can display the available categories divided into subcategories.
The top-level categories can be: Women, Men, Kids, Teens, Plus Size, etc.
These categories can be divided into Western Wear, Ethnic, Footwear, Activewear, Winter Wear, Topwear, Bottomwear, Watches, etc.
Each of these categories can be further divided. For example, "top wear" can be segmented into T-shirts, Casual shirts, Formal shirts, Sweatshirts, Jackets, Sweaters, Blazers, Coats, etc.
By segmenting your products into categories, you ensure that customers can easily explore all the products of a particular category and purchase the product they like the most.
Flash Sale
On your fashion and apparel app's homepage, you can run flash sales, sales that are only live for a couple of hours or minutes.

These sales bring the maximum purchases for brands because of unmatched deals. You can place a time on the flash sale banner, which creates a sense of urgency and encourages customers to purchase.
The homepage is the best place to display these flash sales because if you put it somewhere else, the customers might never see it.
New Arrivals
When you launch a new product, you want more and more customers to see it. And no other page has higher visibility than the homepage of the app. Therefore, you must include a section for new arrivals on the homepage.
Most Popular Products
Your customers are very likely to buy products that others have also purchased. You can display your Shopify store bestsellers on the mobile app's homepage to increase your conversion rate and revenue.
Recommended Products Section
This is one of the most critical sections of a Shopify app for fashion and apparel. When the app is new, you can recommend products based on customers' data.
And because the app keeps collecting data, the relevancy of the product recommendation increases. The more relevant your recommendations are, the higher the conversion and retention rate will be.
The Bottom Panel
The bottom-most section is also static, just like the top-most. It can hold navigation buttons like categories, account page, home button (to come back to the home page), and any other page that customers frequently visit on your store. The idea of the bottom panel is to make navigation easier for customers.
These are the most critical elements that must be there on your homepage for it to convert more. Adding so many buttons and pages can be a little overwhelming if you think about the coding process. But with a drag-and-drop Shopify app builder, these pages can be made in no time.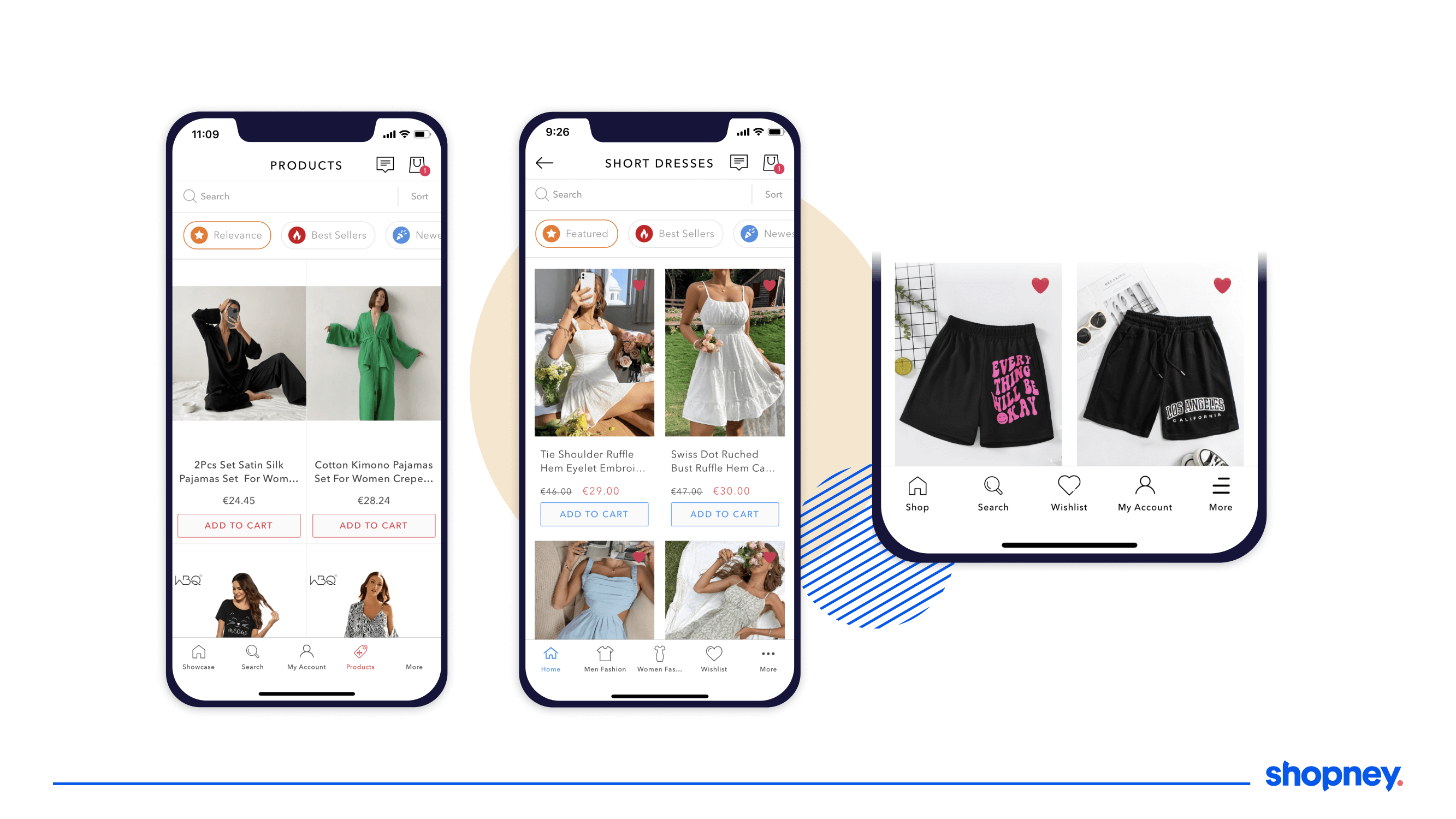 5. Plan Out Your Collection Pages
Just like the home page, you should also optimize the collection pages. On the collection page, you group products into collections to make it easier for customers to find what they want.
Let's say you've more than 500 products, and a customer has forgotten the exact name of the product they're looking for. But they're sure that it's top wear. If you have an optimized collection page, they can easily find their top wear product by browsing that collection page.
Moreover, you might partner with some other brand or artist to create a new product range for your fashion and apparel app. You can put all those products on one collection page to make them more discoverable.
For example, H&M recently collaborated with Keith Haring. And they've put a banner on their homepage for this collection. When customers click that banner, they're redirected to the collection page that holds all the products of this collaboration. It improves customer experience, leading to more sales and loyalty.
You can easily create the collection pages using a Shopify app builder that syncs with your Shopify store. And whenever you change something on your eCommerce website collection page, it will also be changed on the app.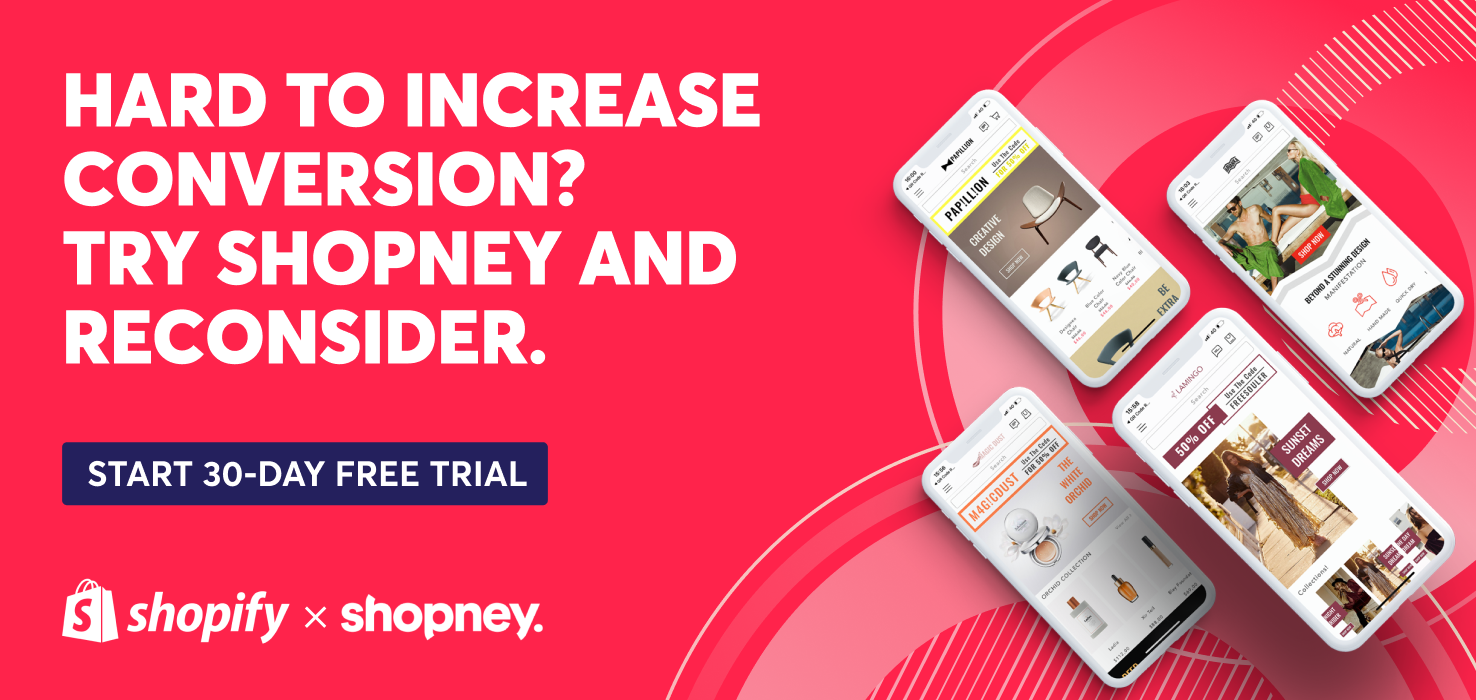 6. Plan Out Your Product Pages
Product is where the conversion happens. You must ensure that on your product page, you give all the information your customer needs to make an informed purchase.
Here are some essential elements of a product page that you must include on the Shopify app for fashion and apparel brands:
1. High-quality product images: Customers want to see the details of the product they are interested in. Providing high-quality images from multiple angles can increase the chances of a sale.
2. Detailed product description: A well-written product description can help customers understand the product's features, materials, and benefits. It can also help customers make an informed decision about their purchase.
3. Size and fit information: Customers want to ensure that the product they are interested in will fit them properly. Providing detailed size and fit information can help customers make a confident purchase.
4. Customer reviews: Including customer reviews on a product page can provide social proof and help customers understand the product's quality and performance from real users.
5. Related products: Including related products can help customers discover more products that they may be interested in purchasing, leading to a higher average order value.
6. Clear pricing and shipping information: Customers want to know how much they will be paying and when they can expect to receive their order. Providing transparent pricing and shipping information can help customers make a confident purchase.
A pro tip: Add a share button on your mobile app's Shopify product page. It will make it seamless for customers to refer the product to those who might be interested in it. It brings you extra sales, lowering the customer acquisition cost.
7. Streamline Your Menu
The menu on a fashion and apparel app is important because it provides easy navigation for users to find what they are looking for. It also helps to organize the app's content clearly and concisely, improving the user experience.
Additionally, a well-designed menu can make the app feel more professional and increase the brand's perceived value.
Here are some elements that should be on the menu:
1. Shop: This is the main section where customers can browse and purchase products. It should be easily accessible from the menu for a seamless shopping experience.
2. Collections: Customers can easily filter and find specific products by navigating through collections. This helps in better organization of products and easy access to related items.
3. Account: This section enables customers to create an account, track their orders, view order history, and manage their personal details.
4. About Us: This section provides customers with information about the brand, its history, and its values. It helps to build trust and establish a connection with the customer.
5. Contact Us: This feature enables customers to get in touch with the brand for any queries or concerns, improving customer service and satisfaction.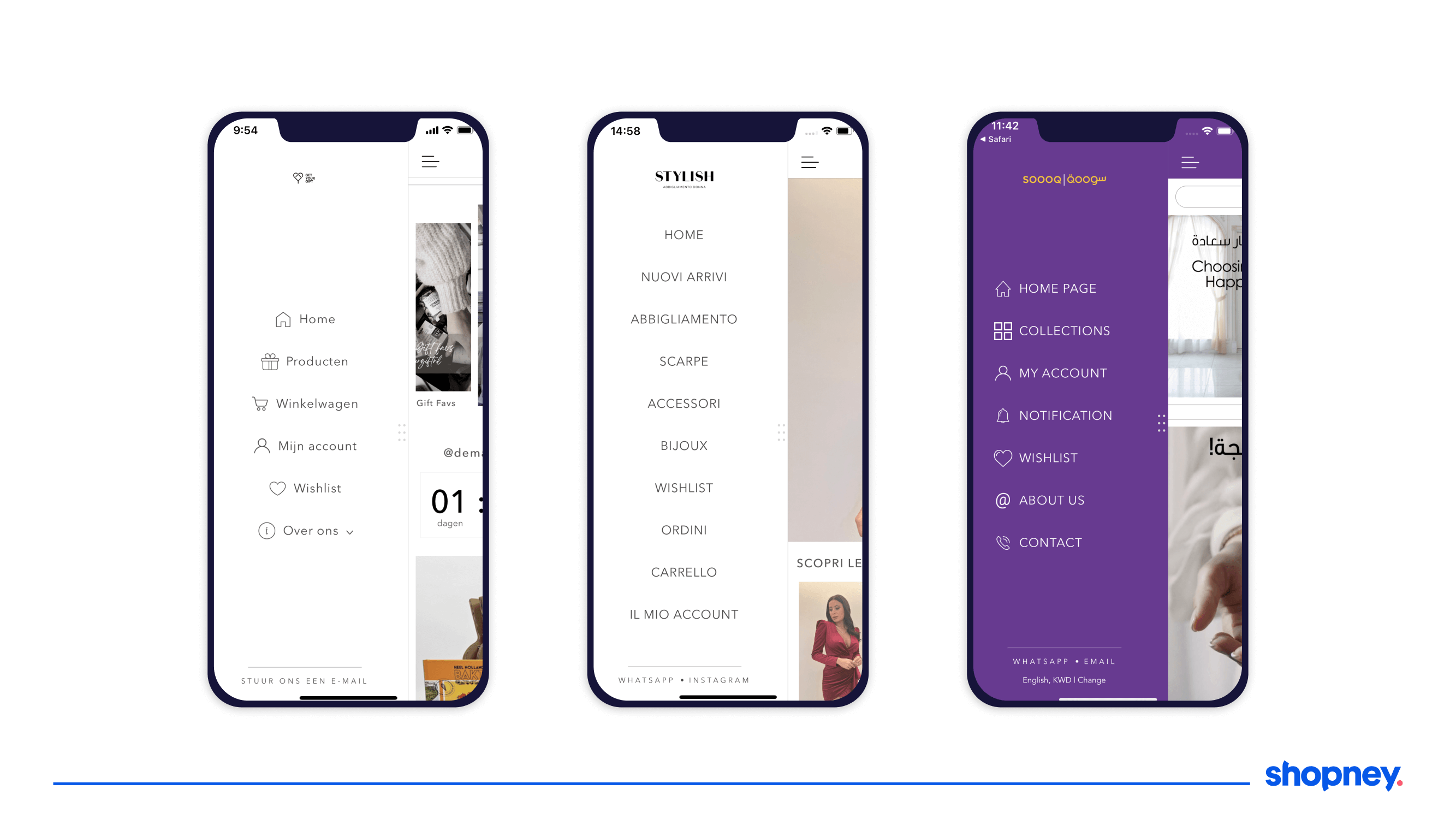 8. Set Up Search and Filters
Filters are a crucial feature in fashion and apparel apps, allowing customers to find products that match their preferences quickly. This feature enhances the customer experience by making it easier to browse and find the products they want, leading to higher engagement and conversions.
Here are some best practices to consider when implementing a filter feature in your Shopify fashion and apparel app:

Keep it simple and easy to use: use clear and concise labels and provide straightforward options.
Make it responsive: ensure your filter feature works well on all screen sizes and devices.
Prioritize important filters: display the most commonly used filters at the top and the less frequently used filters below.
Multiple selection options: allow customers to select multiple options within a filter category.
Use relevant filters: include filters relevant to your products and your customers' needs. Size filtering should show shoe numbers if they're on the shoe page and waist size when they're browsing trousers.
Ensure accuracy: the filters should return accurate and relevant results, avoiding false matches.
Allow for clearances: provide an option for customers to clear all filters and start over.
If you turn your Shopify store into a mobile app with Shopney, you can leverage the product filter & search with Shopney <> Boost Commerce integration and offer a better customer experience.
9. Optimize the Checkout Process
The checkout process needs to be short to prevent customers from abandoning their carts due to a complicated and time-consuming process.
On the checkout page, you should have a progress bar showing the number of remaining steps to complete the order. When customers have clarity about how much more information the brand needs, they tend to complete it more.
Moreover, you should reduce the number of form fields as much as you can. Having fewer fields expedites the checkout process and lowers the drop-off rate.
10. Ensure Thorough Branding
Have you ever downloaded an eCommerce app and thought that it was not the right one because it looked different from the store? You're not the only one who faced this issue. When brands don't give enough importance to branding, customers get confused.
Thorough branding is crucial for the success of a fashion and apparel app. Maintaining consistency between the online store and the mobile app is essential to create a seamless experience for customers.
This consistency can be achieved by using the same color palette, typography, logo, and overall visual language. This will help establish a strong brand identity, increase brand recognition, and create a sense of trust and reliability among users.
A good Shopify app builder will provide options to customize the app's visual appearance to match the online store's branding. It'll help you maintain a consistent visual language across all platforms and establish yourself as reliable and trustworthy.
11. Integrate Your Payment Gateways
Fashion and apparel Shopify apps should provide customers with a seamless and convenient checkout experience. And one of the key factors in achieving that is by offering multiple payment options.
Integrating multiple payment gateways on your fashion and apparel app gives customers more choices and convenience, as they can use their preferred payment method. This can also help improve trust and credibility, as customers are more likely to trust a platform with multiple secure payment options.
Moreover, integrating multiple payment gateways can also help increase your conversion rates because they are more likely to complete a purchase when they see their preferred payment option available. This can ultimately lead to higher sales and revenue for your fashion and apparel brand.
The best Shopify mobile app builder will give your customers a seamless and hassle-free checkout experience by giving you multiple payment gateway integrations like Apple Pay, Google Pay, PayPal, Amazon Pay, Alipay, Klarna, Sezzle, and much more.
12. Set Up Push Notifications
Cart abandonment is one of the biggest challenges for fashion and apparel brands. Almost 90 out of every 100 customers leave the fashion and apparel app without purchasing.
Push notifications can help you navigate this challenge by sending reminders to customers about their abandoned carts. It can also increase sales by encouraging customers to open the app with personalized offers, discounts, and new arrivals.
Shopney, a Shopify mobile app builder, allows you to send media-rich push notifications, which can get 35% higher open rates than text-only push notifications. This means that you can showcase your products with attractive visuals and graphics to grab your customers' attention and bring them back to your app.
With Shopney, you can also segment your audience and send targeted push notifications based on their preferences, behavior, and location. This helps you build stronger relationships with your customers and increase your chances of selling.
13. Test the App
After completing the configuration of your fashion and apparel app, it's crucial to test it thoroughly to ensure everything works perfectly.
The app must be tested on different devices to ensure that it's responsive and user-friendly.
Also, it's essential to test the app's functionality, including the checkout process, payment gateway integration, and push notifications.
If, while testing, you come across any bugs, you need to go back to your Shopify mobile app builder. And considering you've picked the one that provides excellent customer service, the bug will be fixed in no time.
14. Launch and Promote the App
After you've tested your fashion and apparel app and made any necessary changes, it's time to launch and promote it.
Your app store submission, approval, and publishing process takes as little as three weeks.
Promote your app by using smart app banners on your website and get your existing customers to download the app by providing app-only discounts.
Social media platforms can also be used to promote your app to your followers.
Finally, track your app's performance, collect customer feedback, and make improvements to provide an excellent shopping experience.
Examples of Fashion Brands Using Apps
1. Ladida
Ladida is a fashion brand that deals primarily in kid's and women's clothing. Their app, powered by Shopney, has a clean user interface with a static cart button and a search bar on top.
They have categorized products by gender and designer, making it easy for their users to find the one they're looking for.
Moreover, on their menu, they have a Sales page that shows all the available deals and offers. This improves the user experience and brings more sales.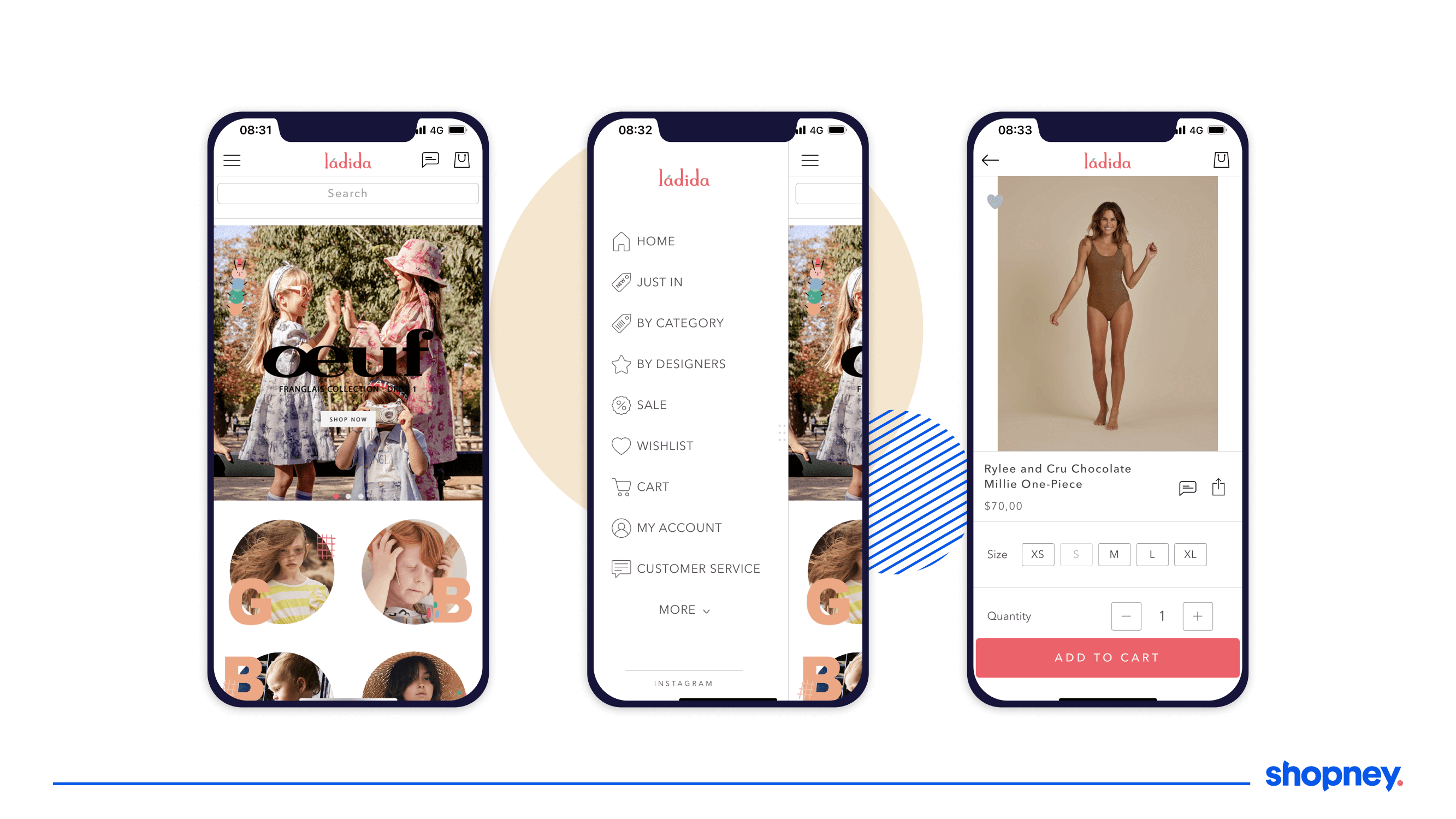 2. Moda Mare Positano
Moda Mare Positano is a women-only brand. And just like Ladida, it's also made using Shopney. They show the available offers right on top of the homepage, which is followed by categories and bestsellers — just as we discussed above.
Because fashion is all about visuals, they show a large image on the product page with all the possible angles. This helps customers make informed decisions.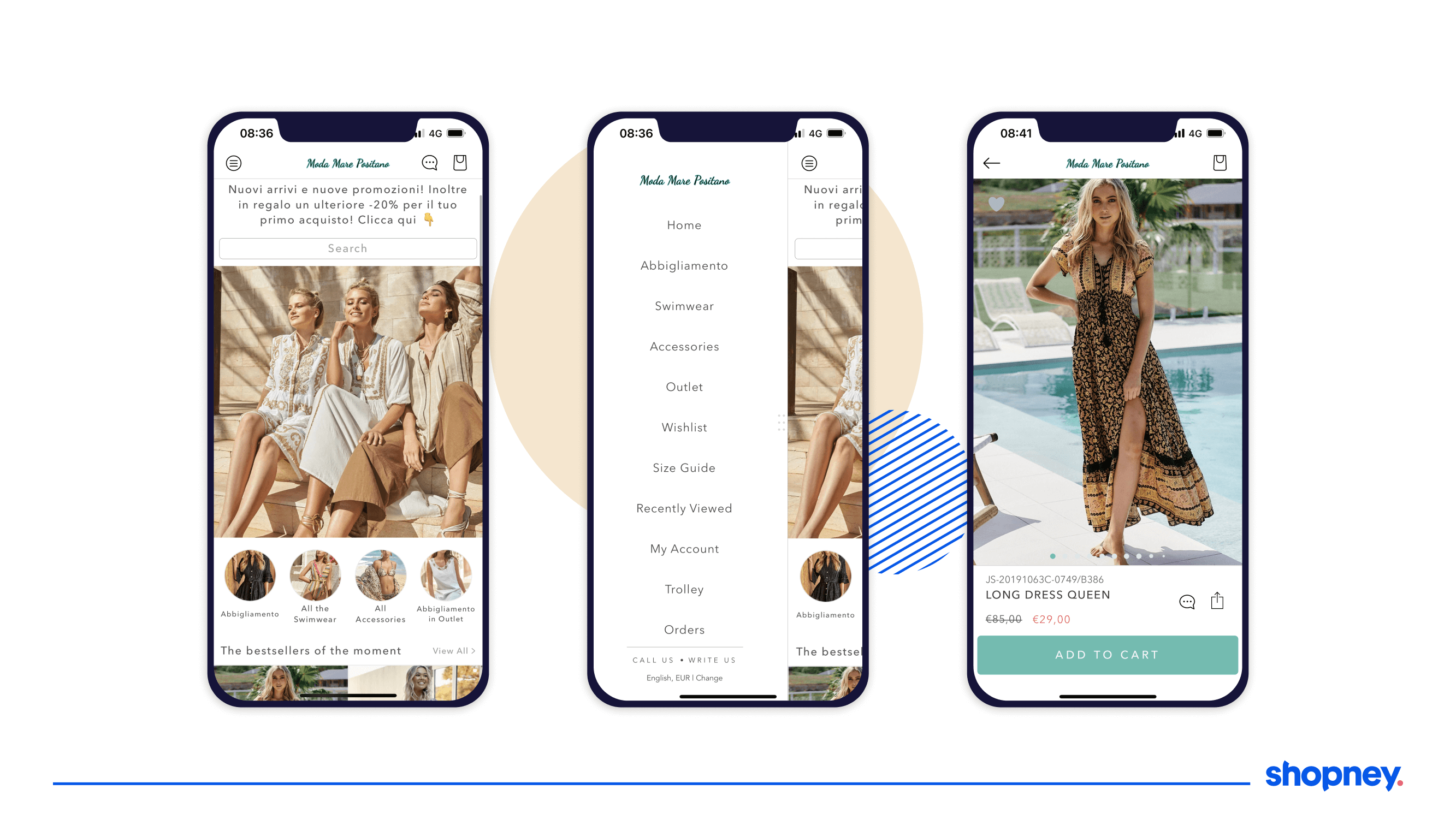 3. AJIO
AJIO, on the eCommerce app's homepage, displays all the available categories on the top. So, if someone's in a hurry, they can either search for the product directly or find it on the categories page.
Then there's also a banner showing all the sales and available discounts. It encourages customers to make a purchase, even when they are not planning to make one.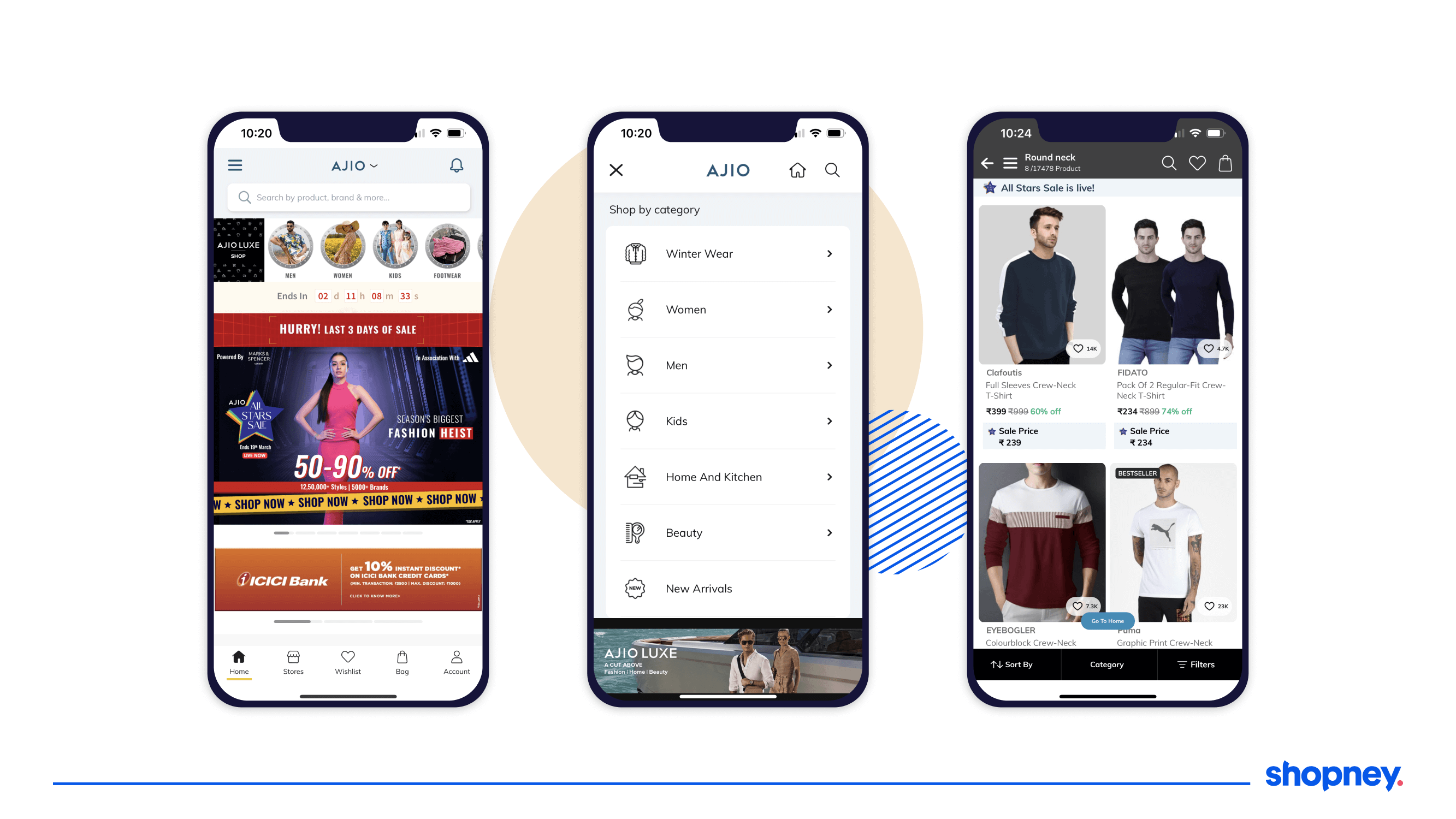 4. Pegador
Pegador is a fashion brand that knows how to get their customers excited! The countdown timer they have used on their homepage is the first thing that draws attention. It is an excellent way to promote their discounts and get more sales!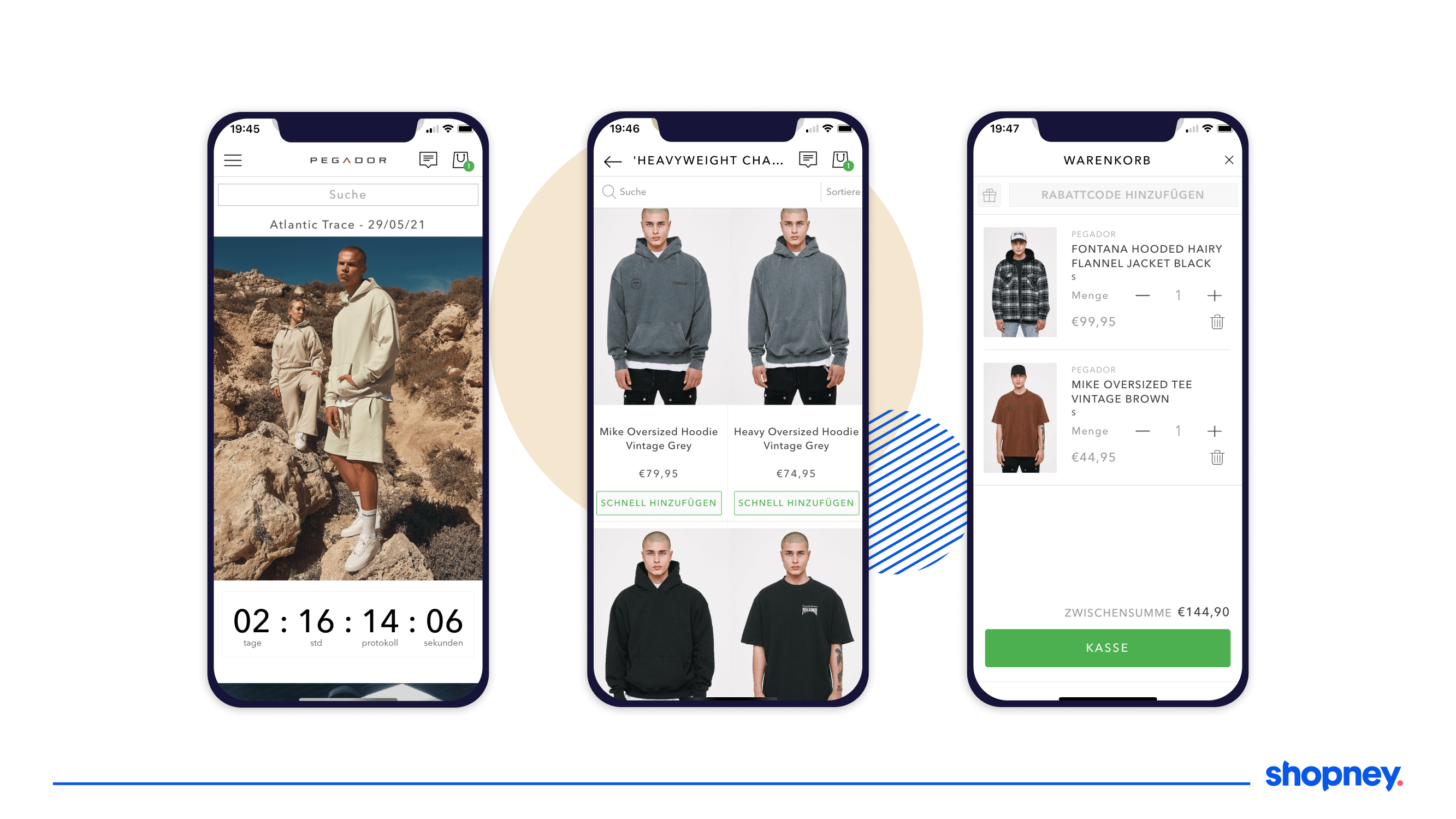 5. H&M
H&M is a giant when it comes to fashion commerce. They make over 40% of their sales from the online store.
They partner with artists and brands and create a separate collection page for that product range. On the checkout page, they show all the available payment options to ensure that customers feel secure while placing the order.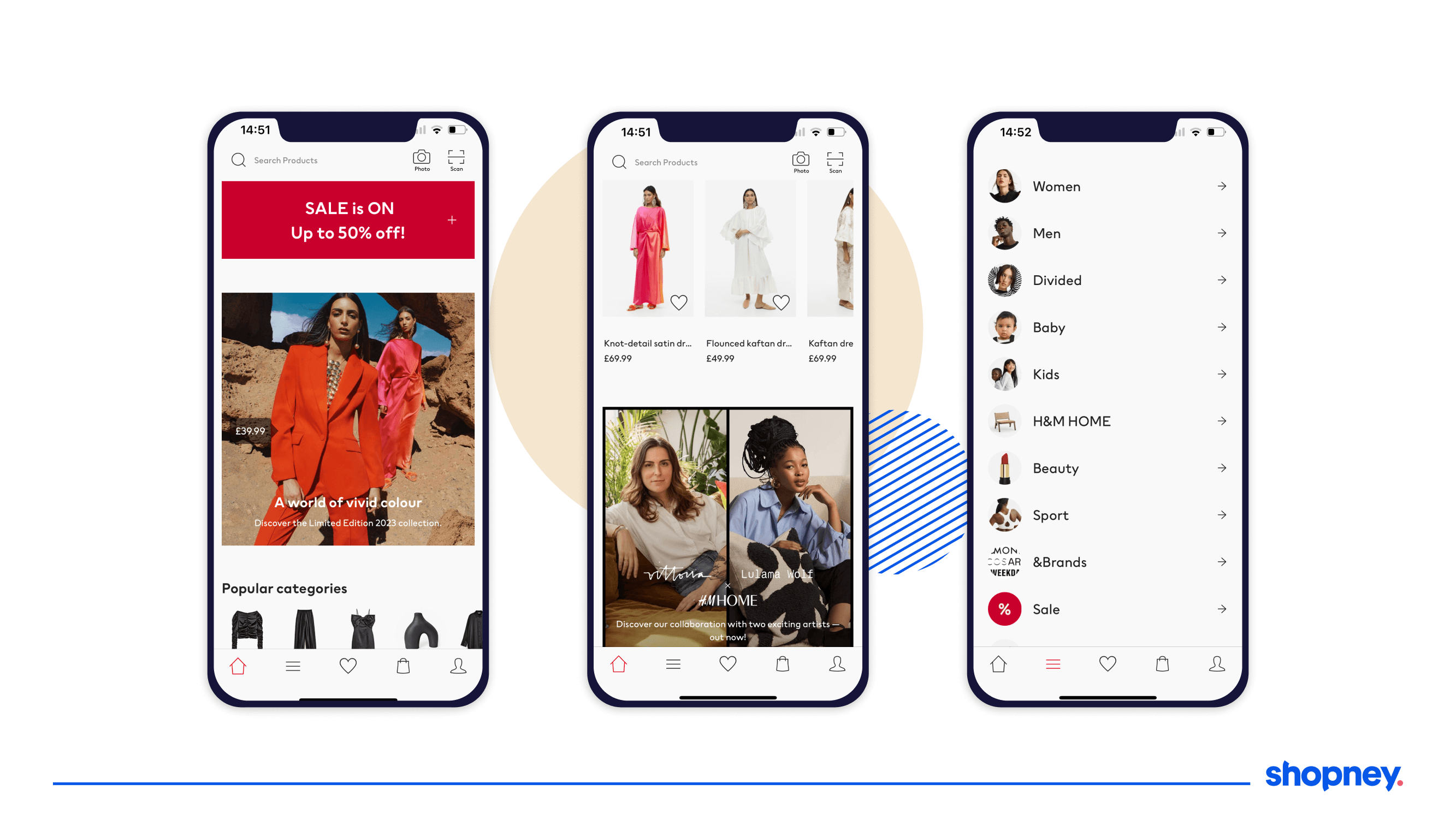 Want an App for Your Fashion and Apparel Brand?
A decade ago, it would've looked like a far-fetched dream. But not anymore. With Shopify app builders, creating an app for your Shopify store is much easier now. It doesn't require a lot of work, simple drag-drop-optimize, and you're good to go.
And with changing buying behavior of customers and increasing competition, if your fashion store doesn't have an eCommerce store, you'll be left behind.
Convert your Shopify fashion and eCommerce store to an app today with Shopney.