A Complete Guide On Setting Up A Shopify Store Mobile App For Food And Beverage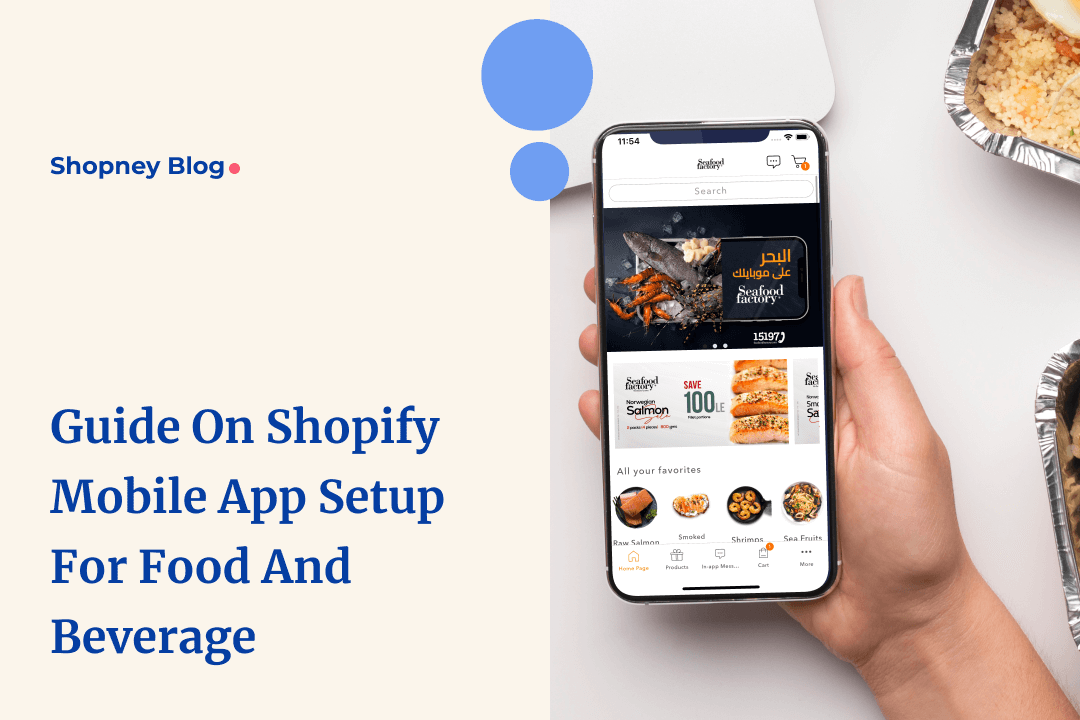 Learn why and how to set up an eCommerce mobile shop for your food and beverage Shopify store.
Food and beverage is seeing the fastest growth in the market. The global food and beverage market is projected to grow at CAGR of 7.14%, reaching $1.10bn by 2027 (Statista).
But with rapid growth come challenges—one being increasing competition.
More competition means food and beverage brands have to conduct business without missing a beat.
Whether it's acquiring new customers or increasing customer retention rates or ensuring customers don't go to competitor brands, there's a lot F&B brands have to tackle.
And if there's one trend food and beverage Shopify businesses are picking up fast, it's building a mobile app to complement their website.
In this blog, we take you through the whole process of setting up a mobile app for food and beverage with Shopify mobile app builders.
What is a Shopify Store Mobile App for Food & Beverage?
A Shopify store mobile app for food and beverage is in addition to the Shopify web store. It enables brands to offer a mobile-first experience.
More importantly, the Shopify mobile app for food and beverage syncs with your Shopify website. It means you don't have to add products manually---changes made in the store automatically reflect in the app.
In short, the app makes it easy for brands to manage their mobile shop experience and enhances customers' experience of your F&B business.
Why Does Your Food & Beverage Brand Require A Mobile App?
Customers' shopping habits are changing drastically. They've moved beyond websites; instead, prefer shopping via eCommerce mobile apps. Why? Because mobile shopping is faster, more convenient, and provides a better experience.
60% of consumers prefer shopping from mobile apps over mobile-optimized websites. Now, you can work up the mathematics of how much business you could lose to competitors that have mobile apps.
Here's a look at a graph that projects the increase in the number of mobile app downloads for the food & beverage sector.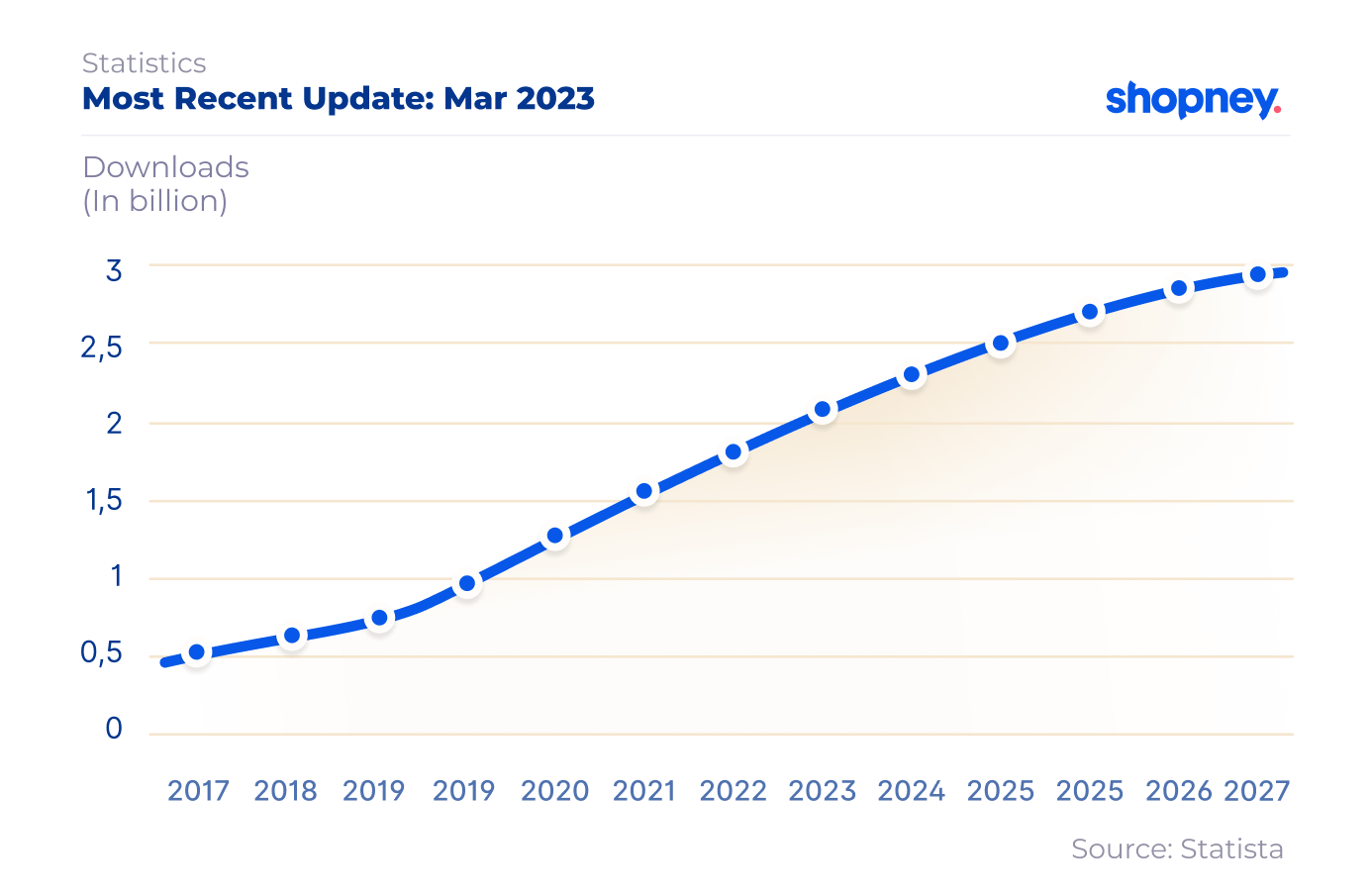 Source

Here are some reasons you should have a mobile app for your Shopify food and beverage business:
1. Mobile sales have taken over web-based eCommerce
80% of global sales now originate from mobile. The number of people using mobile devices to make purchases will significantly increase in the near future across industries. This makes it favorable for food and beverage Shopify stores to include a mobile app.
2. Customers' shopping preferences have shifted to mobile
People have gotten used to using their mobile devices for everything—whether it's making payments or shopping. With the increase in mobile users and more people shopping via their mobile devices, customers have taken to purchasing F&B products via mobile apps, even while they're on the go. Websites are almost always the second choice for shopping.
3. An advantage over competitors
With more and more consumers opting to shop via mobile and not websites, food and beverage Shopify stores can get an edge over their competitors by launching their F&B mobile app. Moreover, customers are increasingly expecting brands to stay up-to-date with tech trends. And so, to move with the times, food and beverage stores must include a mobile shopping app as an additional platform.
4. Helps boost push notification conversion rates
A mobile app for your Shopify food and beverage store can help boost conversion rates in many ways. One of them is push notifications. Customers always have their mobile devices handy on them. This increases the probability of them reading your messages and prompts.
For example, if a customer has abandoned their cart or an out-of-stock product gets restocked, they can receive push notifications on their apps, which can help boost conversions.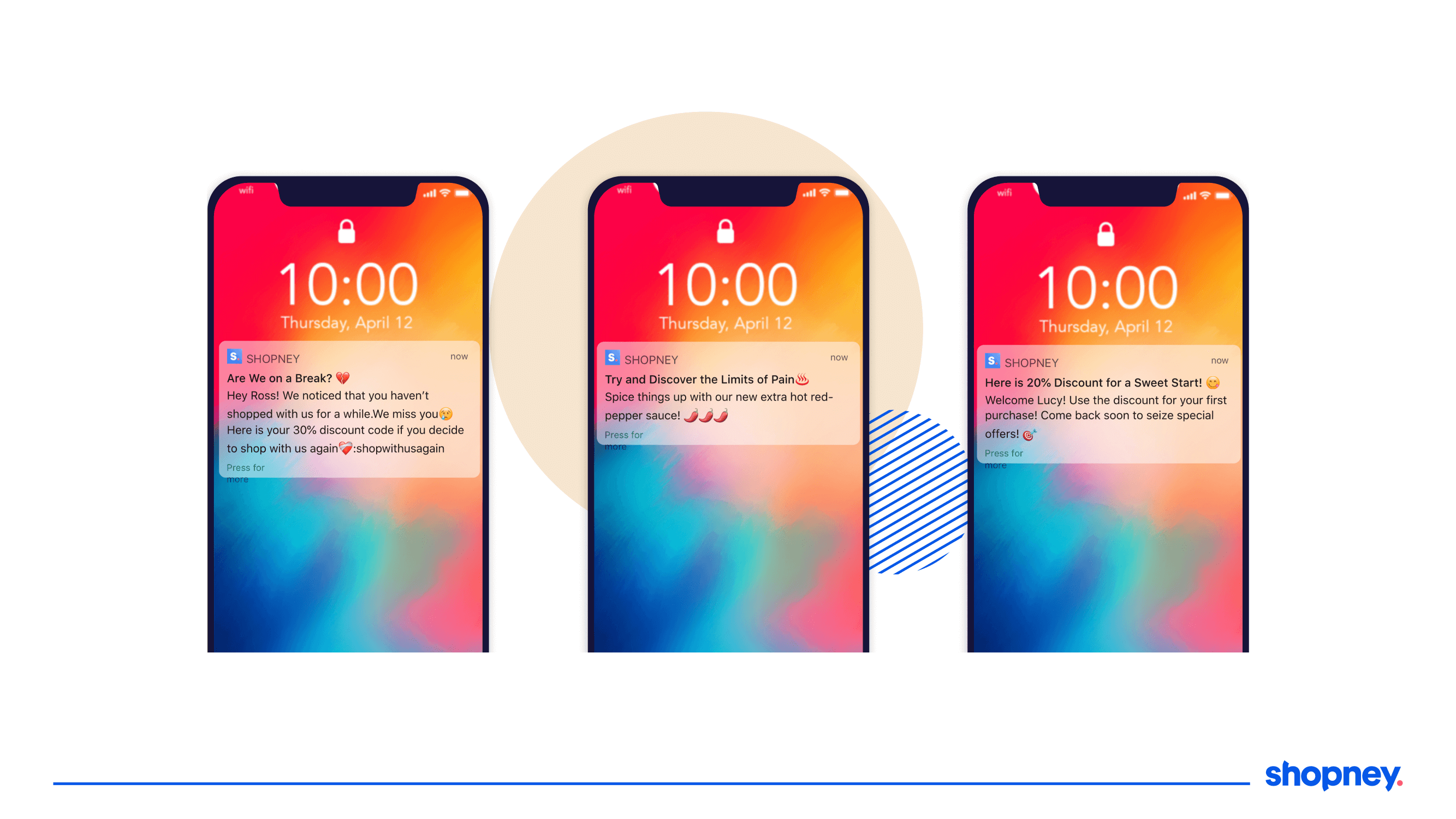 5. Increase the average order value
Since shopping via mobile apps is convenient and fast, mobile apps for food and beverage can help increase the average order value.
Customers can shop on the go, spend more time on the app, and browse products at length—improving opportunities for you to engage them and drive more purchases.
For example, you could share real-time personalized discounts and use FOMO tactics to increase the average order value.
6. Improves data collection and personalization
80% of customers are more likely to purchase from brands that offer personalized experiences. And to incorporate personalization as a strategy for your eCommerce business, you need to collect data.‌‌
That's where your food and beverage Shopify store's mobile app comes in to help collect valuable data via the different features.
Here's a look at some food and beverage mobile app examples: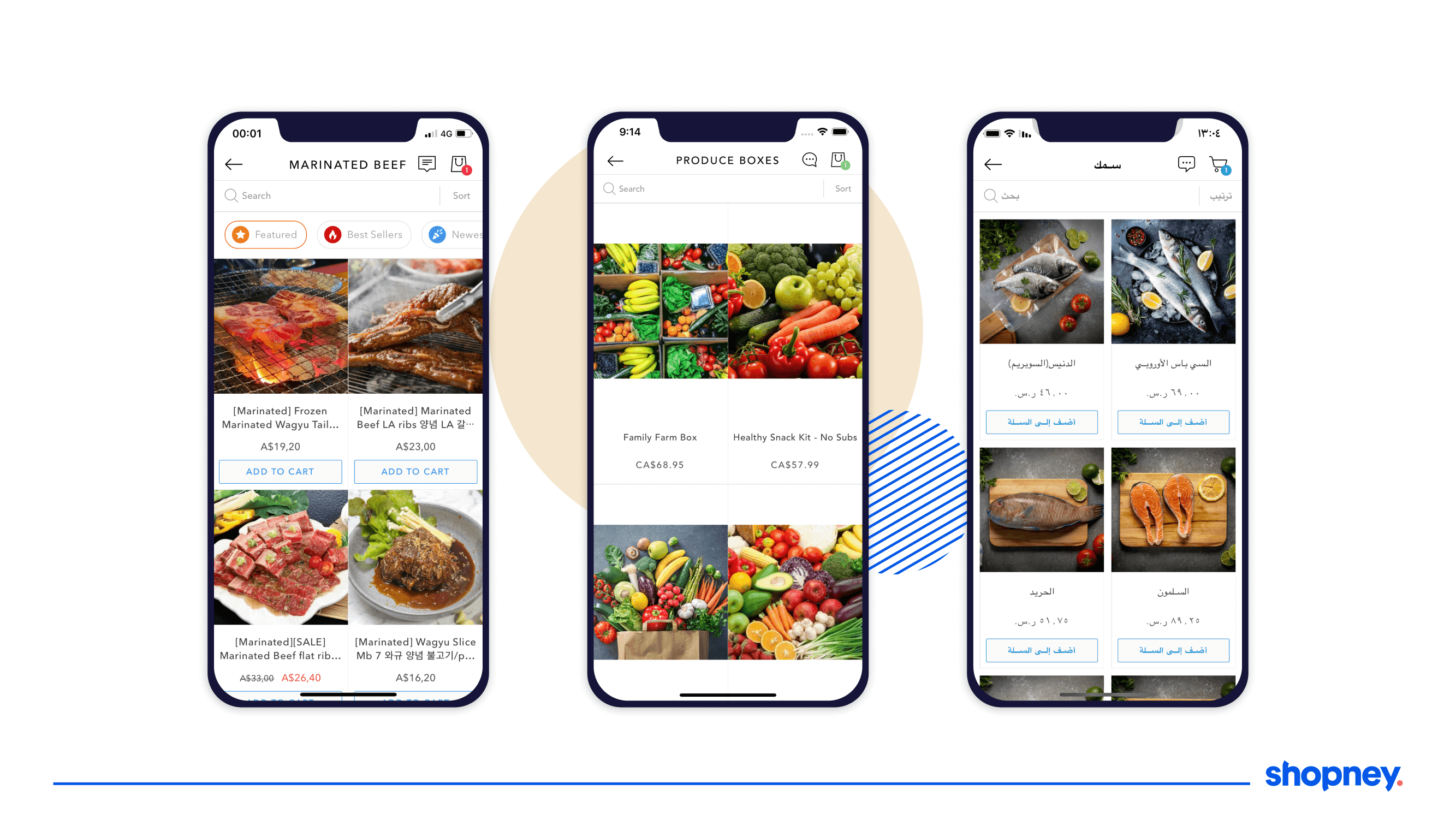 How To Build A Mobile App For Your Food And Beverage Shopify Store?
1. Know Your Target Audience
Before building a mobile app for your food and beverage Shopify store, it's important to get a sense of your target audience, identify them and create customer persona.  
You can do so by mapping demographics, shopping preferences, behavior, and the mobile usage trends of different segments. Also gather information about how your target audience has been using mobile for shopping.
Use this data to plan your mobile app features so you set up your food and beverage mobile app for higher sales and revenue.
After you're through with this step, you can move on to the next—create a list of features for the app.
2. Choose Features For The App
To start making a list of features for your mobile app for food and beverage Shopify store, get started by looking at your website. Pick all the features you want to replicate from the website in your app.
In addition, include other features that will improve the customer experience; for example, a search bar, recently viewed products, an easy checkout process, etc. Also, the target audience data you collected in the first step will help you determine features for your app.
When you design your mobile app, the features will work as a guide and you won't miss out on any important features.
3. Chalk Out Customers' Shopping Workflow
Then, it's time to create a shopping workflow for your food and beverage mobile app. A shopping workflow is the way customers' journey/ navigation progresses—in other words, the different stages of the purchase process.
For example, a typical shopping workflow would be: the customer lands on your homepage, browses products, uses the search bar to look for specific products, adds them to the cart, and proceeds to checkout.
In addition, you must include the post-purchase workflow; for example, order tracking, customer support, return or exchange, etc. Chalking out the shopping workflow can help you optimize your food and beverage mobile app.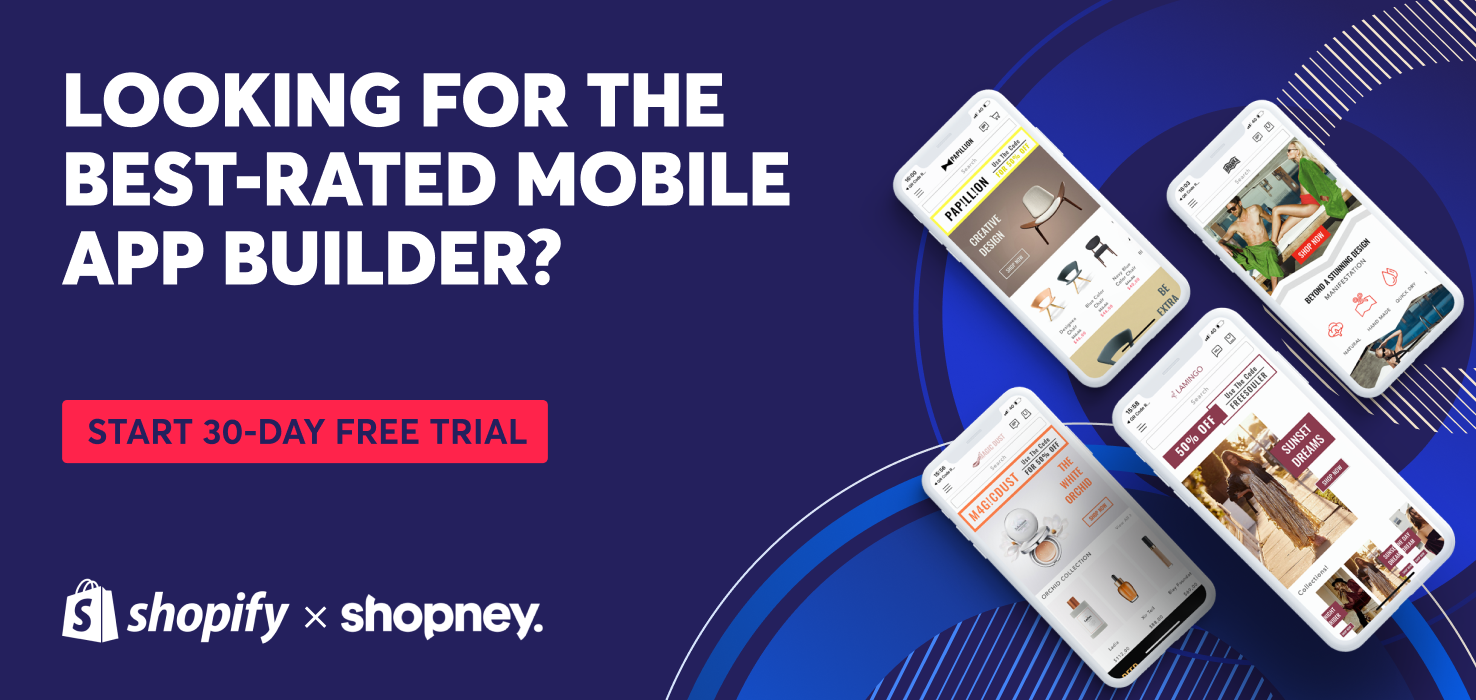 4. Select The Best Shopify Mobile App Builder For Food And Beverage
Now comes one of the most important decisions—choosing an efficient mobile app for your food and beverage Shopify store. Here are some factors you must consider when conducting research:
Pick an easy and intuitive design: If your food and beverage mobile app is complicated to use, you might require a lot of assistance and waste a lot of time. Hence, it's essential to choose a mobile app builder with a simple user interface and good customer support service when you need it.
Consider the customer service quality: Any issue in your Shopify store food and beverage mobile app might disrupt your business flow. Hence, look for an app platform that provides helpful, quick and efficient support, preferably 24/7.
Easy integrations: You might be using various apps for your business, so choose a mobile app builder that has the capability to easily integrate with third-party apps. This will ensure your business flow does not get interrupted.
Smart features: Too many unnecessary features will simply over- crowd your app hence look for an app with high-efficiency features that provide value. You must look for features relevant to your business processes.
Flexibility: The visual experience of your food and beverage mobile app will play a critical role in making a first impression. To design your app the way you want to, you should choose an app builder that provides easy, drag-and-drop capabilities and theme and design options.
Native iOS and Android apps: Instead of choosing an app that merely mimics a shopping app, choose a Shopify mobile app builder that delivers native iOS and Android apps. This will help you deliver the best experiences to your customers.
Multiple language support: While you may or may not be selling globally, localization and internationalization are crucial factors to consider when you choose a mobile app builder. You must opt for one that supports many languages as it might be required to expand your business in the future.
5. Plan Your Shopify Food And Beverage App Homepage
After selecting the mobile app builder, your next step should be to plan your app's homepage. When planning, keep your customers' experience and ease in mind. Here are some elements to consider:
Search: It enables customers to look for specific items they're interested in.
Cart: The cart icon can help customers keep track of the items they add.
Menu: With the menu button, customers can go to the different sections of the mobile shop.
Recommendations: You can offer a personalized experience to customers by sharing recommendations based on their past search and purchase behavior.
Discounts categories: Customers are always looking for discounts. Having a separate section or banner for discounted items, enhances customers' shopping experience.
New products: A section dedicated to listing new products in your inventory will make it easy for customers to discover what's new. For brands, it makes it easy to get customers to try new products.
The bottom panel: Just like on your Shopify website, the bottom panel (a static section) of your app is important as it can make navigation easy with sections such as home, customer account, etc.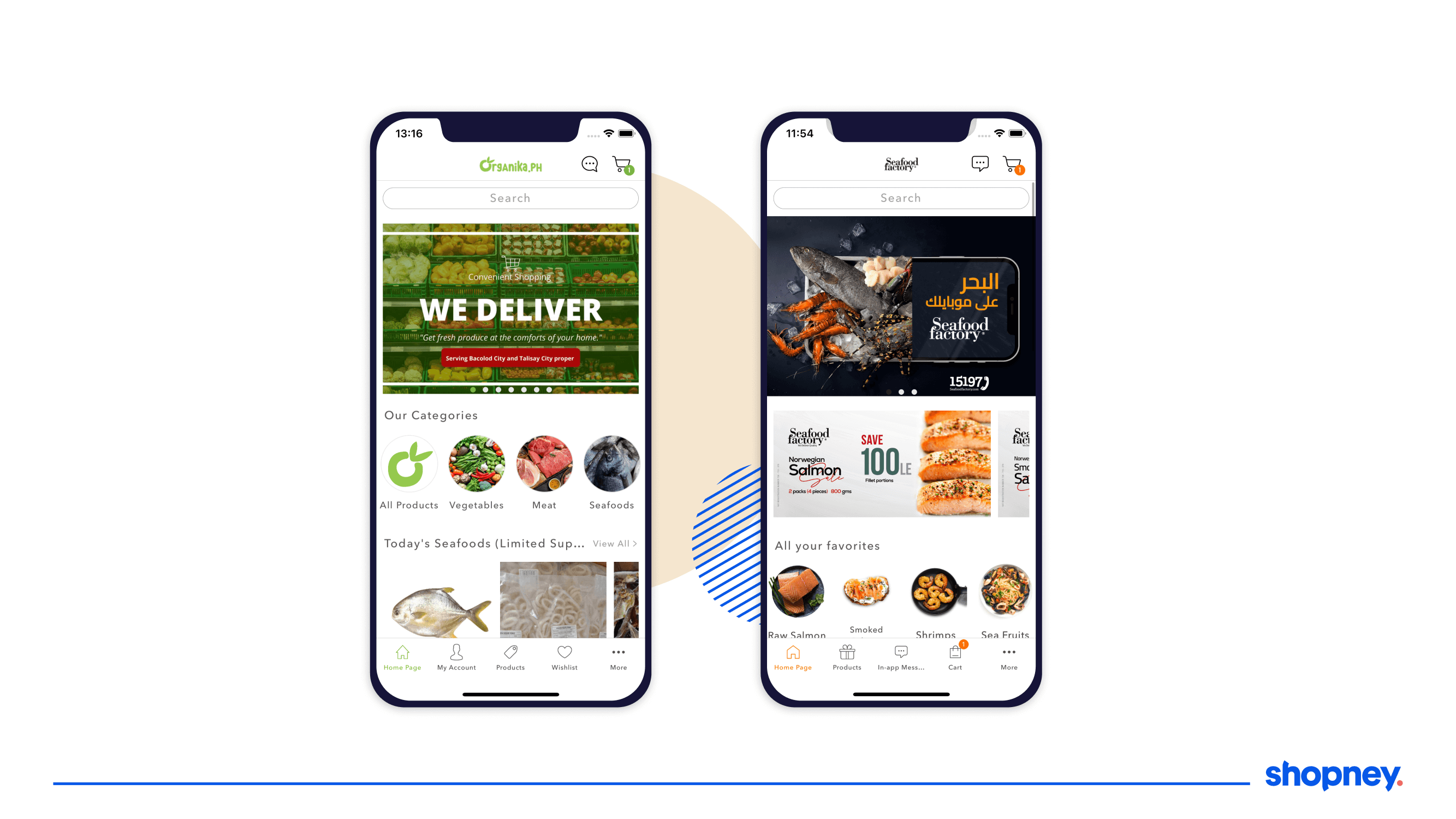 6. Plan Your Product Pages
The most important pages of your food and beverage mobile app are—the product pages. These are the pages that will drive the actual conversion. And hence, it's a must to optimize it.
Here's how to go about planning your mobile app product pages:
Eye-catching product images: Food images are among the most popular, so you must put extra effort to ensure your photographs stand out on your food and beverage mobile app.
Write a detailed description: Make your product descriptions 'interesting' by adding details such as its spice levels, best accompaniment, ingredients used, flavors, etc. Nothing can entice a customer more than giving them a taste of the item via words.
Portion details and options: If the food or beverage item is available in different portions, for example, for single person, family pack, kiddy size, etc., mention it. This will help increase sales.
Reviews and ratings: Mention reviews and ratings by other customers to help customers make purchase decisions. On-page customer reviews improve sales 3.5X.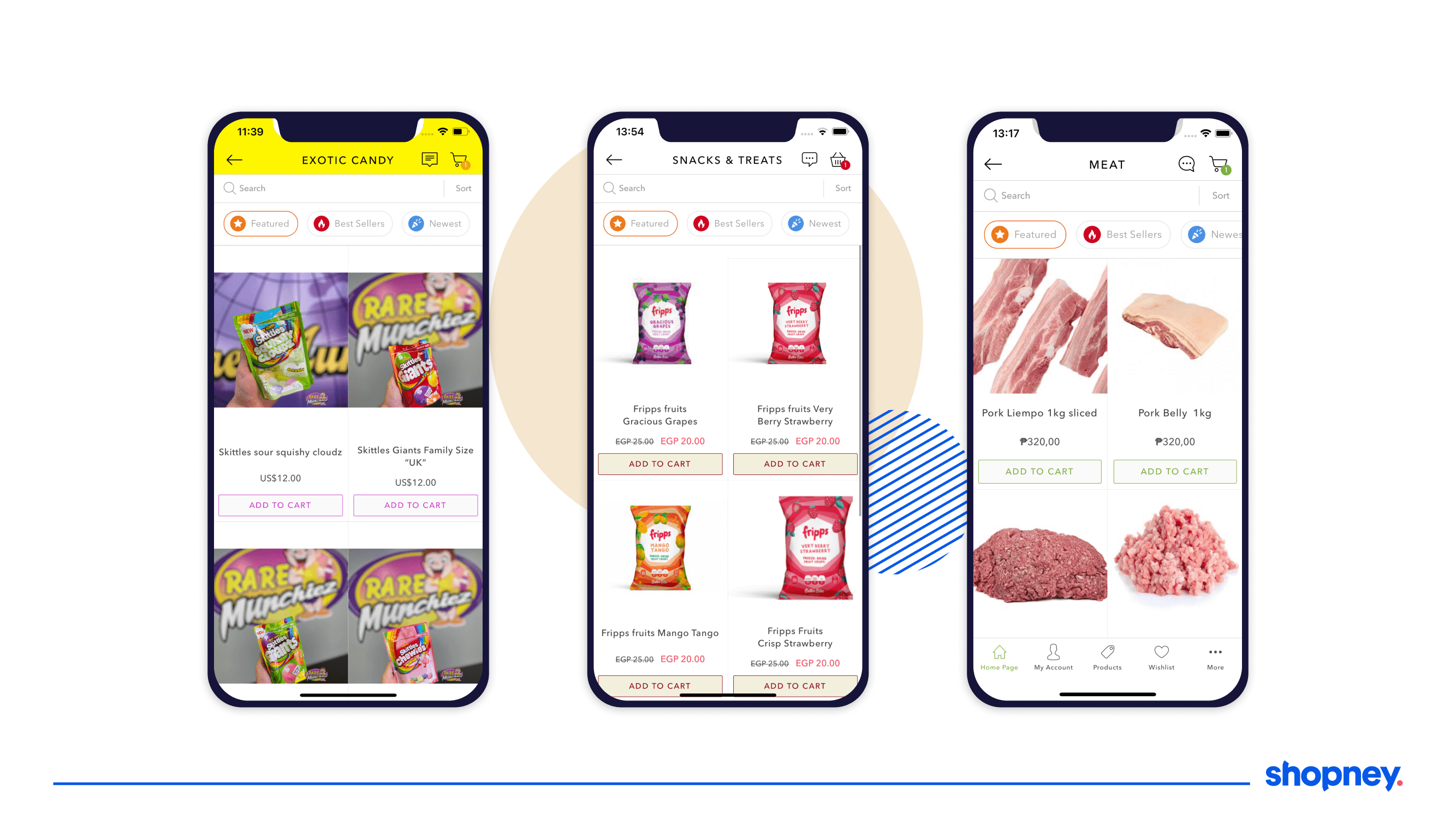 7. Plan The Elements Of Your Mobile App Menu
The purpose of your food and beverage mobile app is to make navigation easy for customers. And for that, you'll have to plan it before you create it. Here are some must-have elements in your app menu.
Customer account: The account page helps customers access information about their orders, delivery addresses, etc.
Home: Customers associate the home page with having all the important tabs and hence often revisit the homepage for easy navigation.  
Shop: The shop is the main section of your food and beverage mobile app. This is where customers will discover products and make purchases.
About us: Today, consumers don't just buy products; they buy from people and for reasons such as why a brand sells what they do. Your about us page should tell your unique store.
Blog: With recipes, food trends, and ideas for different menus among the most-read articles, a blog is a must-have for a food and beverage mobile app. It helps engage customers and boost sales.
Contact us: The contact us tab enables customers to get in touch with you whenever they have queries, concerns and questions.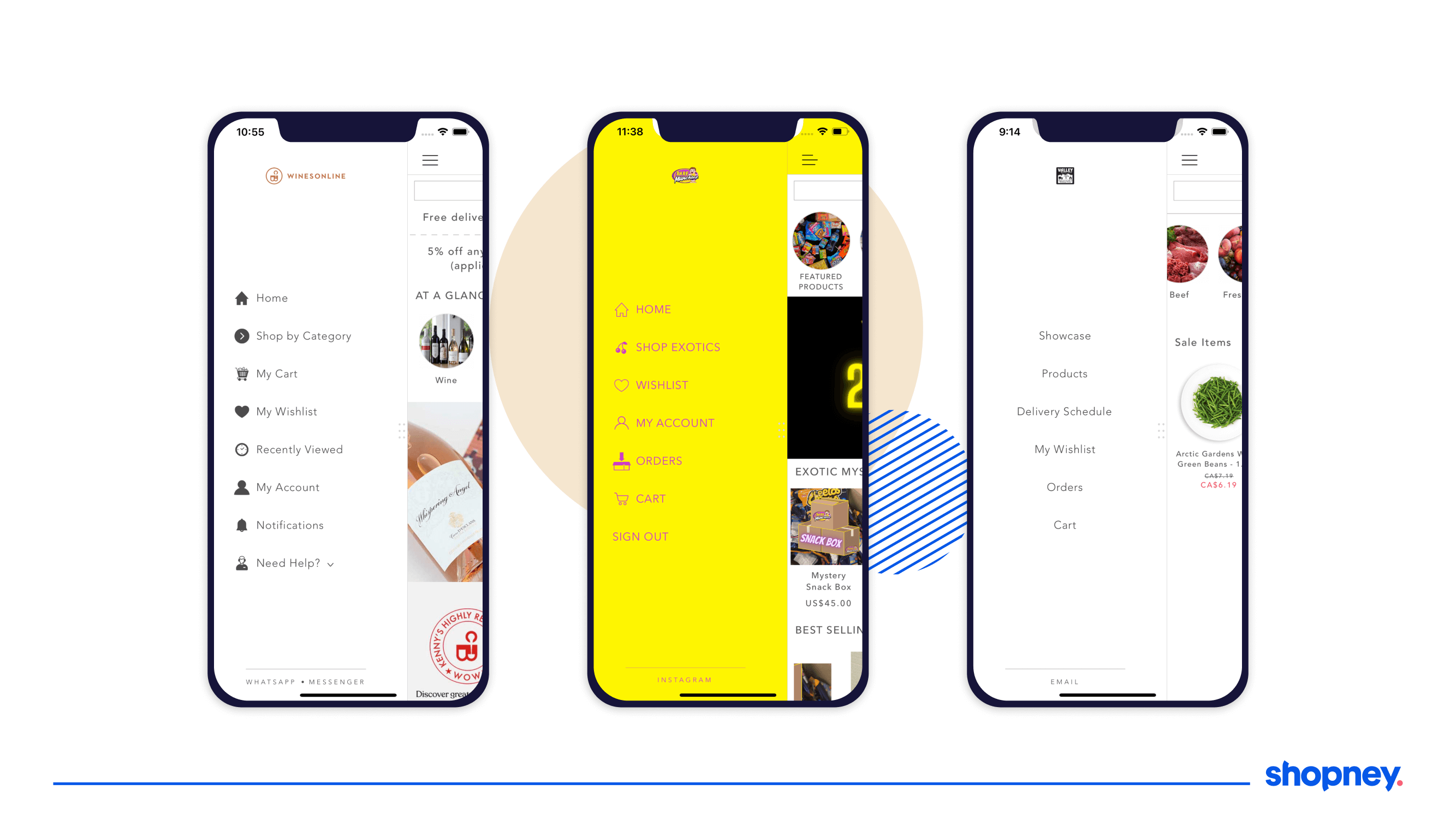 8. Set Up Sales-Boosting Features
In the food and beverage market, there's a high potential for repeat orders of the same products. Customers often reorder the items they like. And to enhance their shopping experience on your mobile app, you must set up some features that will help you boost reorders.  Here's what you can do:
Show personalized recommendations: Based on customers' past purchases and browsing behavior, display recommendations.
Display recently ordered items: Customers might want to repurchase products or remember one they bought and liked if you show them recently ordered items.
Add reorder tabs near items: When you show products that customers ordered in the past, insert a reorder button next to them. This will make reordering easy
Show discounted items: Prominently displaying discounted products is another way to boost sales. Think of strategic ways to promote discounts on your mobile app.
Show seasonal items: Seasonal specials do really well in the food and beverage market. Have a special section to promote seasonal foods and beverages.
9. Optimize The Checkout Process
If the checkout process is lengthy, customers might leave the app without making a purchase. Hence, make the checkout process quick; after all customers don't want to spend too much time buying food and drinks.
For example, you can minimize the form fields to fill, reduce the number of clicks to the final payment button, offer multiple payment options, save payment details, etc.
10. Customize The App For Branding
Your Shopify food and beverage website and mobile app should provide a consistent experience. That's where branding comes in.
Factors such as color, font, typography, photography style, tone of voice, logo, etc., should be the same on both the platforms.
To achieve a consistent banding experience, you'll need a Shopify mobile app builder that provides customization features, and makes branding easy.
11. Integrate Payment Gateways
A key part of a seamless checkout process is the payment options. Customers prefer to use multiple payment methods. By incorporating multiple payment options in your food and beverage mobile app, you can ensure convenience and a seamless customer experience.
Choose a mobile app builder that has the capability to integrate many payment options, such as netbanking, Amazon Pay, Google Pay, Apple Pay, PayPal, Alipay, Klarna, etc.
12. Set Up Push Notification Automation
The food and beverage online industry faces many challenges; for example, a shorter shelf life means limited stocks and products sell out fast. Also, with so many choices, customers tend to abandon carts a lot.
You might have to send multiple messages to remind customers about products left in the cart or when products get restocked, for which you can use push notifications. Moreover, you can also send replenishment reminder push notifications to boost sales.
Shopney, a Shopify mobile app builder, can help improve your notification open rates with the help of push notifications. You can highlight your messages with eye-catching images and personalized offers such as discounts.
13. Test Your Food And Beverage Shopify App
Once your food and beverage mobile app is ready, it's time to run a thorough test. You must check if your mobile app experience is consistent with your Shopify eCommerce website.
Run tests on all features such as checkout process, payment process, push notification, live chat, etc. Fix any issue you might notice by reaching out to the customer service center of your mobile Shopify app builder partner.
14. Promote Your App
Finally, once your app is ready, it should take a couple of days or weeks for it to get published.
Now, it's time to reach your target audience. To get your customers to download the app, you'll have to promote it. Use your website and social media channels to do so.
Run offers exclusive to shopping via your mobile app. Create a promotion strategy for your food and beverage mobile app.
Keep monitoring the performance of your app, run analysis, and optimize to keep offering a good experience to your customers.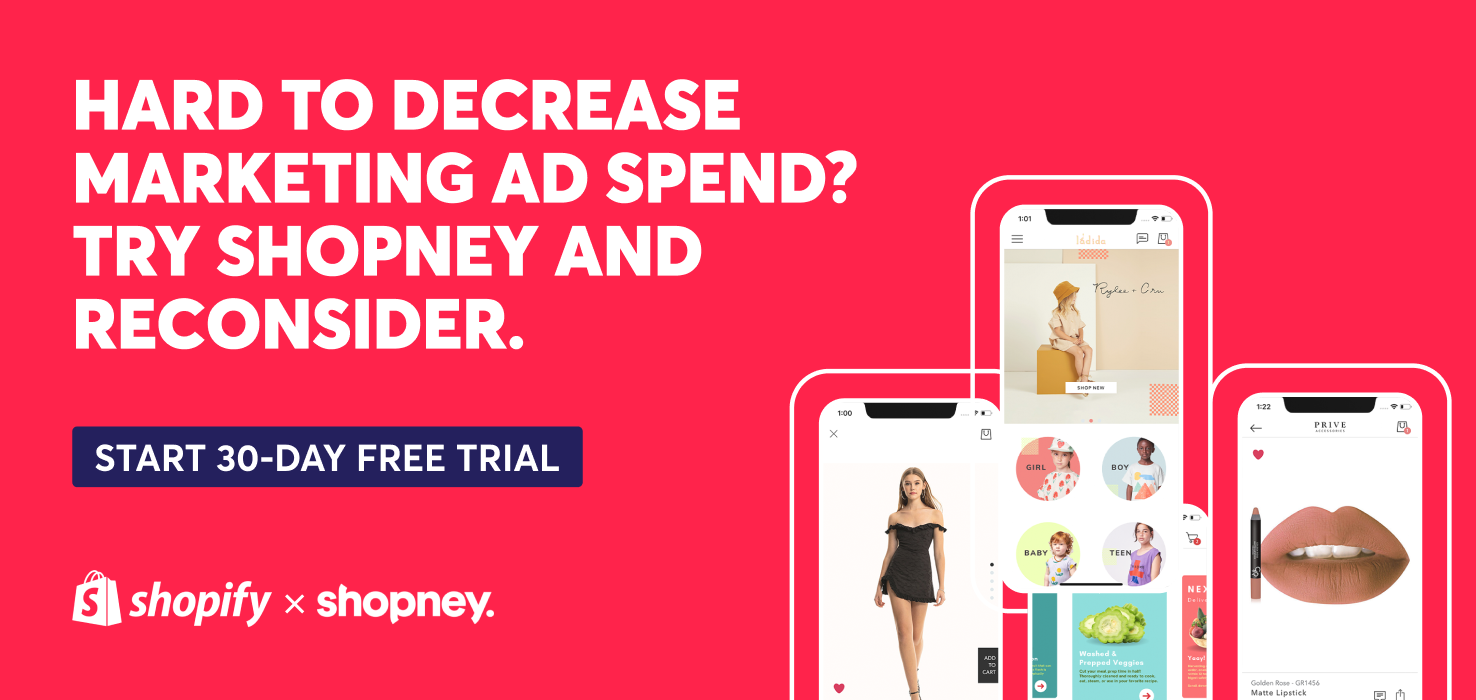 Want to build an app for your food and beverage Shopify business?
Creating a mobile app for your online business is a breeze with Shopify app builders. Designed for ease and efficiency, app builders do not require a lot of effort or technical expertise to set up your app.
It's easy, quick, and cost-effective, too.
To complement your food and beverage Shopify website with a mobile app, get started with Shopney.