Black Friday 2019 Results: What Are The Takeaways?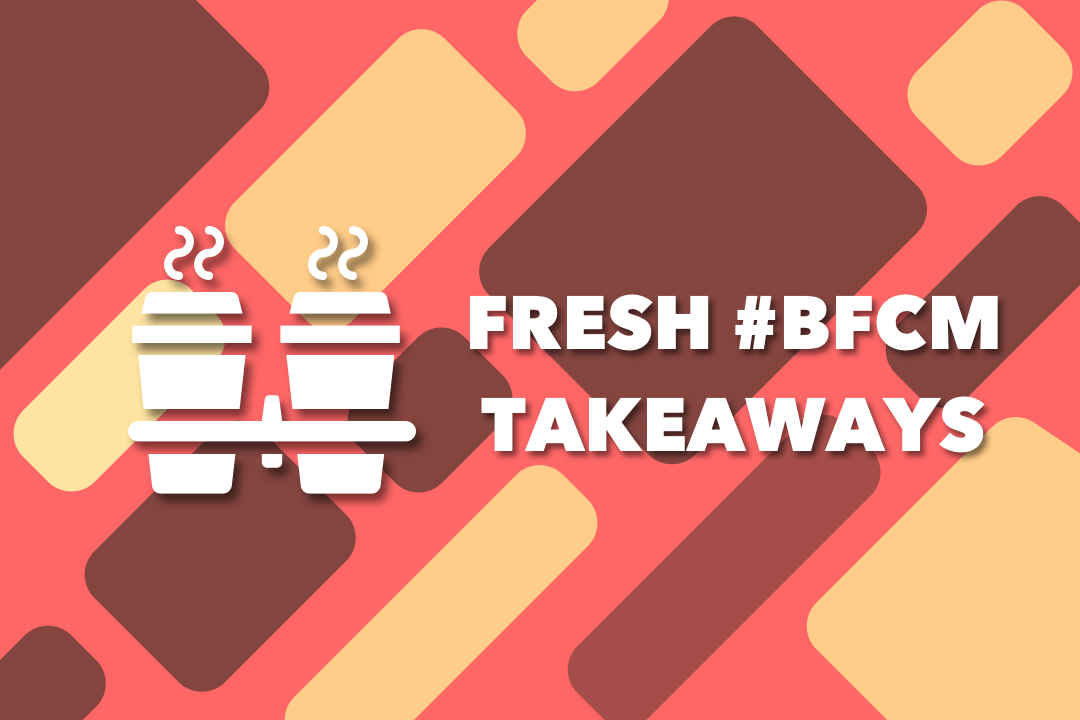 The methodology of shopping has changed a lot by the last decade, but consumer intrigue around Black Friday and Cyber Monday remains as all time. Black Friday may not look like it did ten years ago, but it is still the shopping fest for most of the people from all around the world.
Except for Single's Day of China, every year, the climax of eCommerce sales in the world is Black Friday - Cyber Monday period. And we have just left another one behind with crazy numbers again. For example, The Black Friday - Cyber Monday period of 2019 gifted us with the biggest online shopping day in the history of commerce. It was very Cyber Monday with $9.4 billion in sales. And there are some other interesting and insightful numbers remained after the shopping storm of the year has gone away.
Every single stakeholder of this game started to prepare themselves from months ago. Some sellers started to create their BFCM focused audiences with digital marketing even in September. The online commerce giants like Shopify, Amazon, and Alibaba might have started preparations for the foreseen huge traffic maybe a year ago. And even the buyers, they started to create shortlists of favorite products, again, months ago.
The competition between retailers has started long ago with digital marketing to get the word out and showcase what deals they're offering. Countless people worked countless hours to make more sales (or enough sales!) on Black Friday 2019.
Long prepared, but did it worth it? Let's see the results!
How Was Black Friday Online Retailers?
Apparently, the months of hard work paid off for everyone. The results for online retailers are pretty impressive. The Black Friday 2019 was the third-largest online shopping day in the history of commerce with $7.4 Billion in sales, after Cyber Monday 2018 as second and Cyber Monday 2019 on top with $9.4 Billion.
Shopify Broke An All-Time Black Friday Record!
Shopify's Black Friday 2019 results are crazy and very insightful. The Shopify merchants couldn't hit $1B in sales barrier this year but got so close with $900+ million. Also, the peak sales for overall Shopify sales reached $1.5 million.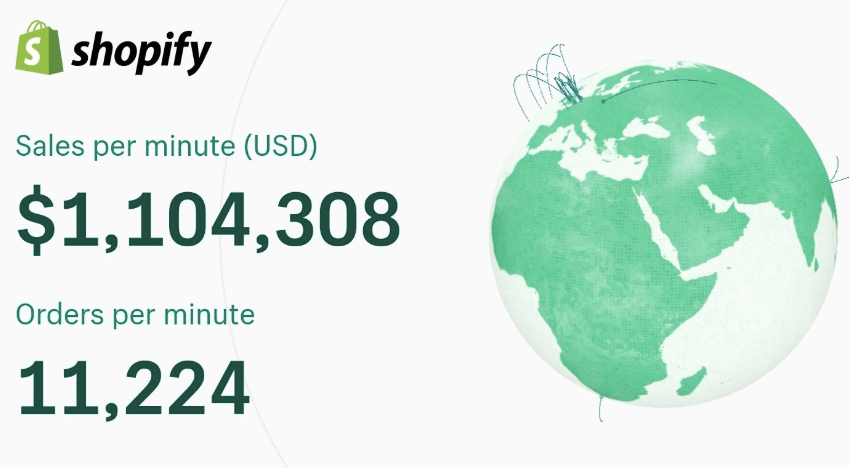 Record Sales For Shopify
Hosting more than 1 million eCommerce websites worldwide, Shopify, announced that over 6.1 million consumers in the US made a purchase from a Shopify merchant on Black Friday. That is 49% higher than last year. Besides, the number of shoppers worldwide on Black Friday was 9.3 million for Shopify merchants. Additionally, the average cart price was $87.71.
The eCommerce giant created an incredible data visualization that showed the sales data live for #BlackFriday2019. It was a cool experience to check a map view of how orders are moving across the globe.
The data-flow also showcases notable sales and displays the shipping distance. While watching for a brief period, the animation chart revealed a single order with more than 5,000 items, as well as another order that cost more than $2,500 in total. There was also an order that will be shipped more than 19,118km. It's so interesting to see how eCommerce connected the retailers with consumers from a faraway continent.
Shopping Mall In Your Pocket: Mobile Phone
Here is the thing..! A full $2.9 billion of Black Friday sales happened on smartphones. Mobile conversions are growing way faster than online shopping overall, so we are now approaching a tipping point where soon mobile might outweigh web-based purchases through computers. Because, consumers increasingly jumping on their mobile phones rather than standing in long lines at brick & mortar stores.
69% of the total sales of Shopify merchants made on mobile. Last year the sales on mobile were 66%. It's getting close to the saturation point maybe, but still increasing in favor of mobile again in this Black Friday.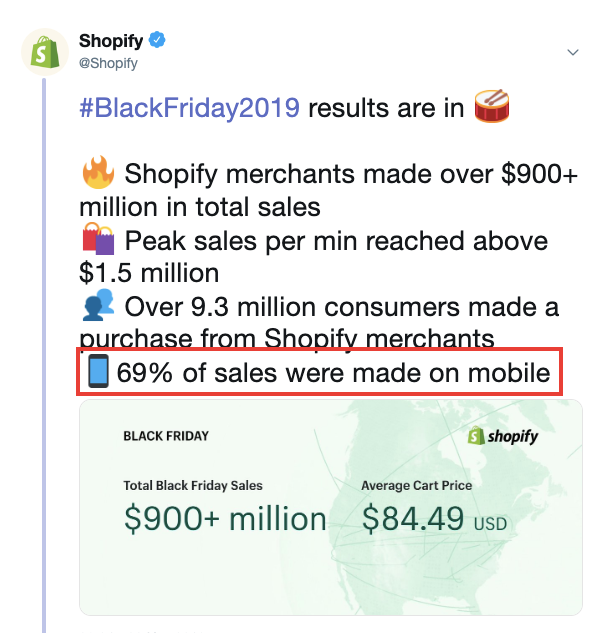 Shopify's Black Friday 2019 results tweet
Mobile traffic has dominated the desktop traffic for shopping years ago. Today, almost 80% of the whole Shopify stores' traffic is on mobile already. And the conversions are climbing up to that level as well.
Mobile Shopping Results More Dollars Per Minute
Shopping from smartphones is more straightforward and easy now. With simplified checkouts and fast mobile payment systems like Apple Pay and Google Pay, it's getting even easier than desktop. As it is becoming shorter in terms of pages visited and time spent per visit, the amount of spent money is increasing.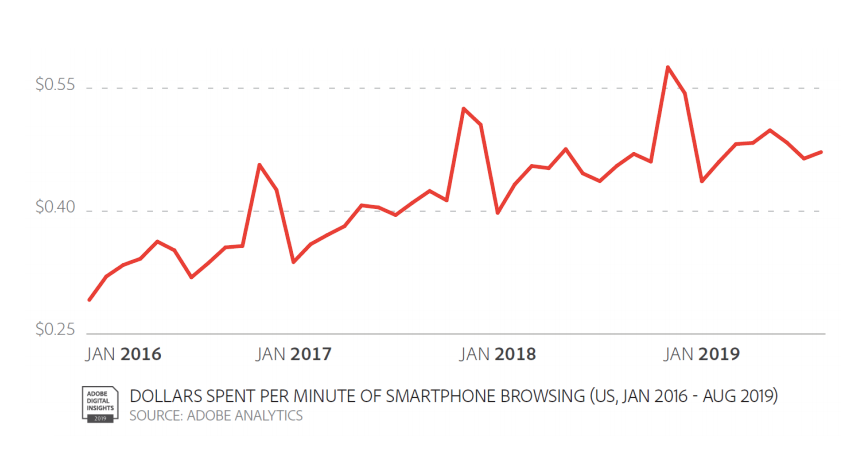 Mobile Apps Sell More
According to Criteo, 70% of online consumers prefer shopping in the mobile app environment. Once a user has built a certain level of engagement with a brand through their site, they will switch to their mobile app for the actual shopping.
Because mobile apps are made for mobile shopping. They are easier, simpler, faster and more comfortable for the consumer. The brands that have a mobile shopping app convert way more in their mobile apps than their mobile web browsers.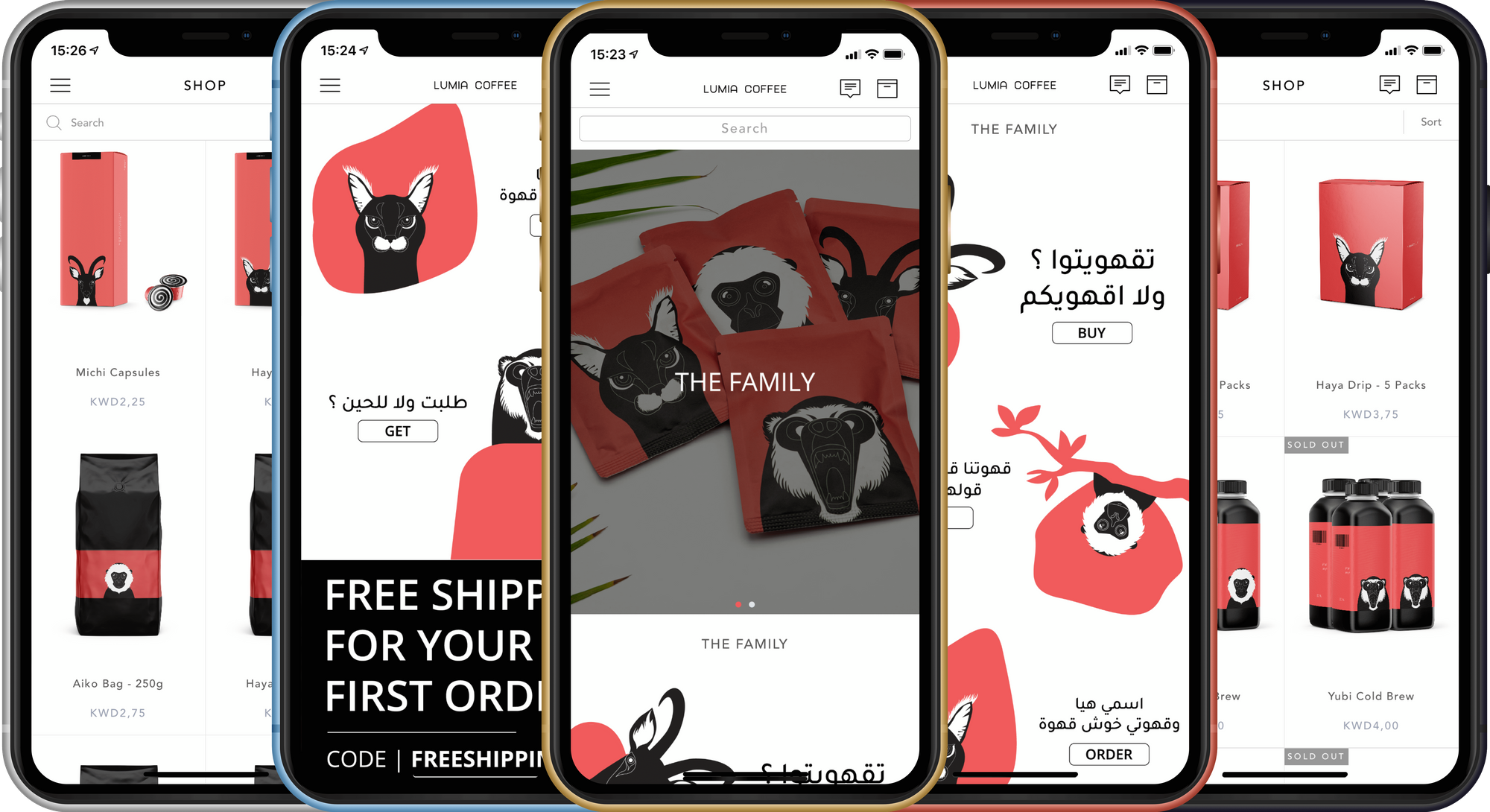 A world class mobile shopping app created by Shopney
Besides the conversion rates, the mobile apps are great tools for customer retention. You just need to send a push notification to announce your brand message and make a customer ready for sales again. You will not need to pay for social ads to reach your app users. If your store is powered by Shopify, you can create a top-notch mobile shopping app with Shopney - Mobile App.
Key Takeaways
Optimize and arrange all of your sales channels for mobile.
Make sure that mobile version of your web site works perfectly.
Consider having a mobile app to convert x3 more on mobile.
Invest On Buy-Online-Pickup-In-Store (BOPIS) Style!
Yes, consumers buy online, especially from mobile. But there is one more interesting trend rising with a 43% uptick in BOPIS. Besides, consumers are 19% more likely to convert at retailers who offer BOPIS.
People love to spend time with their mobile devices and buy something. But, they also love the feeling of getting out of a brick & mortar store with the product they just liked. So, bridging the online and offline retail operations have also a key role in today's eCommerce.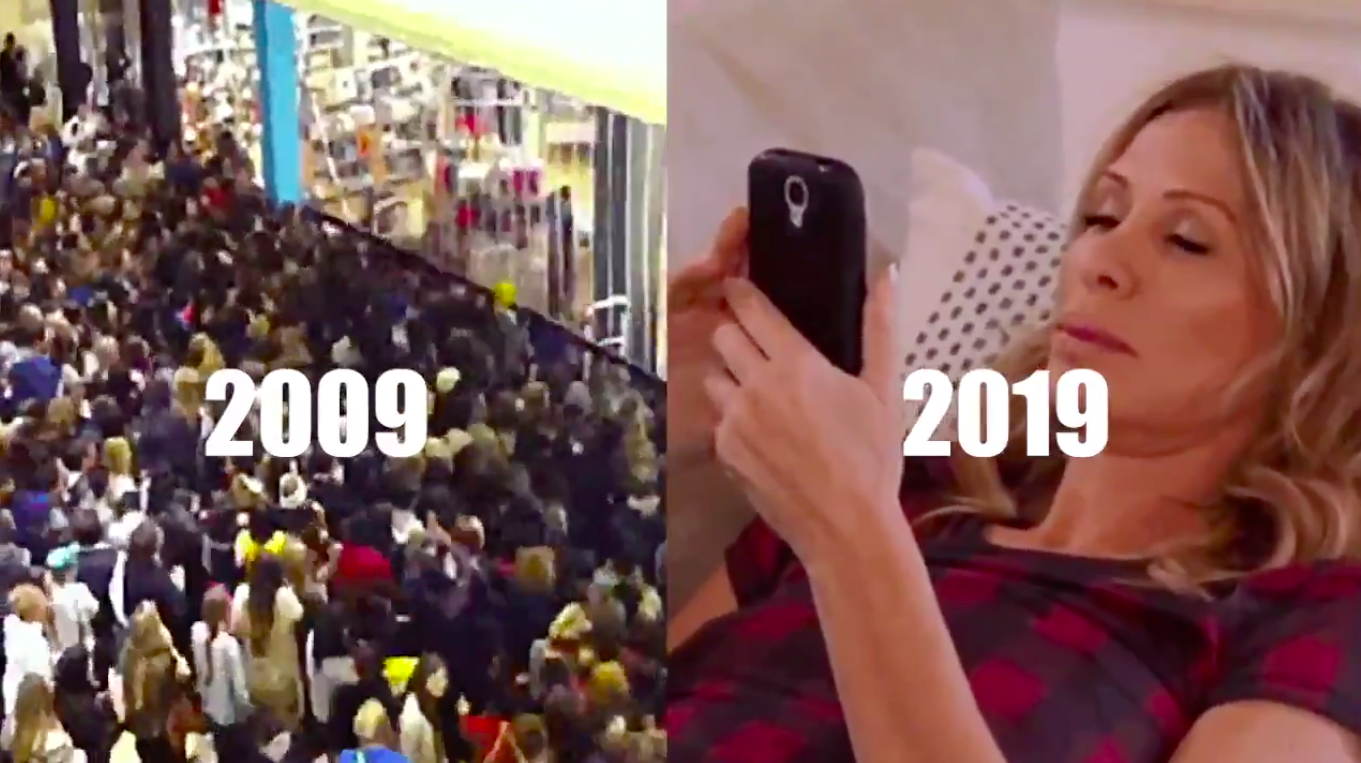 Key Takeaways
Dig deeper to find what exactly satisfies the consumers.
Consider BOSPI operations for the future of your brand.
Strong Branding Is The Biggest Conversion Tool
According to Adobe's recent study, the small retailers are stronger than the large ones to make consumers add products to the cart. The numbers say that they are %13 better on mobile and 51% better on the desktop.

However, the large retailers, in other words, the big brands are way better at making consumers buy the things inside of the cart with a rate of almost 60%. Apparently, adding to the cart is not even halfway to sales. These dramatic stats indicate the importance of branding and gaining your consumer's trust. Maybe, it's one of the hardest things, but once you create a strong brand identity, it will keep on passively converting the consumers. Because branding can change how people perceive your brand, it can drive new business and increase brand awareness. Strong branding will make you sell today and even in the future.
Key Takeways
Work hard on building a strong branding.
Remember that building a brand takes time, money and energy.
What Is Up For Black Friday (BFCM) 2020?
Black Friday 2019 was an instructive and fruitful one. If you could hit your sales target, we congratulate you! If not, the insights above might be the key to thrive with your brand in the next one. The BFCM 2020!
Black Friday and Cyber Monday are two great opportunities to boost sales and create additional revenue and value. But, do not forget that what makes a brand powerful is not the sales in those two days, but in other 363 days throughout the year. Aim for a balanced sales graphic, maybe small but constant growth and solid brand identity.
Maybe you feel far behind of some of the issues above. But remember that a year is a long time to think, create and execute. Next year will be a brand new decade. 2020! Keep your eyes on the digital, especially mobile trends to catch the flow. You know, those who observe the trends and needs rule the eCommerce world...