How to Promote Your Mobile App and Get More Installs from Your Shopify Store Website?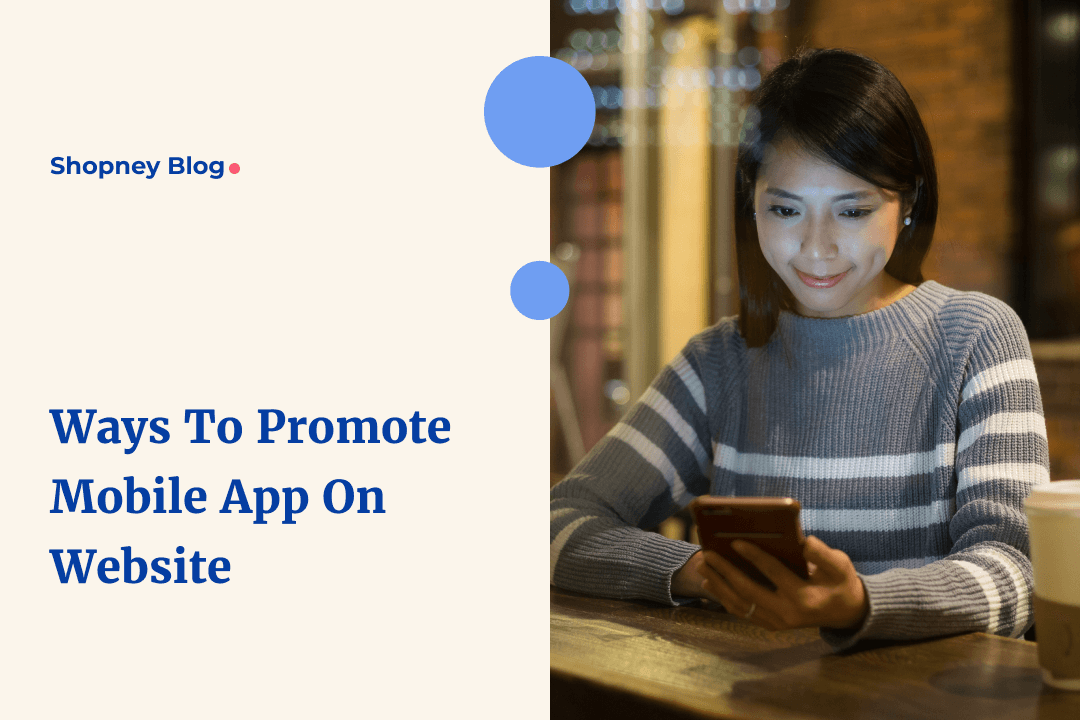 How to turn your Shopify store visitors into mobile app users of your brand?
Once you have chosen the best app to convert your Shopify store into a mobile app, building and launching a branded eCommerce app of your own is going to be a cakewalk. But what's not that easy, is to increase app downloads - convincing online shoppers who can access your website on desktop and mobile to install a mobile app instead.
So in this blog, we're sharing some ways in which you can use your online store site on desktop and mobile to increase app downloads.
Our idea is to highlight different strategies and tactics that can be used to introduce your eCommerce mobile app to store visitors, piggybacking on an existing audience.
Ways to turn Shopify store visitors into mobile app users
The tactics below are some of the strategies we implement for brands launching their mobile apps with Shopney. But feel free to explore and experiment with each further to cater to your target audience in a more meaningful way:
1. Announcement bar
The very first thing you can do to promote your Shopify store's mobile app is to add an announcement bar on your website. The bar should have a crisp messaging around what the app is about and why your site visitors should consider downloading it. You want to make sure that the announcement bar is visible at all times; we recommend making it sticky.
2. Make the app visible in your menu
Similar to how you make exploring your products easily with a well planned navigation on the site, make your mobile app accessible too. Give it a strategic place in your main navigation menu so that anyone simply browsing through your site, can see you have an app as well!
3. Add a link in the footer
Another good place to add a link to your Shopify store's mobile app is the footer. Just like how you add links to your social media pages in the footer, alongside links to your about page and policy pages, add clear, clickable icons for your apps too.

Additionally, you can make it further simpler for desktop visitors to download the mobile app with a scannable QR code. This helps them quickly scan the QR and land on the app store listing of the brand, without having to manually search for it on mobile after discovering it on the website.

4. Promote app-exclusive discounts
One smart strategy to increase mobile app downloads is to give online shoppers something that sweetens the deal. Just like the 'subscribe and save' discounts being promoted on the product pages, you can promote the app-exclusive discounts on them. A great place to include these discounts is to add it to the product pages of your best-selling products.
5. Promote on popups
Usually popups are used to promote the ongoing and upcoming discounts on the store, or they are targeted at getting more subscriptions. But you can also use them to promote the app-exclusive discounts your brand is running, with a clear call to action to download the app to avail them.

6. Retarget repeat visitors
If you'd like to keep your popup running to drive more attention to an ongoing sale, you can set up another popup campaign or on-site notification for repeat visitors. These are people who are aware of your brand, what you sell, the value you bring to them and hence require lesser reasons for downloading your Shopify store mobile app. A simple 'now avail special discounts on our app for our repeat customers' message can do the trick!
7. Target mobile visitors
Another similar tactic here to increase mobile app downloads is to target those who are visiting your Shopify store site through mobile devices. Trigger the on-site notification or popup for those who access the site on mobile browsers only; a deep link that quickly leads them to the app store can help shorten the steps to downloading the mobile app.
8. Promote the app on thank you page
Another smart place to promote your Shopify store's mobile app is the thank you page. This is the page that appears right after an online shopper has placed an order on your website, and at this point they're excited about the interaction with your brand. You can promote your mobile app on this page by including a message about how easy it will be to now track their orders or offer them an app-exclusive discount on the next purchase.
9. Design a landing page
You give all your sales, new product collections and discounts independent pages to highlight the best things about them. Take the same approach to promoting your Shopify store's eCommerce mobile app! The landing page can give buyers a glimpse into what the app has to offer, social proof with reviews from other users, discounts running in the app, and more. But more importantly, it should include a clear call to action to encourage app installs.
A good thing about using this tactic is that you can also optimize the page for the search engine. This makes your mobile app easily discoverable on the search engine as well, driving organic traffic to it.
10. Leverage live chat
Online shoppers often seek help for making informed purchase decisions. The live chat is one of the most commonly used features on an online store site and you can leverage it to introduce your mobile app to visitors too. Train the agents handling your live chat to proactively introduce and promote the app link at the right moment. For example, if someone is asking for additional discounts, you can tell them about the app-exclusive discounts on the mobile app. Or when someone wants to look for a product they saw in your physical store, you can ask them to download the app and use the mobile app search.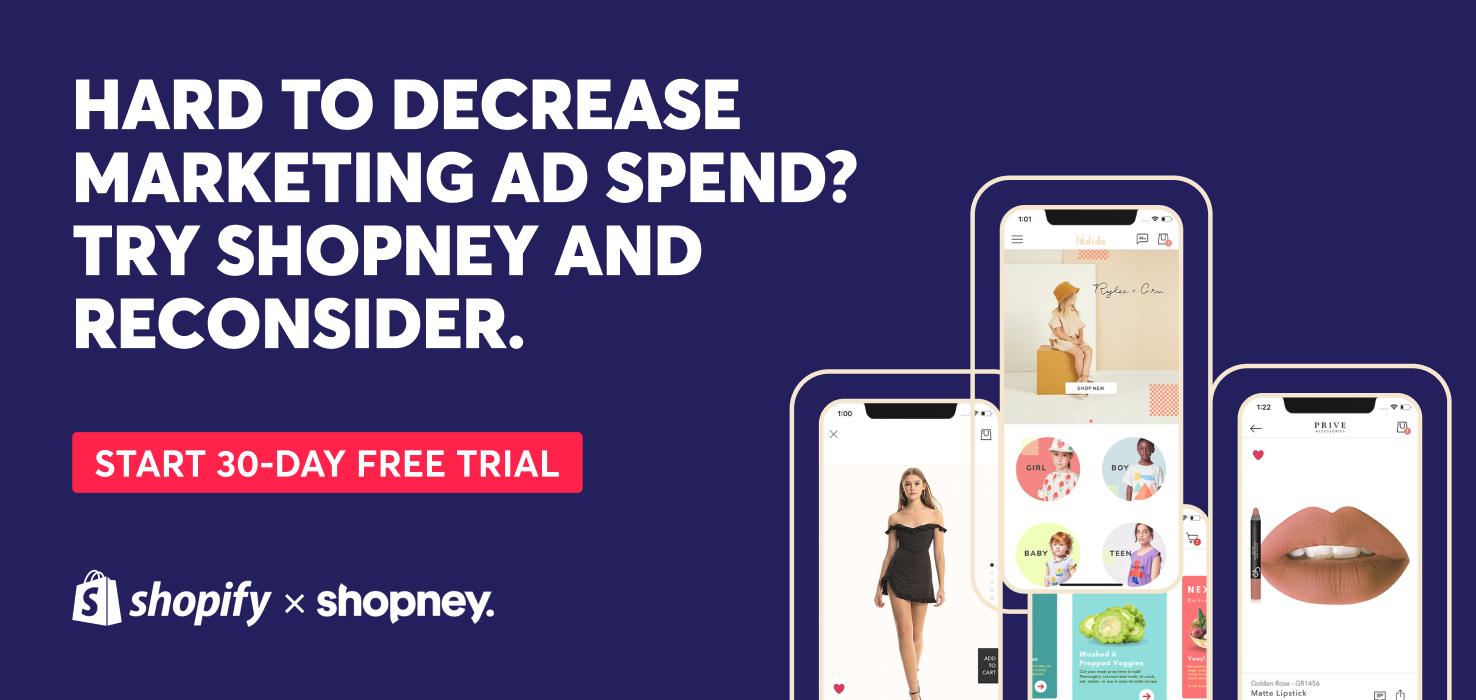 Promote your Shopify store's mobile app right!
The trick to succeeding with AppCommerce is getting online shoppers to first experience shopping on your mobile app. For this, you need them to experience the mobile app - words of appreciation and the ease of shopping may not be enough.
That's why our team of Shopify experts encourage brands to first use their website to promote their mobile app. Since they are already running campaigns that drive traffic to their website - new and repeat, the online shoppers can be subtly introduced to the mobile app without too much of a push.
Want to implement the strategies above to increase mobile app downloads for your Shopify store?