How to Use Email Marketing to Increase Shopify eCommerce Mobile App Installs?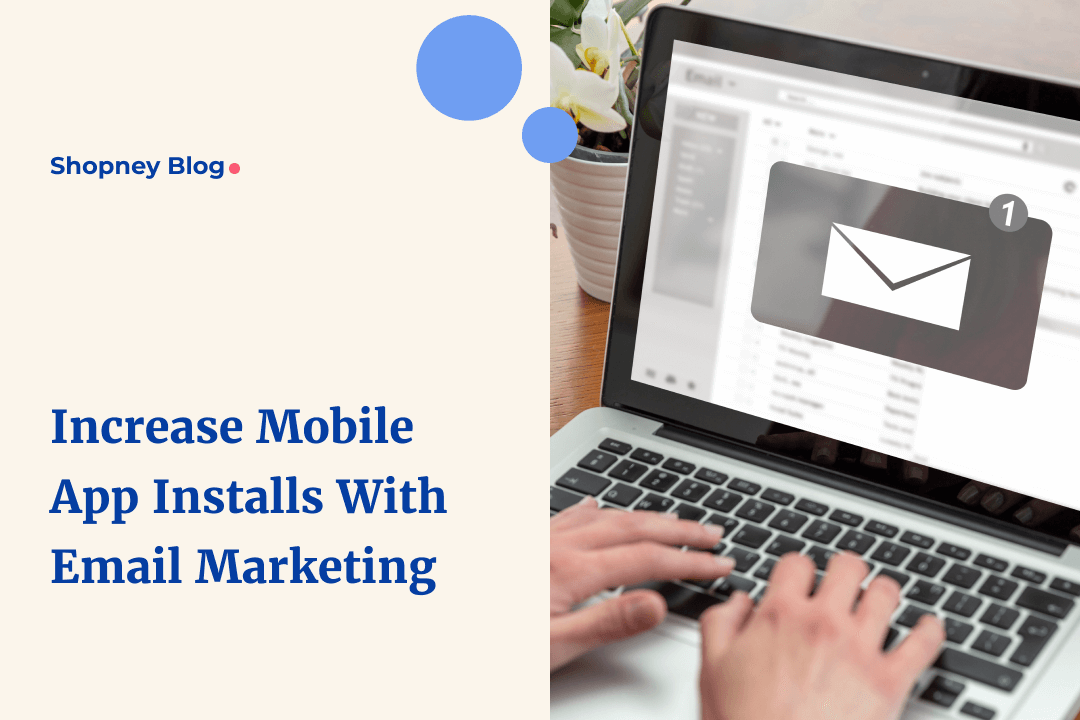 You know how hard it is to capture consumer attention today. Now imagine promoting your brand and asking them to commit to your business by installing your eCommerce mobile app as well - sounds almost impossible, right?
But having worked with a number of Shopify stores, we have found that when used strategically, email marketing is a promising way to increase eCommerce mobile app installs.
So just as we discussed how to use your Shopify store website and social media to get more mobile app downloads, this blog is all about helping you make the most of your email list!
Why should you use email marketing to increase eCommerce mobile app installs?
Let's take a look at some of the leading reasons why we think emails should be a part of your eCommerce mobile app marketing strategy:
1. Greater reach
Despite the increasing number of channels now available for businesses to reach consumers on, email is still the most effective. Statistics have found that emails can reach a minimum of 79% of the people you send it to. And when used strategically, emails can easily get businesses an average open rate of 30%.
2. Better response
If someone is in your email list, it's because they are interested in what your brand has to offer. In fact, 61% of online shoppers subscribe to email lists as a preferred mode of communication to receive updates around deals and discounts. That's why emails also see a better response - an average of 4.24% of visitors from email marketing make a purchase, which is higher than those coming from social media or the search engine.
3. More personal
As compared to other channels, email marketing campaigns can be personalized better. Brands can streamline their targeting with the help of segmentation based on previous interactions, past purchases, demographics, discounts availed, point of subscription to email list and other advanced parameters. As per statistics, 66% of consumers expect companies to personalize communication based on their unique needs and preferences.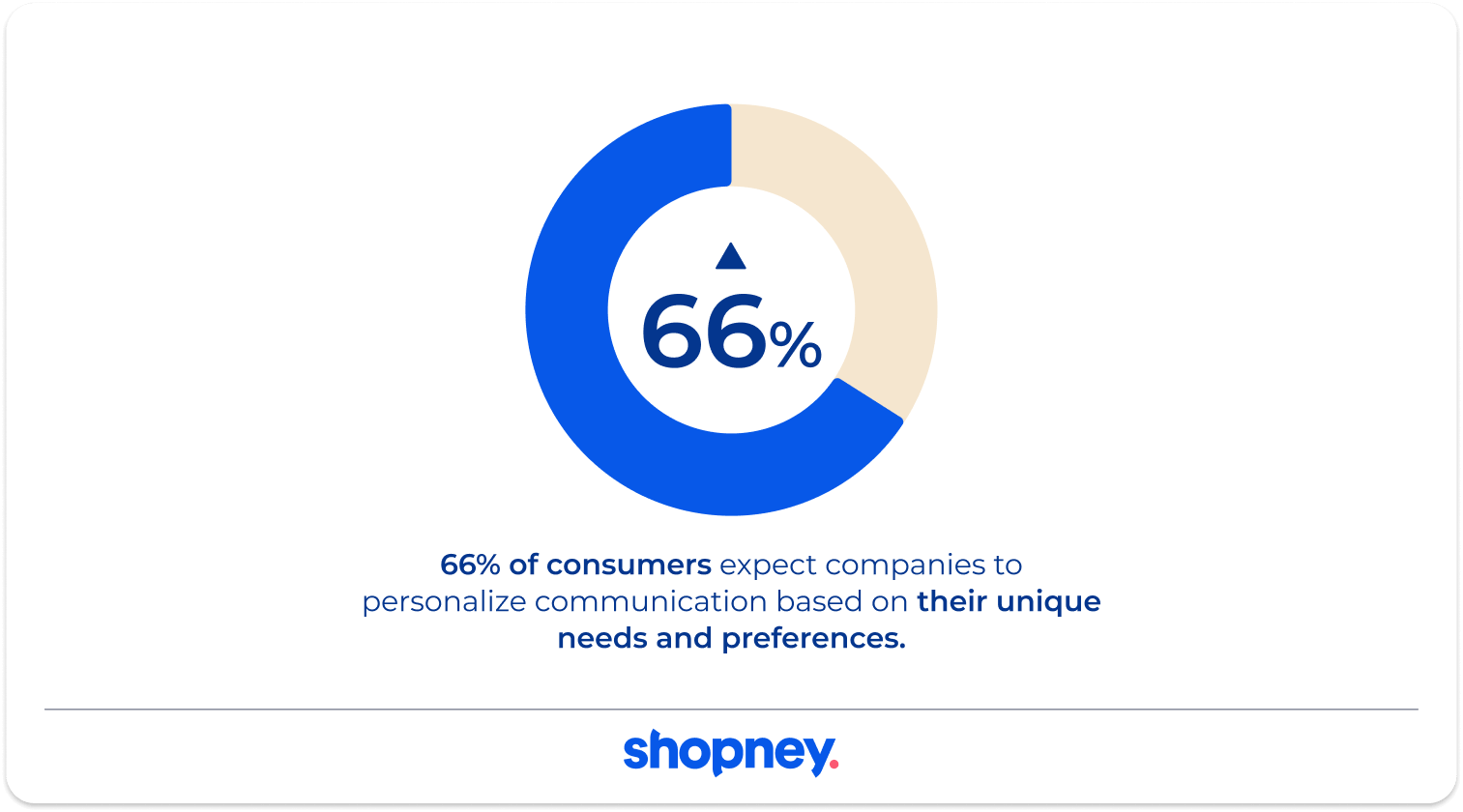 How can you use email marketing to increase mobile app downloads?
Again, there is no one set way to use email marketing for your business. But here are some ways in which we have helped brands who have built mobile apps with Shopney, drive more app installs from the channel:
1. Announce the launch of your app to everyone in your email list
Similar to how you announce new sales, products, collections, deals and discounts, create a dedicated email marketing campaign to promote your eCommerce mobile app. Focus the email on highlighting what the app has to offer - ease of shopping, app-exclusive deals and discounts, and other features designed to enhance mobile shopping experiences. Also ensure you add clear links to install the mobile apps on Android and iOS.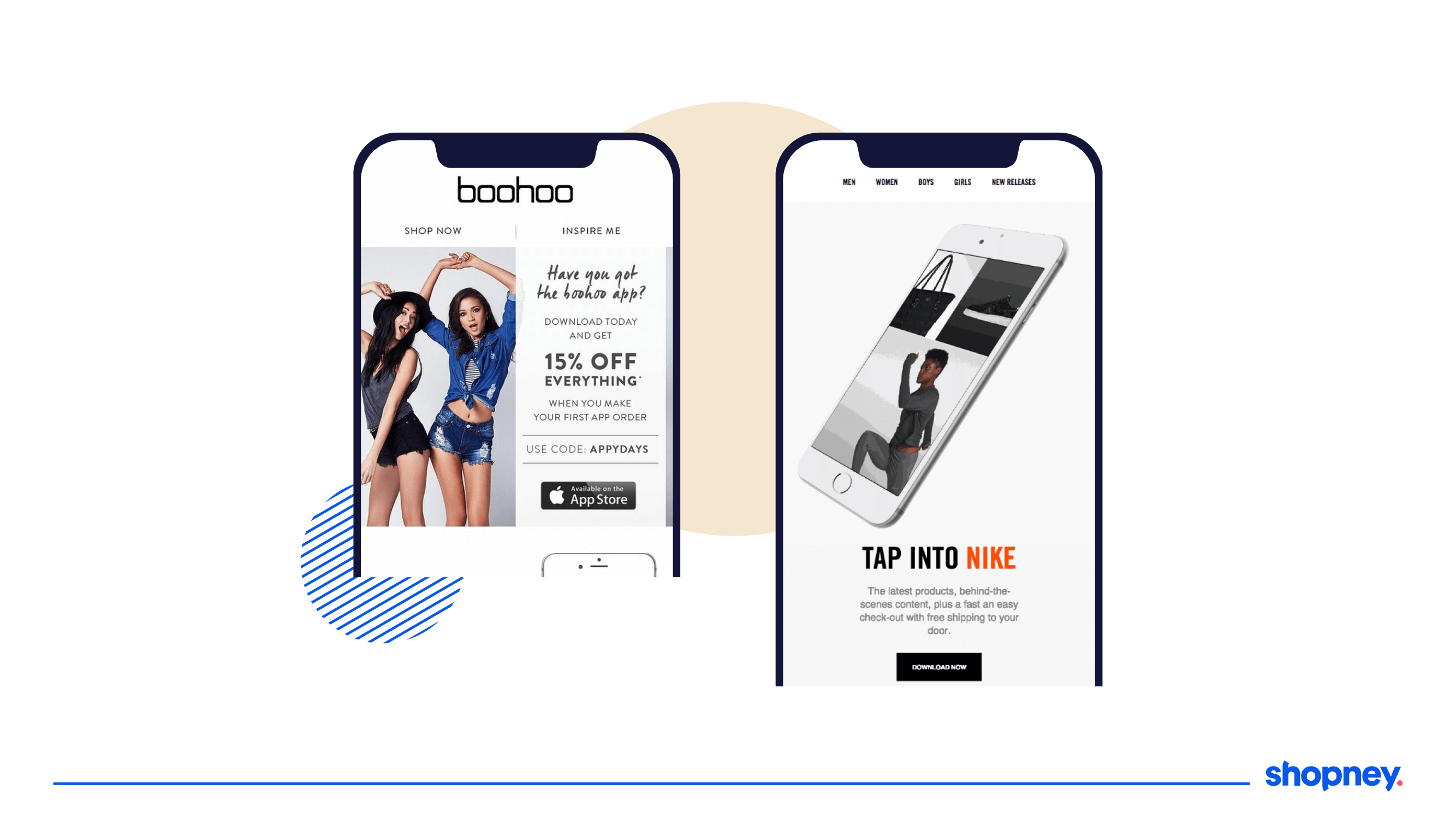 2. Reach out to your repeat or loyal customers on email
Customers who have bought from your brand more than twice or have been engaging with you repeatedly, are more likely to become your app users. This is why we recommend setting up a separate email marketing campaign to promote the app to your list of repeat customers or loyal customers. This will require you to alter your messaging to show how you're bringing unique experiences to them, giving them more reasons to remain engaged.
Here are some examples of brands using email marketing to highlight their mobile apps: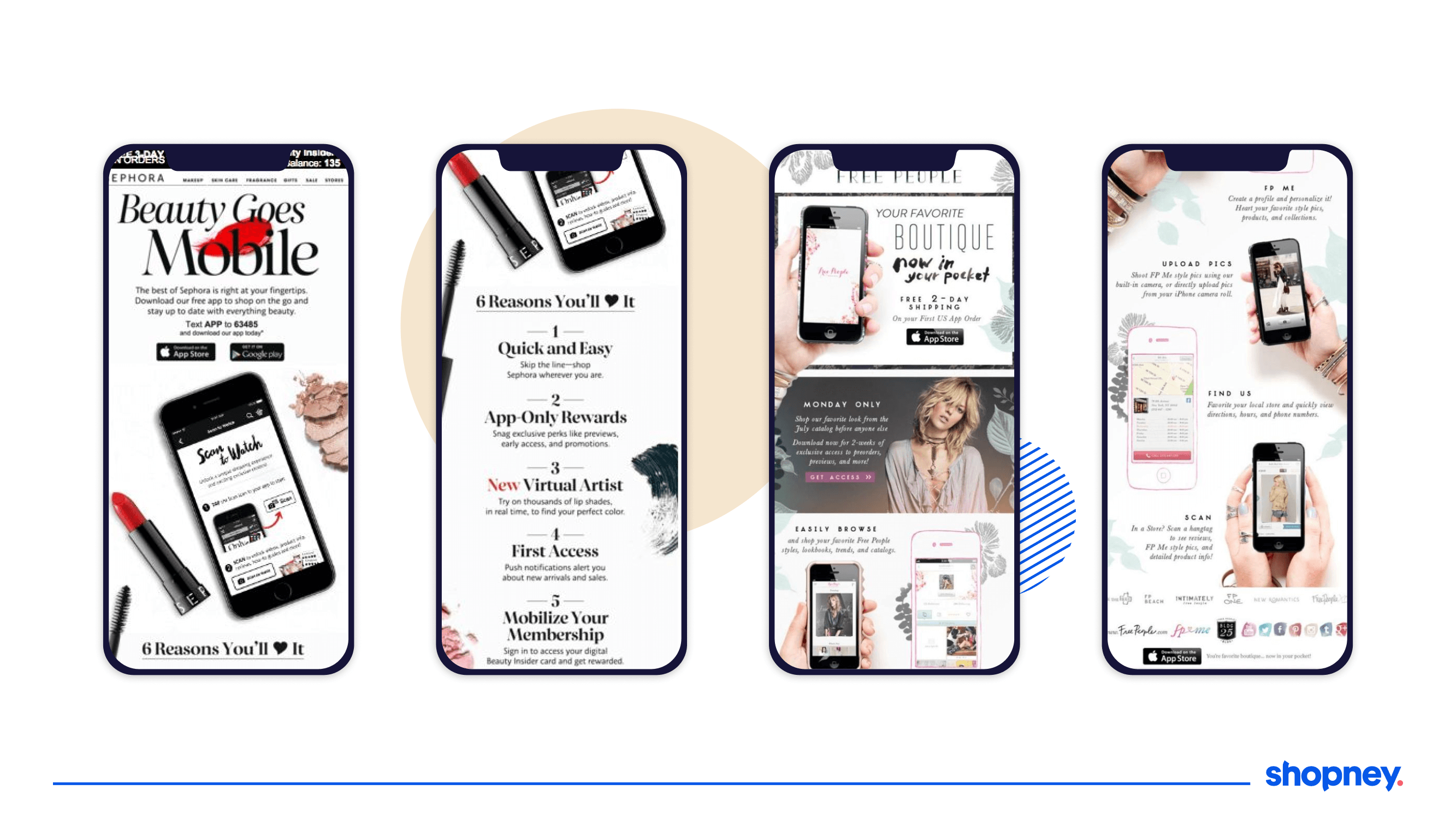 3. Promote your mobile apps in email newsletters
Once you have officially launched your eCommerce mobile app, you will need to ensure it remains on top of the minds of your audience. This is why we recommend brands on Shopify to dedicate a section of their weekly, biweekly or monthly newsletters to highlighting their mobile apps and why the subscriber should consider downloading it.
4. Showcase the benefits of your mobile app
Another way to gradually convince your subscribers and existing customers to download your eCommerce mobile app is to showcase its benefits across different instances. For example, if someone subscribes to a product that is out of stock, you can reach out to this subscriber asking them to download the mobile app in order to not miss the product once it is restocked.
Another example could be highlighting the mobile app for simpler order tracking. Most consumers experience post-purchase anxiety, which leads to WISMO(Where is My Order?) queries; you can reach out to these customers by including a message in your transactional emails that shows your mobile app makes it much simpler to know where their order has reached.
You can use more such emails to promote your mobile app across the following instances:
Early access to deals
Preorders
Order returns/ refunds/ exchanges/ cancellations
Price drop alerts
Back in stock alerts
Product recommendations
Loyalty points and store credits
Flash sales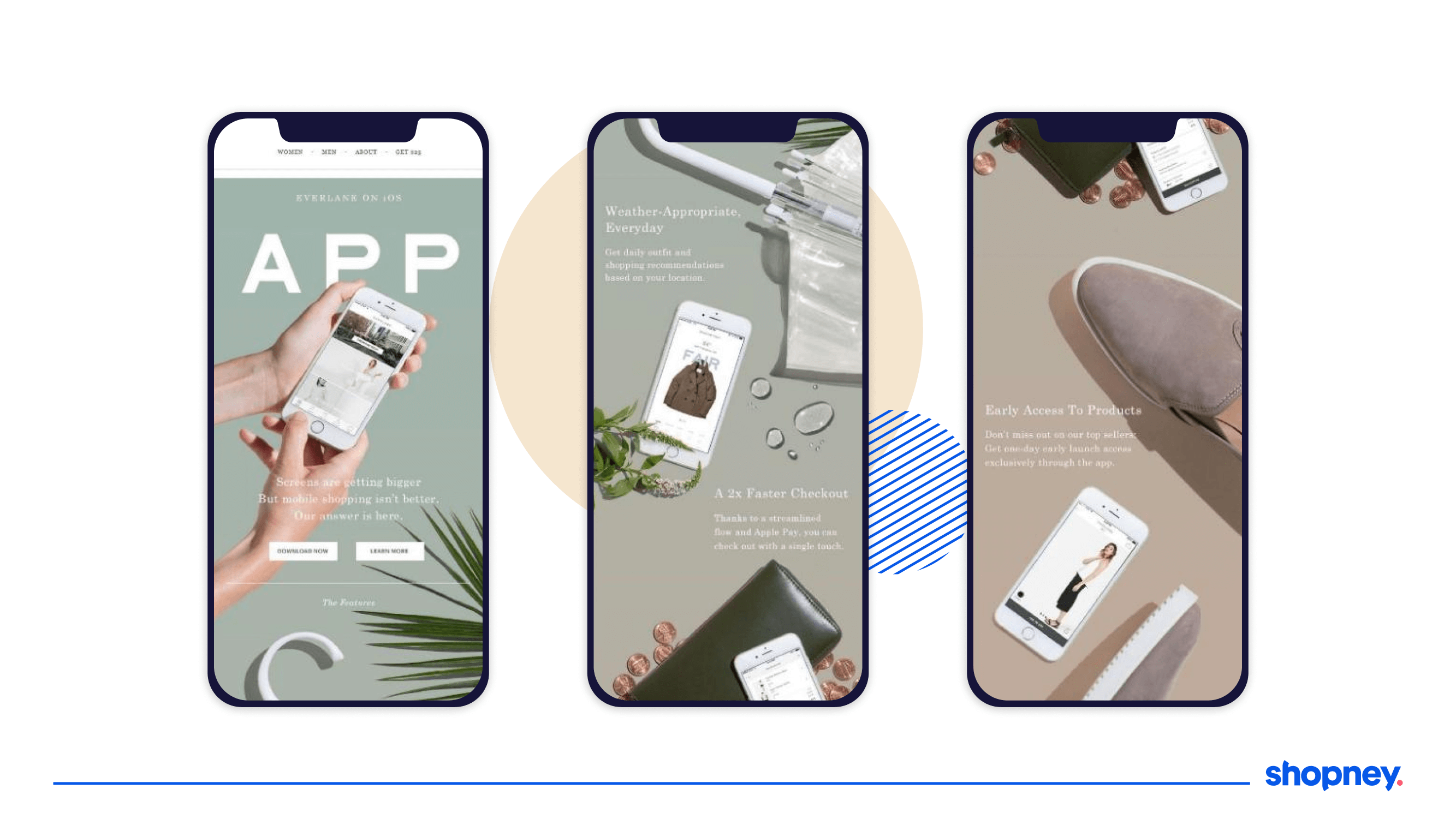 Increase your eCommerce mobile app installs with email marketing
Emails can be used in a number of ways to promote your eCommerce mobile apps.
You can personalize every aspect of your email list to make the promotions more contextual and relevant to your subscribers, leading to higher conversions.
But as a general rule, to succeed with email marketing to increase app downloads, you need to ensure your apps remain at the top of the subscribers' minds and are easy to reach.
This is why our team of Shopify experts at Shopney equip you with deep links that can be easily used across the customer lifecycle in different email marketing campaigns. And the results have not just helped brands increase app downloads, but also boost in-app engagement and user retention rates - overall, leading to higher customer retention rates and brand loyalty!
Need help creating an email marketing strategy for your eCommerce mobile app?