Shopify Holiday Marketing Campaign Ideas to Double Your Sales with Mobile App Marketing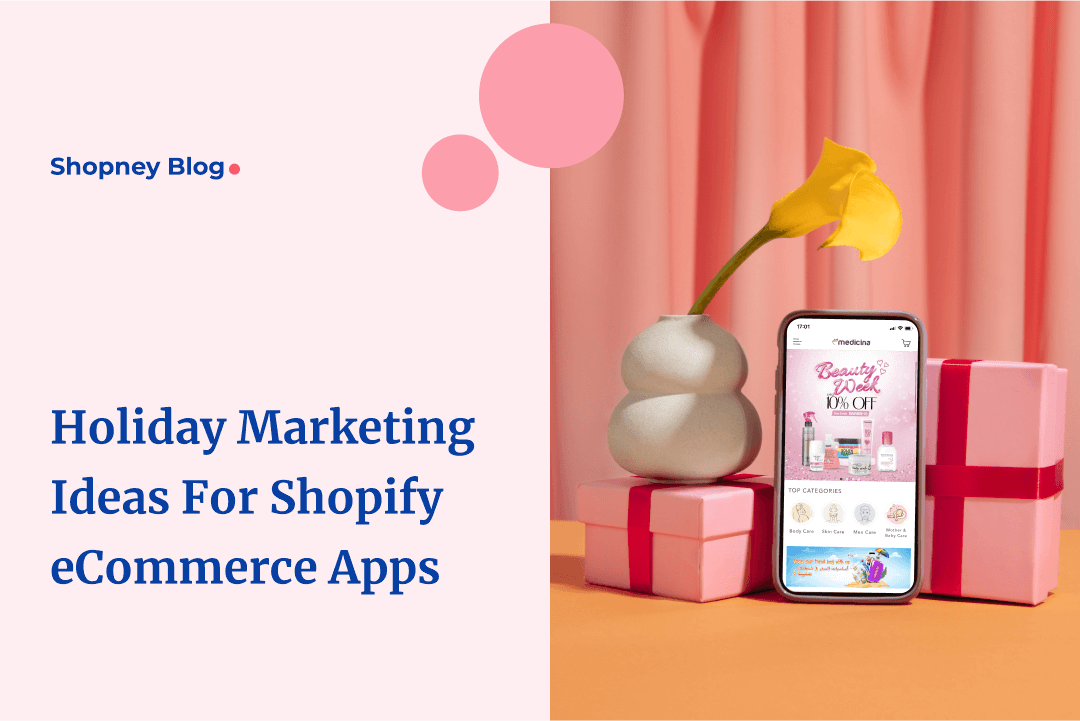 The holiday season is well on its way, along with the most awaited event of the year - BFCM.
We've been busy creating guides and tips for brands like you so you can make the most out of it and drive sales and revenue from your Shopify app.
But here's the thing- consumers are not just looking for deals; they're actively spending in the last quarter of the year.
The entirety of the holiday season is ripe for e-commerce businesses, with data showing a significant spike in sales across most industries during this period.
Once BFCM is over, your customers are waiting for Christmas. Then it's New Year's. Gifting is on everyone's minds - even if it means treating themselves!
Your campaigns and prep must extend beyond just the three-day sales bonanza to meet such expectations.
To do that, you need to start optimizing your mobile app for the holiday rush, and we have just the tips to get you started.
In this blog post, we'll delve deep into various mobile app marketing strategies specifically tailored for eCommerce, particularly if you're running a Shopify store.
We'll explore how to leverage the power of appcommerce not only to meet but also exceed your holiday sales targets.
Let's dive in!
Holiday mobile app marketing campaign ideas to double sales
Take a look at your app, its strengths and weaknesses, any customer requests that have come that can help you relook at how best to optimize it for the holiday rush.
Along with that, go through the recommended tips below and incorporate everything that can help make your holiday season more engaging for your customers.
1. Refresh Your visual theme
First impressions matter. Let's take two use cases - returning customers and new prospects.
Old customers will experience a quick dopamine hit when they see your mobile app's visual elements reflect the holiday spirit. Something new from the usual UX they're used to.
New prospects looking for festive-themed products will feel reassured they have come to the right store.
And no- this doesn't need to be a long and exhaustive exercise requiring an entire app design overhaul.
Instead, you can:
Update your home page banner image with a holiday-themed creative
Create announcement bars announcing any festive discounts
Add a holiday vector element to your site logo (Santa cap is an easy win, and brownie points if you animate it!)
Add colors to your creatives, keeping in the tone of an upcoming festival (for example, red for Christmas and cool blues for Hanukkah).
Think of low-hanging, simple visual elements in your store that can reflect the season's festivities. This not only attracts attention but also enhances user engagement by setting the mood for holiday shopping.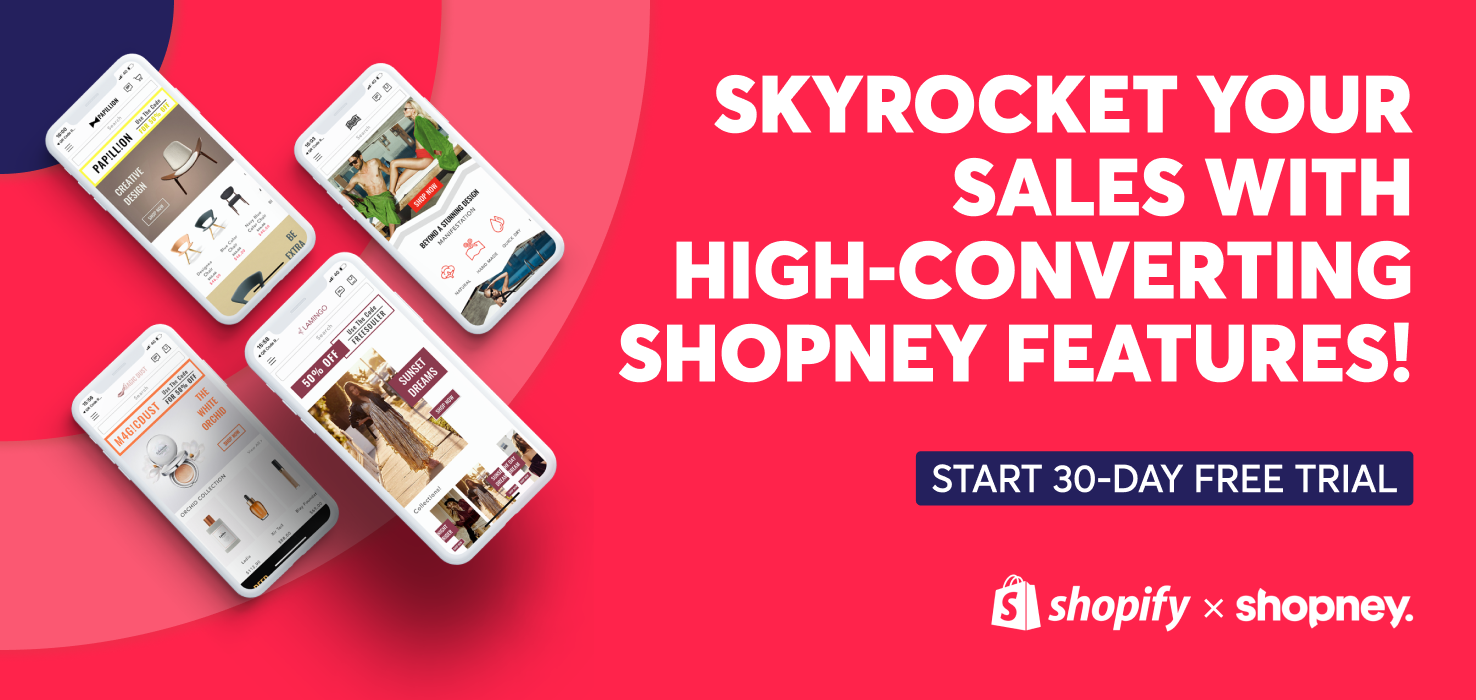 2. Set up automated push notifications
If your customers have your app, the most effective way to get more traffic and sales is to use push notifications.
Here are different types you can add to your notification calendar for the holiday season:
A.  Sales promotions
Notify users about special holiday deals, time-bound offers, sales, shipping discounts, etc.
No customer wants to know that if they'd shopped a day back when there was a sale, they could have saved money instead of shopping later because you, as a brand, did not do your best to spread the word about such campaigns.
B. Countdown to sale
Create urgency and FOMO by reminding them of the time left for the next sale. This can be particularly useful for limited-time offers.
With real-time updates, you can keep users engaged and aware of the ticking clock.
C. Cart recovery
Remind users to complete their purchases. Abandoned carts are a pesky and significant issue for eCommerce brands.
The great thing is that reminder notifications have a good conversion rate. There's a chance to win back some consumers, so ensure you have this automated.
Time them to trigger a few hours after a user abandons a cart. Don't forget to personalize these reminders by including the names of the items left in the cart!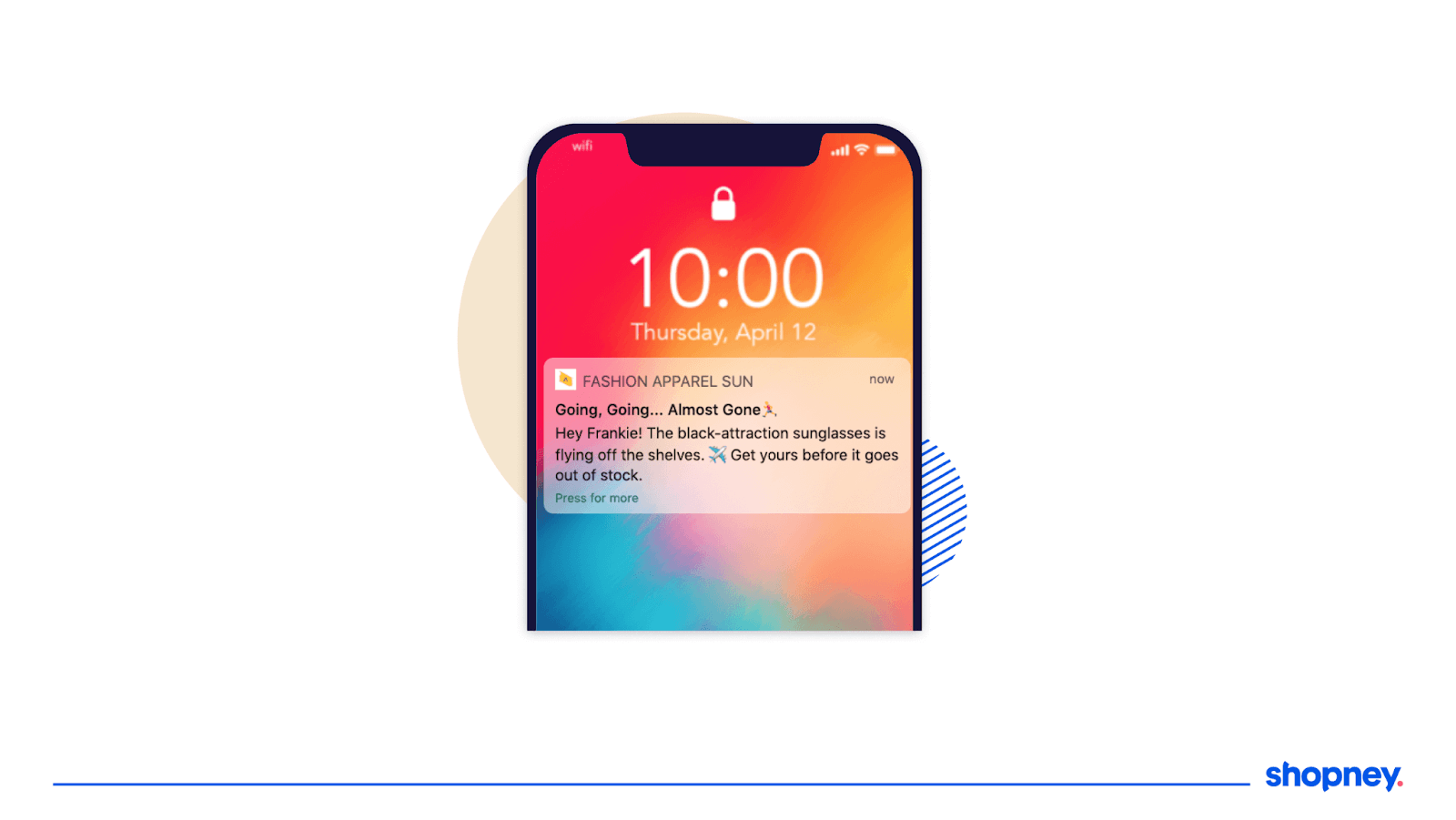 D. Product recommendations
With each campaign, you will have detailed insights into your customers and users.
Use that to create segments based on past purchases or browsing history and suggest products based on user behavior.
Machine learning algorithms can help make these recommendations more accurate.
E. Feedback/review requests
Social proof remains a critical element influencing buyer decisions. Ensure your review sections are updated, with new reviews coming in consistently.
To do this, you need to ask for reviews post-purchase. Asking for feedback cements you as a brand that cares and wants to improve and helps build social proof.
Remember to make it easy for users to share a review by including a direct link to the review page.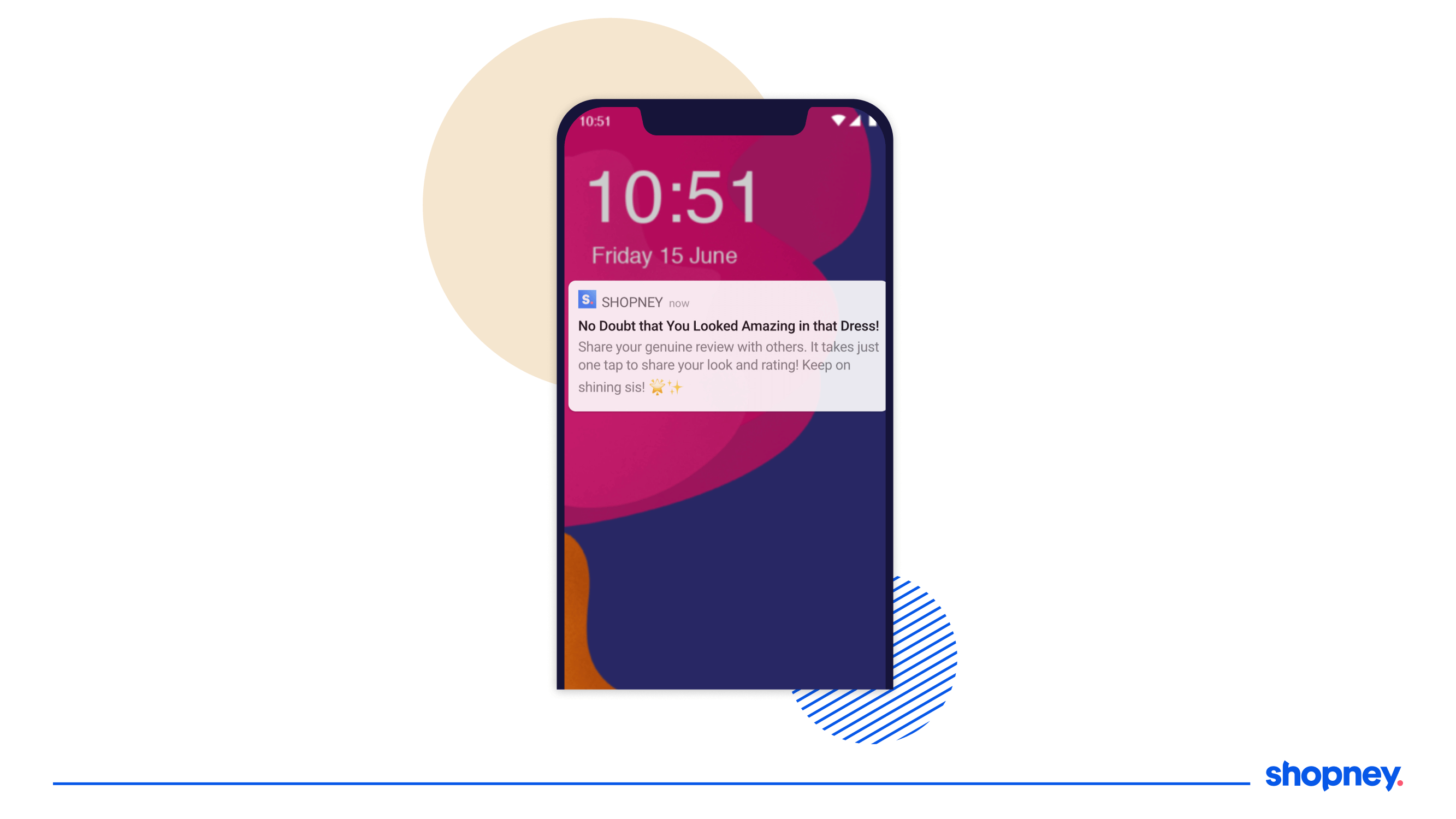 3. Add product labels on discounted products
When a user is scrolling your app, your UX needs to help move prospects down the buying funnel.
One effective way to do that is using visual cues like product labels, which can significantly influence a customer's decision to purchase.
Use clear, visible, eye-catching labels to indicate any discounted products. For example, use black labels for Black Friday and Cyber Monday deals and red for Christmas discounts.
This makes it easier for your customers to spot deals. You can also use animated labels to catch the eye or use different shapes to signify the level of discount!
4. Leverage live chat automation
Many times, a simple query will stop a potential sale. Your store must have a responsive, live communication channel for customer support.
Especially during a hectic sale during the holiday season.
Additionally, to save more time, automate size, delivery, and shipping FAQs to handle the increased volume of queries through an in-app chat. Use chatbots that can simultaneously handle multiple questions, ensuring no customer is left waiting.
This not only improves customer service but also frees up your support staff to handle more complex issues that may arise.
5. Set up a loyalty program
Often, with high competition among brands during the holiday season, it's hard to retain first-time customers.
Rewarding your customers with store credits or loyalty points for purchases made during the holiday season encourages repeat purchases and fosters brand loyalty.
Consider offering double points or special holiday bonuses to make the deal even more attractive. You can also run a 'points fest' where customers earn extra points during specific hours!
6. Offer buy now, pay later, or pay in installment option
There is nothing more annoying than realizing that someone's card details are not automatically loading or one is using a device where you need to add your card details again manually.
Offering easier checkout with payment flexibility options can be particularly appealing to customers making big-ticket purchases.
This enhances customer experience, leads to higher conversion rates, and attracts a broader customer base, including those who might be hesitant due to budget constraints.
7. Create app-exclusive holiday deals and discounts
What advantage do your consumers get by downloading and keeping your app even after an order is over?
You need to make them feel unique and valued for doing so. You can offer special deals that are exclusive to your mobile app users.
This creates a sense of exclusivity and urgency, encouraging them to make a purchase.
You can also use this as an opportunity to cross-promote products or upsell. Consider running 'app-only' flash sales or offering additional discounts for in-app purchases!
8. Connect with influencers
With rising ad costs and low ROI, Influencer marketing is a rising and affordable way to spread the word about your holiday promotions faster.
Collaborate with micro-influencers who align with your brand values and have a follower base that matches your target audience.
Engage their base through sponsored posts, giveaways, or exclusive discount codes. Make sure to provide them with a unique promo code or affiliate link to track the effectiveness of the campaign.
9. Run app-exclusive flash sales
Flash sales are:

Limited-time offers that are heavily discounted
Making them irresistible
Create a sense of urgency and exclusivity
Encourage more immediate purchases
Promote these sales through push notifications and social media to maximize reach. Use real-time analytics to monitor the performance and make adjustments as needed.
10. Bring on the social proof
It's not just about what you say about your products; it's about what your customers are saying.
Encourage customers to share their purchases and experience straight from the app to their social media platforms like Instagram, Facebook, or Twitter (oops, X!).
When people see their friends or family endorsing a product, they are more likely to trust the brand and make a purchase themselves.
Returning customers will also feel reassured by the updated, recent reviews on product pages and convert faster.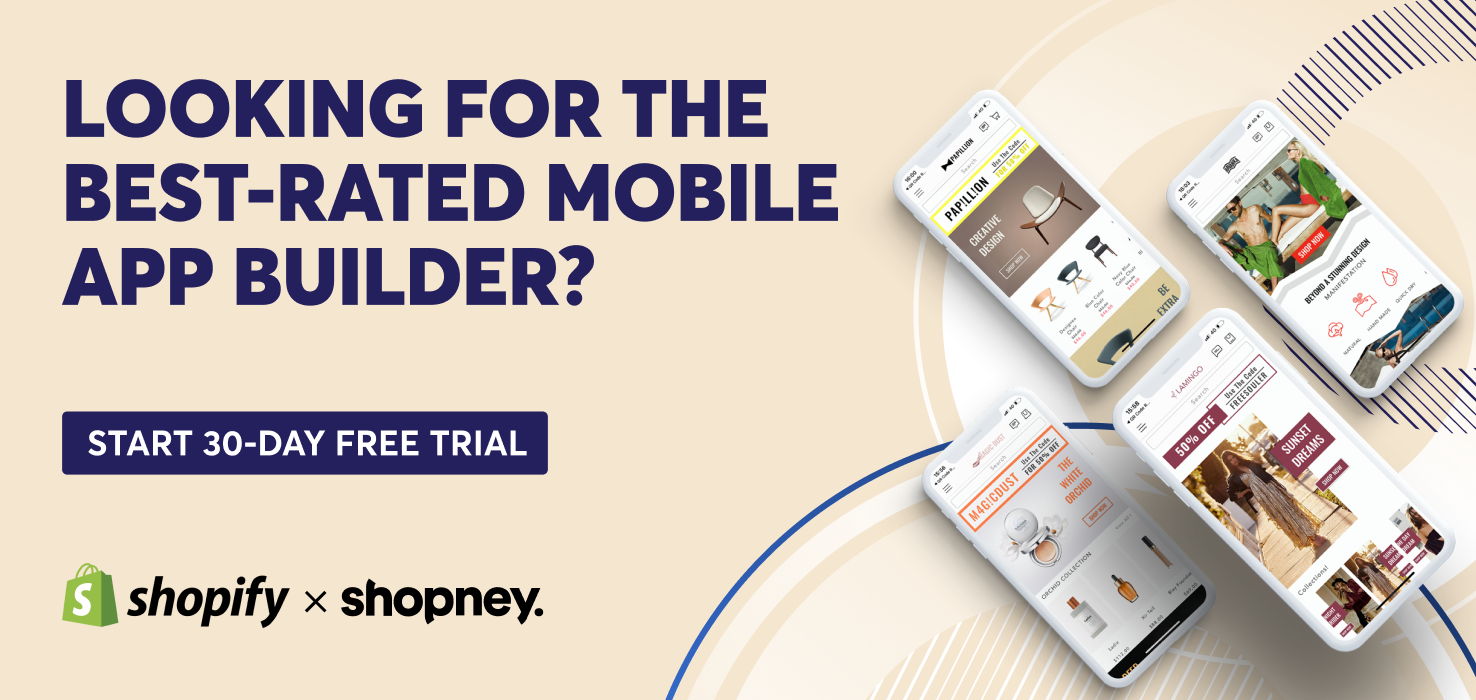 Wrapping Up
As more and more people shop through mobile apps during the holiday season, it is necessary to optimize your app to serve the crazy rush, but it's equally important that you are proactive and plan engaging campaigns.
By implementing these holiday eCommerce app marketing campaign ideas, you can effectively double your sales through your app.
Remember to make shopping on your app easy and engaging and ensure seamless navigation and quick access to promotions.
Want help in implementing these strategies? We can help! Reach out to us, and we can help you optimize your app commerce efforts and achieve your sales goals.
Happy holidays and happy selling!