How to Prepare Your Shopify eCommerce Mobile App to Increase BFCM Sales?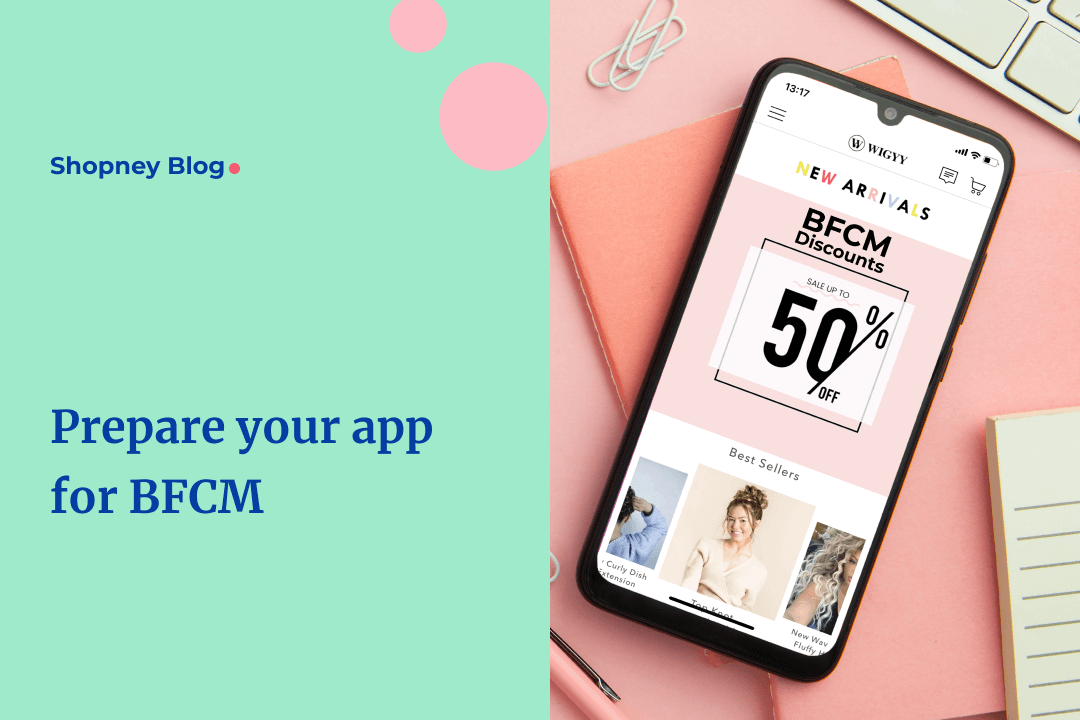 Black Friday and Cyber Monday (BFCM) are no longer just days; they've evolved into a shopping phenomenon, with discounts and deals spanning sometimes an entire week!
With Shopify reporting record-breaking BFCM sales every year, it's clear that this period is a goldmine for brands.
In fact, 52 million consumers across the world shopped from independent brands powered by Shopify, a 12% increase from 2021. And it's only set to increase in 2023!
It's a blessing for brands, that is, IF you prepare for it well and on time.
The potential for sales is high during BFCM, but you won't sell more just by having attractive deals or a well-designed Shopify store.
In today's fast-paced world, consumers are shopping on the go, making mobile apps an indispensable tool for businesses.
Shopify noted that more than 73% of sales were made on mobile devices and only 27% on desktops.
It is clear the chunk of traffic and even opportunity for sales likes in delivering an excellent experience to shoppers through your mobile app.
But simply having an app isn't the endgame; preparing it for the BFCM rush is crucial.
What is BFCM sale in eCommerce?
BFCM stands for Black Friday and Cyber Monday.
When you think of it, long lines starting in the early morning at departmental stores are a common pop culture image of this highly anticipated sale.
These are two of the most significant shopping days in the U.S. calendar, and in recent years, their influence has spread globally.
Originating in the United States, these days come right after Thanksgiving and mark the unofficial beginning of the holiday shopping season.
Black Friday traditionally refers to the day after Thanksgiving, which is always a Friday. On this day, retailers offer massive discounts, attracting huge crowds and marking the highest sales volumes of the year.
Cyber Monday, on the other hand, is the Monday immediately following Black Friday. While Black Friday was traditionally more focused on in-store shopping, Cyber Monday was introduced as the online counterpart, with eCommerce stores offering significant discounts.
However, with the rise of online shopping, the lines between Black Friday and Cyber Monday have blurred, with many in-person stores promoting online deals and vice versa.
Together, BFCM sales represent a weekend of massive sales, both in physical stores and online.
For consumers, it's an opportunity to snag deals on everything from electronics to clothing.
For brands, it's a chance to boost sales, clear out inventory, and finish the year strong.
Given its significance, businesses often spend months preparing for the BFCM weekend, strategizing on promotions, marketing, and stock management.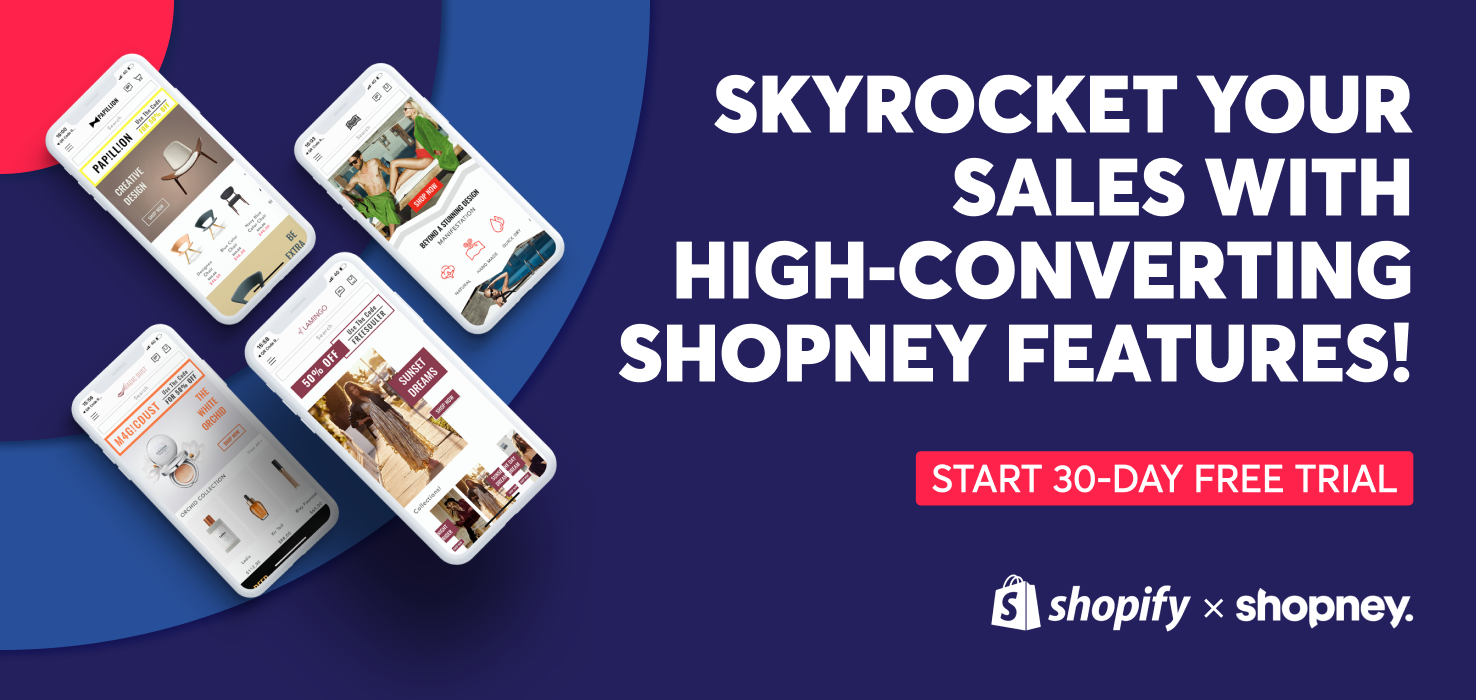 Why do you need an eCommerce app for Shopify BFCM sale?
The digital landscape is evolving, and mobile apps are at its forefront, especially during BFCM. Here's why:
1. Instant Access
With an app, customers don't need to type in a URL or search for your store. It's right there on their home screen, making impulsive BFCM shopping even easier.
2. Personalized Experience
eCommerce Apps can offer tailored recommendations, making browsing more targeted and efficient, leading to more sales.
3. Push Notifications
Directly notify users about BFCM deals, ensuring they don't miss out on any deal or offer, especially time-bound ones, without having to spend significantly more on email and SMS promotions.
4. Offline Access
Even without the internet, apps can showcase products, making sure the BFCM buzz remains uninterrupted and doesn't make any customer abandon their cart in frustration. Remember, your app needs to cater to people across locations. Poor connectivity shouldn't be the reason shoppers can't explore your catalog.
5. Mobile Friendly
Apps are less cluttered, more visually engaging, and easy to navigate versus a mobile website. They're meant for browsing in the smoothest, most friction-free way. Also, in an app, you can include banners, pop up, customize your home screen, and more, and create an enjoyable shopping experience for BCFM shoppers!
6. Search Friendly
The search bar in an eCommerce app can be customized to deliver highly relevant and visually accessible results as compared to a mobile website.
7. Brand Recognition
An app is an excellent way to cement a relationship between a user and a brand. It increases brand recall and positive association, leading to higher loyalty.
8. Higher Conversions
On average, mobile apps convert at a 157% higher rate than the mobile web.
However, just setting up an app isn't the magic wand. It needs to be BFCM-ready.
Let's explain what that means find detail below:
How to prepare your Shopify eCommerce mobile app for BFCM?
Here's a BFCM checklist for ensuring you're clear from the get-go, where your attention needs to be in the app to prepare for the massive sale,
1. Create different types of discounts
BFCM is all about deals. Offer a variety of discounts - from percentage-based to buy-one-get-one offers, bundle discounts, BOGO, bulk discounts, free shipping, free sample gifts, etc to cater to different customer preferences.
Make sure the infrastructure for all the promotions are overlooked and approved by your team of developers. If you don't, and it all comes crashing down on the day of the sale, not only will you lose out on revenue, and you'll also be left with incredibly frustrated customers.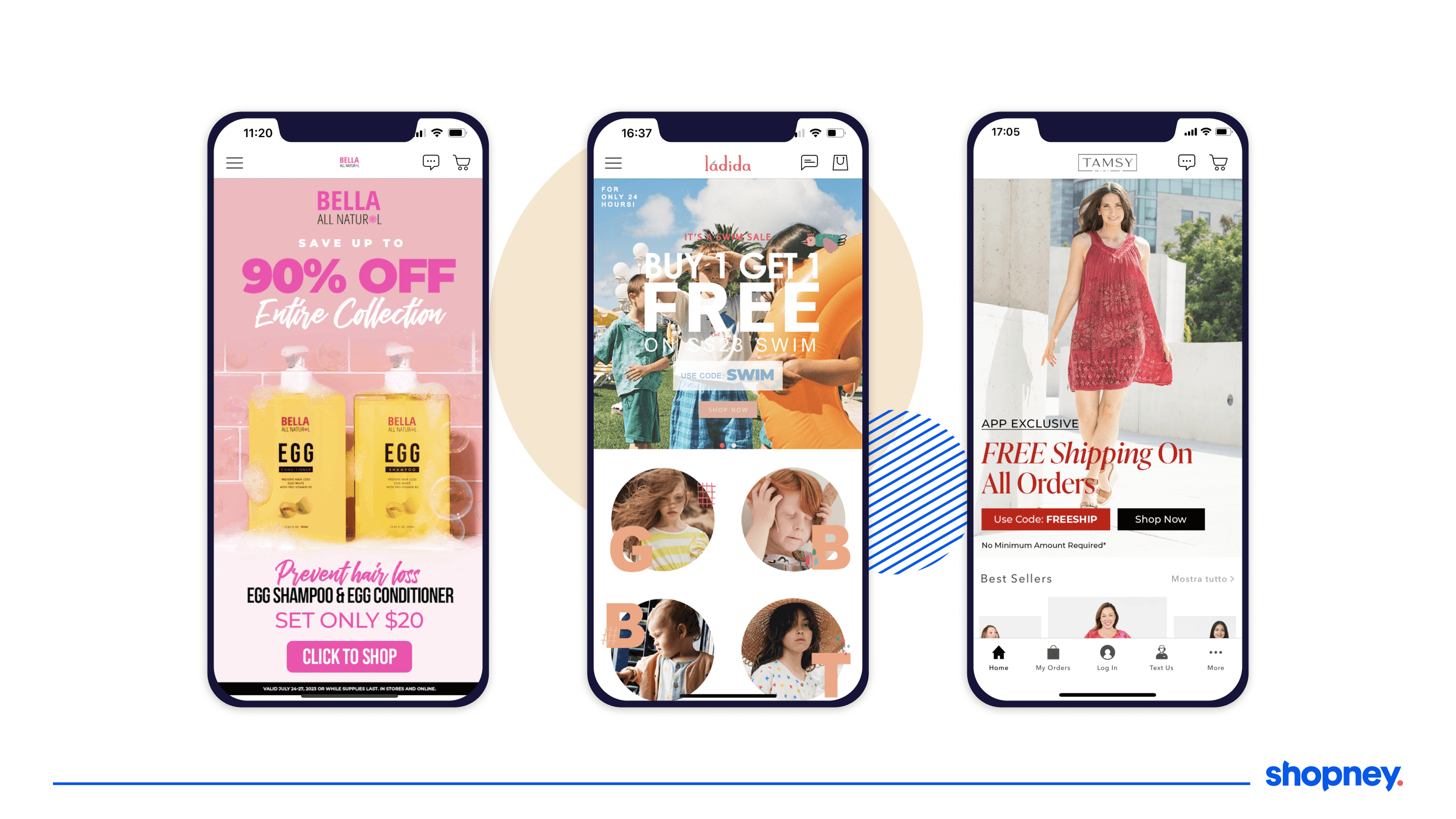 2. Create a BFCM deals collection
Dedicate a section of your app solely to BFCM deals. Ensure it's prominently visible in the app's navigation, on the home page, on your search listing results, and making deal-hunting a breeze for shoppers.
Remember, you need to optimize their journey so they can go from browsing to checkout as quickly as possible.
3. Use promo banners
Use sliders, pop-ups, and modal overlays on your app's homepage and product listing pages to highlight the top BFCM deals.
It's the first bit of mobile app real estate users see, so make it count!
4. Set up a countdown timer
Add a sticky countdown timer across all pages.
The ticking clock creates urgency, induces FOMO, and nudges users to make quicker purchase decisions!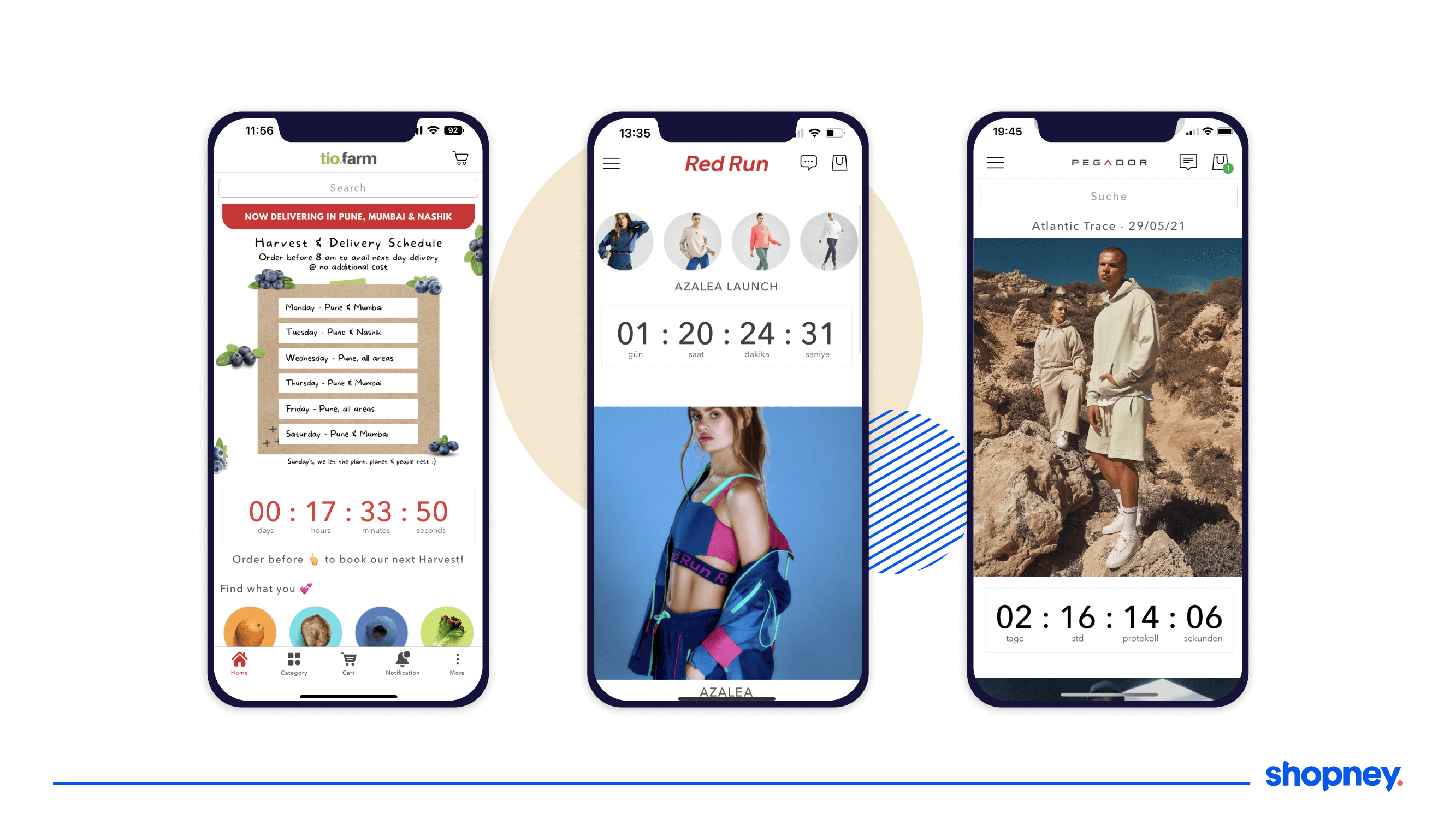 5. Showcase social proof
During BFCM, while shoppers are eager, they're also wary and nervous. You have to earn their trust.
Reassure them by displaying reviews, verified user ratings, and testimonials on product listing and description pages to build credibility.
Use words like 'Best-seller', 'Top Selling', 'X number of products sold out in 23 hours' or ' 10 people have this in the cart', or 'Low Stock' to signal proof and urgency in one go.
By consistently signaling your authority on multiple touch points, customers will eventually feel safer as they continue browsing and be encouraged to make a purchase.
6. Display product recommendations
Use the power of AI to recommend products. Upselling and cross-selling become even more critical during BFCM, ensuring customers get value and businesses maximize sales.
Suggest relevant products on the cart page and quantify the savings or advantage one gets by bundling or adding multiple products.
7. Promote product bundles
Offer bundles at discounted rates!
Not only does this increase the average order value, but it also provides shoppers with a perceived higher value.
It also deepens brand loyalty.
8. Automate app push notifications
Set up push notifications for promotions, reminders, and especially cart recovery.
A gentle (but well-timed) reminder can convert a potential abandoned cart into a sale.
Additional reads:
9. Set up an in-app chat feature
Integrate platforms like Shopney's in-app chat feature. Quick answers mean more trust and quicker purchase decisions.
Remember, customers will wait seconds before abandoning their browsing. You need to offer 24x7 live support - especially during a high sale time like BCFM!
10. Optimize for mobile app speed
BFCM traffic surges can slow down your app.
Ensure your app is optimized to handle the increased load, even with low or poor connectivity, offering a seamless shopping experience.
11. Ensure an easy checkout process
Do you know that shoppers will abandon a purchase if the checkout process is cumbersome, confusing, or visually cluttered?
Simplify the checkout process so it's easy and quick to access the payment page.
Use auto-filled fields, a guest checkout option, social logins and a progress bar to keep the shopper engaged.
Make sure you have discounts auto-applied and clearly offer shipping prices and delivery dates.
You should also display multiple payment options, especially, one-click checkout.
The quicker a user can move from selecting a product to completing a purchase, the more sales you'll get!
Want more tips on optimizing your checkout page? Go here: How to Optimize Your Mobile App Checkout to Reduce Drop-offs and Increase Conversions
12. Customize your app icon
Your app is on a user's home screen and is looked at daily. It will catch their attention when you've changed its design for a special occasion.
This is a fun visually engaging way to increase DAU (Daily App Users) and consequently sales.
13. Optimize your launch screen
When a hopeful shopper opens your app, the first screen is pivotal in making a strong impression.
Use it thoughtfully and with brevity - users will glance at it for a few seconds so the copy and the design should be skimmable and exciting.
Tease them about the sale with exciting previews or special offers waiting for them in the app.
Additional read: Complete guide to eCommerce mobile app onboarding
14. Emphasize discounts and deals on product pages
Show slashed rates or the revised rate in a different color, to visually signal the savings a shopper will get if they purchase.
Add a timer emoji, create a tappable custom discount field, and use FOMO-inducing copy to drive home the time-bound nature of this sale.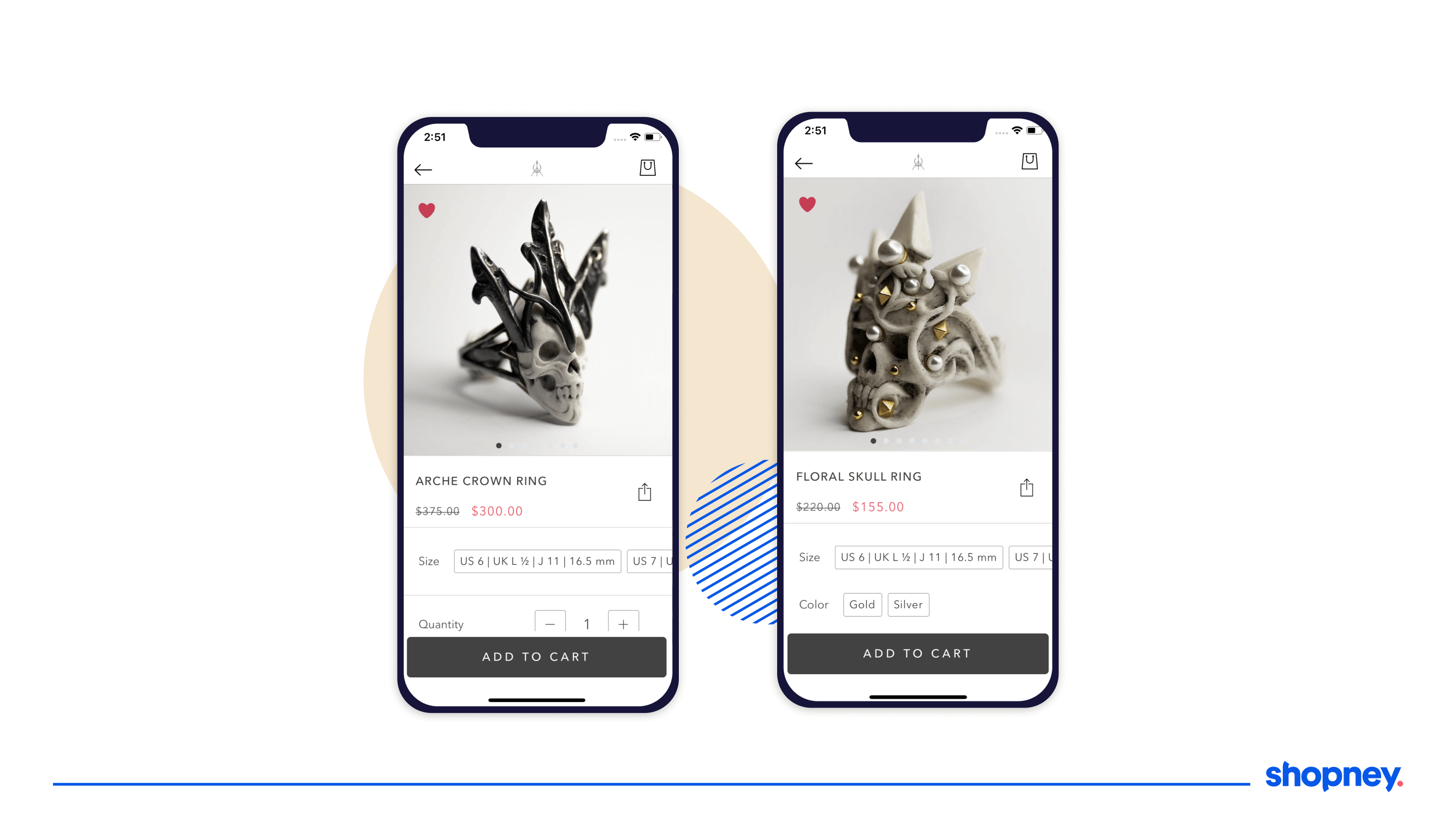 15. Test servers and app screens in advance
No one wants their app to crash in the middle of the best sale of the year for discount-hungry shoppers.
Make sure your server can handle the rush (3-4x regular traffic) to deliver a seamless shopping experience for BCFM enthusiasts.
On a similar note, ensure that your stock is also enough to handle the extra orders.
16. Create a solid abandoned cart strategy
People will abandon carts -it's your job to anticipate and reduce any chances. In fact, reports found that the BFCM cart abandonment rate is 78% globally!
Start with your checkout page and ensure your shipping and delivery charges are mentioned prominently, leaving no room for doubt or disappointment.
If you've gotten them to sign in, send reminders through push notifications, email newsletters and SMS campaigns.
17. Offer exclusive early access
Another way to drive up the FOMO and create more anticipation is to offer your app store visitors earlier access as compared to your mobile website store.
When more people are accessing your app, the higher the chances of conversion!
18. Display return policy clearly and prominently
Another way to create trust is to clearly display your return policy on your product description page.
When BCFM shoppers know they can easily return a product, they are more likely to purchase it.
This doesn't mean everyone will return your product, but will actually position your brand as friendly and approachable.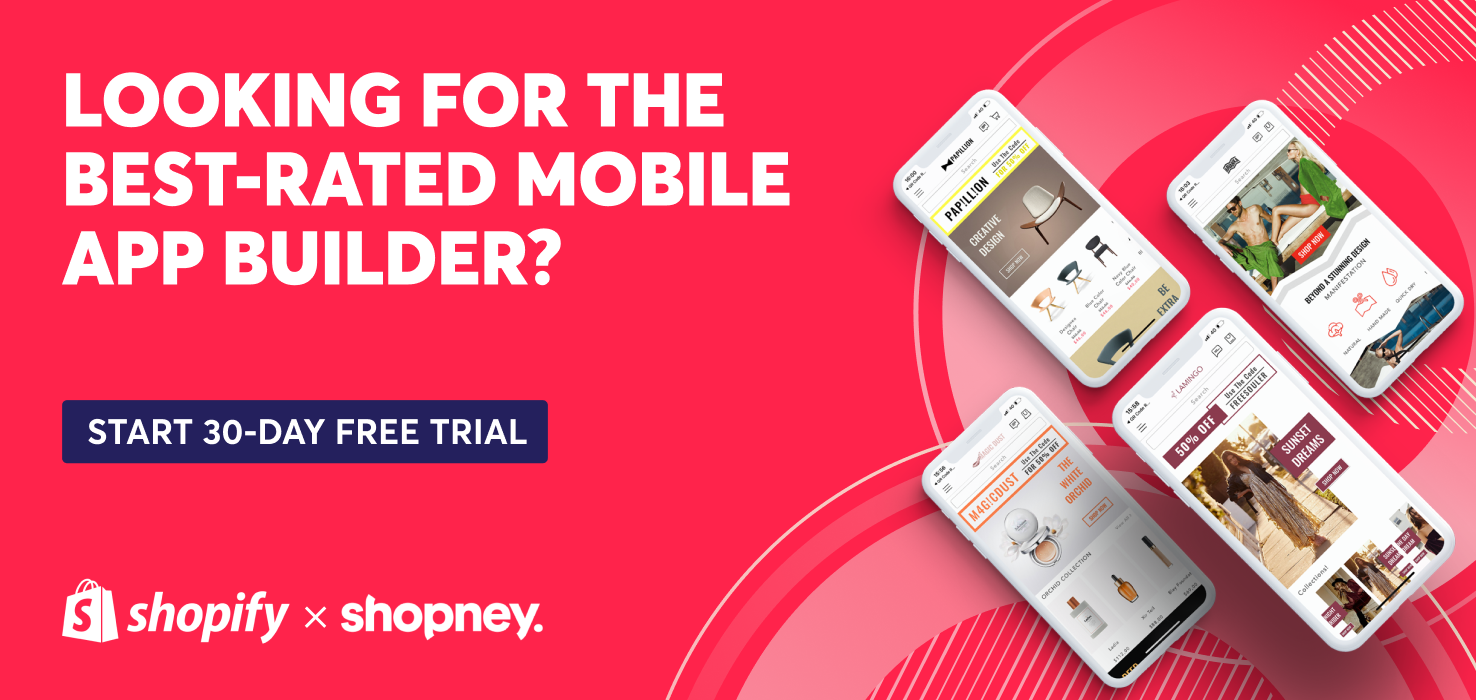 Get your Shopify eCommerce app ready for BFCM with Shopney
The BFCM sale is not just an event; it's an opportunity.
An opportunity to grow, reach new customers and solidify your brand's position in the market.
Don't have a mobile app yet? Don't worry!
Our team at Shopney can help you go live in days!
And if you already have an eCommerce app but need to optimize for BFCM, remember, preparation is key.
Reach out to us, and let's make this BFCM your most successful one yet!