15 Push Notification Ideas to Boost Shopify eCommerce Mobile App Engagement Rate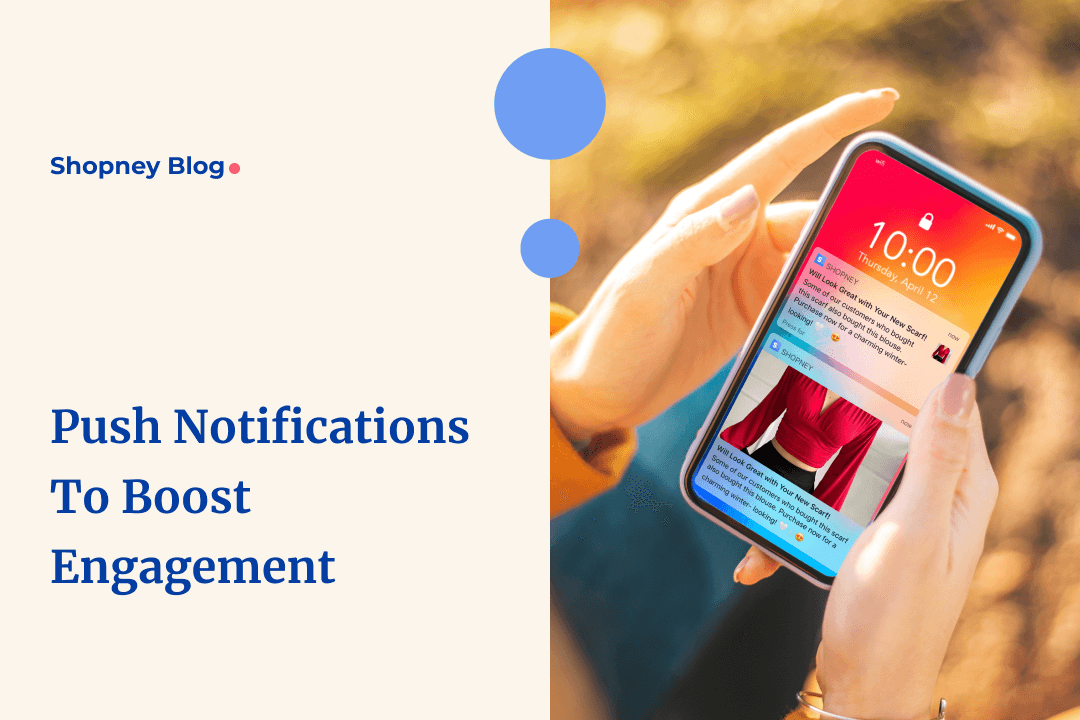 With over 5.6 million online stores on Shopify alone, competition is fierce. Getting eyeballs on your brand's offerings is more challenging than ever.
And when 49% of apps are uninstalled within a month, it's critical that you establish a rapport with your customers and make them realize your value.
As a result, app push notifications are emerging as a powerful tool to keep customers engaged, reminding them of your brand in an interactive and fun way.
There's anticipation that builds when someone taps on your message...
Will they be delighted?
Or disappointed?
It depends on your app push notifications strategy!
Just because you know you have to say something doesn't mean you should send anything.
This is what we'll deep dive into today's blog, where we share 15 different types of app push notifications (with examples!), so you spend less time thinking about what to send your customers and more time packing orders!
Pick, send, and test different push notification campaigns, so you can strategically incentivize re-engagement from mobile app users and drive retention.
But first - what qualifies as a push notification? Let's take a look!
What are push notifications?
App push notifications are brief, clickable messages sent directly to a user's mobile device, like a friendly nudge from a shopkeeper reminding you of something exciting.
Push notifications encourage the use of your app's features, enable deep links so they land at the right landing screen, target the right audience, and boost revenues.
What are the benefits of app push notifications for Shopify brands?
For Shopify store owners, app push notifications are more than just alerts; they are a powerful marketing tool.
Here's why:
Immediate Engagement: They enable real-time communication with customers.
Personalization: Tailored notifications can enhance the user's shopping experience.
Increased Sales: Timely offers and reminders can lead to higher conversion rates.
Brand Loyalty: Regular, relevant messages can foster customer loyalty.
More Impactful than Email: Push notifications receive 50% more opens and have 10x conversion rates v.s. Email and SMS!
According to a study, push notifications can increase app retention rates by 3 to 10 times!‌

Even a single alert sent to new subscribers during their first week since installation can boost retention rates by 71%.‌

This only indicates how willing online shoppers are to be notified of product prices, sales, and discounts from their favorite brands.
But that willingness can quickly turn to irritation and quick uninstalls because push notifications can be intrusive.
If you're bidding for your customer's attention, it must be worth it.
To make an effective app push notifications strategy, start from the below-recommended campaigns first!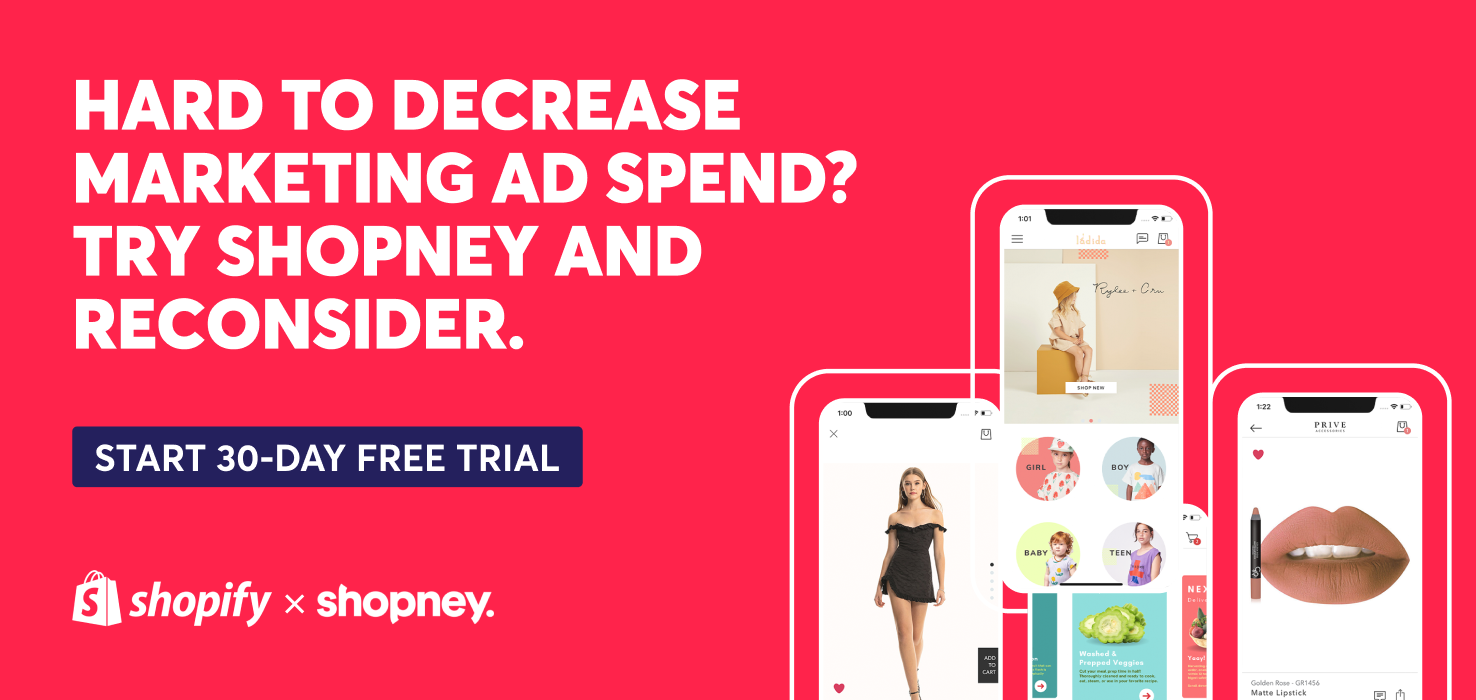 15 campaign ideas for app push notifications to boost engagement
Each of these campaign types uniquely engages users, drives sales, and builds a connection with your brand.
By understanding your audience's specific needs and interests, you can craft compelling app push notifications that resonate and convert.
1. Welcome notification
Nudging your customers to make their first purchase is essential for any Shopify store and sets the tone for their experience with your mobile app.
Send your new customers an automated welcome notification with a discount coupon to encourage them to buy.
Example 1:
"Welcome to [Your Brand]! 🎉
Shop exclusive products curated just for you. Use code WELCOME10 for 10% off!
Example 1:
"Hi [User's Name]! 👋
Welcome to [Your Brand's App]. Discover the latest trends and enjoy a special 15% discount on your first order. Tap to shop!"
2. Product recommendation notification

Sometimes, your customers need to explore your app thoroughly before giving up. Maybe your navigation isn't as intuitive as you thought.
Irrespective, sometimes you must guide them to products you think they will enjoy, communicating your store's value and potential to your customer.
This is where product recommendations come to play.
Send personalized suggestions based on your user's behavior or purchase history and make your customers feel special!
Here's a template example you can customize and send:
Example 1:
"Loved those (last item browsed/bought/wishlisted)?
Check out these matching (similar products)!"
Example 2:
"Hey (name)!
We think you'll love these new arrivals. Check them out now!"
3. Limited-time offers notification

Deadline mode is a very useful concept in marketing psychology.
FOMO is real!
Time-bound offers, and deals create urgency and encourage users to browse quickly, leading to increased sales.
Use them sporadically - your customers will notice if you send too many of these and will dilute your branding if you seem desperate.
Example 1:
"Only (X) hours left!
For our exclusive 50% off sale. Grab your favorites now!"
Example 2:
Flash Sale!
20% off for the next 2 hours only. Shop now!
4. Abandoned cart notification

Did you know more than 70% of shoppers abandon their carts?
That is a lot of money left on the table, especially if the potential customer left because of a notification from their favorite social media app or was called back into some work.
You've already done the work of getting to browse, find what they like and add to their cart; all that's left is for them to complete payment.
Best part? Cart abandonment push notifications enjoy a click rate of 16%!
This type of push notification should be automated, so it continuously nudges back high-intent customers who have left items in their cart without purchasing.
You can recover lost sales and increase conversion rates by sending a timely reminder with a special offer or incentive!
Example 1:
"Oops! You left something in your cart. 🛒
Complete your purchase now and enjoy FREE shipping!"
Example 2:
Hey (Name),
Still interested in the (product name)? Check out now and use code CC15 for 15% OFF!
5. Location based notification
Geo-fencing based push notifications allows you to target customers based on their physical location.
By sending personalized offers or information when they're near your store, you can drive foot traffic, enhance the shopping experience, and boost in-store sales!
Example 1:
Welcome to 📍[City Name]!
Visit our local store today and enjoy exclusive in-store discounts!"
Example 2:
"Near [Store Name]?
Stop by for a special 20% off on selected items. Only for today!"
6. What's new

Pique the interest of your audience with new launches.
New product alerts build anticipation and excitement and keep your customers in the loop with the latest additions. Shiny, new things are very, very hard to resist!
Example 1:
"It's LIVE!
Be the first to check out our latest (winter) collection!"
Example 2:
"Just in!
Explore our exclusive summer collection before it's gone!"
7. App exclusive discount notification
Send special discounts valid only to app users. Make them feel special for having installed your app. With this, you can reward app usage, fostering loyalty and repeat purchases.
Example 1:
"App users only!
Enjoy 15% off on your next purchase. Use code APP15."
Example 2:
"App Exclusive 🎉
Enjoying our app? Explore a special 15% off sale curated just for you!"
8. Back-in-stock notification
Back-in-stock alerts keep customers informed about products they've shown they wanted. They may have added it to their wishlist or used your 'Notify me when available option.
By alerting them when an item is available again, you can capitalize on their existing interest, encourage immediate action, and enhance customer satisfaction.
Example 1:
"Good news, (Name)!
[Product Name] you wanted is back in stock. Hurry, limited quantities available! 🎉"
Example 2:
Missed out last time?
[Product Name] is back! Order now before it's gone again."
9. Order delivery status notification
Tracking notifications provide transparency and build trust with your customers.
By informing them about their order's progress and delivery timeline, you increase their anticipation and excitement, reassure them of their decision to purchase from you, and even reduce the return rate!
Example 1:
"Your order is on the way! 🚚
Track it live [here] and get ready to enjoy your new [Product Name]."
Example 2:
"On its way to you! 🚚
Your [Product Name] has been shipped. Click to track your package and see the estimated delivery date."
10. App exclusive collections notification
Like the above campaign, you can launch new collections only on the app, increasing installs and usage and making them feel they need to keep your app for future collections.
Example 1:
"App Exclusive!
Shop our limited-edition summer wear now!"
Example 2:
Just Dropped
Only on the (App Name) App! Browse (Collection Name) before it's sold out."
11. In-app events notification

Event promotions enhance community engagement and brand interaction by promoting special events, webinars, or in-app activities.
For example, you can engage users with contests, quizzes, or giveaways and increase app engagement!
Example 1:
Play and WIN!
Enter our in-app quiz and win a year's supply of skincare products!"
Example 2:
"Live Webinar on (Skincare Essentials)
RSVP NOW before it's booked out! "
12. Shopping assistance
Pre-purchase anxiety is essential to tackle - your customers need to know you're there for them.
And while having a live chat option is important for customer support, you need to remind them it exists or guide them on how it can help with shopping, not just after they've purchased.
Example 1:
"Need help finding the perfect gift?
Chat with our in-app stylist now!"
Example 2:
"Struggling to find the right size?
Our in-app assistant is here to help!"
13. Product usage notification
It's powerful to show your customer how your product can be used daily.
When they can envision life getting easier or nicer with your product and that if they are intimidated, they shouldn't be, they will be more likely to purchase.
Share blogs, lookbooks, or tutorials- even a simple how-to onboarding experience on the app offers value and encourages app exploration and learning.
This type of push notification is also great for increasing traffic to your website and blog!
Example 1:
"New blog post alert!
Learn the top 5 fashion trends of 2023!"
Example 2:
"Going to Goa?
Check out our vacation lookbook and get beach ready!"
14. User-generated content notification
In our previous blog post, we deep-dived into how you need to leverage social proof in your app.
But your customers may miss that screen or section- don't be afraid to remind them of any featured content created by influencers or customers.
Share bite-sized content, product reviews, and social proof. You can also alert your user of a product's popularity!
Of all notifications, something with social proof is far more likely to convert a hesitant customer.
Example 1:
250 People Wishlisted This!
Grab our limited edition (product/collection) before it's sold out!
Example 2:
"Client Love!
See how our community styles our latest collection. Get inspired now!"
15. Loyalty program notification
Create a sense of achievement for each 'win' your user has reached and how close they are to being rewarded.
This encourages repeat purchases and fosters long-term loyalty through notifications related to loyalty programs, points, or rewards.
Example 1:
"You're just 100 points away!
Shop now to earn more and get your FREE gift within 5 days!
Example 2:
"Want FREE Shipping?
Join our loyalty program and enjoy quicker checkouts, priority shipping & more rewards!"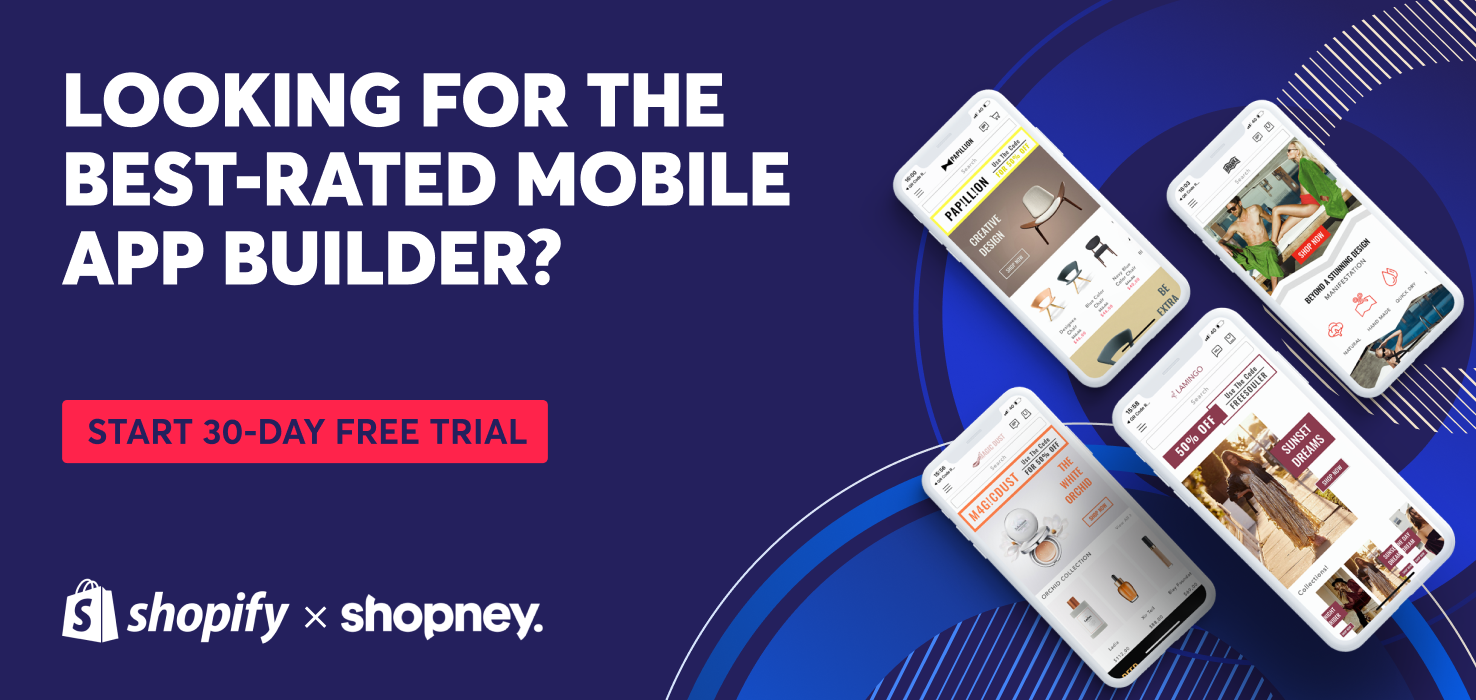 Wrapping Up
Struggling to decide which ones to set up first and how?
We've got you!
Shopney doesn't just help you turn your Shopify store into a mobile app, but also helps you set up a push notification strategy that is designed to keep its users engaged, and coming back to shop more!
With advanced segmentation based on events and demographics, we can help you automate these campaigns that increase app sessions - and hence the opportunities to sell more.
Ready to boost your Shopify eCommerce app engagement?