The Road Ahead: What Shopify Store Owners Need to Know About Mobile Commerce Trends in 2024
Some years ago, making your store 'mobile responsive' was the trend most eCommerce stores were pushing for.
'Make your websites friendly for mobile shoppers, and all will be better.'
Since then, the world of mobile commerce trends  has exploded.
Smartphones have become more technologically capable at cheaper prices, and the pandemic ushered in online shopping from different target audiences and age groups.
Shopping online through a mobile phone is rampant, and as a result, the space is constantly evolving.
Being 'mobile-friendly is so 2020- it's time to bring your brand up to speed.
According to Shopify, mobile commerce will account for 68.9% of all eCommerce sales by 2022.
We want you to be ready and prepared by incorporating these trends in your Shopify store before your competitors catch up.
So, in today's blog post, we will dive deep into the most compelling mCommerce trends that are shaping the future of retail.
Let's dive in!
Mobile commerce trends for Shopify stores to follow in 2024
Did you know that mCommerce sales are assumed to reach $510 billion in 2023 and a whopping $710 billion in 2025?
If your brand wants a piece of that market share, it needs to include the below mcommerce trends that will benefit your Shopify store in the coming years.
1. The rise of shopping apps
The most significant shift in the mobile eCommerce landscape is the rise of shopping apps.
Let's take a look at some mobile eCommerce shopping stats to illustrate what we mean.
According to Tidio:
By 2024, there will be over 187 million mobile shoppers in the US alone
Time spent on retail apps will reach over 100 billion hours across the world
Mobile commerce apps are the preferred way to do mobile online shopping, owning up to 54% of all mobile commerce payments
Almost half of mobile shoppers use smartphones to compare the pricing of products or services
The  numbers don't like-apps offer a personalized, convenient, and secure shopping experience that mobile websites often can't match.
Moreover, apps are incredibly effective at customer retention. A study by Criteo found that shoppers are 50% more likely to return to a mobile app than a mobile website within 30 days.
The good news for Shopify store owners is that converting your online store into a mobile app is easier than ever, thanks to platforms like Shopney.
With just a few clicks, you can offer your customers an immersive mobile shopping experience, complete with push notifications, loyalty programs, and more.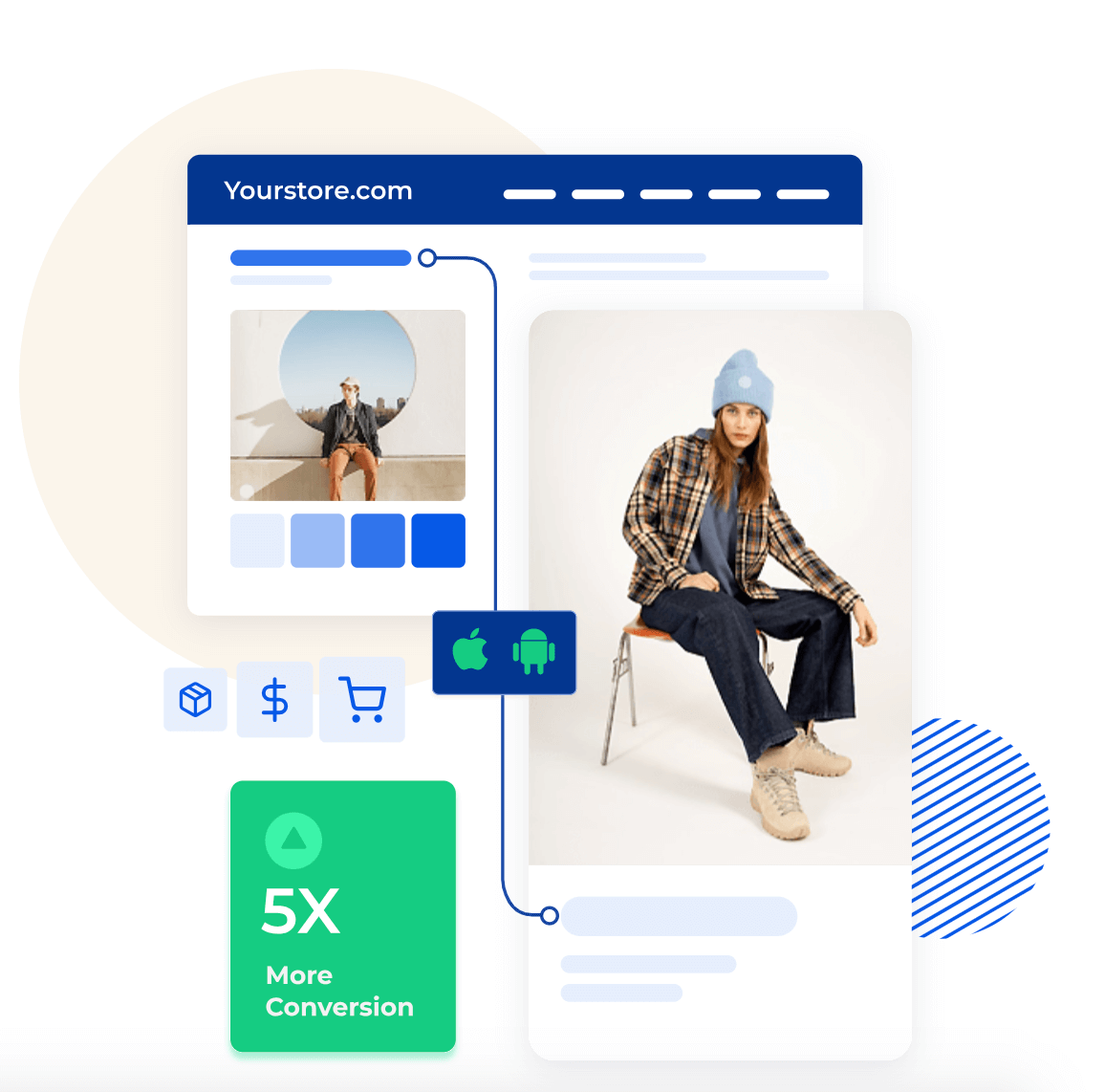 2. Subscription models
With rising ad costs, poor ROI, and tough competition, retention is the goal for most brands in 2023.
To ensure a steady and consistent revenue, subscription-based business models are quickly catching steam.
From monthly curated beauty boxes to weekly replenishment of grocery deliveries or medicines (wellness brands in particular), subscriptions offer a convenient and quick way to have your favorite products stocked up without having to order each time.
For Shopify store owners like you, integrating a subscription model can be a game-changer as it also builds customer loyalty.
Shopify's various partner tools also make it easy to offer subscription services that you can customize to fit your store's unique needs.
3. Augmented reality (AR) shopping
Admittedly, Meta's AR and VR leave much to be desired still.
Apple, with its new VR headphones, stunned people with its quality of graphics and has fast-tracked the development and usage of Augmented Reality (AR).
Imagine trying on a pair of sunglasses or visualizing a new sofa in your living room before purchasing.
The ultimate pre-purchase 3-D mock-up to see how your life would be with a product.
We discussed this trend in our review of All Birds, where users can virtually try on their shoes before purchasing, and Sephora, where you can look at yourself with different shades of their makeup products.
AR enhances the online shopping experience by offering a more interactive, immersive, and engaging platform if it looks good on them in AR, shoppers quickly checkout.
Shopify has already embraced this trend, offering AR capabilities that can be easily integrated into your store, enriching customer experience and boosting sales, so jump on this bandwagon if you haven't already!
4. Voice search and smart assistants
"Hey, Siri, can you tell us if voice search will be big in 2024?"
"Alexa, I need a vacuum cleaner. Can you show me the top results?"
With the launch of smart assistants like Alexa, Siri, and Google Assistant, voice search has moved from being a novelty to a necessity.
Since typing can be cumbersome for smartphone owners because of small keypads, voice search is becoming an integral part of the mobile shopping experience.
For Shopify store owners, this means optimizing product descriptions, meta descriptions, and other SEO elements for voice search - which would mean long tail keywords that most people would speak out loud.
It also means offering a voice search filtering option on your mobile app.
Incorporate voice search capabilities to significantly improve your store's visibility and drive more organic traffic.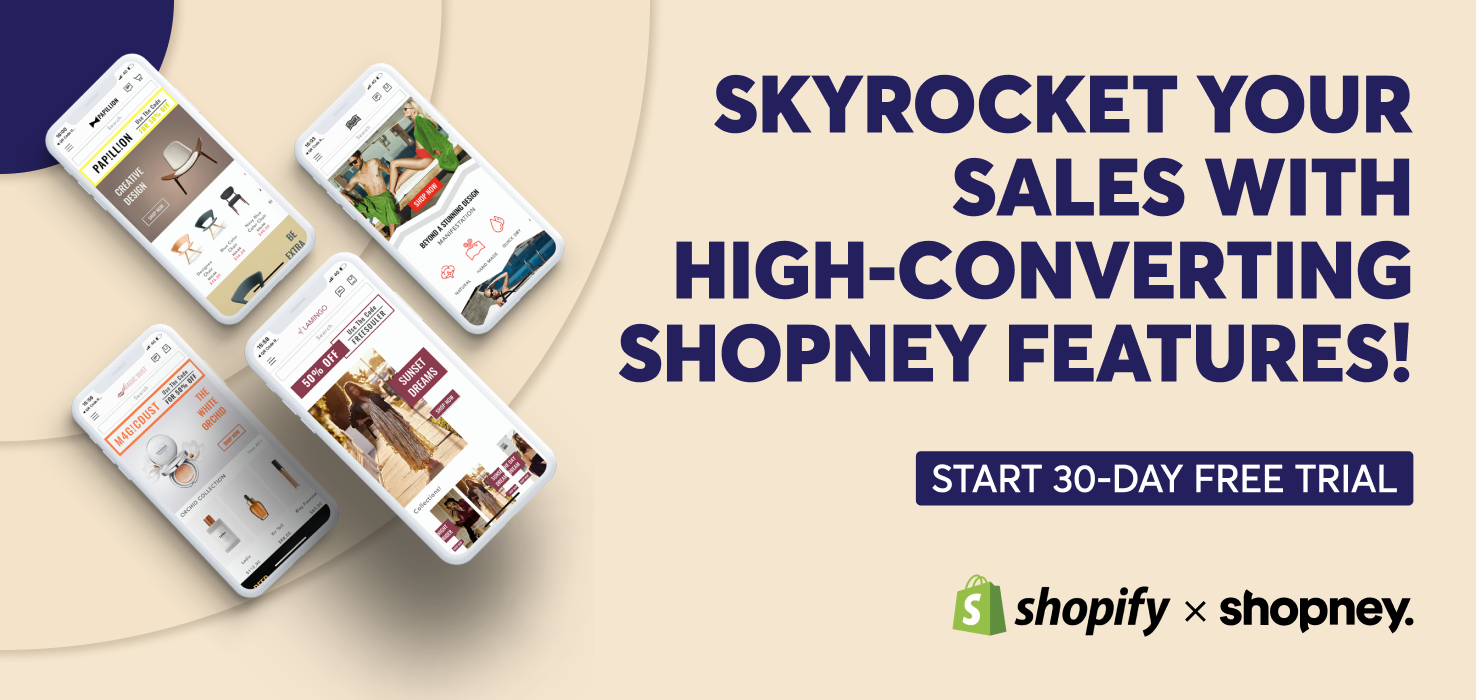 5. Chatbots and customer service
What is the right time frame to reply to a customer query?
Instantly. Within a minute. As soon as possible.
Customer support has the highest standards to live up to in this increasingly impatient world. To cater to such a demand, chatbots are taking center stage.
These AI-driven virtual assistants can handle various tasks, from answering frequently asked questions to guiding users through the product catalog and the checkout process.
The benefit for brands is twofold: it enhances the customer experience while reducing the workload on customer service teams, who can spend time on more complex issues.
Chat GPT has also supercharged this strategy by training chatbots to answer various issues, making it even easier to utilize this strategy.
Best part? Shopify offers a range of chatbot plugins that can be easily integrated into your store, like Shopney.
6. Social commerce
Social media and shopping online are becoming increasingly connected.
User-generated content, paid collaborations with influencers promoting eCommerce products, and brands putting effort into building deeply engaged communities have led to more purchases from the app itself.
If you have noticed, Instagram doesn't like people leaving its app and loads a version of the store natively.
Such platforms, including Facebook and even TikTok, now offer "Shop Now" buttons, allowing users to purchase without leaving the app. For Shopify brands, this opens up a new avenue for customer acquisition.
By integrating your Shopify store with these social media platforms, you can tap into a vast, engaged audience and drive more sales through this mobile commerce trend.
7. Enhanced payment flexibility and options
Easy and convenient payment methods are no longer just a transactional necessity; they're crucial to a successful mobile shopping experience.
According to Baymard Institute, 6–10% of all US e-commerce orders are abandoned at the payment stage because the site did not offer the customer's preferred payment method.
One-click checkout is becoming increasingly critical to include in your payment flow.
Customers can complete their purchase with a tap, having previously saved their payment and shipping information and eliminating the need to go through multiple steps, thereby reducing cart abandonment rates.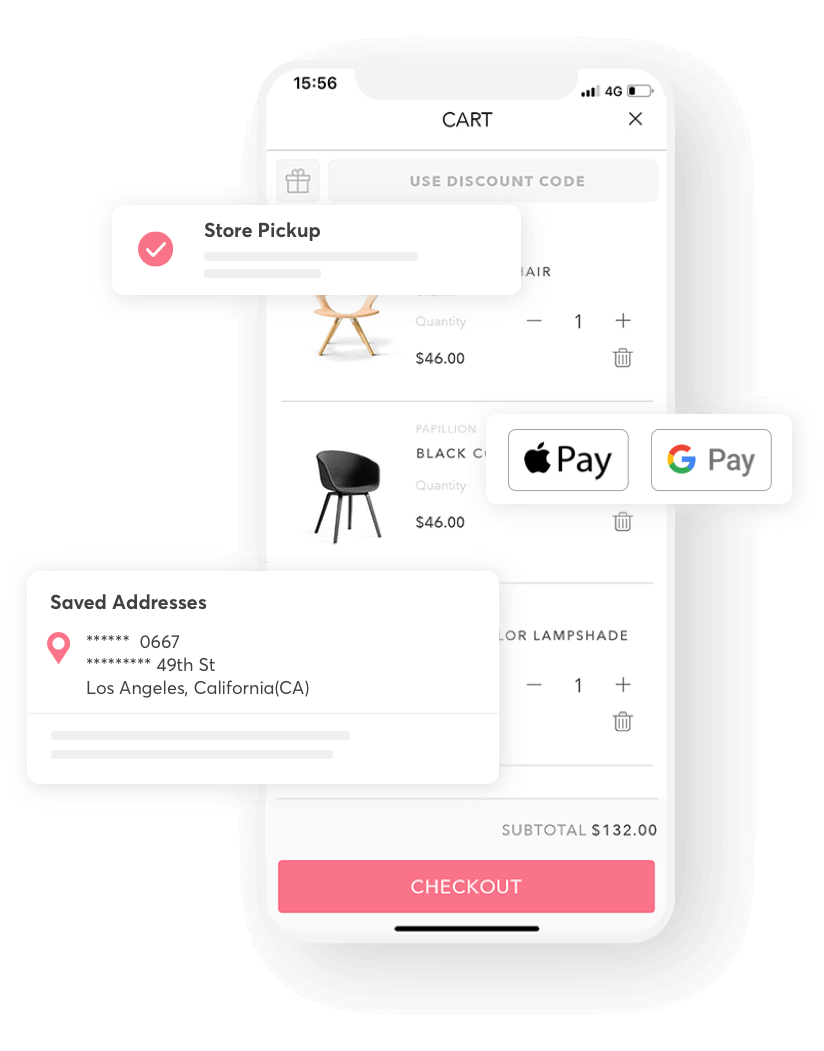 Digital wallets like Apple Pay and Google Pay allow customers to complete transactions with just a fingerprint or face scan, making the payment process faster and more secure.
"Buy Now, Pay Later" services like Afterpay and Klarna are also gaining traction, especially among younger consumers.
These services allow customers to purchase and pay for items in installments, opening your higher-priced products to more customers.
Even cryptocurrencies like Bitcoin and Ethereum are becoming more accepted.
Offering crypto payments can attract a niche but growing segment of customers who prefer using digital currencies.
As you can see, refining your payment strategy is key in 2024.
8. Personalization and data analytics
A wealth of data is available to Shopify owners by looking at customer shopping behavior on their mobile app.
When personalization is expected as a basic need, how you utilize it to create unique journeys for your customers will make your brand stand out.
You can suggest better-suited products, share birthday or anniversary-related discount codes, and even use that data to build newer products.
Even push notifications can be personalized, increasing conversions and reducing app uninstalls.
Shopify offers a range of analytics tools to help you make data-driven decisions, from product recommendations to targeted marketing campaigns, so ensure you focus on this in your marketing strategy.
9. Omni-channel strategies
For example, your ideal customer may have found you on Instagram through an ad or a viral reel. They might DM you their queries on Instagram and then look up your website to shop.
The future of mobile commerce is not just about standalone apps or websites; it's about creating a seamless shopping experience across multiple channels.
Their experience should be consistent and smooth irrespective of which medium they started their shopping journey on and which they finished finally.
Shopify's various integrations allow for a unified approach to inventory, customer data, and marketing strategies, making it easier to implement an effective omnichannel strategy.
10. Accessibility
Have you noticed how Instagram has added advanced settings where you can write ALT text?
It is important for brands to provide an inclusive shopping experience for all users, including those with disabilities.
Features like screen reader compatibility, voice commands, and easy navigation are essential for making mobile apps and websites accessible to people with visual or auditory impairments.
According to Influencer Marketing Hub, accessibility is not just a social responsibility but also a business imperative.
By making your Shopify store accessible, you're complying with legal standards and expanding your customer base to include those who might otherwise find online shopping challenging.
In a competitive market, accessibility can serve as a differentiator, enhancing your brand's reputation and potentially boosting sales.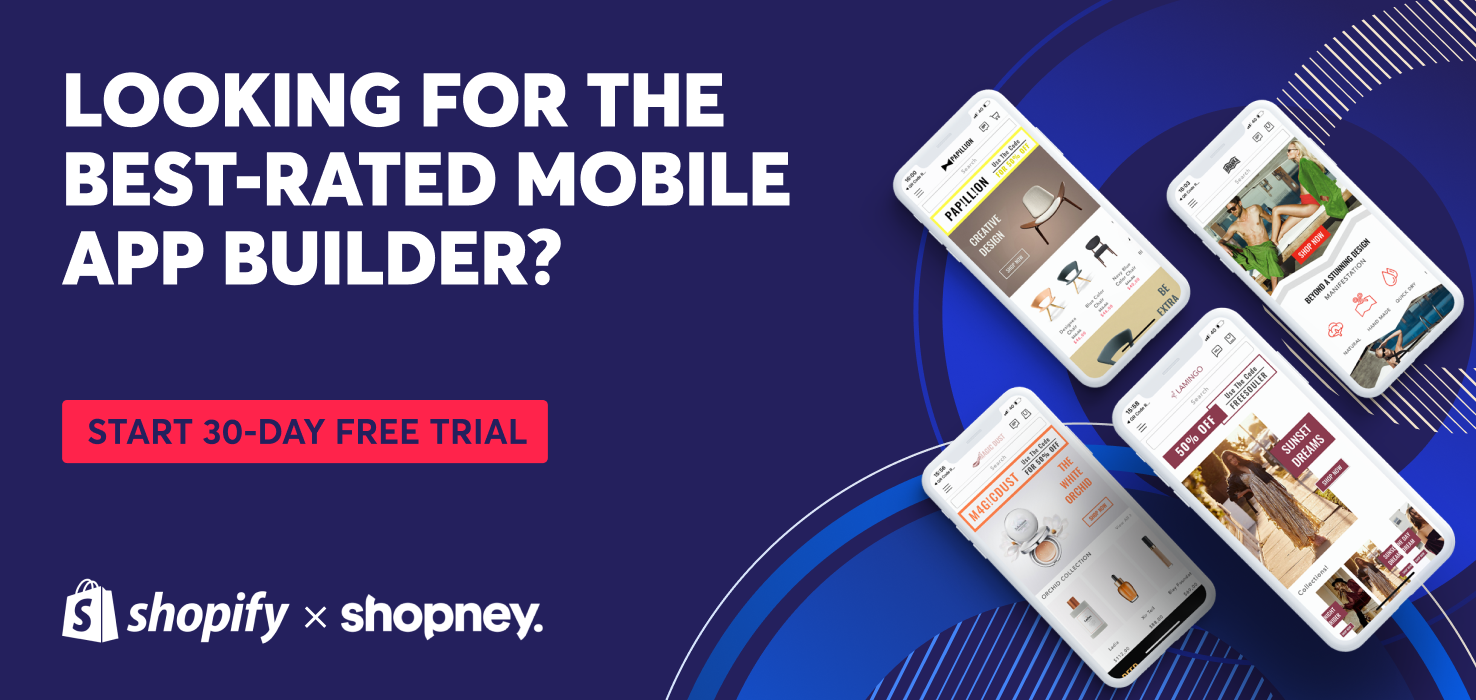 Get ready for the future of mobile commerce
As we look ahead to 2024, these mobile commerce trends  offer a roadmap for Shopify store owners looking to capitalize on the growth of mobile commerce.
From the rise of shopping apps and subscription models to the integration of AR and voice search, the opportunities are endless.
With Shopney, you can easily adapt to these trends, and create a high-converting mobile app, allowing you to offer an unparalleled shopping experience to your customers.
So, what are you waiting for?
The future is mobile, and it's time for your Shopify store to be a part of it!