What Is Repeat Customer and How Mobile App Helps With It?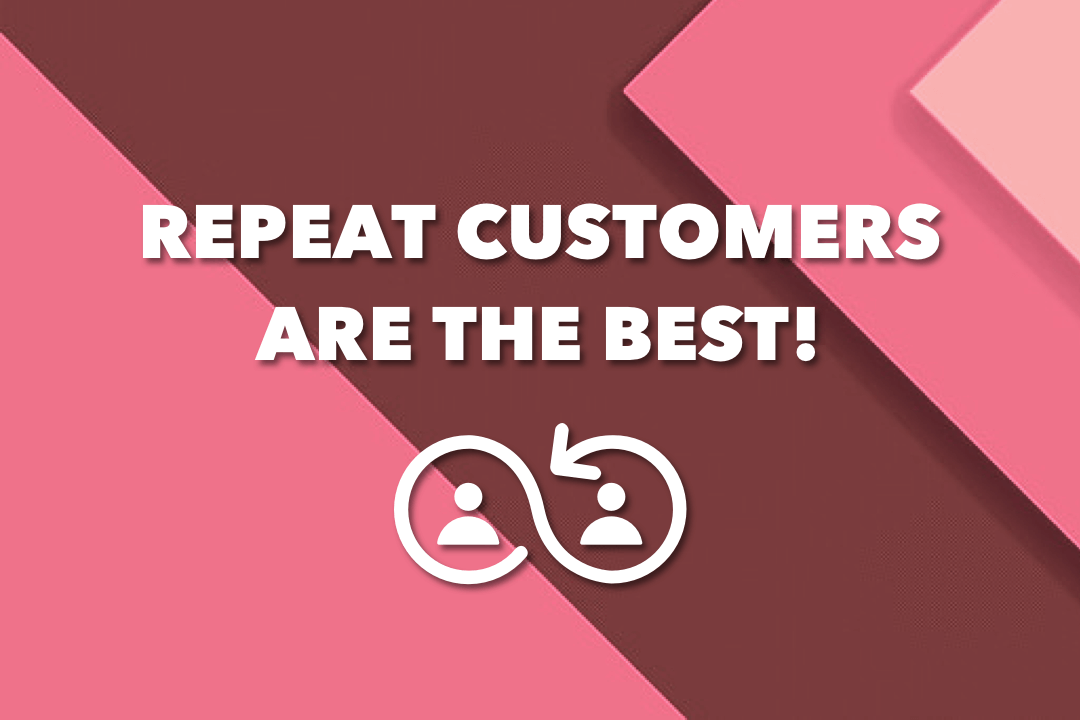 Did you know that that 41% of an ecommerce store's revenue is created by only 8% of its customers? It's is more striking than Vilfredo Pareto's ratio which suggests that for many outcomes roughly 80% of consequences come from 20% of the causes.
Did you know? - 41% of an eCommerce store's revenue is created by only 8% of its customers!

The relation between the fact above and the subject of this article is that 8% is made up of your repeat customers, making it clear that they are extremely important! And you need more of them!
I will take you a thorough tour of the 'repeat customer phenomena' and customer retention first. You will see why are they vital for your eCommerce business with evidences. Then, we will wrap it up with how a mobile app should be at the heart of your customer retention-loyalty strategy.
Ready? Then, let's go!
What Is Repeat Customer?
I know the title sounds like the answer would be something like ''a repeat customer refers to someone who has purchased from your brand more than once''. I don't do that kind of bad jokes in this blog.
What we do is to dig deeper and unleash the true meaning of the subject for your business. It has always been and will always be so. With that being said, repeat customer has many valuable meanings:
A repeat customer has an increasing tendency of shopping every time.
A repeat customer spends more on each purchase.
A repeat customer buys more on key times like holiday season.
A repeat customer spreads your brand more than any other.
A repeat customer is not so hard to create. (We will cover how)
Let's unfold what I truly mean below.
1. How likely for a customer to buy again from your Shopify store?
After the first purchase, a customer has a 27% chance of returning to your Shopify store. Didn't get impressed by that return rate yet? Check this out! If you can get that customer to come back and make a second and third purchase they have a 54% chance of making another purchase.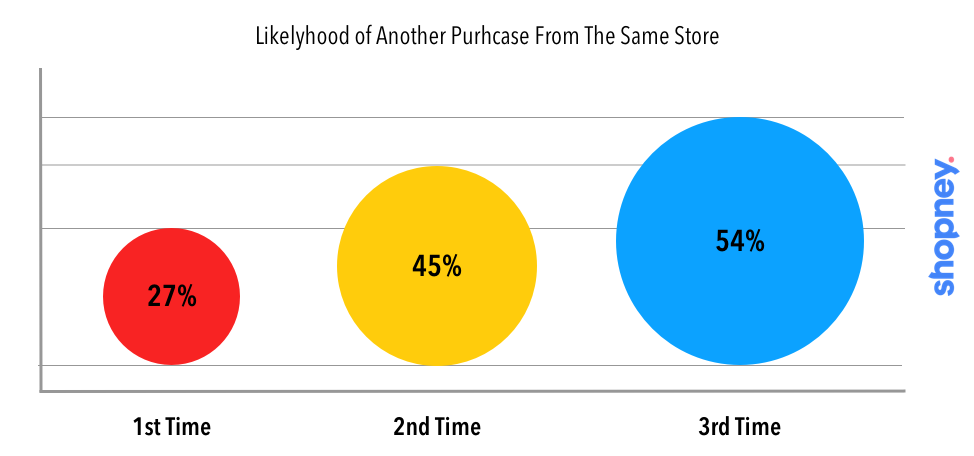 While conversion rates in eCommerce vary by industry and market, most experts estimate that the average conversion rate is somewhere between 1% and 3%.
Adobe conducted a study about conversion rates of repeat customers that indicates that a customer who has purchased with your store two times before is 9 times more likely to convert than a first-time shopper.
2. How much more a repeat customer spend than a regular one?
Consider a customer buying for the first time from your Shopify store. Then, the second time. Third and fourth... During this period it's not only the CLV growing, but also the trust for your business.
Because, it's been 4 times now, and every single trade was satisfying from prices to delivery and after-sale services. This means the customer is naturally getting easier to spend more. Alright, let's back this up with some solid data form Constant Contract!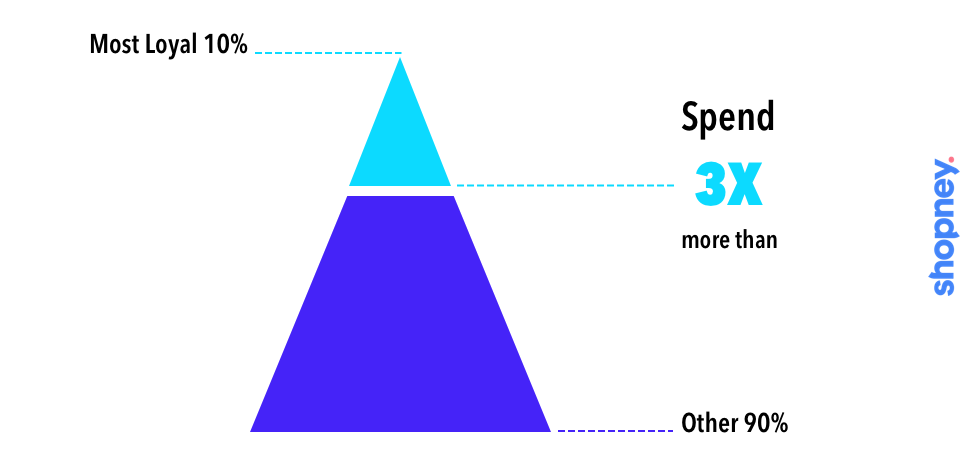 Resource: Constant Contract
3. How repeat customer behaves different on key times?
The busiest time for most Shopify merchants is between Black Friday, Cyber Monday, and Christmas. The expectations are high on your end, and the noise is higher on customer's end.
This is where the loyal repeat customer stands out. Because with all that noise scrambling the eCommerce space, the customers are tend to stick with stores which they rely on. And naturally, your loyal customers will check you in first.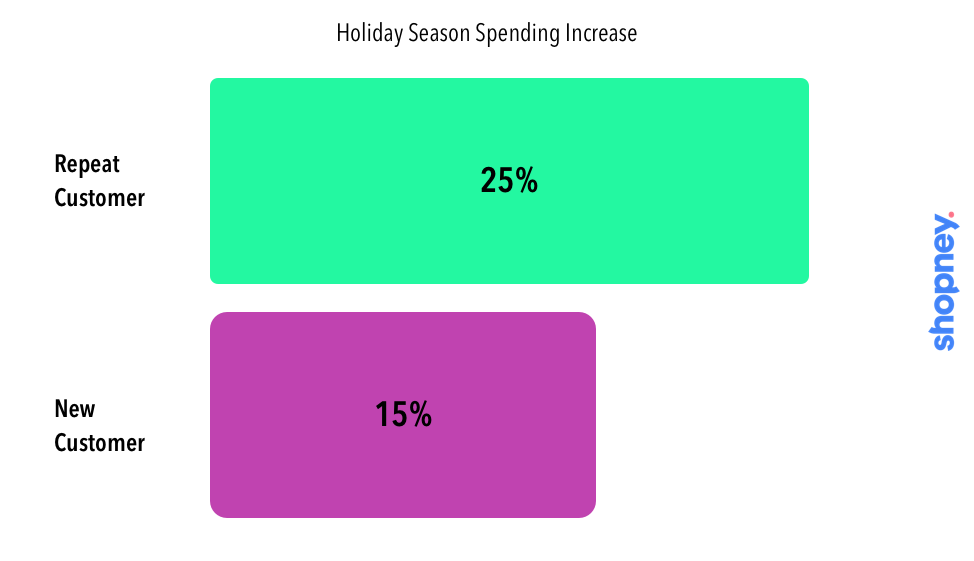 According to Adobe, the average shopper spends 17% more per transaction during the holiday rush. While this is great news, your store's repeat customers actually spend 25% more per transaction during the busy season.
4. What is the difference of repeat customer on brand advocacy?
We all know that marketing is expensive. It hurts! And it gets even more expensive as the competition intensifies. This very fact magnifies the importance of word-of-mouth for any type of eCommerce business.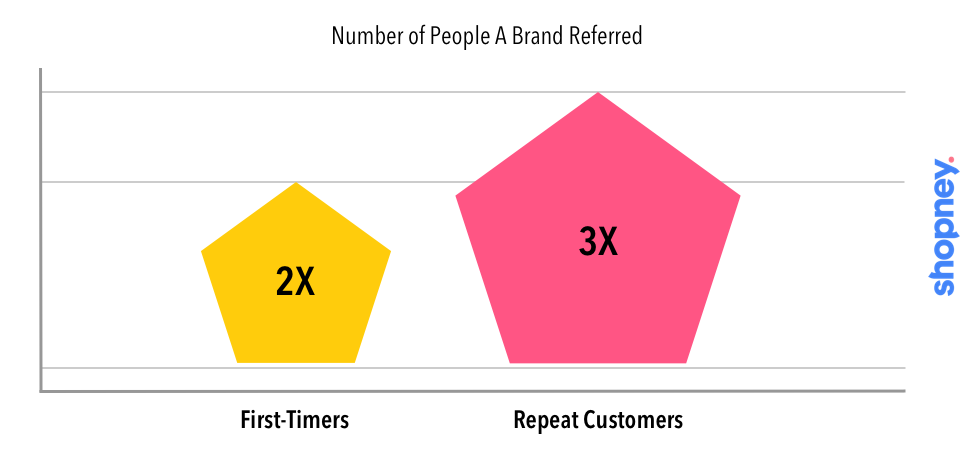 Again it lies into the same fundamental; the trust. They rely on your business and they tell about it to their surroundings. Naturally! Brand advocacy, free of charge. Sounds amazing!
5. How can you create customers that repeat buying from you?
This is the tricky part! Most of the time, the first trick comes to mind is discount. But remember, discount is addictive for customer and fallacious for your business. A store selling products cheaper that their worth is always attractive. But what about when there is no discount?
As I mentioned above, the trust and overall satisfaction are the keys to a first-timer into a repeat customer. But there is one single tool that will help you to increase customer retention: mobile app.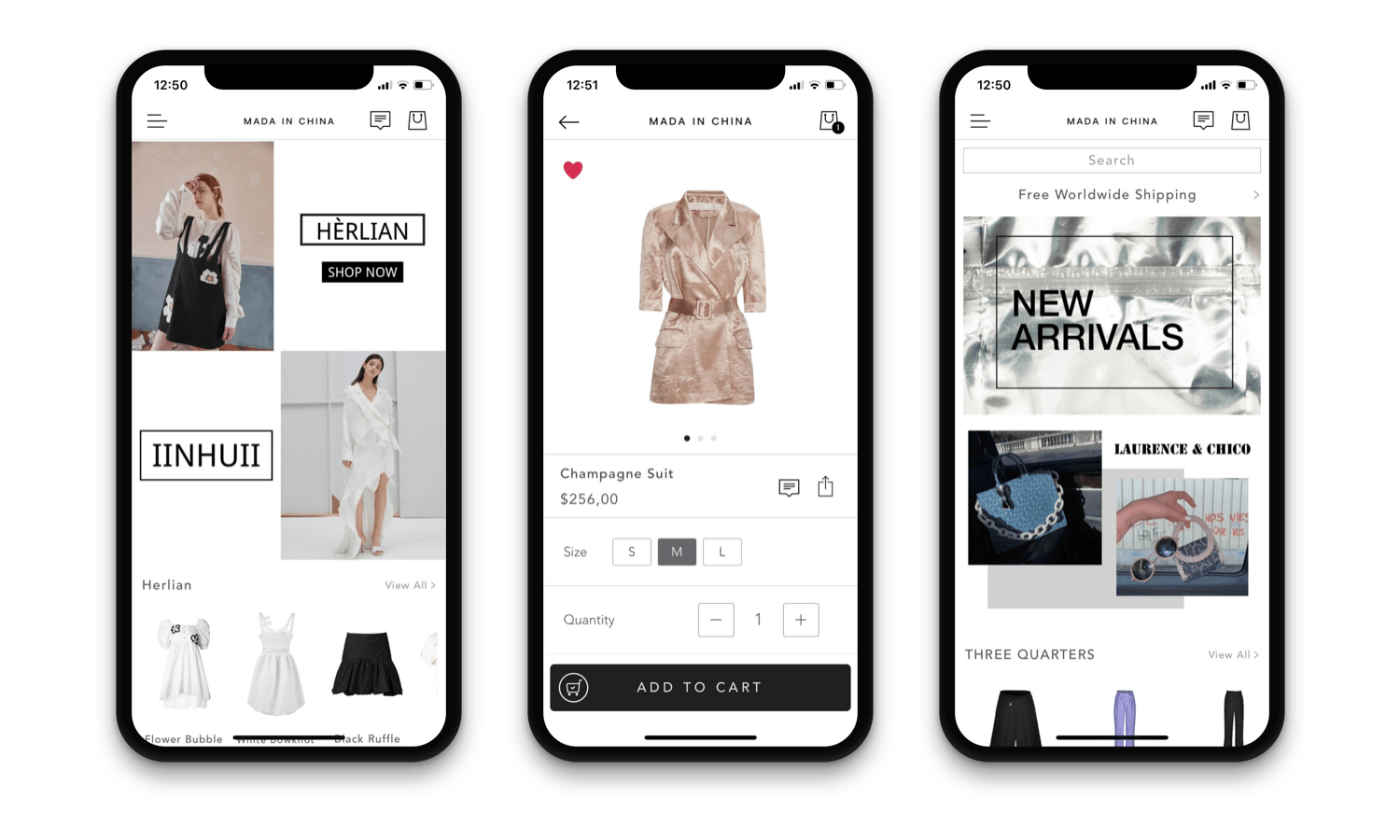 As Shopify announced, more than 69% BFCM sales made on mobile. Mobile is today and tomorrow of eCommerce. With that said, a mobile app is the best mobile experience that you can offer to your customers. The better the experience, the higher their trust for your business.
Besides, you can call your customers back to your mobile store with push notifications for free. You don't need to pay for digital marketing that much anymore!
If you want to turn your Shopify store into mobile app, check this guide before you decide which mobile app builder to go with.
Wrapping Up
Increasing your store's profitability starts with the customers you already have. What grows your business is loyal customer base, not the newly acquired ones. Focusing on customer retention is a key step in getting the most out of your repeat customers.
Good luck!