8 Things To Do To Reduce Shopping Cart Abandonment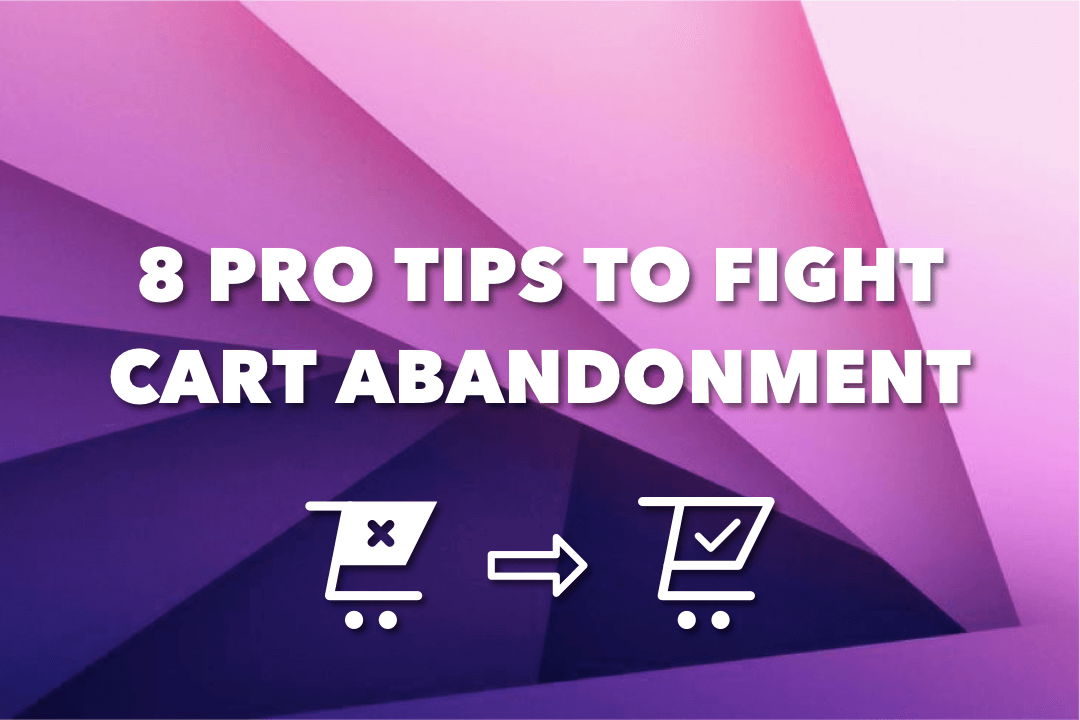 Think for a moment... Your ads draw the attention of the shopper on Instagram. He watches the entire video of your product and taps on the 'Shop Now' button. Lands on your website.
He ads not only that product he liked on Instagram but also some others to the cart. Now it became a cart that triples your average cart value. It seems that he will complete the checkout in less than 2 minutes. But this guy below comes in: MR. DEMOTIVATOR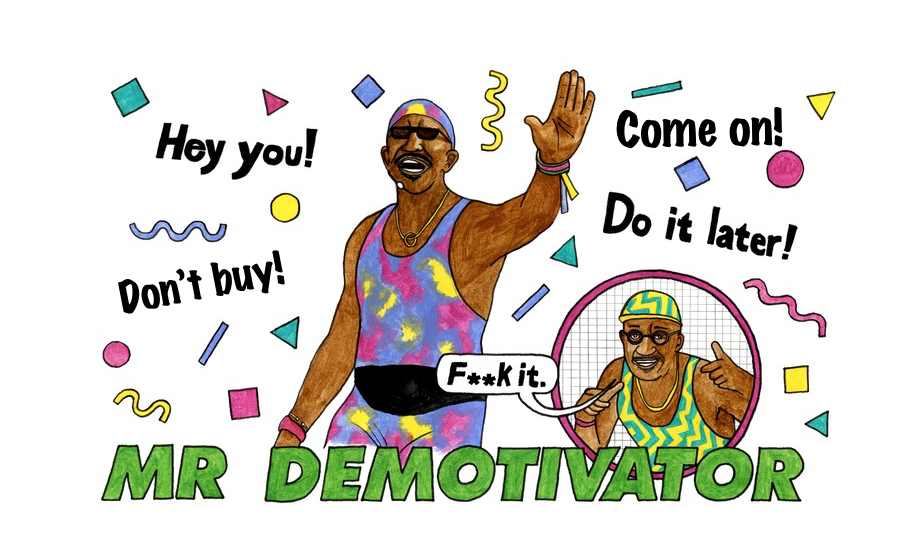 He whispers your customer to abandon the cart before crossing the line and making a purchase. Thus, all of your effort evaporates. A sad story that you are familiar with like all the other eCommerce merchants.
Mr. Demotivator is the biggest influencer of the decade. So, the cart abandonment is the biggest problem of eCommerce thanks to him. I mean it. Check out the data from Statista about it.  The global eCommerce cart abandonment rate is around 70%. This guy has a true influence!
Abandoned shopping carts are worth an estimated $4.6 trillion worldwide. His annual revenue is insane :)
Find more statistics at
Statista
Alright! Let's not blame it all on 'Mr. Demotivator'. He does his business. The good thing is that there are really effective things you can do to reduce cart abandonment rate on your Shopify store. In this article, I would like to highlight TOP 10 most effective ways to fight against it. So you can beat up this guy with a real-bad fashion style, called Mr. Demotivator.
But first, let's truly understand the subject of 'cart abandonment'. Then we will jump on the solutions.
Ready? Let's go!
How To Calculate Cart Abandonment Rate?
To determine if you're losing customers because of user experience on your website, calculate your cart abandonment rate. This figure tells you what percentage of customers add an item to their basket but don't complete the checkout process. A higher than average rate indicates there's an obstacle keeping them from purchasing.
To calculate your business's abandoned cart rate, you need the following figures:
A) Total shopping carts that completed checkout.
B) Total shopping carts created for the same period.
Divide A by B and multiply by 100 to determine the percentage of carts converted. Subtract this number from 100 to get the percentage of carts that didn't convert, or your abandoned cart rate.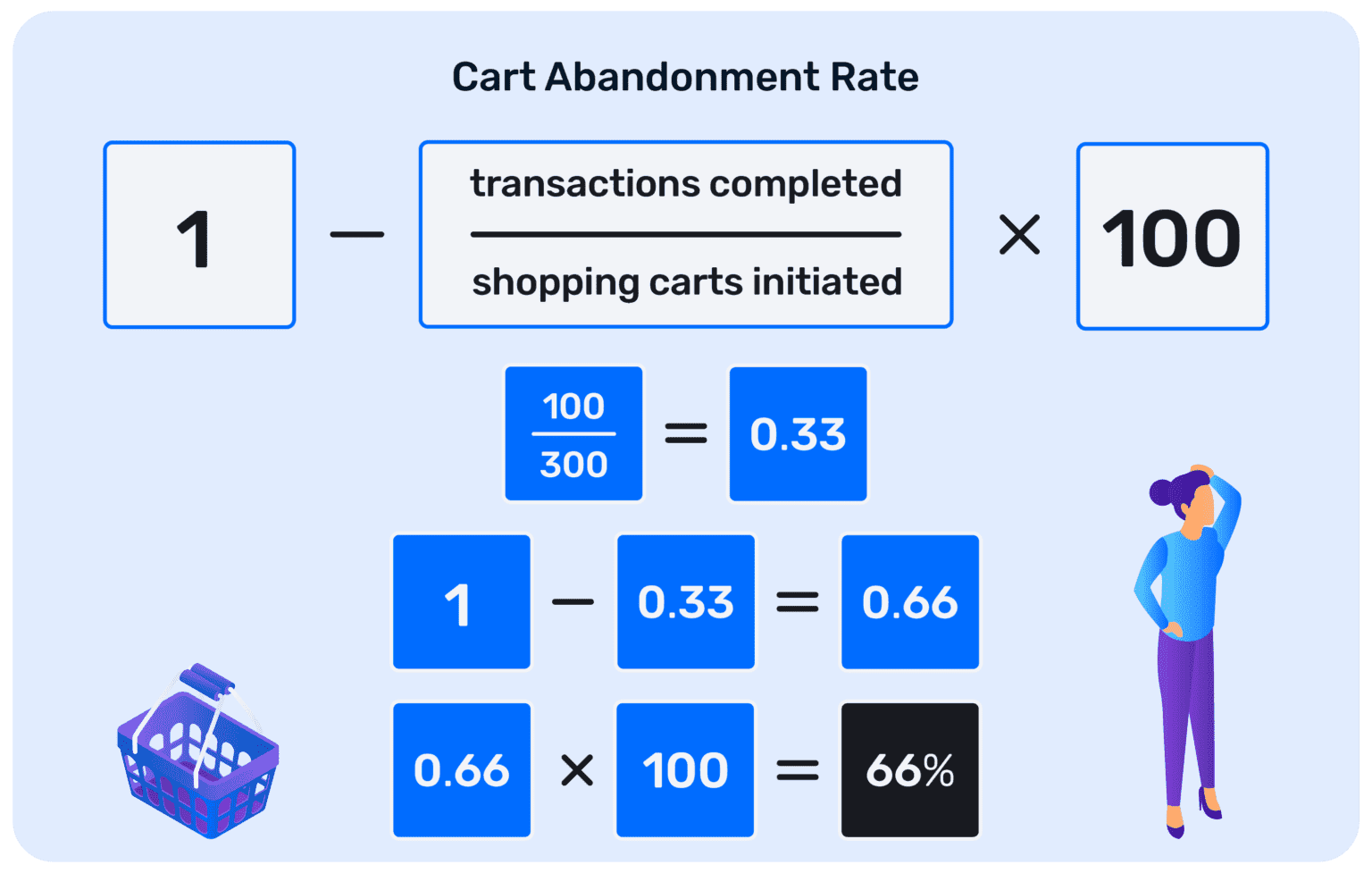 Image: Smile.io
What Are The Average Cart Abandonment Rates For A Shopify Store?
Once you calculate your Shopify store's abandoned cart rate, you need to compare it with others to know if you're doing good. As I mentioned in the beginning, An average of 70% of all shopping carts are abandoned, but there are variations by industry.
Here are some benchmarks for you to utilize based on the product type:
Clothing: 40%.
Technology: 18%.
Home: 16%.
Jewelry and accessories: 6%.
Food: 4%.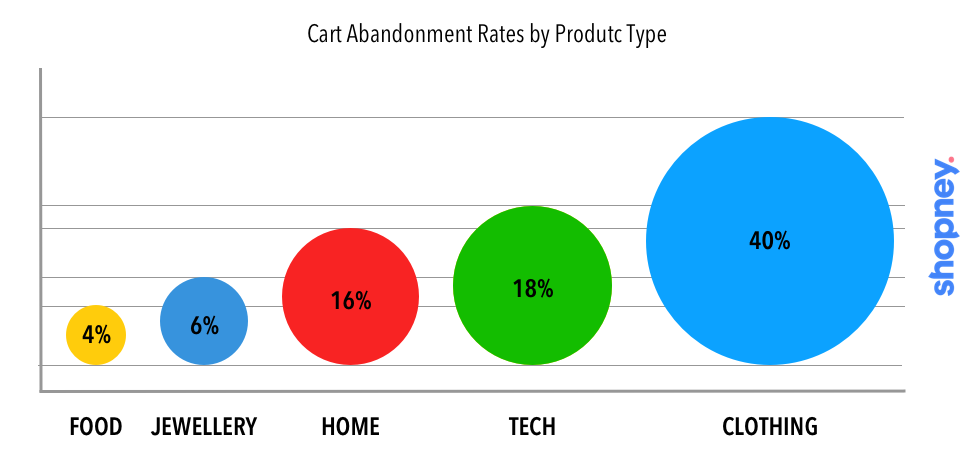 Image: Shopney
Here are some other data based on the industry from Optinmonster:
Fashion: 68.3%
Retail: 72.8%
Travel: 81.7%
Nonprofit: 83.1%
Gaming: 64.2%
Why Shoppers Abandon Their Carts?
As we cannot ask this question to Mr. Demotivator, and get a proper answer from the man himself, we need to rely on data!
The data says that the biggest reason is unexpected added costs like shipping. But did you know that shoppers will also abandon a cart because they have to create an account to complete their purchase?
That's right. 34% of shoppers will walk away from a purchase if there isn't a guest checkout option. And, adding to checkout woes, 26% of shoppers will leave if the checkout process is too complicated.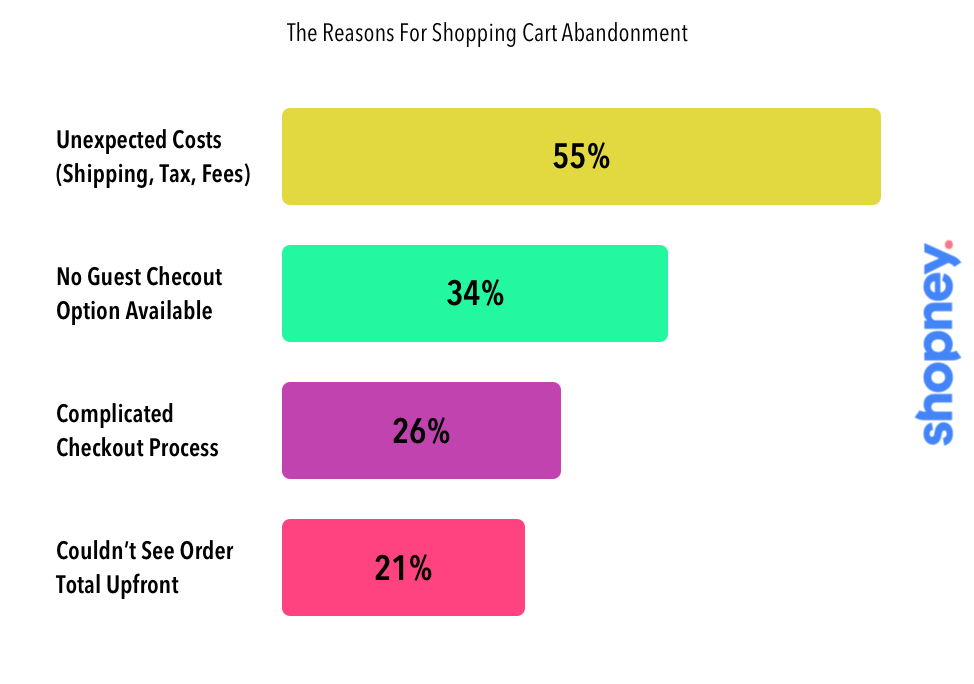 There is also another reason that make customers abandon their carts: They don't trust the trust the site with credit card information.
We spoke enough of the problems. Now it's the time for solutions. Here we go!
What Should You Do To Prevent Cart Abandonment?
As I mentioned the reason above, what I will recommend are the tactics eliminate those reasons. And I will share some extras.
1. Be transparent about the costs
Remember? The number 1 reason for cart abandonment was unexpected costs. So the solution is very simple. Make detailed information about shipping, taxes, and other fees clear during the shopping process to ensure customers aren't surprised at checkout.
Here is a good example. The brand gives the shipping rates on product page. Well implemented!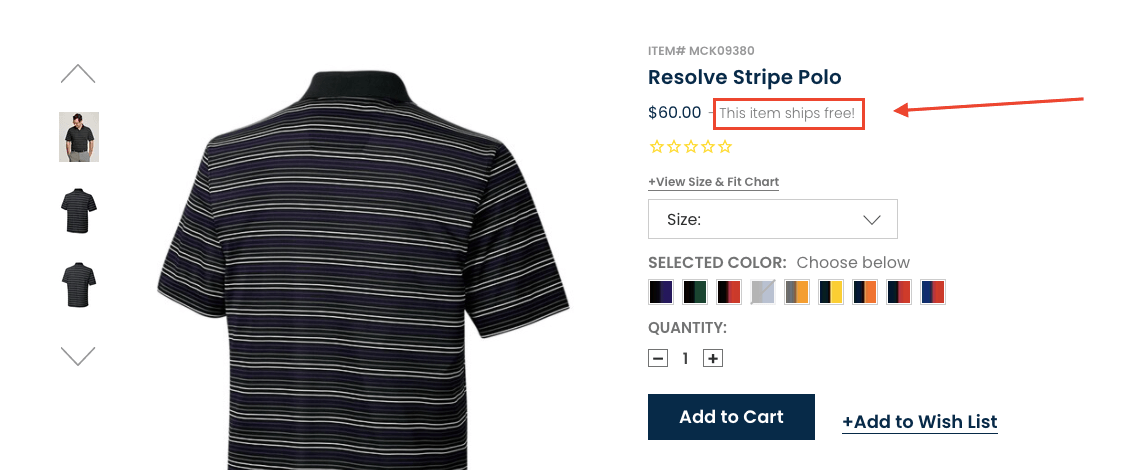 2. Provide a guest checkout option
Let's imagine... You want to buy something. But the seller is not satisfied with the money itself. He requests you to share personal info as well. Disturbing.
Not to share the personal info is a richly-deserved right of the customers and you shouldn't force them if they are not willing to share it. Give them the space. This is how you will convince them to share their info the next time and become loyal.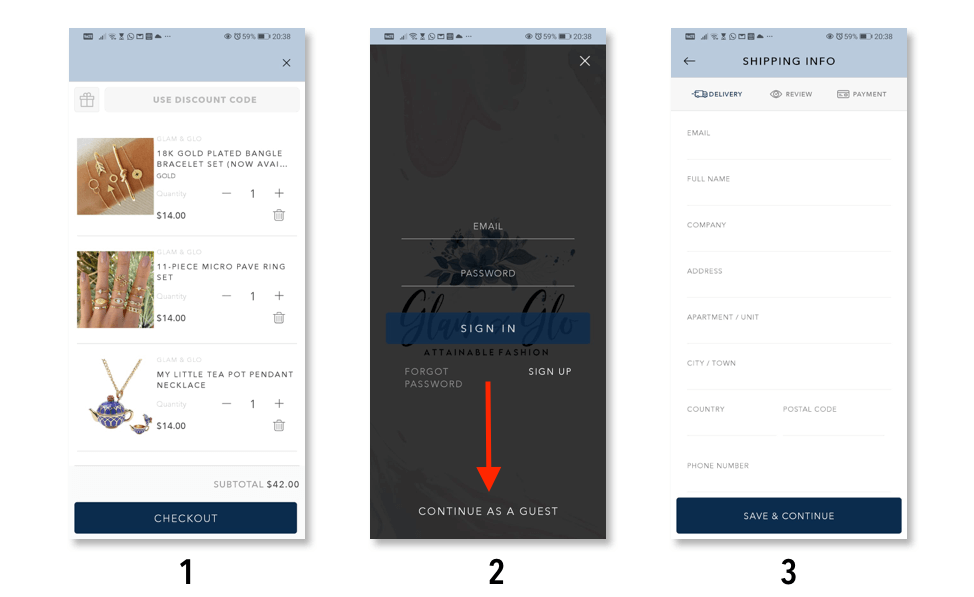 3. Provide Multiple Payment Options
Today, credit card payment options are old-fashioned. Consumers have more choices than ever before of how to pay for goods online. Even Shopify itself have a payment method called Shop Pay. PayPal is still going strong and mobile payment systems such as Apple Pay and Google Wallet are becoming increasingly popular, particularly among younger demographics.
Offering more payment options minimizes – or eliminates – another potential reason a customer has to abandon their cart and take their business elsewhere. The known secret here is again ''If you want to sell something, make easy to buy!''

4. Offer a Bulletproof Money-Back Guarantee
Buying something online from a store for the first time is a risk. Because of the natural drawback of eCommerce users cannot "see" what they're buying, only images. They can't touch it, feel it.
Offering a no-questions-asked money-back guarantee (or similar offer of assurance) greatly reduces the potential objections a prospect might have about buying from you. It shifts the focus from the price and terms of sale to the actual product, which hopefully should speak for itself.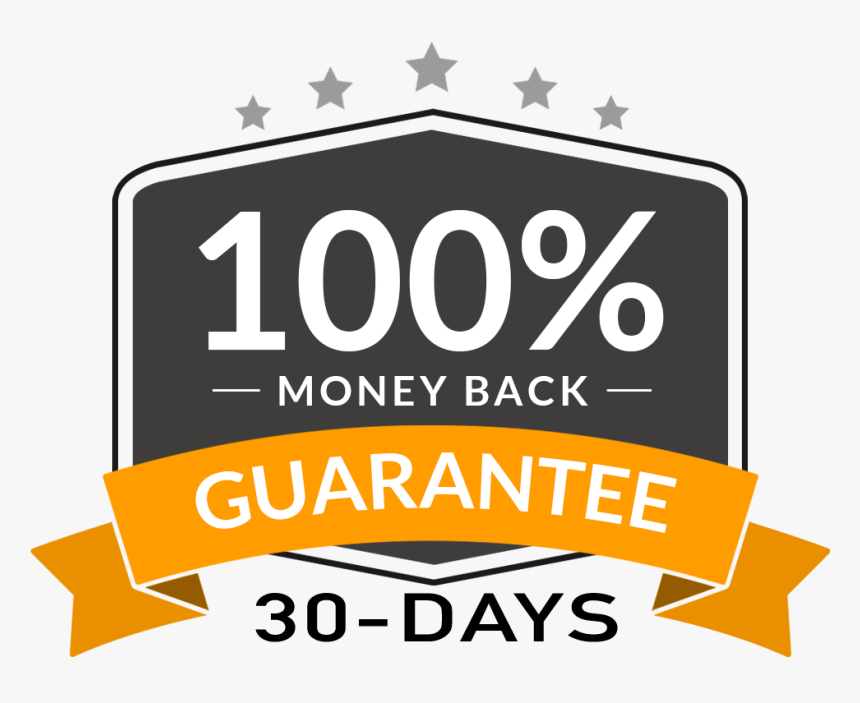 5. Build trust in your transaction forms
Research conducted by Baymard shows that displaying security icons and badges can inspire a customer to feel more secure on a website. These symbols are especially important in the section where customers input credit card information.
Include trust signals such as security logos in a prominent position somewhere close to your transaction forms.

7. Create exit intent popup
A popup with exit-intent appears when the visitor makes a move toward exiting your site and gives you one last chance to hook them with a special offer. Because those who are about to leave deserve something special to stay opted-in.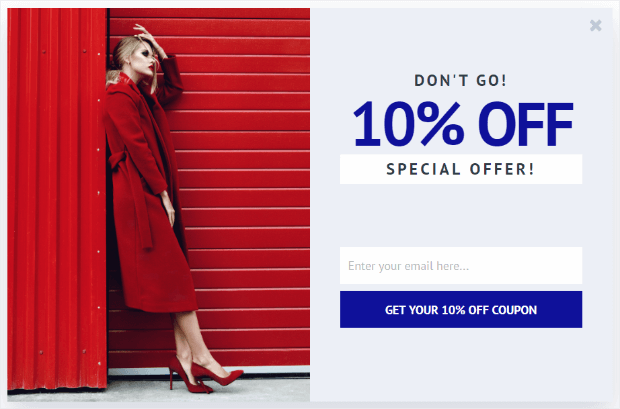 You can check Optinmonster's suggestion to create your exit-intent popup campaing by clicking these blue words.
8. Set up abandoned cart push notifications
As mentioned above, there are various reasons for user to abandon. Maybe, they still want to buy it but got distracted by something for a moment and forgot about the cart...
Calling abandoners back to the cart in such cases can help you immensely. With an abandoned cart push notification, you can create the urgency and intention to complete the purchase. You can send these automated push notifications after a certain time period once a cart gets abandoned to both mobile app and desktop.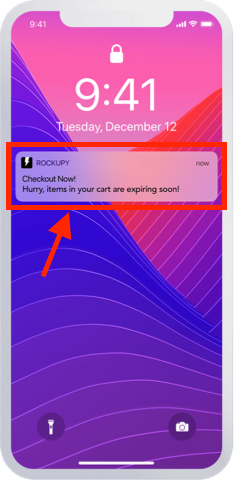 The Bottom Line
Setting up expectations properly is very important. You shouldn't aim to erase the cart abandonment. It's not and won't be possible. Instead, you should target even a small optimization and go beyond step by step. Even if you convert 2% of cart abandonments that would change the mood and effect of your business greatly.
Now you are geared up with enough weapons and tactics to fight against Mr. Demotivator and scale your Shopify store! Show him who is the boss!