Ultimate Shopify Apps To Help You Grow Your Business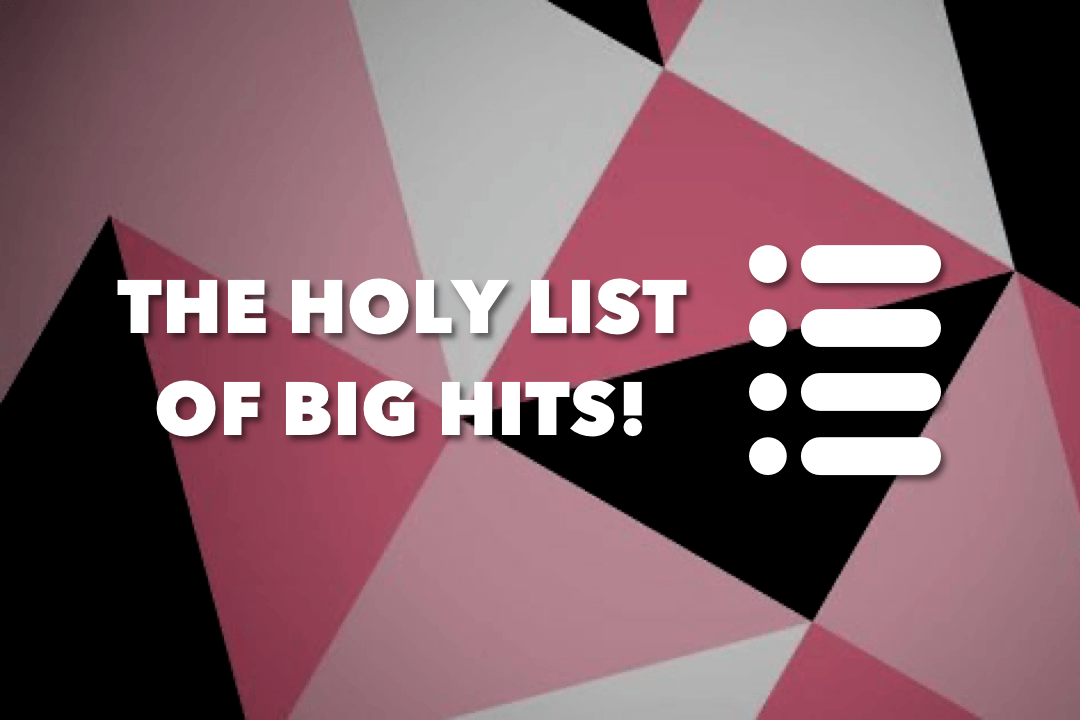 The global pandemic has entirely transformed e-commerce. At the end of 2020, worldwide e-commerce sales reached up to $4.2 trillion. This forced all types of businesses to embrace technology and move online to keep them thriving. Hosting online services can be intimidating to manage. But do not fret; Shopify is here to make eCommerce easy for everyone.
Or, if you are a Shopify store owner looking forward to taking your business to the next levels by a notch and attain your customer goals, here is the ultimate  list of the best 10 Shopify apps to utilize.
1. The Mobile App Builder
Why do you need a mobile app builder?
Today, more than 70% of online commerce traffic accounts for mobile. This means you have to offer the best mobile shopping experience to your customers to succeed.
Because a mobile app retains customers, increases conversion rates up to 3x and you can save on your marketing budget by utilizing free and unlimited push notifications.
Which Application Should You choose?
The Shopney mobile app builder is an excellent option for growing Shopify business. It is designed to turn your Shopify store into native iOS and Android mobile apps. As the best-rated mobile app builder, Shopney allows any Shopify business to launch their mobile app without design or technical knowledge.
It offers live chat features and visual push notification campaigns to connect closer with the customer and share personalized product recommendations.
Now using Shopney, you can also integrate a rich-suite of Shopify apps with it.
Click here to try Shopney.
2. Size Charts Application
Why do you need a Size chart App?
Fashion apparel sizing is generally the most neglected factor in online shopping sites, and there is no one universal sizing. Retailers experience 20% - 40% return for online sales, with poor fit as the main reason. And also, many customers hesitate to shop without knowing the exact product sizing information.
Which size chart app should you try?
Kiwi Sizing can transform your customer's shopping experience with the customizable sizing chart and fit recommender.
Kiwi Sizing has flexible layouts that allow you to add multiple tables, images, videos, and tabs to enhance the customer experience. And the built-in unit conversion tools enable global customers to use the app without any metric system confusion.
Click here to try  Kiwi Sizing.
3. Automated SMS Marketing App
Why do you need an automated message app?
SMS Marketing allows you to reach a wider audience quickly. Text Messaging is a marketing and analytical tool; they also help you track orders, amount of link clicks, SMS by country, conversion rate, the average budget spent, and campaign stats.
Which automated SMS marketing app should you try?
SMS Bump is one of the top Shopify apps for SMS marketing and automation.SMSBump helps your business launch targeted campaigns and engage in genuinely conversational commerce. They provide you with
SMS segmentation- Uses filters to narrow down the customer targeting.
ROI Automations- Features like abandoned cart reminders and customer reactivation.
SMS Automation- When an order is placed, SMS Automations are sent regarding the payment method and shipping details.
These metrics give you more significant insights on your target customer and guarantee boosting revenue on Shopify.
Click here to try  SMSBump.
4. Wish Lists and Rewards
Why do you need wish lists and rewards applications?
Providing a wishlist for customers to save to their favorite products and sending them regular updates about it. Allows us to keep track of the customer, even if they didn't purchase any product. Turn your regular customers into loyal advocates by providing them VIP treatments and reward programs.
Which wish lists and reward apps should you try?
Growave drives conversions by collecting reviews on autopilot and showcases them across channels to build customer trust. It increases sales on Shopify with powerful tools for photo reviews, wish lists, loyalty programs, referrals, and UGC.
Click here to try Growave.
5. Upsell & Cross-Sell
Why do you need Upsell and Cross-Sell?
Creating customized thank you pages for specific products and orders will attract customers and indulge them in more shopping.
Customers are likely to check for information regarding their purchase, so optimizing your thank you page and putting up upsells or cross-sell will allow re-engagement.
Which Upsell and Cross-sell app should you try?
The ReConvert application works similar to abandoned cart recovery but works even more efficiently. So use this app and utilize the advanced reporting and Analytics to get a complete picture of post-purchase upsells and thank you pages on your store.
These tools and services have enabled many businesses to achieve an average ROI of over 2,000%.
Click here to try Reconvert.

6. Search Optimization App
Why do you need an Optimized search?
With many other platforms and alternatives businesses to choose from, customers have developed a short attention span, to keep them from leaving your online store; you need to assist them in finding the exact products they want within seconds.
Which search optimization app should you try?
The Product Filter & Search App is trusted by 10,000+ online brands using Shopify. This application allows shoppers to find specific products within milliseconds, growing Shopify business faster and efficiently.
Product Filter & Search provides you with a real-time product, a catalogue for data integrity, and rapid-fire results with an average time of less than 200 milliseconds for 100k products.
Click here to try the Product Filter & Search App.
7. Product Customizer
Why do you need a Product Customizer?
According to a study, 43% of consumers prefer advertisements tailored for them compared to generic advertising. Customers expect unique and 'immersive shopping experiences' like 'personalized graphic T-shirts' and visualizing products before checking out.
Which Product customizer app should you try?
Zakeke Product Customizer stands out, offering features like 3D, augmented reality, and product configurator, which allows the customer to build their versions of products.
They can select components, change color design and style, and view 3D models of their customized products. These features promote sales and reduce refunds.
Click here to try Zakeke.
8. Sales Boosting App (Urgency & Countdown)
Why do you need Sales Boosting Apps?
If you are worried about how to increase sales on Shopify platform to ensure secure income returns. You need to utilize shopper psychology and create an urge. What we mean is so called FOMO, the fear of missing out.
Which Sales Boosting Apps should you try?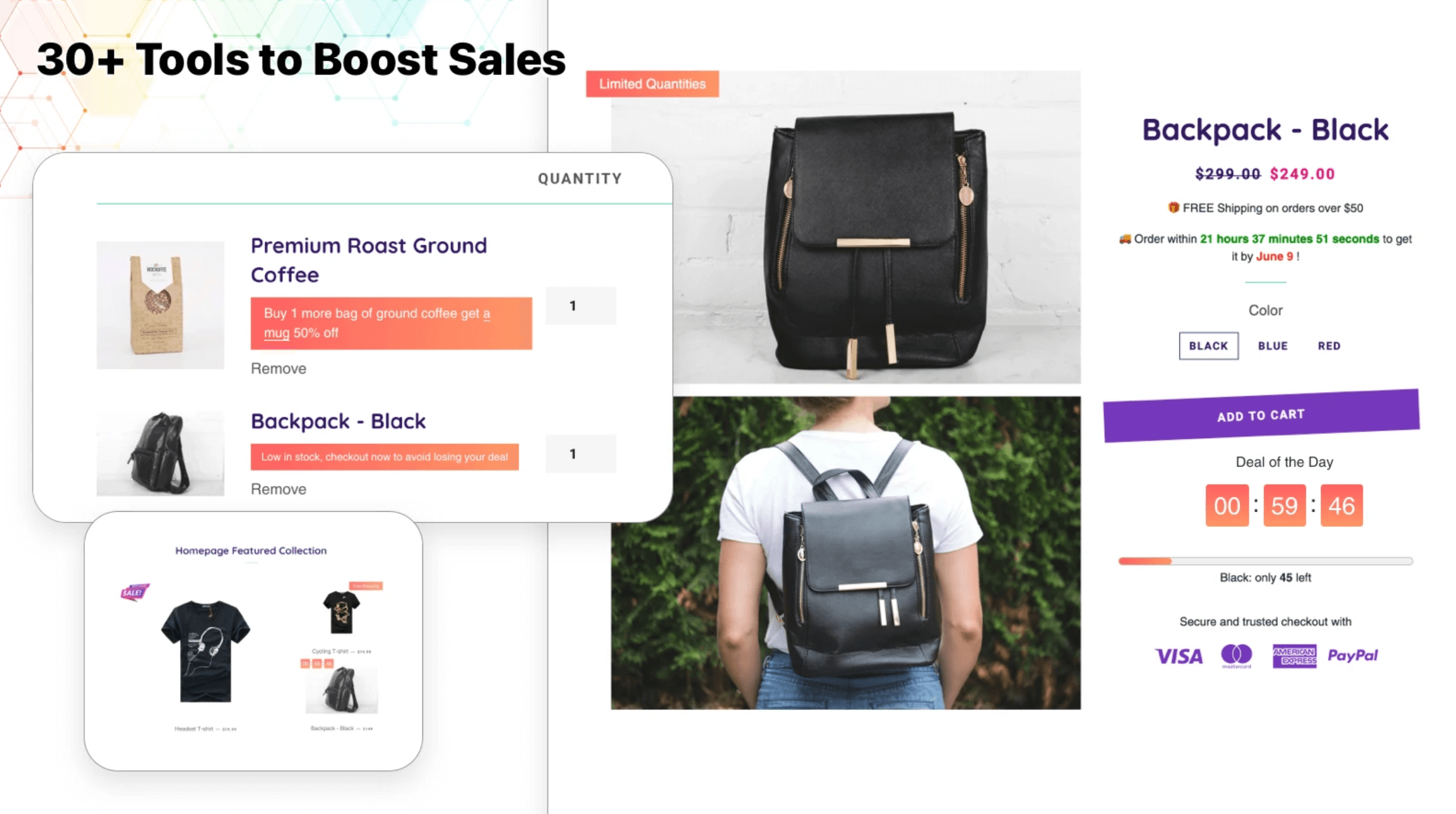 Ultimate Sales Boost is one of the best Shopify apps for sales and maximizing site traffic. It provides features like automated email with product suggestions, visually attractive page collection features, targeting market campaigns, and scheduling to optimize the check flow and customer conversion.
It offers more than 30 tools to utilize urgency and scarcity.
Click here to try Ultimate Sales Boost.
9. Loyalty Program
Why do you need a Loyalty program?
The loyalty program is an excellent way to expand your lead by acquiring new customers via inbuilt referral functionality and grow social audiences by rewarding points for social media follows, likes and shares.
Which Loyalty program should you try?
LoyaltyLion application is a great application that keeps track of your frequent customers and gives them points and rewards. This allows you to understand the type of product that ensures your customer's engagement and leads them to make the same purchase again.
Click here to try LoyaltyLion.
10. Referral App
Why do you need a Referral App?
The 'word-of-mouth technique' works magic; about 80% of the crowd trusts fellow customers more than a brand's advertisement. Referral apps convert your loyal customers into your brand influencers.
Which Referral App should you try?
Amongst the competitors, ReferralCandy is dedicated to driving referral sales with social proof to urge 'organic growth.'
It utilizes an analytics dashboard to track sales and identify top referrers to payout them with automatic reward points to build the trust and loyalty of the customer.
Click here to try ReferralCandy.
Conclusion
All the aforementioned mobile applications will walk you through some effortless ways on how to grow a Shopify store and successfully run e-commerce with minimum to no technical knowledge about coding and design.
Download the top Shopify apps listed here and digitally reconstruct your business. Make the best use of convenient mobile application technologies like Shopney to build customers and optimize sales promotions.