Ultimate Shopify Apps To Help You Grow Your Business in 2023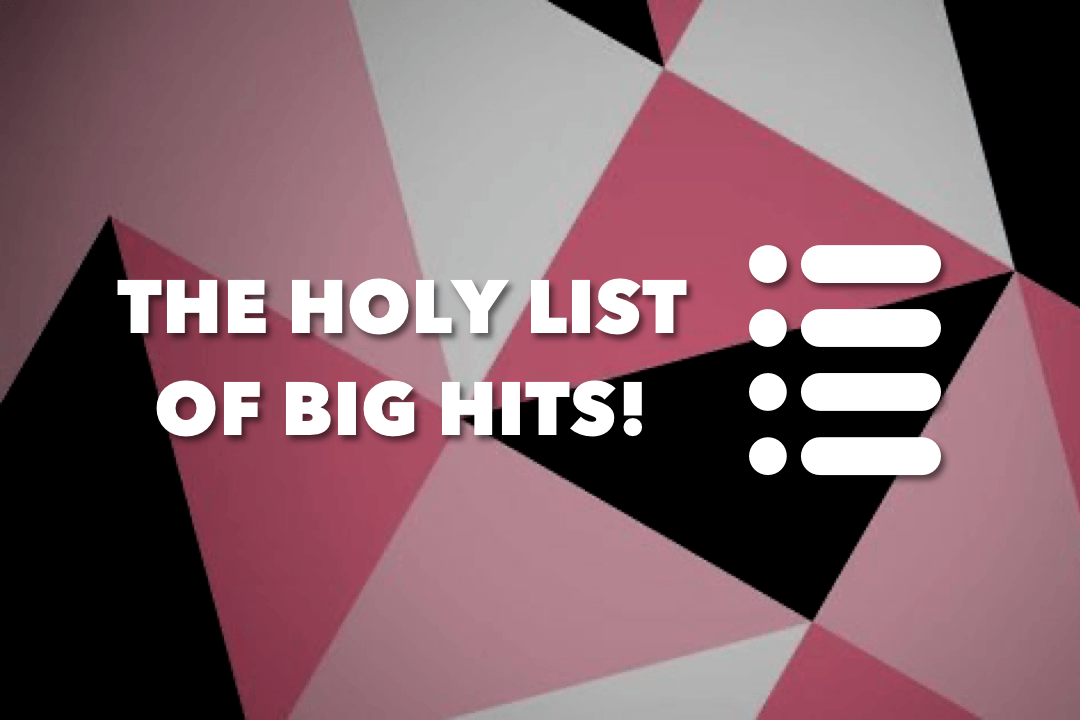 The global pandemic has entirely transformed e-commerce. At the end of 2021, worldwide e-commerce sales reached up to $4.9 trillion. This forced all types of businesses to embrace technology and move online to keep them thriving. Hosting online services can be intimidating to manage. But do not worry; Shopify is here to make eCommerce easy for everyone.
Or, if you are a Shopify store owner looking forward to taking your business to the next levels by a notch and attain your customer goals, here is the ultimate  list of the best Shopify apps to utilize.
1. The Mobile App Builder for Shopify
Why Do You Need A Mobile App Builder?
Today, more than 70% of online commerce traffic accounts for mobile. This means you have to offer the best mobile shopping experience to your customers to succeed.
Because a mobile app retains customers, increases conversion rates up to 3x and you can save on your marketing budget by utilizing free and unlimited push notifications.
Shopify Mobile App Builder Features
With a Shopify mobile app builder, you can convert your Shopify store into a native mobile app.
It provides a better shopping experience than a mobile website.
With a native mobile app for Shopify, you can increase your conversion rate and sales.
Best Shopify Mobile App Builder
The Shopney mobile app builder is an excellent option for growing Shopify business. It is designed to turn your Shopify store into native iOS and Android mobile apps. As the best-rated mobile app builder, Shopney allows any Shopify business to launch their mobile app without design or technical knowledge.
It offers live chat features and visual push notification campaigns to connect closer with the customer and share personalized product recommendations.
Now using Shopney, you can also integrate a rich-suite of Shopify apps with it.
Click here to try Shopney.
2. Size Charts Application for Shopify
Why Do You Need A Size Chart App?
Fashion apparel sizing is generally the most neglected factor in online shopping sites, and there is no one universal sizing. Retailers experience 20% - 40% return for online sales, with poor fit as the main reason. And also, many customers hesitate to shop without knowing the exact product sizing information.
How To Add Size Chart In Shopify?
If you want to add a size chart to your Shopify store without using apps, you can follow the steps below.
Go to Online Store in your Shopify admin.
Click Pages.
Go to Add Page.
Write your page title.
The content box will appear. Create a table with your size chart information.
Go to the Visibility section and set it to Visible.
Save the change.
You can learn the details of how to add a size chart in Shopify here.
Shopify Size Chart App Features
Generates size charts to provide product sizing information for customers
Gives the information about the colors of the items, the price and the discount codes
It increases conversion rate and lower returns with advanced size recommenders
Best Shopify Size Chart App
Kiwi Sizing can transform your customer's shopping experience with the customizable sizing chart and fit recommender.
Kiwi Sizing has flexible layouts that allow you to add multiple tables, images, videos, and tabs to enhance the customer experience. And the built-in unit conversion tools enable global customers to use the app without any metric system confusion.
Click here to try Kiwi Sizing.
3. Automated SMS Marketing App for Shopify
Why Do You Need An Automated Message App?
SMS Marketing allows you to reach a wider audience quickly. Text Messaging is a marketing and analytical tool; they also help you track orders, amount of link clicks, SMS by country, conversion rate, the average budget spent, and campaign stats.
Shopify Automated SMS Marketing App Features
You can announce new products/services and new opportunities and create awareness
It provides Shopify SMS marketing campaign scheduling and SMS notification for Shopify stores
You can drive new sales and increase your Shopify conversion rate
Best Shopify SMS Marketing App
SMS Bump is one of the top Shopify apps for SMS marketing and automation.SMSBump helps your business launch targeted campaigns and engage in genuinely conversational commerce. They provide you with
SMS segmentation- Uses filters to narrow down the customer targeting.
ROI Automations- Features like abandoned cart reminders and customer reactivation.
SMS Automation- When an order is placed, SMS Automations are sent regarding the payment method and shipping details.
These metrics give you more significant insights on your target customer and guarantee boosting revenue on Shopify.
Click here to try SMSBump.
4. Wish Lists and Rewards for Shopify
Why Do You Need Wish Lists And Rewards Applications?
Providing a wishlist for customers to save to their favorite products and sending them regular updates about it. Allows us to keep track of the customer, even if they didn't purchase any product. Turn your regular customers into loyal advocates by providing them VIP treatments and reward programs.
How To Set Up Wish List Page Shopify
There is no built-in wishlist functionality in Shopify. So to add a wishlist page you need to use an app or implement custom code on your Shopify storefront. It is a harder way than using an app. But still if you want to add a wishlist page to your Shopify store without using apps, you can follow the steps below.

Go to Online Store in your Shopify admin.
Click Pages.
Go to Add Page.
Write 'Wishlist' in the title section.
Select the template of page.wishlist.
Go to the Visibility section and set it to Visible.
You can use HTML write mode content or code editor.
Click Save.
Shopify Wish List App Features
Provides customers to save the products on their Shopify wish list if they can't buy at the moment
Gives the information of which products are most popular.
You can observe which products are saved by customers and send reminder emails.
Best Shopify Wish List and Rewards App
Growave drives conversions by collecting reviews on autopilot and showcases them across channels to build customer trust. It increases sales on Shopify with powerful tools for photo reviews, wish lists, loyalty programs, referrals, and UGC.
Click here to try Growave.
5. Upsell & Cross-Sell for Shopify
Why Do You Need Upsell and Cross-Sell?
Upselling and cross-selling are proven tactics to increase your average order value. When the customer is buying a product in your store, offering a relevant cross-sell (i.e., complementary product) or upsell (i.e., more expensive product variant) makes perfect sense.
There are a few opportunities when you can present the offer on the Shopify platform. The most popular ones are upsells displayed on the product pages, cart page, and post-purchase (thank you) page.
How To Add Upsell Products In Shopify?
You should use a Shopify app to add upsell & cross-sell products to your Shopify store. There are many apps that you can easily find in Shopify App Store and we listed one of the best ones below.
Shopify Upsell and Cross-Sell App Features
You can recommend related products after checkout point and drive new sales.
You can sell people who are already online in your Shopify store and save your budget.
Builds trust between customers and your Shopify brand by recommending what they need.
Best Cross-Sell and Upsell App
Probably the most-effective way of offering upsells and cross-sells is by displaying the offer on the product page. For that, we can recommend one of the most popular upsell apps called Candy Rack – One Click Upsell.
Candy Rack is recognized for its simplicity, slick design, and excellent results. It's trusted by over 4.000 merchants and has an average rating of 5 stars.
Click here to try Candy Rack for free.

6. Search Optimization App for Shopify
Why Do You Need An Optimized Search?
With many other platforms and alternatives businesses to choose from, customers have developed a short attention span, to keep them from leaving your online store; you need to assist them in finding the exact products they want within seconds.
Shopify Optimized Search App Features
Provides advanced and fast product filters with size, variants, tags, metafields ,etc. options to make the search process faster.
Corrects the search results with autocorrect feature.
Increasing the sales by providing the correct results to customers.
Best Search Optimization App
The Product Filter & Search App is trusted by 10,000+ online brands using Shopify. This application allows shoppers to find specific products within milliseconds, growing Shopify business faster and efficiently.
Product Filter & Search provides you with a real-time product, a catalogue for data integrity, and rapid-fire results with an average time of less than 200 milliseconds for 100k products.
Click here to try the Product Filter & Search App.
7. Product Customizer for Shopify
Why Do You Need A Product Customizer?
According to a study, 43% of consumers prefer advertisements tailored for them compared to generic advertising. Customers expect unique and 'immersive shopping experiences' like 'personalized graphic T-shirts' and visualizing products before checking out.
Shopify Product Customizer App Features
Creates a personalized experience by providing product customization for your Shopify store clients.
Gives many variants, options, and personalization features for a qualified customization
Customers can configure an item's color and material
How To Create A Product Customizer?
You need HTML, CSS, JavaScript, and Liquid knowledge to add the customization option to your Shopify store. If you want to learn how to create a product customizer in your Shopify store, you can check here.
Using apps from Shopify Store is an easier way. We choose one of the best Shopify product customizer apps for you and tell you the features below.
Best Product Customizer App
Zakeke Product Customizer stands out, offering features like 3D, augmented reality, and product configurator, which allows the customer to build their versions of products.
They can select components, change color design and style, and view 3D models of their customized products. These features promote sales and reduce refunds.
Click here to try Zakeke.
8. Sales Boosting App (Urgency & Countdown) for Shopify
Why Do You Need Sales Boosting Apps?
If you are worried about how to increase sales on Shopify platform to ensure secure income returns. You need to utilize shopper psychology and create an urge. What we mean is so called FOMO, the fear of missing out.
How to Add Countdown Timer to Shopify?
You can find how to add an announcement countdown timer bar to your Shopify store without using any app here.
If you don't want to complete these steps you can download an app from Shopify App Store. Also, you can find one of the best Countdown and Urgency App below.
Shopify Countdown Timer and Urgency App Features
Provides Shopify countdown timer or stock countdown for your campaigns
Shopify urgency apps lead people to buy without postponing by creating the urgency feeling
Increase your sales and conversion rate with the fear of missing out feeling
Best Countdown and Urgency App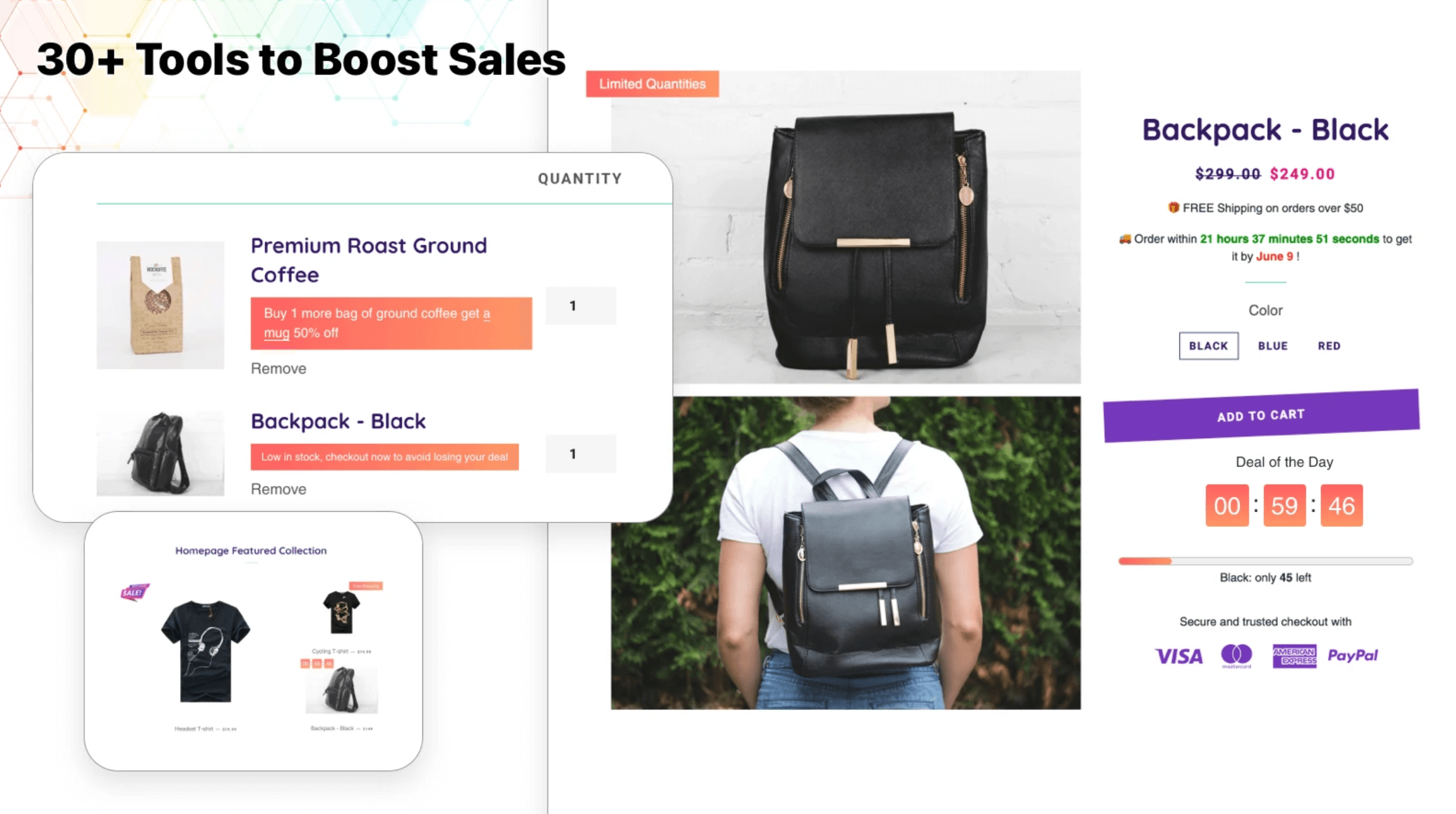 Ultimate Sales Boost is one of the best Shopify apps for sales and maximizing site traffic. It provides features like automated email with product suggestions, visually attractive page collection features, targeting market campaigns, and scheduling to optimize the check flow and customer conversion.
It offers more than 30 tools to utilize urgency and scarcity.
Click here to try Ultimate Sales Boost.
9. Profit Tracking App for Shopify
Why Do You Need To Keep Track Of Profits And Expenses?
Being able to accurately track profits and expenses is one of the biggest pain points online sellers face nowadays, especially when data is streaming from countless sources fast and at once.
Keeping track of your business numbers will not only allow you to make data-driven decisions, but will actually give you the power to optimize your bottom line.
How To See Profit On Shopify?
Profit reports are available if your store is on the Shopify plan or higher. You can learn how to reach these Shopify store profit reports from here.
If you want to reach Shopify profit reports with more details and also have many other features that make it easier to follow your profit, check the app below.
Shopify Profit Tracking App Features
Helps you to track and analyze the profit of your Shopify store
You can see the costs of production, shipping, ad spend, taxes and fees in detail.
You can calculate your Customer Lifetime Value
Best Profit Tracking App
The BeProfit dashboard was chosen by Shopify as their Staff Pick of July 2021. It gives you a detailed breakdown of your profits and expenses. Also it provides features custom reports, cohort analysis, a glimpse into each of your products' profitability, and a lot more. It even syncs with your ad platforms to give you valuable marketing performance insights.
Click here to try BeProfit.
10. Search Engine Optimization App for Shopify
Why Do You Need A Search Engine Optimization App?
To any e-commerce business, SEO is an essential digital marketing tool. It drives more traffic to your website and converts more customers. Even if you know what SEO consists of, identifying and tracking every element can take a lot of time and effort. Hence, why don't you use a Search Engine Optimization app that will handle the rest for you?
Shopify Search Engine Optimization App Features
Optimizes various parts of your Shopify website such as home page, product search page, checkout page. Using different apps could be required.
Improves content of your website for a better ranking
Increases the performance and responsiveness of your Shopify website.
Best Search Engine Optimization App
With the overall 4.9 rating and 1124+ reviews, AVADA SEO Suite is a complete SEO app for Shopify businesses to boost rankings online.
The app is Google Search friendly to ensure your website qualifies all of Google Search requirements. Moreover, it improves page load speed and customer experience by optimizing image sizes and preloading your pages. And all of those actions only require one click, which will reduce the huge workload for admins.
Click here to try
AVADA SEO Suite
.
11. Referral App for Shopify
Why Do You Need A Referral App?
The 'word-of-mouth technique' works magic; about 80% of the crowd trusts fellow customers more than a brand's advertisement. Referral apps convert your loyal customers into your brand influencers.
Shopify Referral App Features
Shopify loyalty apps influence potential customers with word of mouth
Creates effective ways such as rewarding customers who bring new shoppers
Builds loyalty when rewarding customers in the referral programs
Best Referral App
Amongst the competitors, ReferralCandy is dedicated to driving referral sales with social proof to urge 'organic growth.'
It utilizes an analytics dashboard to track sales and identify top referrers to payout them with automatic reward points to build the trust and loyalty of the customer.
Click here to try
ReferralCandy

12. Popup Builder App for Shopify
Why Do You Need a Popup on Your Shopify Store?
Converting visitors into subscribers and customers can be challenging. This explains why you may not be getting enough sales in your store despite the huge traffic your website gets.
This is where a popup comes into play.
Popups are a display modal box that appears on the screens of web visitors moments after they arrive on your website. With popups, you can capture the email addresses of your visitors, prompt them to buy your products, market your offers and promotions to them, and lots more.
Popup Builder App Features
Easy-to-use design editor that doesn't require you to write any code
Lots of editable, ready-to-use templates
Mobile responsive
A/B testing to make the most sales
Trigger and audience targeting to show your popups at the right time and to the right people.
Best Popup Builder App for Shopify
There are lots of great popup builder apps you will find on the Shopify app market - Adoric happens to be one of them.
Adoric makes it easy to create eye-catching, attention-grabbing popups without writing a single code. And not just popups, but also slide-in displays and sticky bars.
It comes with all the above-listed features and more. The best part is that you can start for free and scale up as your business grows.
Click here to try Adoric.
Conclusion
All the aforementioned Shopify applications will walk you through some effortless ways on how to grow a Shopify store and successfully run e-commerce with minimum to no technical knowledge about coding and design.
However, although the Shopify apps are helpful for growth, they are not the only area you need to pay attention to. There are plenty of other things that you need to make sure working perfectly. Here is a quick list of crucial points that you should be careful about to grow your Shopify business.
1. Creating a Unique Brand and Make Clear Your Niche
If you specify your niche, you can give customers what they want. Also, you can understand your market better in this way and create a unique brand. As a result, you can grow your Shopify store.
2. Building Brand Awareness
This is a crucial point since with brand awareness, people recognize your Shopify store and purchase. Creating high-quality content and paid advertising are the main points to create awareness. To understand more you can read the sections below.
3. Creating High Quality Contents
If you have high-quality content on your website, you can have a higher rank on Google. You can create a blog, write on interesting topics and get the potential customers' attention.
Also, social media posts are effective tools to build brand awareness. If you have high-quality content on social media, you can get shares and reach more people.
Email is the other platform that you can create high-quality content and share your customers/potential customers. You can get attached more with your customers via emails and increase your brand awareness.
4. Paid Advertising
Paid media is one of the main tools to create brand awareness, get the attention of potential customers and grow your Shopify business. You can reach a large number of people by using Facebook, Instagram, and Google ads with the correct targeting and growing your Shopify business.
5. Having Beneficial Partnerships
Marketing could be expensive and tiring sometimes. Building partnerships with companies that have the same target audience is a way to share this burden and minimize the effort. Co-promotion and other types of collaborations are the ways to reach the other company's customers. In this way, you can grow your Shopify business.
6. Optimizing Your Shopify Website for Mobile
More than 80% of the eCommerce traffic is generated in mobile now. That is why optimizing your Shopify website for mobile is crucial. You should make your website mobile-friendly so that it adapts to different device sizes and you can use a Shopify mobile app builder. In this way, you can have a native mobile app at least as good as your website, and grow your Shopify business.