Ultimate Guide For eCommerce Push Notifications & Best Practices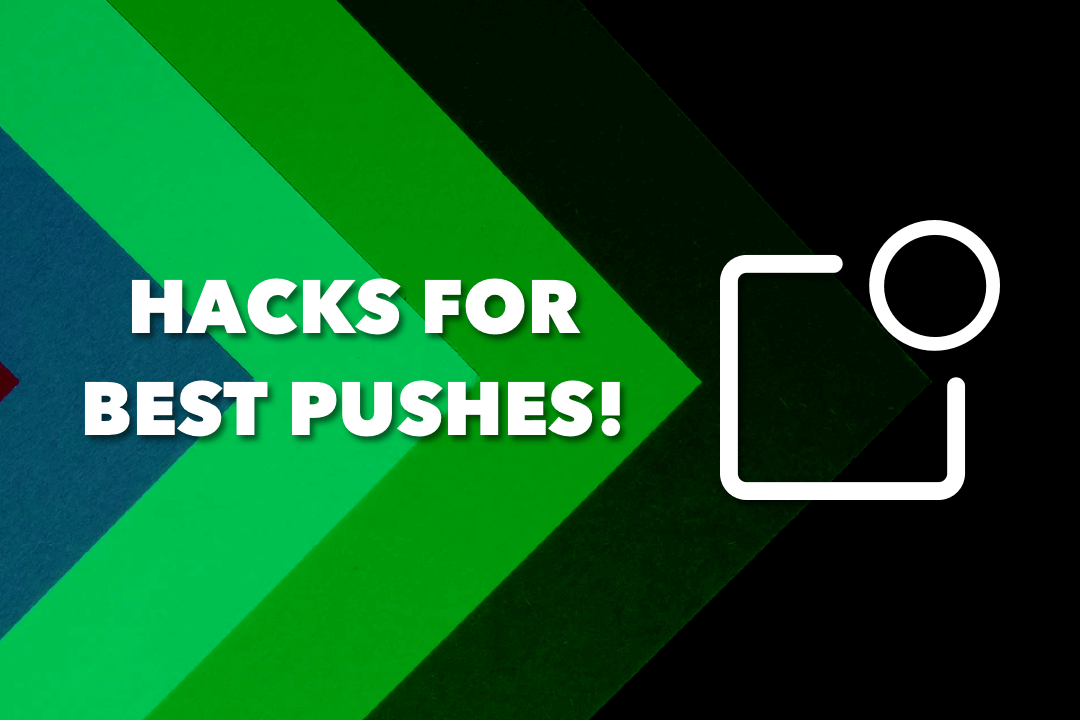 Isn't it exciting to have the power to send messages to your customers' phone screen directly, the place they look all day? You should use this power wisely.
In the ongoing struggle of the high-competitive eCommerce world, push notifications can have the main role to keep customers engaged and drive retention.
They have the power to reach customers' phones and convey your messages & promotions & product updates, etc. directly for free. That means if you use push notifications effectively,  you can boost your mobile conversion rate and decrease your marketing ad spend!
On the other hand, in amateur hands, push notifications could turn a torture for customers. If they receive too many unnecessary notifications from an app, they may uninstall it. That means losing a potential loyal customer who downloaded your mobile app & losing the possibility of repeat sales that could have been done by her.
If you want to prevent this situation and send effective push notifications with high conversion rates, you are in the right place. We have tips for you to prevent push notifications from being disturbing & send them effectively. Let's go.
How Do Push Notifications Work?
Push notifications are the messages that pop up on mobile phones. App users can receive them anytime even when they are not using their phone unless they turn them off.
In eCommerce, push notifications are the ways for merchants to contact customers directly. Merchants can send these notifications with the aim of promoting a product & collection, reminding a product left in the cart, informing about restocked products, informing about an update of the brand, etc.
You can find more information regarding the importance of push notifications in our article.
What are the Different Types of Push Notifications?
There are different reasons for sending push notifications and these purposes caused a differentiation in push notifications. Here are the types of push notifications and the reasons to use them:  
A. Opt-In-Message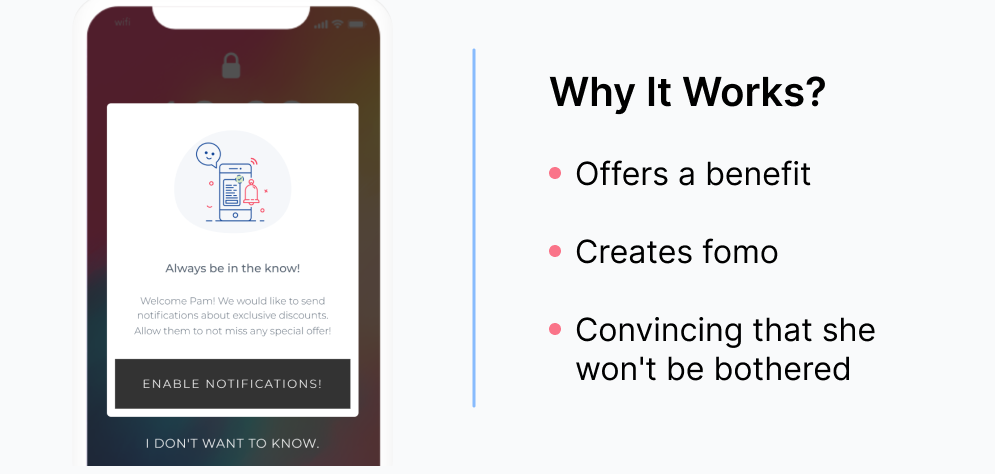 This is the first notification that you send your customers. It is the most important one since it is the permission that asks the customer whether you can send push notifications to their phone or not. That is why the way you ask this question is crucial.
You should emphasize that these notifications could include some discount & promotion opportunities for the customers. Your most loyal customers probably want to be informed about any kind of brand news, but these opportunity tactics could be effective for the less loyal ones.
B. Welcome Notifications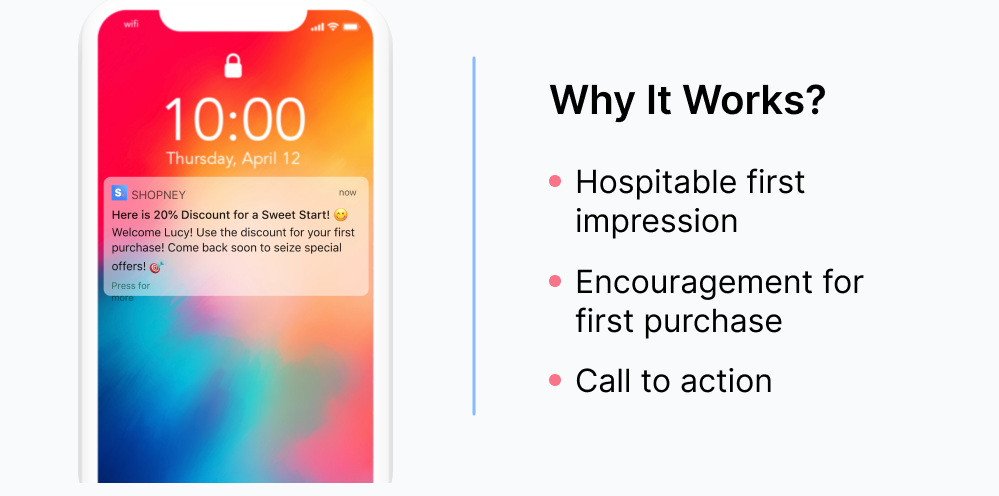 Welcome notifications are great chances to create a sincere & hospitable first impression with the customer. It gives short insights to the user about what he/she will find in the app and create an interest to visit.
Besides, you can offer first-shopping discounts to encourage the first purchase and increase engagement. Remember, it is also an incentive for potential customers to download the app and make the first purchase!
C. Abandoned Cart Notifications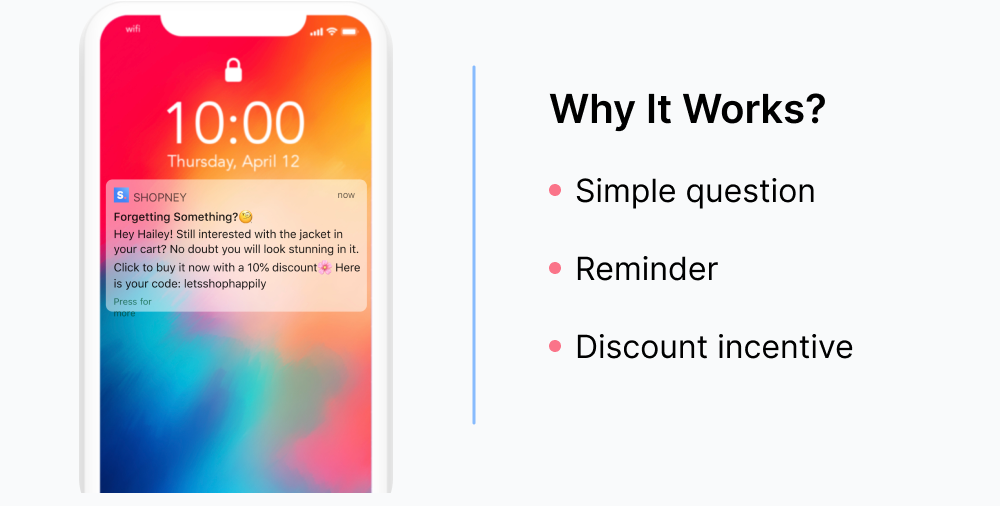 Every product that is abandoned in the cart means losing potential money for you. There is a chance here for you to recover these sales. The shopper might not complete the purchase because of not having time at the moment, or with the desire to compare the price with other stores. However then they might forget the product that they actually want to have.
With Shopney, you can send automatic abandoned cart push notifications and remind the customers to complete the checkout process. It builds trust with the customers since you remind them of an action that they left in the middle.
I have a tip for you here. The reason also could be the price that the shopper finds expensive. You may send a special discount code through abandoned cart notification and create another incentive for them to complete the check out. So, abandoned cart notifications are perfect ways to increase retention & sales of your Shopify store!
D. Back-in-Stock Notifications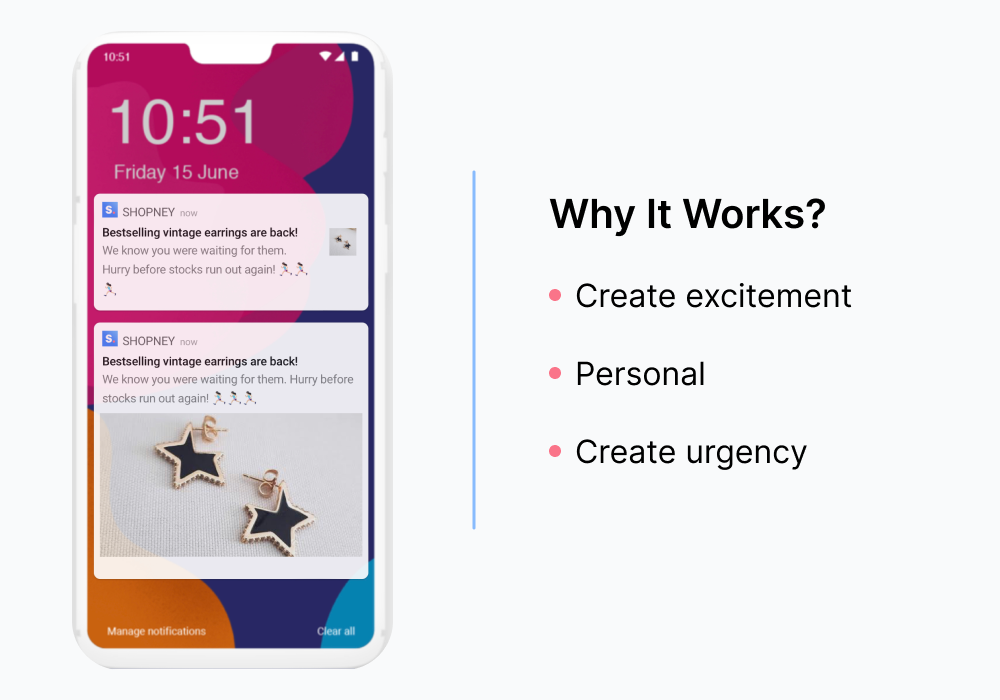 Use back-in-stock notifications and don't let a short period of stockout hinder your sales.
With Shopney, you can set the 'notify me' button instead of the 'add to cart' button when a product is out of stock. In this way, your clients can show their interest in a product and sustain it by creating expectations that the app will notify them when the product is back in stock. That is why they won't be searching for similar products from other brands.
Also, these notifications build trust since the customer will know that your brand cares about their interests and needs. Besides, the 'notify me' button is proof that the product is popular. It creates excitement & fear of missing out with the customer and encourages them to purchase before other clients when it is restocked.
So, sending back-in-stock notifications is a magical way to recover your Shopify store sales and increase retention by building customer trust!

How to Prevent Push Notifications from Being Disturbing?
Sending push notifications is the favorite way for most merchants to reach their customers since it is limitless and free. That is why they might forget to empathize with the customers and send push notifications annoyingly.
When push notifications become annoying, customers may read them, turn them off or uninstall the app directly. If you are wondering how to prevent this situation, we are here to help! Here are the most significant points that you should be careful about when sending push notifications.
1. Use Opt-in-message
As we mentioned above, opt-in-message is the permission you need to have from the customers to send push notifications. It could seem harmful for your brand in the first place. But actually it is the opposite.
If you send push notifications without asking permission, customers might find it disturbing. And even worse, they might erase the app directly instead of closing the notifications.  
On the other hand, if you ask permission and send them after, they are not going to find it annoying since they allow it. Besides, your notifications will be more effective since only interested customers are going to receive them.
2. Don't Send too Often/Unnecessarily
It is highly possible that you experienced this situation. Even if you like a brand a lot and want to receive updates from it, if it sends you everything without caring about relevant or irrelevant, you might find it annoying and turn off push notifications.
On the other hand, if you receive beneficial notifications, it is highly possible that you consider these notifications more and read them.
Prioritize your messages: If you have too many messages to send customers, it is better if you prioritize them and send according to a rank. If you send too many messages at the same time, your customers will find it annoying.
3. Don't Wake Users Up
You shouldn't send notifications at late times. If customers hear the voice of the notification when they are sleeping, it would be so annoying.
Segment the customers according to their time-zones: If you are in the Platinum plan of Shopney, you can segment the customers according to their location, shopping behavior and more. In this way, you can send the most effective push notifications for them at the right time.
4. Deliver Your Promises
If you promise exciting news, a discount, or a nice collection in the push notification, you should deliver it to not break the trust of the customers. That is why don't promise for the news that does not actually exist. Otherwise, the customers might lose trust in your brand.
How to Use Push Notifications Text Effectively?
The first rule for effective push notifications is not being annoying as we mentioned in the above section. Then, you should write the texts effectively to make customers read your message and take the regarding action that you want them to do. There are 3 crucial points that you should consider to prepare texts effectively:
1. Send Relevant Messages at the Right Time
You should send relevant and useful messages to the customers if you want them to be effective. The best way to achieve relevancy is segmenting the customers.
If your Shopney plan is Platinum and your app is integrated with Klaviyo, you can segment your customers by their location preferences, shopping behavior. In this way, you can send the most effective messages that provide value to your customers at the right time.
2. Use Call to Action
You should trigger the users by telling them what to do clearly for the next step. Strong, clear call to action helps customers to take the action you want without any friction and increase conversion rates.
If you don't use call to actions, it is a higher possibility that customers close the notification without taking any action.
To make the call to action more effective, you can use strong words that create FOMO such as 'hurry, immediately, exclusive' etc. In this way, you can make them take the regarding action without postponing.
3. Be to the Point
When customers receive a confusing notification, they won't stop and think to figure it out. Also, they won't bother to read a long notification. So, you should send brief and very clear messages so that they can read everything in 5 seconds.  
For instance, it is better to send a simple & clear to the message push notification than sending a long notification that stretched to be funny.
Best Practices: Examples of Effective Push Notifications
We prepared point-by-point examples to help you by creating your own push notification text effectively. Let's check them:
1. Create Fear of Missing Out
Creating FOMO(fear of missing out) by creating the concept of scarcity or limited time to put customers in a hurry to buy. It shows your product more valuable by creating anxiety in shoppers. Also it prevents the postponing idea of purchasing. ‌
a. Send a limited-time offer‌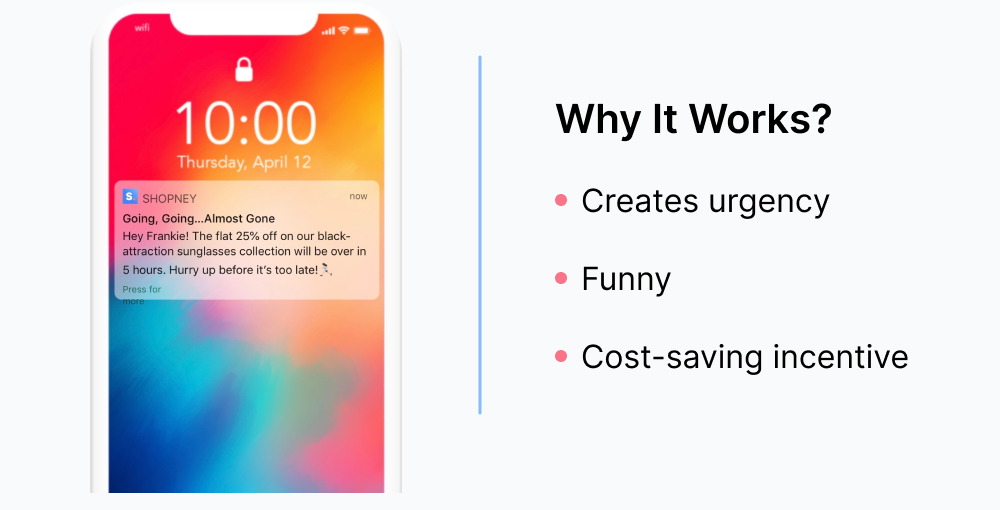 This has the same logic as the countdown timer. The main aim is creating the fear of missing out the opportunity of discount and making shoppers purchase the product at the moment.
You can create limited-time offer campaigns and inform your customers by sending push notifications. It is one of the best ways to increase conversion and boost your Shopify sales!
b. Highlight a popular item
You can send a popular item with push notifications and inform the customers that it is about to be sold out. It could be more effective if this is a product from your customers' wishlist. In this way, you can create an urgency feeling to purchase before it is sold out.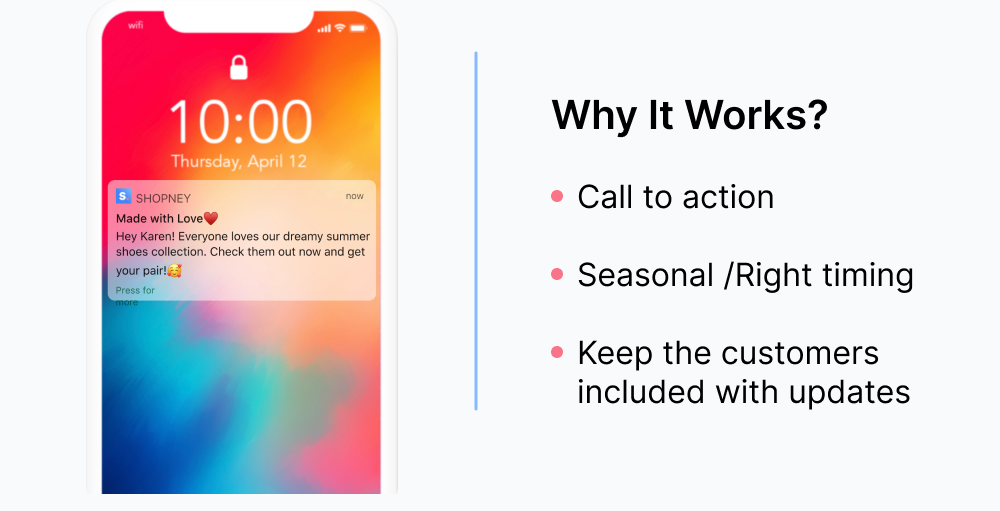 2. Use 'You' Instead of 'We'
You are the brand that your customers trust that you know their needs and their way of thinking. Push notifications are the way that you can directly send your message to them and the language you use here should be proof of this trust. I mean, you should talk to them directly by using 'you' and say their direct needs instead of guessing. You can learn these needs by using customers' history and surveys.
a. Imagine you are writing to one specific person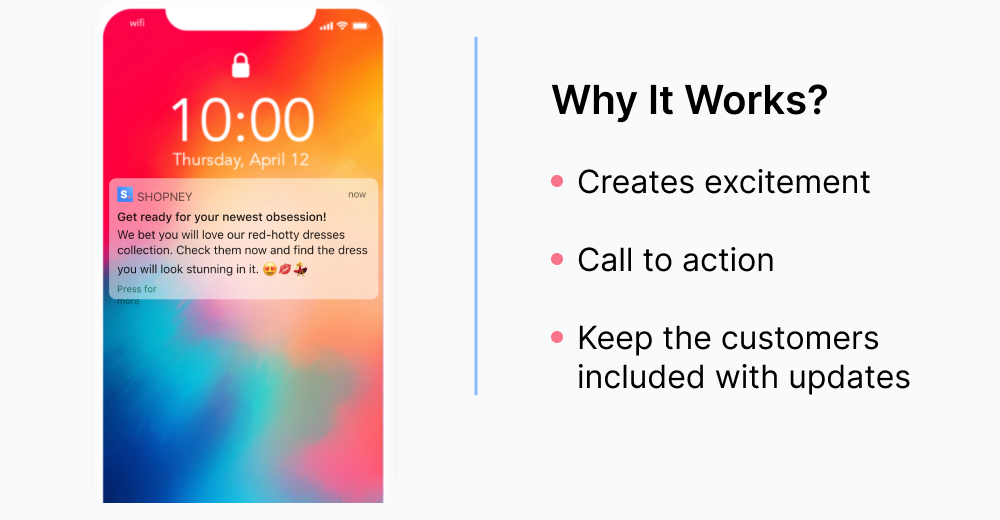 Even if you are sending a mass push notification, an effective push notification should make your customer feel like it is a personal message. That is why, write your messages by imagining you are writing to one person. Then check whether you can send it to everyone and find the middle.
Remember, opportunities, curiosity or making them feel special are the reasons that customers open push notifications.
3. Send Personalized Suggestions
Mobile app users receive a lot of push notifications during the day. That is why, you should make your message as impressive as you can to make them open. Including personalized suggestions in your message is one the most effective ways to achieve that.  
a. Send products by using search history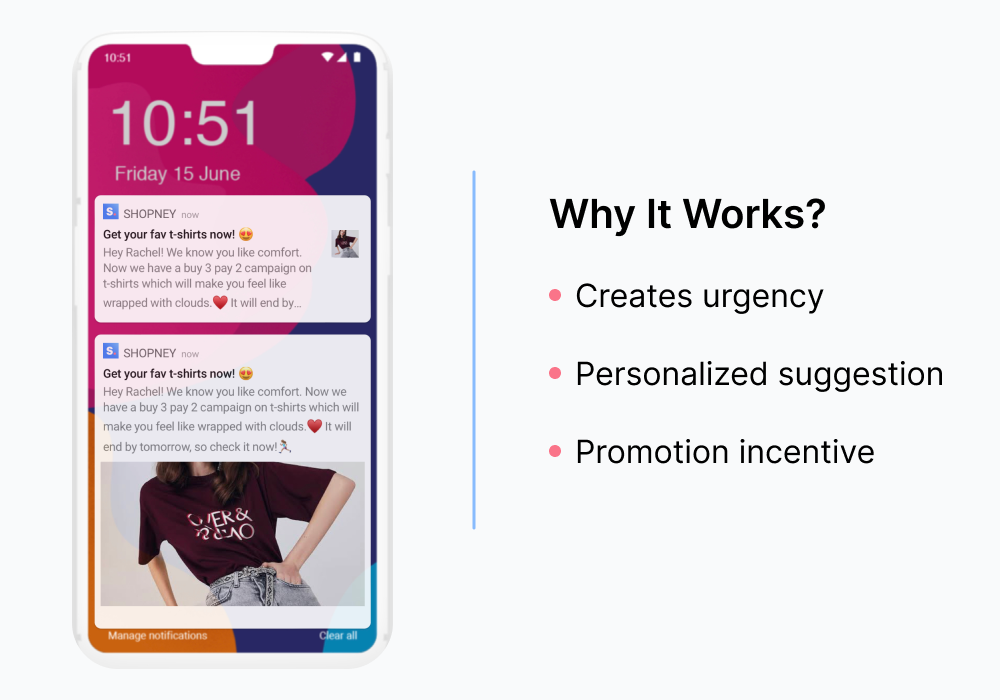 If you are wondering how you can make your messages personal, check the shopping data of your customers. Understand what kind of products they purchase more from you, what are their preferences, what kind of products they may like, etc. There are Upsell & Cross-sell Shopify tools that can analyze your customers' shopping history for you. In this way you can increase the probability of sale much more!
b. Send cross-sell offers by using shopping history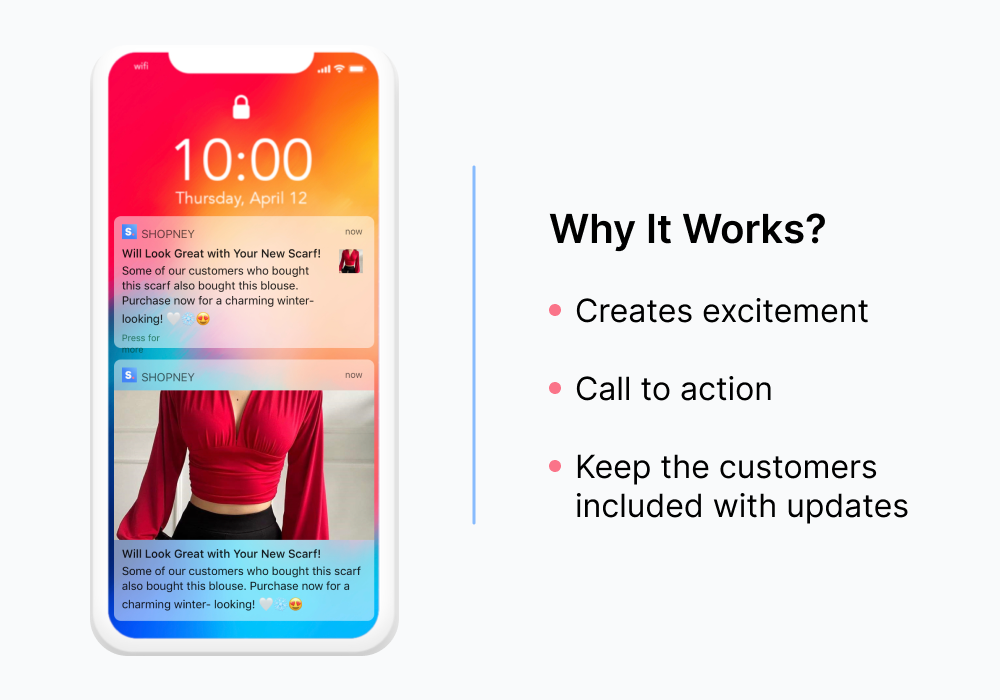 If your customer recently purchased a product from your store, you can display them complimentary products by using push notifications. For instance, if your customers purchased a phone, you might offer to buy them a charger, etc.
4. Use Emojis & Keep It Short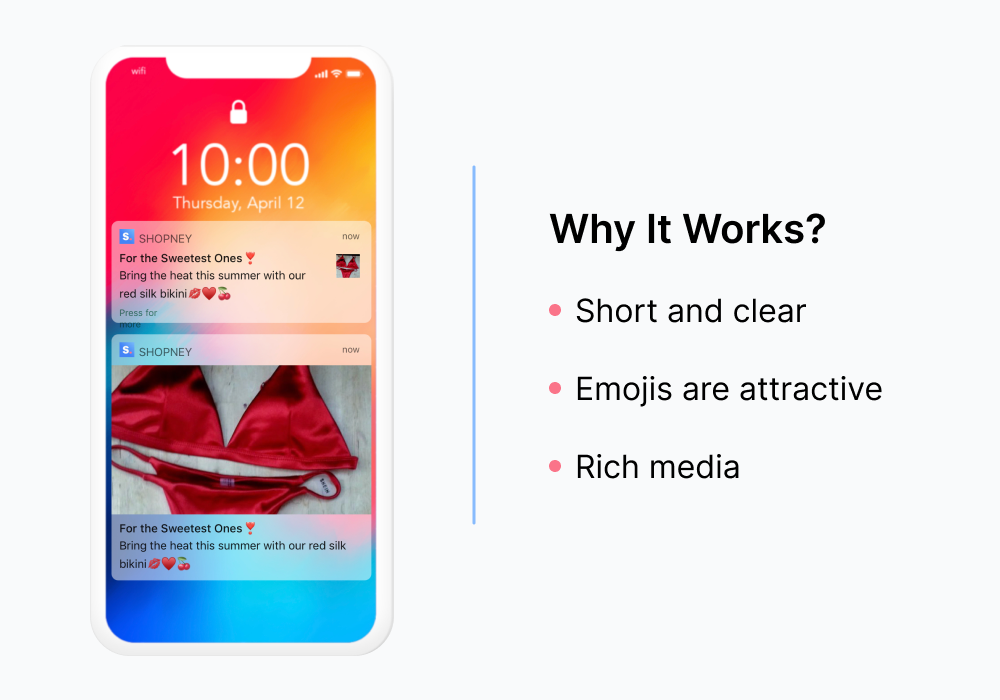 Think about which one attracts you more: reading a long plain text or reading a short, point by point text supported with emojis? We know your answer is the second one.
Customers especially don't want to see long texts sent by a mobile app that they have downloaded to shop. So, try to make your texts as easy as to read. It would be ideal to keep them between 40-70 characters.
5. Use Rich Media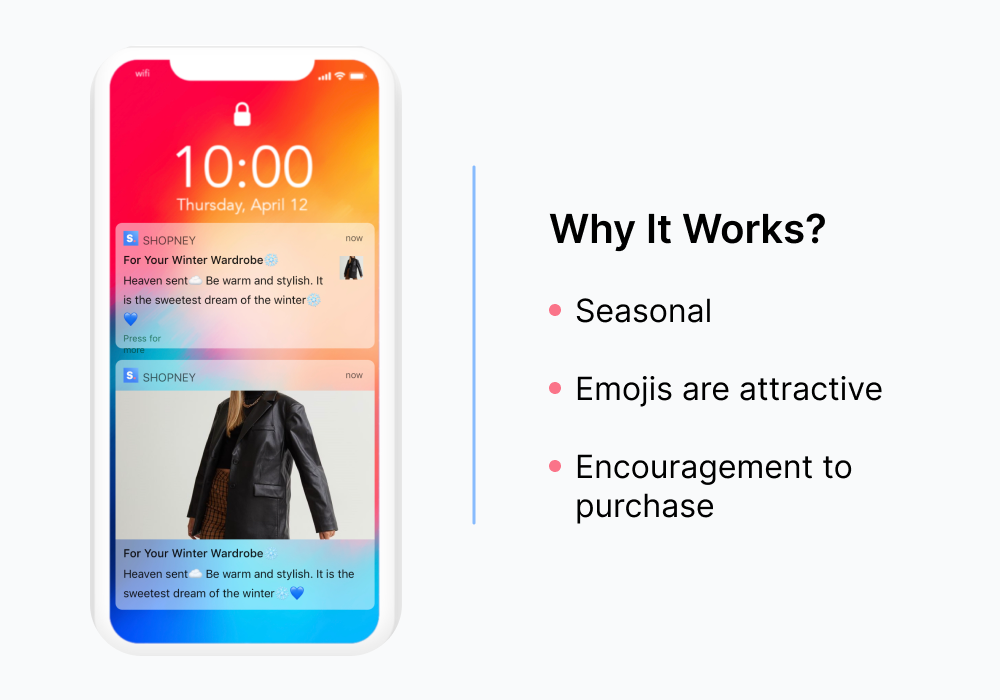 It is a great way to use images, videos and gifs to attract customers. For instance, if you are promoting a dress, it could be so much more impressive to use an appealing image instead of just text.
The important point here is that using a meaningful text with the image, too. Using just a picture & video without the text could have negative effects if the customer couldn't see it because of the Internet speed & their phone, etc.
6. Send Discounts & Promotions from Time to Time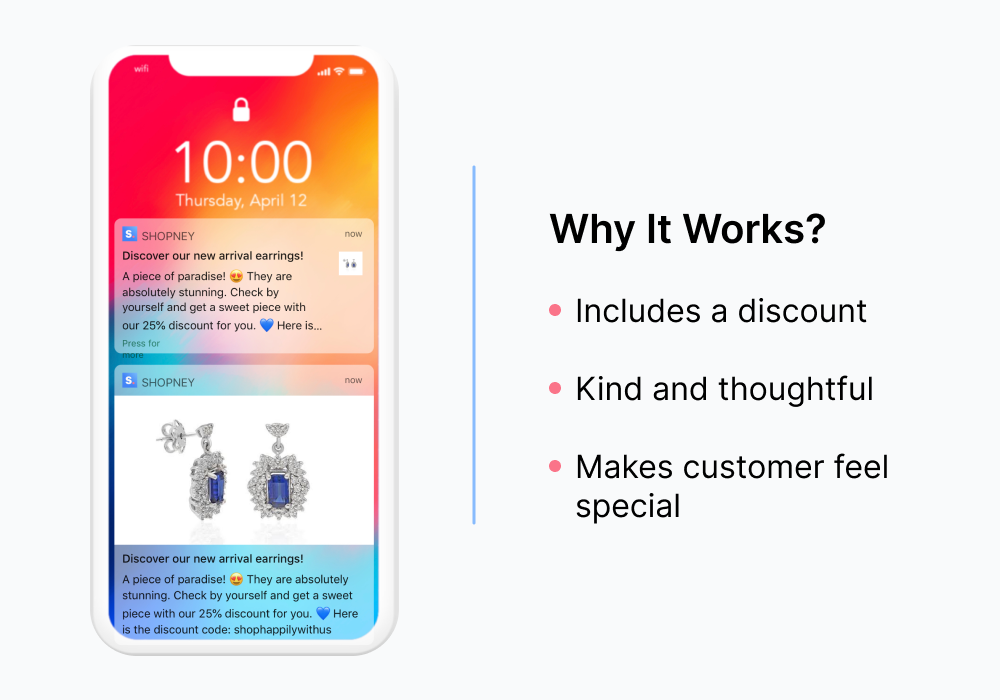 Your mobile app users are your most loyal customers and they are the ones who most want to know about your discounts & promotions & product updates. If you send them through push notifications, you make it so much easier to follow your brand news.
Besides, they are the ones who will benefit the most from these discounts & promotions since they are the ones who shop the most. So, it is the perfect way to increase your Shopify conversion rate!
7. You Can Send Discounts for Unsold Items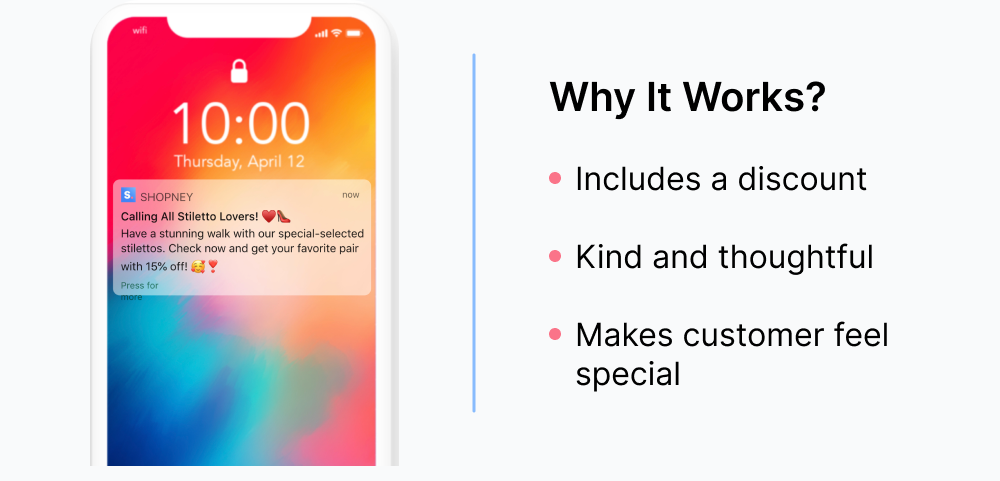 Do you have products that you want to run out of stock? You can promote them for free by using push notifications. Or you can simply send discounts through push notifications to increase the possibility to sell them. Remember, there could be shoppers who love the product, but find the price expensive.
8. Use Special Offers to the Clients Who Don't Visit the App Anymore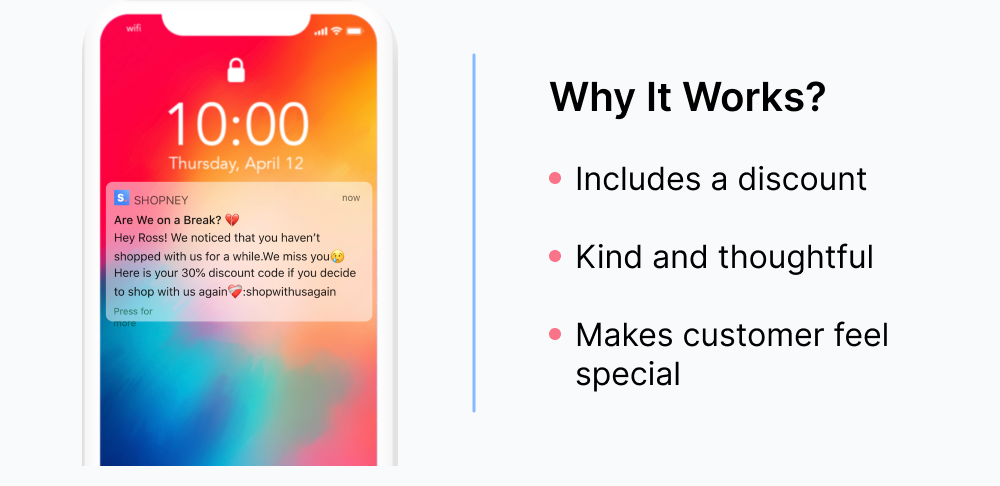 There could be shoppers who download the app just to buy 1 product or just to use a 1-time discount and forget the app after using it. Push notifications are great opportunities to remind yourself of these shoppers.
You can send discounts to give them another reason to use your app. Then they may actually like your products & brand when using them and start to use them without discount, too!
9. Ask for Review & Rating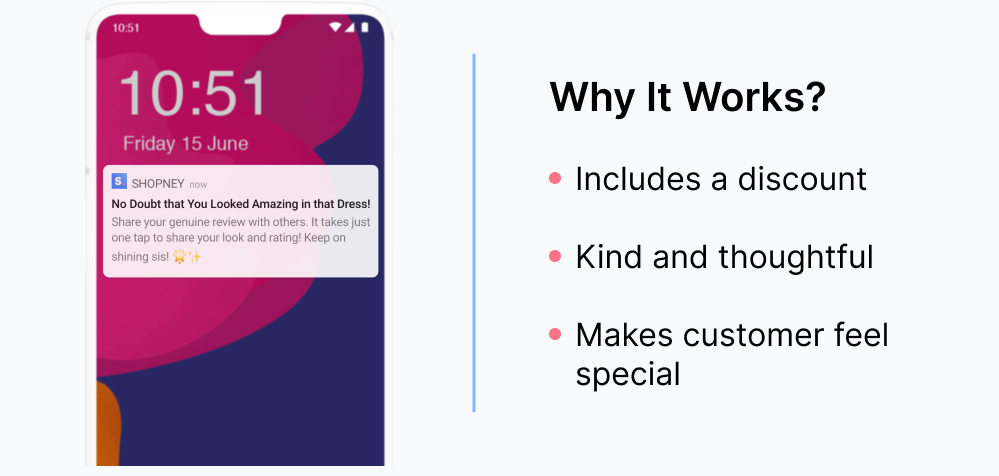 Reviews are the first place that most customers check before they purchase a product. They create social proof which creates brand trust for other shoppers and encourages them to purchase the same product.
That is why it is crucial to ask for reviews for your store & products after a while the customer received the product, to encourage other shoppers, too and increase your sales!
10. Create Excitement for Product Updates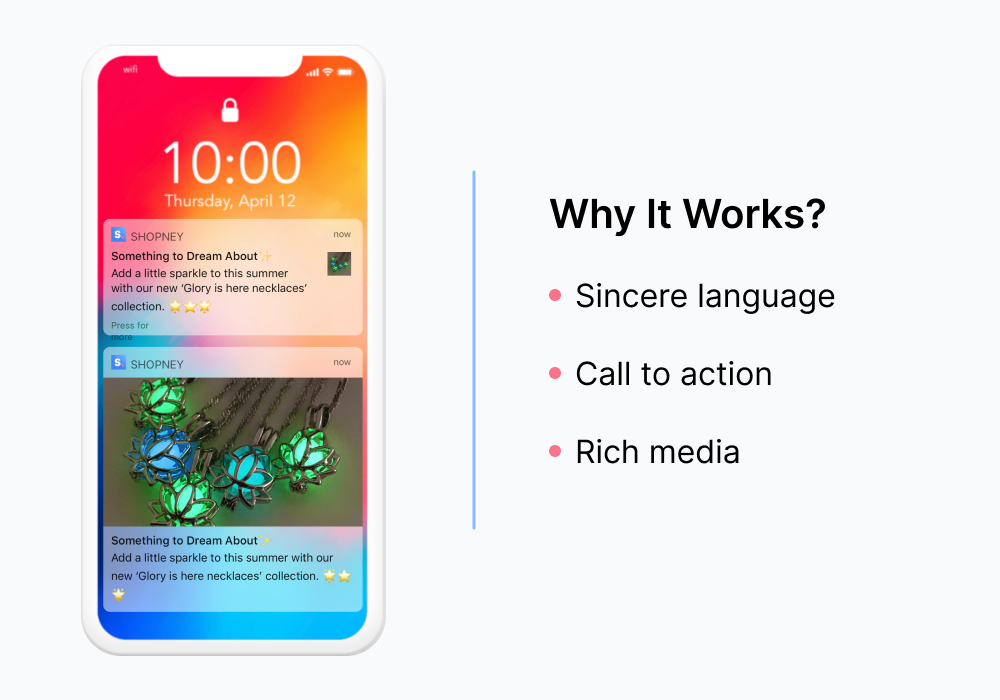 Excitement is one of the main reasons that customers open push notifications. So, you can give them exciting news to increase open rates.
For instance, you can say 'Did you check our new summer dress collection? You will draw all the attention without sacrificing your comfort.' In this way, you can create excitement and make customers feel that they will be informed about this kind of product & collection updates.
11. You Can Be Funny & Sincere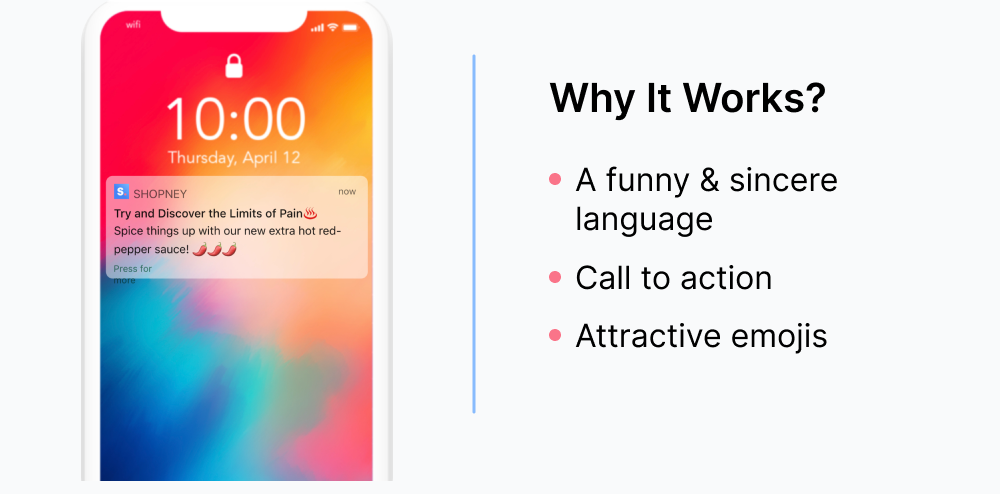 Being funny is a way to be liked by the audience. The significant point here is not sending irrelevant messages just to be funny and make jokes. If you can find clever jokes that make customers smile, use it.
For instance, you can get inspired from viral memes, videos & pop culture references. If you can make your customers smile, they might even take screenshots of your push notifications and share with their friends.
12. Conduct A/B Tests
You should test every marketing strategy that you can test including push notifications. In this way, you can understand what is effective & increasing conversion rates and what is not.
Without testing you can just guess your customers' shopping behavior and how they think. However, you can never be sure that you are in the right way. Even if you think like that, remember, there could always be better options.

Final Thoughts
Push notifications are one of the strongest marketing tools since you have the power to send messages directly to your customers' phone screen. That means if you do it in the right way, you get make your customers excited about your discounts & new products & collections and convert them.
There is also the opposite possibility. If you apply an annoying push notifications strategy, your customer might say 'I am sick of the notifications of that brand' and remove the app. In the above sections, we give you the tips of how to prevent this situation and how to send useful push notifications that your customer will like.
Now it is time to boost your mobile conversion rate & grow your eCommerce business & by using these tips. Create your strategy & choose the timing right, then open your Shopney dashboard and start to write push notification texts effectively.
If you don't have a mobile app yet, turn your Shopify store into a mobile app with Shopney today. Then start sending push notifications with high conversion rates!