How Does Consumer Behavior Change?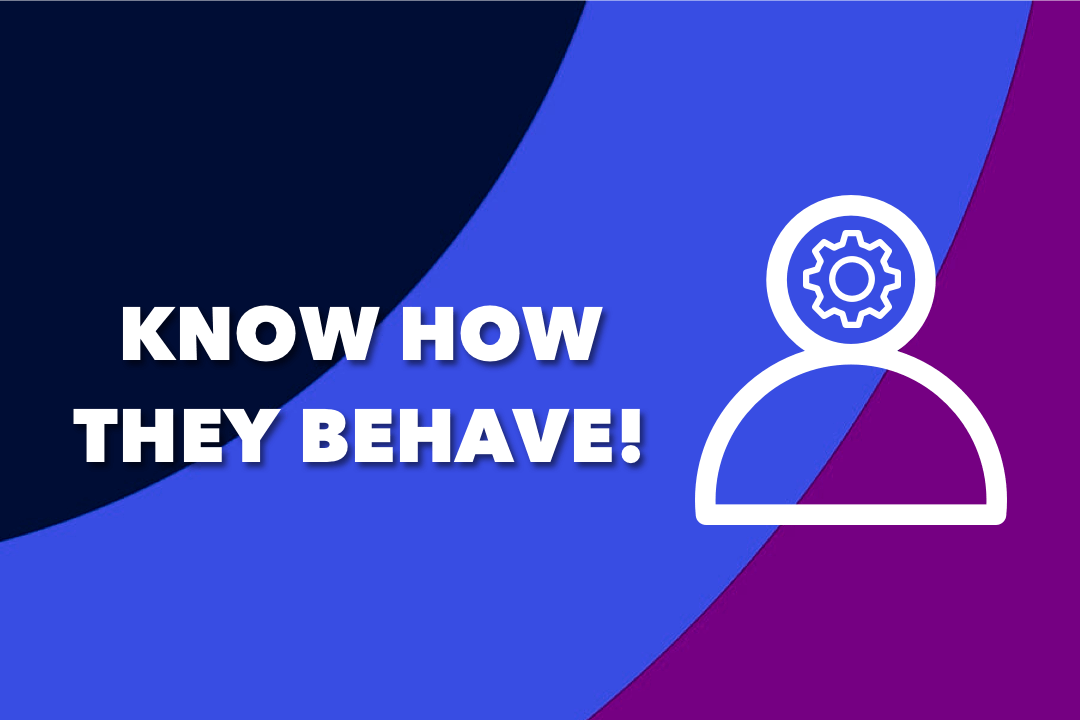 There is no doubt that the development of technology brought a new way of purchase behavior & mindset for customers. Furthermore, it has been changing swiftly all the time.
Firstly, one of the biggest changes was the emergence of "online shopping" which was a comprehensive reflection of the changes in consumer's purchase behavior. Because people realized that it has been reducing the costs of customers and improving the perceived value.
In this way, the term online shopping has occurred & continued to develop.
At the peak point of changes in consumer behavior, it has occurred faster and more extreme than ever before in COVID-19 pandemic. Digital adoption has skyrocketed as customers and brands responded to the new demands of lockdowns and social distancing similarly.
That big change has brought new expectations for shopping, customer service and marketing that is going to continue long after the pandemic ends.
That is why it is critical to understand the base of consumer behavior changes to adapt your Shopify store to whatever period, what elements affect this & how to shape it.
Because your marketing strategy, sales & growing your eCommerce store mainly depend on this term.
Let's crumble this term to its smallest parts to grow your Shopify business on a strong base! :)
1. What Is The Meaning Of Consumer Behavior?
Consumer behavior is the psychological, social and physical behavement of potential customers as they become aware of, evaluate, purchase, consume, and tell others about products and services.
Briefly, it is the process of deciding about what to buy, when to buy, where to buy, and how to do so.
"Consumer behavior is the actions and the decision processes of people who purchase goods and services for personal consumption" – Engel, Blackwell, and Mansard
In terms of marketing, customer behavior means a person's buying habits, including social trends, frequency patterns, and background factors influencing his/her judgment to buy something.
So, we can say that this definition's elements are always open to change as technology, commerce & eCommerce have been changing immensely from one moment to another.
2. What Are The Types Of Consumer Buying Behavior?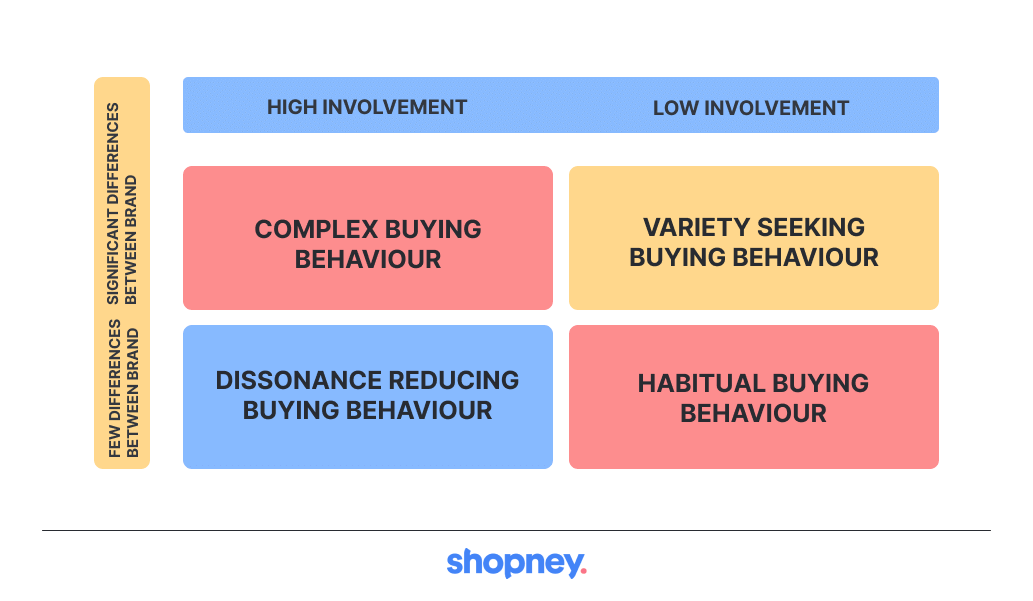 There are mainly four types of consumer behavior that can be classified. Let's see their details to understand consumers' thinking style deeply.
1. Complex Buying Behavior
This infers to buying infrequent, expensive products, like a house, car and so on. In this case, trusting the seller isn't always easy as the amount of risk is huge.
In addition to the amount of expense, emotional investment is also involved, so consumers are highly involved in the purchasing process, and do extensive research to be sure of what they're choosing is right for them.
2. Dissonance-Reducing Buying Behavior
The consumer is still highly involved in the purchasing process, but has confusion on choosing between brands and feels anxiety about whether they may regret their choice.
It basically refers to the mental conflict that comes when an individual's behaviors and beliefs do not correspond to each other.
Let's try to explain it with an example. If your customer is looking for a chair for her dining table. She will look for the price, raw materials, colors, compatibility with her table and quality of the product.
As she checked all her needs, then she will compare your product with the other brands too. She will be convinced to make a purchase decision when she assesses the comparison results.

3. Habitual Buying Behavior
This pattern defines customers' routine buying behaviors such as getting milk, bread, soda and so on which are basically low-cost products from any store. It means the customer is not that involved in the product or brand category. Here, the consumer is least concerned about the brand and loyalty. Because their needs are above all.
4. Variety Seeking Behavior
Consumers sometimes change their buying pattern for no important reason. For example, they may want to get advanced change from their regular product.
This doesn't mean that the products your customers are using aren't good. For example, they might be happy with their brand of coffee, but just want to see a different kind.
After understanding the types of consumer behaviors, let's move with its importance below.
3. Why Is Consumer Behavior Important?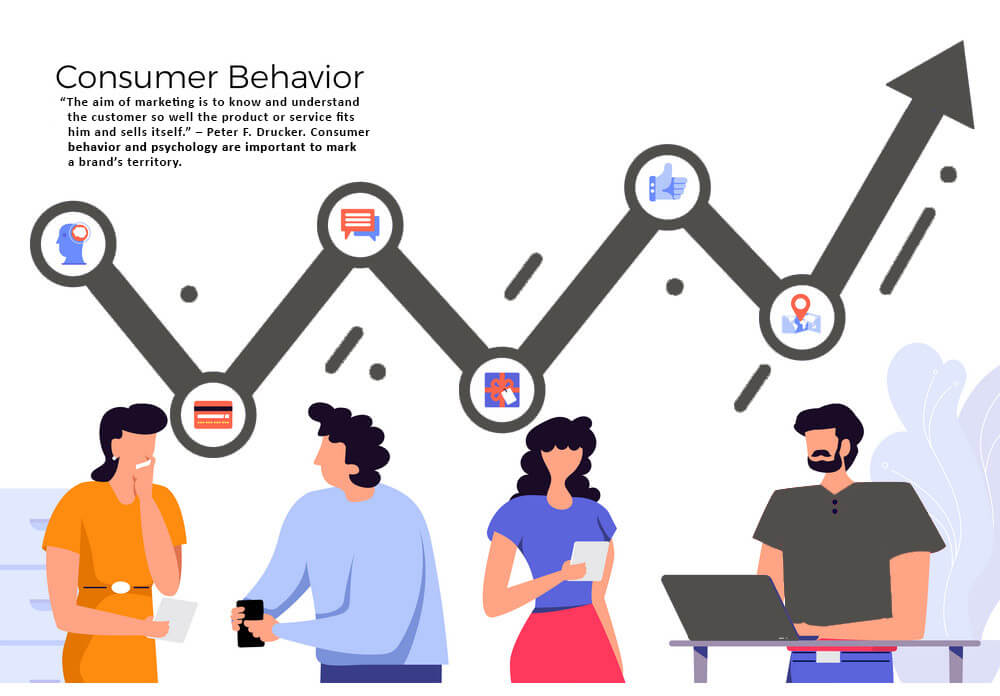 Due to the rapid change in fashion, technology, trends, living style, disposable income, and similar other factors, consumer behavior also changes.
Keeping track of consumer behavior changes & understanding the term itself is crucial for an eCommerce business to catch continuous success for its recent products & new product launches.
Each consumer has a different idea and attitude regarding purchasing a particular product. As you invest a lot of time and money for your products and services, it is critical that you offer the right items regarding the needs of your customers. Otherwise, your Shopify store may face huge amounts of losses.
So, in order to make sure that the products as well as your brand is well-recognized by the consumers, it is important to first know what consumers want and are likely to buy.
Let's see some points for the importance of this term to understand clearly.
1. Creating A Better Marketing Strategy
As the living standards, trends, and technology keep changing as stated above, consumers' choices also keep varying.
By understanding how these factors affect customers' buying habits will help your business to create the right marketing strategy & communication with your customers.
Each marketing campaign can appeal to a specific separate group of consumers based on their behavior.
For example, while targeting the kid's market, you may have to look out for venues such as TV ads, school programs, and blogs targeting young mothers or if you sell school products you should also check the same things targeting teachers.
2. Improving Customer Retention & Loyalty
It is more useful to keep your existing customers than gaining new ones. It's easier to sell new products and services to your existing customers than to find new customers. As you all know, most of your revenue comes from your loyal customers.
If you are able to retain your customers to turn them into loyal ones and create strong relationships, this can lead to creating a strong brand image for your Shopify store.
So, if you understand what your loyal customers want & what are their consuming habits, you can meet their needs and so that it can double or triple your conversion rate & revenue! Analyzing the trends between them in sales can aid in offering discounts as well as suggesting the best products and services to them.
3. Increasing Sales
To increase your sales, you should target potential shoppers in each segment. If you know your customers & their habits well, you can have better conversations with a high probability of closing the deal.
Instead of taking random shots and trying to sell to anyone, having knowledge about your customers' likes and dislikes helps in making smarter decisions. Such a strategy has a higher chance of generating sales.
4. Research Competition
Examining consumer behaviors helps to analyze the competitive market. One of the most crucial reasons to look at consumer behavior is to find out answers to some of the questions so that you can plan how to stand your eCommerce business & products to offer competitive advantages:
Is the customer purchasing from your competitor?
Why does a consumer buy from your competitor?
What features attract a consumer to your competitor's products?
What gaps are your consumers identifying in your products when compared to your competitors?
If you research these questions, you can plan a good strategy to go ahead faster in this competition.
What Factors Influence Consumer Behavior?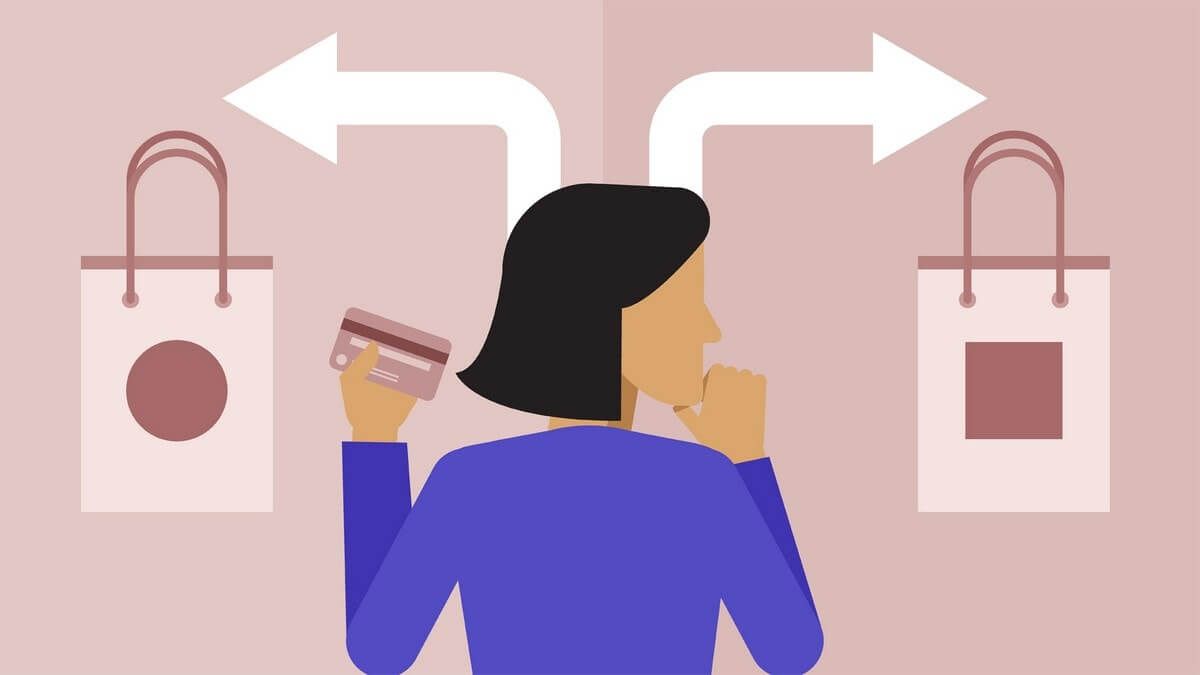 Consumer behavior can be affected by many variables such as situation,  psychological, environmental, marketing, personal, family, culture and so on.
Of course, you have the power to control some of these, but for some, you have to keep in mind that you should try to understand what are these elements that affect consumer behavior and how to influence it.
Let's now look at some of these factors in detail.
1. Marketing Factors
Marketing campaigns can encourage customers to change brands, stay loyal, & start buying some kind of products that were previously aligned to them. A shopper's reaction to a marketing campaign depends on his/her beliefs and state of mind. That is why, marketing factors can also be counted as psychological factors.
2. Psychological Factors
A person's ability to analyze & understand information, perception of needs, and mindset affect a consumer's behavior.
3. Situational Factors
They consist of physical factors such as a store's location, layout, colors, music, lighting, and so on which are actually temporary ones. Businesses try to make these factors as beneficial as possible for themselves. Other factors included in this category might be holidays, time, and moods of the consumer.
4. Personal Factors
They consist of demographic factors like age, gender, income, occupation, and so on. These factors also depend on a consumer's interests and opinions. For example, a consumer's economical situation defines his/her shopping habits.
To analyze customers well, you should also look more closely at their lifestyles.
5. Social Factors
This factor contains social class, level of education, religious and ethnic background, sexual orientation, and people around them like social network.
Variable cultures have different customs influencing how people live their lives and what products they buy.
Most of the time, consumers in the same social class show similar buying behaviors. Most market researchers believe a person's family is one of the biggest elements that determines buying behavior.
How To Shape Consumer Behavior?

The set of beliefs that a consumer holds about life is the main influencer of consumer behavior. Beliefs are engraved to one's brain deeply leading them to prevent consumers from evaluating alternatives and so that change existing habits and routines.
So it is definitely challenging to shape & convert them into your favor. However, it is not impossible if you work well & do the right thing! :)
Behavioral science shows that identifying consumers' new beliefs, habits, and "important moments" is central to change consumer behavior. Five actions that can help your eCommerce business to have an impact on consumer behavior for a longer time of period:
1. Reinforce Positive New Beliefs: When consumers are surprised and happy by new experiences, even their long term beliefs may change, making consumers more willing to repeat the behavior, even when the trigger is no longer a case.
An effective way to reinforce a new belief is to work on peak moments & catch them in the right times. These moments can be defined as specific parts of the consumer decision process that have higher impact which consumers are more likely to remember most.
Peak moments generally contain first-time experiences with a product/service, touchpoints at the end of a consumer journey, and other moments of intense consumer reaction.
As the consumer journey has been changing, so are the peak moments, you should identify and optimize them. For example, a peak moment in a grocery store might be the discovery of an exciting new product on the shelf.
2. Shape Emerging Habits With New Offerings: You can prompt consumers regarding new habits through product innovation. For example, the pandemic has provided consumers to become more health oriented and increase their awareness & buying of vitamins and minerals.
3. Sustain New Habits, Using Contextual Cues:To help turn behaviors into habits, companies should identify the contextual cues that drive the behaviors. A contextual cue can be a particular task, time of day, or object placement.
On the other hand, some businesses need to create new contextual cues. Before the pandemic, a contextual cue for chewing-gum consumption was anticipation of a social interaction.
As the pandemic came & people stopped to socialize or maybe with small amounts of people, - may take time even after pandemic- chewing-gum businesses  should find or create new contextual cues.

4. Align Messages to Consumer Mindsets: You should guarantee that all your brand communications are assorted with consumer sentiment. The quality of a company's communication and its ability to strike the right tone will increasingly become a competitive advantage in terms of shaping consumer behavior.
5. Analyze Consumer Beliefs and Behaviors at a Detailed Level: Consumer beliefs, habits, occasions, and emotional-needs have been changing & will continue to change even faster with the development of technology.
For businesses to stay adapted to those changes, only controlling the sales won't be enough.
You should also work on primary consumer-insights, with a focus on determining changed behaviors and associated changed beliefs and motivators to get a whole picture of the changing consumer decision journey so that you can influence this process.
For more information about shaping consumer behavior, you can read this article.
Why Mobile Shopping Behavior Is Different From Desktop?
Both mobile and desktop play a huge role in online shopping. Some online shoppers may prefer mobile and some may prefer desktop based on their experience.
However, it is undeniable that consumers behave differently on desktops & mobiles when it comes to shopping. Actually, these differences mostly come from types of consumer buying behaviors & factors that influence consumer behaviors.
For example, if an online shopper wants to buy a new computer, she will probably be showing complex buying behavior & she will definitely use the desktop to shop to see & examine it clearly, compare it with other options, and so on. On the other hand, for businesses whose offerings are a bit steep in price, mobile targeting is just as important!
Because for habitual behavior & variety seeking behavior consumers will be using mobile phones for purchasing because of its speed & perceived usefulness.
But still the big portion of the final buying transactions might not take place on a mobile device, but still, this is usually where people see your ads. The reason might be the domination of dissonance-reducing buying behavior & complex buying behavior as well as the types of products bought online.
Let's see & understand some terms -some are in favor of m-shopping some are in favor of desktop shopping- that differs mobile shopping behavior from desktop shopping behavior.
1. Perceived usefulness means to the degree which an individual believes that using a mobile device to shop online would enhance his/her job performance. It is positively related to mobile commerce behavioral intention.
It is proved that this term positively affects mobile banking adoption and mobile coupons adoption. Commonly, it is agreed that perceived usefulness positively impacts on m-services' behavioral intention and approved its effect on mobile payments.
As mobile shopping is time saving for 21st century's people, maybe the most important element for mobile shopping is being a time-saver which brings perceived usefulness.
2. Perceived Ease of Use: It has been a vital concept regarding mobile shopping. This term is used to determine a person's intention to accept and use a particular technology. Briefly, perceived ease of use is a person's ability to implement a technology.
As the ease of use is at the highest level for smartphones, people easily adopt mobile shopping & related transactions too.
3. Anxiety: Several researchers have investigated anxiety as a significant inhibitor of IT and mobile shopping adoption.
Consumer anxiety about using IT focuses on an individual's ability and willingness to use technology-related tools. Regarding mobile shopping, due to its newness and uniqueness in shopping encounters, it might provoke users' anxiety about mobile shopping adoption.
Anxiety impacts negatively on perceived ease of use of m-payments. Considering that m-commerce consists of data services that are not limited by temporal and spatial boundaries, consumer anxiety about using m-shopping is expected to exist and may be higher than anxiety about other shopping methods.
For example, while desktop shopping demands a specific fixed local area network to access a website, mobile shopping can be done everywhere via data services.
So, maybe mobile shopping might have been seen as not that trustable when some shoppers compare it with desktop shopping creating anxiety for some users.
4. Mobile Skillfulness: Several studies have investigated skillfulness as a significant factor in influencing consumers' behavior towards a specific technology. Therefore, it is strongly recommended that skillfulness should also be examined as a driving factor in the area of mobile shopping.

How Mobile Shopping Affects Customer Purchase Behavior?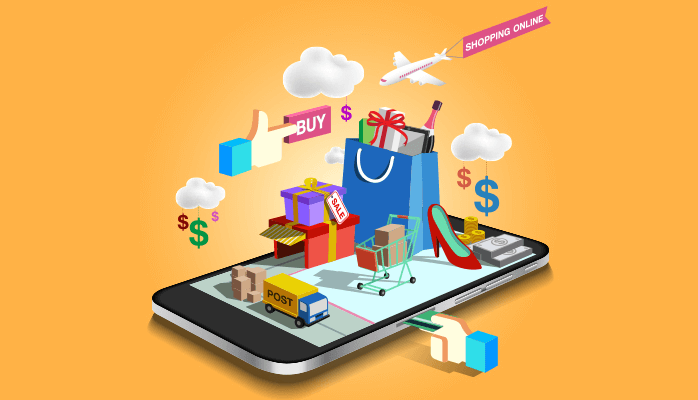 Mobile shopping has also changed the way consumers purchase behavior. As a growing number of consumers embrace mobile, the expectations on the online experience continue to reach new levels.  
Nowadays, people are looking for a seamless online shopping experience meeting their personal needs.
1. More informed mobile shoppers: While the digitalization of shopping has given additional power to the consumer including more choice and information, it has also made the decision-making process more complex.
Doing price comparisons and searching for offers, promotions & deals are the most common activities people do when shopping online, followed closely by the ability to manage bought and returned items through delivery tracking.
2. Autocomplete is key for mobile users: Mobile shoppers don't want to type out long search queries on small, touch screen keyboards. Online shoppers expect a system that anticipates the products they're looking for as they type in their search query.
3. Mobile shoppers want advanced filtering options: Mobile shoppers want the ability to quickly jump not only to specific products, but also to brand or item-type product levels.
For mobile shoppers operating on small screens, not having to go to multiple menus to navigate to product type or brand pages creates a more pleasant overall shopping experience that they are more likely to repeat.
4. Payment options: Mobile shoppers are less likely than ever to pull out their credit or debit card and type in all of their information.
That is why you should incorporate a variety of different payment options on your website & mobile app. Verify that your web store & mobile app has the ability to accept client-based payment storage options, like ApplePay and Google Pay, as well as more established alternative payment methods like PayPal.  
5. They want optimization & speed: We are talking about 21st century's mobile shoppers! None of them likes to view sluggish websites or mobile apps, even if they are good looking.
If it takes a while to perform the most basic activities due to page load time, online shoppers are likely to look elsewhere sooner or later.
Conclusion
As you all see, consumer behavior has been changing rapidly and ever evolving!
As the technology, customs, trends & habits are not the same from one moment to another, you can easily imagine that consumer behavior will not be the same.
But understanding the base & factors of this term will drive you to ultimate success!
You should understand that your customers are the ones who are leading you towards the progress of your business. If you know how to influence & direct them, you can be at the top!
Also, studying the buying patterns and understanding the decision-making power of your customers can help you achieve the goal of consumer satisfaction.
You should bear in mind that the best platform that you can observe & work on your consumers' behaviors is your mobile app. In today's world, almost everyone use smartphones to shop as it is stated above.
If you still don't have a mobile for your Shopify store, your first step can be building your own Shopify mobile app to examine & develop your business according to consumer behavior. It is the time to convert your Shopify store into a mobile app with Shopney. :)‌
‌
So, after learning about this detailed term, it is your turn to make a business plan!