Mobile eCommerce: Comparison to Desktop & Tips to Improve Conversion Rate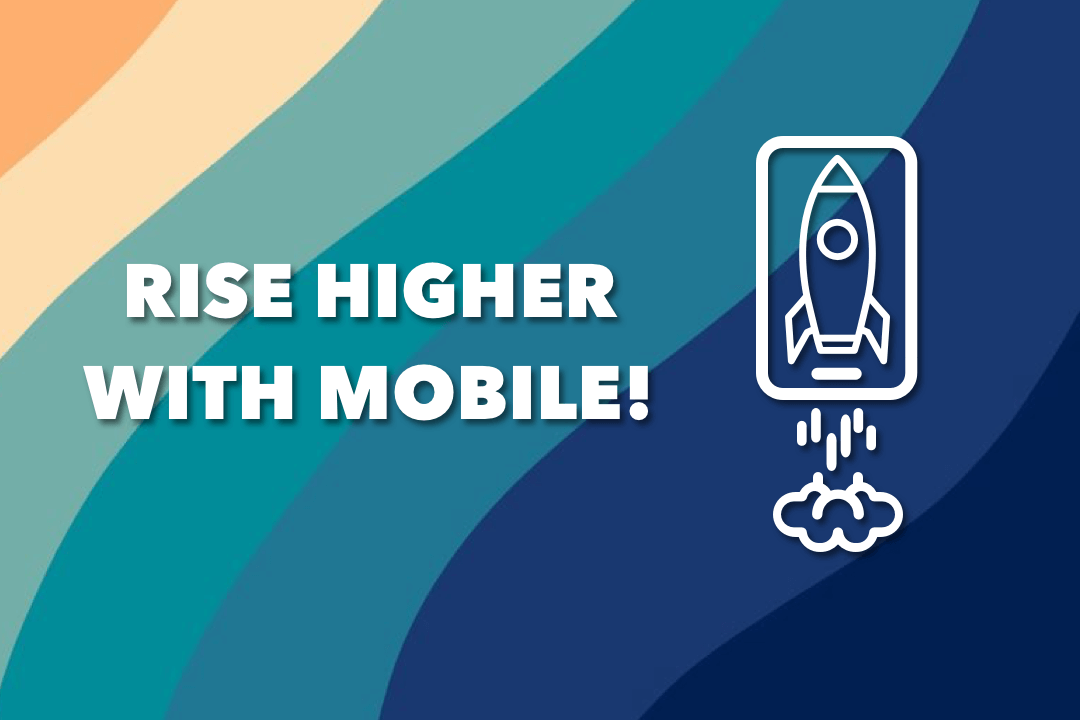 Unfulfilled potential feels sad. And you might be feeling so when you check your decent Shopify store traffic on mobile with a mediocre conversion rate. Especially, when you compare your mobile conversion rates with other eCommerce stores or even with your desktop conversion.
Considering the amount of money, sweat, and time you put into bringing that traffic, naturally, you don't want to let them go down the drain.
Remember, if someone does it, you can do it as well. It's not a hopeless situation. Not at all!
The first step you need to take was noticing the problem and search for solutions. You did that and ended up here in this article. And you won't be regretful! Read on to see why.
We will cover the fundamentals of eCommerce on mobile and desktop first. This will help you to understand the main dynamics and learn the facts with solid stats.
Then, you will be gifted with pro tips and insights to leverage the traffic on mobile and flourish your business with it.
If you're ready to dig deeper and find what you've been looking for, let's roll out!
1. What is the Conversion Rate?
The conversion rate is the percentage of total business goal completions (aka, do what you want them to do) in the total amount of actions you drive your audience to as a general term in business.
Depending on your business type, your "conversion" could be anything. For further information about what conversion could be for your business, please click here.
• How to Calculate the Conversion Rate?
In eCommerce, the conversion rate refers to the percentage of visitors to your website who make a purchase from your Shopify store in the total number of visitors.
For further information about the conversion rate calculation, please click here.
2. What is the Difference Between Mobile Commerce and eCommerce?
Let's look at the definitions of both terms to compare eCommerce & mobile commerce comprehensibly.
• What is eCommerce?
eCommerce, also known as electronic commerce, signifies the buying and selling of goods/services by using the internet, and the transfer of money/data to execute these transactions. eCommerce is often used to refer to the sale of physical products online, but it can also describe any kind of commercial transaction that is facilitated through the Internet.
• What is Mobile Commerce?
Mobile commerce is an increasingly large subset of electronic commerce, a set of methods and tools, with the help of which a customer can buy products from his/her mobile device.
eCommerce and mobile commerce are two very closely related areas that share a set of similar approaches. However, mobile commerce practices are a lot narrower, which means more specific and targeted instruments such as smart phones should be used to hit the targeted audience.
• Comparison of Mobile Commerce & eCommerce
To understand the differences between both terms, let's have a look at them in the table below.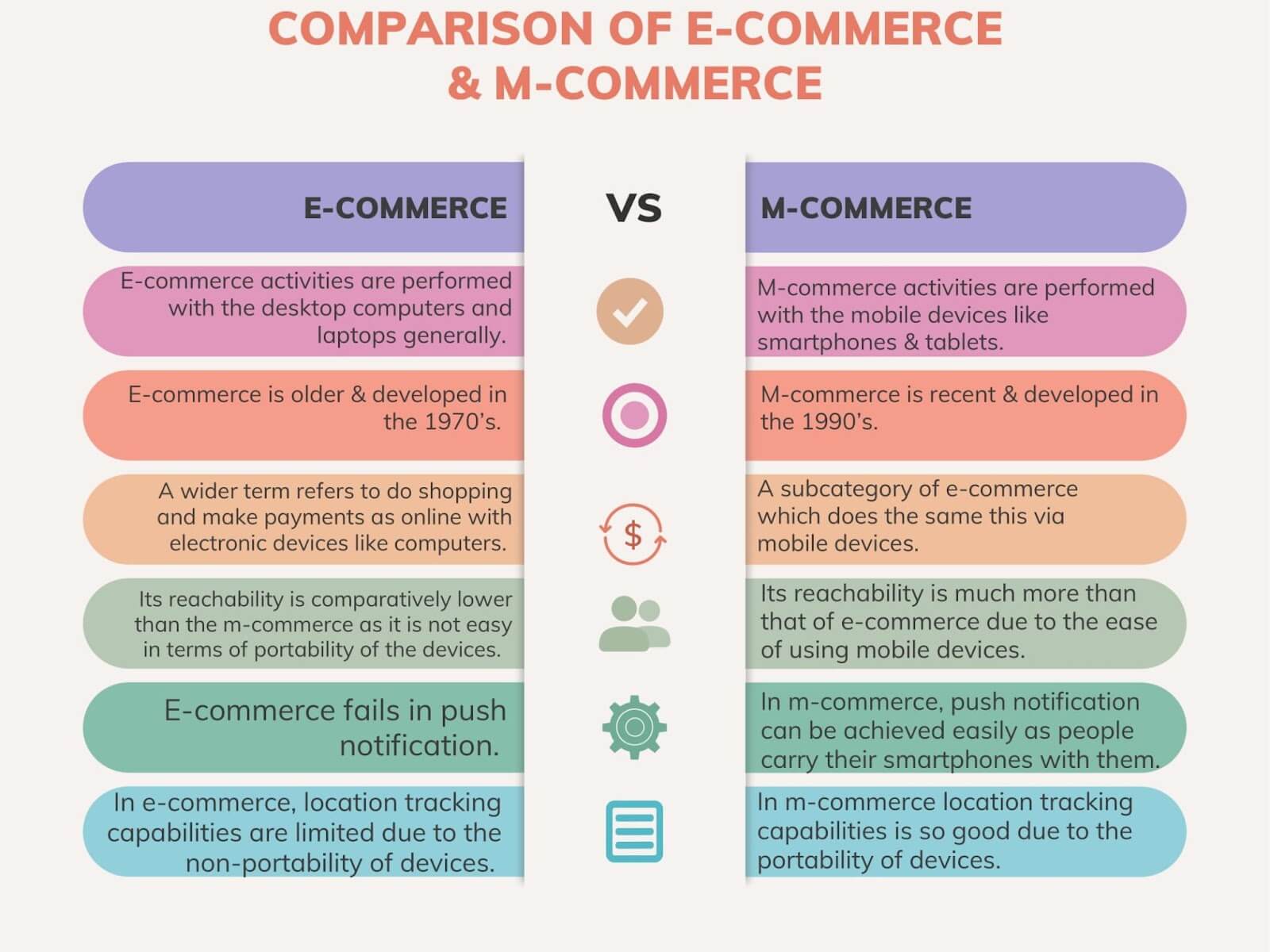 3. What Percentage of eCommerce is on Mobile?
Since the release of smartphones, mobile shopping is increasing massively. However, while mobile sales are certainly growing, they are not increasing as dramatically as mobile traffic.
Although a significant portion of online traffic & sales come from mobile devices, the mobile conversion rates stay behind slightly. According to stats from the SaleCycle 2021 E-commerce Stats & Trends Report, smartphone traffic worldwide in 2020 is 68% for mobile and 32% for desktop. (See below "Is Mobile Conversion Rate Lower Than Desktop")
• Do People Buy More on Desktop or Mobile?
What was the proportion of mobile to desktop sales? Mobile leads the sales here. 56% of eCommerce sales were made with mobile devices, with desktops making up the remaining in 2022. However, as it is stated above "while mobile sales are certainly growing, they are not increasing as dramatically as traffic."
If we consider the fact that mobile has the first rank when it comes to web traffic according to various studies, which is more than 65% of all web traffic, then we should query why mobile stays behind desktop in terms of conversion rate?
• Is Mobile Conversion Rate Lower Than Desktop?
Although mobile has a larger share of traffic, customers largely waiting until they get home to purchase them on their computers.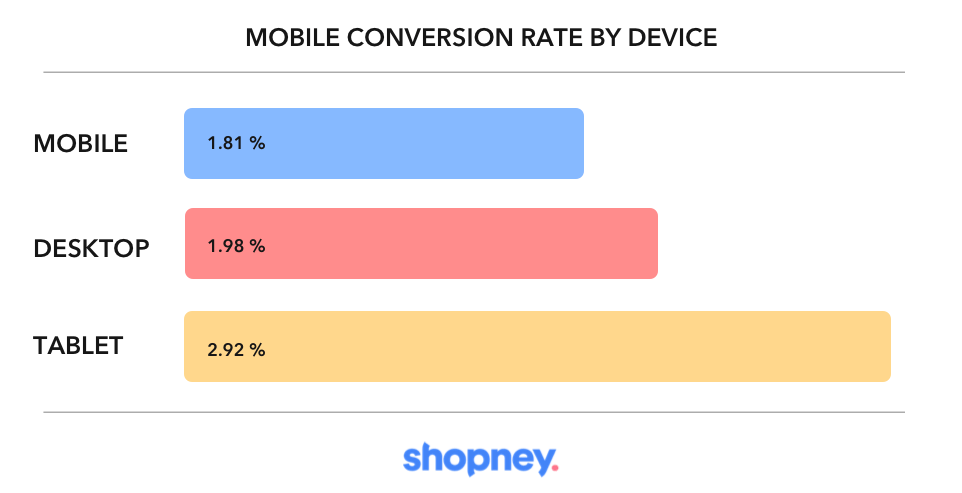 ---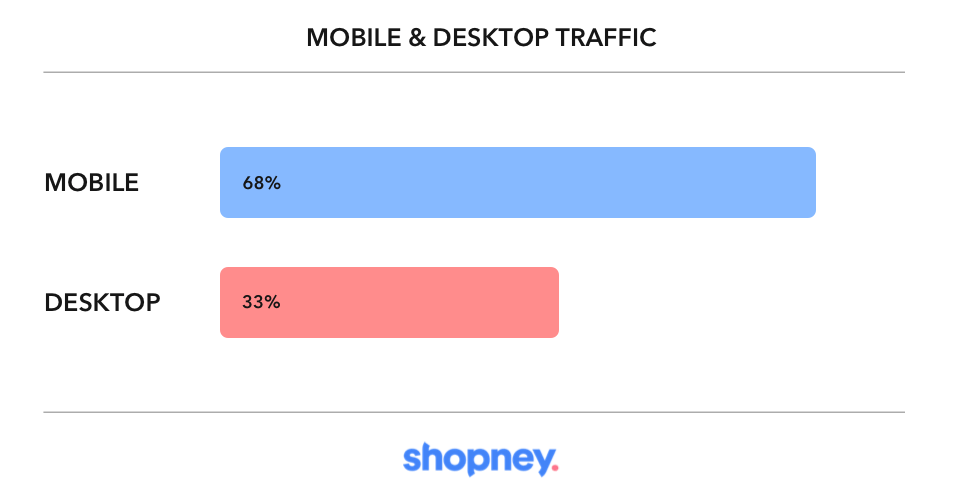 Let's see the reasons below why the conversion rate is lower on mobile than desktop.
• Why is the Conversion Rate Lower on Mobile?
It seems that people are happy to browse on mobile, but many of them still prefer to buy on desktop, so let's look at the reasons.
There are several reasons why people prefer to buy on a laptop. For example, it can be easier to navigate around a site and view images on a bigger screen, so consumers generally visit mobile to see what they can buy, and later on, they purchase it via desktop.
Despite the fact that people generally prefer to buy on desktop, they decide which items to buy before on mobile. Phones are becoming a complement to brick-and-mortar stores.
In a study which conducted on more than 2,400 omnichannel shoppers, 46% of those who researched product ratings or reviews before buying them offline do so on mobile phones. Of those who compared prices prior to buying offline, 36% did so on a mobile device. And 51% researched a product on mobile while in-store.
Let's be honest: If you plan on running a successful eCommerce website, you must monetize mobile users and consider mobile shopping. It must definitely be a primary part of your marketing strategy. If you do not do this, it means you basically ignore the major part of your potential customers.
So here, the question should be "How do we improve the average mobile commerce conversions?"
4. How to Improve Mobile Conversion Rate?
Sometimes you might be wondering how to increase your mobile conversion rate? After analyzing your mobile conversion rates, you should have a good idea of what needs improvement.
Δ Use A/B Tests
Δ Consider Desktop vs Mobile User Behavior
Δ Create Urgency Feeling
Δ Understand When Did Someone Use an App/Mobile Site?
Δ Build the Native Mobile App of Your Shopify Store (See the 6th title below)
For further information about the elements here, please read this article.
• How to Improve Your Sales on Mobile?
There are some obstacles for customers to buying on mobile and give up to purchase from your site. To prevent this, firstly you should apply the elements below on your mobile application.
Auto-fill forms: This makes checking out faster and less laborious.
Allow customers to check out as a guest: Not everyone has the time or inclination to sign up.
Optimize your CTAs: A clear and compelling call to action can make a huge improvement to conversion rates.
Make product recommendations: A great way to upsell and improve mobile sales.
Allow a range of payment options: Make sure you support alternative options like digital wallets as well as credit and debit cards.
5. How Can You Leverage Mobile Commerce for Your Business?
The main aspect regarding mobile vs. desktop search is that when a user takes his smartphone to perform a search, s/he generally has a very specific target in his/her mind.
You can benefit from this by providing a well-defined & simplified call-to-action button and also improve your mobile conversions by simplifying and streamlining the content you present to your customers by launching your own mobile app.
• Benefits of Launching Your Mobile App
Nowadays, more people are getting away from desktops and even laptops for their internet searching. Thanks to the ease of using mobile, more people use their smartphones for shopping & internet browsing.
Throughout the history of commerce, those who offer the best shopping experience have always been two steps ahead. Customers always tend to seek better options and with your native mobile app, you will be that better option.
Here are some of the benefits of turning your Shopify store into a mobile app:
·        Higher Customer Loyalty
·        Increase in Sales and Conversions
·        Enhance Customer Retention
·        Better Data Analysis
·        Free Marketing Tool
At the end of the day, you should be where your customers are and that place is their mobile phones. So you should provide the best mobile user experience for them. And the way to achieve that is by building a mobile app for your Shopify store.
For more information, please click here.

6. How Shopney Can Help to Improve Your Mobile Conversion Rate?
One of the best ways to increase your mobile conversion rate is by building a native mobile app. The Shopify platform comes with powerful built-in eCommerce tools and apps that give you everything you need to create a fantastic app and turn your business into a thriving enterprise.
Mobile apps drive higher conversions and they are the most efficient marketing tools to boost your conversion rate. The features that enable brand interactions create stronger brand loyalty with your customers, which in turn drive conversion rates higher.
Shopney has customers who increase their revenue by 70% by building a mobile app for their Shopify stores.

So launch your native app today with Shopney, and increase your conversion rate by converting your traffic to sale!
7. Conclusion
Despite the fact that the traffic & sales are higher on mobile, the conversion rate is still stays behind desktop.
But there is the most efficient way to increase your mobile conversion rate! You all know what is it after reading this article: launching your mobile app will save money, provide a free marketing tool for your business, and increase your customer retention!
As more people are getting away from desktops and even laptops for their internet searching and getting much closer to mobile apps, it is a must for you to have best one!
You can find all the features that will increase your conversion rate on mobile on Shopney in the best way! Shopney has customers who increase their revenue by 70% by building a mobile app for their Shopify stores.
More than half of the consumers make more than one purchase from retailers who offer a good mobile experience in their apps. Keeping these stats in mind can keep you motivated to improve your bottom line.