Shopify Mobile App Case Study - 70% Increase In Revenue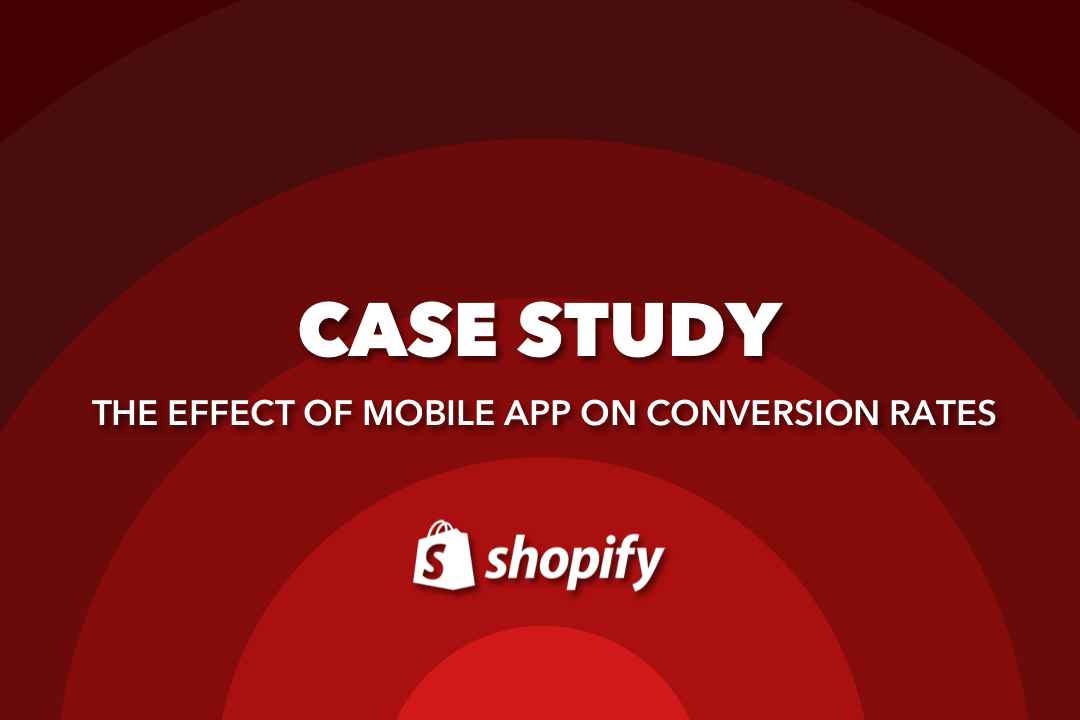 Sales performance is all about the shopping experience you offer to your customers. As more than 70% of the Shopify store traffic comes from mobile, it is very important to offer the best mobile shopping experience for mobile visitors.
Lumia Coffee, a Shopify merchant from Kuwait, sensed sensed the importance of mobile back in 2019. And, started to look for a mobile app builder for their Shopify store. After a long process of research and trial, they have decided to continue with Shopney. Today, after nearly 10 month, they are proud of their decision!
A great mobile app that took their business into the next level. This article is all about their mobile commerce success! Read on to get inspired!
About Lumia Coffee
Lumia Coffee is a Shopify brand in a very specific niche, high-end coffee. With their own words, Lumia has redefined the way you enjoy your daily coffee starting from Whole Beans Coffee, Grounded Coffee, Dripping Kit, Nespresso Capsules, Cold Brew to Instant Coffee.
The quickest and easiest way to prepare a cup of coffee without any special equipment. It is more than just a coffee, Lumia is a mixture of art, lifestyle and coffee.
Lumia coffee beans are sourced from the finest grown beans that are ethically conformed to standard. Not only are Lumia Coffee beans obtained locally, but also specially roasted to bring out the aroma and flavor locked in the coffee beans until they are ready to be ground and brewed. Lumia Coffee has redefined ways of enjoying coffee from the making to dripping.
Challenge: Converting Shopify Store Into Mobile App
In August 2019, the founder of Lumia Coffee Nasser Al-Muzeiel, also a successful entrepreneur, start to look for ways to create a mobile app for their Shopify store to convert more on mobile. After a decent time spent by comparing mobile app builders in Shopify app store, Nasser made his decision: Shopney.

In less than 1 week period, Lumia Coffee launched the first version of their mobile app for both iOS and Android platforms. Since then, Shopney has launched 6 updated versions for the Shopify brand to improve mobile shopping experience.
What Are The KPIs For Mobile App Success?
From the day they launched their mobile app, they started to get tons of installs thanks to their loyal customer base and great app design. And at the end of the first month, their mobile app became one of the TOP 100 mobile shopping apps in Kuwait.
Let's talk about some crazy number here! Their app got downloaded more than 3K so far and 100K visits. The average session time in the app happened as 5 minutes 43 seconds.

The Shopify brand made a revenue around 1o0.000 USD in less than 8 months. The total number of products sold via mobile app is +7K.
The beauty is important. We were so satisfied with the app's look. But we manage our business based on valuable data. And we had a big expectation from the mobile app. But it turned out to be an even greater success. We are very very happy with the numbers.

There are some more striking numbers about the app which indicate the importance of push notifications. Lumia got more than 3K extra visits thanks to abandoned cart push notifications and sold numerous products with this automation. And the Shopify brand had a conversion rate of %20 on abandoned cart push notifications.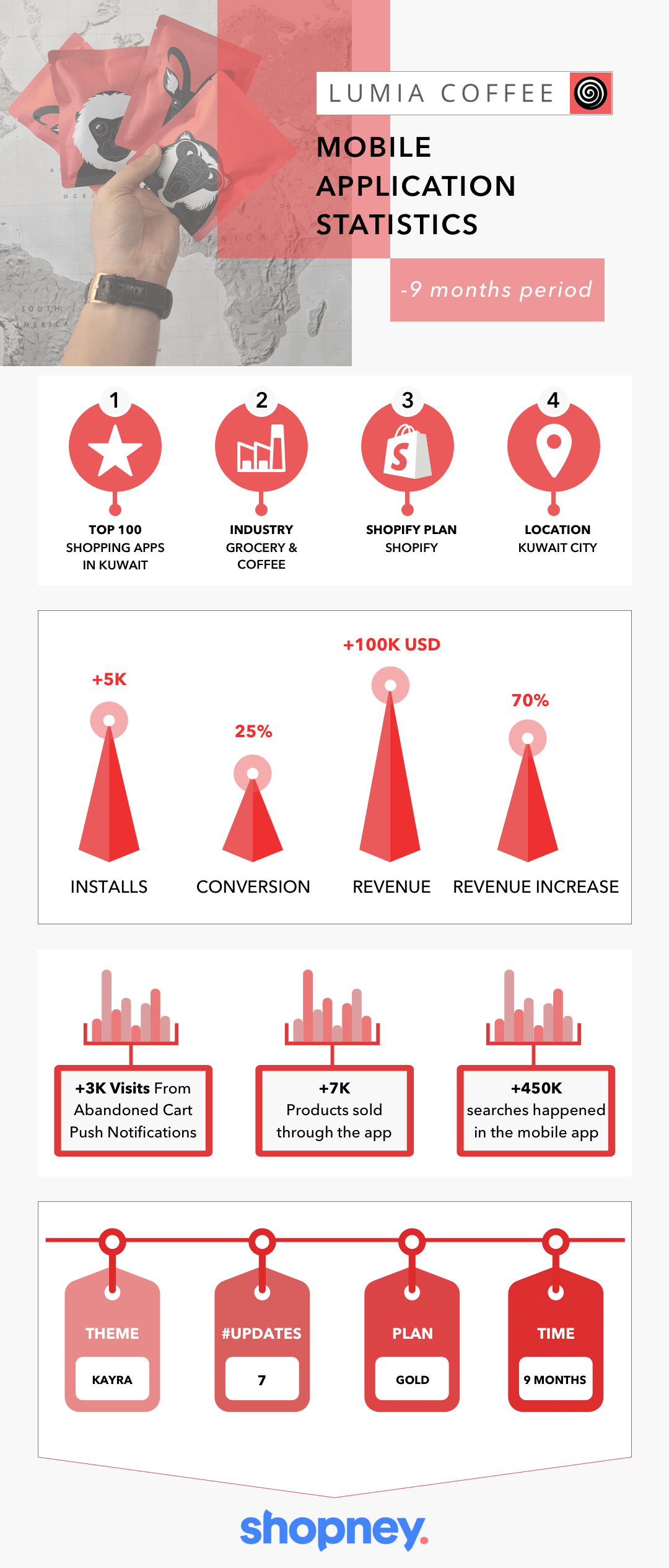 What Did They Do Right For Mobile App Success?
You, as a Shopify merchant, already know that opening a Shopify store is just the beginning and  does not mean that you will sell your products. It requires a solid effort. Let's cover the basics here quickly. You need to:
Offer a great shopping experience
Promote your store to your audience through all possible channels
Keep your store fresh with new products and content
Incentivize your audience with special offers to keep your store attractive
The same rules applies for your mobile app success as it's a separate sales channel. And Lumia Coffee did all of these perfectly. They redesigned their app's home page more than 5 times to offer a new and fresh look to their customers.
1. Great Mobile Shopping Experience
The mobile shopping experience is already handled by Shopney itself with great mobile app layout. But Lumia Coffee created the difference on the other 3 subjects.
2. Mobile App Promotion In All Branded Channels
They have promoted their mobile app in their website and all of their social channels. Plus, they have notified their entire contact list about the mobile app through an email campaign.
3. Always Fresh Content In The Mobile App
Besides, they have refreshed their content and images frequently and kept it fresh all the time. That created a good reason for the mobile app users to visit the app again next time. Because they knew that there will be something new in Lumia Coffee's mobile app.
4. App-Exclusive Offers To Create Attraction
And lastly, they have created app-exclusive campaigns and offers. It made the mobile app a better and more logical way of shopping for the customers. So they increased the customer retention and loyalty.
Mobile App Overview - Lumia Coffee
In the image below, you can check out Lumia's beautiful mobile app and find the QR code through which you can the app from both Apple Store and Play Store.

Do You Want To Create A Native Mobile App For Your Shopify Store?
If yes, you are on wrong URL, but right place! At Shopney we build the best native mobile apps for Shopify and Shopify Plus brands like Lumia Coffee.
To install Shopney to your Shopify store, all you need to do is to navigate to our Shopify App Listing and click the install button. It's free to try for 30 days.

If you want to check more apps powered by Shopney, visit our Pinterest board below.