Best Alternatives to MageNative Shopify Mobile App Builder (2023)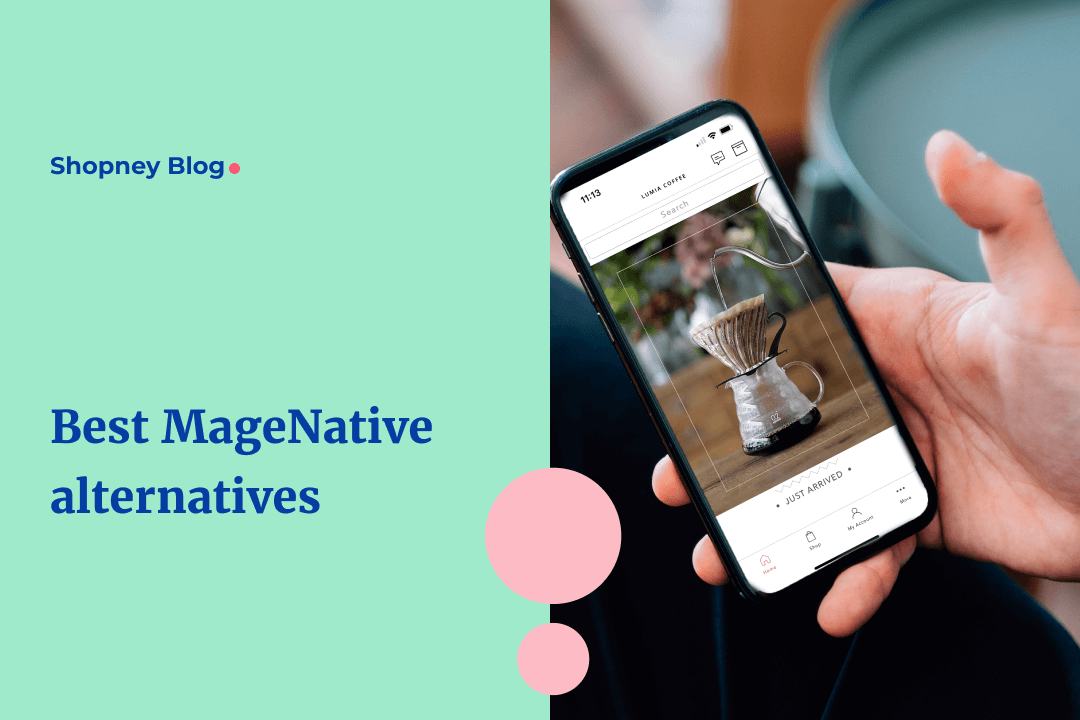 As eCommerce continues to experience immense growth, especially after the pandemic, AppCommerce has taken center stage. With an average smartphone user having 2-3 shopping apps at their disposal, the mobile shopping experience has transformed from a luxury to a necessity.
As a result, having a user-friendly, robust mobile app for your online store is essential. If you're on Shopify, and you have been looking to build an app for your eCommerce store, you may have come across MageNative Mobile App Builder.
However, it's important (and reassuring!) to remember that this isn't the only tool worth considering.
Finding the best MageNative alternative can seem tough and time-consuming, and requires a keen eye for quality, affordability, and overall utility.
In this blog post, we've created a comprehensive guide on the best Shopify mobile app builders out there to help you find the right tool that suits YOUR business needs, your stage of growth, and your unique customer expectations.
Ready to explore the world of alternatives to MageNative Mobile App Builder? Let's go!
List of best alternatives to MageNative Shopify mobile app builder
While there are a number of Shopify mobile app builders now available for online businesses, here are some that we recommend exploring as an alternative to MageNative - we will continue to update this list as more solutions become available.
1. Shopney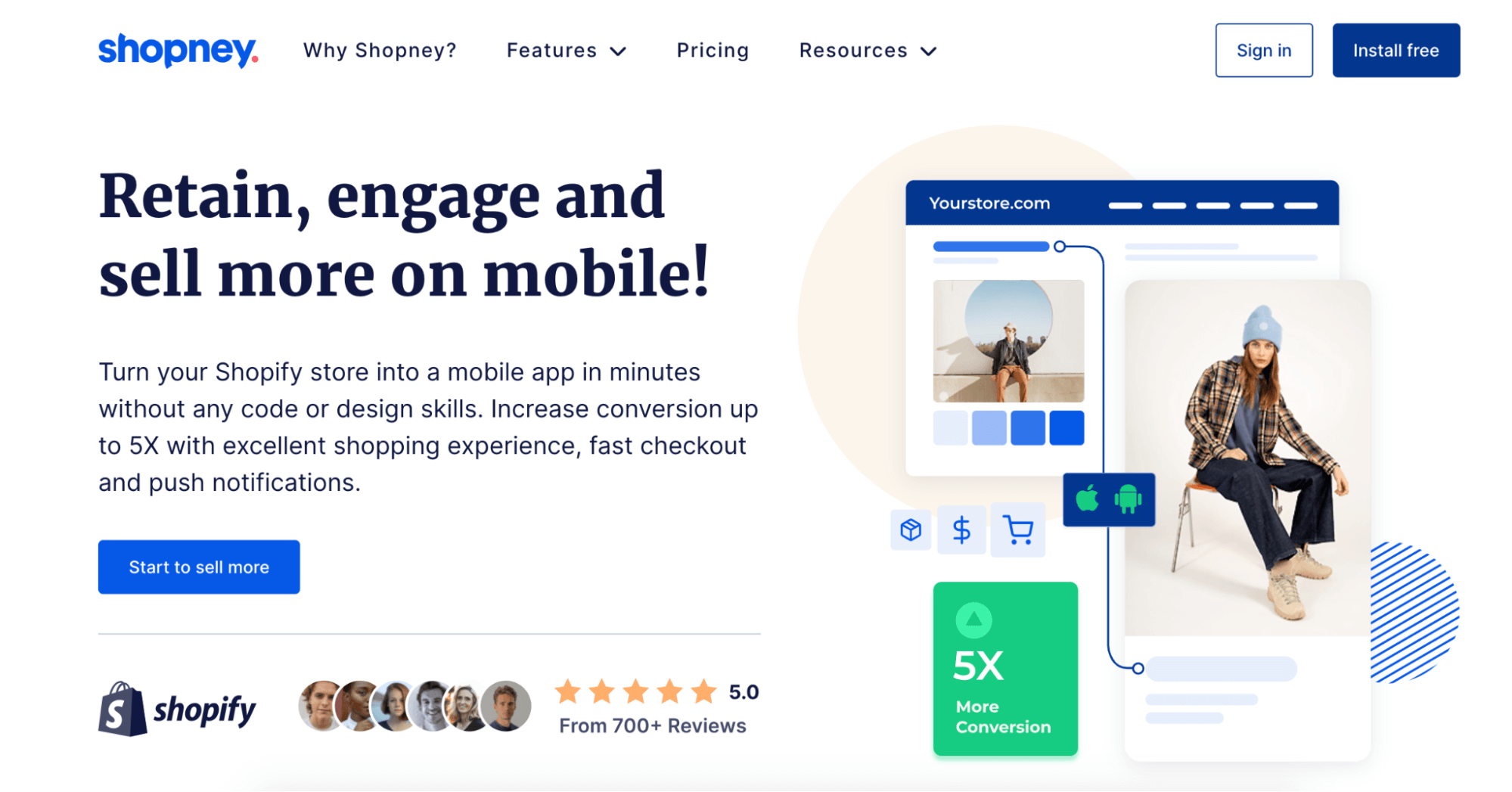 Shopney is a popular drag-and-drop mobile shopping app builder, helping Shopify and Shopify Plus merchants transform their stores into bespoke iOS and Android mobile applications in minutes without needing any coding or design skills. Leading brands choose this MageNative alternative to design customized shopping apps and launch them in less than a week!
Shopney offers a variety of theme and feature options in all its plans, making each plan richer and appropriate for small to midsize brands, as well as enterprise which you can depend on as your brand scales.
Shopify Rating- 5.0 (749 reviews)
G2 Rating- 4.6 (26 reviews)
Key Features
Shopney promises 'essential elements of a great mobile app in every plan' like without overwhelming your marketing or tech team, like:
Unlimited and free push notifications with emoji's and custom images, including abandoned cart, back in stock, welcoming and scheduled notifications. Also, you can leverage the power of personalized push notifications with Klaviyo integration.
It has a versatile design editor with full control to change your mobile app, from its layout, to content and colors.
A range of themes to suit different niches. You can select different inventory sizing options that you can display, as well as photography styles.
It offers 20+ integrations to allow for a seamless synchronization to Shopify's back end like Facebook, Google, Klaviyo, Gorgias & more.
Shopney provides an in-app chat feature to nudge users to purchase, helping you personalize the entire buying journey (think customer specific discount codes!) with a human touch. Utilize Gorgias and Shopify Inbox integration to recommend products and share promotions with customers! Use in-app chat to increase your order value and conversion rate!
Drag and drop builders can be clunky and overwhelming to use. Shopney has a clean, minimal dashboard and a dedicated team of experts to guide you along the way!
In addition, it also has:
A white Label iOS & Android App
All Design Element Types
Localization in 21 Languages
Different Mobile App Themes
App-Exclusive Discounts
Mobile App Promotion Banner
Real-Time Shopify Sync
Shopify Store Checkout
Pick Up & Local Delivery
User Accounts and Order History
Unlimited Products & Collections
Shopify Scripts
Rich Push Notification
Segmented Push Notifications with Klaviyo integration
Back In Stock Notification
In-App Chat
Custom-branded QR Codes & QR Scanner
Shopify Inbox Integration
Searchspring and Boostcommerce integration for fast search results
Google Analytics & Facebook Ads
24/7 Live Chat & Video Support
Explore all Shopney Shopify mobile app builder features here
One of our customer reviews says it better than we can- "the simplest App to setup I have used in a very long time".
Here are a few more customer reviews on our Shopify app store listing: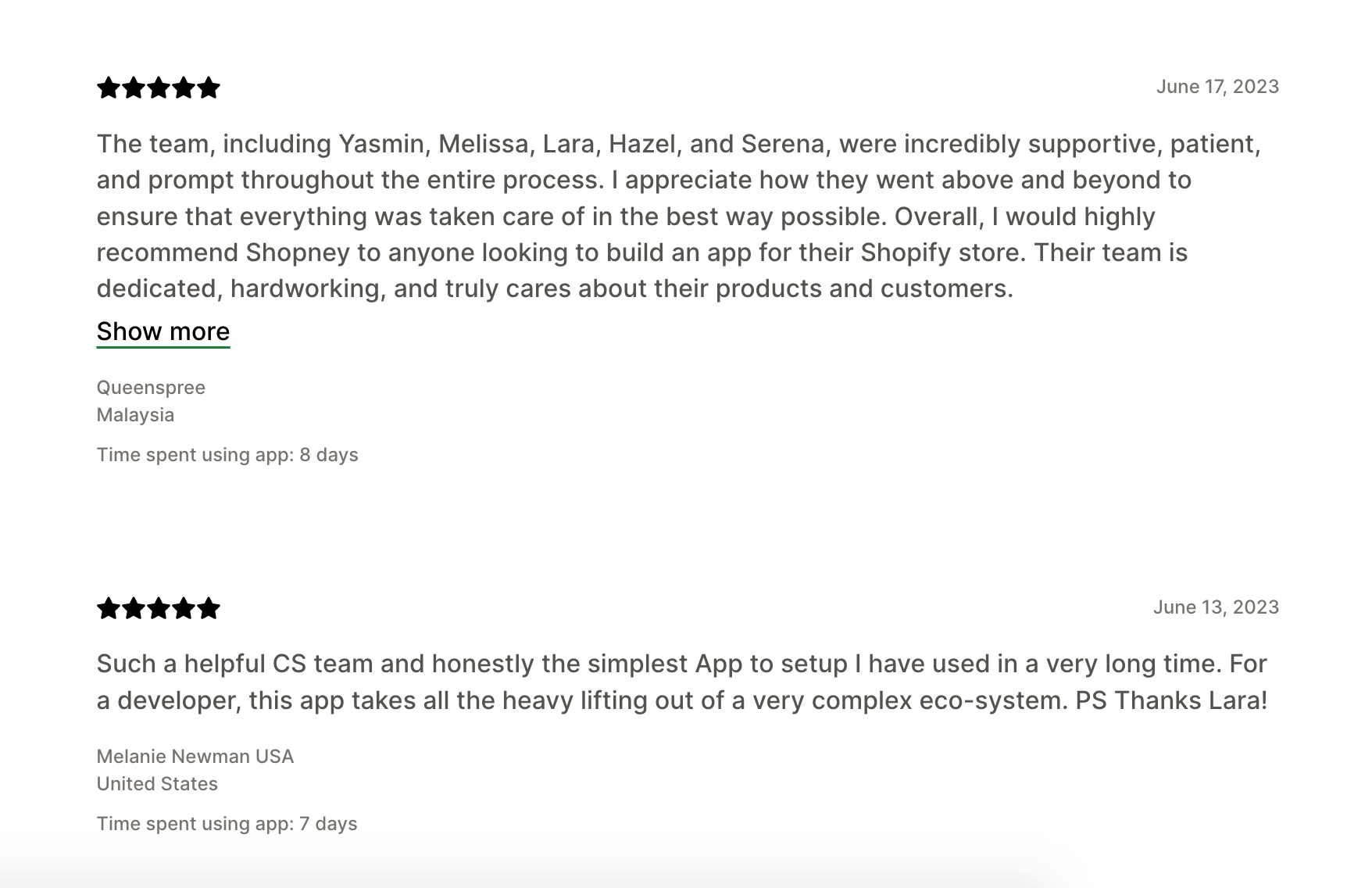 Pricing:
Shopney is priced at $99 /mo, $199 /mo, $499 /mo, and $999 /mo, but even its basic plan allows unlimited push notifications, Back In Stock Notifications, and Theme Options for PLP & PDP.
Last but not least, Shopney offers a streamlined migration process if you'd like to switch your mobile app builder from MageNative or any other.
2. Tapcart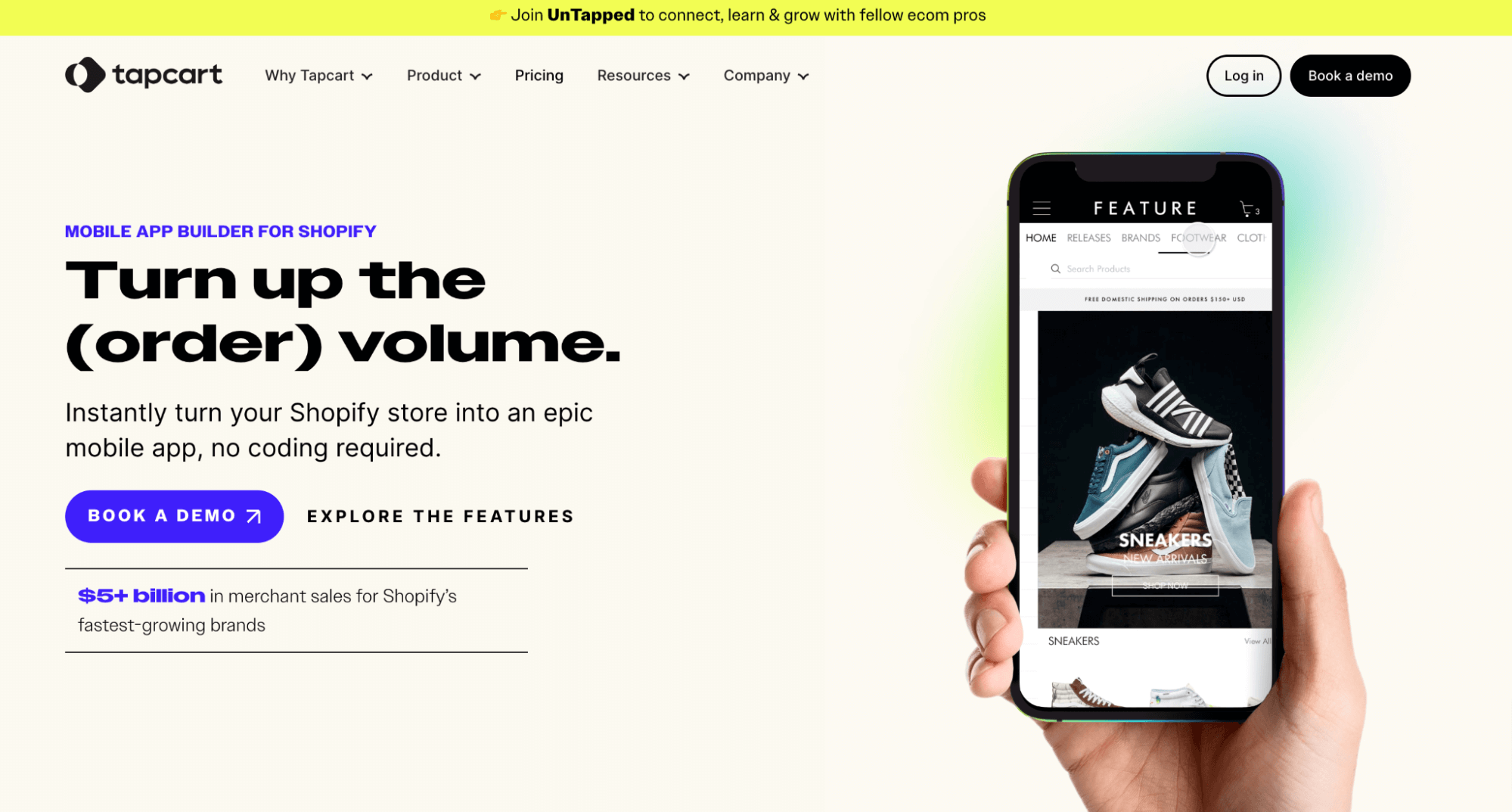 Tapcart is a drag-and-drop, no-code mobile app builder that synchronizes with your Shopify store's backend, helping create mobile shopping experiences on iOs and Android in a couple of weeks.
Shopify Rating- 4.6 (406 reviews)
G2 Rating- 4.2 (13 reviews)
Key Features:
With Tapcart you can:
Enable pre-filled shipping info, and a single-page checkout to increase conversions
Create custom-branded QR Codes
Enable relevant search results with filters, sorting, and recommendations
Pricing:
They have monthly pricing plans at 300$ ,600$ and 1350$ - and a 14-day free trial.
However, their most expensive plan has most of the features like automated app-wide updates, unlimited & premium integrations, a dedicated customer success manager, access to free app design & more, making it one of the more expensive tools on the list.
3. Vajro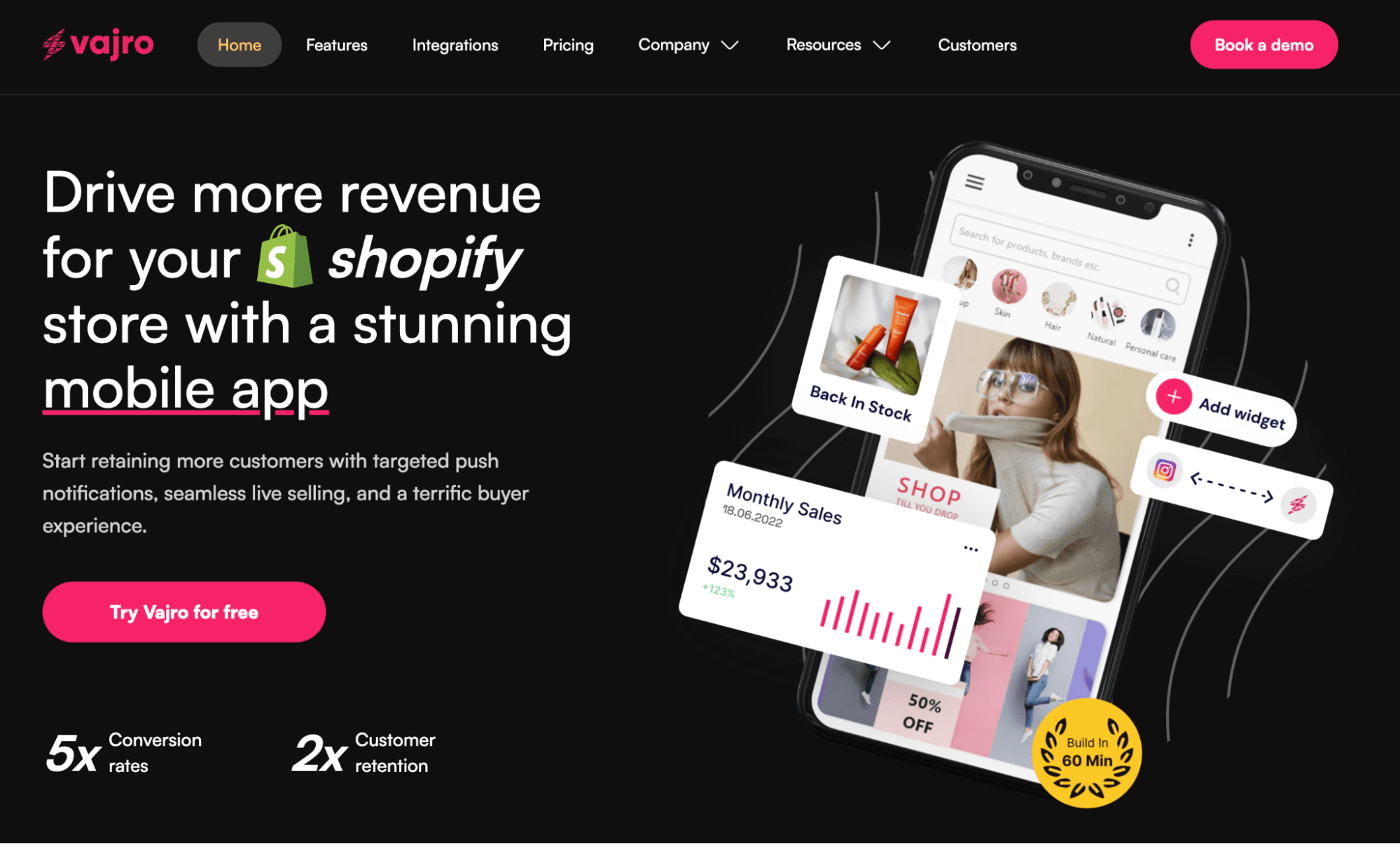 Vajro is a drag-and-drop mobile app builder that allows you to engage with customers with live videos, and send behavior-based notifications.

Shopify Rating- 5 (1629 reviews)
G2 Rating- 4.3 (22 reviews)
Key Features:
Drag and drop builder
Advanced targeting push notifications with rich media and emoji support
You can go live from your app and Facebook page to increase orders from live streaming
Interactive FOMO bots to send welcome messages
Pricing:
It has both monthly and yearly plan options, starting from $99 dollars a month up to $999 for high-volume & Shopify Plus brands. However, if you're a small brand, then their basic plan is in comparison less feature rich, offering only 10 Push Campaigns/month, which may not be enough.
4. Plobal Apps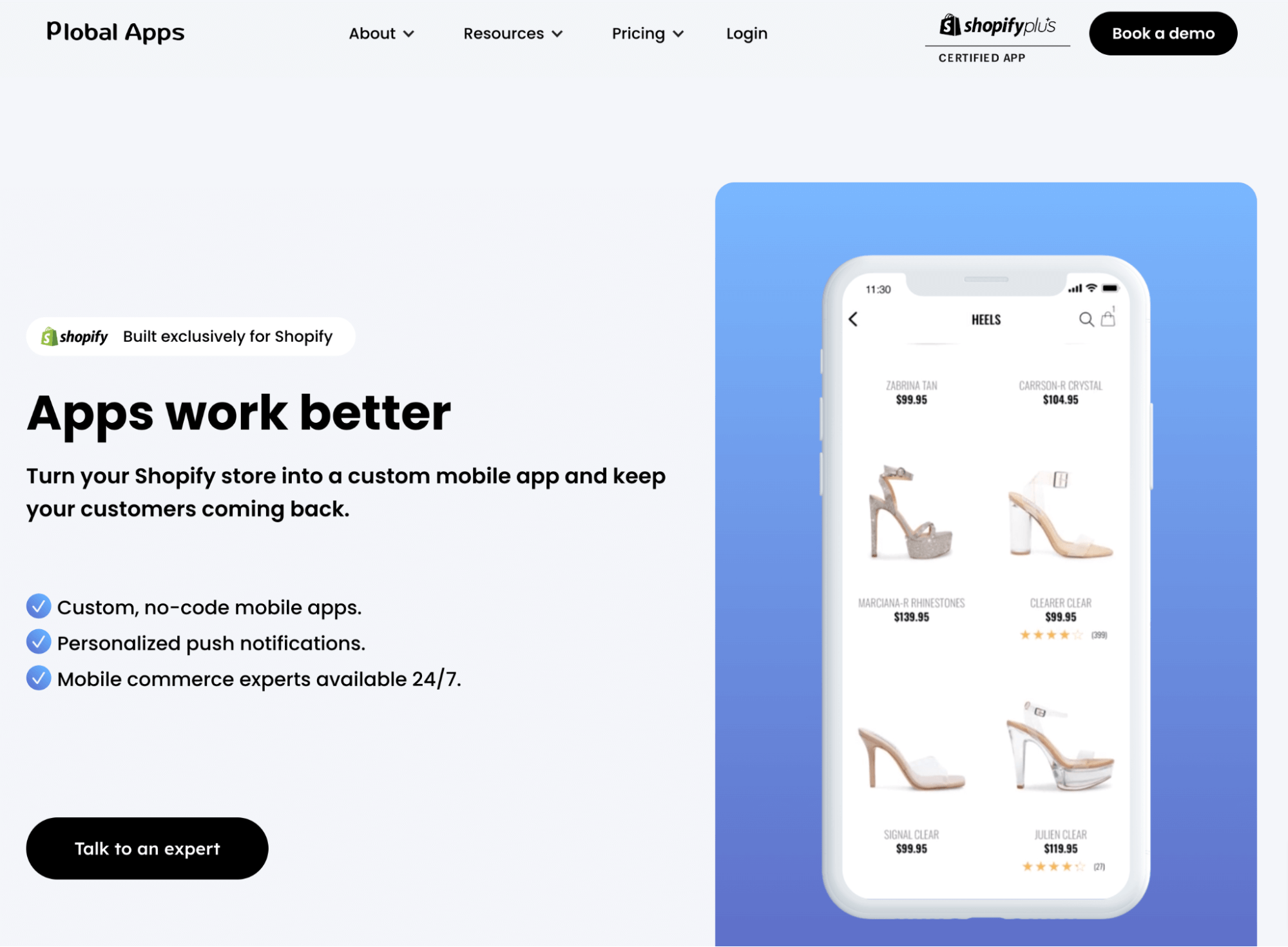 Plobal Apps is a Shopify Plus Certified mobile app provider that gives you access to advanced mobile analytics, extensive integrations, and a dedicated customer support team available 24x7.

Shopify Rating- 4.8 (394 reviews)
G2 Rating- 4.7 (6 reviews)
Key Features:
App design options
Automated personalized push notifications
Customer engagement data and analytics
AI based product recommendations

Pricing:
It offers three plans- Growth ($199/month), Essential ($499/month) and Enterprise ($1199/month). However, it will charge 1% "success fee" which can get costly as you scale.
5. Venn Apps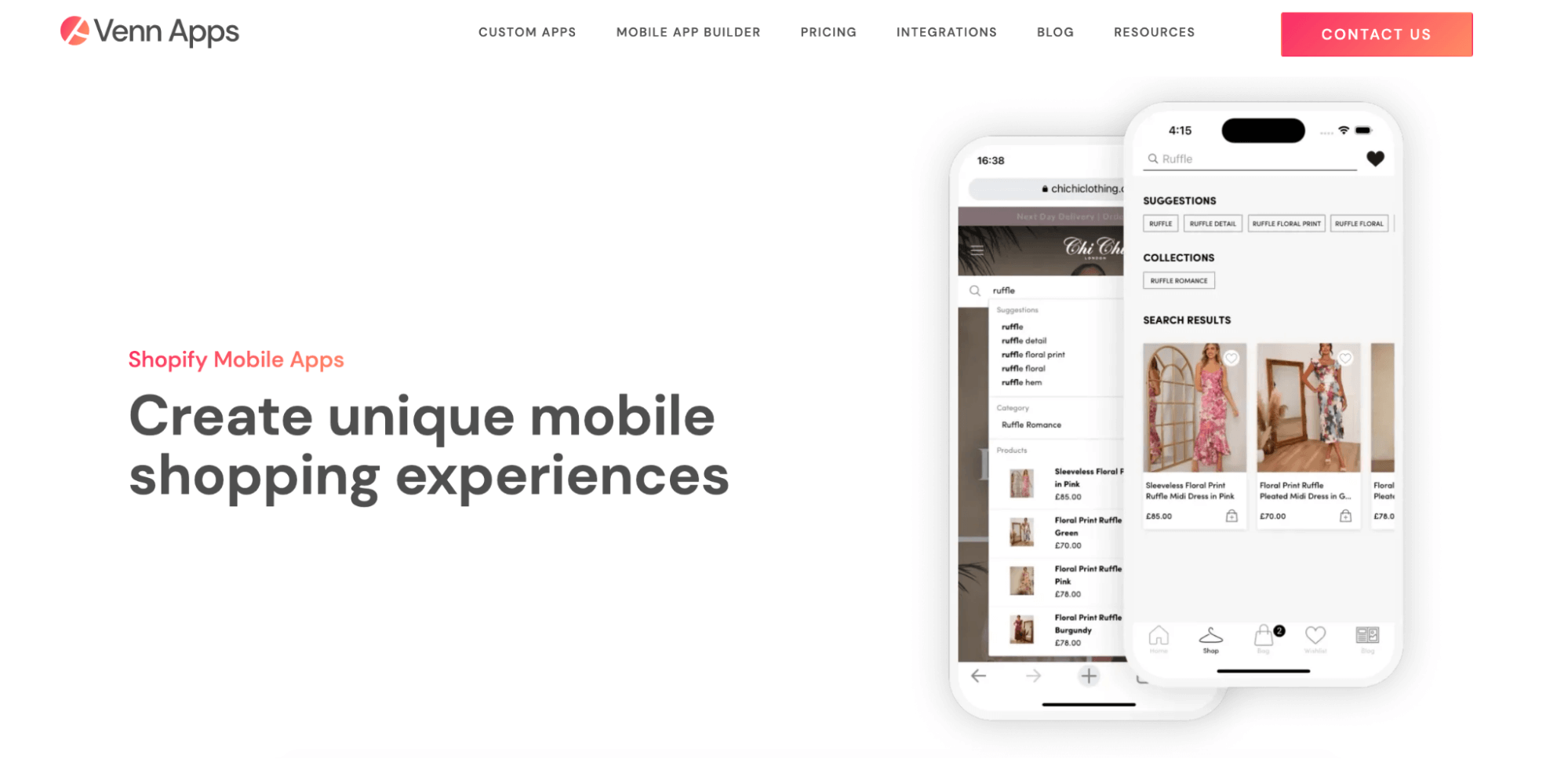 Another no-code Shopify mobile app builder for online stores is Venn Apps. It makes for a good MageNative alternative as it comes with an easy to use editor that syncs with your Shopify store in real-time, enabling you to use the same data and information to create your in-app content.

Shopify rating - 5 (34 reviews)
G2 rating - Not available
Key features:
Drag and drop editor
Integrations with third party apps
User activity tracking
Localization with multiple languages and currency
Unlimited push notifications
6. Evlop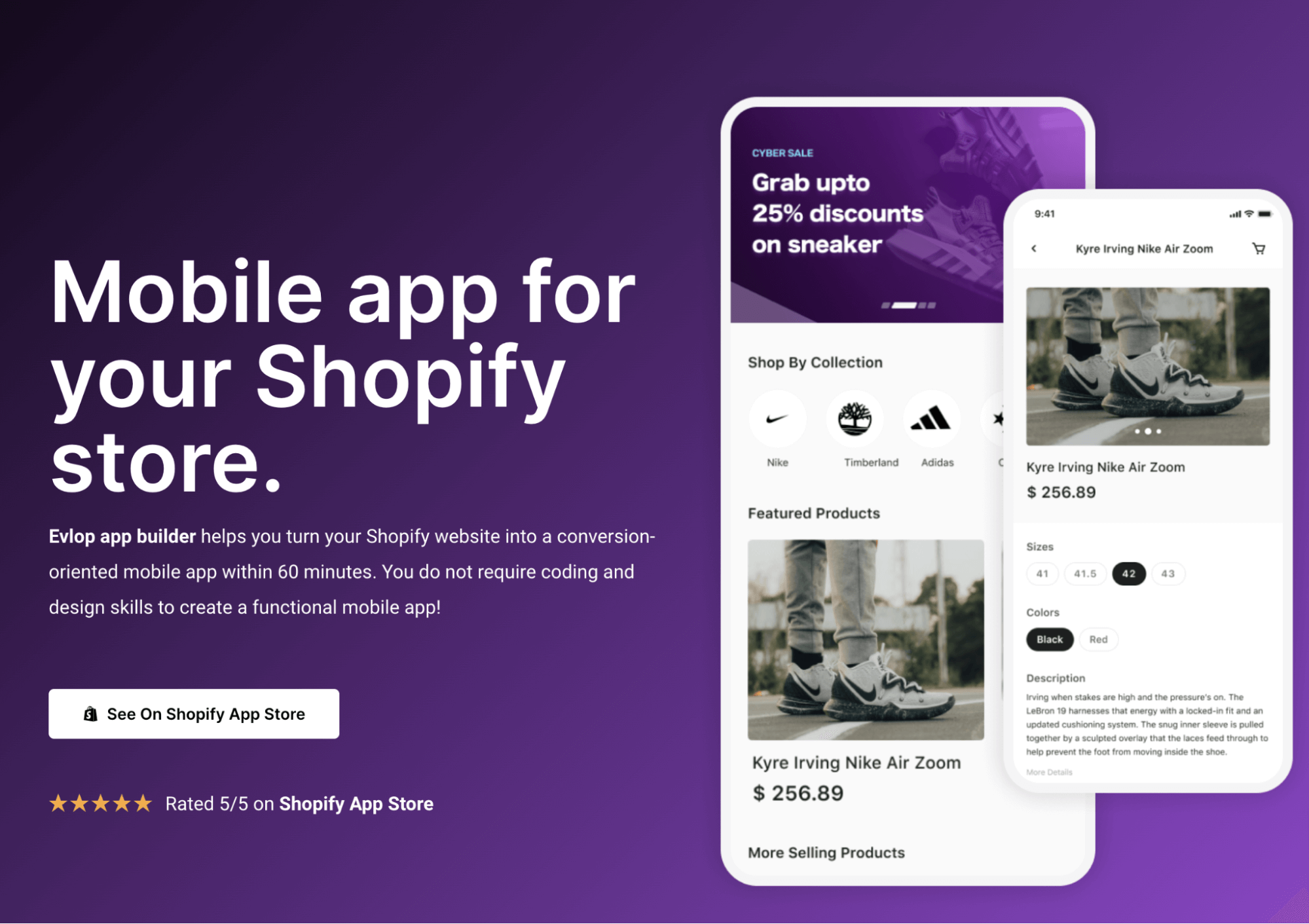 It provides a drag and drop builder for converting and publishing your store into an app, and boasts a timeline of 60 minutes.

Shopify Rating- 5 (38 reviews)
G2 Rating- NA
Key Features
No code 'Smart blocks' for quick and easy design
Real-time updates from the dashboard
Push notifications
Easy android and iOS app design and deployment
App localization for global business opportunities
Extensive documentation and dedicated support
Custom page creations, etc
Pricing:
Free, Icebreaker ($29/mo), Accelerator($99/mo); its free plan is good to explore if you want to explore the app, but many important features will still be available only with their paid plans.
7. Swipecart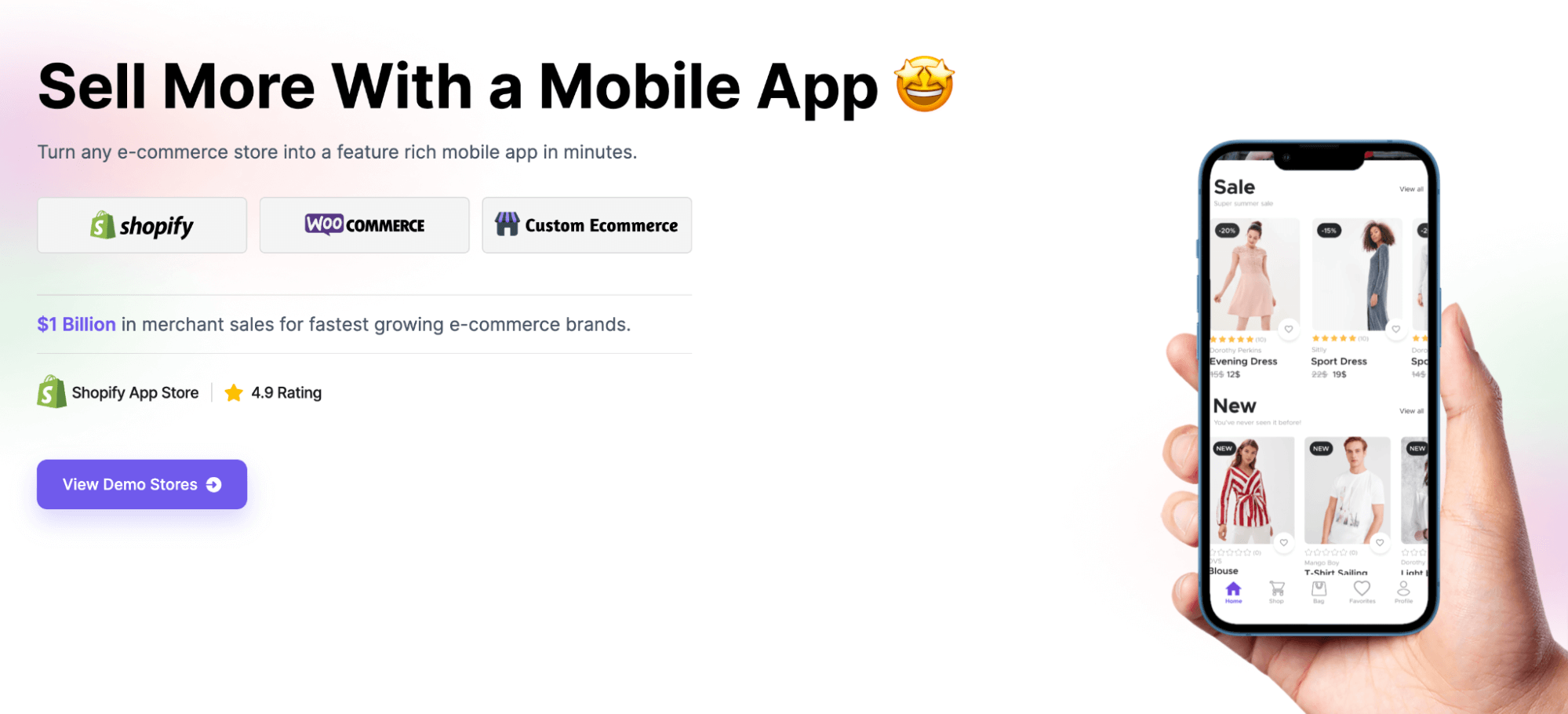 Swipecart is a no-code mobile shopping app builder that promises to deliver an app within 30 minutes.

Shopify Rating- 4.6 (29 reviews)
G2 Rating- NA
Key Features:
Drag and drop
User segmentation to create users list based on their browsing patterns & interactions
Push notifications, abandoned cart notifications and analytics
Integrates with 30+ providers and plug ins, even woocommerce and custom eCommerce websites
Pricing:
There are three plans available from Swipecart to help brands get started with AppCommerce - Starter ($49),  Basic ($99), Advanced ($199) and Enterprise ($299).
8. Hulk Mobile App Builder

Hulk Mobile App Builder is another option to consider to transform your store into an eCommerce app. It has a user-friendly interface to create your app quickly without overwhelming the user. However, it is not feature rich as many of the options listed above.

Shopify Rating- 5 (86 reviews)
G2 Rating-NA
Key Features:
Drag and drop builder
Real-time push notifications and customer insights
Interactive dashboard for
Personalized, pre-filled fields for faster checkout
Pricing:
Some of the plans that this MageNative alternative offers, includes - Basic ($79/mo), Pro ($149/mo), Pro+ ($249/mo), Enterprise ($399/mo).
9. Apptile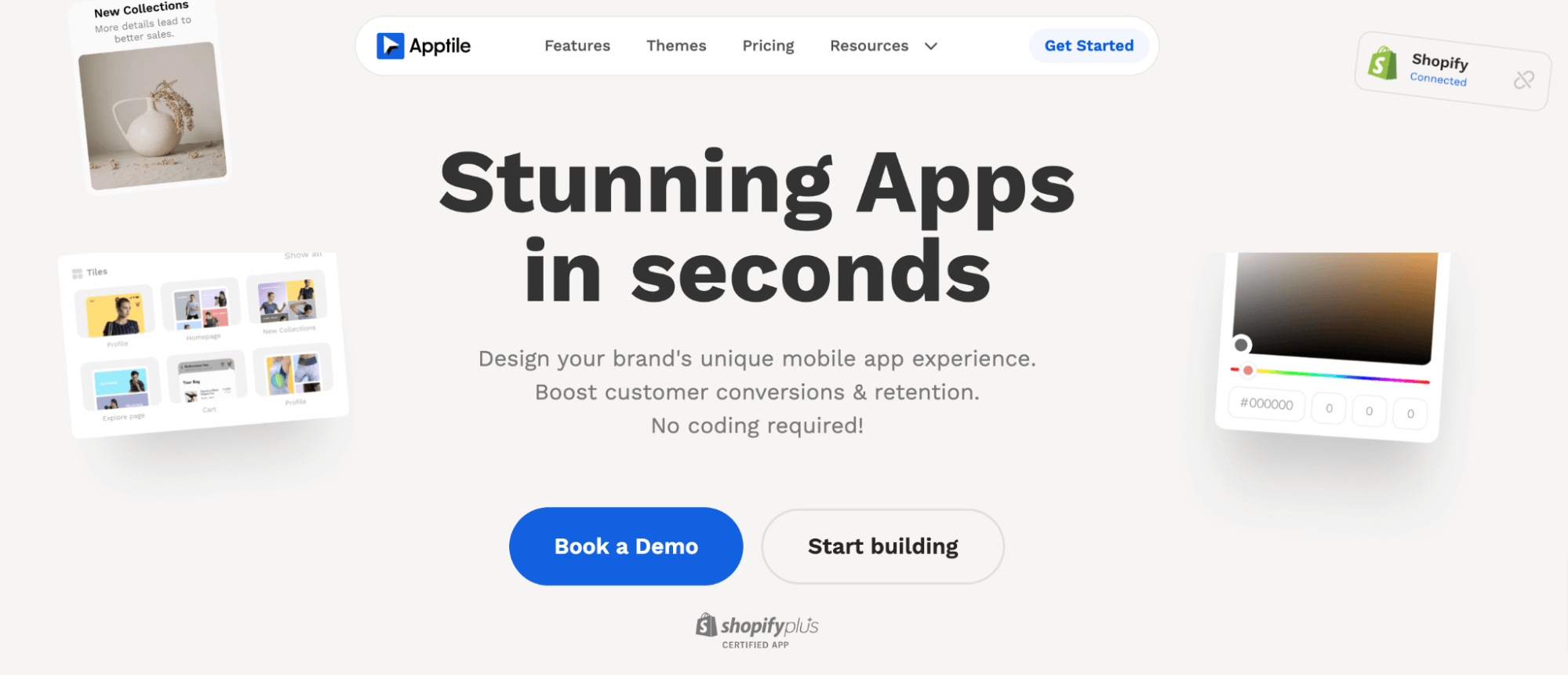 Apptile is an intuitive Shopify app builder that focuses on creating visually stunning shopping experiences.
Shopify Rating- 5 (3 reviews)
G2 Rating- 4.3 (2 reviews)
Key Features:
Drag and drop builder
AI-driven personalization
Dynamic order tracking tile
Rich content tiles like native quizzes, and more

Pricing:
Some of the plans offered by Apptile include - Free (*5% success fee), Plus ($600 /mo), Enterprise ($1200/mo)
Recommended read: How to choose the best Shopify store mobile app builder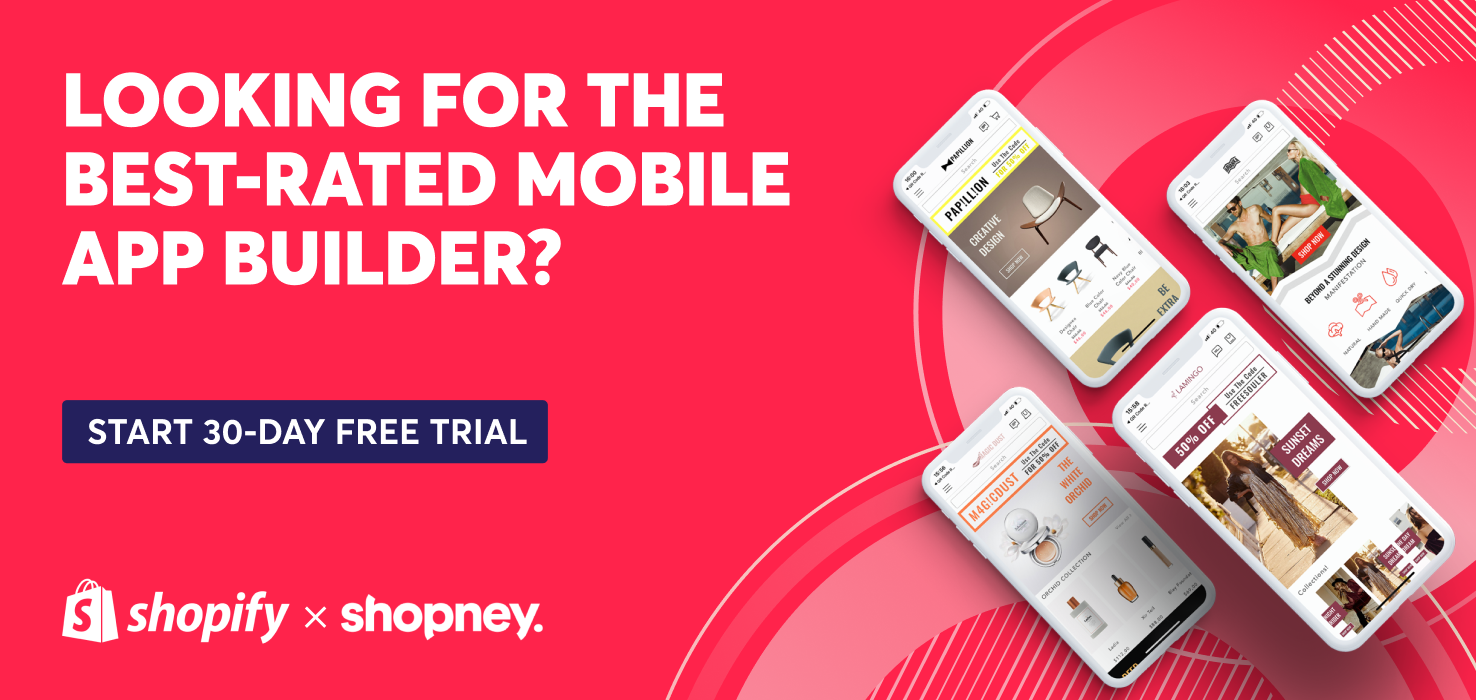 How to choose the best MageNative alternative?
Choosing a no-code, drag-and-drop builder to create your eCommerce app for your Shopify website can be confusing and overwhelming.
You need to enable seamless integration with your Shopify store, ensure there is a user-friendly drag-and-drop functionality, be able to customize designs, layouts, and themes, send notifications at various stages of the funnel and more.
Most of all, you need to find a tool that is quick to respond and assist you in launching an amazing shopping app for your brand!
That's where Shopney becomes the best choice for fast-growing brands.
Shopney isn't just a powerful Shopify mobile app builder, but also an app that is continually evolving to enable eCommerce businesses to scale their revenue.

If that sounds right up your alley, reach out to us at Shopney and we'd love to take you through how we can plan and customize your high-converting mobile eCommerce app!
Book a demo with our experts or install the Shopney app to get started with a free trial!