Top Shopify eCommerce Mobile App Design Examples (2023)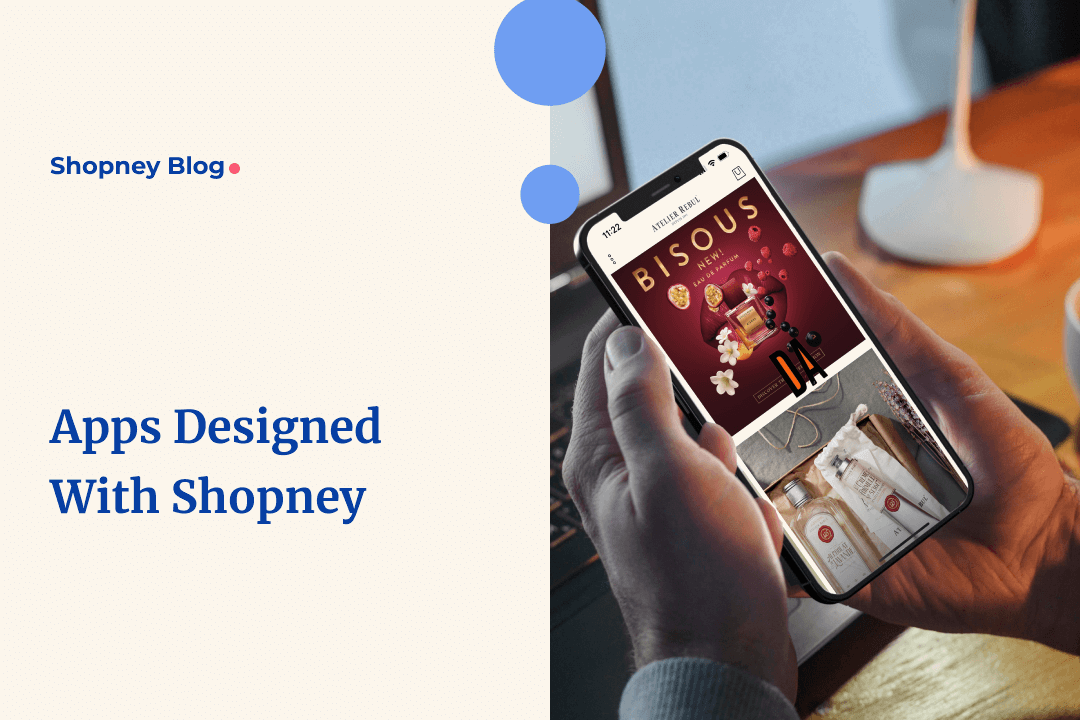 PS. Designed using the Shopney no-code mobile app builder for Shopify stores.
Believe it or not, 90% of internet browsing takes place on apps, and 10% on websites. Appcommerce is on the rise, and there's no slowing down. An average consumer has at least two to three shopping apps on their mobile devices.
The reasons:
Mobile app ecommerce makes shopping easy
Consumers can shop on the go
Better product discovery
Increased impulse purchases
Better data and analytics
The good news is, app-building has become extremely easy, thanks to no code builders like Shopney, you can create ecommerce mobile app designs of your imagination.
This is the biggest reason why eCommerce brands should embrace appcommerce.
If you're looking for inspiration for mobile app designs for eCommerce, in this blog we have shared examples of brands that created their eCommerce apps using Shopney.
Why is Shopify eCommerce Mobile App Design Important?
That question has a very simple answer. People won't use your app if it doesn't have a good design. And for a good design, you should offer them high-quality UX and UI.
1.Everything is for user experience
If your app meets customers' needs and offers them a good user experience(UX) they will keep using it, spend more time in the app and share it with other people. And that means more conversion rate and sales for your Shopify store.
2.UI for customer satisfaction
User interface(UI) encompasses everything customers see on the mobile app. It makes customers understand the app and how to interact with it. The main aim of the UI is to increase customer satisfaction by making the app more engaging and uncomplicated.
3. Improves conversion rate
A mobile app can help improve conversion rate in many ways. For example, since customers always carry their mobile, it's easy to run promotional campaigns to push sales—urgency and FOMO tactics that can lead to impulse purchases.
Besides, it's hard to miss updates on the mobile—people tend to see notifications within a few minutes. This means your promotional messages have a high click-through rate.
However, to achieve more conversions, your eCommerce app UI design has to be well designed. It should factor in ease of use, easy navigation, appealing design, legible content, etc. All these factors make it easy for your customers to shop on the app, and hence, improve conversions.
4. Impacts app commerce revenue
Consider this, 80% of consumers have made purchases via mobile apps during the last six months. App commerce usage and sales are increasing day by day.
Customers are more likely to use their mobile devices to make purchases because of a simpler checkout process, personalized push notifications, and convenient online transactions.
Building an app for your retail business is a must-have if you want to satisfy customer expectations and make more money in such a crowded market.
How Do Your Users Interact with Your Mobile App?
User interface(UI) is the place customers interact with the mobile app and everything they experience during the interaction is user experience(UX).
To be more clear, if UI is the appearance of a physical store, UX is entering the store, choosing the clothes, and buying it. That means mobile UX & UI should work together smoothly to create a good interaction opportunity for the customers.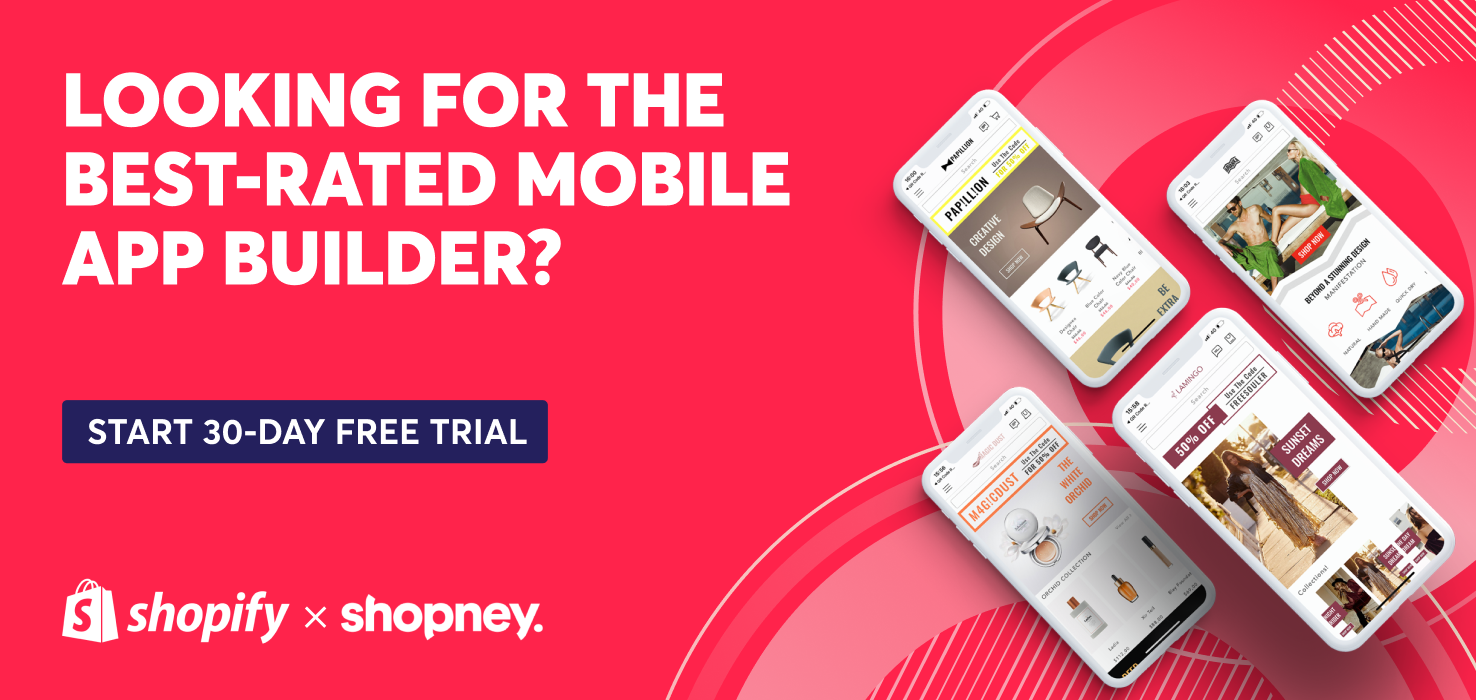 30+ Shopify eCommerce Mobile App Design Examples Created Using Shopney
How you design your eCommerce mobile app has a direct impact on your sales, customer experience and satisfaction. Many different aspects have to come together in your app design — theme, content, text copy, images, UI, among others. And hence, creating the best apps is not as easy as we'd like it to be.
But thanks to tools such as Shopney, it makes mobile app design easy for all skill levels. The app's drag-and-drop editor makes it simple, gives you full control to customize the app for your brand. The app offers unique themes, different inventory sizes, image styles, and more.
To get a peek into Shopney's capabilities, have a look at these apps made using Shopney.
1. Atelier Rebul - Mobile App for Shopify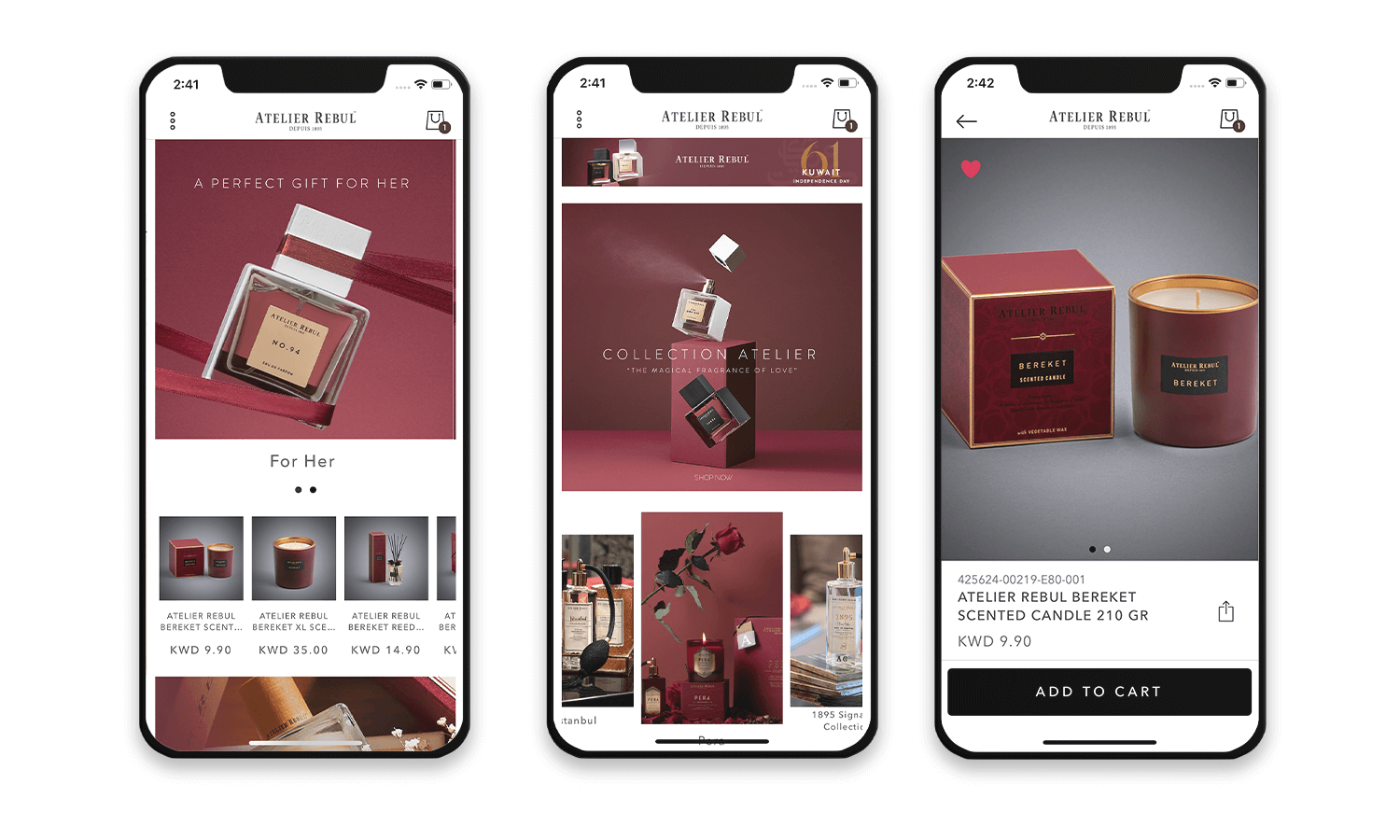 Atelier Rebul is one of Shopney's partners that knows how to design a beautiful app very well. All product pictures and the colors used in the design are compatible with each other. They create a smooth and impressive image when getting together.
Install Atelier Rebul iOS App‌
‌Install Atelier Rebul Android App
2. Macabre Gadgets - Mobile App for Shopify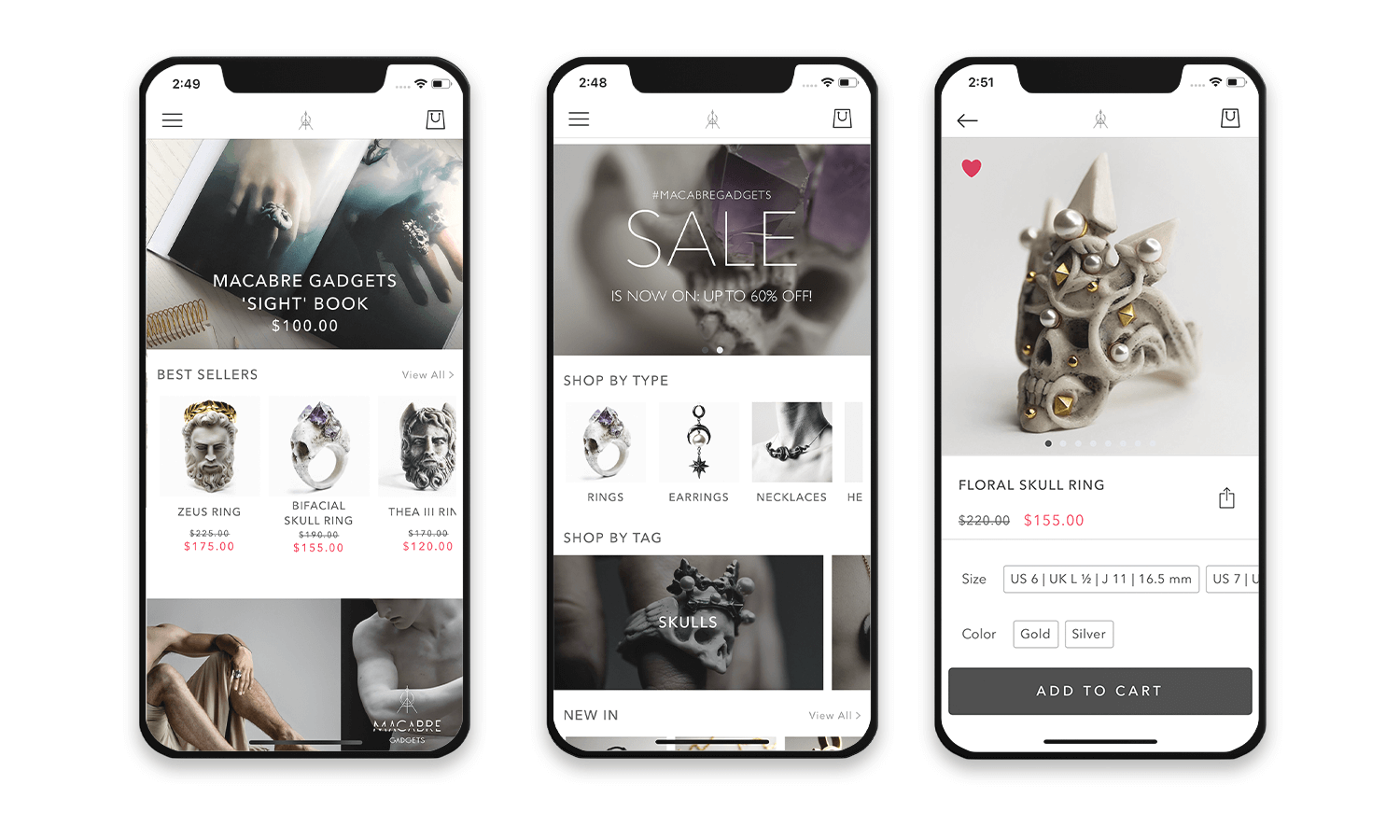 Macabre Gadgets is a jewelry store with unusual products. It is not hard to say that they have great designers when looking at the products!  We can say that they brought this sophisticated perspective to their mobile app too.
They made their products even more appealing with the right theme choice and attracted their customers on mobile.  
Install Macabre Gadgets iOS App‌
‌Install Macabre Gadgets Android App
3. Prive Accessories - Mobile App for Shopify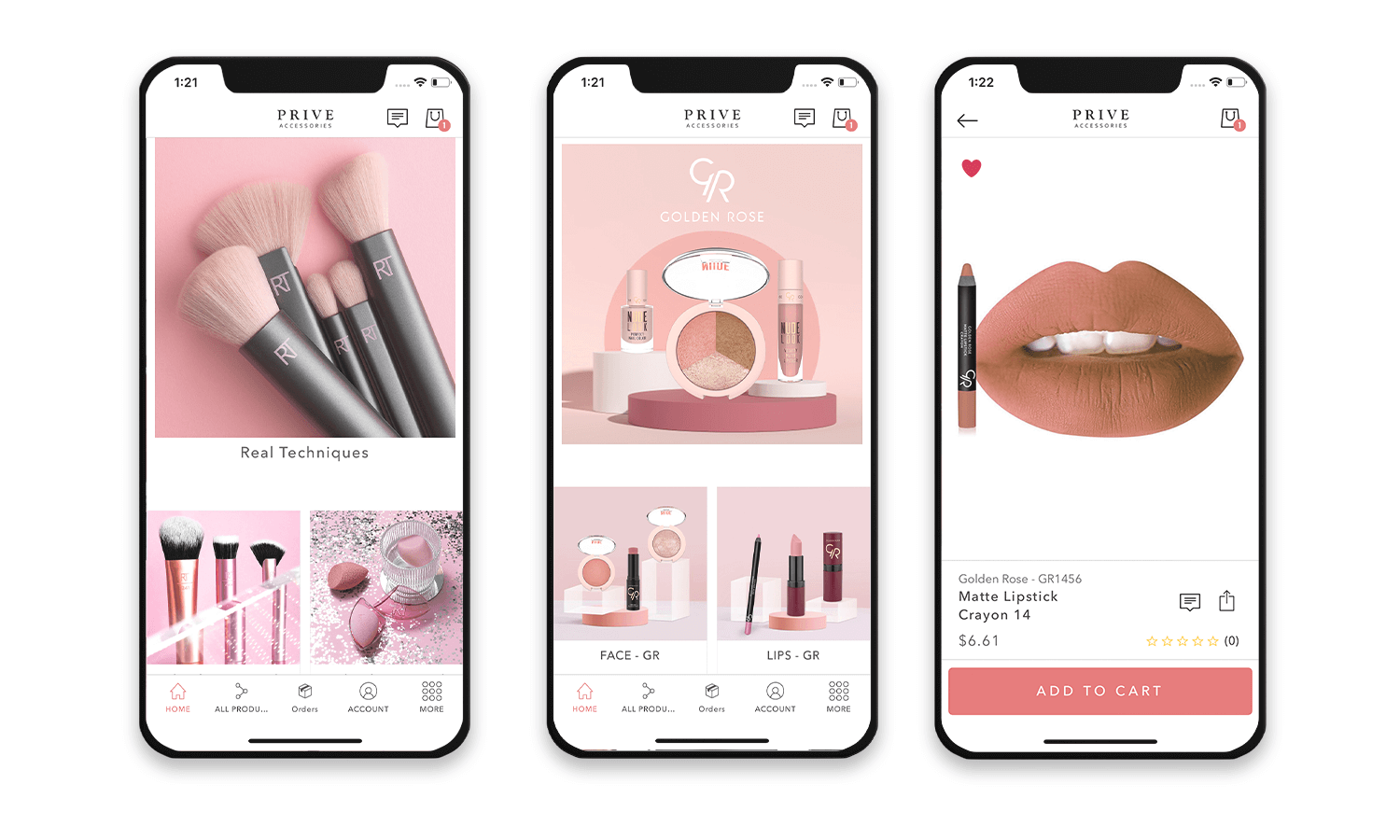 Look at the sweetest tones of pink in their UI design of Prive Accessories. This design makes us want to buy all the products in the pictures above and try! Their website is also very impressive, but we love their mobile app design!
That is one of the best mobile app design examples. We are happy that they decided to work with Shopney to turn their Shopify store into a mobile app.
Install Prive Accessories iOS App‌
‌Install Prive Accessories Android App
4. 304 Clothing - Mobile App for Shopify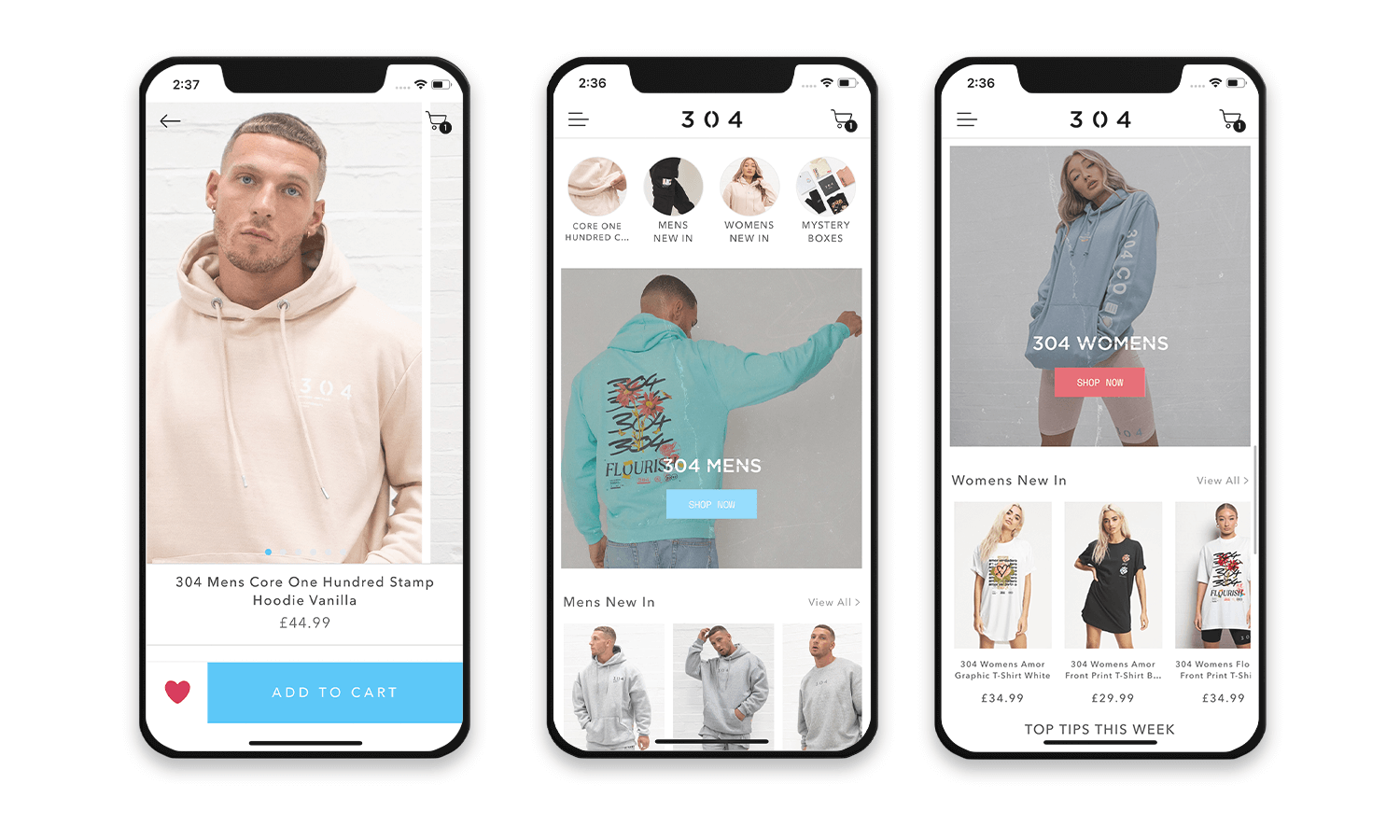 304 Clothing is a UK-based fashion brand that increased its conversion rate 5 times by working with the best Shopify mobile app builder: Shopney.
They take the advantage of UI design trends with the dynamic colors they selected. Also, they chose the most suitable theme for their product pictures and made them look appealing. So, their customers who are already on mobile preferred their apps for shopping!
Install 304 Clothing iOS App‌
‌Install 304 Clothing Android App
5. Ladida - Mobile App for Shopify Plus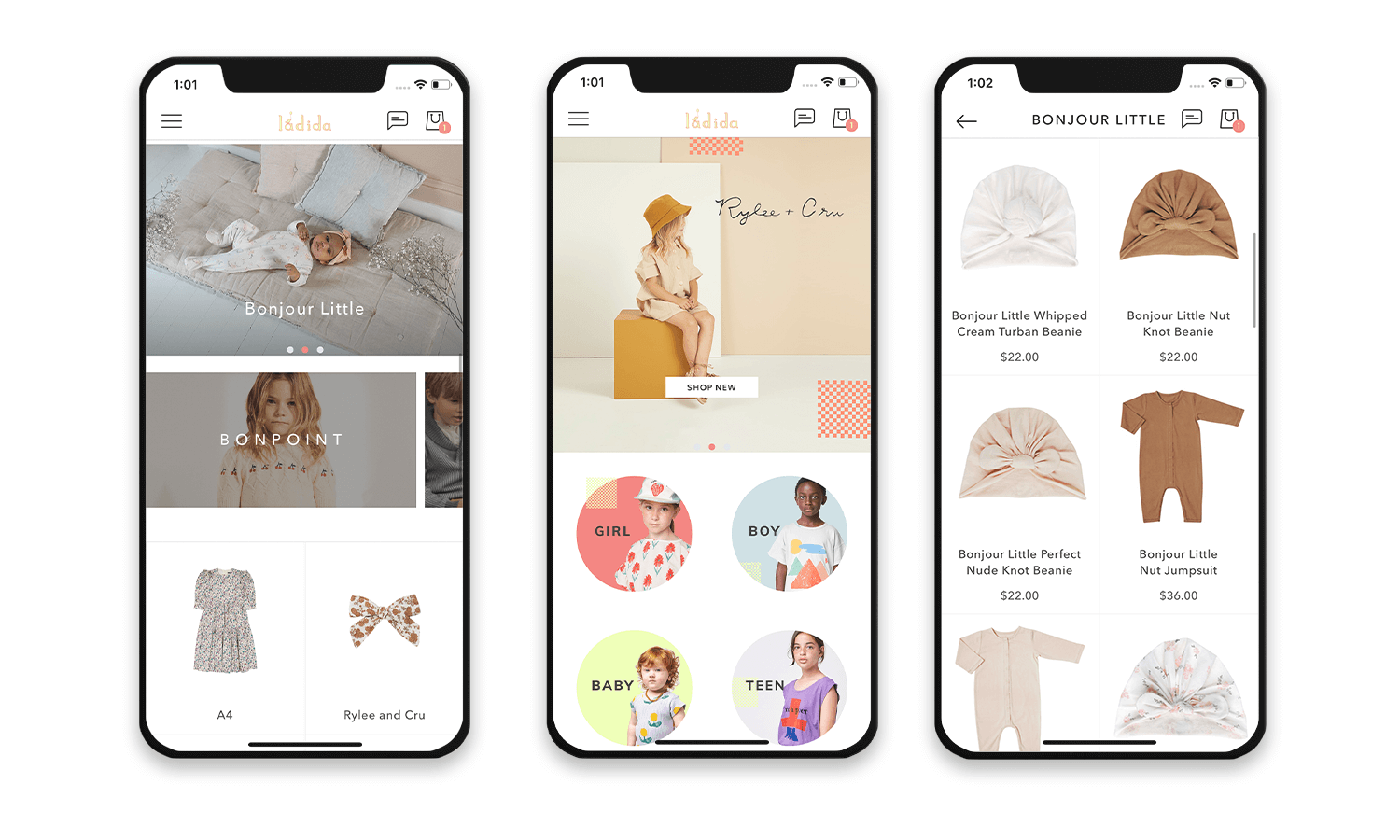 Ladida is a clothing brand for women & children that converted its Shopify store to a mobile app with Shopney. We can say that they did a very good job in this converting process considering it has one of the best mobile app designs among Shopney customers.  
Install Ladida iOS App‌
‌Install Ladida Android App
6. Bad Monday - Mobile App for Shopify Plus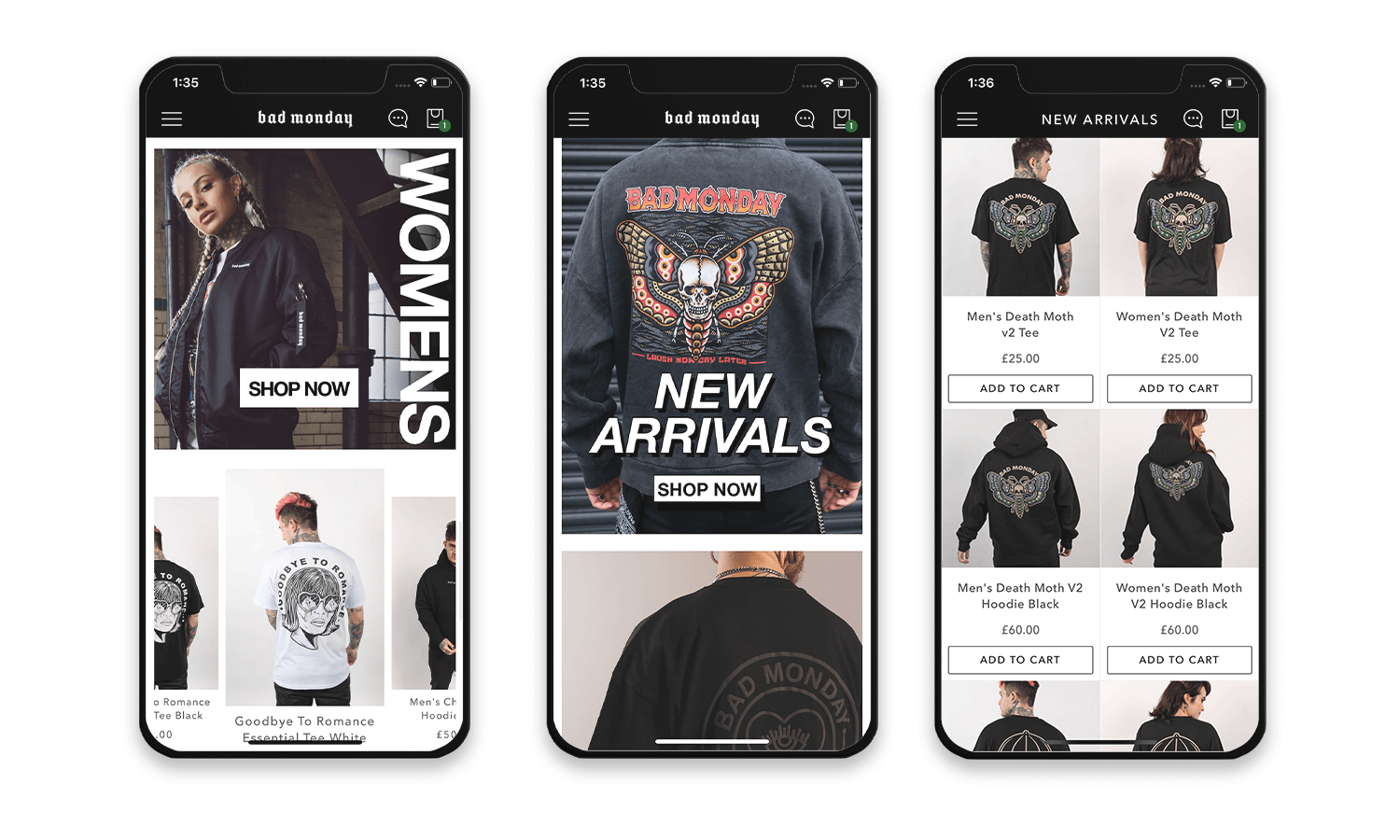 Bad Monday is a UK-based clothing brand that uses the impression of tattoo culture for self-expression. They turned their Shopify store into an app with Shopney and it became a mobile app design example that reflects the brand identity of Bad Monday very well.
The theme they chose, the way their products appeal, mobile UI design and the color of the background is compatible with the spirit of 'Bad Monday.'
Install Bad Monday iOS App‌
‌Install Bad Monday Android App
7. Lip N Pour - Mobile App for Shopify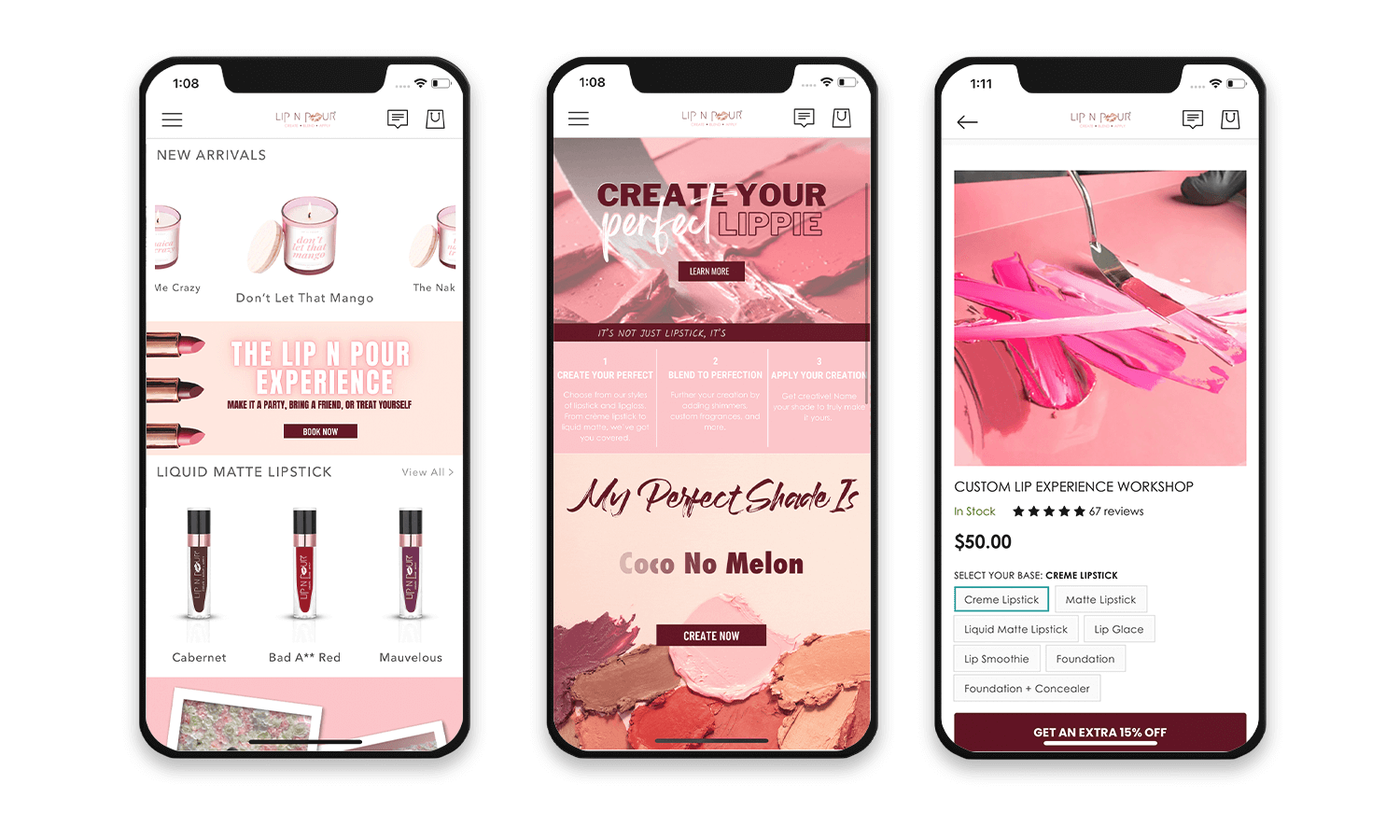 Makeup is fun for most women and Lip N Pour makes it even more fun. It is a cosmetic experience that allows you to create your own lip, foundation, or concealer products.
Lip N Pour decided to turn its Shopify store into a mobile app with Shopney to offer the best mobile user experience. With the most fitting themes, they designed an app that reflects their brand identity in a great way.
Install Lip N Pour iOS App‌
‌Install Lip N Pour Android App
8.Dimlaj - Mobile App for Shopify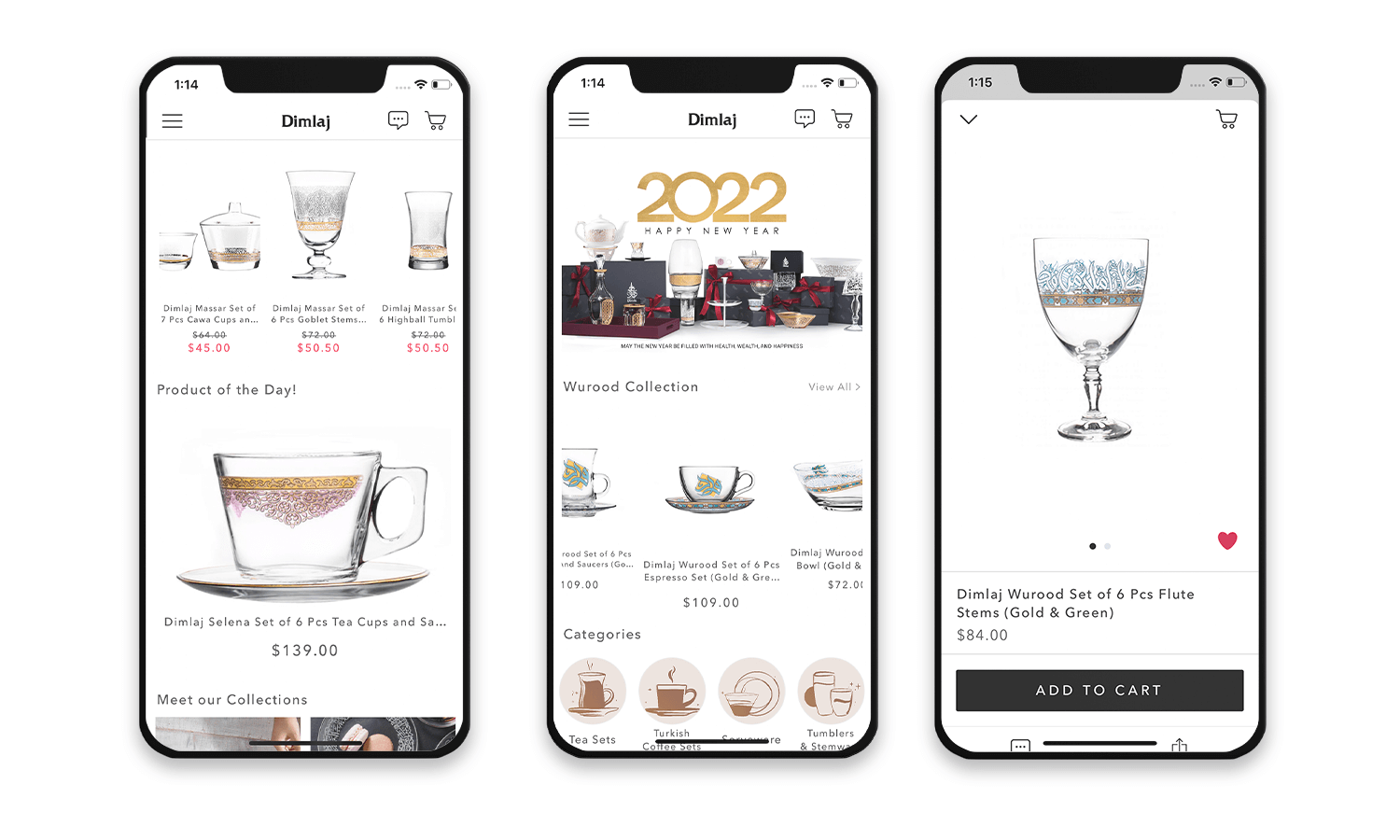 Dimlaj is a Jordan-based homeware product company. The key point of the success of Dimlaj on both their website and mobile app is simplicity.
The product images they use are plain and appealing. This simplicity gives elegance to the brand. They show they don't need to show anything else rather than the product pictures to draw attention.
Install Dimlaj iOS App‌
‌Install Dimlaj Android App
9.Jorge Oculista - Mobile App for Shopify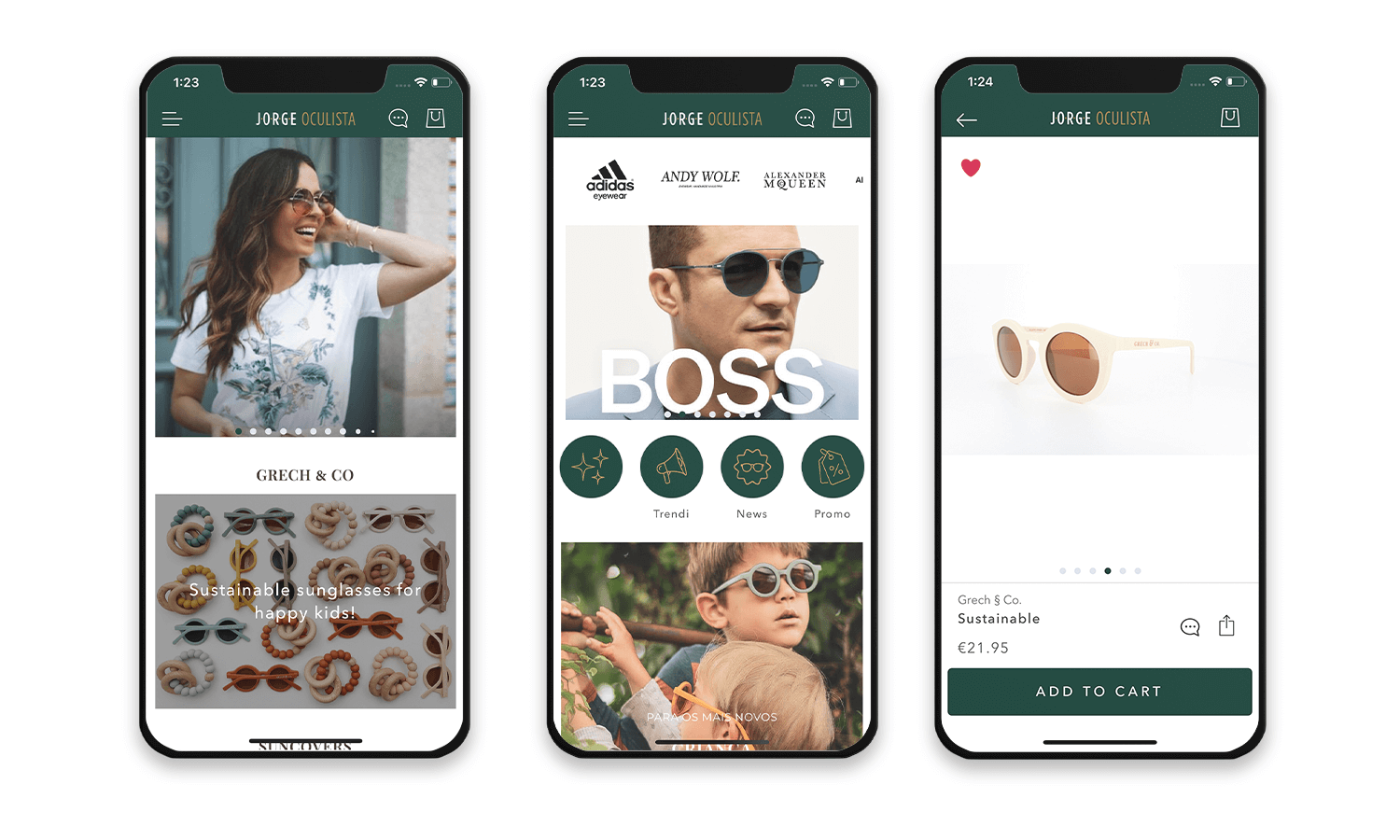 Jorge Oculista is a glasses brand that turned its Shopify store into a mobile app with Shopney. Their mobile app design is very compatible with their website and at least as good as it is.
They have amazing product pictures and they show them in the most appealing way with the right theme. The result is increased conversion rates and sales accordingly!
Install Jorge Oculistai iOS App‌
‌Install Jorge Oculista Android App
10. Hemmet - Mobile App for Shopify
Hemmet is another amazing brand Shopney works with that understands how to design a mobile app very well. Their mobile UI design is reflecting the brand identity with the brown and black tones.
With this wonderful mobile app design, it was not surprising when they increased their conversion rates!
Install Hemmet iOS App‌
‌Install Hemmet Android App
11. Bella All Natural - Mobile App for Shopify Plus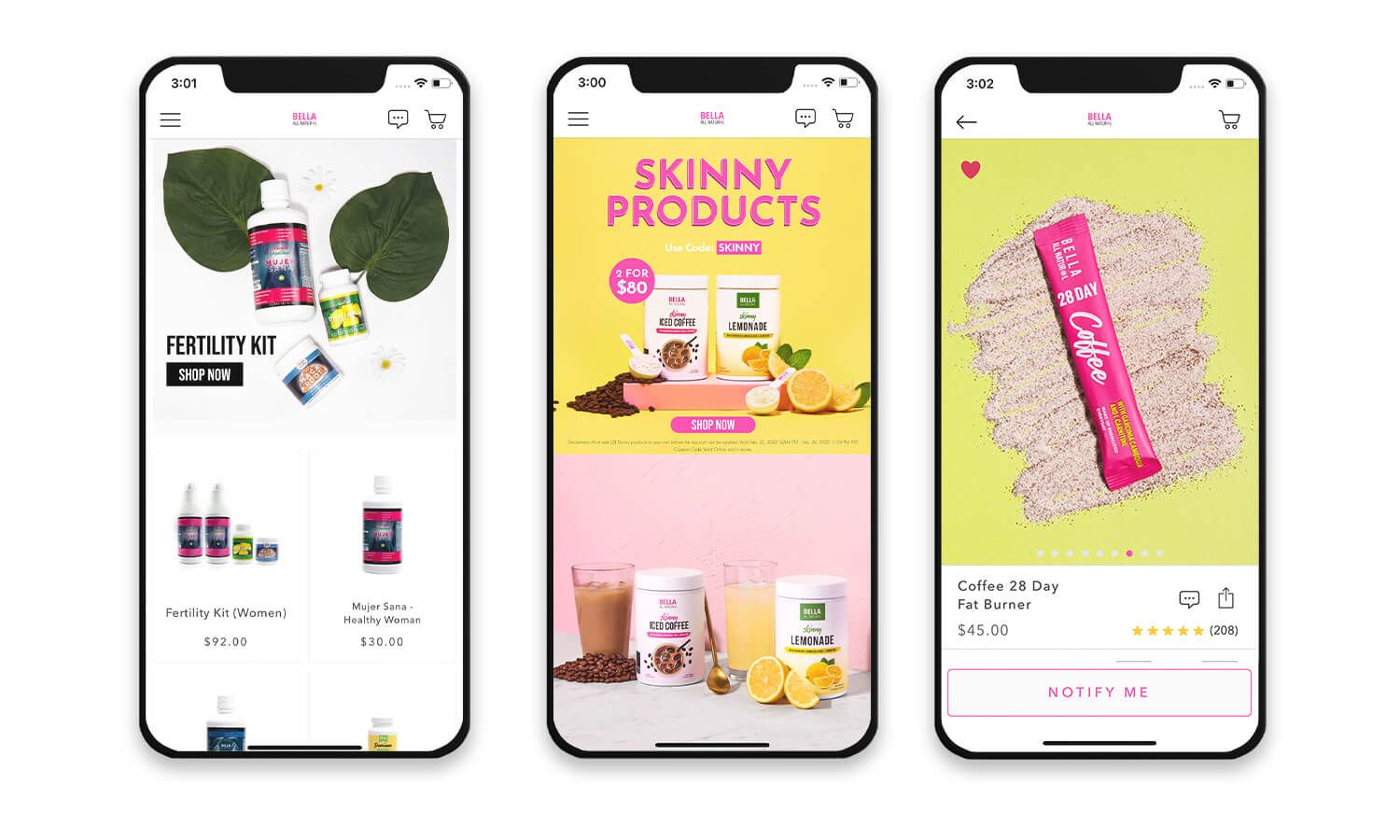 Bella All Natural is a US-based brand that decided to turn its Shopify store into a mobile app with Shopney. With the compatibility of the UI colors, functional mobile UX design and high-quality product pictures, Bella All Natural is a sample of a good mobile app design.
They already had a great conversion rate on their website and they increased it even more on mobile.  
Install Bella All Natural iOS App‌
‌Install Bella All Natural Android App
12. Fresqa - Mobile App for Shopify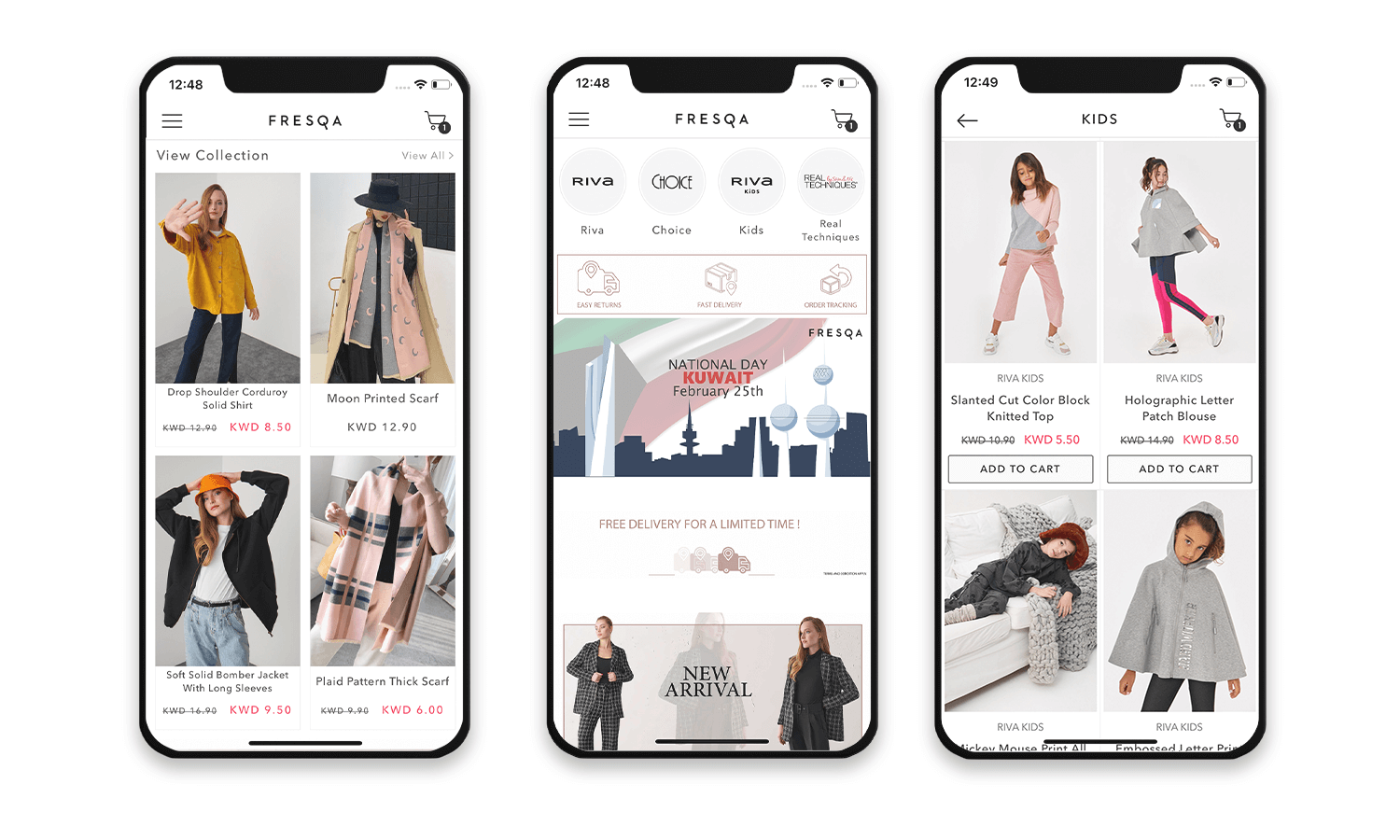 Fresqa is a fashion brand from Kuwait that converted its Shopify store to a mobile app with Shopney. Their website design is quite similar to the app and they provide an easy mobile app UX design. So, they caught the attention of their customers on mobile too and increased their sales!
Install Fresqa iOS App‌
‌Install Fresqa Android App
13. Janolo - Mobile App for Shopify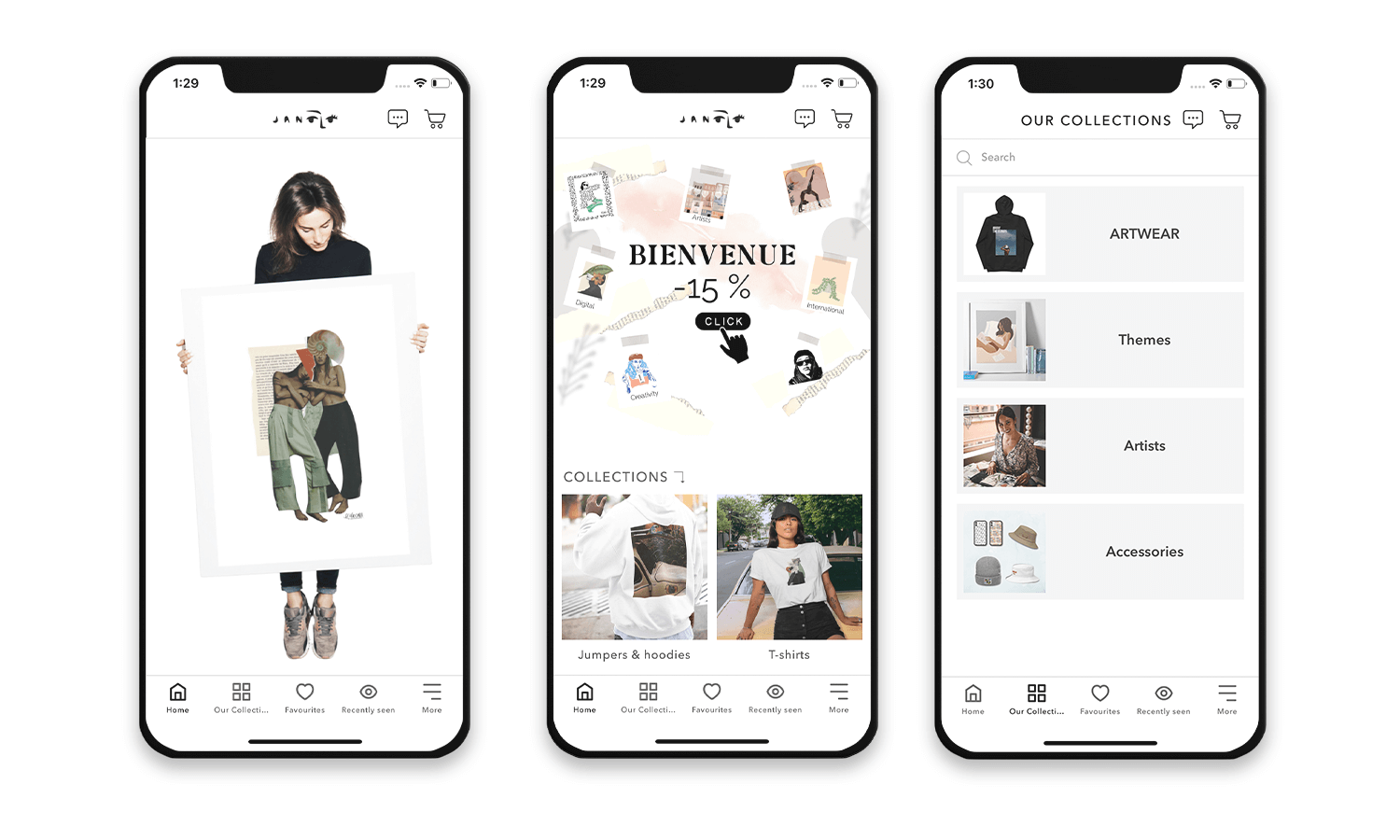 Janolo is one of the greatest brands among Shopney's customers about design. Since their concept is related to 'artwear', this reflected their mobile app too naturally.
They have extraordinary product pictures and when they unite them with a wonderful mobile UI/UX design, they created an amazing mobile app.
Install Janolo iOS App‌
‌Install Janolo Android App
14. Lonia - Mobile App for Shopify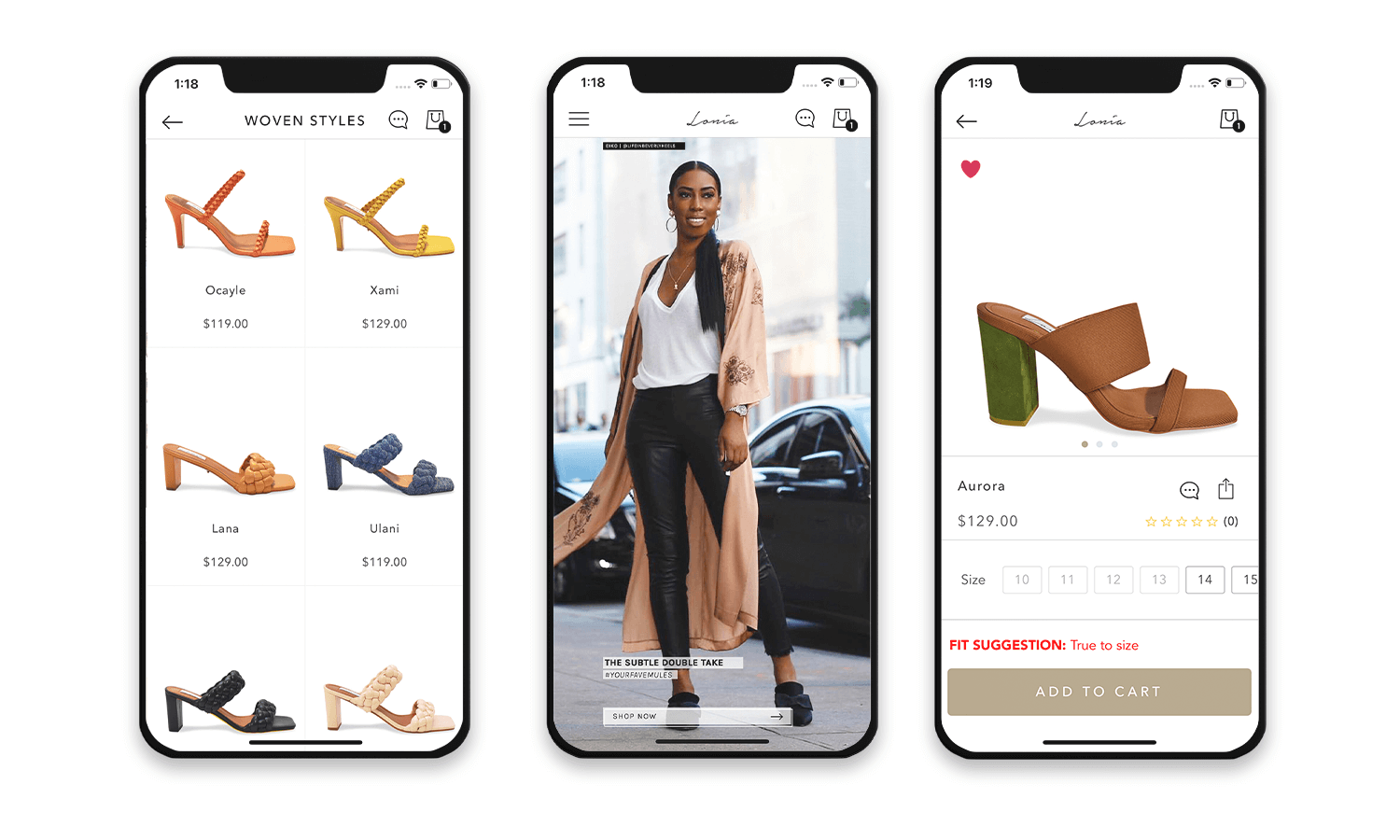 Lonia is a women's shoe brand that chose the best mobile app builder to take place in the mobile world by offering the best mobile user experience.
One of the key points of their success is plain and clear product pictures. And with the right theme choice, customers are able to see the details of the shoe at the first glance.
Install Lonia iOS App‌
‌Install Lonia Android App
15. Lorenzo di Pontti - Mobile App for Shopify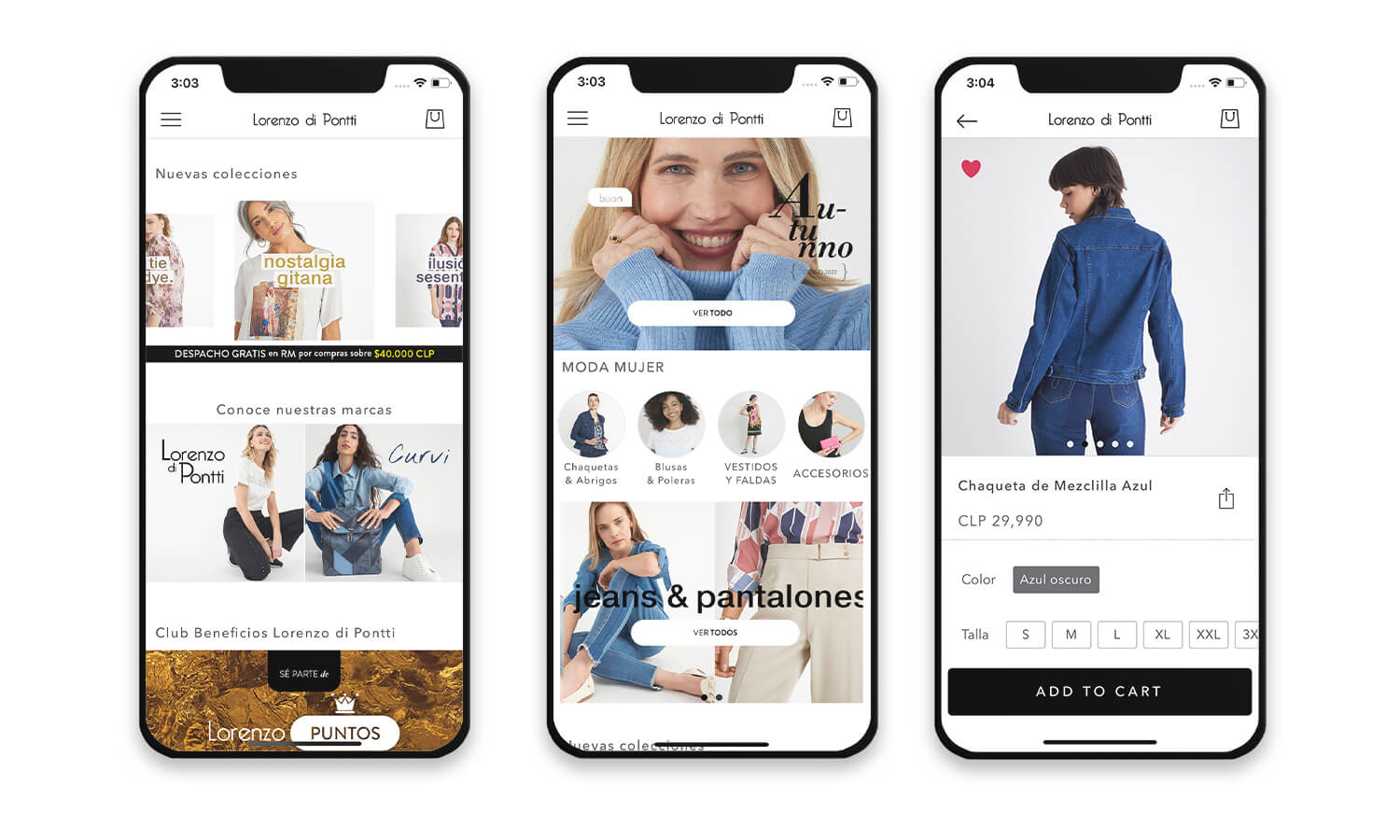 Lorenzo di Pontti is one of our favorite brands that chose us to turn its Shopify store into a mobile app. They provide an easy mobile app UX by following the UX design trends. As a result, their customers loved the app and it increased their mobile conversion rate!
Install Lorenzo di Pontti iOS App‌
‌Install Lorenzo di Pontti Android App
16. Milagron - Mobile App for Shopify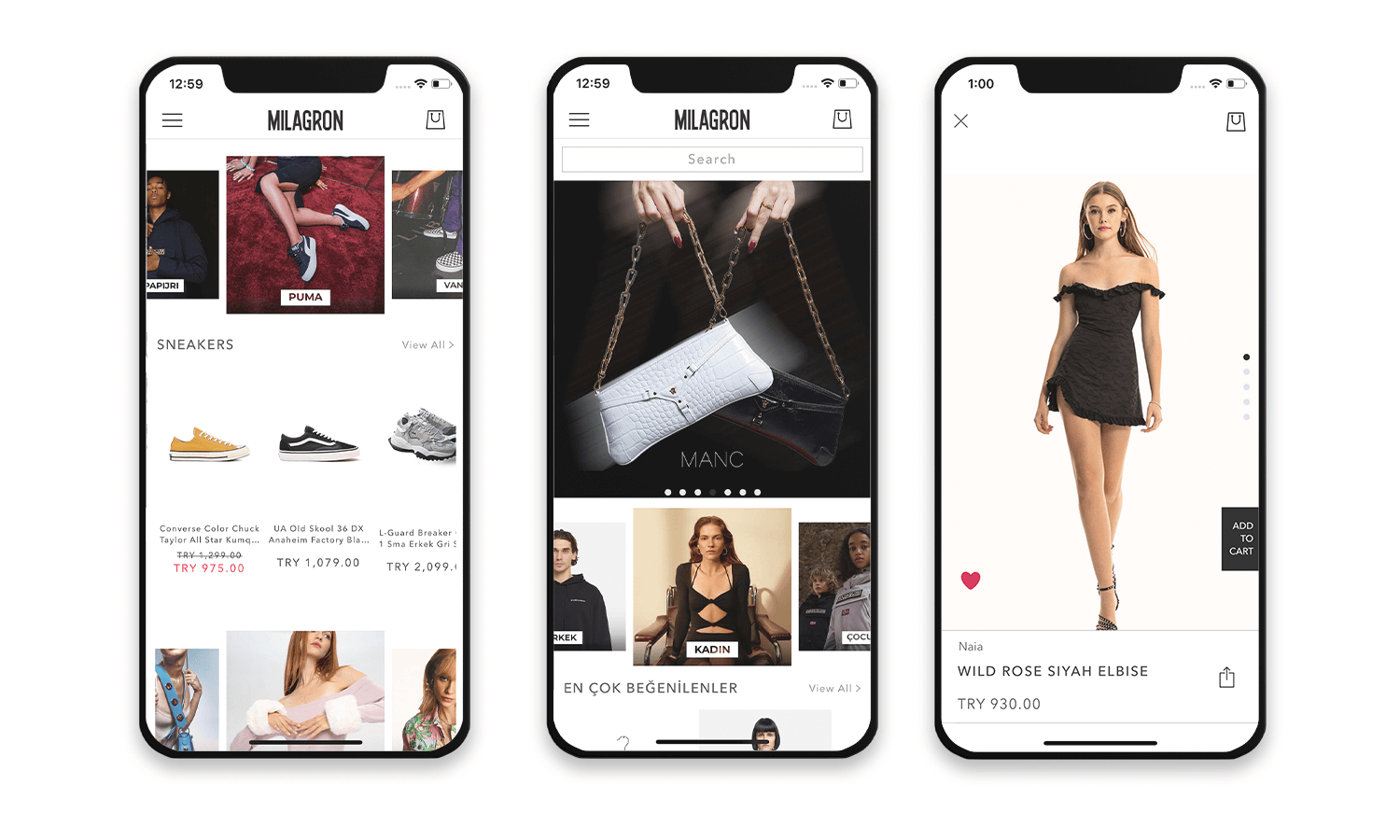 Here is another fashion brand with one of the best mobile UI design examples. Milagron had a great job when creating their mobile app with Shopney and the result was impressive. Now they offer the best mobile UX to their customers and increase their conversion!
Install Milagron iOS App‌
‌Install Milagron Android App
17. Negative Apparel - Mobile App for Shopify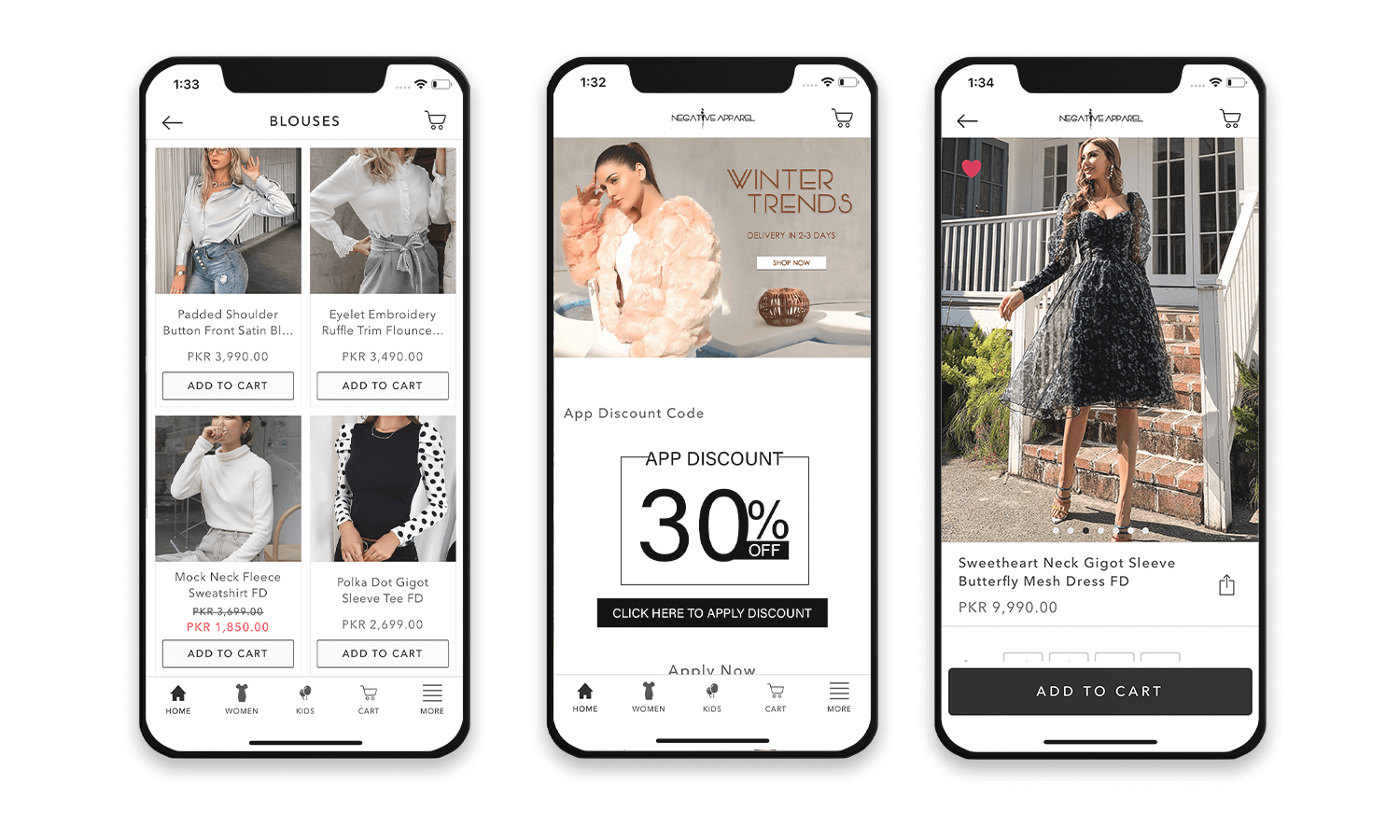 Negative Apparel is Pakistan's largest western clothing online store and they decided to work with Shopney- mobile app builder while turning their store into a mobile app. They designed a great mobile app by providing an easy mobile UX and a good-looking mobile UI.  
Install Negative Apparel iOS App‌
‌Install Negative Apparel Android App
18. Moixx - Mobile App for Shopify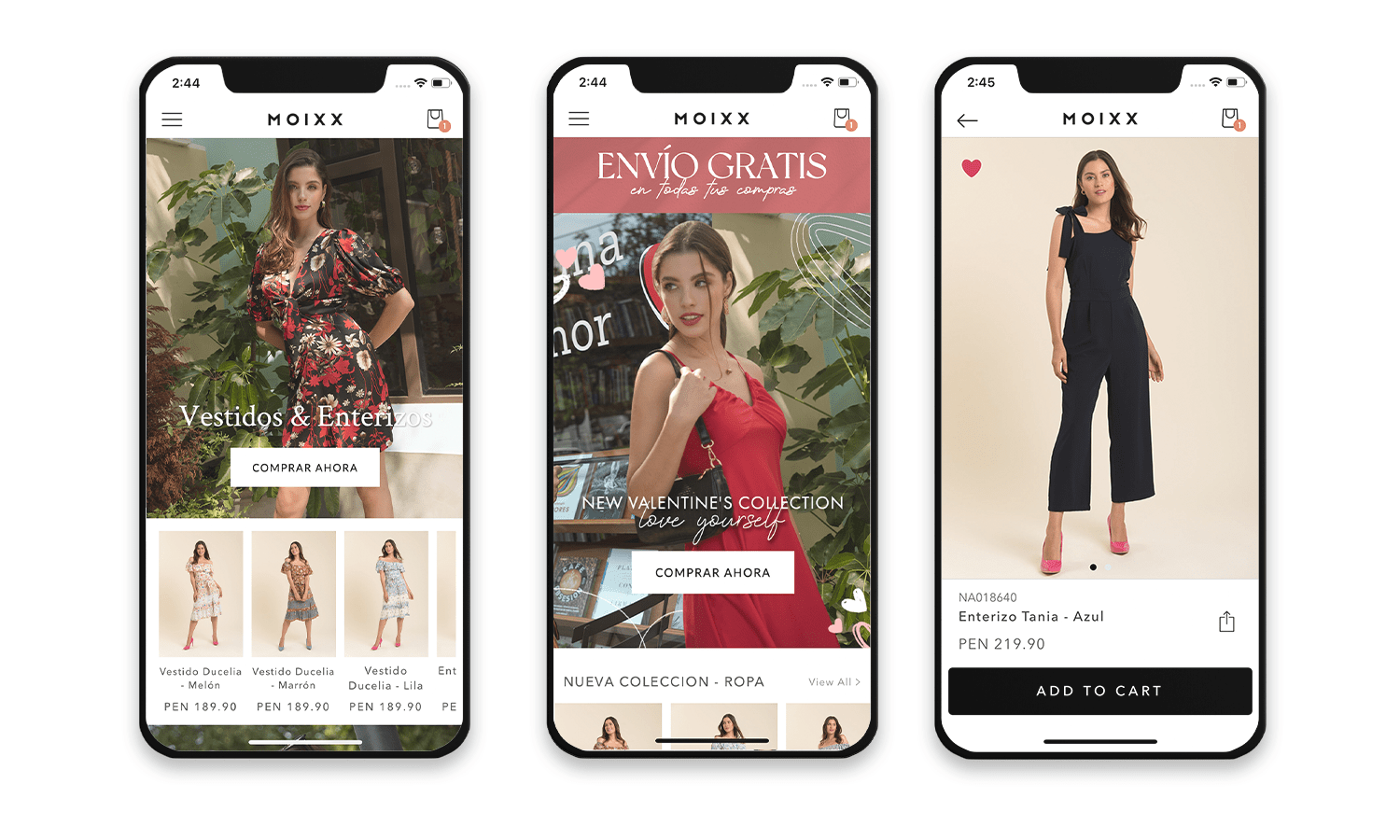 Moixx uses a different UI design than other fashion brands and we observed that it works smoothly. They have chosen one of our themes that they can highlight one product/collection on their pages and it fits perfectly. You can try and choose the best-fitting theme with Shopney!
Install Moixx iOS App‌
‌Install Moixx Android App
19. Papiroom - Mobile App for Shopify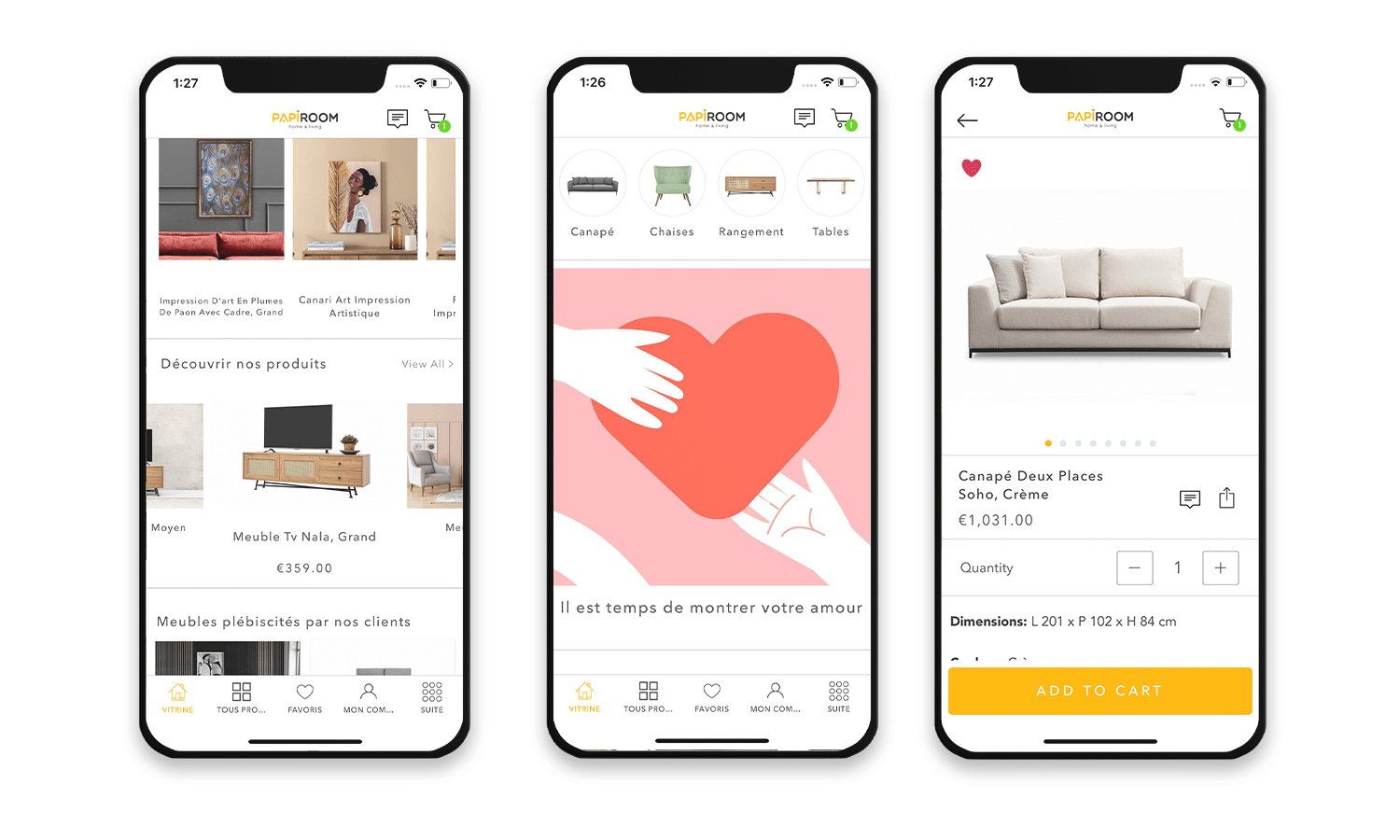 Papiroom is a France based homeware company. They decided to create their mobile with Shopney and brought the simplicity on their website to their mobile app too. They use plain, clear but at the same time appealing product pictures. So their customers preferred to use their app and it increased their conversion rate!
Install Papiroom iOS App‌
‌Install Papiroom Android App
20. Ohlala Sellerie - Mobile App for Shopify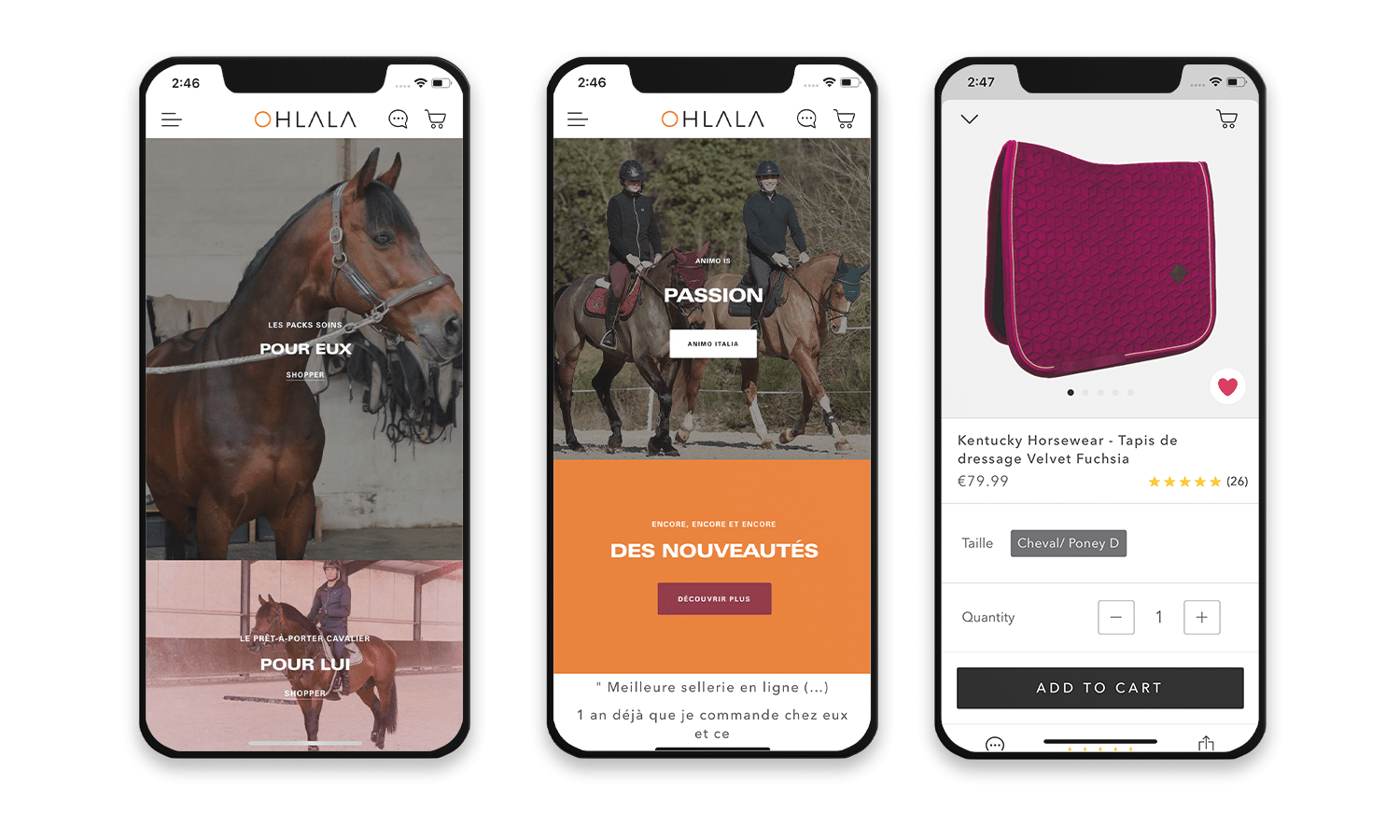 This brand is a little different from the other brands we work with. They specialized in selling all kinds of equipment for horse riding. Since it is an elegant sport, they designed their mobile app elegantly too. It is a great example of how you can reflect your brand identity on the mobile app with Shopney.
Install Ohlala Sellerie iOS App‌
‌Install Ohlala Sellerie Android App
21. shopi go - Mobile App for Shopify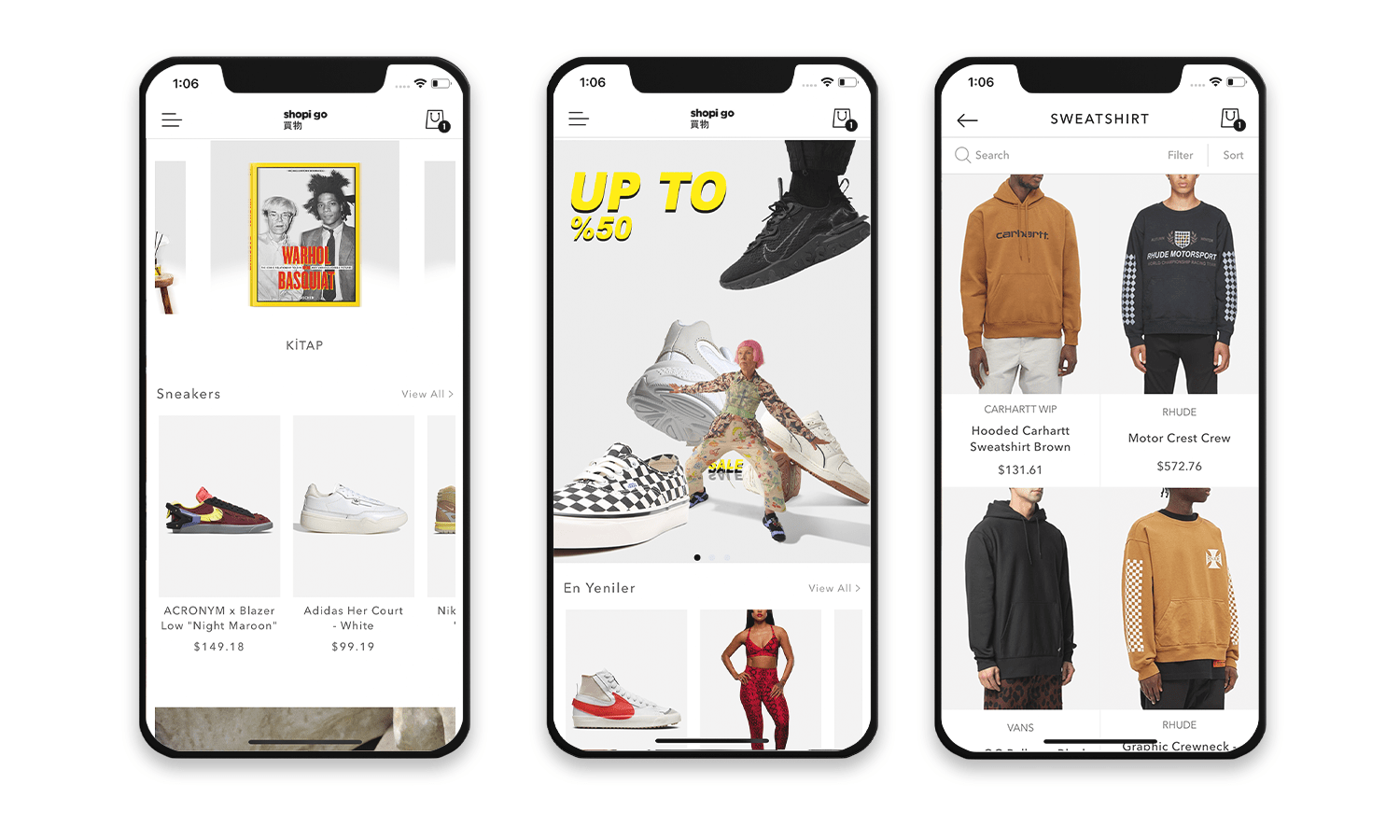 Shopi go is Turkey's first online concept store and they created their mobile app with the best-rated mobile app builder: Shopney. They found the right theme choice for their unusual & impressive images. And, they attracted their customers on the mobile easily and increased their sales!
Install shopi go iOS App‌
‌Install shopi go Android App
22. tiofarm - Mobile App for Shopify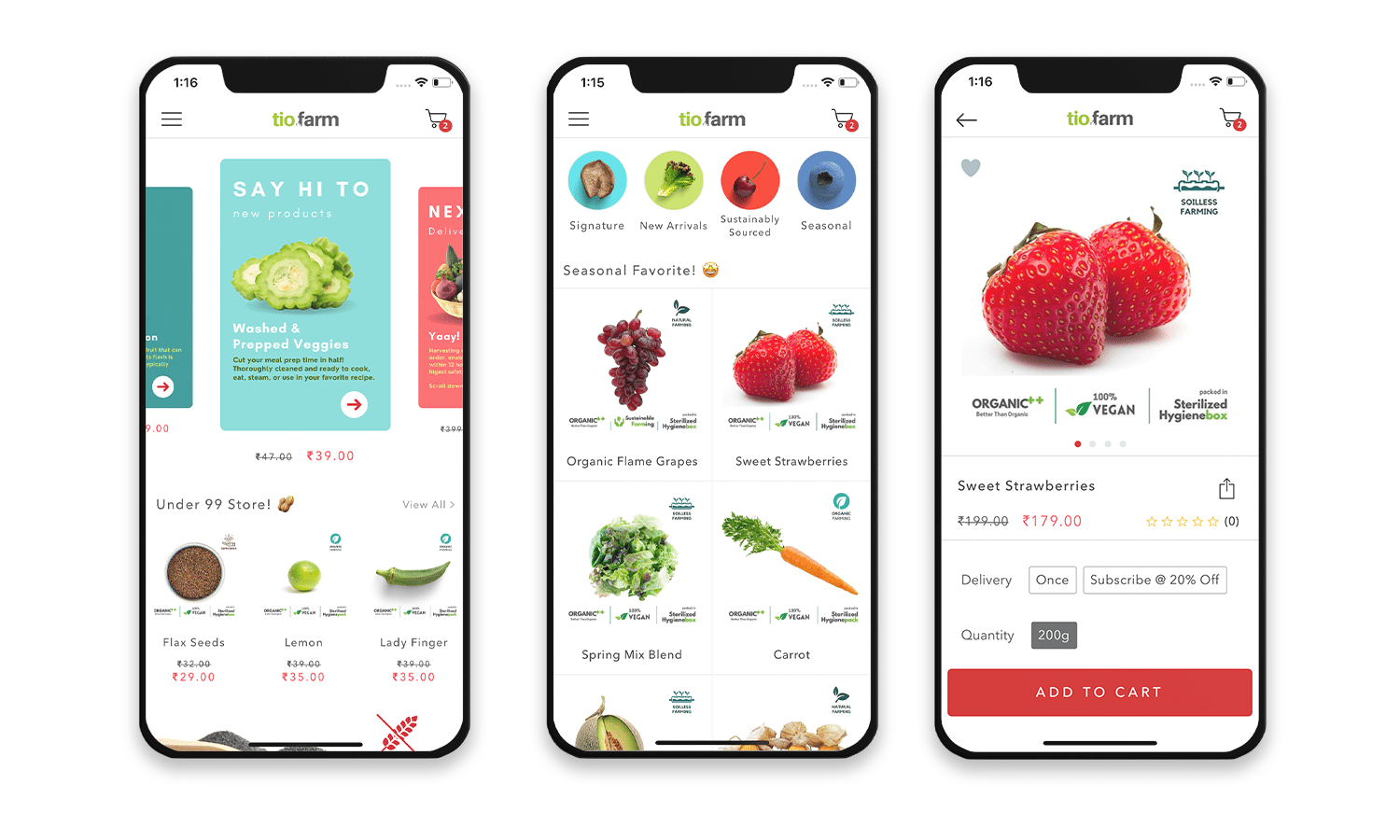 Tiofarm is the Indian Organic Farm that sells organic fruits and vegetables to provide us with healthier food. They used a plain UI and provided an easy mobile UX. You can see in the above pictures how everything seems clear. We love the simplicity and we definitely loved their app!
Install Tiofarm iOS App‌
‌Install Tiofarm Android App
23. Solutionz - Mobile App for Shopify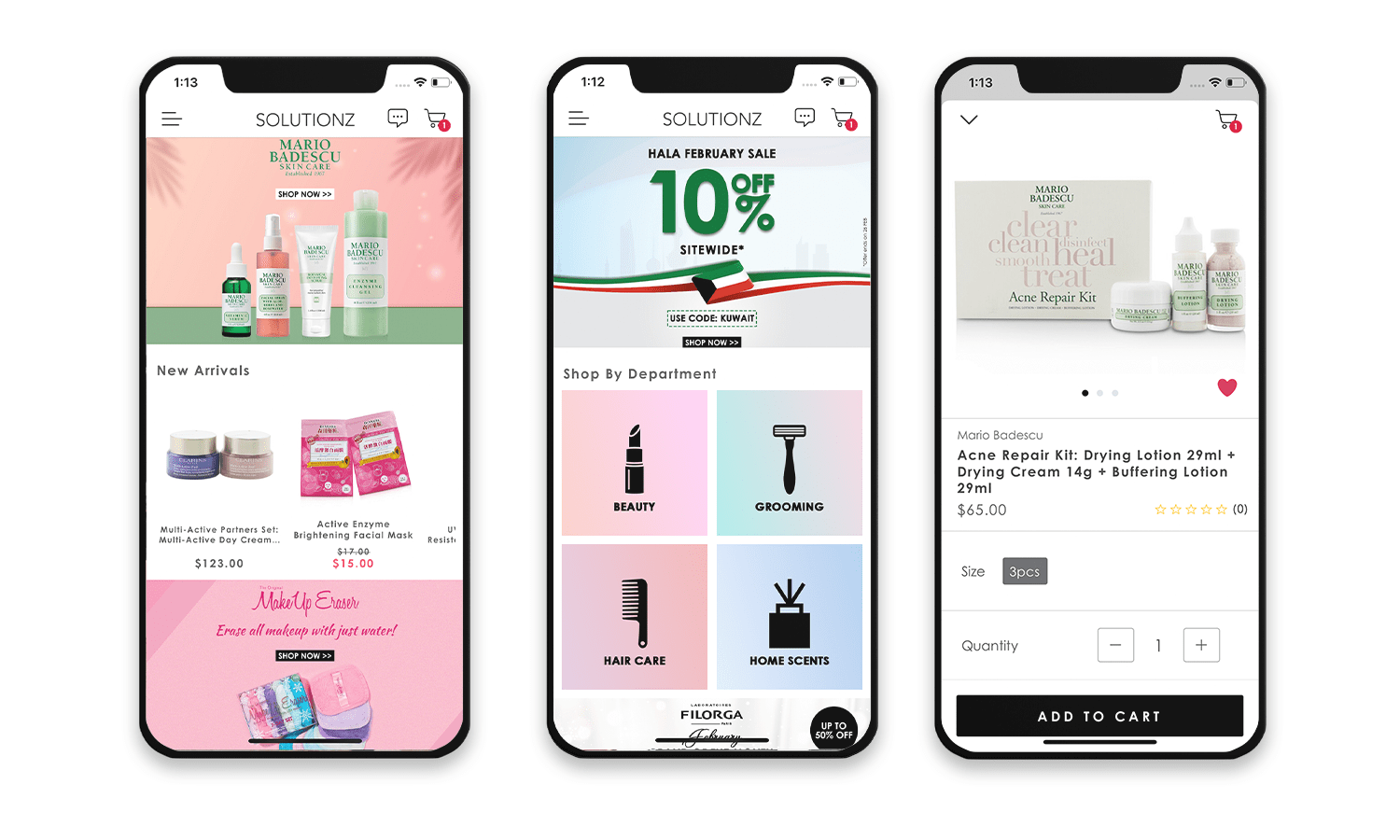 Solutionz is a Kuwait-based cosmetic store that sells different brands. They have decided to partner with Shopney to build their native iOS and Android mobile app. The colors they chose on UI are very sweet and trendy colors.
Also, the theme they chose is fitting with their product pictures. As a result, they offer the best mobile UX to their customers with a well-designed mobile app.
Install Solutionz iOS App‌
‌Install Solutionz Android App
24. Snitch - Mobile App for Shopify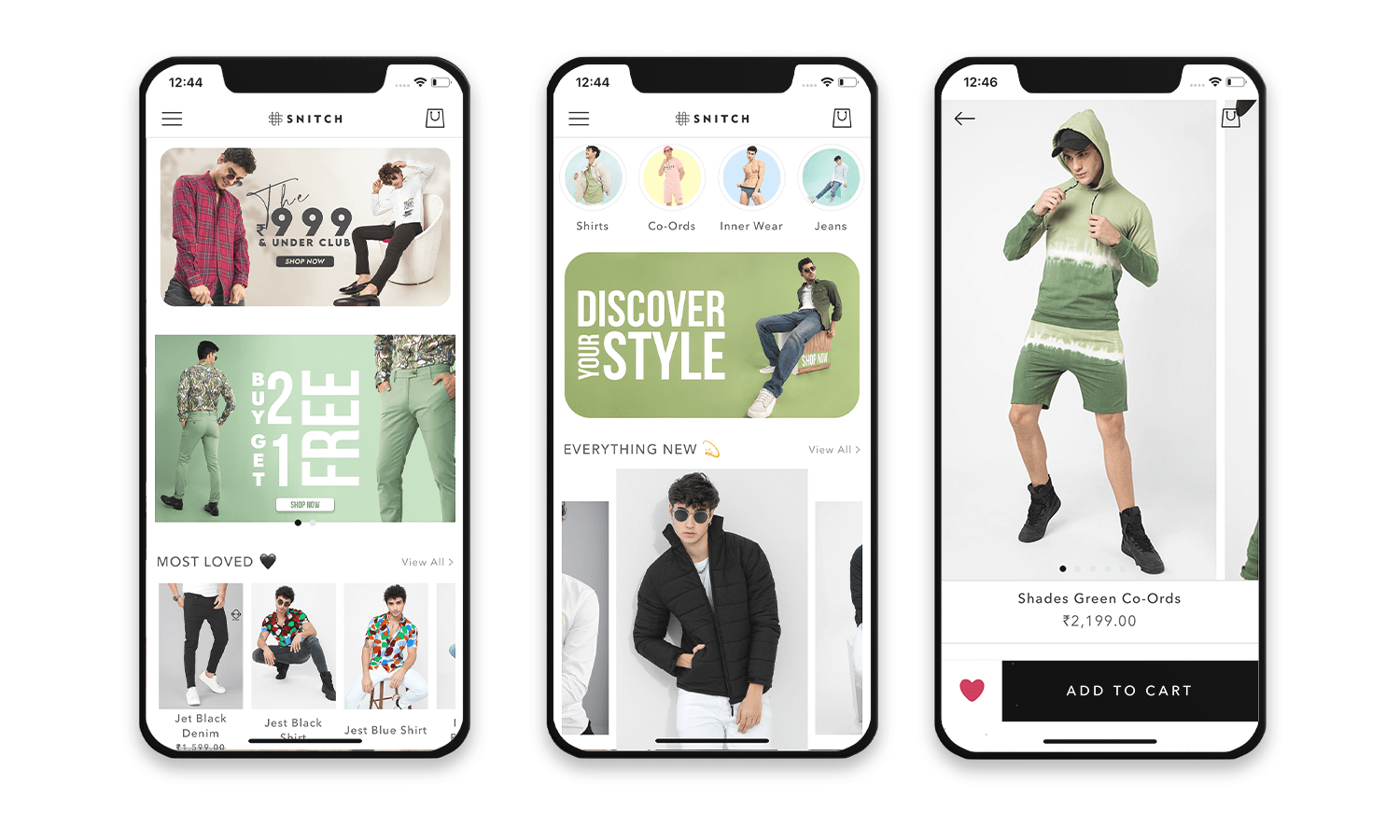 Snitch is a men's clothes fashion brand from India. They created their Shopify mobile app with Shopney and it turned out to be a great job.
They provided a functional mobile UX to their customers and designed a gorgeous UI. And the result is drawing customers' attention and an increased mobile conversion rate!
Install Snitch iOS App‌
‌Install Snitch Android App
25. Zahaar - Mobile App for Shopify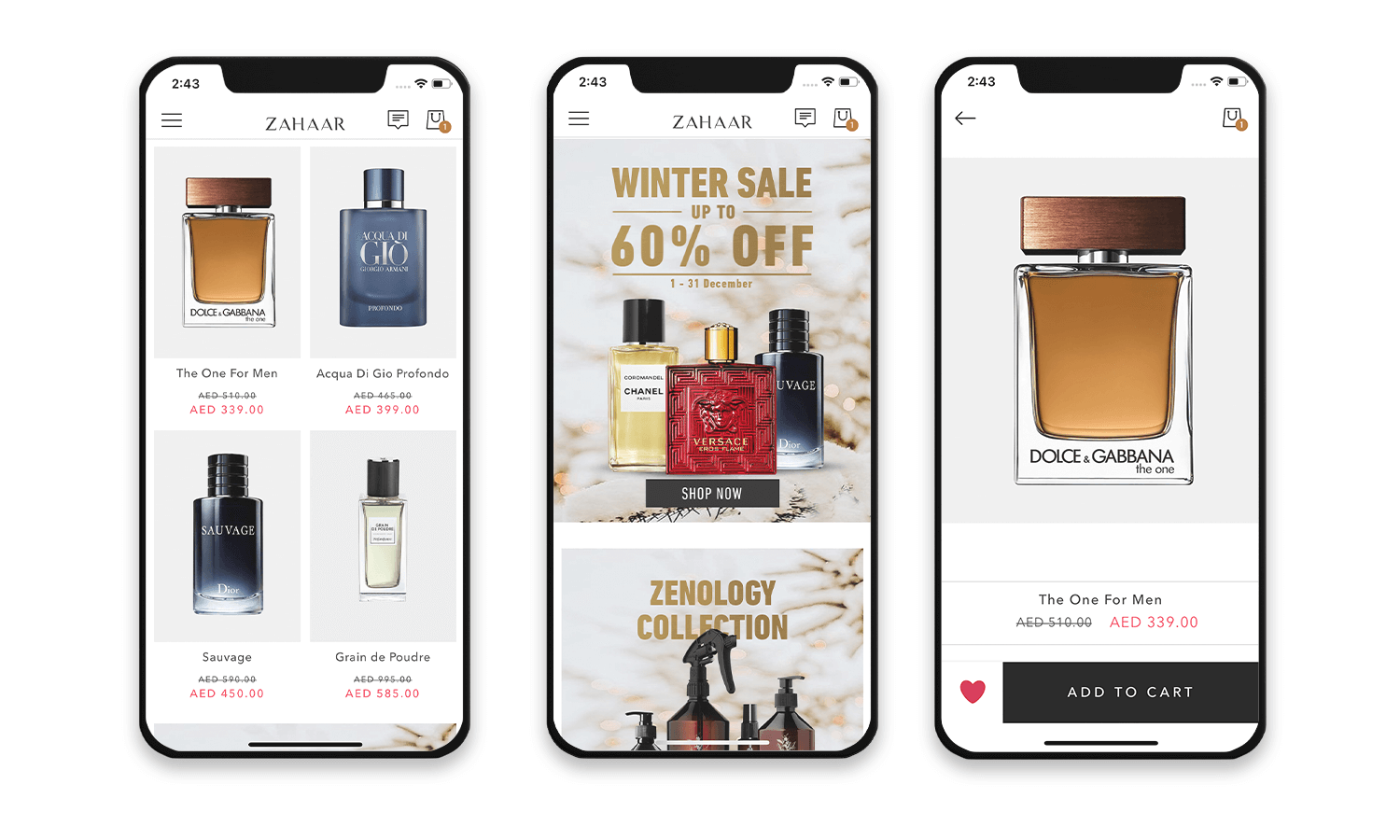 Zahaar is one of our favorite apps when it comes to elegance. It is a Dubai-based perfume brand that decided to turn its Shopify store into a mobile app with Shopney.
They have a very well-organized website and they brought that to their mobile app too. The same kind of products have the same photography type and it looks amazing on the app.
Install Zahaar iOS App‌
‌Install Zahaar Android App
26. Evry Jewels - Mobile app for Shopify
The jewelry brand, Evry Jewels mobile app blends a visually-appealing minimal design with consistency all across the app. The app makes users put less effort, as its intuitive design guides them in their shopping journey.
Apart from enjoying browsing a vast collection of trendy jewelry, there's a lot to learn from Evry Jewels mobile app design for eCommerce created using Shopney's capabilities.
Install Evry Jewels iOS app‌
‌Install Evry Jewels Android app
27. Dolce Vita Halı
As beautiful as the brand's carpets, Dolce Vita Halı's mobile app design is impressive and striking. The app's navigation is simple, yet discoverable, making it easy for customers to browse, engage, and interact with the different app features.
Shopney's brilliant capabilities ensured the search efforts remain minimal for customers, giving a better browsing and shopping experience to customers.
Install Dolce Vita Halı iOS app‌
‌Install Dolce Vita HalıAndroid app
28. Koochi Poochi
There's more than one reason to download the kids' clothing brand, Koochi Poochi's app. Apart from its collection of kids' wear, the app, too, is cute and trendy. With bright colors to match its branding and all key features available on the app, it makes shopping easy too.
Install iOS app‌
‌Install Android app
29. Lamcy Korea
Lamcy Korea is a skincare and cosmetics brand that has a visually appealing mobile app. With considerably large sized images, easy navigation, neat layout, it allows shoppers to browse and purchase products at their fingertips.
Using Shopney app, the brand has skillfully used features such as design editor and themes to bring the best out on the app.
Install iOS app‌
‌Install Android app
30. Castore
The sportswear brand, Castore's app puts user experience first—excellent product categorization, easy navigation, content display and search options. The app' user interface is as neat and cool as the brand's sportswear collection is.
Shopney's efficient features make everything from design, integrations and uploading products and collections a breeze.
Install iOS app‌
‌Install Android app
31. Ruby Rouge Boutique
Offering more than a 100 fashion labels under one brand, Ruby Rouge Boutique has a colorful app that is highly user-friendly. Allowing browsers to discover products by categories, and attractive and colorful images, it's definitely one of the best eCommerce mobile app designs.
Install iOS app‌
‌Install Android app‌

32. Amelie Baku
Fashion haute couture brand Amelie Baku has a mobile app design for eCommerce worth taking many tips from. With colors that match the sophistication of their collections, the app also capitalizes on UI design. The theme of the app makes the designer clothes look more appealing, making mobile an increasingly preferred mode of purchase for their customers.
33. Talco
Talco is a fashion brand that enables customers to browse, ask questions, purchase, and exchange/return products via the app. Similar to the website, the app is visually-driven and includes all the features, such as multiple payment options, wishlist, among others, that customers use on the web version. The eCommerce app UI design does an admirable job with making customers' shopping experience easy and enjoyable.
34. Mitchell Brands
Mitchell Brands is a skincare brand that offers products for all skin types and concerns. The app's user-friendly design facilitates easy shopping from a wide range of products without making it look or feel cluttered or overcrowded. The app's appealing UI and UX drives customers and an increased rate of conversions on mobile.
Install iOS app‌
‌Install Android app
Why Choose Shopney as Your Mobile App Builder?
Shopney is a Shopify app design editor tool that goes beyond creating app designs. The app also enhances your Shopify store shopping experience, customer experience, loyalty, and conversion rates. Moreover, there are many more benefits of using Shopney to design your mobile app.
1. Shopney easily integrates with Shopify
Easy integration with web platforms is a key aspect, and Shopney offers it. An integrated app ensures data flows easily between the online store and the eCommerce mobile app, providing customers with a consistent brand experience. For example, with Shopney, your product photographs, catalogs, videos, descriptions, pricing, and other information get integrated seamlessly.
2. Many theme options
The design and look of your mobile app is largely dependent on your app theme. Shopney offers a wide range of themes that align with your brand and niche. The themes are ready-to-use and customizable, ensuring consistency.
3. Shopney is easy to use
Good mobile apps can be difficult to create. Recruiting app developers and designers can turn out to be a costly affair. This is where Shopney's capabilities come in. It is a no-code, drag-and-drop editor, making app creation and management as easy as can be.
4. Shopney offers unmatched customer support
Retailers may require regular support and guidance, and at times, hand holding to set up and manage the app. Shopney provides effective customer assistance to assist you throughout the process, beginning with app installation. The team's proactiveness and promptness makes it one of the best eCommerce mobile app design tools to incorporate in your Shopify store.
5. Third-party integrations
To offer comprehensive features, you will have to integrate many other apps in your Shopify store. It helps in creating an efficient eCommerce app UI design. Shopney easily integrates with a wide range of apps, for example, GrowWave, Yotpo, LoyaltyLion, Kiwi Sizing, Gorgias, Shopify Inbox, etc.
6. Wide range of engagement features
Customer engagement is a key requirement for the success of any eCommerce business. And it's not a one-time task. You have to constantly engage customers in many different ways. That's another factor where Shopney offers high efficiency. For example, with Shopney, you can easily run push notification campaigns, in-app chat, etc. These automated features take customer engagement to another level.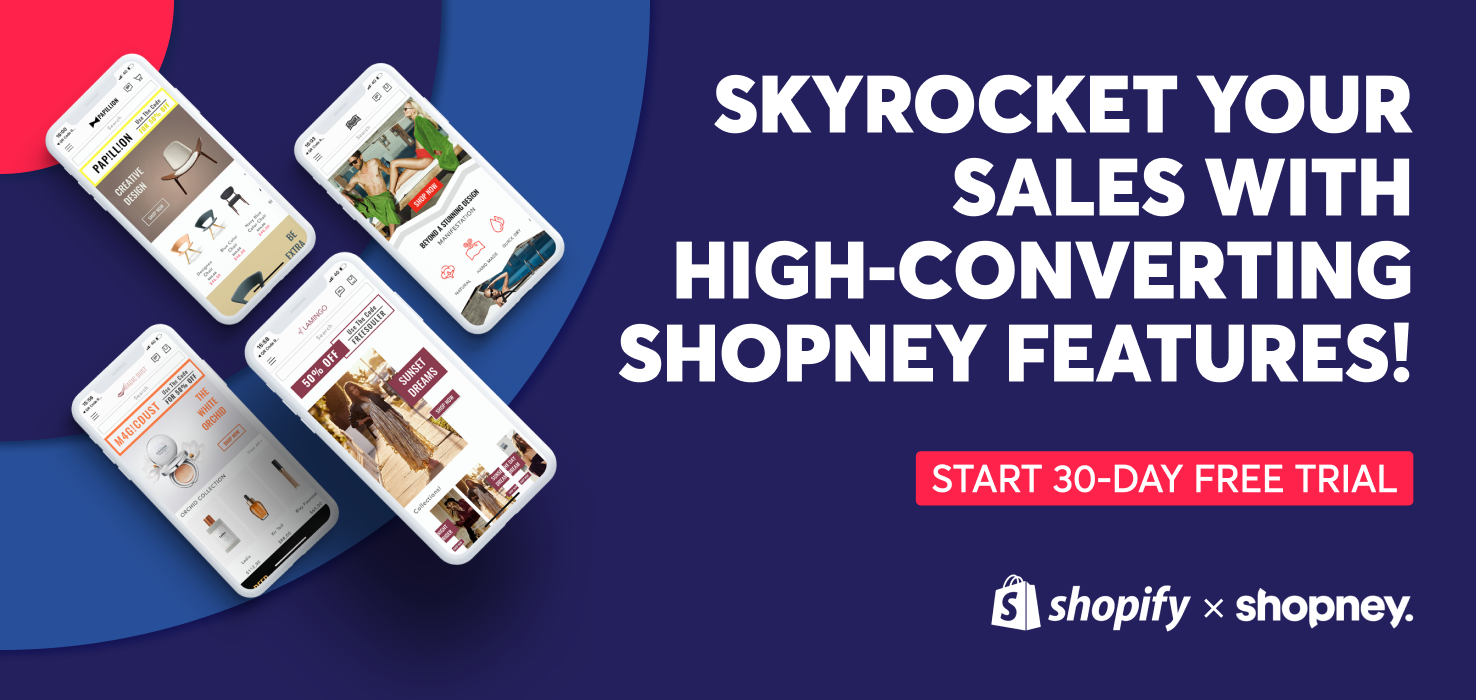 Use Shopney to Design Your Shopify App
Your Shopify store's app design is your first impression on mobile-user customers. From the moment they download the app to the front page to their browsing experience and check out, each of these factors have to be designed keeping customers at the center.
One weak factor in customers' app experience is enough to leave a bad impression. Effective and intuitive design not only looks good visually, it also impacts customers emotionally. And experience is everything—it impacts the sales your app generates, and your profits.
With Shopney, we make it easy for you to create the best eCommerce app design for your Shopify store.
Install Shopney — the best Shopify mobile app design editor.