eCommerce Mobile App Branding: Complete Guide to Designing a Branded Shopping Experience
Yes, building an eCommerce mobile app for your Shopify store is opening an all-new revenue channel for your business.
But when it comes to delivering experiences, your Shopify store needs to be as coherent and consistent with your online website as possible. And we're not just talking about offering a seamless UI and UX experience on the mobile app, or promoting the same products and deals - we're talking about your brand.
In times when competition for consumer attention is increasing by the day, it's important to remember that brand recall is dropping drastically.
No matter who your target audience is, they're being targeted by thousands of marketing and advertising ad campaigns all day. Sometimes, they're seeing the same or similar products from different websites and brands all in one day.
While installing your brand's mobile app is an indication of greater commitment and interest in what you have to offer, it's important to know that the experience in the app should reinforce why they decided to install it in the first place - that's where branding of your eCommerce mobile app comes into play.
What is eCommerce mobile app branding?
Branding refers to using a set of marketing and psychological techniques to promote a business in a consistent manner across all customer touch points. It is what establishes what a consumer perceives of the brand they are choosing to interact with. So eCommerce mobile app branding refers to how consumers who install your brand's app perceive the value of it. This includes the look, feel, communication and reputation of your Shopify store mobile app.
Why is eCommerce mobile app branding important?
You spend a considerable amount of time defining your brand, your unique selling proposition and how you want consumers to perceive the value of products you sell. That's why you see a number of Shopify stores focusing on the design of their online websites - the colors, fonts, illustrations and visuals they use. So why make the same effort for eCommerce mobile app branding?

Boosts brand recall - By ensuring that your eCommerce mobile app offers the same look and feel as your Shopify store site, you're establishing another channel to reinforce your brand. Think how you're able to recognize Amazon's interface on desktop, mobile and mobile apps.
Builds trust - When you deliver the same visual experience to the consumers on both your Shopify store site and your mobile app, you're reassuring them. This helps build trust - imaging seeing one thing on the website and an entirely different visual on the app and you'd end up wondering if you were interacting with the same brand.
Improves customer experience - eCommerce mobile app branding has a big role to play in the shopping experience you offer. The colors, fonts, illustrations you make use of in the app hold as much importance as they do on your Shopify store website. It impacts how they feel about interacting with different elements of the mobile app.
In the end, all the above combined, eCommerce mobile app branding has an impact on how successful your app is. It impacts the number of consumers willing to install the mobile app, how frequently they make use of it, the conversions, sales and overall revenue you generate from it.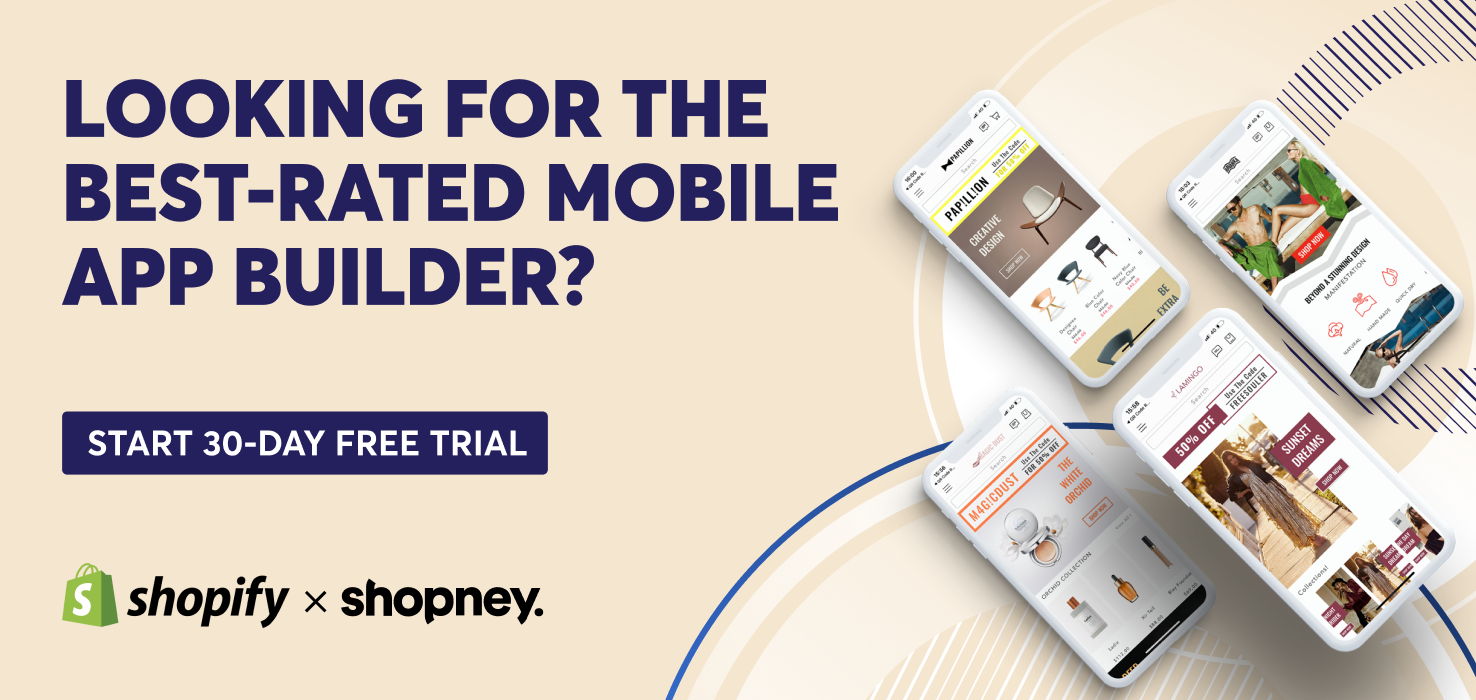 Things to know before you get started with eCommerce mobile app branding
If you don't have a certain direction in mind, designing your Shopify store website can run into weeks, months or even a year. The same holds true for eCommerce mobile apps as well.
That's why we recommend answering the following questions before getting started with eCommerce mobile app branding:
Who is your target audience and ideal app user?
Why are they going to use your Shopify store app?
What is the USP of your eCommerce mobile app?
What makes it unique compared to your mobile site and other competitors?
What do you want your consumers to perceive of your mobile app?
What is the tone and voice of your brand?
Where will your audience discover and install the app from?
What are the channels of communication between your app and the consumer?
How to get started with eCommerce mobile app branding?
Once you have answers to the questions above, you get started with eCommerce mobile app branding and look into each step with more research and depth. Here are the aspects you need to look into:
1. eCommerce mobile app theme
Just like your Shopify store website, it all starts with the theme you choose to use for your brand. The theme is essentially a framework or layout that you use as the foundation to display your products in the eCommerce mobile app. It includes layouts for your mobile app home page, product page, collection page, cart, checkout and even sale pages.
The eCommerce mobile app theme you choose should be based on both your industry, products sold and inventory size. For instance, a fashion and apparel store displays its products differently from how a health supplements brand should.
This is where working with a Shopify store mobile app builder like Shopney comes in handy. Our team of experts have studied the various aspects of different industries and built out a theme for each segment. We have also taken into account different inventory sizes and photography types to ensure businesses can brand their apps in the best way possible.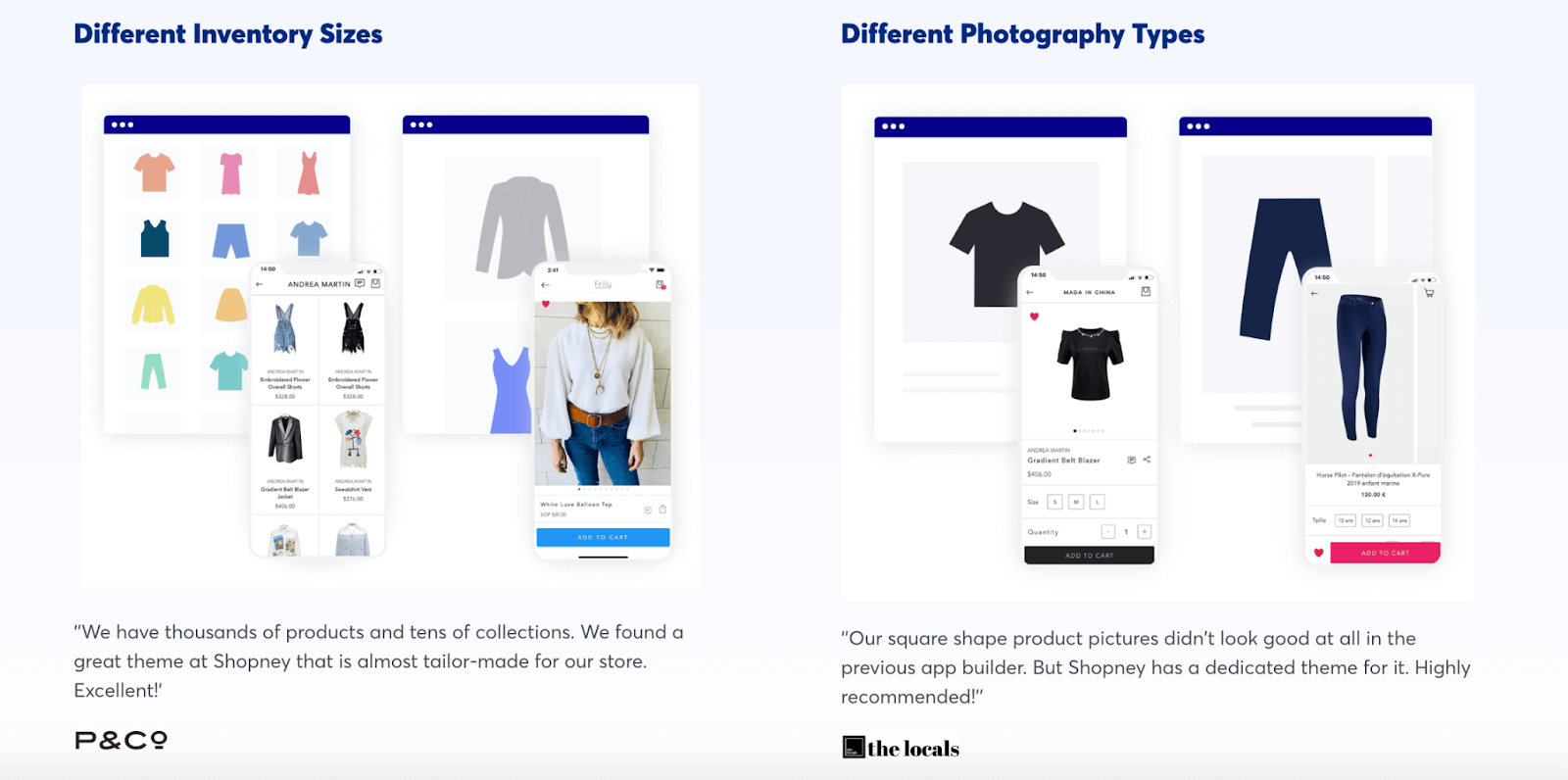 Some of the best eCommerce mobile app themes available on Shopney include:

Kayra
Ulgen
Talai
Tulpar
Mergen
Fuat
Umai
Kubai
Pro tip: We know you're trying to put your best foot forward. But ensure that you opt for a user-centric app design to meet consumer expectations and ease online shopping. It's a good idea to A/B test the different functionalities you do choose to offer.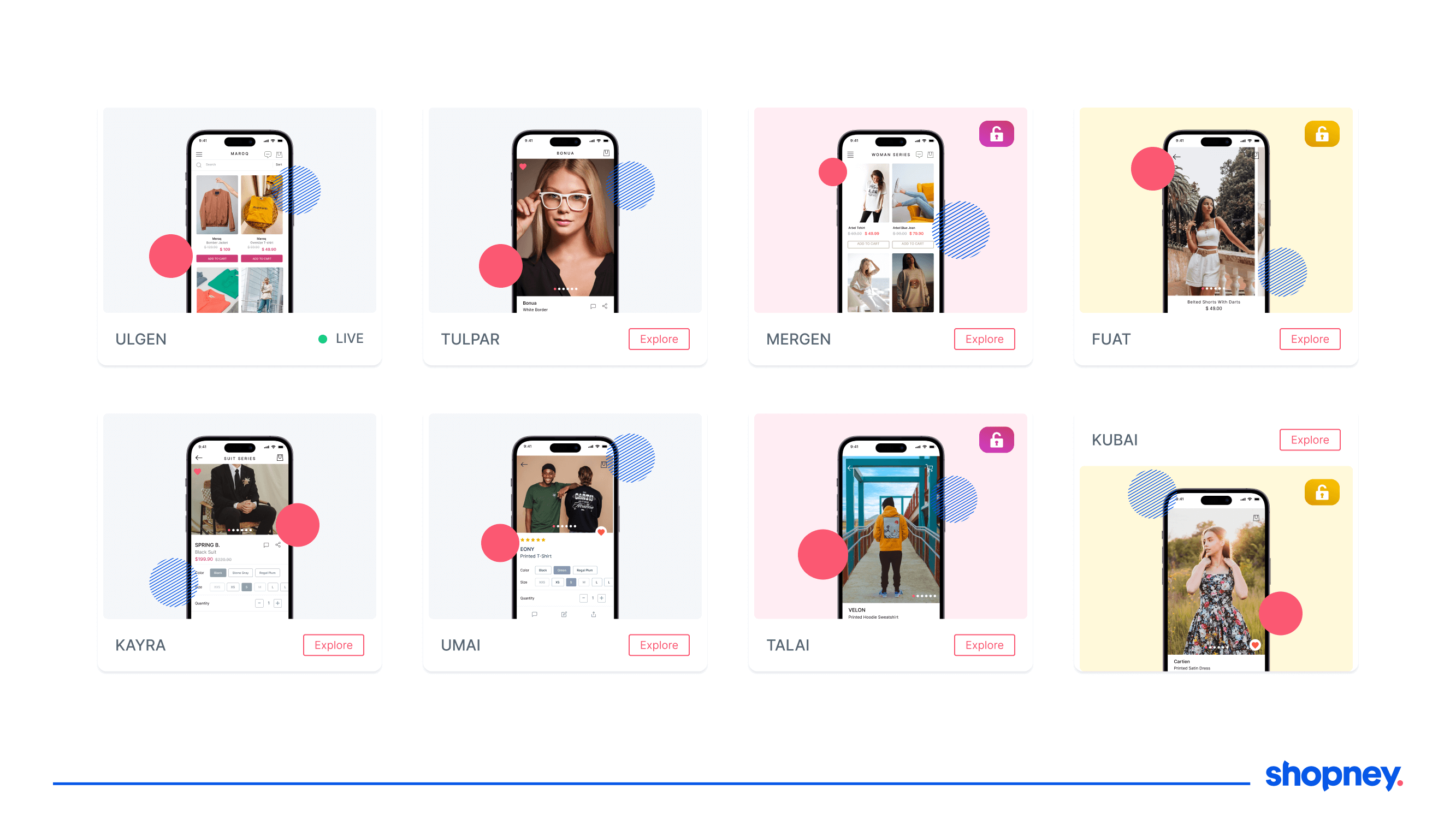 2. eCommerce mobile app name
Launching a mobile app is like promoting your brand on an all-new platform, which is clearly a separate entity from your Shopify store website. But while naming the app, it is important to know that the name is what can drive more installs and help people remember it too.
Even though you can name your app absolutely anything, we do recommend keeping the name consistent with your brand name. It is something that your online store visitors are already used to seeing and know more, making your app also look more reliable.
For example, Ladida has slightly adapted their app name using a combination of their brand name and the category of products they sell: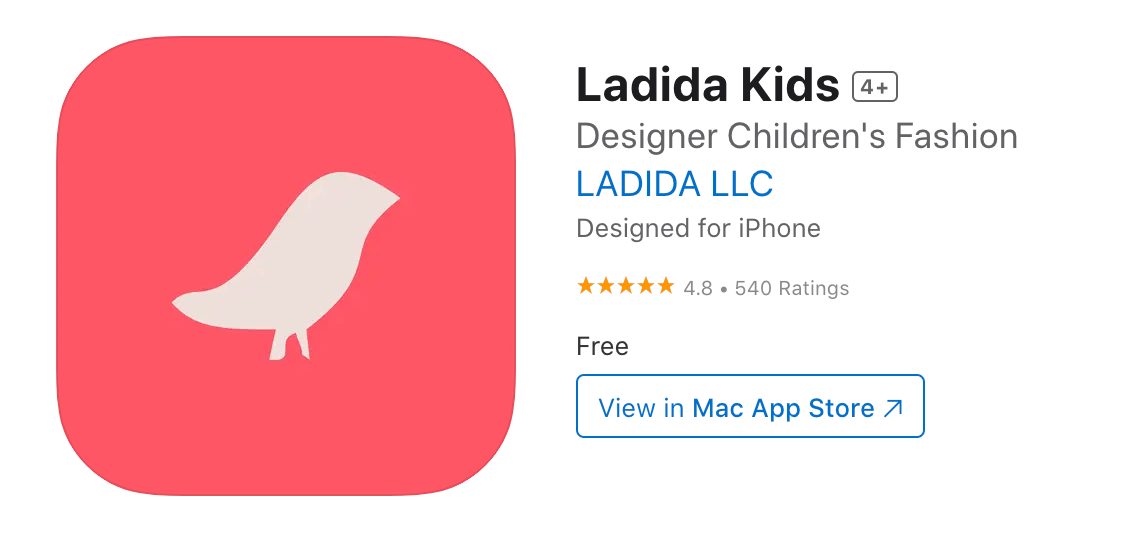 3. App slogan/ tagline  
Similar to how your Shopify store website has a name and a tagline to go with it, we recommend having your slogan in place for the mobile app too. This is a brand tagline that describes what the app is about - in this case, what the consumer can expect to easily purchase using the mobile app.
Remember, this is another eCommerce branding aspect you need to keep consistent with your online store. So that consumers who do discover your brand on the app stores can connect the dots and identify your business immediately.
Here's an example of how GymShark does it: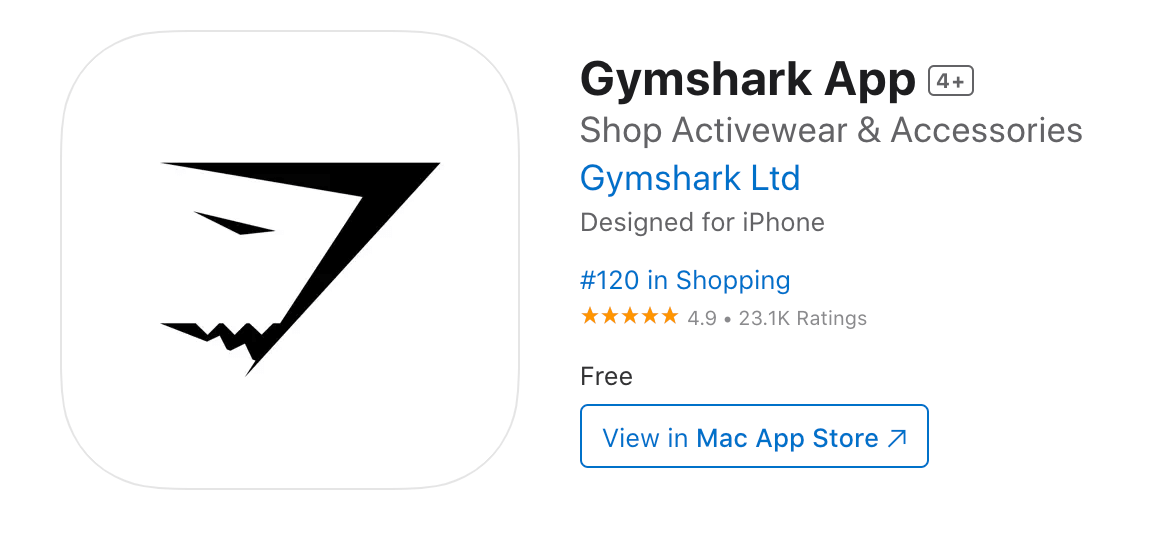 This is consistent with what they promote on the search engine as well:

4. Logo and app icon
The app icon may seem like too little a thing to pay attention to. But it is what helps online shoppers connect with the brand before and after installing the app.
While some brands choose to get creative with their app icon and how their logo is displayed, we recommend using one that is consistent with your Shopify store site. Remember, the idea is to build brand recall and not turn every interaction into firsts.
Some of the ways in which you can add logo and app icon to match your eCommerce branding include:
Symbol: An image that is associated with your brand name
Logotype: Lettering of the full name of your brand
Lettermark: First letter of the brand name with creative lettering
Combination mark: Using symbols, logotype and lettermarks together
Here's how Walmart has adapted their logo for the app store icon:


Here's another example from Savanna, a kids fashion brand who has built their app using Shopney:


5. App media gallery
Another thing that should make it to your list of eCommerce app branding list is the media gallery. These are a set of visuals - images and videos that are displayed alongside your app in the app stores. They are a glimpse into what your brand's app has to offer to online shoppers and can make or break your success.
We recommend using consistent colors, typography, logos and product visuals as on your Shopify store site. But pay attention to showing your app screens and the interface consumers can expect to see after installing it.
Taking Savanna as an example again to show you how they keep their app visuals clear and consistent with how their site appears: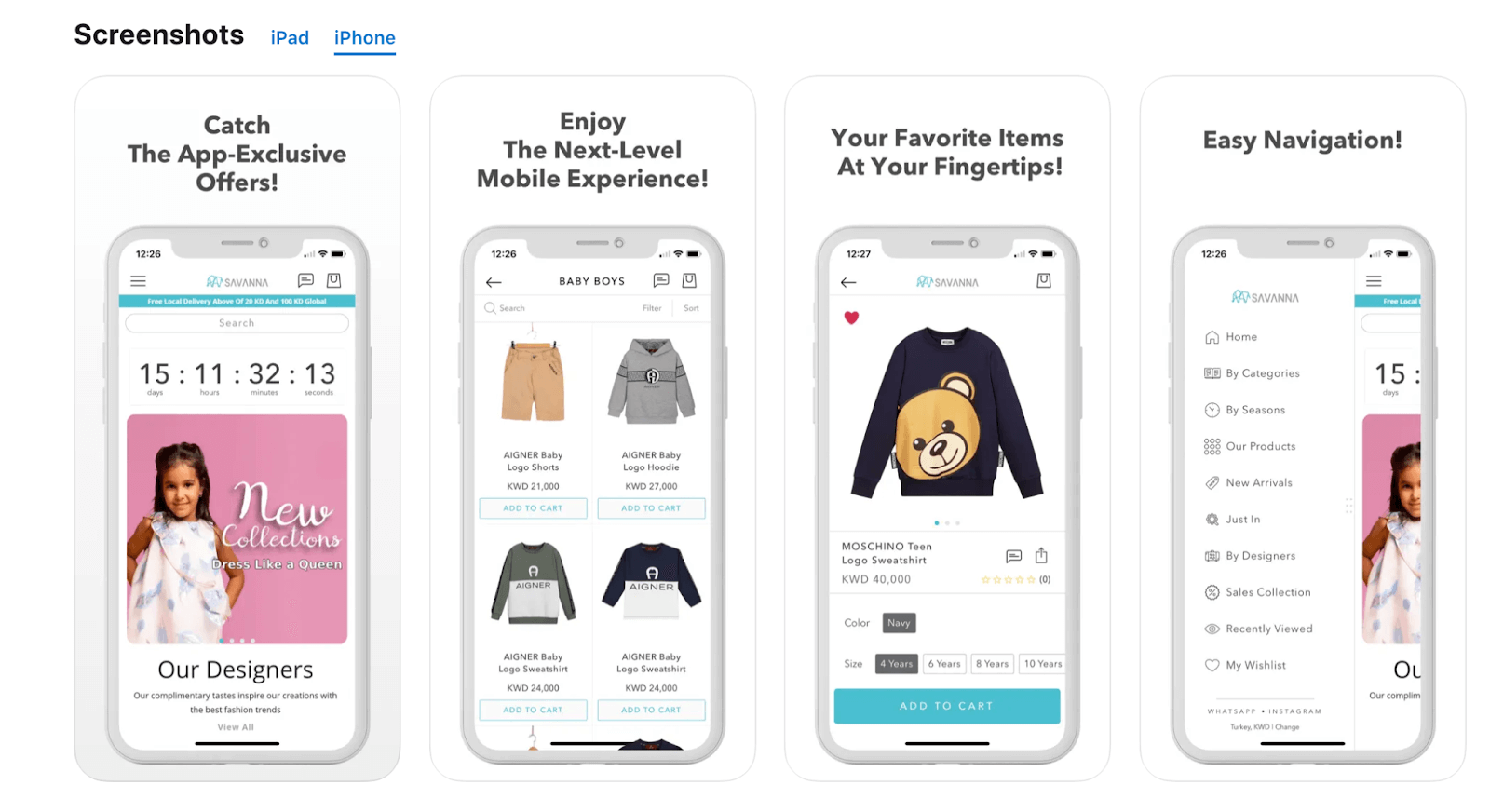 Here's another example from P&Co.: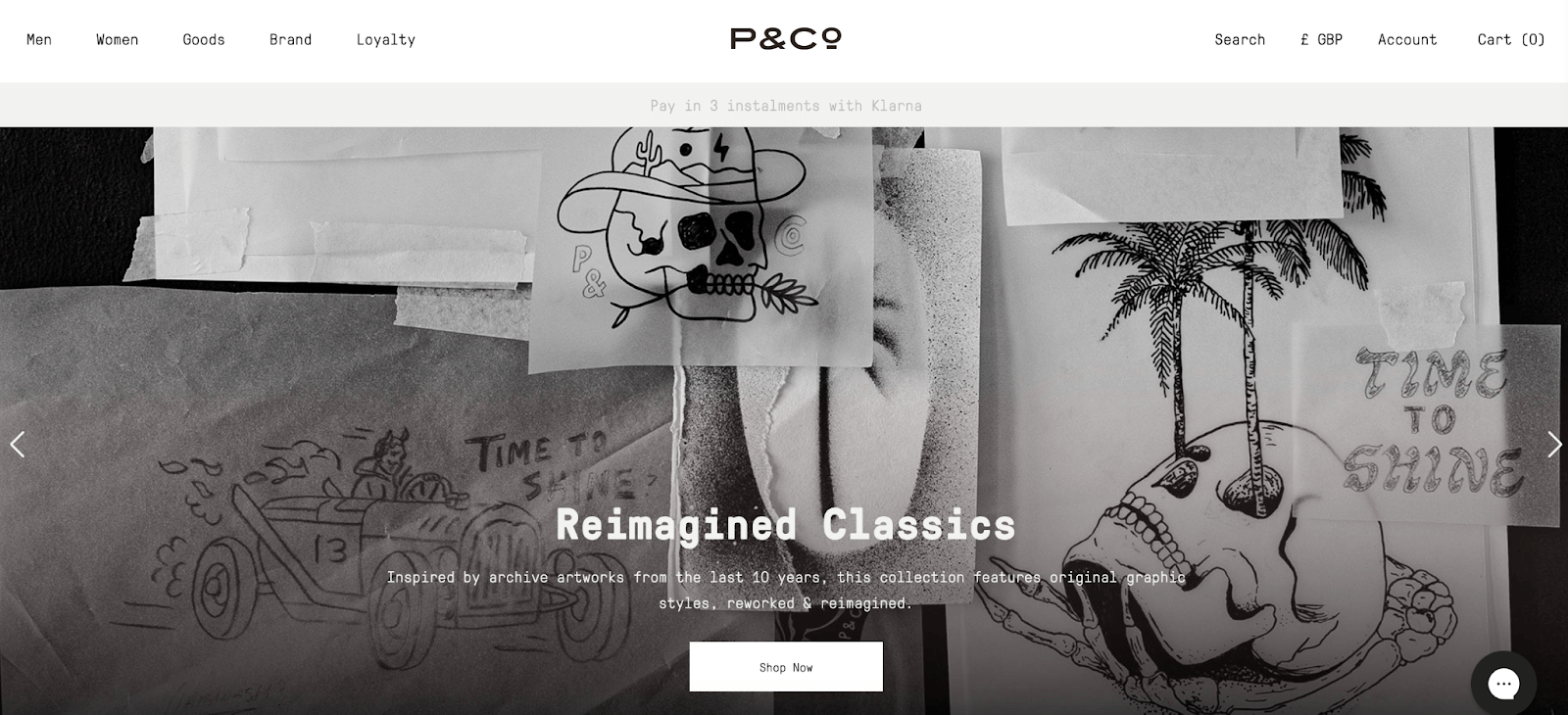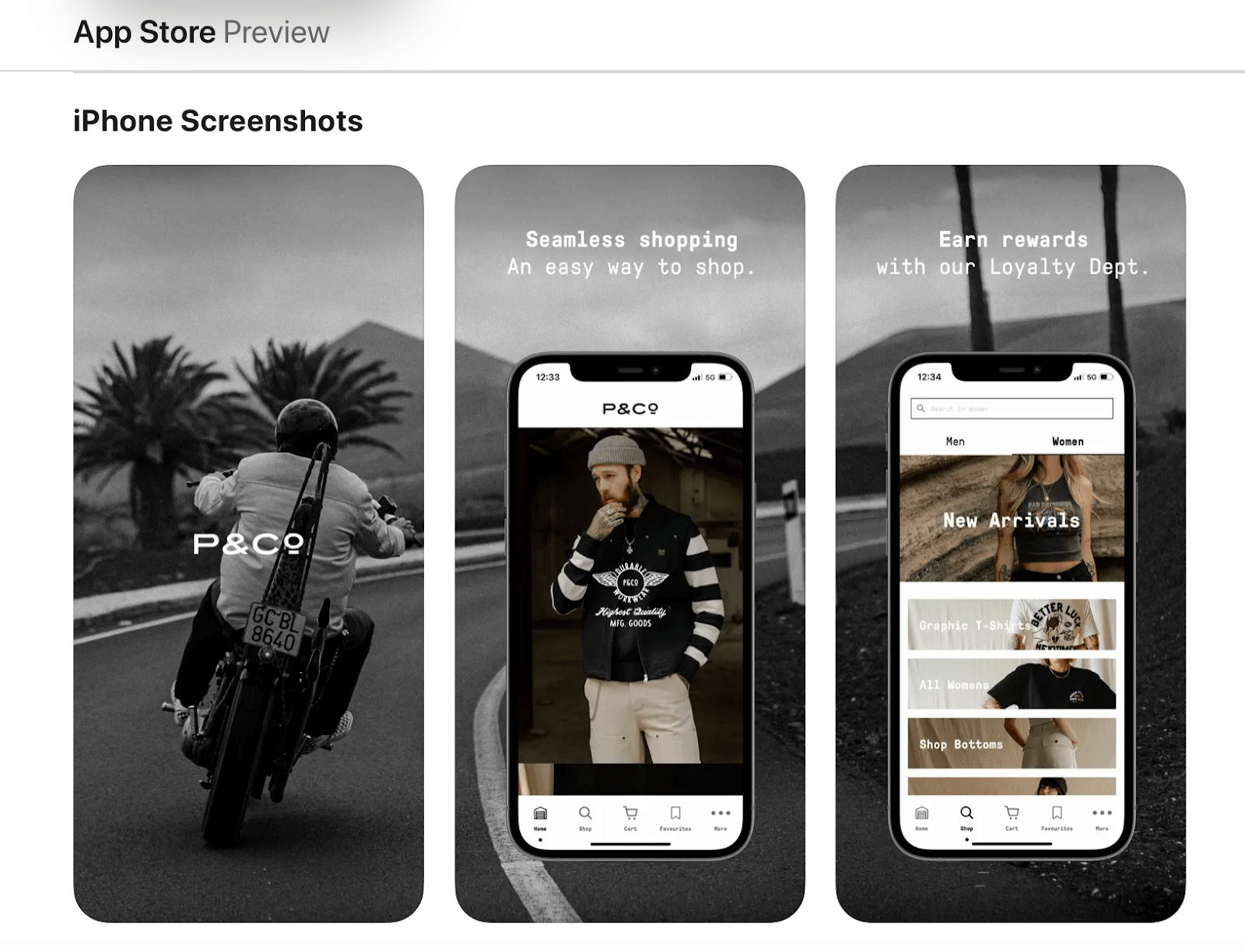 6. App store description
While we agree that you will be using your Shopify store site, social media accounts, emails and other already established channels to introduce or promote your mobile app, it's important to make the most of the app description to reinforce branding.
Ensure that your app description is in sync with what your brand has been promoting as its vision, mission and values. Keep your copy crystal clear, stating what type of products can consumers buy using the app, the value they can get from it (app-exclusive deals, etc), and more.
We're going to use the same brand's example to drive the point home: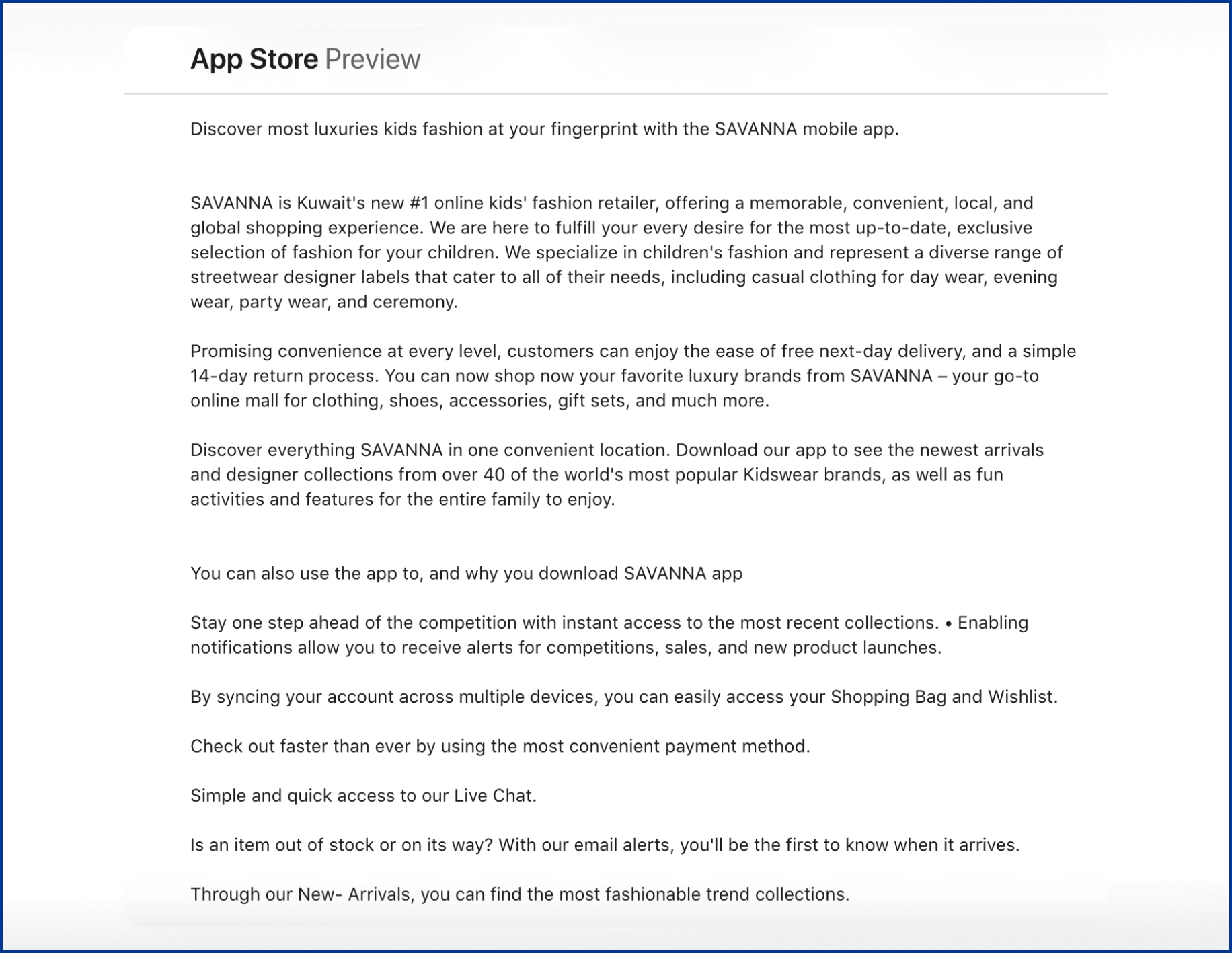 7. In-app visuals
You may feel the need to change how you display products in an eCommerce mobile app. But the truth is, that keeping them consistent with how you have been presenting your products on the online store and other marketing channels, is far more important.
Your in-app visuals include banner images, collection page images, videos, product page images, and more. These should follow a similar look and feel as your online store - in both style and editing. Your aesthetic has a bigger role to play in maintaining consistent branding!
With Shopify store mobile app builders like Shopney, you get the flexibility to carry your product photography style into the app. For instance, if you use square framed photography, we have app themes that are designed exclusively to present them in the best way in your mobile app.
Here's an example of how Zara presents their products on their website: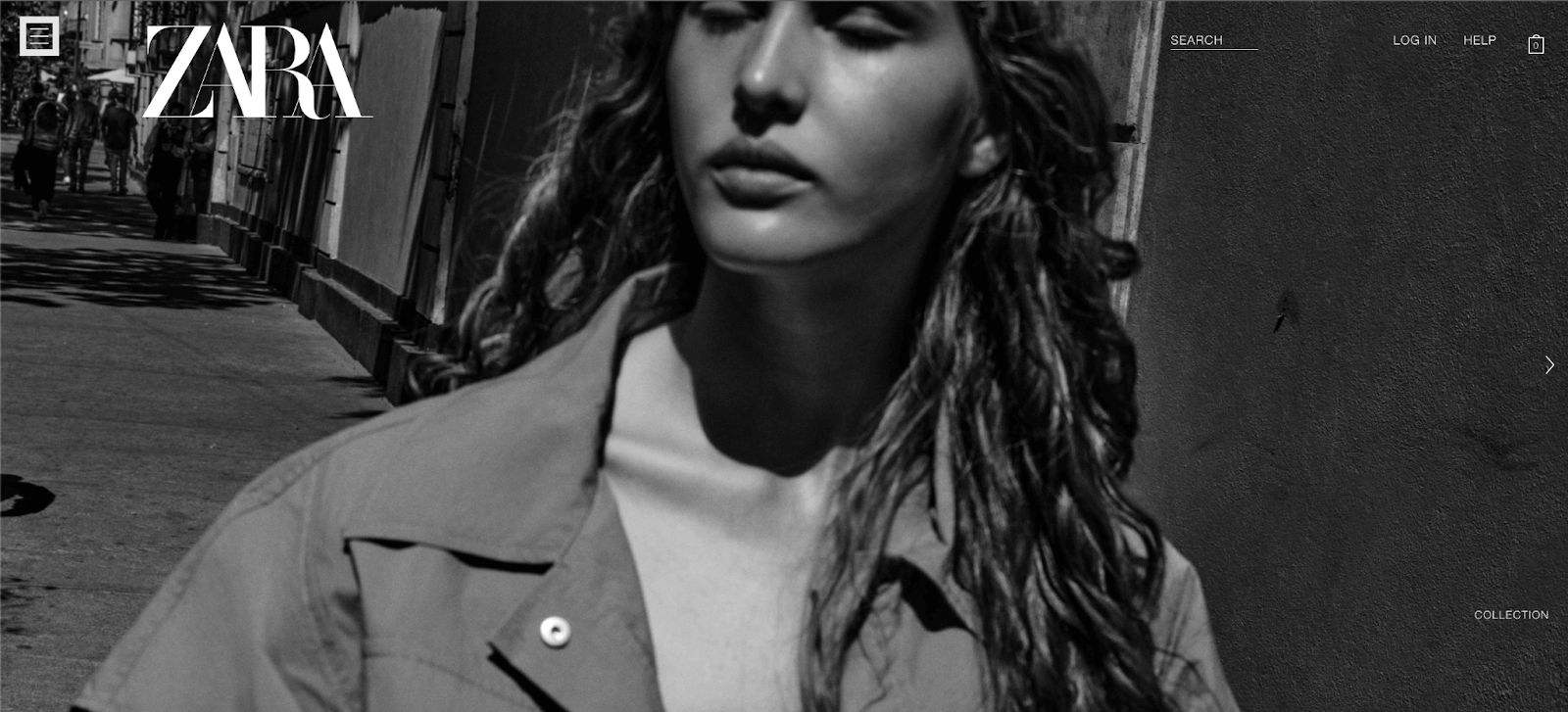 And how they ensure consistency in their app: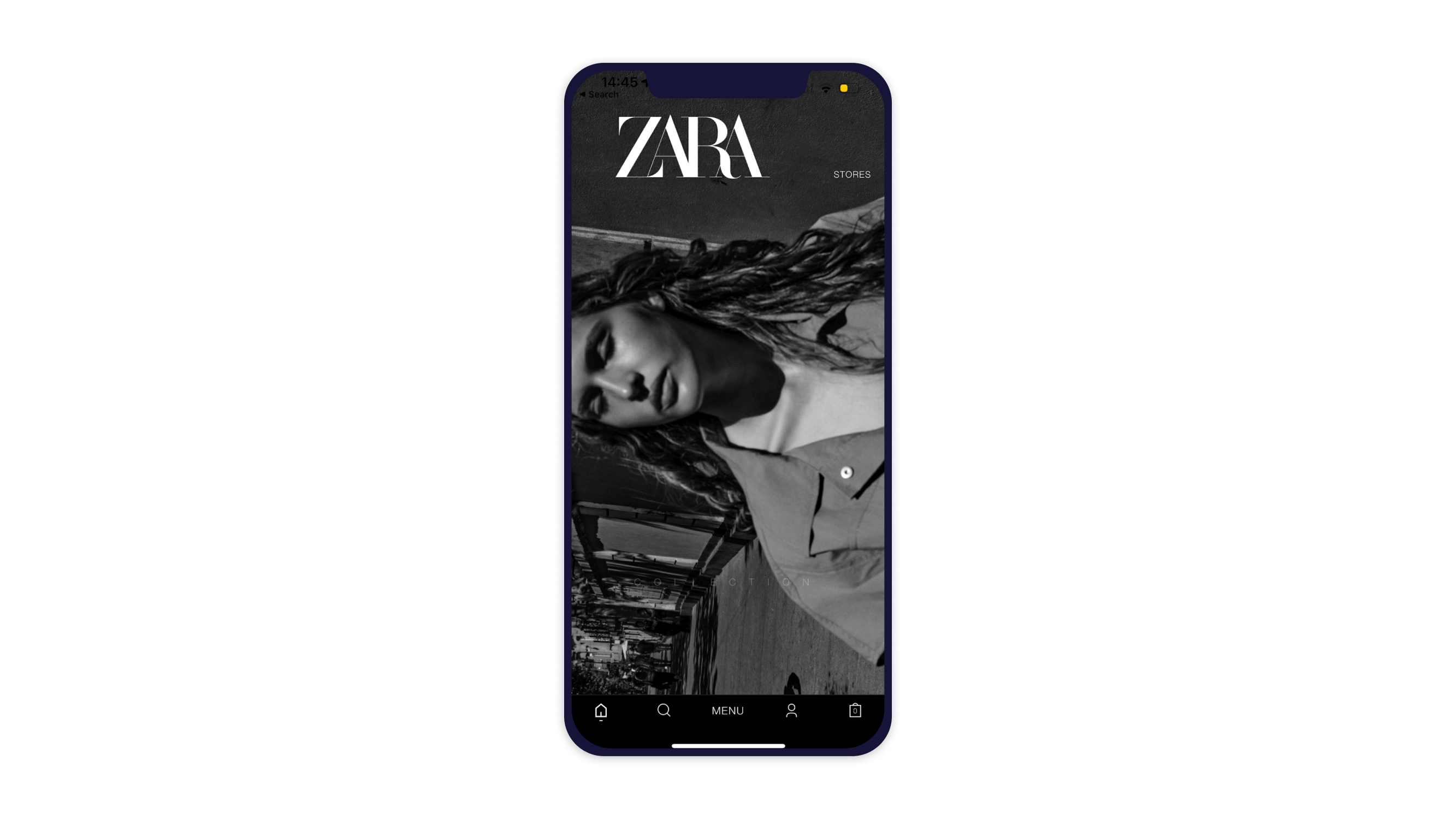 8. Fonts and typography
Similar to visuals, we do recommend paying attention to the fonts you use in the app. You may be tempted to switch things up, but fonts and typography are a big part of your Shopify store branding. So keep them consistent in your eCommerce mobile app as well.
Shopney's design editor lets you customize the fonts and typography you use in the mobile app for product names, to highlight collections or even in the call to action buttons.
For example, P&Co. uses a unique type font on their online store:


And they use the same in their mobile app screens as well: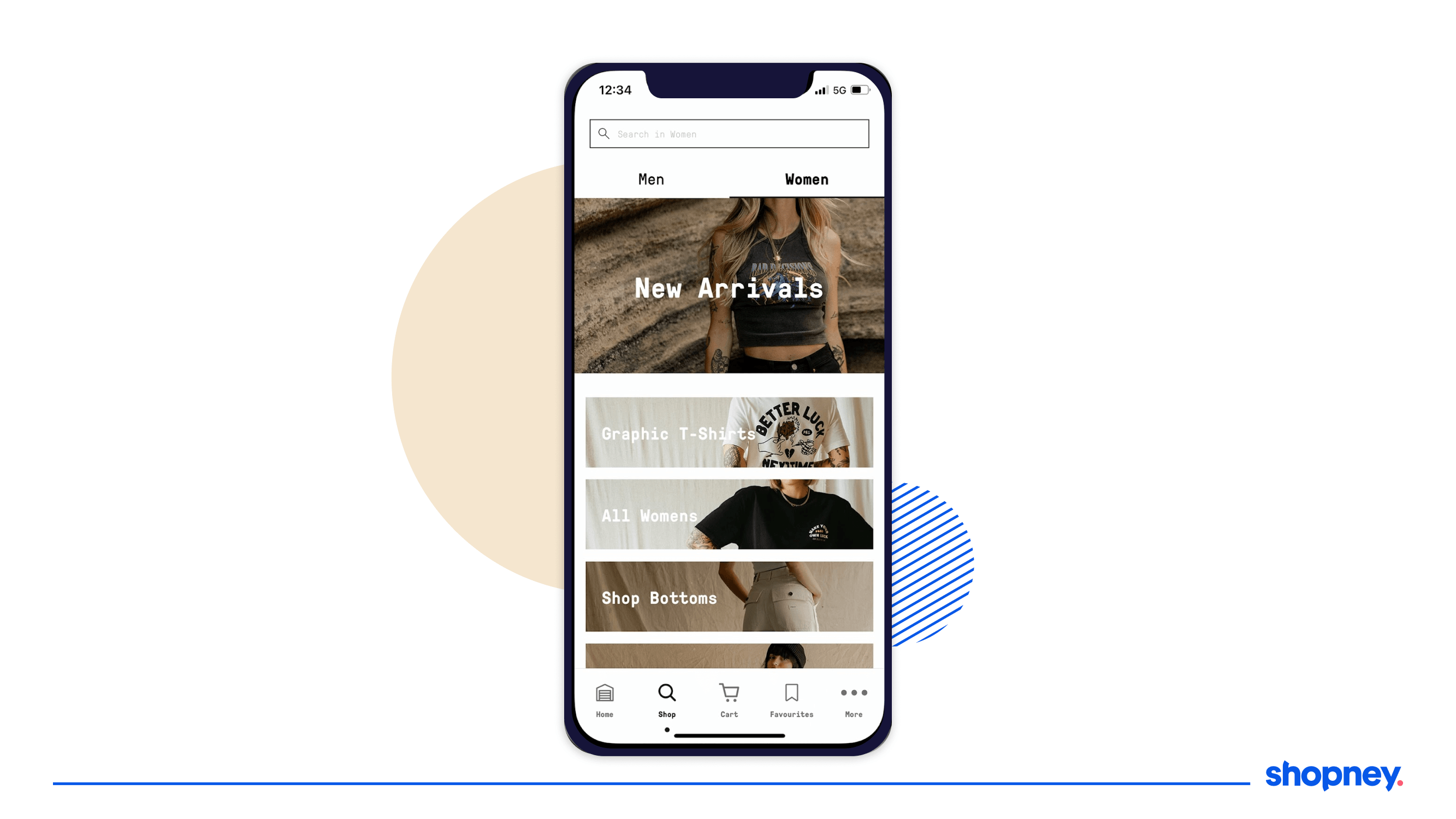 9. Page layouts
Is your brand known for helping consumers make informed purchase decisions by providing as much information as possible? Your mobile app should do the same.
With Shopney's design editor, we actually also help brands tailor their app themes to customize page layouts. This lets them decide what information they want to display and how on each page, letting them create a similar experience as that offered on their Shopify store site.
Pro tips for positive eCommerce mobile app branding
While the above aspects look into how the eCommerce mobile app appears visually to a consumer and how they interact with it, here are a few other things we do recommend adding to the mix.
Ensure uptime
What happens when even the likes of Instagram crashes or stops working even for 10 minutes? The world takes to other social media platforms to talk about the negative experience. But your eCommerce mobile app will not get a second chance like they do!
This is why we recommend ensuring up to 99% uptime of your eCommerce mobile app. When your app is built using a Shopify store mobile app builder like Shopney, your uptime becomes our responsibility. We ensure that every aspect of your mobile app continues to work seamlessly, no matter when the consumer chooses to use it.
Update frequently
Don't make your eCommerce mobile app another set it and forget it marketing collateral. To make the most of your eCommerce mobile app, you need to update it as frequently as your Shopify store website.
While these updates don't need to be extensive in nature, they should definitely be consistent with your website. For example, the banner images changes, new colors being used for the seasonal sale, collections being added, and so on. With a Shopify store mobile app like Shopney, making these updates is just a matter of using a drag and drop design editor!
Seek feedback
As your eCommerce mobile app starts to see more traction, make it a point to seek customer feedback more proactively. This is different from requesting app review - it should be focused on seeking inputs on what more can you offer in the app to make their shopping experience better.
You can do this by sending out a push notification that leads them to form in the page to submit their feedback or opens an in-app chat to do the same. The idea is to use your analytics as well as customer input to uncover insights that make your eCommerce mobile app better.
Monitor competitors
Your eCommerce mobile app branding should be unique to your business. But at the same time, it is also important to look at what your competitors are doing. Take note of the innovative ideas they are pursuing to make their app branding stand out - this starts right from their app listing visuals, description, keywords to what is actually offered to online shoppers in the app.
Competitor analysis can also help you uncover industry trends, consumer purchase pattern shifts and more in order to boost user engagement, retention and conversions.
Maintain consistency
No matter what industry trends and innovative tactics you want to experiment with, we recommend maintaining consistency. As your eCommerce mobile app grows, you may feel the zeal to experiment and change things up frequently. But the truth remains that humans are habitual creatures and when you change things too often, they disengage from them entirely.
User onboarding
A lot of eCommerce businesses believe that driving online shoppers to the app store and getting an install is all they need to do. The thing with distracted minds and shorter attention spans is that if one does not get started with something immediately, they're bound to leave it for 'later' indefinitely.
This is why we recommend making onboarding a part of your eCommerce mobile app branding strategy. Similar to how you target your Shopify store visitors with a welcome popup and prompts on how to find products, think about their journey in the app. Right from the app install to signing up/ logging in and the next steps on where they can create a profile, build a wishlist or keep track of their orders, a small introduction to it all will ensure better engagement and also build a positive impression of your brand.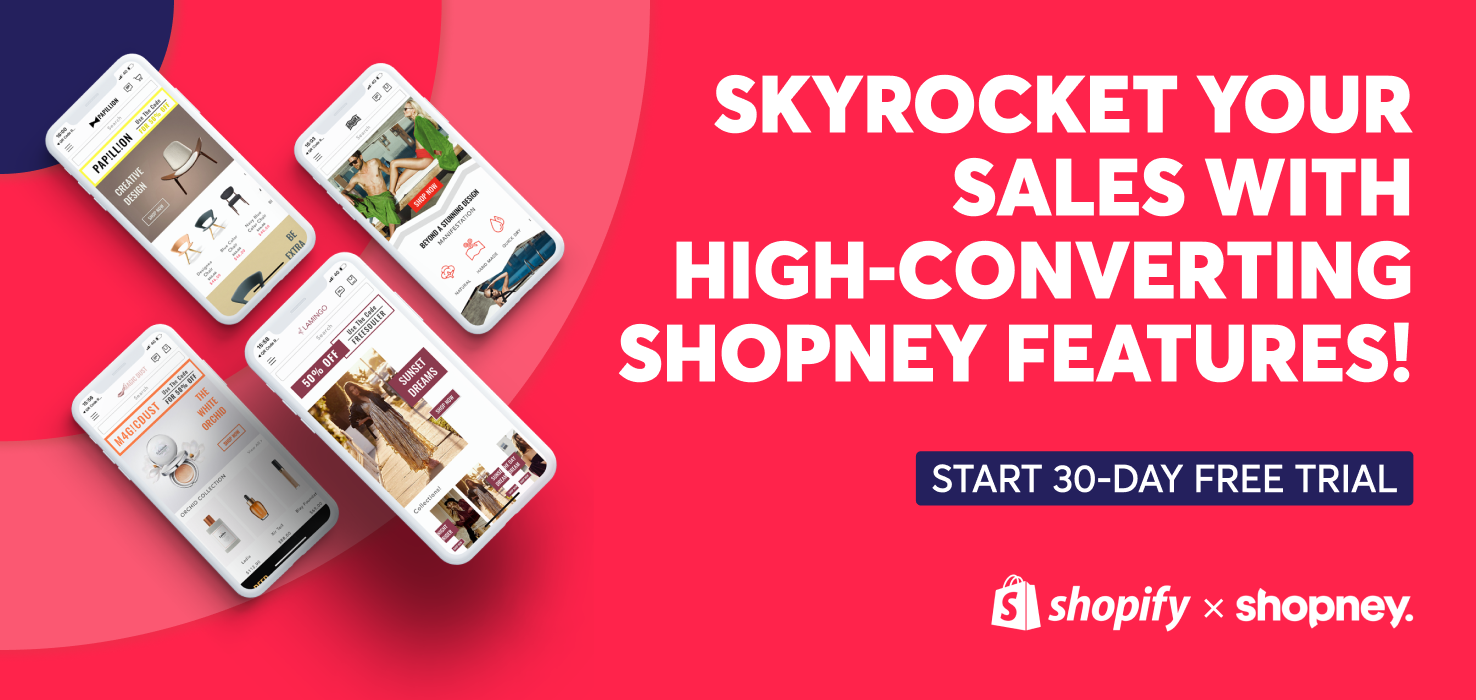 Worried about your eCommerce mobile app branding?
Building a mobile app for your Shopify store can be overwhelming.
That's why most Shopify stores choose to use no-code mobile app builders that come with a set of pre-made templates that they can use to quickly launch their eCommerce mobile apps.
But at Shopney, we recognize the importance of branding and that's why our Design Editor is built to give you complete control over the templates we offer as well. From changing the layout of each page to colors, fonts, images, videos, custom elements and more, the Design Editor lets you take charge of it all!
If you have been seeing a slow uptick in the use of your eCommerce mobile app, it's time to evaluate the extent of its branding.