Best Live Chat Apps for Shopify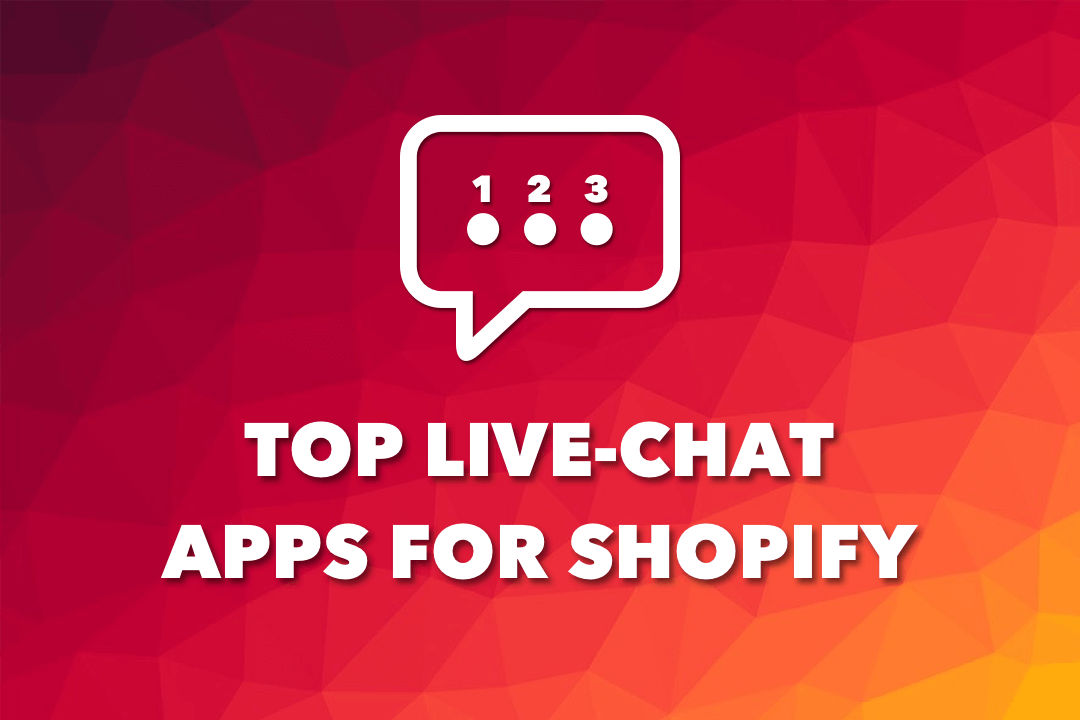 Ring ring ring! Your customer's phone is ringing. You are calling to ask her about the purchase of the shoes which she didn't complete two days ago. She answers and tells you there was a problem with the checkout point, so she bought the shoes from another online store. What a waste and what an inefficient way to learn about your customers' problems, right?

There is a way to learn the sources of the problems, solve them and make customers complete these kinds of unfinished purchases at the moment: Live chat.

In this article, you will read the significance of having live chat support. Then you will find a listing of best Shopify live chat apps.
What is Live Chat and Why is it Important on eCommerce?
Live chat is a software program where you communicate with online customers on your Shopify store in real-time. With the rapid growth in the eCommerce world, store owners started to look for an easy way to communicate with their customers, and live chat came to the field to meet this need. It has become a crucial part of today's eCommerce world with the benefits it brought.‌
‌‌
‌Technology makes the communication process very easy. People can reach anyone on the other side of the world in seconds with online chat services. That is also what they are looking for in Shopify stores: quick customer service via texting. Live chat provides customers this better and faster communication, and as proof, the customer satisfaction of live chat support is more than 90%.‌
‌‌
‌Also, live chat is a great way to increase your Shopify conversion rate and build a stronger relationship with the customers. You can solve the clients' problem at the moment, recommend other products or offer them a discount via live chat and increase your sales!
What is Chatbot and Why is it Important on eCommerce?
The chatbot is a software program that simulates human conversations and sends proper answers to people automatically. It is a part of live chat support, and it generally moves in when live agents are not available. Chatbot services are commonly used on Shopify stores to answer general and non-complex questions.

Shopify chatbots have many benefits for your store. If customers have a simple question, your Shopify chatbot can answer it without waiting for the live support, and shoppers can continue to purchase. If clients have a more complex problem, they can leave their email to the Shopify chatbot, and your support team can turn them back later.

Chatbots can be in contact with hundreds of buyers at the same time and answer their simple questions. Live agents can't achieve that, and even if they do, it is an unnecessary workload for them. That means your Shopify support team can have more time to handle significant issues thanks to chatbots.
Does Shopify Offer Free Live Chat For Stores?
There are some free live chat apps that you can find and download from Shopify App Store. We choose the two best ones for you: Shopify Inbox and tawk.to. Take a look at the next section to read their descriptions and main features.
What Is the Best Live Chat App for Shopify?
It seems like you think that your Shopify store needs a live chat app to catch the trend and provide your customers with the best service. The next step is finding the best Shopify live chat app for the satisfaction of both you and your customers. We listed the best Shopify live chat apps below to help you with that. Take a look!
Gorgias is a Shopify customer support app that provides customer service, helpdesk, and live chat. With Gorgias, you can bring all customer tickets from Facebook, Instagram, Emails, live chat, SMS, and calls together and solve them on one platform.

Gorgias provides your Shopify store data of order tracking numbers, last order details, loyalty points, etc. from your Shopify dashboard. So you can follow the shopping behavior of your customers very easily. Also, Gorgias has a Shopify chatbot feature that answers customers' questions such as 'Where is my order?' in a personalized way and saves your Shopify support team's time. Moreover, you can send specific messages to your customers on different pages of your Shopify store with Gorgias.
Main Features
You can see the message history of a customer across different channels.
Provides omnichannel communication from email, live chat, phone, and social media.
Provides pre-made templates that include customer data
Shopify Inbox is a free live chat app for Shopify that provides building communication with customers anytime from an online store or social media. It also provides your customers to contact you via Facebook Page, Facebook Shop, and Messenger.

With this Shopify live chat app, you can save responses, get insights from the chats that you achieved conversion, use metrics of chats from your Shopify admin. So you can understand better what works better and what is not in customer support. Also, you can send products, discounts, and new orders from the live chat in your Shopify store and convert more people!
Main Features
Automated messages for requests that are not answered in real time.
Provides the information of adding or removing products from customers' shopping cart
Scaling customer conversations by assigning different chats to different staff

Tidio is a Shopify customer service app that provides the panel to manage all your live chat, Messenger, Instagram, and email communication for your Shopify store. You can offer discounts or free shipping to your customers via live chat thanks to Tidio.

Your Shopify store customers can use Tidio on their website or mobile app since it adjusts to your customer screen. Also, this Shopify live chat app uses intelligent chatbots that react automatically to your customers' actions including abandoned carts. Such an easy way to increase sales!
Main Features
Provides 24/7 customer support with chatbots
You can observe live visitors and start a conversation
Provides templates for automations
---

---

Chatra is a Shopify customer service app where you can manage your email, Instagram, Facebook, and live chat messages on one platform. It provides you a list of your real time visitors and their information including location. So you can contact and impress them with a personalized message via live chat.
This Shopify live chat app provides chatbots that you can accomplish routine works for you. That means more time to handle significant problems for your Shopify support team. Also it sends automatic messages via chatbots when abandoned cart happens. In this way you can make complete the incomplete purchases.  
Main Features
You can see what customers type before they send it and save time preparing an answer.
You can save past conversations for both you and your customers
Provides group chat feature with more than one representative and customer to solve pressing and urgent issues

Zendesk is a Shopify live chat app that allows you to connect with your customers at any time and on any platform. It brings all your customer data together in one panel and creates a useful platform for your support team.

You can send the most relevant answers to the customers automatically with the chatbot of Zendesk. That means you can decrease the workload of your support team. Also, you can answer your customers' questions when there is no live agent available to answer.
Main Features
Provides billing, shipping, and order information data from the Shopify dashboard so you can reach important information about orders easily.
You can proceed with refunds and cancellations, directly via the Zendesk Support sidebar app
You can customize the significant order data and display it for your agents

It is a free Shopify live chat app that provides monitoring and chatting features with your Shopify store visitors in real-time. You can gather all the customer data in one platform together and make your support team's work easier.

tawk.to provides insights from your monitoring and chat. So you can understand the better ways to communicate with customers and apply them. In this way, you can observe customers' behavior and decrease the abandoned cart rate.
Main Features
You can  assign the different live chats to different members of your support team and have an organized customer service.
Manage different live chats from a single dashboard.
You can use it via desktop or mobile.
Conclusion
We hope you have found the most suitable Shopify live chat app for your store. Start to use it and see how it is much easier to use than other customer support services.