What are the Advantages of Multi-Currency for eCommerce[Shopify]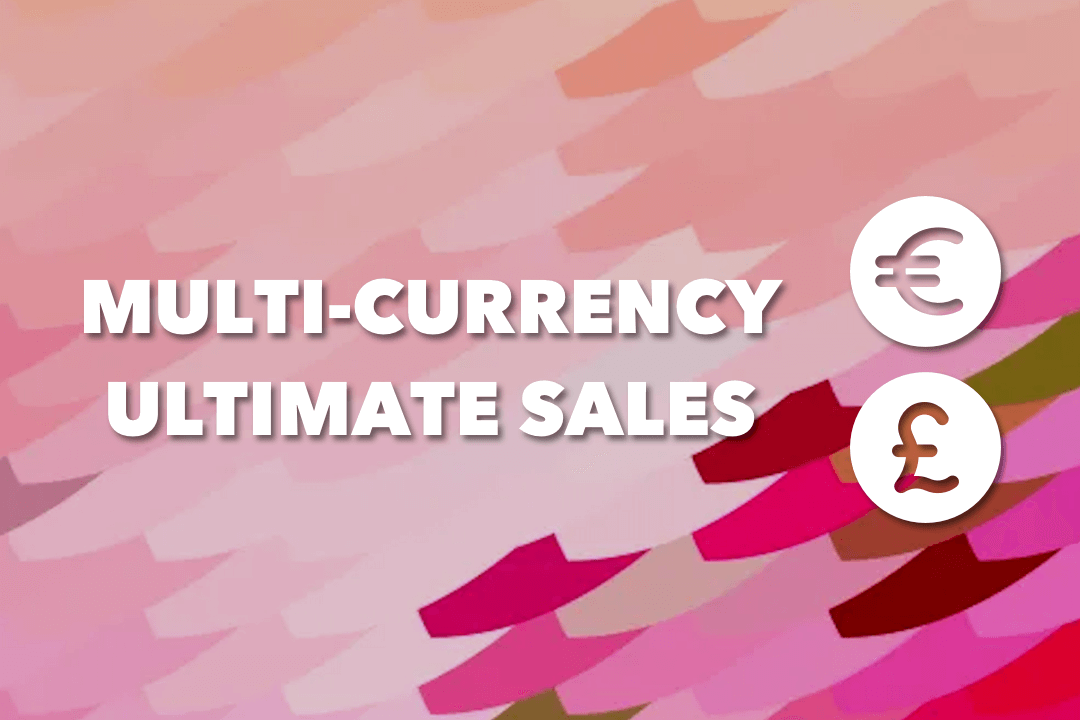 In this century, there are no borders for eCommerce anymore. If you have enough resources, you can literally sell your product/service everywhere in the world and you don't even have to open a physical store. Anyone can be your customer regardless of location unless they have the Internet.
On the other hand, other store owners have the same chance to sell in many different countries. That means, customers have so many options and it is harder to come forward for you. So, you have to get customers' attention in some way. Our suggestion here is to achieve localization after globalization with your store.
If we clarify, even if you have a global brand, you should localize your online store for different regions if you want to sell more. Everything has to be easy and simple for the customer. That is why you should have great delivery, multi-language and multi-currency service. Otherwise, they may shop from other stores that provide all these services to them.
From all these points you should be careful about, multi-currency is the most crucial one. It is directly about the payment process which is the point customers most worry about.
In the following sections, you can find more information about multi-currency. We explained the benefits of the multi-currency feature, how to enable it in your Shopify store, the points you should be careful about and how to activate multi-currency features in your Shopify mobile app.
Is Multi-currency Feature Important For E-Commerce?
In a world where shoppers have hundreds of store options they can purchase a product from, why would they choose a store they can't pay in their local currency? Providing the easiest check-out process to your customers is significant because when shoppers face difficulty in a store, it is so easy for them to go to another one and shop from there. Multi-currency features are so crucial for eCommerce since you can make the payment process of your Shopify store simple and quicker to sell more. Check the next section to learn the benefits of multi-currency with more details.
Benefits of E-commerce Multi-Currency Support
1. Increase Transparency and Build Trust
Customers want to understand every stage in purchasing process clearly, before they pay. If they are subscribing to a service, they want to see the duration of the free trial, the date of the reminder and how much exactly they will pay when the free trial ends. If they feel one of these pieces of information is not clear, they might feel like 'being trapped' and leave your Shopify website.
The process is also similar during the purchase of a physical product. Customers want to see everything clearly. How much they are going to pay, how they can return it, what are the conditions of return, etc. If one point is missing here and they can't understand everything easily, they will go to another store with two clicks and purchase from there.
That is why you should display the prices in your Shopify store very clearly. If they can't see how much exactly they will pay in their local currency, they wouldn't complete the purchase. For instance, if a shopper wants to pay in Euro but there is only a price in dollars in your Shopify store, why would she bother to calculate it? Even if she did calculate, then it brings another question. How is this payment going to be taken from her credit card? Is she going to pay additional fees? Instead of worrying about these questions, she can purchase from another store in her local currency.
That means, selling in different countries but not providing payment options with the local currency is a conversion killer.
2. Decrease the Pain of Paying
The pain of paying is the customers' feeling of losing money during the payment process. It is harder to spend money when the payment process is longer. That is why the check-out process of your Shopify store should be quick and very simple.
If you don't provide the option of paying with their local currency to the customers, it means they have a reason to doubt your payment process. Also, if they have to convert the prices themselves, it makes the process longer. That means more pain of paying for your Shopify store customers and more unfinished purchase.
3. Prevent Confusion
There is a risk of wrong calculation when customers calculate the prices themselves. If they calculate lower than the actual price, they might think they paid more money than they should have when they check their bank account. This could bring bad reviews for your Shopify store, more complaints and less customer loyalty.
Also, in some countries exchange rates might not be stable and calculating the price could create confusion for shoppers. Since they think the exchange rate might change in a short time, they would prefer not to shop at all with a foreign currency.
4. Protect Your Customers from Paying Additional Fees
During the payment process, banks might charge the exchange fees to your clients. If clients notice that in their bank account, it can destroy their trust in your Shopify store. That means they won't shop from your Shopify store again and you lose shoppers that you spent a lot of money to bring to your store.
5. Decreasing Cart Abandonment and Increasing Conversion Rate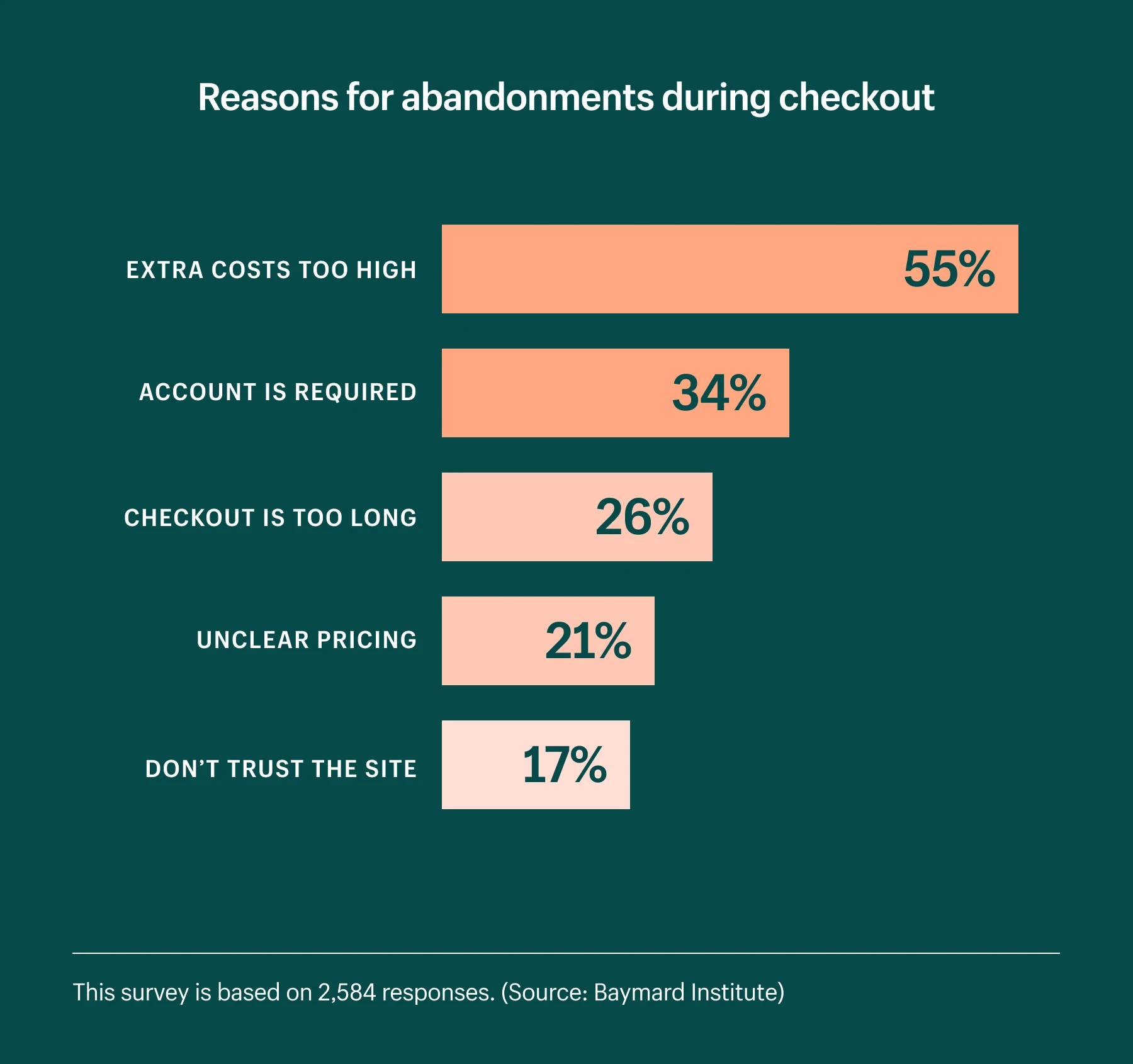 Using a Shopify currency converter is crucial to decreasing cart abandonment. If people see they have to pay in another currency, they likely leave the store. Because of unclear pricing and 26% of the customers leave the cart without finishing the purchase because of it according to Shopify.
Simplicity is the main key to increasing Shopify conversion rates and making the purchases complete. A longer and confusing payment process brings unclarity and doubts to customers. And they don't pay to your Shopify store unless they trust it completely. In other words, if you don't provide a Shopify multi-currency option to your customers, you might decrease your conversion rate and sales.
The Multi-currency Feature of Shopify
You can sell in 133 different currencies with all Shopify plans. However, if you need to customize your prices for different countries/regions, it is only available for Shopify Plus and Advanced plans.
How Do You Enable Multiple Currency in Shopify?
There are two ways to enable multiple currencies in your Shopify store. You can edit code from your Shopify admin by following the steps in Shopify website. Or you can download a Shopify Currency Converter app from Shopify App Store and integrate it.
Using a Shopify multi-currency app with this case is so much easier than handling it by yourself. Then you can have your Shopify store with a multi-currency feature.
How Can We Display Our Prices As Multi-Currency in Shopify?
If you want to display your product prices in different currencies, there are two ways to set: manual and automatic.
Manual price setting
In a manual price setting, you have to calculate the exchange rate for each product in your Shopify store and change their prices by yourself. You have to spare time for this and there is always the risk of wrong calculation. On the other hand, you have control over your Shopify store prices and you can change them in any way you want. It is a more efficient way for a small inventory since it could be easier to handle.
Automatic price setting
In an automatic price setting, no action is required by your side. The product prices in your Shopify store will change according to the exchange rate of the countries. If you have a large inventory, automatic price setting could be more logical for your Shopify store. You won't have to think about updating the product prices and you can save time.    

Should An eCommerce Website Change Currency Based on Location?
It is logical to support a local currency if you have more than 5% of customers in this region. After you decide to support a local currency, you have two options. You can build duplicate websites for different countries and show visitors the localized one by using their IP addresses. Or you can show all the currency options on the same product page. It is logical to make this decision by considering the size of your Shopify store, your resources and your budget.
If you have already decided to have duplicate Shopify websites for different countries, the most logical option is to display the prices with their local currency. Otherwise, having duplicate websites for different countries becomes pointless and it means the money you spent on it is wasted.
To sum up, if you have duplicate Shopify websites for different regions, yes you should change currency based on the location.
How Can You Activate the Multi-Currency Feature in the Mobile Application?
With Shopney, you can easily integrate any 3rd party Shopify multi-currency app that you are using for your website to your native mobile app. You can have all the benefits that we mentioned above in your Shopify mobile app and increase your conversion rate. However, if you are using Shopify's multi-currency feature, you cannot activate Shopney multi-currency.
With Shopney multi-currency, you can display the prices in the local currency in different regions. There still will be different currency options that your customers can choose from on your menu. That means, they can prefer the most suitable option among different currencies. This is the easiest and the most comfortable payment option for your customers!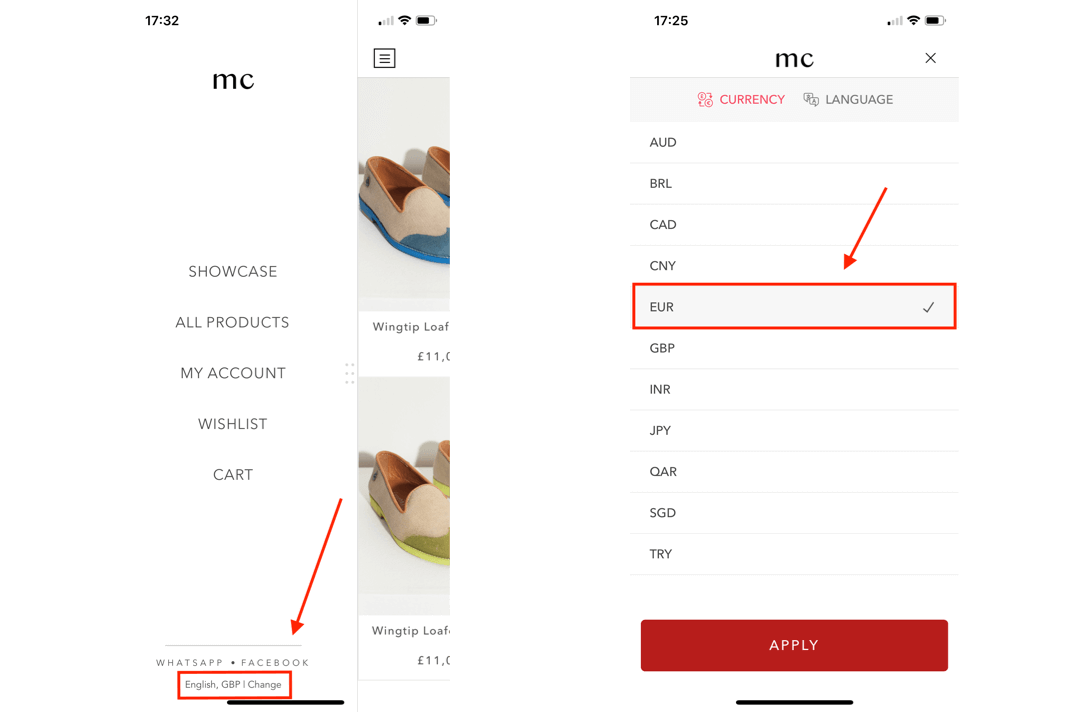 Also, the prices will be updated automatically with Shopney multi-currency. So you don't have to worry about the change in exchange rates. If you want to check how Shopney's multi-currency feature will be displayed in your Shopify store, click here.
Moreover, to learn the technical details of how to integrate multi-currency features in the mobile application, read this article.
Multi-Currency Options by CMS  
Shopify Multi-Currency
With Shopify Payments, you can have the option to sell in 130 different currencies. Then you can choose the currencies you want to provide to your customers among them. Also, you can use apps that you can find easily in Shopify App Store to sell with multi-currencies in your Shopify store.
Opencart Multi-Currency
You can use extensions that you can find in the OpenCart Extension Store to add your store to the multi-currency option.
Woocommerce Multi-Currency
You can use extensions that you can find on the Woocommerce Website to add your store to the multi-currency option.
Wix Multi-Currency
Wix doesn't provide a multi-currency option for its members currently.
Magento Multi-Currency
Magento provides a multi-currency feature for store owners. You can learn how to set up multi-currency in Magento from here.
Drupal Multi-Currency
Drupal 8 provides multi-currency options to store owners. If you want to learn more, click here.
BigCommerce Multi-Currency
Your store can have a multi-currency feature with BigCommerce. You can learn how to set up multi-currency feature in BigCommerce from here.
Final Thoughts
We hope you got the answers to the questions you were worried about. Now, it is time to set a multi-currency feature to your Shopify website and mobile app to sell more people!