The Importance of Multi-Language From Eugene Ernoult of Weglot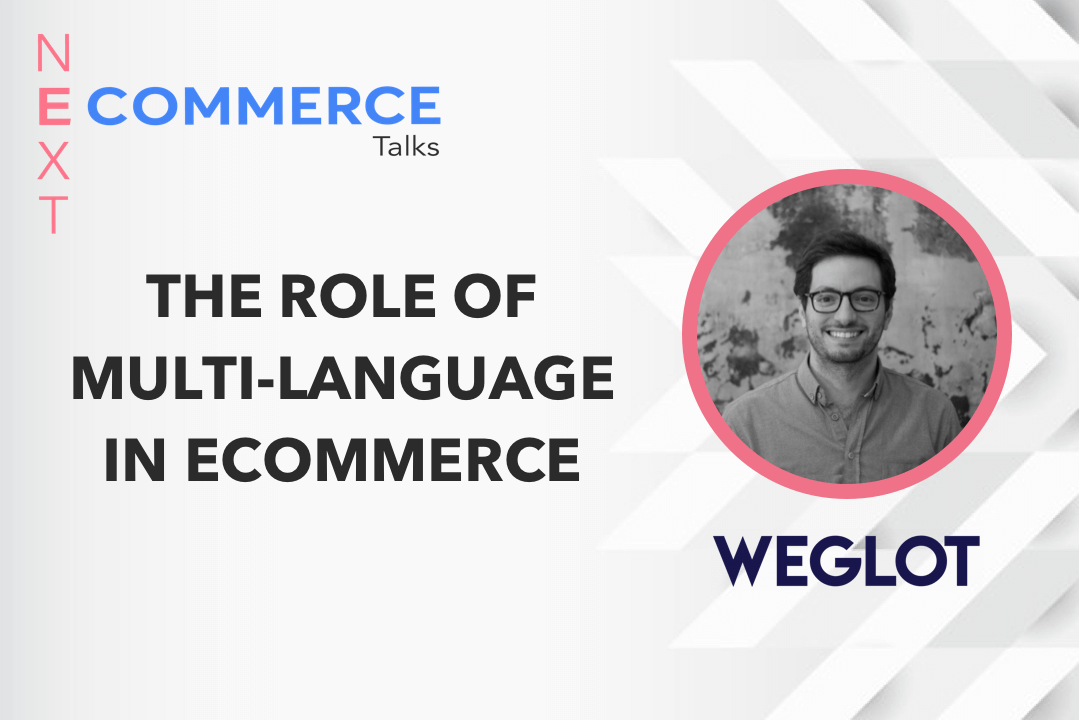 Learn, share and inspire! This is what this blog is all about. As a reflection of this philosophy, we are really keen to share what we learn from our technology partners as well.
Each and every single one of them is the master of a specific side of eCommerce. Learning and sharing the detailed knowledge about their specific area is what we consider one of the biggest values we can provide to Shopify merchants.
So, we conceptualized the NEXT COMMERCE TALKS. In this series of interview, you will find out great insights and pro tips about many different fields of Shopify eCommerce.
The first interviewee is Eugene Ernoult, the marketing head of successful translation app Weglot. His mission is to make Weglot known to any company that wishes to offer its website in several languages and grow internationally. Before Weglot, he co-founded Pili Pop in 2012, a startup specialized in language learning for children.
If you are ready to have a look at this insightful talk, hold tight and read on!
THE TALK
1. Tell us a bit about your company and the services you provide ecommerce merchants.
Weglot is a fast and simple solution for translating and displaying websites in any language. For merchants who want to increase their sales by reaching international customers, language is a crucial factor. This is where Weglot comes in and creates a multilingual version of your online store to attract and turn anyone in the world into a potential customer.
Unlike traditional website translation services, Weglot is fast, cost-efficient, and SEO friendly. It allows ecommerce businesses to have their multilingual website ready in minutes without any coding or technical knowledge needed.
As your store and your product portfolio continue to grow, Weglot automatically detects all new content and immediately makes it available in all languages. All there is left for ecommerce merchants is to fine-tune their translations and benefit from their increased visibility and sales.
2. With the globalization of eCommerce, many merchants are turning their attention towards cross-border sales. In your opinion, what's the importance of language to become successful with cross-border eCommerce?

When it comes to cross-border ecommerce, language should be every merchants' number one priority. Given that only 25% of internet users are native English speakers, going multilingual is the key to reach a much wider audience. And going multilingual has many other benefits than just making your content understandable.
For example, research has shown that consumers don't just consume the information in their own language better but they also favor it. According to the "Can't Read, Won't Buy" report, 72% of consumers are more likely to buy a product with information in their own language! And 56% stated that the ability to obtain information in their own language is more important than price.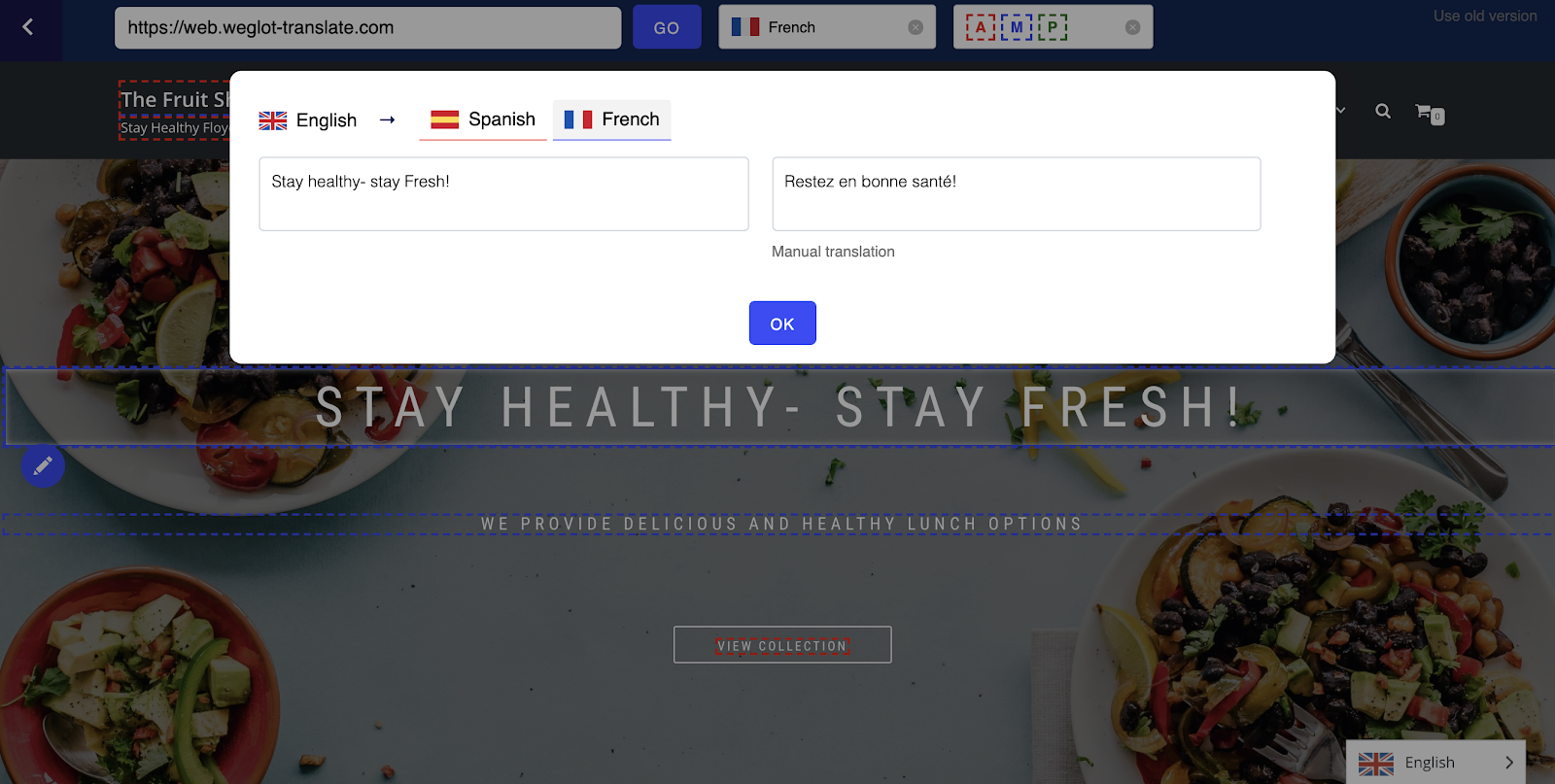 Moreover, even if you stay within the borders of a country, there are still many different languages that are widely spoken. For example, there are 41 million native Spanish-speakers in the United States which makes up 13,5% of the overall population and makes it the second most spoken language in the country.
Therefore adding Spanish to your website even though you are only available in the United States would be a highly effective competitive advantage!
3. What is the biggest advantage of a solution like Weglot for fast-growing Shopify brands?

At Weglot, we understand that Shopify brands' priority should be their core business. Therefore we are committed to making the process of going multilingual as seamless as possible for them.
Our solution allows businesses to go global in just a few minutes. All you need to do is simply check your translations. It doesn't require any coding or technical knowledge so that anyone can make their website multilingual easily.
Weglot also takes care of the SEO of your translated pages. It follows all of the best SEO practices so that all the translated pages will be indexed and displayed on Google, without any additional work for the owner of the store :) This means higher visibility and traffic which results in higher revenue.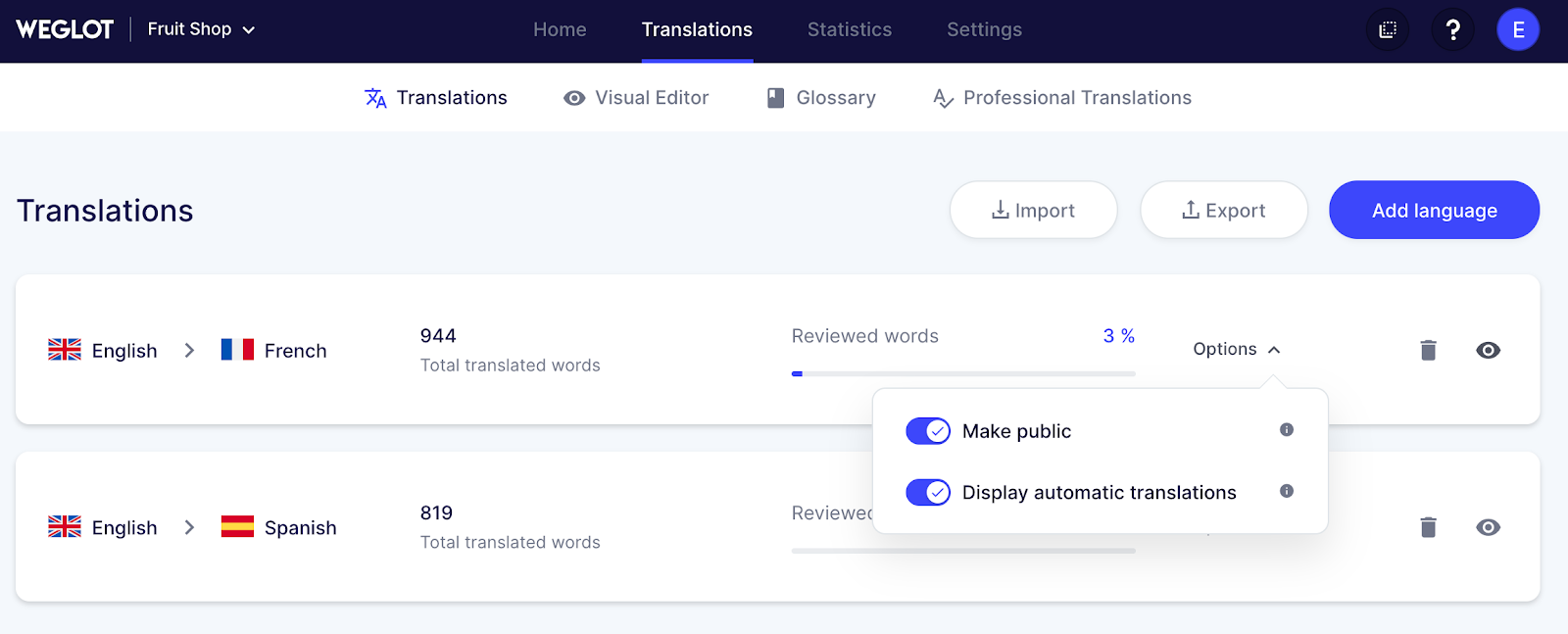 And it doesn't end there! We know that Shopify brands are constantly growing and varying their product portfolios. Weglot's flexible solution always makes sure that any new product page is available in your target language so that your customers can start buying them right away.
To summarize, Weglot takes care of every aspect of making a website multilingual in the best way possible so that Shopify brands can focus on their business.
4. Beyond language translation, what is the importance of localization in global eCommerce, considering culture and user behavior differences?
Great question! Because translation without localization is simply incomplete. To truly go global, businesses need to expand country by country and have a comprehensive understanding of each country and adapt their content accordingly.
Only this way they can truly overcome cultural barriers, develop a competitive advantage, and reach their potential customers.
Localization resonates with customers because you show that you don't just speak their language but you also understand them. It's so effective that according to a Localization Industry Standards Association (LISA) study, on average every €1 spent on localizing your website yields €25 in return.
Therefore localization should be a priority for every global ecommerce business that can afford to do it. But, if you don't have a big budget for that yet, a great way to start is targeting different languages.
5. How do see the today and the future of mobile commerce and language localization together? Will these two gain importance and create a greater value for eCommerce?
Two out of every three dollars spent on online purchases today is done so through a mobile device and mobile commerce growth is expected to reach 72.9 percent by 2021. As language localization is an important aspect of cross-border ecommerce, it's not hard to see mobile commerce and language localization coming together and creating greater value.
It's important to know that consumers nowadays prefer mobile commerce because of its convenience. To satisfy this need and offer a truly personalized shopping experience, localization and mobile commerce are bound to get closer together!
In fact, 76% of consumers stated that they shop on mobile devices because "it saves them time." So by localizing your store mobile experience, you can make sure that consumers don't waste time trying to understand your mobile app and have a seamless experience.
Another great way that localization complements mobile commerce is by increasing its visibility and exposure. A study by Distomo showed that localizing apps resulted in 128% more downloads per country and a 26% increase in revenue for each country added via app localization in just a week.
6. Is there a solid example among your customers who has had a great boost in the business with your solution?
There are a lot of examples! But let me share with you the latest one. Jimmy Fairly is a very well-known eyewear brand from France. Their team realized that even though their website was available only in French, 19% percent of their revenue was already coming from abroad.
They knew this was a huge opportunity and they started looking for a rapid solution to localize their purchasing experience and capitalize on foreign visitors.
So they decided to create their multilingual store with Weglot and just within a month, their international sales were 4 times higher! Going multilingual had a direct and huge impact on their international sales.‌
‌
As they continued to evolve their product portfolio, Weglot's ability to automatically detect all new product pages and make it available in all languages took the pain out of translating for Jimmy Fairly. After 8 months of going multilingual, their international sales kept growing and now they are 6 times higher!
7. For a well-established Shopify brand, is language localization important only in online store, or is it a principle that should be implemented in all branded media?
Considering the significance of localization, the ideal scenario would be to integrate localization in every aspect of a business from branding to communication. However, this might not be a feasible option for everyone as the process can be very costly and time-consuming.
But the most important place to start localizing is definitely your store and your mobile app. That's where Weglot and Shopney come in :)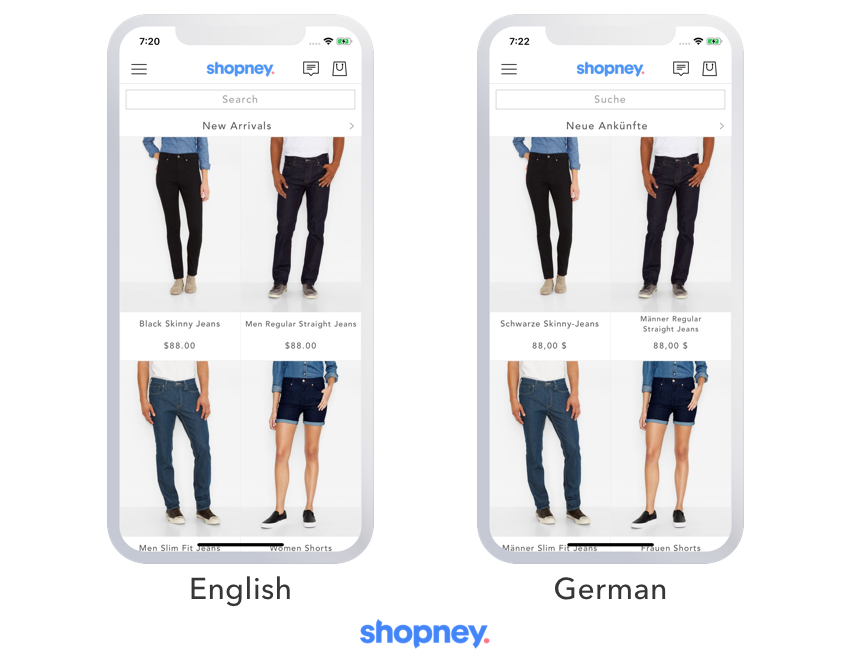 Like in the case of Jimmy Fairly, chances are most eCommerce businesses already have foreign customers that are shopping from their online store even though their website isn't multilingual. By providing language options, Shopify brands can see incredible results in a very short time.
This way when they are ready to move on to localize other parts of their business, they will have a solid foundation to start from.
8. How would you recommend that an eCommerce merchant report on the success of their language localization?

The first metric to keep an eye on would definitely be the page visits from the international customers. Now that your store is searchable and understandable by a wider international audience, you should expect an increase in your page traffic.
Secondly, we would suggest reporting on the conversion rate by landing page. This metric indicates which landing pages are leading to conversion. This way you can understand how well your translated pages are performing and contributing to your sales.
Another important indicator to track would be the bounce rate. According to CSA's "Can't Read: Won't Buy" report, 72.1% of consumers spend most or all of their time on websites that are in their own language and 48.6% agreed to the statement: "I only buy at websites presented in my own language."
Therefore even though your products might be appealing to many international customers, they might still leave your online store after realizing it's not available in their language. This is why as you go multilingual, your bounce rate should definitely decrease.
And in the end, all of these improvements will allow your online store to rank for new translated keywords on the search engines, so make sure to keep an eye on your SEO ranking too!
9. Who are the eCommerce trend-setters – which their approach to eCommerce are you most excited at the moment?
It's always very exciting to see online stores that are bringing a new meaning to the eCommerce world. For example one of our favorites is United by Blue. It is an apparel and home goods company founded by Brian Linton and what makes them stand out is their meaningful commitment to sustainability and ethical manufacturing.
They are using their online store not just to sell products but also to raise awareness of the issues they care about as a brand. We believe they are setting a great example of how an eCommerce business can be socially responsible.
Another inspiring example is Beneath Your Mask by Dana Jackson. Back in 2011 when she was diagnosed with Lupus, instead of letting this disease define her story, she committed herself to build something meaningful out of it: a brand of natural cosmetics. Her products help the body heal without all the harmful chemicals that most cosmetic products contain. We are truly impressed by her empowering story and we believe her online store should be an inspiration to many who want to build their own.
Last but not least, we have to mention Respire founded by Justine Hutteau. This online store from France is selling personal care products that contain over 90% of ingredients from natural origins and "a healthy body" is the brand's top priority.
In addition to their clean products and beautifully designed webpage, what truly steals our hearts is the fact that this online store is multilingual! With the help of Weglot, Respire is even reaching non-french speakers, and this way everyone is able to benefit from their amazing products!

10. How do you see the future of Shopify and its ecosystem in the eCommerce world in the next 5-year period?

Shopify is doing an amazing job of making it possible for anyone to do eCommerce. One of our favorite features is definitely their new fulfillment service. We see how important and valuable it can be for everyone now more than ever.
Considering that eCommerce is expected to nearly double by 2023 to more than $6.5 billion, it is safe to say that Shopify will be even more important for the eCommerce world in the future.
Shopify is also very strong thanks to its app ecosystem. It allows merchants to easily find solutions to their specific needs. Need a mobile store? Shopney is here! Need to make a multilingual store? Weglot is here for that! It's a great way to answer merchants' needs and also grow a great innovative ecosystem. I believe it's one of the biggest strengths of Shopify compared to other eCommerce CMS.
Overall, I believe Shopify, Shopney, and Weglot and many app developers share the same goal: Make it easy for anyone to create and customize an eCommerce business. By bringing our solutions together, we aim to make eCommerce a feasible option for anyone who would like to benefit from the opportunities this ever-growing industry has to offer.
About Weglot
Weglot provides a powerful and friendly solution to make your website multilingual and manage your translations. Our Translation API integrates seamlessly into your website and delivers it in any languages (working on any CMS/web technology).
Simple 5-minute set-up. No coding required.
Machine & human translations with access to professional translators
Optimized for multilingual SEO
Weglot is powering 50,000+ multilingual websites around the world. Some of our proud customers: Microsoft, Steve Madden, Bluetooth,