6 Ways To Increase Visitor Engagement For Your Shopify Store Or Mobile App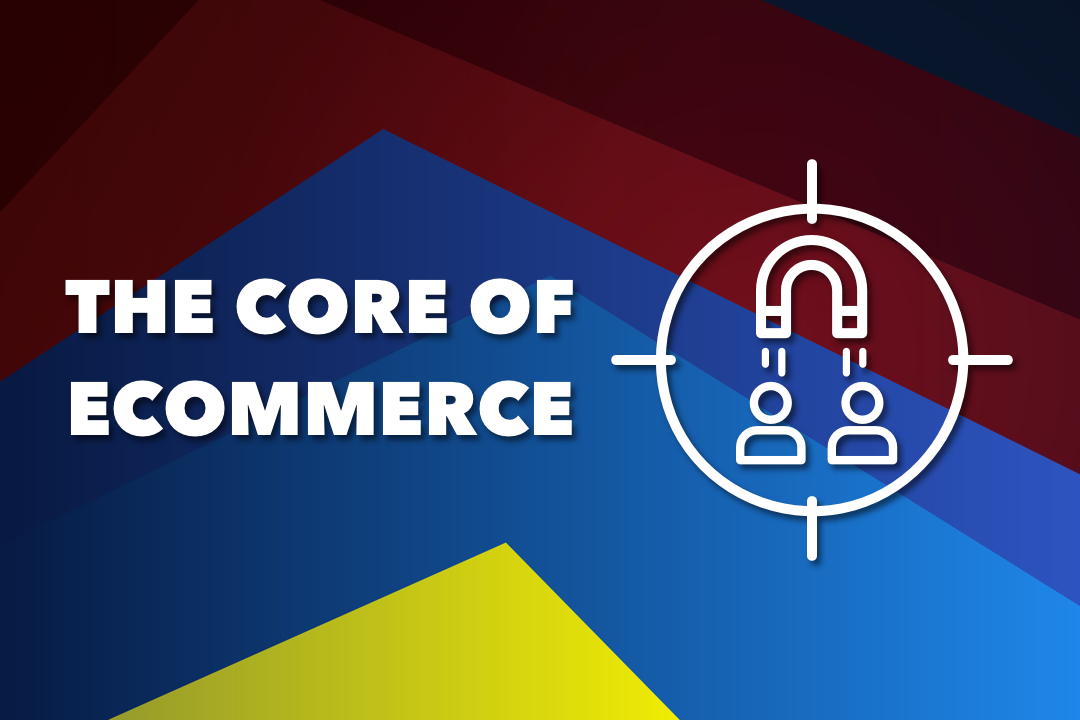 Looking for ways to connect with your store visitors and keep them engaged for longer? This post sets out six ways you can boost visitor engagement by retargeting potential buyers, re-marketing to existing customers and focusing on content marketing. There's also a bonus tip that'll help you reduce your store bounce rate - so make sure you read until the end!
1. Abandoned cart reminders
Cart abandonment is one of the biggest challenges in e-commerce and mobile commerce today. As many as 69.5% of online shoppers abandon their shopping cart before reaching the checkout, according to the latest figures from the Baymard Institute. That's a whole heap of conversions and sales you're not getting!
If you use an app, it's pretty simple to set up abandoned cart reminders and re-engage those would-be shoppers. Many of the most successful Shopify Plus stores are already using abandoned cart reminders to help them achieve sales growth. Here are five stores that are turning abandoned carts into sales.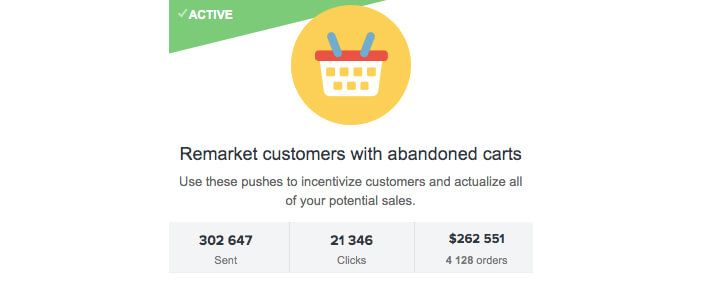 The above screenshot shows the results that Shopify Plus store, Ivory Ella, has recently achieved with abandoned cart reminders. Overall, they generated $262,551 in revenue from 4,128 orders by sending out automated abandoned cart push notifications every time someone left an item in their cart.
More than 300,000 push messages were sent out to achieve this amount of revenue. Ivory Ella's abandoned cart campaign achieved a high conversion rate of 19%, which shows that customers are happy to engage with this type of message and that abandoned cart reminders are very effective.
Firepush recently published some research into abandoned cart timings and found that three is the magic number when it comes to how many reminders you should send. For best results, send them at these times following cart abandonment: 50 minutes, 8 hours and 23 hours.

You can send abandoned cart alerts across all the major marketing channels, like web push notifications, email and text message. Firepush covers all three channels and currently has a special deal running where you can get 60 days full access to web push notifications and the chance to send 100K emails free for three months. Contact Firepush support and use the code 'Shopney friend' to get this deal.
2. Back-in-stock alerts
Another good way to reconnect with your store visitors is to allow them to sign up for back-in-stock alerts on individual product pages. When you restock products at the back end of your store, an alert will automatically be triggered to those subscribers that have requested to be notified.
3. Cross-selling and upselling
Use your customer data and insights to work out what your existing customers might be interested in purchasing in the future. Then you can set up remarketing campaigns and cross-sell or upsell alternative products to previous buyers.
Grab attention and prompt customers into taking action, by including a special discount or another incentive (like free shipping) within your remarketing campaign. Doing this helps you to improve your relationship with customers, re-engaging them and making them feel valued in the process.
4. Make use of chatbots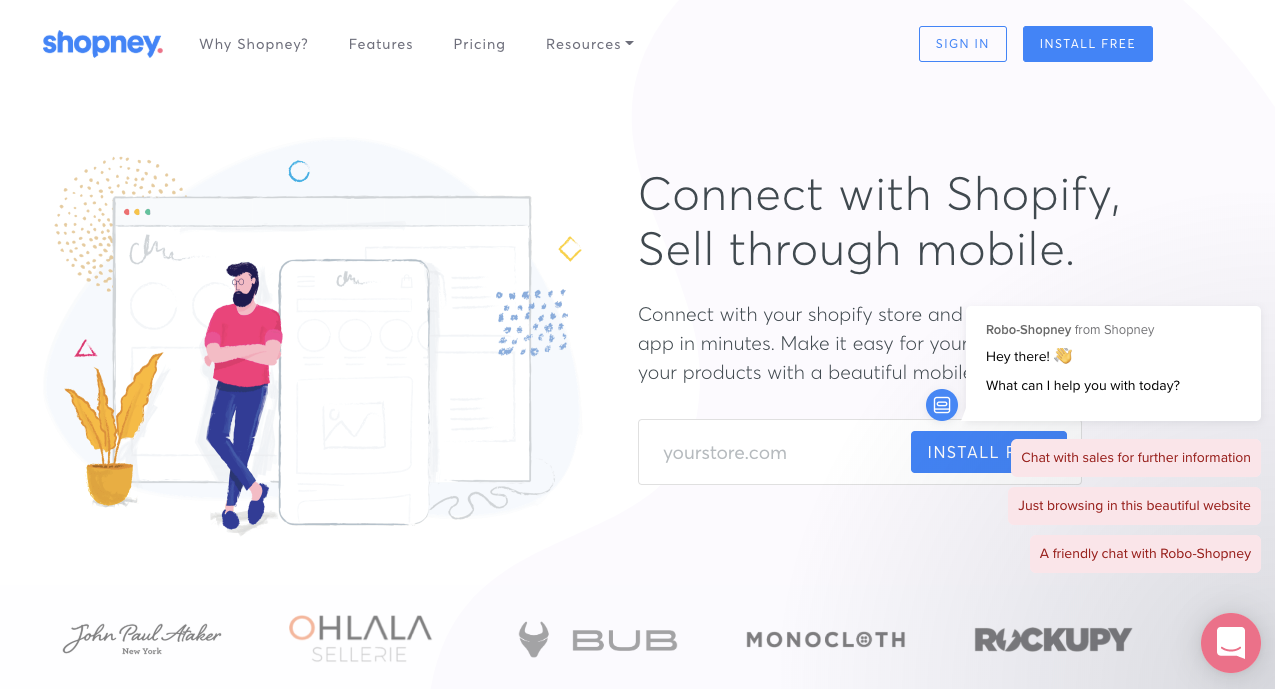 A chatbot is an automated messaging service that you can configure to respond to certain questions. For example, check out this screenshot above. It shows the chatbot associated with Shopney's web page. A visitor can simply click on a common issue: "Chat with sales for further information" or "Just browsing in this beautiful website"

The visitor can effectively have an immediate 'conversation' with the chatbot to get their question answered. Chatbots are very effective in boosting visitor engagement.
An app like Tobi (which covers both SMS and Messenger marketing) comes with a FREE Messenger chatbot that works really well on mobile as well as web-based stores. Tobi also has a special offer running right now where you can get 20% off the Tobi Pro plan and receive USD$5 to send SMS messages. Contact Tobi support and quote 'Shopney friend' to get this deal.
5. Start a blog
Adding a blog to your store gives visitors something else to browse and find out more about your products, or the inspiration behind them. You can use a blog to keep visitors and customers informed. If you allow commenting, you can even build a community where people can ask questions, leave feedback and reply to other comments.
6. Use video content
According to this article by Neil Patel, "Video content is becoming king." It's the most engaging form of digital content around. You can embed videos directly into your store content to showcase your products in 360-degree fashion. You can also share your product videos on your social media channels and even create live videos to attract and engage visitors.
Both blogs and videos are examples of content marketing and these are something you can put together for your mobile or e-commerce business. Put the emphasis on your ideal customer and provide the type of content that they'll find useful - and you should see an improvement in your engagement rates.
Bonus tip! Make sure your store is fast-loading
A surefire way to hinder your visitor engagement rates is to have a slow-loading store. A fast site speed is crucial if you don't want your store visitors to click away from your site in frustration (where they could head over to your competitor's store).
There are several things you can do to improve your store's page loading times. A good first step is to optimize all your product images to reduce their file size, without compromising on visual quality. More often than not, large, unoptimized images are the reason behind a slow-loading website.
A quick and easy way to optimize your images is to use a Shopify app. TinyIMG, for instance, automatically downloads your images from Shopify, compresses them, and uploads them back to your store. TinyIMG is currently offering an extra 20% in image credits on any chosen pricing plan - again, simply contact this app's support and quote 'Shopney friend' to benefit from this offer.
Top takeaways for increasing visitor engagement for your store
Whether you're running an e-commerce site or mobile store, all the points mentioned above are important for visitor engagement. To keep more visitors browsing rather than clicking away, and to increase your chances of conversions and sales, be sure to:

Retarget visitor traffic - especially if you're using paid ads as you'll want to get the best ROI possible. Use abandoned cart reminders and back-in-stock alerts for retargeting.
Remarket to customers - use smart data insights and promotional campaigns to cross-sell or upsell products that existing customers might like. Add value with a discount or incentive.
Use a chatbot - these can improve customer service by automatically answering visitor FAQs, no matter what time of day it is.
Focus on content marketing - use interesting blogs and videos to put the spotlight on your products, share the mission of your brand and showcase behind-the-scenes activities.Improve your store's loading times - store visitors today expect fast-loading sites, so make sure yours is loading within three seconds.
As mentioned, there are certain apps that can help you with some of these activities. The following apps all have special offers running that you could take advantage of:
TinyIMG SEO Image Optimizer‌
‌https://apps.shopify.com/smart-image-optimizer‌
‌Special deal: +20% of credits from chosen plan.‌
‌Provide code "Shopney friend" to our support in chat and the special offer will be applied.
SMS, Web Push, Email ‑ Firepush‌
‌https://apps.shopify.com/firepush‌
‌Special deal: 60 days full access to web push notifications.‌
‌100k free emails for 3 months.‌
‌Provide code "Shopney friend" to our support in chat and the special offer will be applied.
Tobi SMS & Messenger marketing‌
‌https://apps.shopify.com/tobi‌
‌Special deal: 20% OFF from master plan + USD$5 to send SMS messages.‌
‌Provide code "Shopney friend" to our support in chat and the special offer will be applied.
For further reading, you might like to check out this article: Smart Tips to Improve Mobile App Customer Engagement in 2020.