Which is Better for E-Commerce: Shopify vs Wix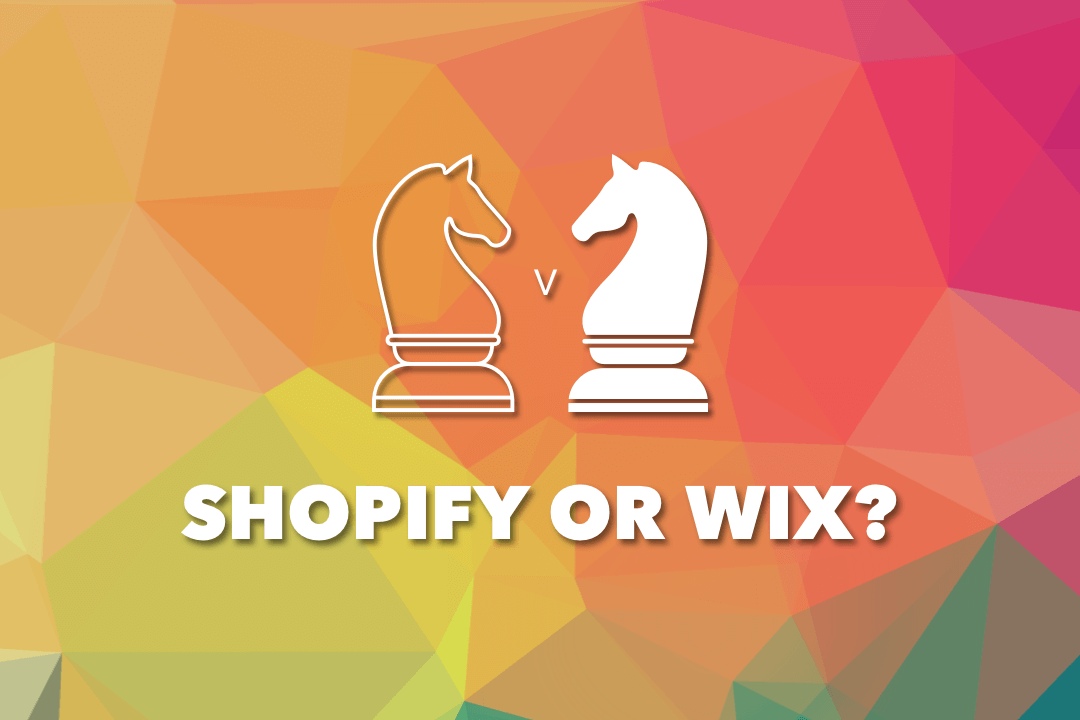 Wise men say that the life have is all about the decisions you made. And, choosing between two good options could be really hard sometimes. Especially, when it comes to choosing between tech platforms as a non-tech person, it doubles the intimidation.
But if you know or at least visualize your end goal with your decision, it's getting easier. Then, as the captain, you can make a proper decision of ships to sail towards the next port.
"If one does not know to which port one is sailing, no wind is favorable." — Lucius Annaeus Seneca
If you are a fresh and confused entrepreneur who wants to start to selling online or looking for a new platform, this comparison will be very enlightening for you. The only thing you should do is define your goals in e-commerce and specify what you want to achieve with your store.
Shopify and Wix are two big names in their areas. Shopify is a giant that pretty much shapes eCommerce globally. On the other hand, Wix is a professional website building platform that also decided to join the big craze of eCommerce.

They both could be suitable for you depending on what you want to achieve and how. But the important point is your business model here. With that said, let's roll into the comparison!
1. Which Platform is Easier to Use and User-Friendly?
We can say that both Shopify and Wix are easy to use and user-friendly. You can build your online store on Shopify in minutes. However, adjusting everything could be longer than that, maybe a couple of hours.
Even though Shopify is very easy to use, Wix is even easier and simple to build a basic store. Their intuitive drag-and-drop interface is working excellently. If you still want something easier, you can use  Wix ADI to create ready-made templates for your store.
On the other hand, it is very hard to make major changes in your Wix store after the design is finished. Also, you do not have access to the HTML and CSS of your website. That is why making changes is hard and requires a long time. We can say that making major changes is almost like a new store building process in Wix.
Shopify and Wix both have well-written tutorials and guides. You can use and apply them in the store building process. Also, they both have a great marketing blog where you can learn how to grow your business. If these options are not enough and you still have questions, they both provide customer support.
Shopify has the better customer support with chat, email, or phone options you can use 7/24. The customer support of Wix is limited by business hours. If you cannot reach only a callback service and forums are available.
2. Which Platform's Theme Management is Better and Flexible?
Shopify has more than 60 theme options that are professionally designed, customized, flexible, and could be perfect for your store. These themes are responsive and suitable both for desktop and mobile. There is also the option of adding individual product pages if you need and you can easily make changes on this page.
If you want to change how your store looks later in Shopify, you can easily edit these themes very easily in a way of clicking 'edit HTML/ CSS' on the admin page and having a fresh look. However, if you want to use free themes there are unfortunately limited options in Shopify. Most themes are priced between $140 to $180 that you have to pay once except for the 10 free ones.
Wix has more than 500 theme options that are not designed for online stores specifically. However, you can quickly and perfectly customize them for your online store and 60 of these themes are free. You can customize these themes by selecting 'Code' + 'Developer Tools' in the Wix Editor.
Both Wix and Shopify have stylish and modern themes. However, the themes in Wix are not as responsive as the ones in Shopify. In Wix, it might be necessary to change elements manually to display them on mobile. Also, because Wix doesn't provide you with HTML and CSS, it is hard to change the themes. We can say that Shopify has more flexible themes than Wix.
3. Which One Has More Payment Method Options?
If you want to sell globally and need many payment gateways, Shopify is a better option than Wix. Shopify provides Amazon FBA or a 3PL order fulfillment, more than 100 payment gateways such as PayPal, Stripe, and multiple-currency support to make sure you can sell anywhere in the world.
On the other hand, Shopify charges a fee to its store owners for using these payment gateways except Shopify payment. Also, it doesn't support Square as a payment method.
Even though Shopify has more options, Wix also supports many payment methods such as PayPal, Stripe, and Square. As a plus, Wix doesn't charge any fee for any payment gateways. However, Wix does not support Amazon Pay and Apple Pay as payment methods.
4. Which Has Larger Shipping Options?
Both Wix and Shopify provide you with suitable options for shipping. In the shipping process for your Wix store, you can follow orders and set taxes for every product. Both Shopify and Wix support free shipping options to third-party providers and you can integrate apps to achieve the payment process.
Shopify might make your shipping process even easier with its own Shopify shipping service. Shopify has some carrier partners like USPS, UPS, DHL Express, Canada Post, and Sendle and they provide discounted shipping options for the Shopify store owners in the US, Canada, and Australia.
Also, there is Shopify Fulfillment Network in US and Canada. This system provides packing and shipping service from distribution centers for retailers with the chances like free packaging, discounts, and same-day delivery.
5. Which Platform Runs Faster?
According to our GTmetric tests, the Shopify website gave an A rating (90%) and, Wix has a slower result with 67% (D ranking). In our Pingdom tests, Shopify has a score of 86 when Wix has a score of 83.  We can say that Shopify is faster than even though Wix is also not bad.
6. What are the Price Options of the Platforms? Is Wix Cheaper than Shopify?
The price plans of Wix and Shopify are differentiated according to the features of the plan. There are three different kinds of plans in Shopify: Basic Shopify, Shopify and Advanced.
Wix also has three different plans: Business Basic, Business Unlimited and Business VIP.
Wix is the cheaper option in terms of prices and transaction options. Wix doesn't have a transaction fee when Shopify has fees for payment gateways except Shopify Payment. The Business Basic Plan which is the cheapest plan of Wix is 23 USD when the cheapest plan of Shopify, Shopify Basic Plan is 29 USD for a month.
A Weird But Commonly Asked Question: Can You Use Wix with Shopify?
Using two rivals in harmony already sounds not easy at first place. So, managing Wix and Shopify from one platform is not available. However, Shopify provides a 'Buy Button' which you can add to your website or blog of Wix.
Integrate Wix and Shopify
Shopify offers integration for store owners who want to sell on their website or blog for $9 per month. You can add Shopify Buy Button to your Wix website and have all the functionality of Shopify in your own mini online store.
To add Shopify Buy Button to your Wix store, you should choose the product you are going to sell, generate your embed code and paste it to your website. It will be fully responsive and suitable for your all devices in a way of customizing your Buy Button to match your brand.
If you want to sell multiple products your customers can buy more than one product by using the Wix shopping cart at once or return later to complete their buying process. Here you can find more information from Shopify.

Shifting From Wix to Shopify
Changing your Wix online store to a Shopify store requires the transfer of the contents in the website and domain name. Also, you should make some adjustments and SEO settings for your migrated website. As a first step, you should create a store on Shopify. To achieve that:
In this process, you should enter your industry, email information and goals with this store.
2. Customize your store
You should choose the most suitable theme to have a perfect look for your store.
3. Add new pages
The next step after customization of your homepage is adding new pages to your store. Add your products, content such as images, videos to these pages, links and make sure they look nice.
Export Products From Wix to Shopify
To export your products from Wix to Shopify, first, you should transfer the data in your Wix store into your Shopify store.
If your store has small diversity of products, manually uploading them is the most suitable option. You should also upload the information of products like cost and SEO parameters manually.
On the other hand, if you have many different kinds of products with a larger amount it is better to migrate data with CVS files. You can also transfer your customer list and all the contents in a way of using the same method from the control panel of your Wix account.
Also, you find migration apps from Shopify App Store to support you in this process. If you think these options are not enough and complicated, you can hire a migration expert. It will prevent losing time and makes the process easier. Shopify provides the information of them in Shopify Experts Marketplace for you.
After you complete the migration process if everything is working correctly, you should transfer your domain name to Shopify.

Can You Transfer Your Wix Domain to Shopify?
If you purchased your Wix domain name more than 60 days ago, you can transfer it to Shopify. Follow these steps below to achieve the transfer process:
Enter the 'My Domains' page on your Wix website.
If you have more than one domain, choose the one you want to transfer and click 'Advanced.'
Click on the 'Transfer away from Wix' button.
Note the transfer code. It is a generated passcode to indicate that the domain name owner has authorized the transfer.
Clarify the Shopify domain transfer route.
After you start the process, domain transfer should be completed within seven days.
Check your settings of payments, shipping, taxes, and make sure everything is correct before starting to sell. After making sure you can publish your store.
The Things Are Not Available
Shopify and Wix both have huge marketplaces with tons of apps. That is why there is no such option as 'Shopify Plugins for Wix.'
Shopify and Wix are two professional names in e-commerce, and they are alternatives to each other. That is why the answer of the question for 'Does Wix integrate with Shopify?' is no. You cannot integrate your store, the only option is migrating.
Why You Should Choose Shopify?
If you have goals to grow in the future or you already have a large store.
If you want to have more payment and shipping options as well as flexible themes.
Why You Should Choose Wix?
If you want to build boutique online business.
If simplicity and cheapness are your priority.
Wrapping Up
We hope this comparison helps you to choose the best platform for your business. As it's mentioned in the very beginning, your online business success is related to what you want to achieve. Once you set your goals properly, the best option will automatically indicate itself.