What Is Shopify Gift Card And How To Take Advantage Of It ?
Many of you should heard of Shopify's COVID-19 offers to help merchants in this hard period. For those who haven't heard or want to get more info, I recommend to check their domain in which you will find all the details.
One of the biggest offers of Shopify is about gift cards. They are now available on all new and existing Shopify plans. In this article, we would like to tell you about what is a Shopify gift card, and how to leverage it for your business. If you are ready, let's dive into it!
What is Shopify gift card?
I know no one to tell better about Shopify gift cards then the Shopify itself :) Here we go:
1. A gift card is a special type of product. Its value can be used as payment toward future orders from your online store.
2. You can sell gift cards like any other products. You can also issue a gift card to a customer for free as a reward or incentive.
3. When you fulfill an order with a gift card, the customer receives an email that contains a unique gift card code that they can use at checkout to redeem its value.
So it is actually works like a product. But the redeemer decides into which product of your store it will convert to :) It can become a t-shirt, a pant or a skirt... And here is how it looks when you create one. Down below...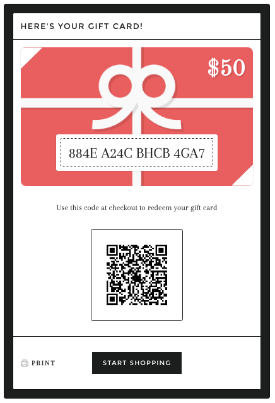 How to create a Shopify gift card?
Shopify made eCommerce super-easy. This is a fact! You just need a couple of clicks for some really complex actions which takes huge time and effort in other platforms like Magento etc. The same applies for the Shopify Gift Cards. It takes almost nothing to create a gift card and leverage it for your business in Shopify.
Here is a step by step guide to create a Shopify gift card:
Once you are in your Shopify admin dashboard, go to Products > Gift Cards
Click Manage gift card products.
Add a new gift card product, or select an existing one.
Enter the gift card's information like you do for a product. Title, description etc.
When you finish all the details, click Save gift card product.
You're good to go with your gift card.
If you want to learn more about the Shopify gift cards and its features, please visit here.
How can you benefit Shopify gift cards on your web store and mobile app?
Shopify gift cards are a great benefit for your business no matter what size it is. Because the shoppers can send it to friends, family and loved ones regardless of your type of business.
Besides, your customers can buy and redeem cards on your online store, mobile app, and Shopify POS in store.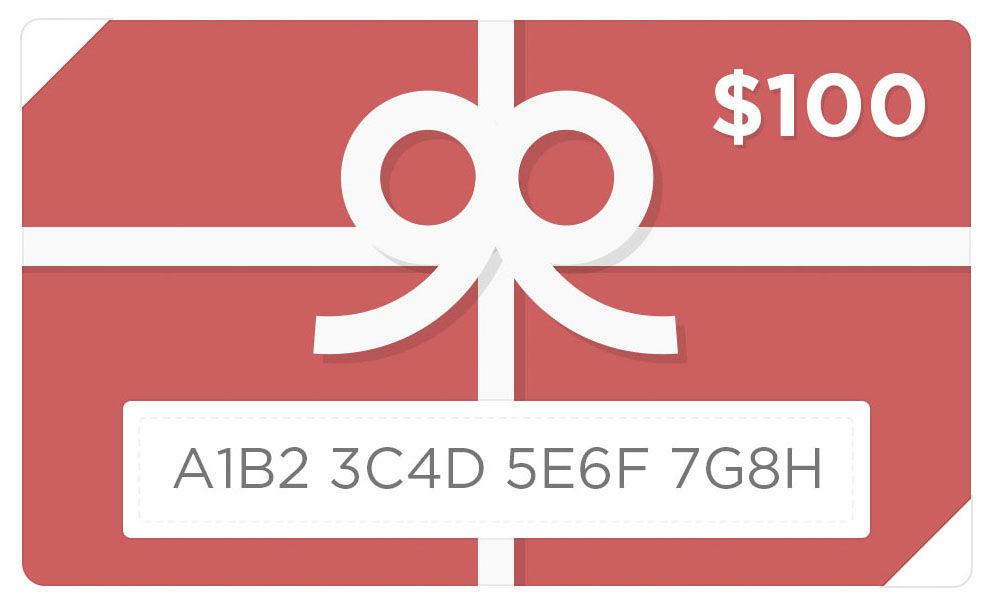 With that being said, here I would like to list some key benefits of Shopify gift cards:
1. All the gift cards are paid for fully upfront. So, you can leverage the time between the moment you sell your Shopify gift card and it gets redeemed. During this time, the money spent for a gift card is on the air and you can make financial wise moves to create value out of it.
2. It's very common that a Shopify gift card goes unused. So this means you are paid without selling nothing. Sounds like an extra income for your business!
3. When a gift card is used, essentially the customers tend to buy more things alongside. And so often, the item that they want to buy is more expensive than the actual value of the gift card. This means an upsell or cross-sell. And it is what you want.
4. Many stores see a dramatic decrease in exchanges and returns when using gift cards. Because of the nature of the gift cards, you send it to a person and that person decides what to buy, in which size and color etc. So, the likely errors are diminished in advance.
How to enable gift cards for your Shopify mobile app?
As we mentioned above, your customers can buy and redeem cards on your online store, mobile app by Shopney, and Shopify POS in store.
To make a gift card available in your native mobile app for your Shopify store, you need to follow the instructions below:
1. Open Gift card section in your Shopify dashboard and select a gift card

2. Click on the 'Manage' button on your right to manage product availability.

3. Select the mobile app to set your gift card available and save.

So... We tried our best to tell about all the basics of Shopify gift cards in this article.If you have any further questions about them, you can visit Shopify's FAQ page about the topic.
Do you want to increase your mobile conversion rates?
As more than 70% of your store traffic comes from mobile, your answer to this question is a big YES!
There are many thing to increase the conversion rates on mobile. But one of the most important productive action is to convert your Shopify store into a mobile app. Because native mobile apps converts 3x more than mobile browsers. ‌
‌‌
‌Besides, you can do marketing of your brand to your app users for free with push notifications. They cost absolutely zero dollars to send.
And building a mobile app for your Shopify store is neither hard, nor expensive. With Shopney, you can build a top-notch mobile app for your Shopify store starting from $99 per month. And due to COVID-19 outbreak, we offer 30-day free trial which was 7 days earlier.
If you want to install Shopney to your Shopify store, it's just a click of a button. If you want to check some of the amazing native iOS and Android mobile shopping apps powered by Shopney, you can visit our Pinterest board below.
We wish you good luck with your eCommerce journey!