TOP 15 Shopify Apps To Increase Sales In Post-Pandemic Times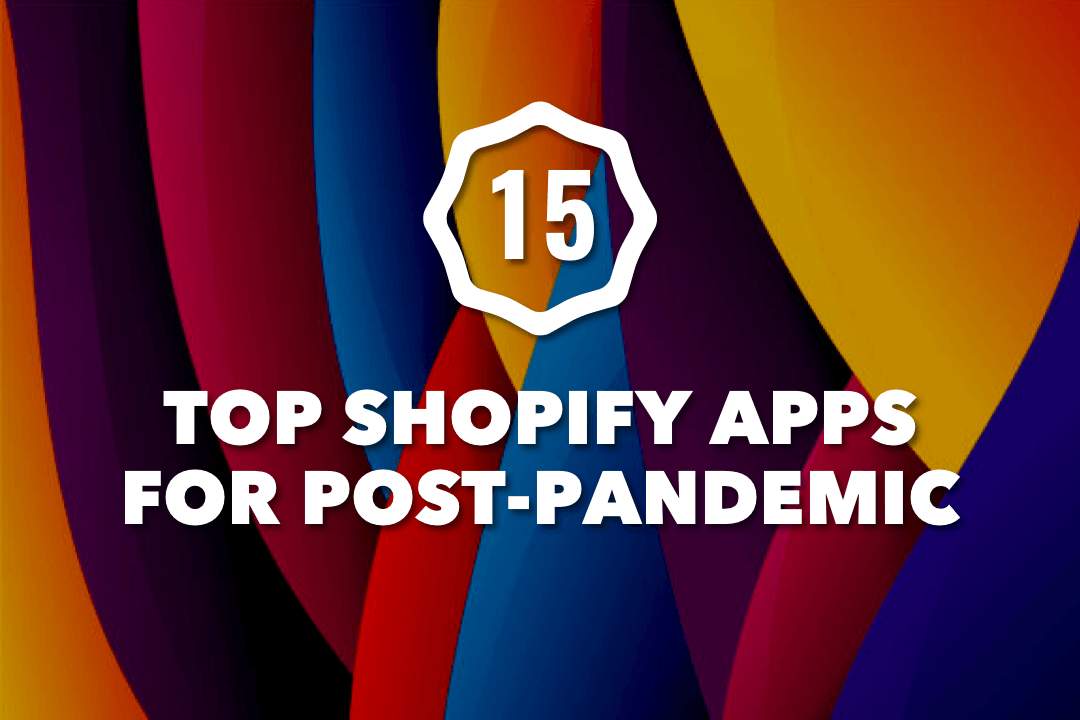 Shopify's been growing almost everyday since the day it's founded. And the COVID-19 pandemic has done nothing but accelerated the rate of growth. This is because of the necessity of almost all businesses for e-commerce.
Seeing businesses going online might look so fun for the consumers, because it will ease their shopping and ordering processes. Today, you can order online from a high-end restaurant. But it was not possible before the pandemic.
On the other hand, this means a wilder competition in all sectors. Because, there are more players in the e-commerce game now. And the more companies investing on digital advertising, the more expensive the digital ads get.
So, you need to find clever tools to help you in this tough competition scene. Thankfully, the Shopify App Store is full of great apps and ad-ons to help you increase your Shopify e-commerce site sales and conversions. In this article, I would like to share my favorite list. And they will be listed in sub-groups to make it easy to read through.
TOP SHOPIFY MARKETING APPS
Omnisend is ranked the #1 email marketing app in the Shopify App Store. Trusted by thousands of Shopify and Shopify Plus stores, this app will give you everything you need to setup a great marketing automation.
You can recover abandoned carts, reactivate lost customers and engage them throughout their lifecycle using email, SMS, push and more channels.
With actionable data provided by the app, you can reach more customers in smarter ways on more channels. Remember, email marketing is still one of the top growth methods today for many global brands.
Rating: 4.8 (3600 reviews)
Free Plan: 14-day free plan of the Pro Plan
A Shopify business grows with loyal customers, not with the newly acquired ones. They pay more and shop more frequent than the new ones due to the trust that you've already built along the way.
LoyaltyLion is an award-winning Shopify loyalty app that has the word in the name. Basically, it enables your customers to earn loyalty points by taking some significant actions around your brand.
For example they can earn points for purchases, sign-ups, subscriptions, birthdays, reviews, referrals, social media likes, follows and tags. Then redeem those points as money to buy products again from your store.
Rating: 4.4 (292 reviews)
Free Plan: Available
Like Loyaltylion, Smile is a loyalty and rewards app. But it is the most popular one. Smile integrates with not only Shopify but also Shopify Plus, WooCommerce, Wix and BigCommerce.
You can boost new and repeat sales with Smile Rewards & Loyalty App. It can help you to cut back on customer acquisition costs & boost retention using referrals, points, exclusive offers, and more.
Forgot to mention that Smile is the single most popular loyalty app on Shopify app store that 30,000+ Shopify brands have found success with.
Rating: 4.7 (3488 reviews)
Free Plan: Available
We all know that word of mouth influences 80% of buying decisions, and customers trust referrals more than every other channel. Your customers will know at least one other new customer; why not reward them for making a referral?
So that they will have fun while you are boosting your sales. This is simply what Referral Candy is all about. You can reward them with cash, coupons or a special gift. It's all up to you to decide what your customers would love most.
Rating: 4.9 (984 reviews)
Free Plan: No. Starts from $49/month
Refersion is a fully-loaded affiliate and influencer marketing platform that you can launch in minutes.
Refersion enables you create unlimited offers using multiple commission types. You can design registration pages that showcase your brand and affiliate marketing program.
The app offers an access to their growing network of qualified affiliates and publishers who are ready to market your products. So, you can promote your offer to 5,000+ potential partners.
Rating: 4.7 (809 reviews)
Free Plan: No. Starts from $89/month
TOP SHOPIFY SALES & CONVERSION APPS
Do you know what percentage of your store traffic is coming from mobile currently? If you don't, let us tell you about it: at least 70%. This means you have to offer the best mobile shopping experience to your customers.
With Shopney, #1 mobile app builder in the store, you don't need design or coding skills. You can easily design and launch a fantastic mobile app for your Shopify e-commerce store. Shopney stands out with super-easy UI and excellent customer support.
Rating: 5.0 (86 reviews)
Free Plan: No. Starts from $79/month
Why should you optimize your thank you page? ReConvert tell you why and brings the solution along. As we all know, getting new customers is fantastic, but a smart eCommerce store owner knows how to turn as many customers as possible to repeat ones.
By optimizing your thank you page & adding upsells or cross sell, you will re-engage customers who just completed a purchase with your store, & catch them when they are most likely to buy or to comply with other requests.
You can easily design your order status page with ReConvert with no technical knowledge needed. Then, you can get an instant revenue boost with upsells & cross-sells.
Rating: 5.0 (1139 reviews)
Free Plan: Available
TOP SHOPIFY SOCIAL PROOF APPS
Growave is a multi-skilled Shopify app in which you have reviews, wishlist, referral, UGC and more. It helps you to increase engagement, loyalty & sell more by using photo reviews, wishlists, Instagram feeds, social login, loyalty & rewards, and social proof.
Definitely, more than what you expect from a single Shopify app. Growave offers everything to build strong customer relationships. Once you install the app, you need to pick the features you want to benefit and set it up for your store accordingly.
Rating: 5.0 (1033 reviews)
Free Plan: Available
Social proof is maybe the most important when it comes to effect of conversion. Because many customer wants to take risks with a product by being the very first to use it.
So, it's a clever idea to let your products shine with customer reviews and ratings (starts) in your store and mobile app. Stamped.io is one of the most popular review apps around.
You can build trust with Stapmped.io by collecting and using multiple User-Generated Contents that matters most to your customers.
Rating: 4.9 (3386 reviews)
Free Plan: Available
TOP SHOPIFY PRICING AND DELIVERY APPS
As you know, product-market fit is the base of commerce. And price points are really important to make your brand and products to the market. At right prices, you can boost your sales and grow your business faster.
Prisync is dynamic pricing, price tracking, and repricer app for Shopify e-commerce companies of any size or type. You can automate your pricing adjustments.You can handle an unlimited amount of competitor product price & stock availability information with it. And you can adjust your prices accordingly.
Rating: 4.9 (3386 reviews)
Free Plan: No, starts from $129/month
Zapiet is a pickup and delivery app for Shopify stores. And it's one of the most popular apps in the store due to COVID-19 pandemic. As many new businesses went online like restaurants, the local delivery become very very significant. If you have such business operations, Zapiet is what you need.
With curbside pickups, you can let your customers come to you and save money on picking, packing and shipping their items by offering store pickup. Plus, you can manage your local delivery operations and invertory with this app.
Rating: 4.2 (550 reviews)
Free Plan: No, starts from $29/month
TOP SHOPIFY CUSTOMIZATION & TRANSLATION APPS
When shops offer product customization, they're giving the consumer the opportunity to get a product that is truly their own. It sounds intriguing, doesn't it. And so it does to your customers most of the time.
Customization is a great leverage to increase your sales. With Zakeke, your customers can design and buy your products from your e-commerce and native mobile apps.
Zakeke enables your customers personalize any product (clothing, promotional gifts, paper products, shoes, jewelry, watches) and visualize how they'll look before checking out.
Rating: 4.9 (90 reviews)
Free Plan: No, starts from $6.99/month
If you are doing cross-border eCommerce, and have customers who are speaking different languages, it's necessary to offer a multi-language shopping experience. So, your store can speak the same language with your customers and make them feel like home. And buy something from your store!
You can translate your e-commerce store's entire content with Weglot with just a click of a button. And it shows your content in related language in accordance with the location.
Rating: 4.6 (851 reviews)
Free Plan: Yes
TOP SHOPIFY APPS FOR DROPSHIPPING
Dropshipping is not dead! It still makes many people make a lot of money. And Oberlo is the origin of this subject. It helps you find the best products for your business, and add them directly into your Shopify store.
It has a huge network of trusted product supplier whom you can work with.  You can ship your products straight from your supplier's warehouse to your customer's doorstep whenever you make a sale.
Rating: 4.2 (2433 reviews)
Free Plan: Yes
Spocked is a dropshipping app focused on best suppliers in US, Europe, Canada, Asia, Australia, Brazil and more. They don't work with Chinese suppliers like Oberlo does.
They are not alternative to each other. Actually, they complete one another. And offers you a bigger variety of product and supplier options. You can make high profits with our highly discounted products. Real-time inventory update & Automated order processing will save hours of your time.
Rating: 4.5 (1615 reviews)
Free Plan: Yes
BONUS APPS
Source
Creating an approved Google Shopping Feed & running profitable Google Shopping Ads is a multi-step process. AdNabu's Google shopping feed App not only helps you create a google shopping feed fast but also Improves your Feed to succeed in Google shopping.
Claiming your store in Merchant Center & adding Shipping & Taxes to Merchant Center manually is a thing of the past as AdNabu app does all this automatically. Here are some other important features:
Meta fields Support
Product-Specific Suggestions
Multi-Currency Support
Multi-Language Support
Product Review Apps Integration
Highly Scalable
Rating: 4.9 (69 reviews)
Free Plan: Yes
AVA SMS, Email Marketing app has helped 70k+ businesses to follow up and convert abandoned carts with its top-class marketing automation solutions.
Email and SMS templates are provided to auto-convert customers for various purposes: welcome series, post-purchase follow-up, cross-sell, or up-sell workflows. When it comes to collecting leads, exit-intent popups and spin to win are ready to help you get quality email lists.
With flexible designs, constant updates, and great support, email marketing becomes easier than ever. Get ready for high conversion rates and an impressive sales boost!
Rating: 5.0 (241 reviews)
Free Plan: Available
FINAL NOTE
Hope you enjoyed reading this list and find a great app for your store. Choosing an app is difficult, especially when it offers something you didn't already know you needed.
But we just wanted to help you with a well-prepared and hand-picked list of Shopify apps for the post-pandemic times. Wishing you a great success with your Shopify business.