Reasons to Have A Mobile App With Shopney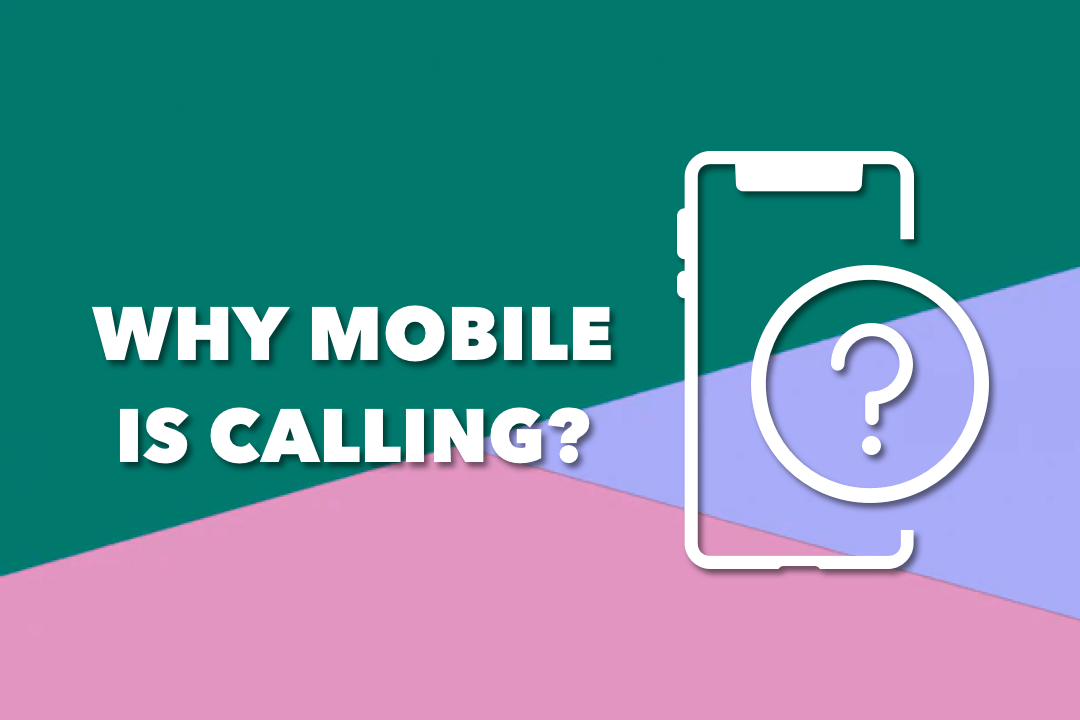 A lot of Shopify eCommerce business owners are curious about why so many major Shopify merchants are building mobile apps & continue to govern their business mostly from their mobile apps? Have you ever wondered what the critical reasons are?

Let's think about a medieval merchant who has been living for centuries to see the big story :) Imagine the logistical problems he might have had. He was a man who was carrying his goods via camel caravans and trying to sell them at a market booth.
Then consider he found a definite place in the market & customers were buying there on certain days when the market was established. By time, he grew and opened a greengrocer shop, and was trying to sell every day instead of certain days. One day, he first put up a signboard so that passers-by could see him.
Over time, he connected a phone to his shop so that his customers could order over via this. Suddenly, something called e-mail entered his life & he received an email address and orders started to arrive there.
Eventually something called a website came into his life & he opened a website because the audience was there, he posted his shiny apples on Facebook. Then he realized that people did not look up from their phones and had a mobile app built!
Basically, you have to be in a place where your customers are! The main reason is so simple.
However, still in today's eCommerce world, there are critical elements for you to have the right mobile app builder. If you do not know these elements that will affect the success of your business & mobile app, don't worry, we have got you covered!
Shopney spends lots of time talking to eCommerce store owners to answer their questions, and we spend an equal amount of time getting to understand your pain & concerns. Additionally, we spend time adapting the latest trends & developments for your mobile apps, we are always ready for innovations.
In this post, let's see the critical elements for you to have the right mobile app builder, some reasons why you should have a mobile app & get to know how Shopney works for you to go up to the top rank in terms of your brand's success!
1. Why Do You Need a Mobile App?
You may have been questioning why you should have a mobile app for your Shopify business.
You need a mobile app for your Shopify Store more than ever! If you want to check the benefits detailedly, please visit the article here. ‌
‌
Let's look at the reasons below together & understand why it is important for your brand.
a. Keeping Your Brand Ahead of the Game
Delivering your products/services to your customers via a mobile app will benefit you in terms of any new start-up going into your market which has to make the same effort to launch a mobile app. Thus, you raise the barrier to entry and protect your competitive position in the market.
b. Providing Your Customers an Efficient Mobile Experience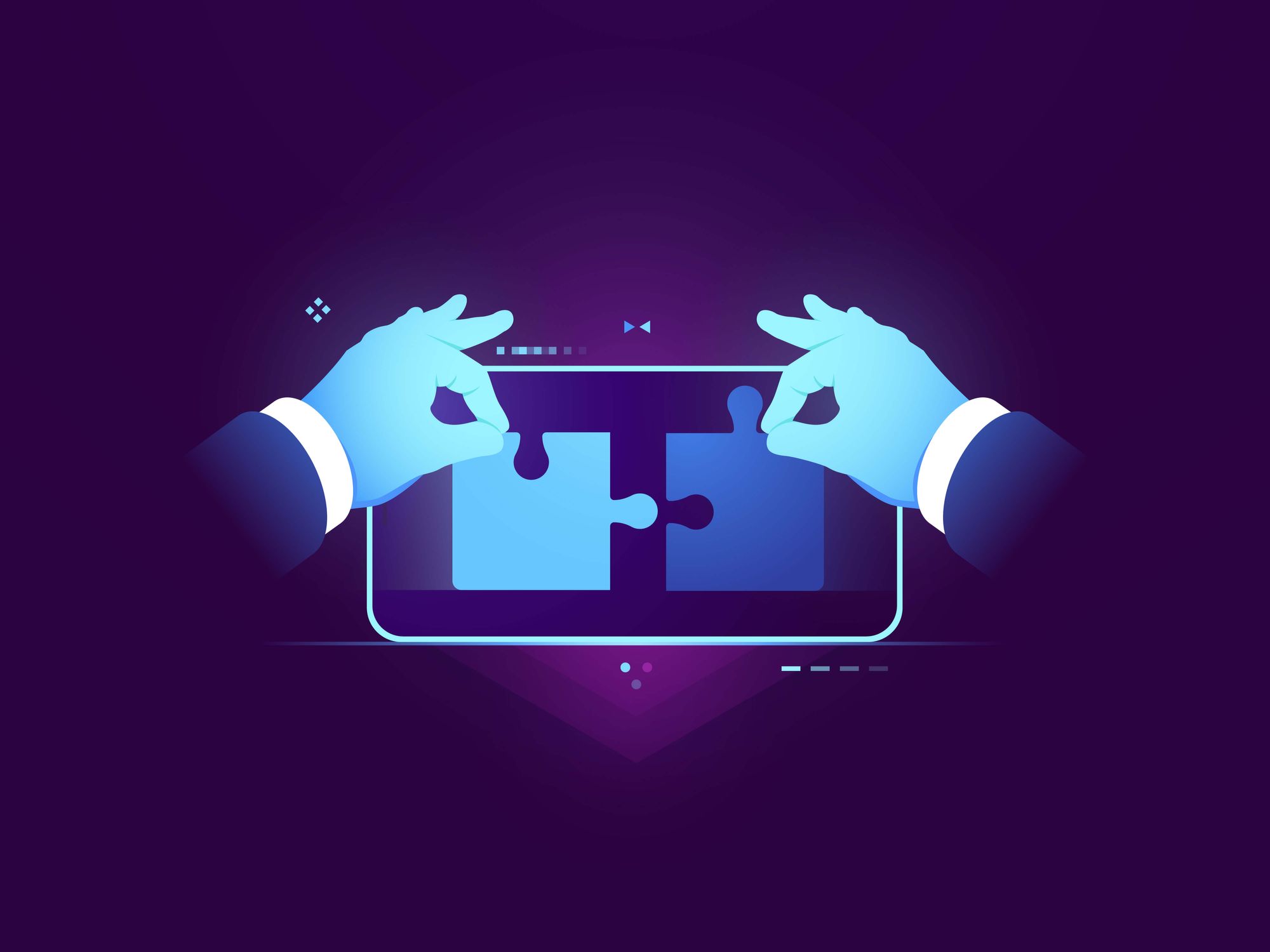 Customer experiences are ever-evolving. These experiences have transformed in a short period time & will be changing constantly. A good experience consists of two main elements: Comfort and ease.
When an end-user can access your services efficiently meaning the requirements are fulfilled. A mobile app is streamlined to a customer's basic needs and provides a better user experience than websites. Since it is handy and seamless, it is considered to be an accessible and simple option for online shoppers.
Shopney serves to you the best mobile user experience with its unique features as you will see! :)
c. Making It Easier (Cheaper) to Promote Your Products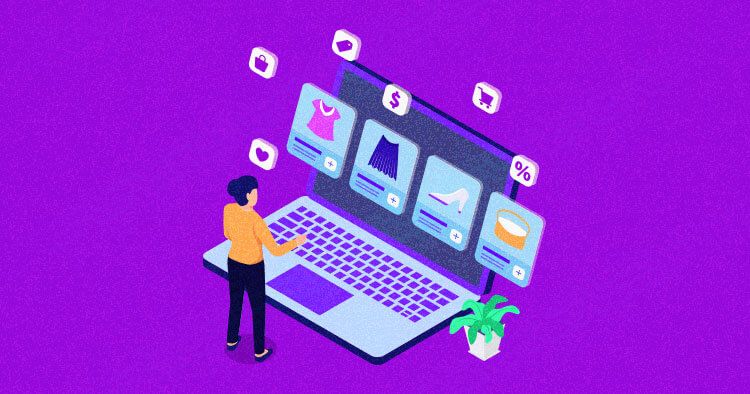 Shopify stores with mobile apps make better impressions than those without one. It will also be valid for your products! A mobile app makes your business & products stand out, and frequent updates -which can be done easier with a mobile app- help to develop customer attention in your products.
With push notifications, app-exclusive offers, and so on, you can easily promote your products to your customers as they have your mobile app on their phones. As the open rates are high for push notifications, you won't need to take any other action to introduce & promote!
As you will see below, Shopney push notifications are free & limitless!
It will help you save money and effort on other types of promotional techniques, such as advertisements on other social media platforms.
d. Increasing Customer Engagement & Boosting Sales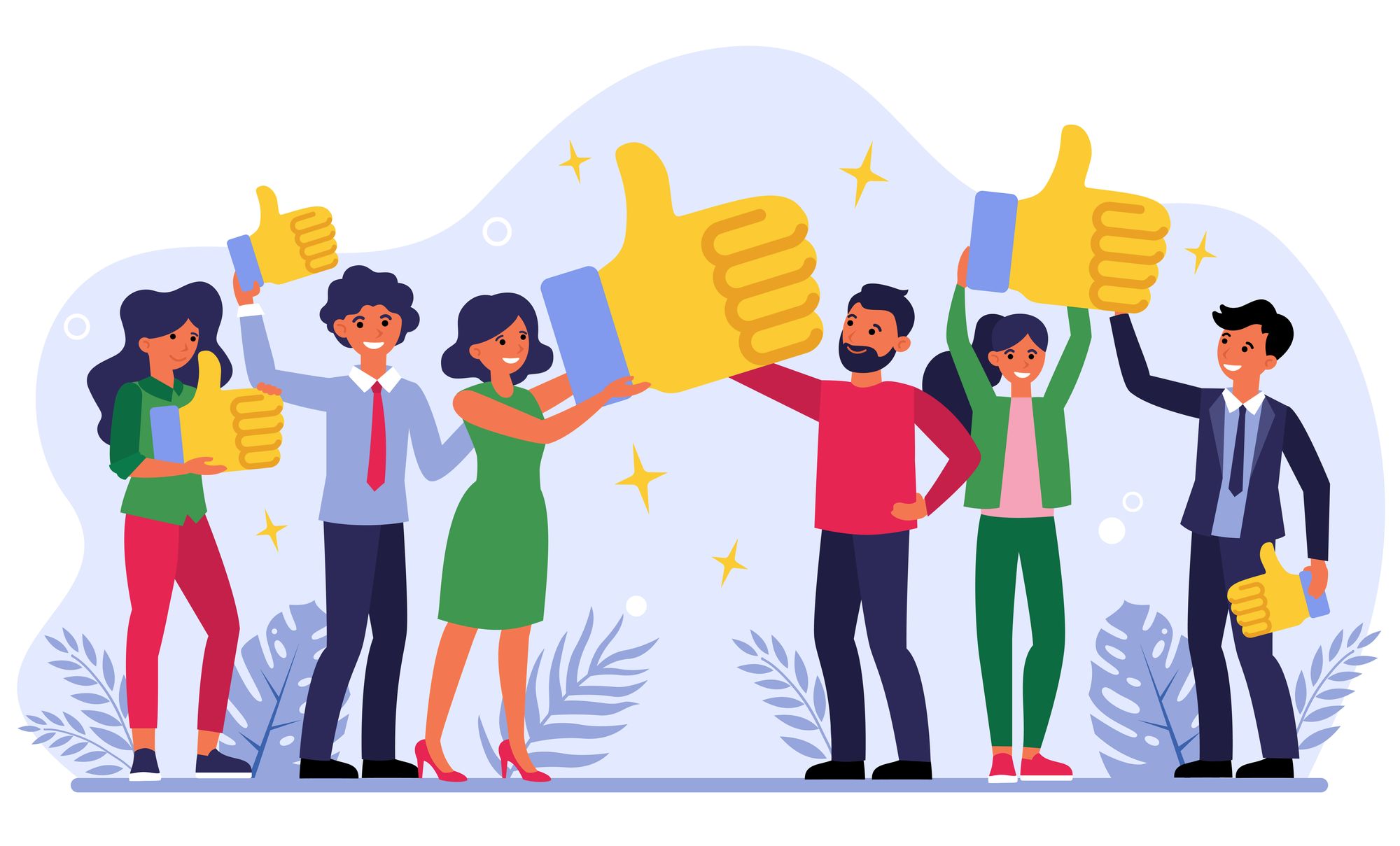 Imagine! You have a chat option on your mobile app and you are able to interact with all of your customers in real time by having your own communication channel!
Providing omnichannel communication to your customers will benefit you in terms of customer loyalty & engagement. That is why you should have a mobile app builder providing this feature in the best way! Shopney's in-app-live-chat feature is unique & full of benefits!
In today's eCommerce world, you have to build a loyal customer base. It is not a "should" element anymore, it is compulsory! Because your loyal customers will spend much more than your random customers. So, it will immensely boost your sales!
For example, you can offer promotions special to your customers and personalize their shopping journeys via chat conversations. Thus, a mobile app will engage your customers, which means they're going to pay for your products & turn into loyal ones! To examine this topic deeper, please click & read the other article of ours! ‌
‌
e. Reminder of Your Brand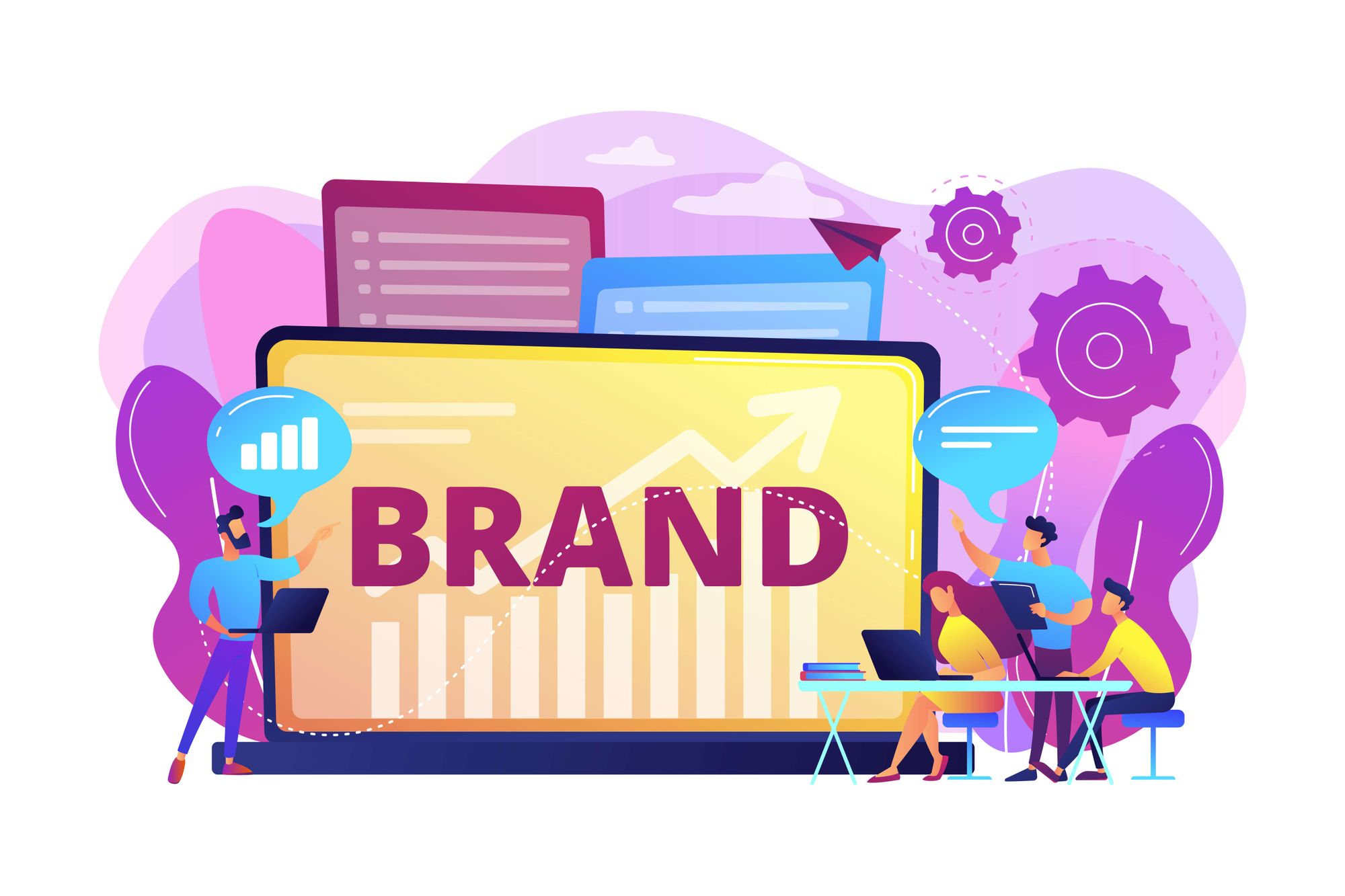 A mobile app for your Shopify Store will immensely contribute to recalling your brand. If you want to be a winner, you have to give importance to being remembered.
Imagine, your customers will download your mobile app to their phones, and every time they will see your brand even if they don't open it. This will remind your brand.
A mobile app is like a blank symbol. You can make it stylish, functional, bold, or informative. But what you really want to do is create an app that has features your customers will love, while at the same time is well branded and designed.
When it comes to remind, the more often you get customers involved with your mobile app, the sooner they will be convinced to make purchases. This is where you start to build your brand awareness & reminding yourself. Also increasing your sales will be much easier!
2. What Is Shopney & What Are The Aims for Its Customers?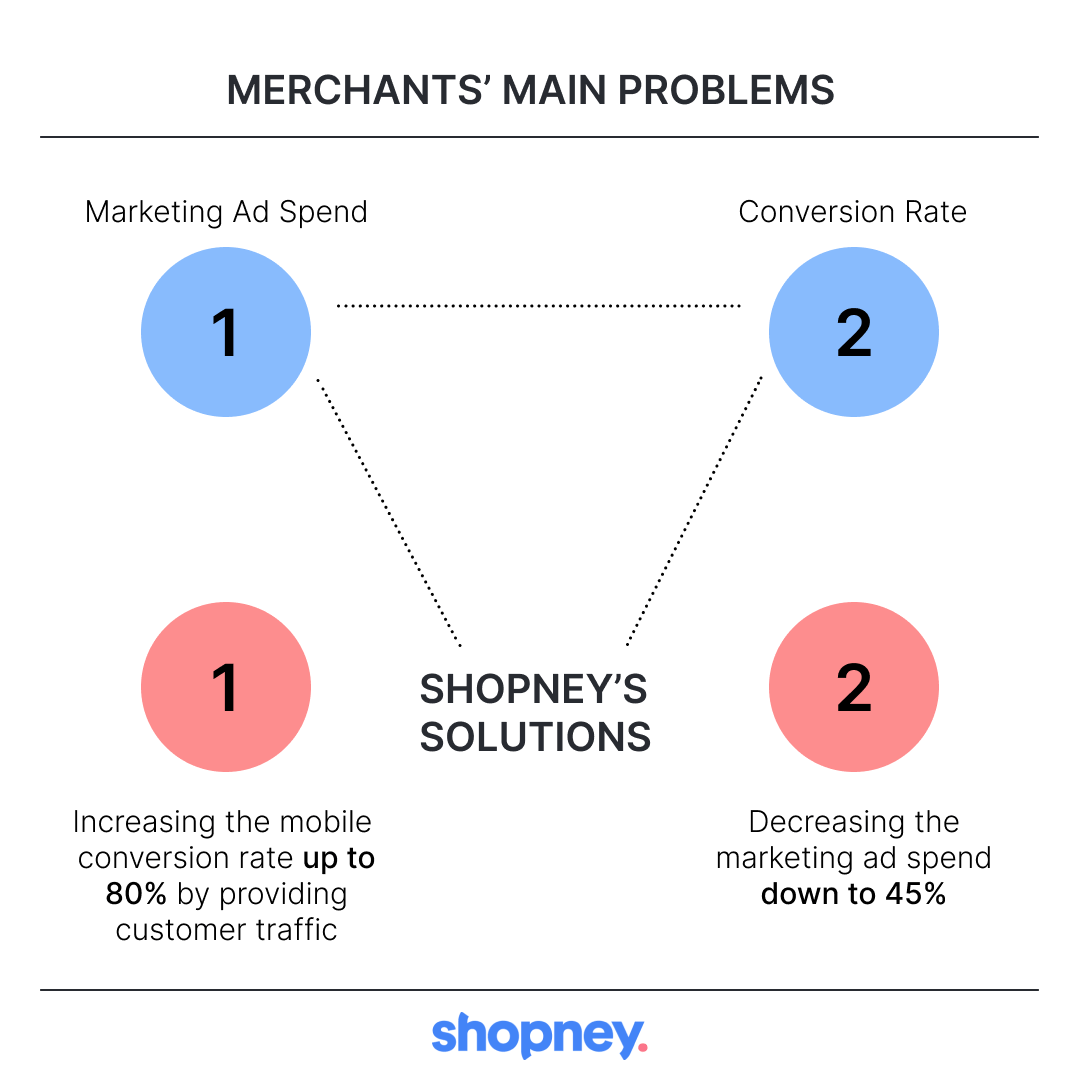 Shopney is basically a painkiller for two main problems of you:

It increases the mobile conversion rate up to 80% by providing customer traffic.
Decreases the marketing ad spend down to 45% which is the biggest expense for most of you.
It is a Shopify Mobile App Builder that helps you to convert your Shopify &/or Shopify Plus stores into native iOS and Android mobile apps. To be short, Shopney provides your brands with the strongest mobile shopping app solutions you need to succeed in the mobile-centric e-commerce universe.
While you stay focused on your business, we work on the following benefits to ensure you have a seamless experience. Let's dive into Shopney together and see why it is the best Shopify mobile app builder for you!
a. How Can You Build & Launch Your Mobile App with Shopney?

Building & launching a mobile app with Shopney generally takes 8-10 days to see your app on App Store and Play Store. However, it might take shorter or longer depending on your unique case.
1.Mobile App Design:
In this step, you design your mobile app on Shopney dashboard. They are all super simple.
It consists of designing the home page, setting up your menu, selecting design colors, uploading the app icon, opening image & store logo and, finally selecting your mobile app theme.
It will not take more than 2 hours, believe me!
2.Getting Apple & Google Developer Accounts:
Shopney wants you to have full control of your mobile app. That is why if you don't have one, you should have your own developer accounts to launch your mobile app from these accounts. You can follow the steps on the relevant guides and get your accounts ready.
3.Sending Developer Account Invitations to The Shopney Team:
The Shopney team will take care of the entire app submission and launch processes while you are taking care of your business. To do that, our team will need to access your developer account. After you send the invitation, the rest is our work!
4.Google Analytics Integration:
You can't manage what you can't measure. So we are offering Google Analytics integration.
5.3rd Party Shopify App Integration:
If you want to enable one or more 3rd party apps you can do it before or after the app launch without the need for an app update. You can simply enable an available app by following the steps required for it.
6.Providing App Information:
Your app will need listing information for App Store and Play Store. We request you to provide that info by filling out app information form on the Shopney dashboard. It is pretty simple with one click!
7.Requesting App Submission:
Once you fill the App Information Form perfectly, you can request Shopney Team for submitting your app to application stores.
Plus, Shopney Quality Assurance Team will check your mobile app from A to Z to make sure everything is working perfectly before launch. And submit your app to Apple and Google in 5 business days.
8.App Review & Launch:
After submission, your app will be reviewed by Apple and Google teams. It takes 4-5 days for Google and 3-4 days for Apple to review your app and release it.
As it is stated above, launching your app will take 8 to 10 business days while building your mobile app will not take more than 2 hours!
3. What Are The Unique Features of Shopney That Will Direct You to an Ultimate Success?
On Shopney, there are unique features that will help you to have the best experience as a merchant. These features will increase your mobile conversion rate & customer engagement. Thus, boosting your sales immensely!
a. Business-Specific Theme Options With Shopney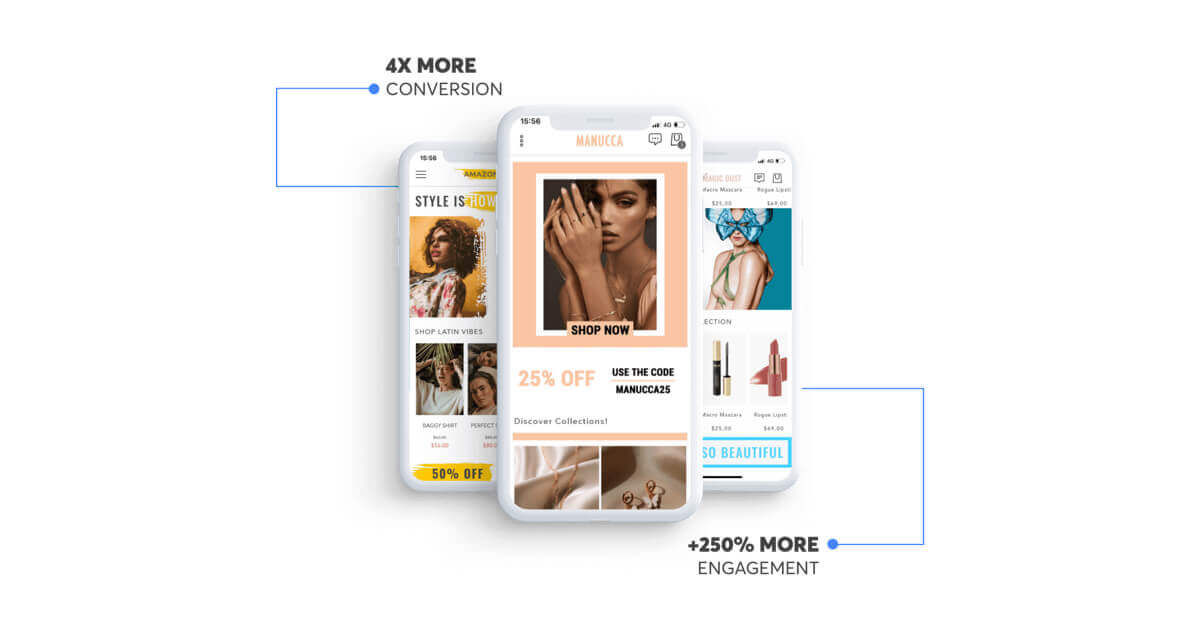 As you will all agree, your products/services would not get anyone's attention if it's not presented properly. That is why Shopify presents the best Shopify themes for eCommerce store owners.
With Shopney, you can present your products/services in the most impressive way in the product listing & product display pages to get attention and increase your mobile sales!
Shopney provides 8 different theme options for your business to make sure you choose the most fitting one for your business type, brand image, product image type, inventory size and, so on.
By using Shopney as your mobile app builder, you will have a different layout on product detail page and product listing page in each theme option. That means you can create an entirely new layout by using a different theme.
Previewing & trying the themes options would take a maximum of 10 minutes for your mobile app to decide which one is the most fitting option for your brand & products.
Also, we make the details more perfect with extra settings and configurations! With all the configurations that Shopney provides as an addition to the theme options, you can make themes even more fitting for your store! In this way, you can increase in-app engagement and sales depending on the store's business type.
Keep in mind that it is crucial to make your products look appealing. As a unique feature in the market, Shopney offers 8 different specially made theme options to fix that in the best way.

So, you will have a chance to get through the theme options, each of which is inspired by the latest mobile design trends and settled with the best option for your brand image and customer expectations.
b. How Easy to Design Your App!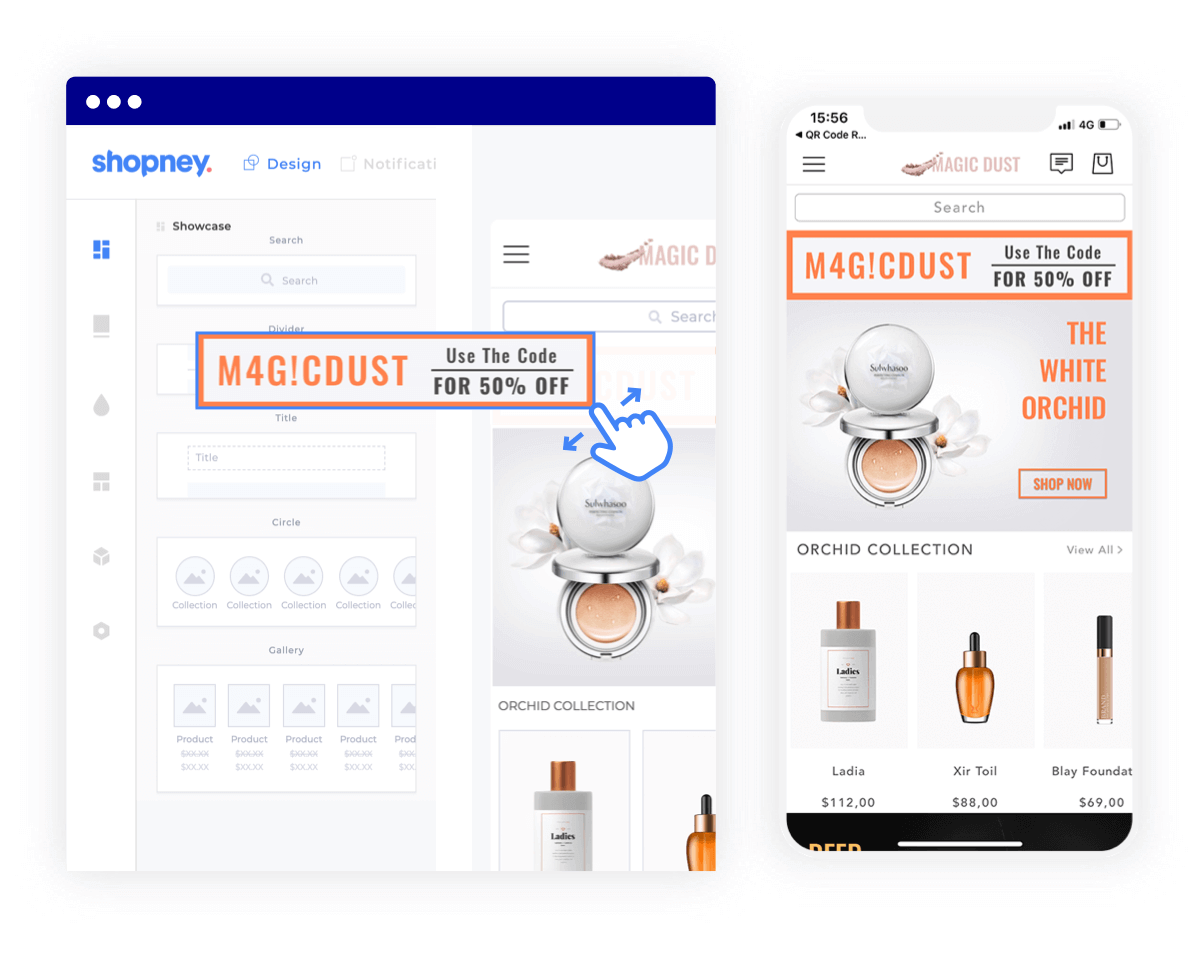 As most of the Shopify merchants hop from one dashboard to another, Shopney's one & only dashboard will save time for you without any friction.
You can turn their Shopify store into a mobile app in minutes by using the easy drag & drop design editor of Shopney.
Also, you will not only have an easy but also a fun design process with simple drag & drop moves without needing any code or design skills. Besides, the result will be impressive since your app will look like it was designed by a professional!
We allow you to choose different elements from the left menu and simply drag them into the design area. Then you can fill these elements with your store content and make personalization your layouts & app design.
Plus, as Shopney works with Shopify's back-end, your store contents automatically will be transferred to your Shopney design area!
If you would like to see the designs of some of our customers' mobile apps, you can click here.
c. Preview How It Works!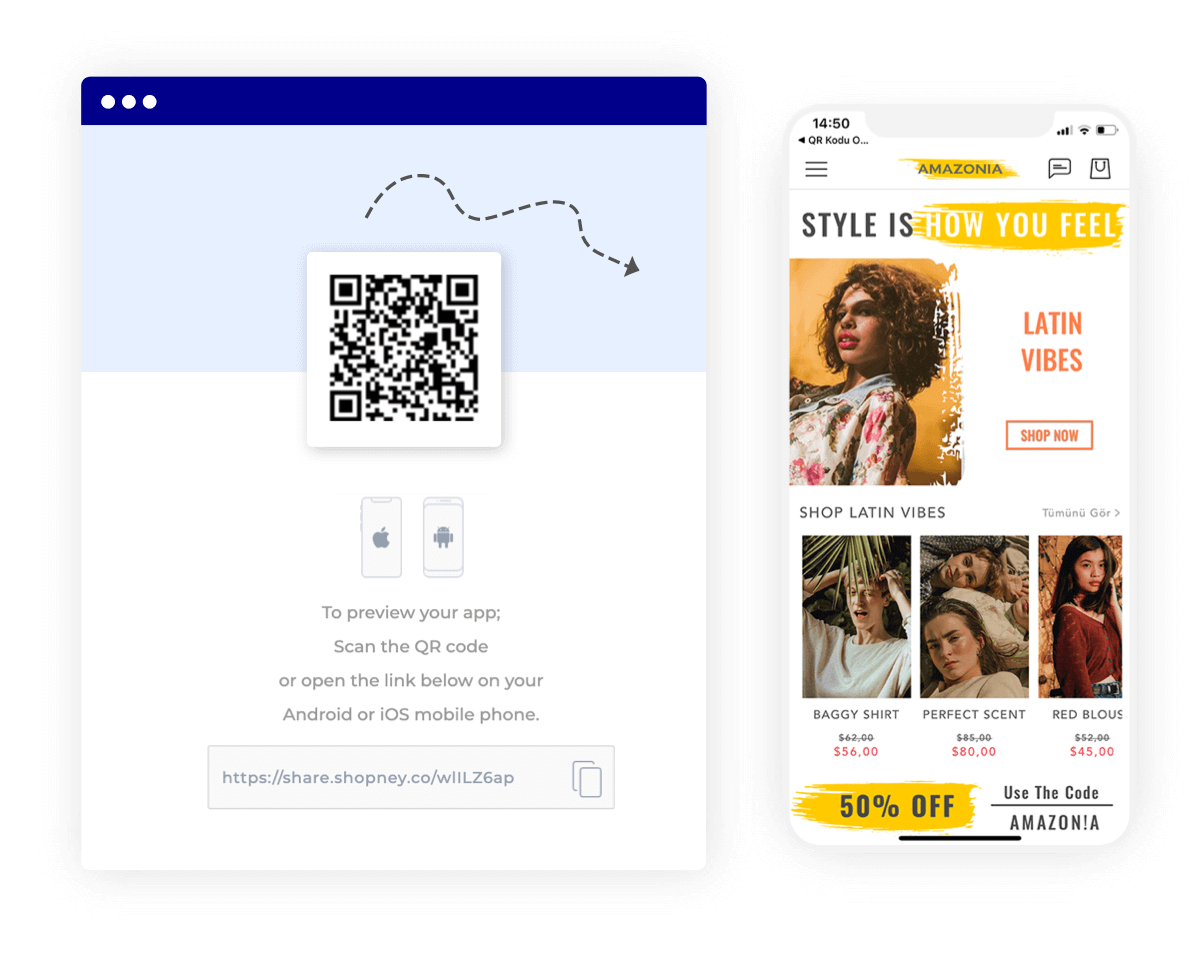 Before you take any action regarding launching your mobile app, eliminating risks is crucial. It will save time & money for you.
The preview app mode feature of Shopney provides you to see in advance your mobile app to check what your customers will see & thus, eliminates the risk.
Plus, you can try Shopney's other features in this period & experience the journey before your customers! To do this, you will not pay us anything!
As we always say, Shopney is a risk-free company for its customers, we value you as we value our work.
d. Be In Contact With Your Customers, Everywhere & Anytime!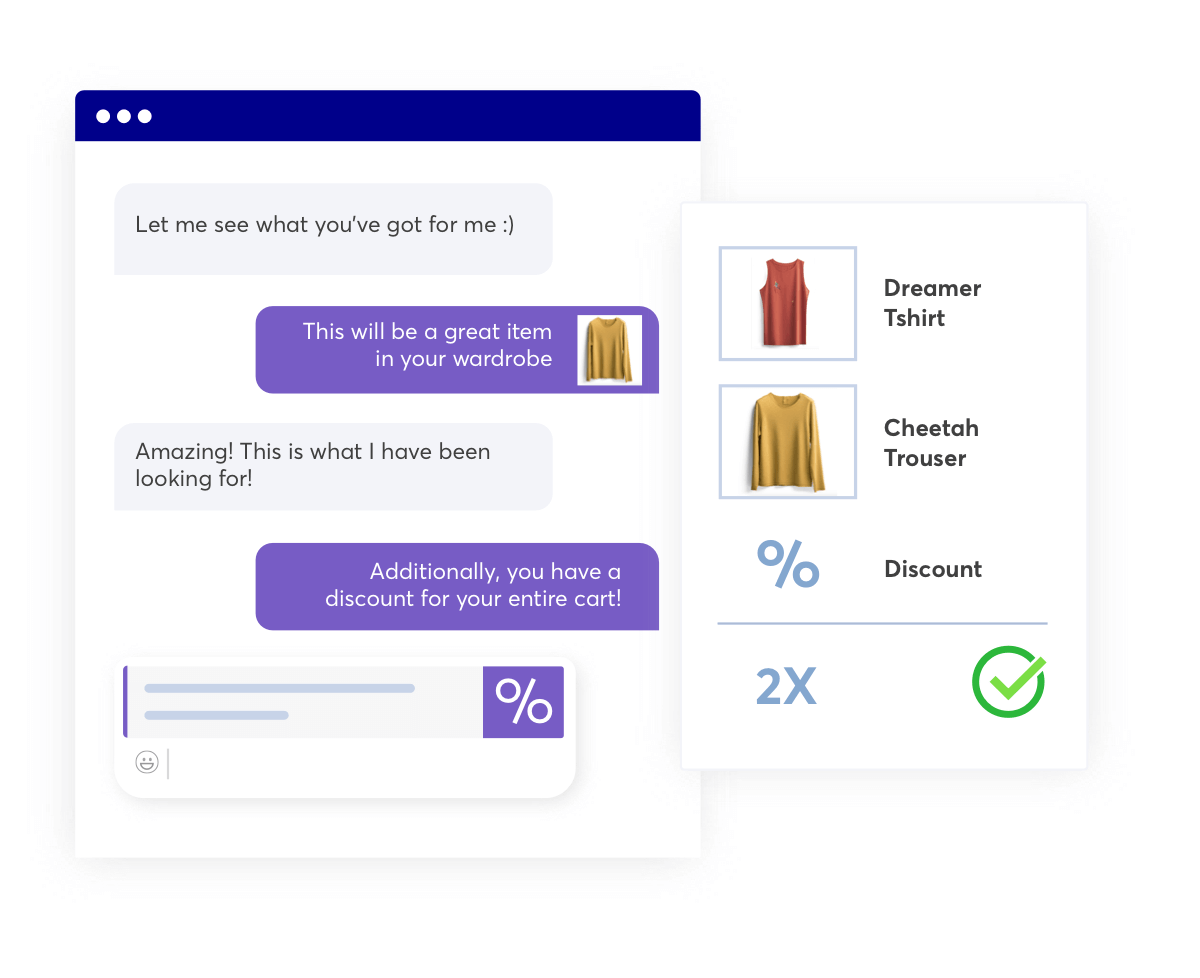 Remember! Better customer experience leads to more satisfied customers & these satisfied customers keep your products/services relevant. They will be more loyal, spend more & are more and likely to become your brand's ambassadors.
And, let's ask another question: Would you like to shop from a website where you can't reach any human consultant? I presume the answer would be no from your side.
So, here is Shopney's unique In-App Live Chat feature! By providing constant contact with your customers, you actually build trust, and a personalized experience for your customers!
The feeling of your customers will be "I can contact you whenever I want, in any case." Thus you will be able to provide them with a journey without any question marks. With personalized communication, customers will feel special and be more loyal!
What you will earn from this is another excellent point: you can convert the customers with a personal dialogue, offer your customers a personalized experience & understand their needs very well. So it will definitely increase your conversion rate meaning boost your sales!
4. How Does Shopney Work with Shopify Ping?

Our unique in-app message feature has already been a great value for many Shopify businesses from all around the world.
This feature enables your mobile app users to start conversations directly from the app. It was saving time to the customers and enabling you to sell more with its basic being.
With Shopify Ping integration, it's become even better and greater!
With Shopify Ping integration, your customer messages from Shopney mobile app will be tracked and brought to your Ping app. And you will be able to answer them from your Ping mobile app.
It was not like this in the past: our customers had been able to manage their mobile app messages only from Shopney dashboard.
But now, you can send product recommendations, share discounts, new orders, promotions, or offers, set hours of availability, and manage automated messages for the conversations with your mobile app users as you wish from Shopify Ping app in a personalized way.
The features mentioned above will save you time and energy to manage your customer relations. Plus, you will be able to tailor your customer's shopping experience with personalized product recommendations and discounts. This sounds like more sales to us! :)
5. What are Shopney Push Notifications & How They Will Help You to Boost Your Sales?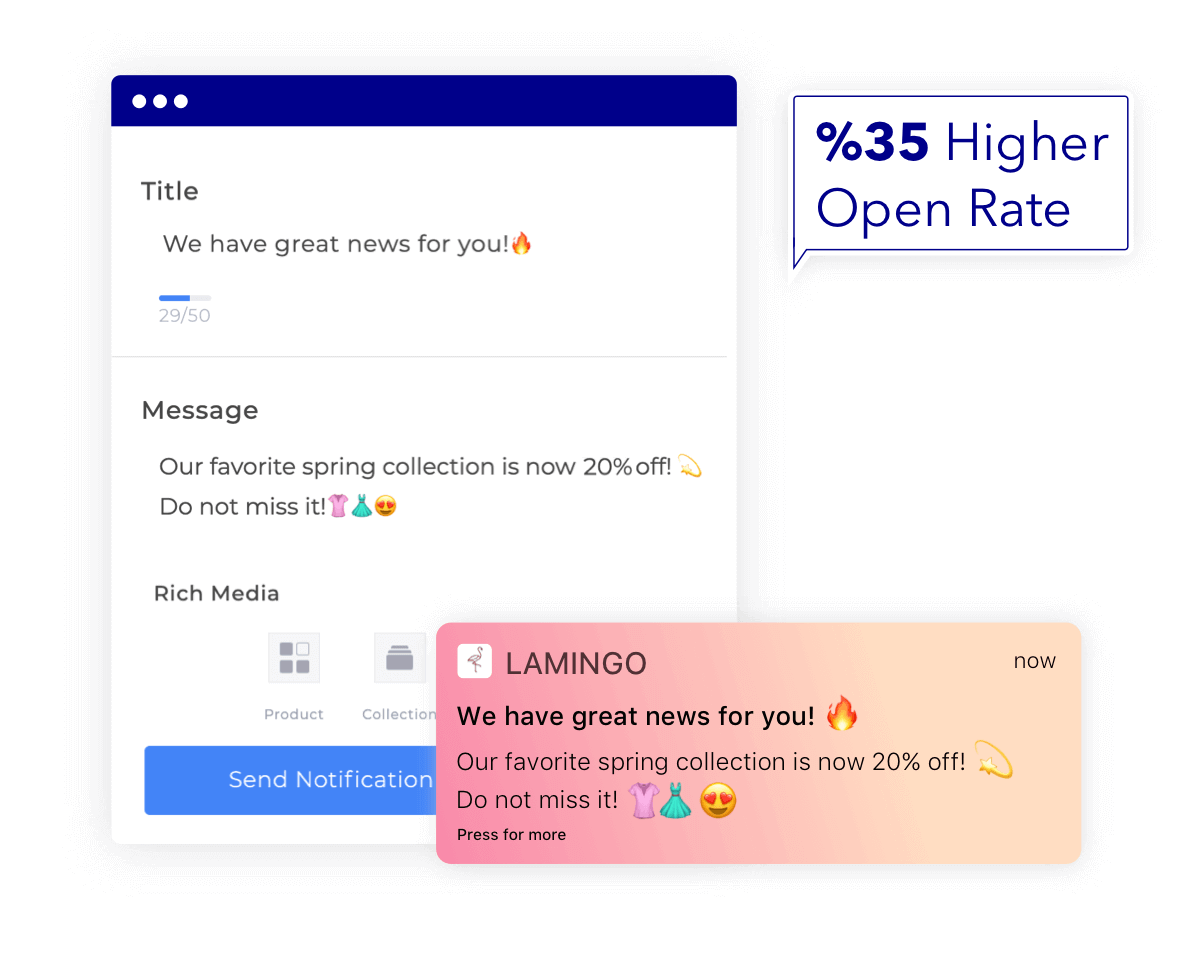 Shopney has limitless & variety kinds of push notifications including also abandoned cart & back-in-stock. It is easy to use and customizable. You can contact your customers directly so that you will be able to keep up with your customers and increase sales!
Push Notifications: You can create push notifications campaigns that may include flash offers, limited drops, and product promotions. In this way, you can send messages directly to your customers' phones and get attention.
Back-In-Stock Notifications: Another amazing advantage of having your app on your customers' phones for you is sending back-in-stock notifications. You wouldn't like to let a short period of stockout hinder your sales, right? :)
Abandoned Cart Notifications: Also, when the customers leave your app without checking out, you can send automatic abandoned cart reminders as notifications and make your customers complete their shopping journey.
So, you are able to remind yourself with push notifications and bring your customers back to the app. This is how you increase customer engagement and decrease abandoned cart rates. And because these notifications are free and limitless, you can save up to %45 on your marketing ad spend budget. Isn't it amazing!?
6. What Are the Other Features of Shopney That Will Help You to Have a Successful Mobile App?
Knowing the essential & complementary factors in a Mobile App will help increase your customer engagement & sales for your Shopify store. But don't worry! Shopney thought every detail instead of you!
Let's see the other elements for you to be the winner in this eCommerce world!


a. App-Exclusive Discounts:
App-exclusive discounts are amazing ways to utilize the traffic on your mobile app and increase customer engagement for your brand.
With app-exclusive discounts, you can provide decreased prices for some of your products in your mobile app to your customers who use the app!
A mobile app is already an attractive sales channel for the loyal customers of a brand. They already love your store enough to download your app to their phone, check the new products, and purchase from time to time by using the mobile app.
So there is a chance for you here to make them feel more special with the app-exclusive discounts and increase customer retention. After all, aren't they the ones that make the most money for you?  
b. Web URL:
Although you may want your customers to stay at your mobile app, sometimes you may need to direct them to other websites.
Shopney also gives this feature for situations like this.
With a web URL item, you can add a link on your menu that will direct your customers to a website when they click on it. It can be any website you desire.
Web URL provides you to not get behind on your mobile app when you have some campaigns on your website. Thus, you can retain their customers in every possible way.
For example, one of the advantages of this might be that if you have a raffle on your website, this web URL redirects to the website's raffle page as it cannot be done in the mobile app.
In this way, you will be able to complete the missing parts of your mobile app by directing your customers to the websites you want.
c. Visible Payment Options:
Every one of you would like to increase your sales. In the end it is the mere target of all, right?
"If you want customers to buy your products, make it easy to buy your products." - Shopney
To provide an easier shopping experience for your customers, you should remove the obstacles to the purchase of the products by the customers.
So here is the new feature of Shopney as a solution! Visible Payment Options will make the purchase easier for your customers without any question marks by providing the payment options in the payment section for customers.
Seeing all the options in one area will make your customers feel more comfortable in terms of their habits of online shopping. Maybe one of them always uses PayPal to pay? Maybe he never uses Apple Payment?
You should always keep in mind that taking into account the small details like this always would be in favor of you!

d. Quick Action:
Promoting other social media channels is very important for you as it will contribute to your brand awareness & customer retention. With Quick Action Option, you are able to promote your social media channels!
Quick Actions are always visible elements that direct your customers to take the action you chose with just one click. These actions allow your customers to reach out to you anytime they want via the quick action you've set.
You can use quick options such as Phone Call, Send Email, Facebook Page, Twitter Account, Directions, WhatsApp, Instagram Account, In-App Messages, and so on.
Be in everywhere and provide your customers with this advantage!
e. Deep Link:
With this option, you ​​can provide huge traffic on your mobile app and increase the number of downloads!
Deep links provide traffic to your mobile app from outsider channels and whatever device the potential user clicks on this link, these links choose the mobile app as the target.
You can put this link on any blog of your website, directly on your website, or on your social media channels.
If the mobile app has not been downloaded, it encourages the mobile app to be downloaded by potential customers, and if there is the mobile app on their phones, the link opens it.
You should remember that as much as you can, you should direct your customers to your mobile app. In this way, you will decrease your marketing ad spend & convert more users to customers. Thus, increase your conversion rate!
f. App Banner:
Imagine, there is a customer who gets into your website, but does not use your mobile app. So, it is better for you to direct them to your mobile app for more conversions & sales as it is stated above in the deep link!
The smart app banner is one of the best ways to promote your app to your web store visitors. Having it is easy and free for Shopney customers. It provides traffic to your mobile app from your website. The advantage is kind of similar to the deep link. Direct the traffic from your website to your mobile app.
The smart app banner is simply the banner area in which you put a promotional text to invite your web visitors to use your mobile app. It is presented at the top of web pages and shows details of the app, its icon, ratings, and so on.
If the app is already installed on the device of your customer, the 'view' button says 'open', and clicking on the banner launches the app. If the app isn't installed, clicking the banner launches the app store, taking the user to the app download page!
g. Integrations:
Having the same advantages & applications that you have on your website will boost your sales & conversions on your mobile app! So, the tools that make money on your website should also be in the mobile app.
So here is the Shopney's integrations that most Shopify merchants are using & you may be using, thus you will be more comfortable moving your website to a mobile app!
Shopney has integrations with LOYALTY LION, JUDGE.ME, KLAVIYO, GROWAVE, YOTPO, STAMPED,FACEBOOK, GOOGLE, SMILE.IO, KIWI SIZING, GORGIAS, SHOPIFY INBOX, and so on. You can see all of our integrations from our website!
7. To Sum Up
Having a mobile app for your Shopify store is not a "should" thing, it is actually a "must"! You must catch up with every opportunity that may help in fulfilling your Shopify business goals.
Considering all the reasons mentioned above favoring the development of businesses need to include eCommerce mobile apps & a right mobile app builder for your Shopify store!
We assure you that Shopney is the best & easiest way to have a mobile app for your Shopify store! We value what we do, we value our customers! You will feel it with your bones! If you want to see some comments from our customers, please click here.
Without losing a moment from now on, it is time to convert your Shopify store into a mobile app with Shopney!