Best Shopify Apps to Increase Your BFCM Sales (2023)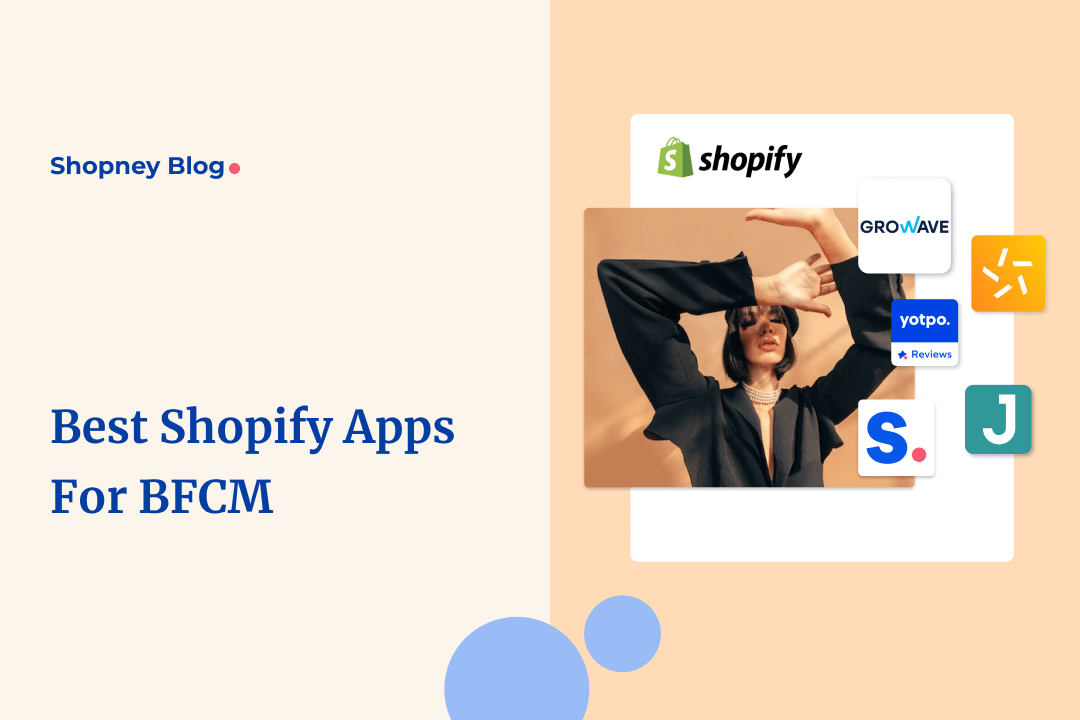 Black Friday and Cyber Monday (BFCM) - that exhilarating time of year when your Shopify store sales can skyrocket to new heights.
It's the ultimate opportunity to boost your revenue, but capitalizing on it requires a strategic arsenal of marketing and conversion tactics.
In this post, we've got you covered with a curated list of the best Shopify apps to increase sales for supercharging your BFCM sales.
Plus, we'll share valuable tips on how to make the most of Shopify apps for BFCM, ensuring your store's success during this crucial sales event.
List of best Shopify apps for BFCM (2023)
While there are plenty of Shopify apps out there, here are some we absolutely recommend:
1. Shopney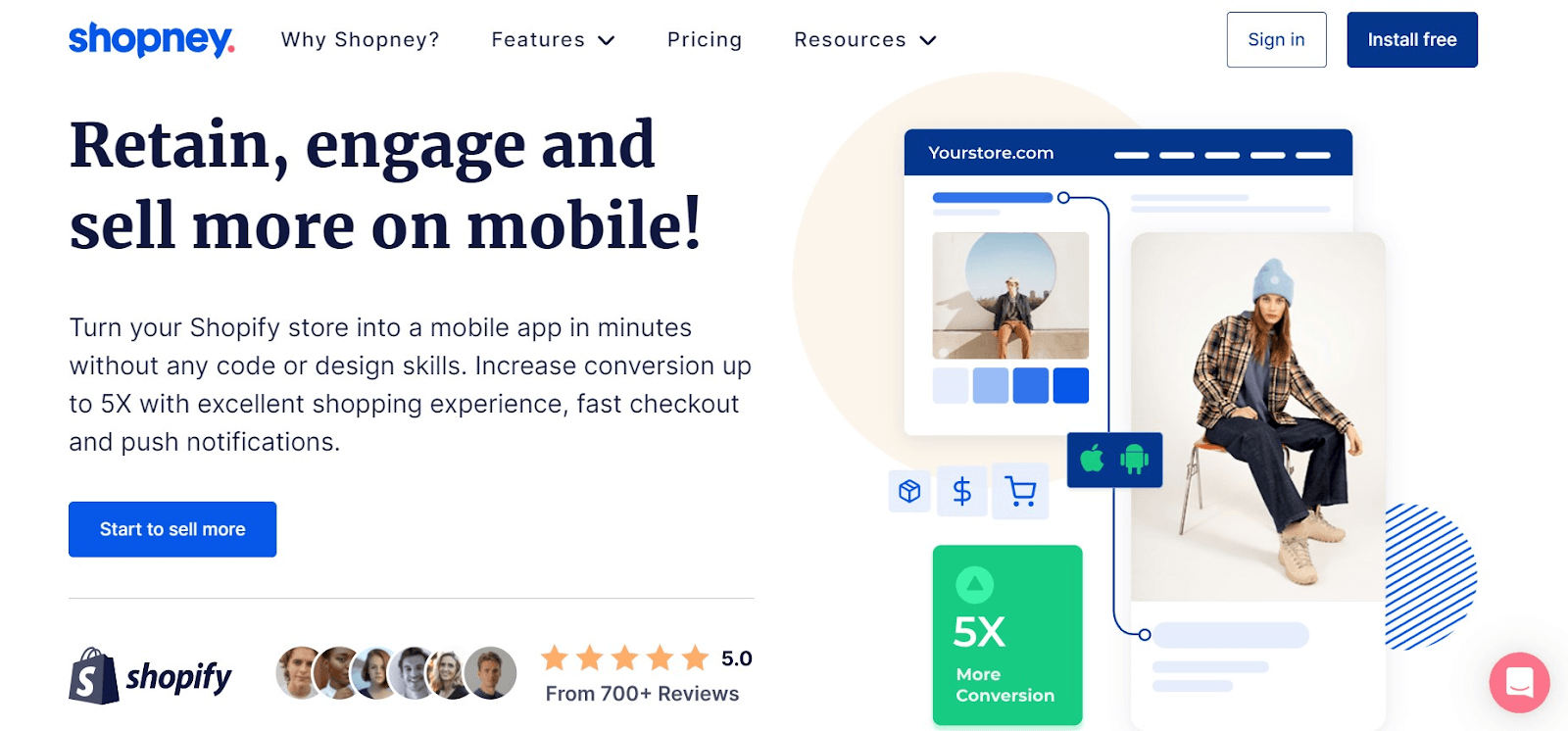 Shopney is one of the best Shopify apps for BFCM as it allows you to turn your Shopify store into a mobile app without the need for coding or design skills. Shopney offers a quick and easy launch process, with experts handling the app's setup and launch in just five days.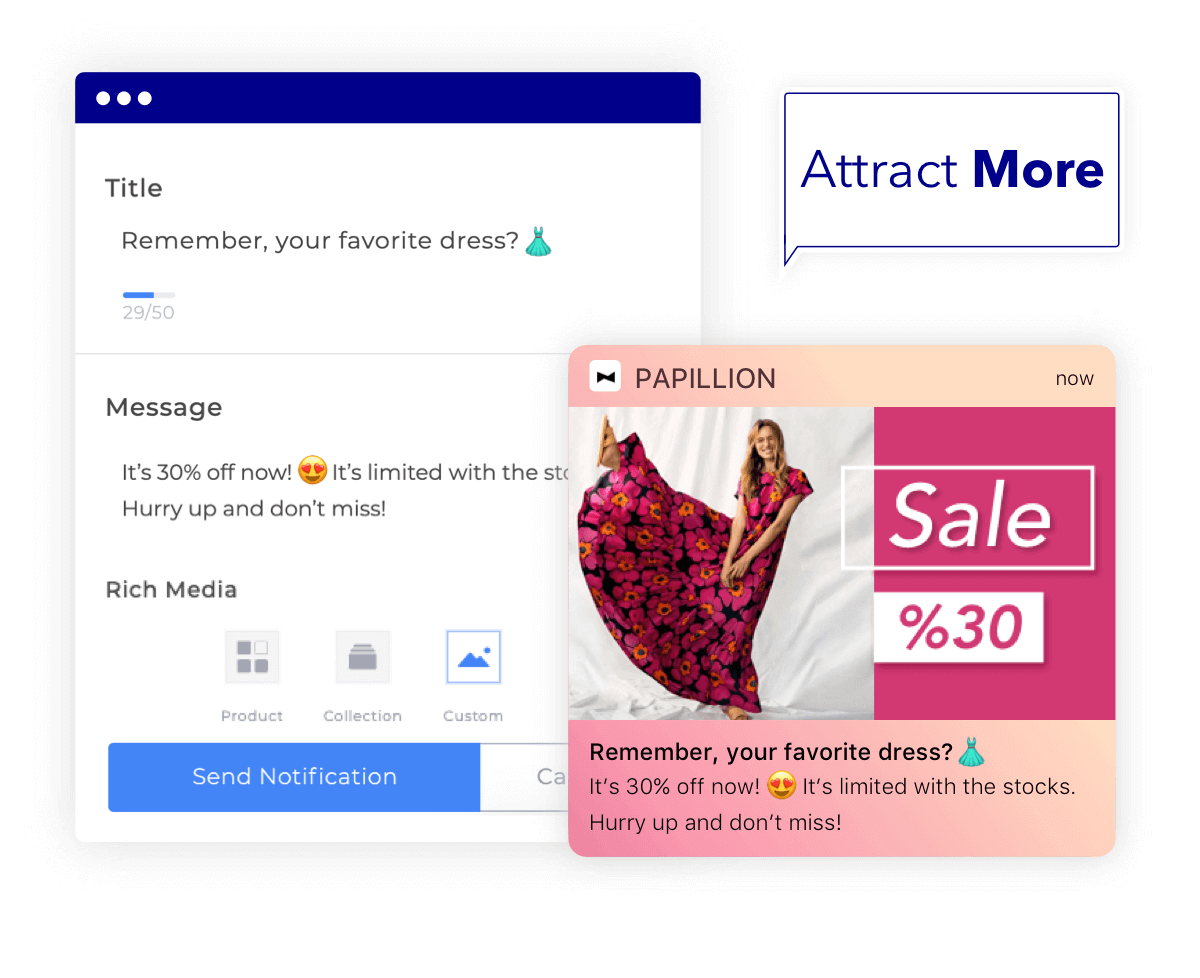 It aims to enhance the mobile shopping experience for customers, increase conversion rates, and boost sales through features like fast checkout, push notifications, and a user-friendly interface.
Shopney empowers users to preview their mobile app designs and test functionality on their personal mobile devices before launching. Users can experience their apps as customers do, sending push notifications, initiating in-app chats, and completing checkouts for a user-friendly experience.
Key features
Diverse listing options and eight theme choices for user interface layouts.
Segmented themes designed to serve specific industry sectors within the Shopify ecosystem.
In-app chat for increasing the visitors into customers.
Seamlessly integrates your mobile app with other Shopify apps and tools.
Push notifications to retarget your mobile app users.
Bonus tip💡
Take advantage of Shopney's push notification feature to send timely and enticing notifications to your mobile app users during Black Friday and Cyber Monday sales.
2. Judge.me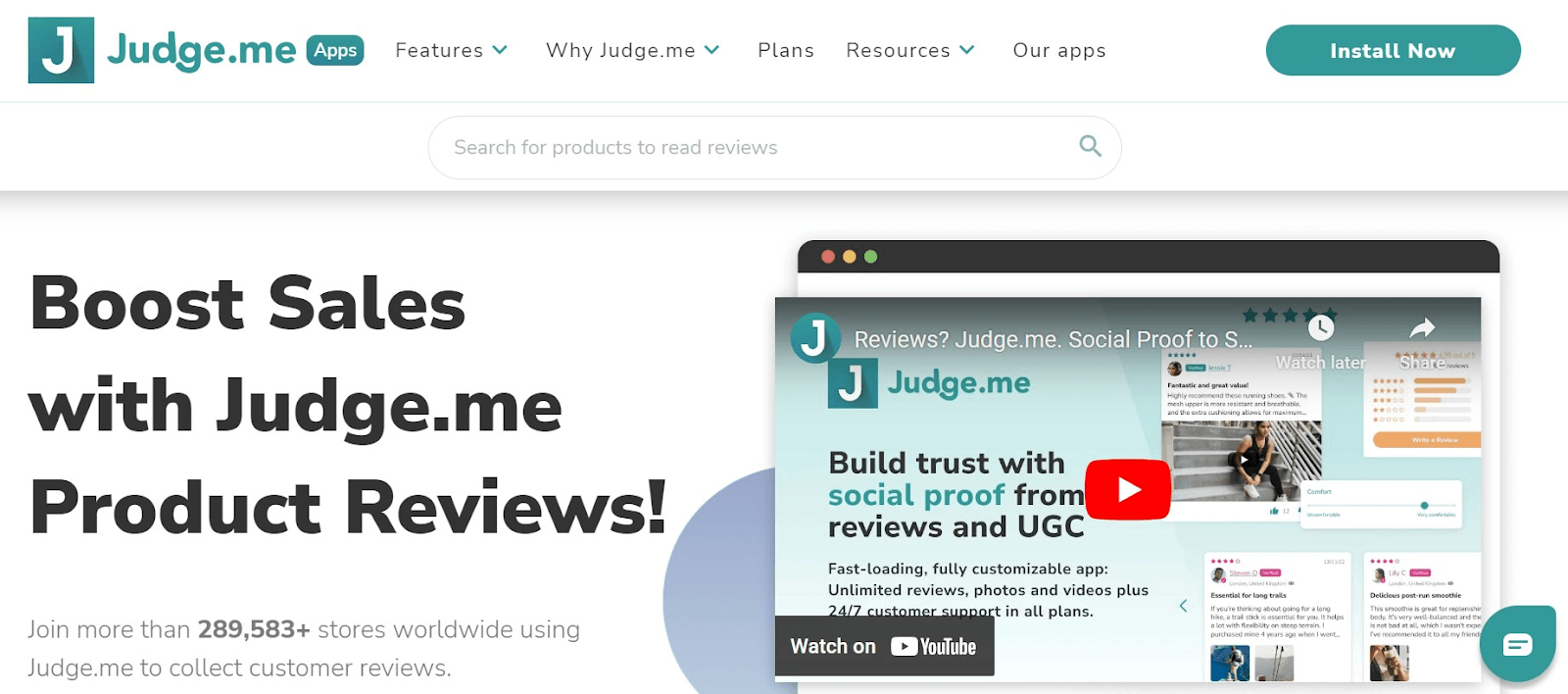 Judge.me is a highly-rated product review app compatible with Shopify Online Store 2.0. It helps increase sales by allowing online stores to collect and display customer reviews and ratings.

With customizable widgets and automated review requests, it engages customers, offers social proof, and enhances SEO through rich snippets and Google Shopping integration.
Bonus tip💡
During the BFCM period, showcase your highest-rated products using Judge.me's customizable widgets. Such positive reviews and ratings act as social proof and can significantly influence potential buyers.
3. Growave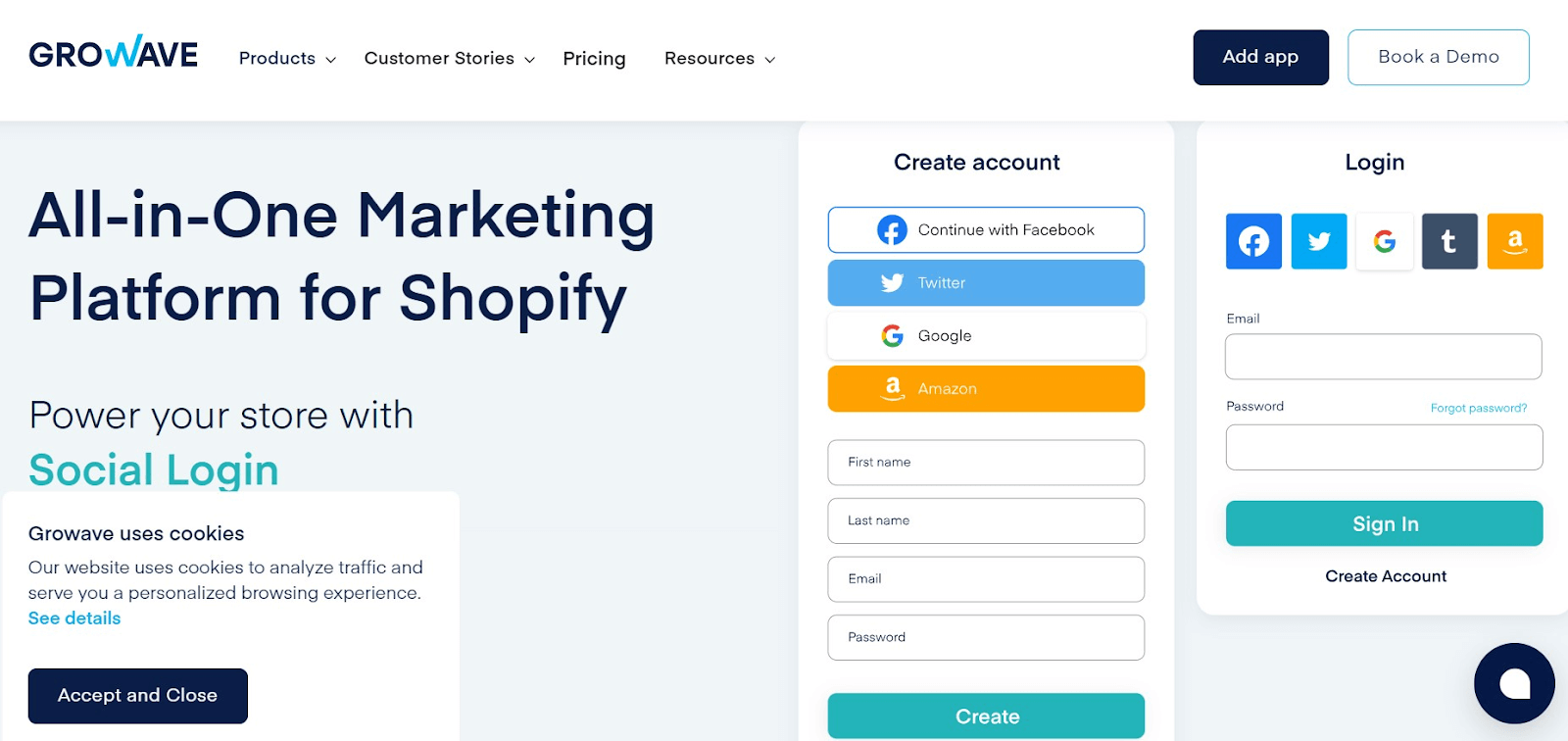 Growave is one of the best Shopify apps for BFCM as it is an all-in-one marketing platform with features such as loyalty and rewards programs, wish lists, reviews, Instagram user-generated content (UGC), and social login.
It helps increase sales by building customer loyalty through rewards, encouraging referrals, and showcasing photo reviews and UGC to boost conversions and social proof.
Bonus tip💡
As one of BFCM strategies, create special loyalty rewards and discounts exclusively for your loyal customers to increase BFCM sales.
4. Stamped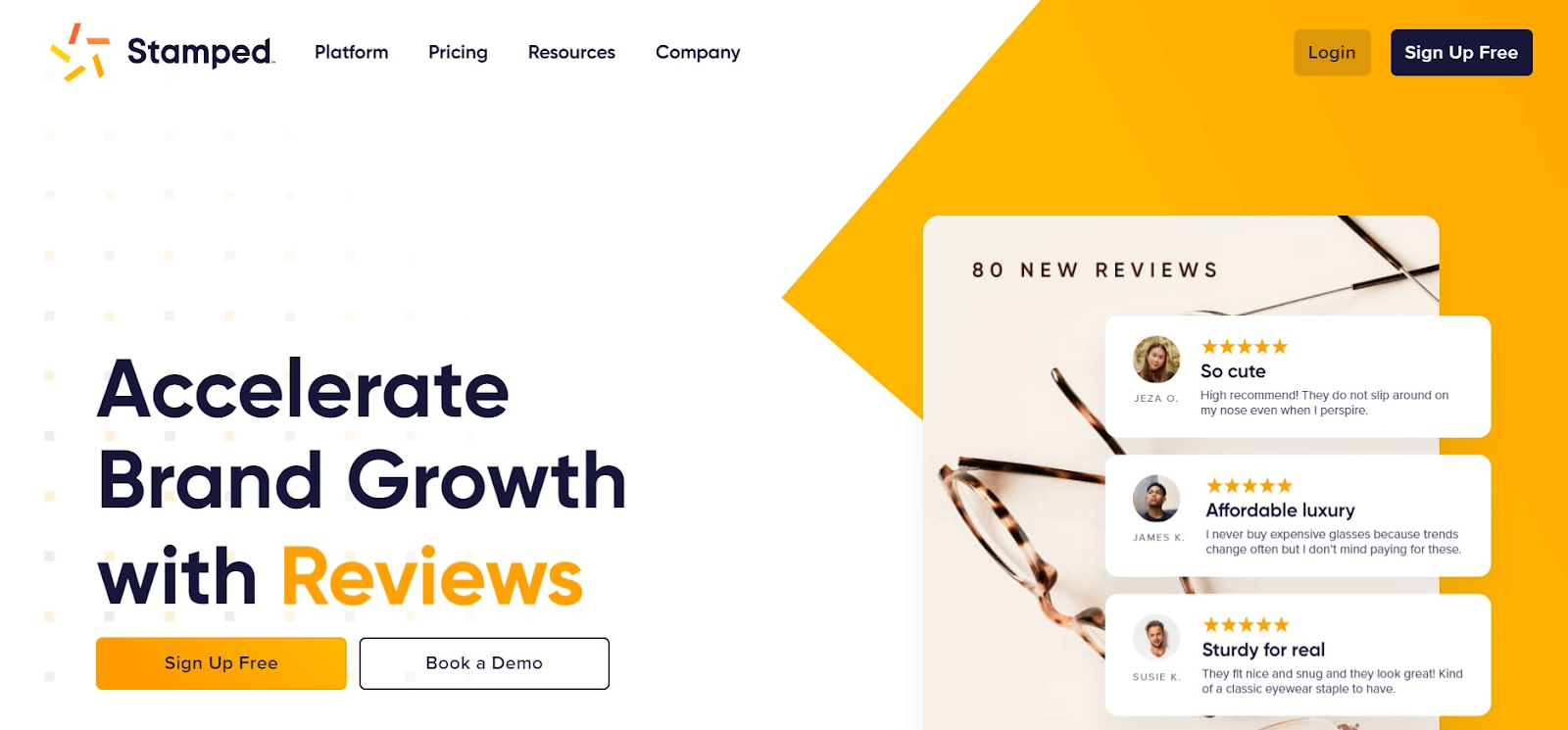 Stamped is an e-commerce reviews and loyalty platform that helps businesses establish brand credibility by collecting and showcasing customer reviews and offering loyalty programs.

It allows customers to provide feedback through product reviews, ratings, and user-generated content. Stamped also offers loyalty features like points programs, VIP tiers, and referrals to build trust and reward customer engagement.
Bonus tip💡
Share authentic experiences on your product pages to build trust and influence potential buyers. Highlight customer feedback that emphasizes the value and quality of your products.
5. Yotpo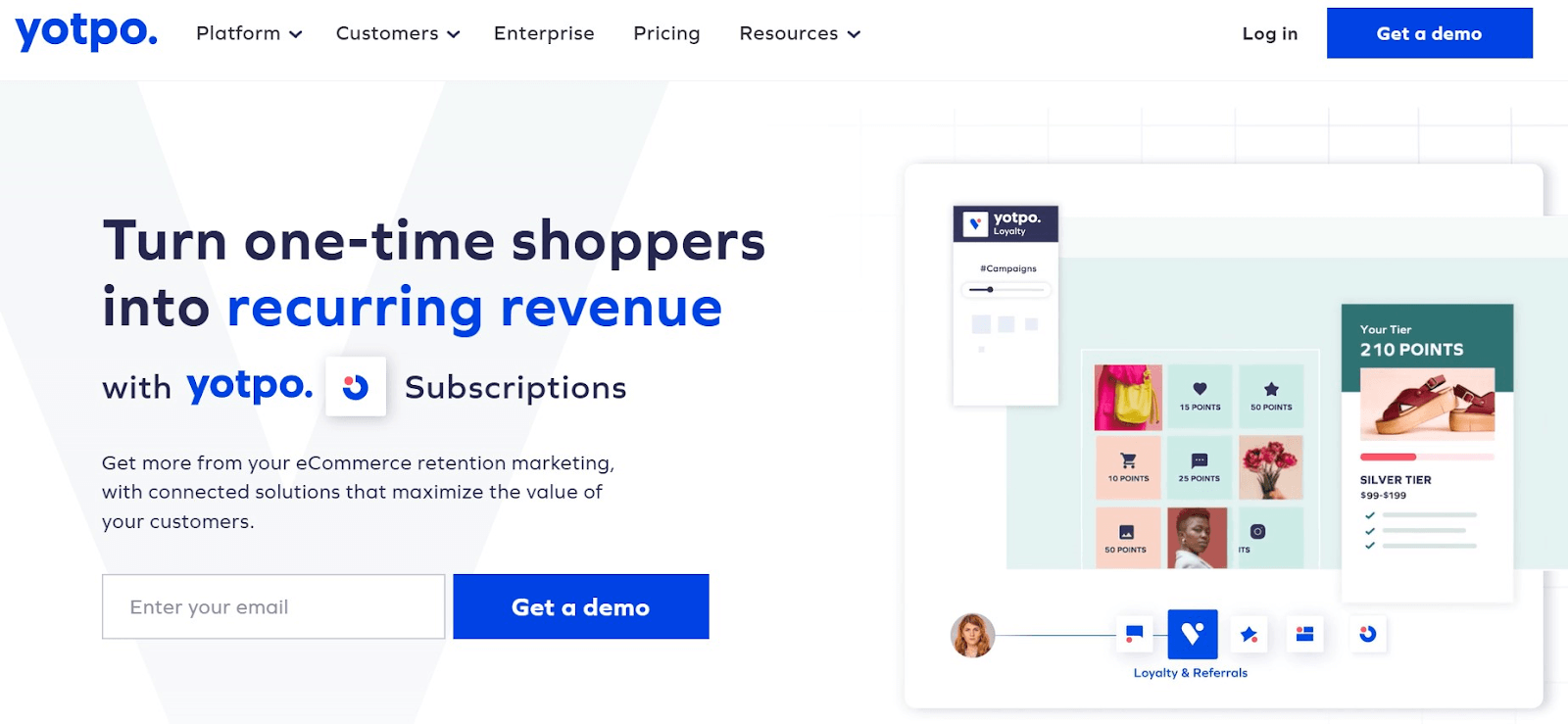 Yotpo is one of the best Shopify apps for BFCM as it is a comprehensive retention marketing platform that offers a range of tools to boost customer loyalty and drive sales for e-commerce businesses.

It includes features such as SMS marketing, product reviews, loyalty and referral programs, subscriptions, email marketing, and visual user-generated content (UGC).
Bonus tip💡
Make use of Yotpo's SMS marketing feature to send targeted promotions and offers to your customers' mobile devices. SMS marketing is a highly effective way to engage your audience and increase BFCM sales.
6. Loyalty Lion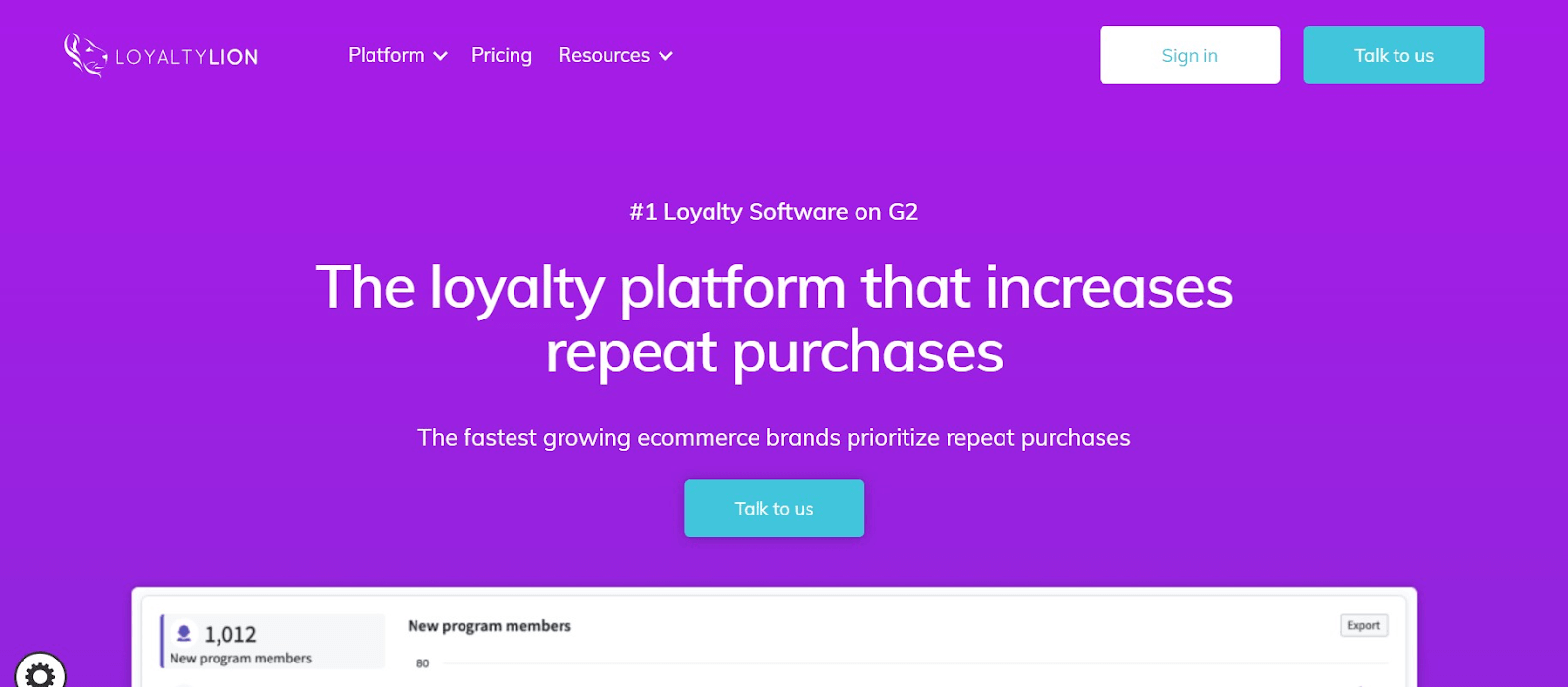 Loyalty Lion is a loyalty platform designed to increase repeat purchases for e-commerce businesses. It enables brands to prioritize repeat purchase rates (RPR), customer lifetime value, and retention. Loyalty Lion helps convert one-off shoppers into loyal customers through unique incentives and integrations with email and SMS marketing tools.
Bonus tip💡
Design special loyalty rewards and promotions that are only accessible to your loyal customers through Loyalty Lion.
7. Smile.io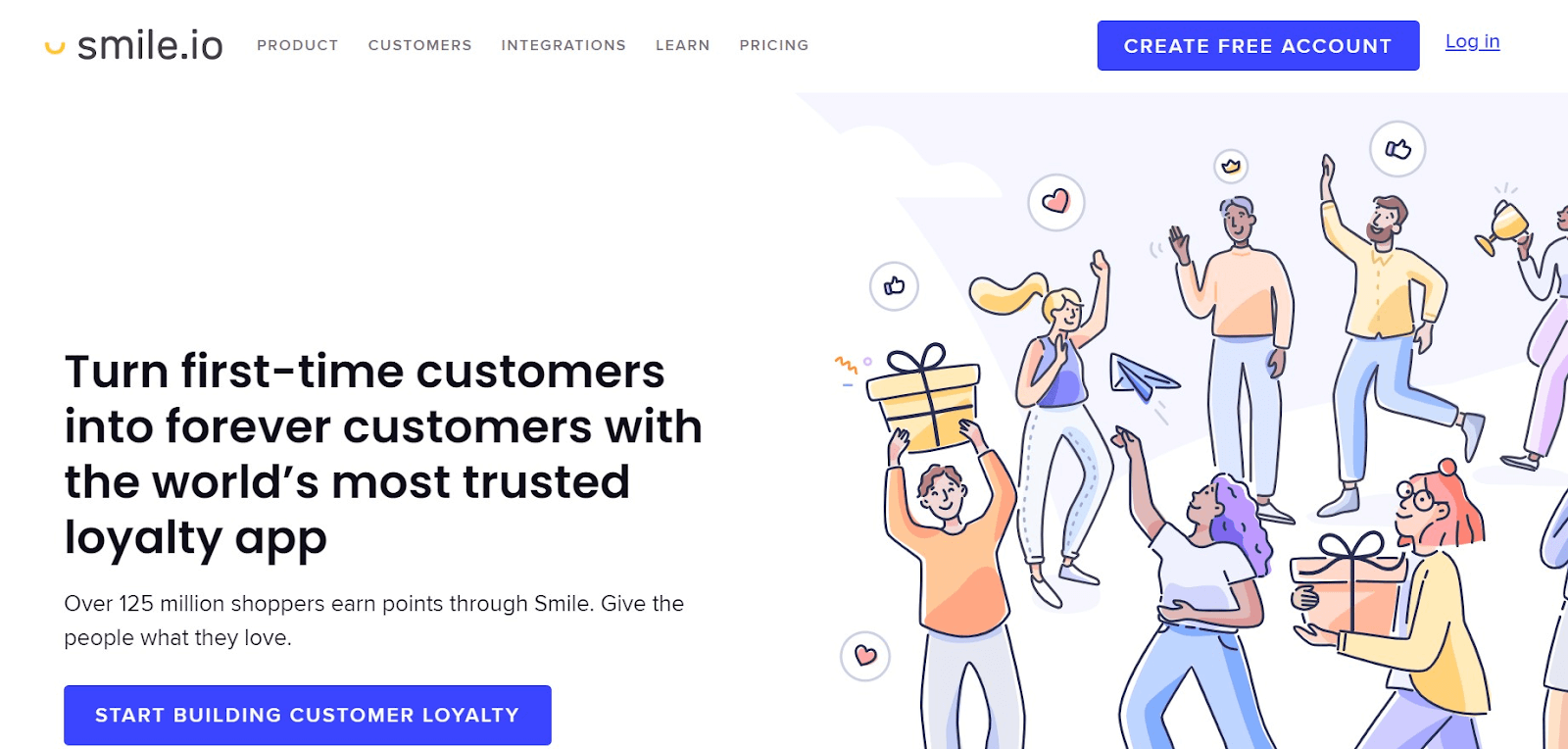 Smile.io is one of the best Shopify apps for BFCM as it helps businesses turn first-time customers into lifelong patrons. Smile.io offers a versatile loyalty program with features like points, VIP tiers, and referrals to motivate customers, engage VIP customers, and encourage referrals.
Integrations with various tools enhance the program's capabilities, making it a valuable tool for increasing sales and customer engagement.
Bonus tip💡
During BFCM, initiate a referral contest using Smile.io. Encourage your existing customers to refer friends and family to your store in exchange for rewards. This can help you expand your customer base and boost sales through referrals.
8. StorifyMe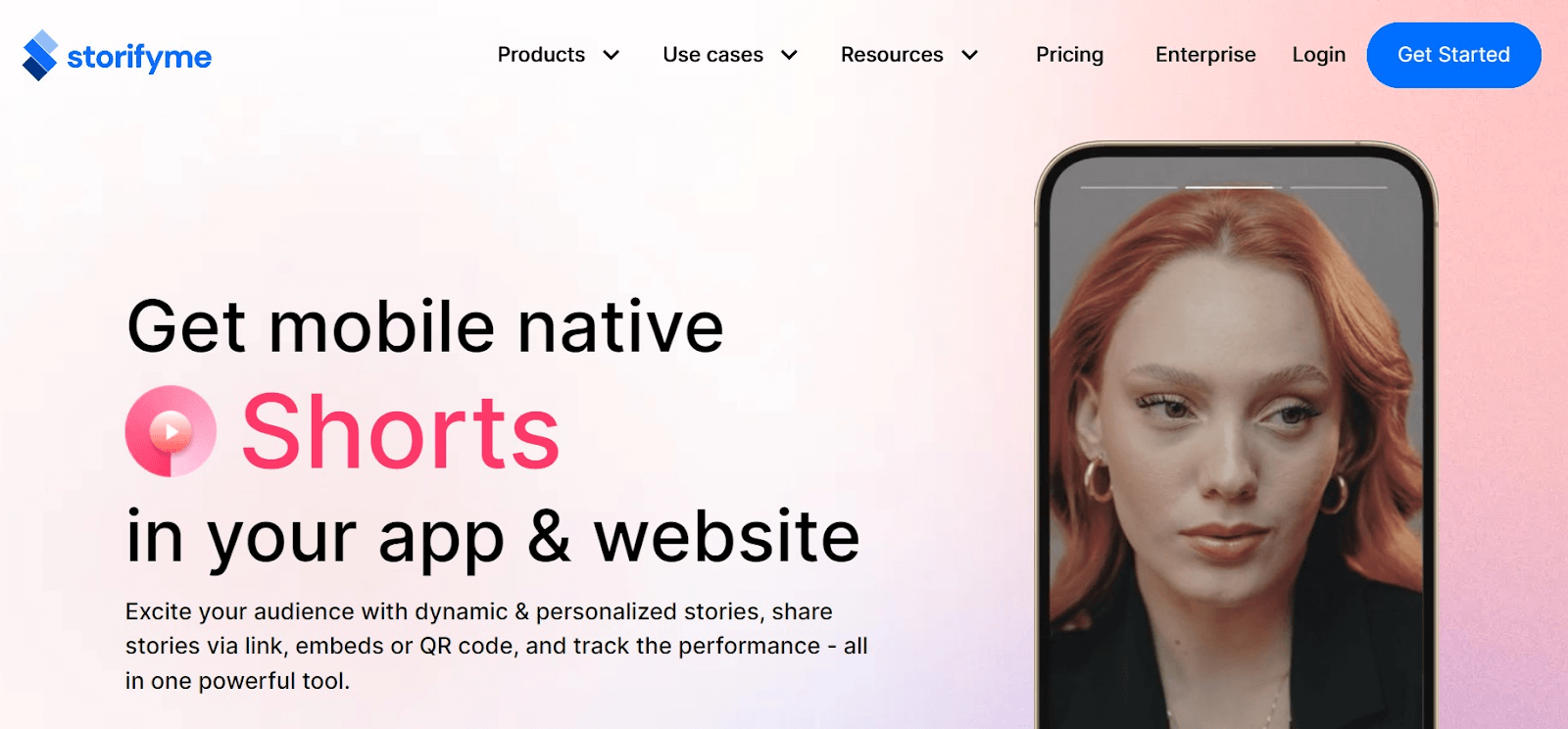 StorifyMe is a versatile platform that empowers businesses to create dynamic and personalized stories, shorts, ads, and snaps for their apps and websites.
It enables content sharing through links, embeds, or QR codes while providing performance tracking. StorifyMe boosts user engagement by inspiring, converting, and retaining customers through captivating content.
Bonus tip💡
Use StorifyMe to create engaging and visually appealing stories, ads, and snaps that promote your BFCM deals and products to increase BFCM sales.
9. Langify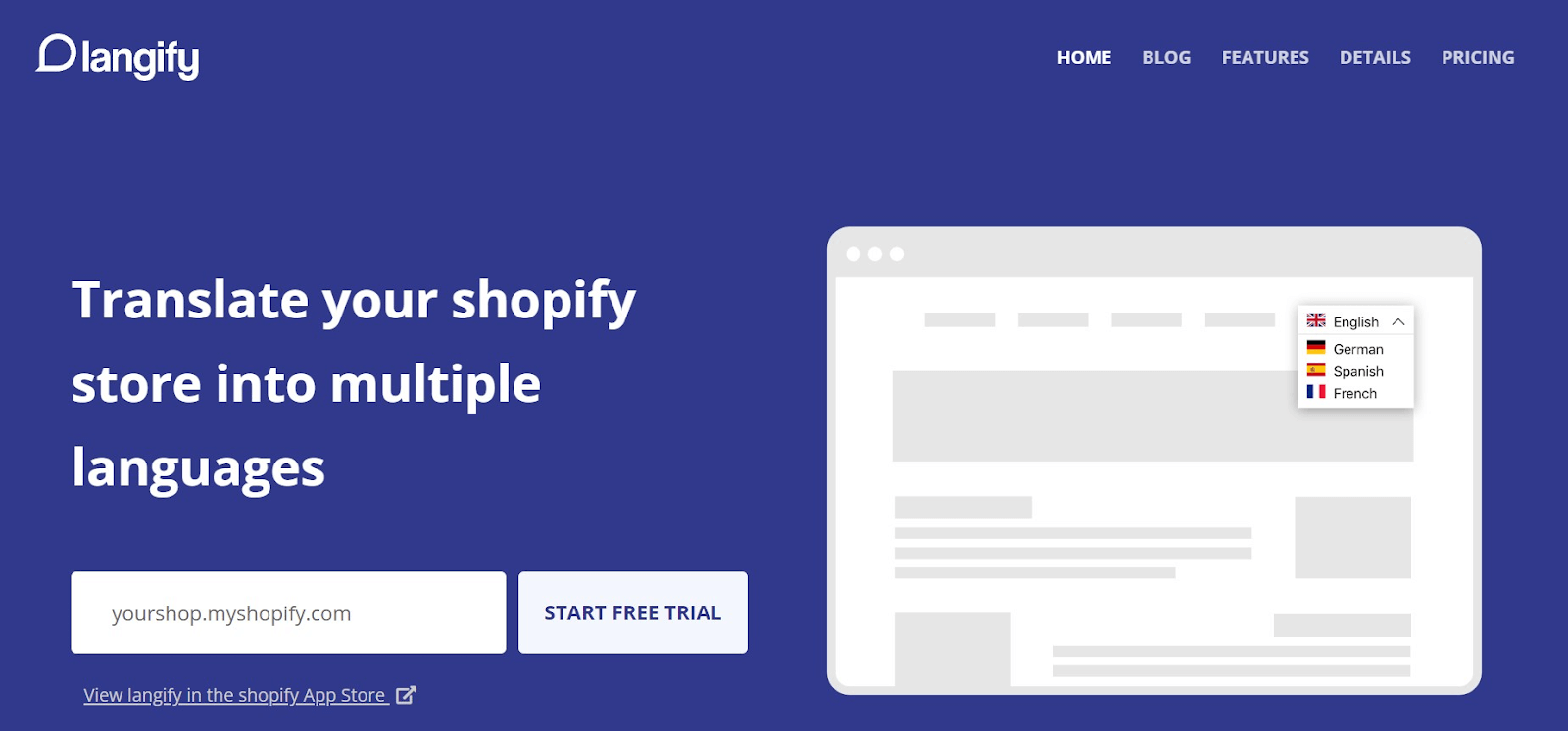 Langify offers an easy-to-use interface for content translation without the need for coding. By providing a seamless experience in the customer's preferred language, Langify helps businesses prepare for foreign markets, reach a wider audience, and ultimately increase sales by catering to a global customer base.
With full SEO support and a range of features, Langify is one of the best Shopify apps for BFCM as it offers an effective solution for expanding your online business internationally.
Bonus tip💡
If you're targeting international customers during BFCM, ensure your store is well-translated using Langify. Provide a seamless shopping experience in your customers' preferred languages to increase BFCM sales.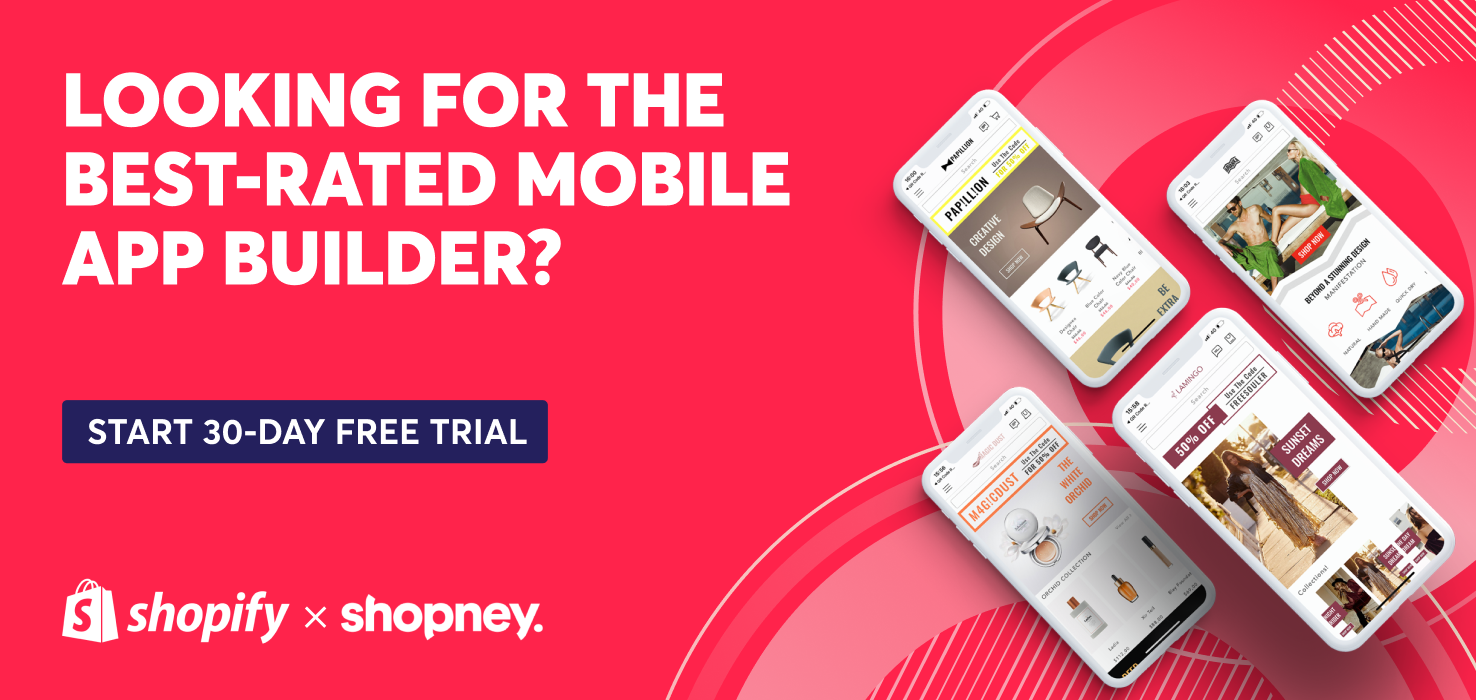 10. Searchspring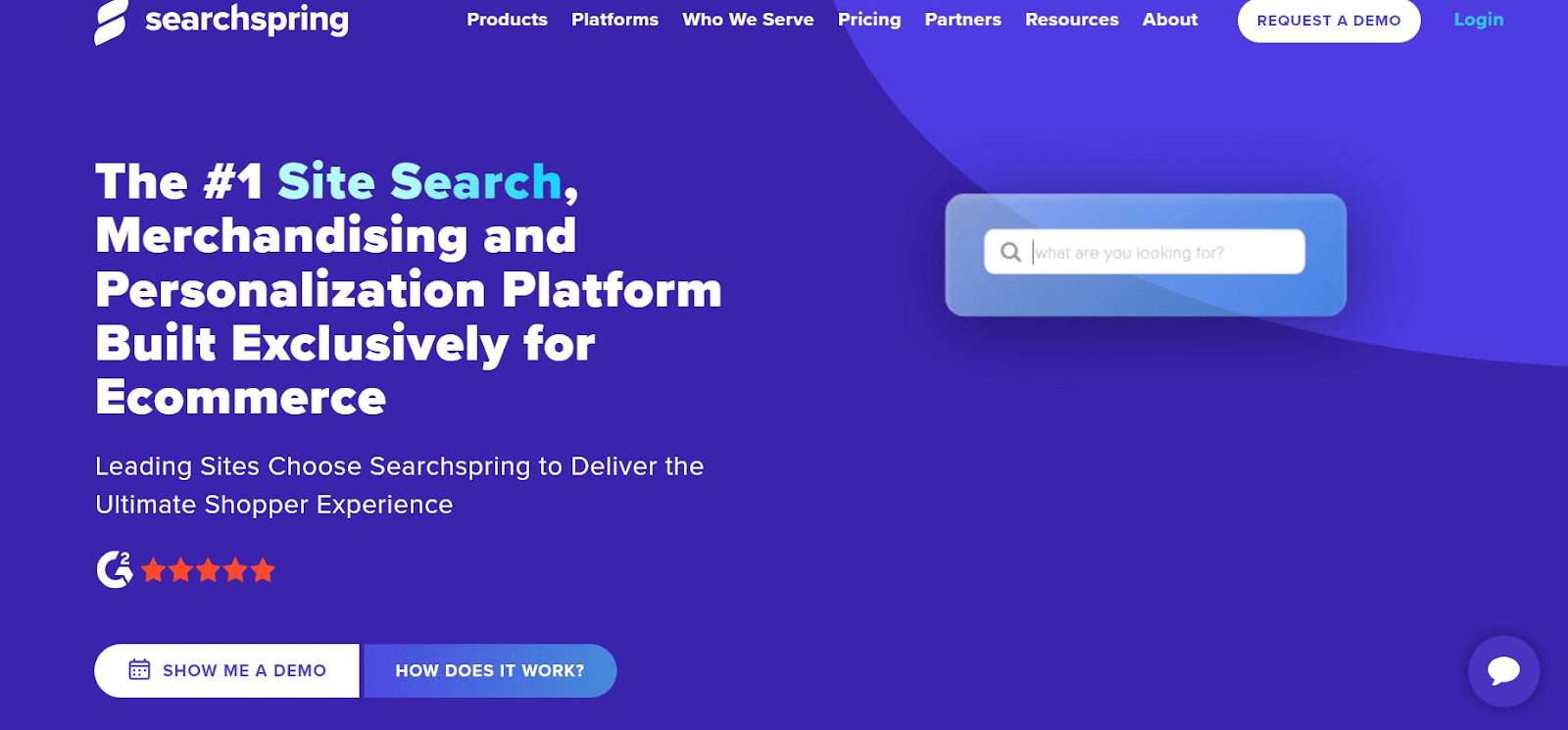 Searchspring is a comprehensive eCommerce platform specializing in site search, merchandising, and personalization. It empowers online retailers to enhance the shopping experience by offering relevant search results, personalized product recommendations, and improved merchandising.
Bonus tip💡
Use Searchspring to optimize your site search and product recommendations specifically for the BFCM period. Ensure that customers can easily find the deals and products they're looking for, ultimately increasing cart sizes and conversions.
11. Boost Commerce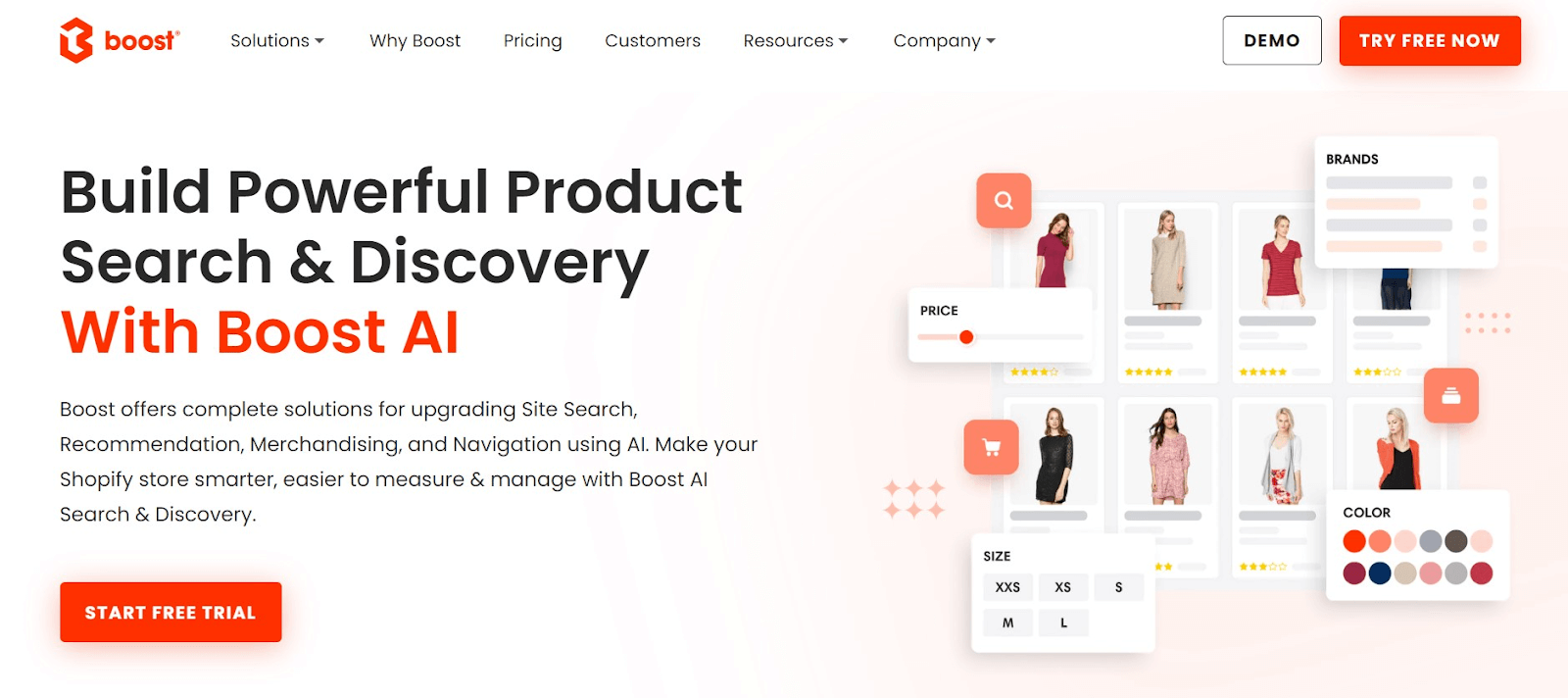 Boost Commerce offers a comprehensive suite of AI-powered solutions to enhance product search, recommendations, merchandising, and navigation on Shopify stores. By implementing Boost AI Search & Discovery, Shopify store owners can provide more accurate search results, improve the shopping experience, increase average order values, and drive higher sales.
Bonus tip💡
Create personalized product suggestions based on customers' browsing and purchase history. Prominently display these recommendations on your site to entice customers to explore and buy more products.
12. Back in Stock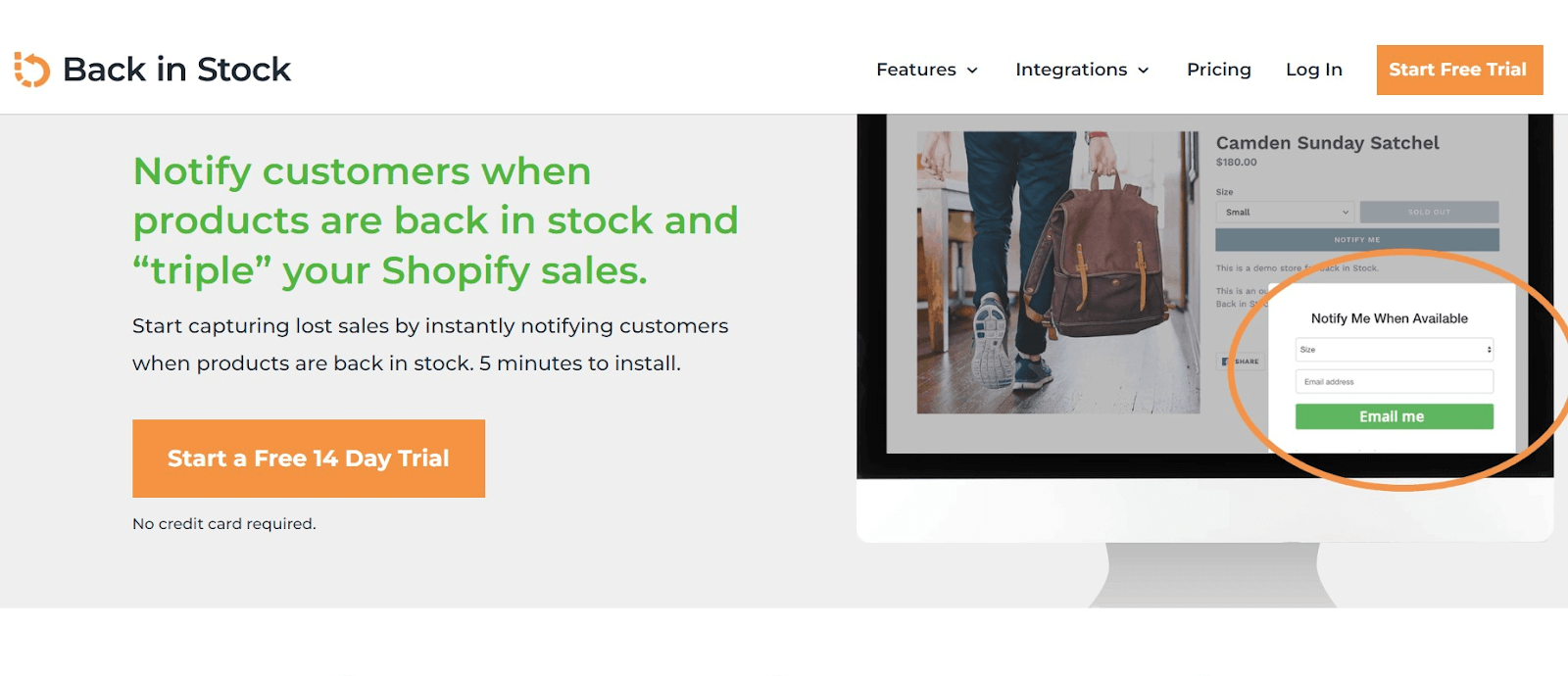 Back in Stock is one of the best Shopify apps for BFCM as it helps recover lost sales by instantly notifying customers when previously out-of-stock products become available again.

By offering features such as email delivery settings, customizable forms and buttons, analytics dashboards, and robust theme integrations, it enhances the shopping experience and increases conversions
Bonus tip💡
Leverage the Back in Stock app to notify customers about restocked or popular items. Create a sense of urgency by highlighting limited stock availability.
13. LangShop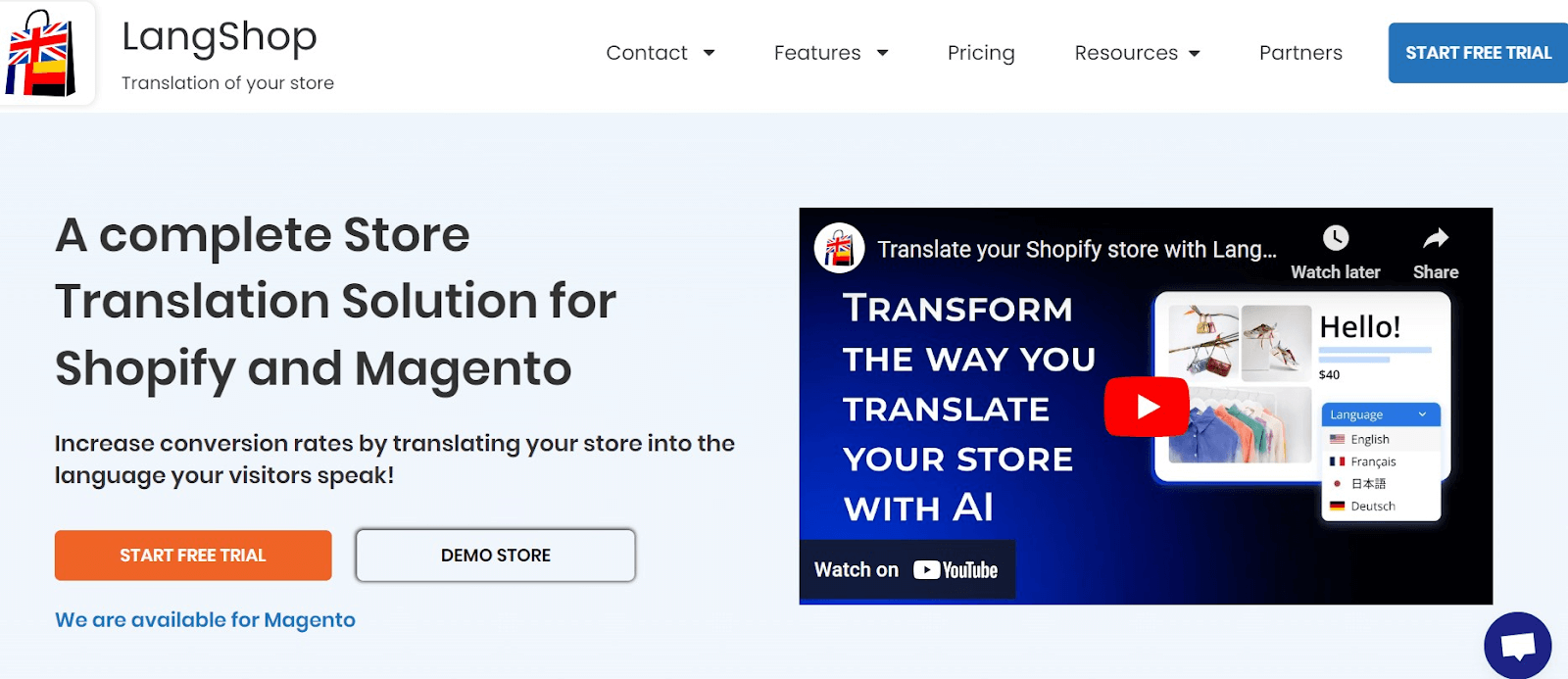 LangShop is a complete store translation solution for Shopify and Magento, designed to increase conversion rates by translating online stores into the languages spoken by visitors. It supports 247 languages and dialects, offers seamless integration, and provides limitless translations based on pageviews.

LangShop enables translation for all aspects of a store, including checkout, notifications, metafields, and themes, enhancing the customer experience.
Bonus tip💡
Customize your translations to promote BFCM deals and promotions effectively, increasing conversions among diverse language-speaking audiences.
14. Kiwi Sizing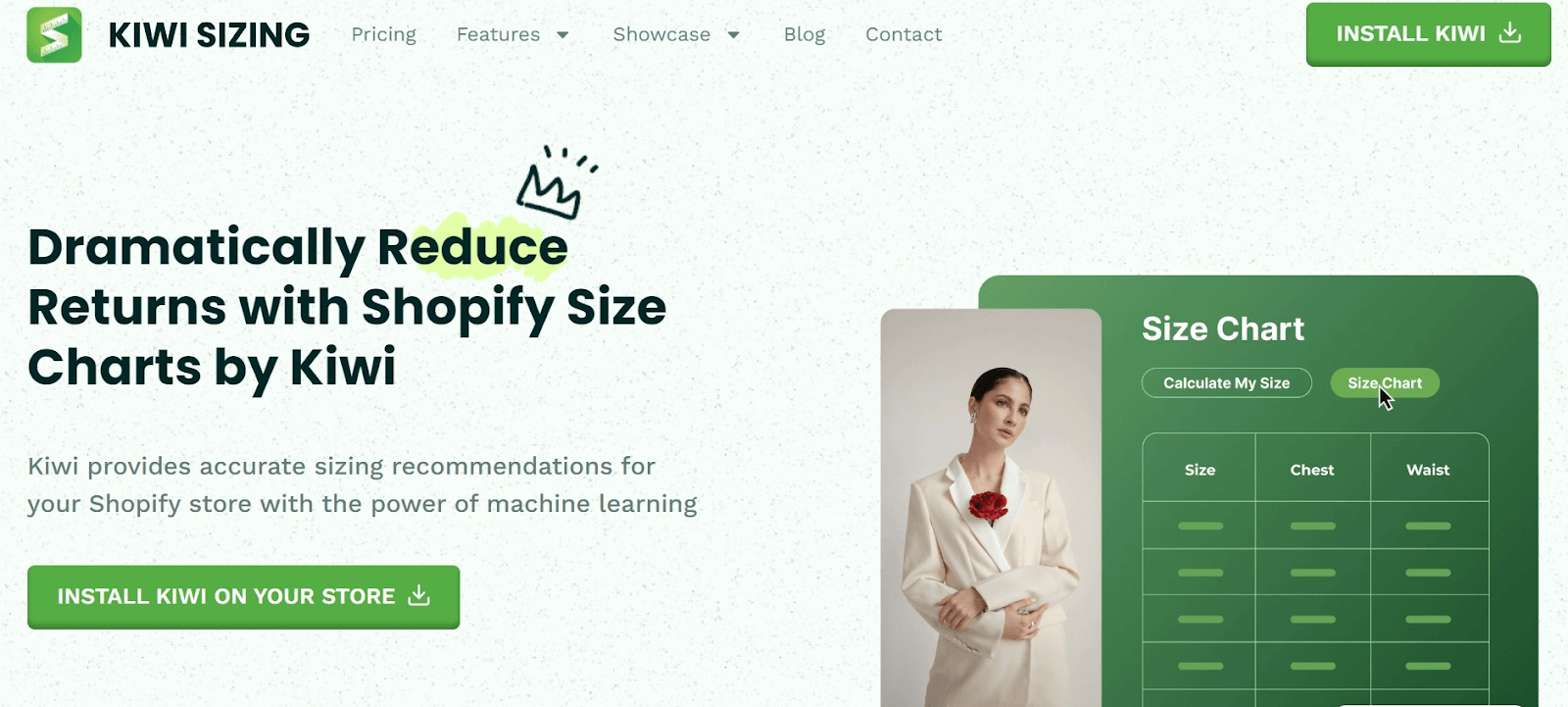 Kiwi Sizing is one of the best Shopify apps for BFCM as it utilizes machine learning to provide accurate sizing recommendations for online stores, helping customers find the perfect fit and reducing return rates.
It offers fully customizable size charts, built-in unit conversion, and a user-friendly interface. Kiwi's features, including an apparel size recommender and custom size recommender, enhance the shopping experience and improve Shopify store performance.
Bonus tip💡
BFCM can lead to higher order volumes, so ensure customers get the right fit with Kiwi Sizing. Use the sizing recommendations and size charts to reduce returns due to sizing issues, improving customer satisfaction and loyalty.
15. Gorgias

Gorgias is an eCommerce helpdesk solution designed to transform customer service into a profit center. It centralizes support tickets, displays customer data during interactions, and enables tasks like order editing and payment refunds within the helpdesk.
Gorgias enables personalized support by displaying customer data, allowing you to engage with visitors effectively and turn them into shoppers.
Bonus tip💡
Use Gorgias to efficiently handle customer inquiries and issues, ensuring that potential buyers receive prompt and helpful responses. Happy customers are more likely to complete their purchases.
16. Bold Discount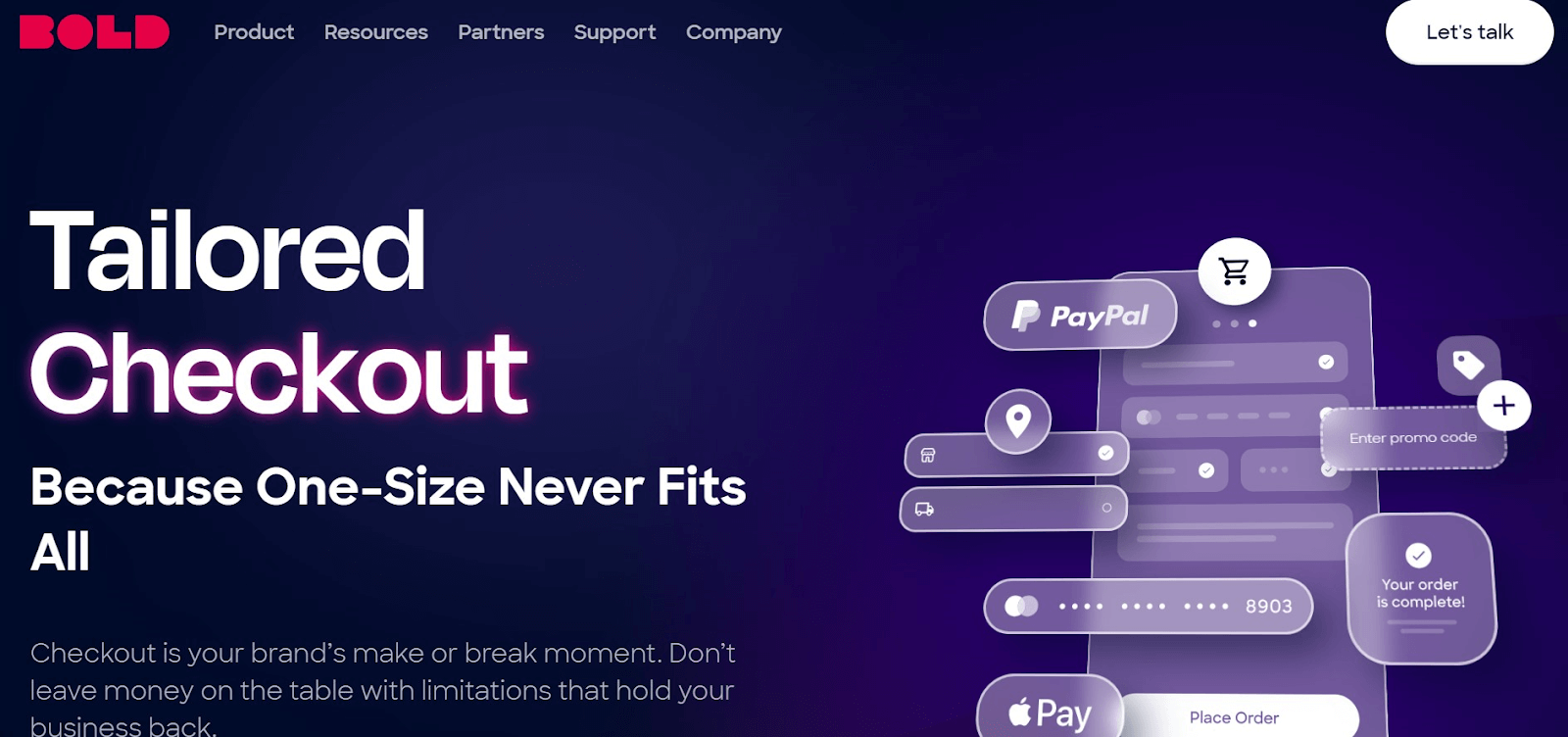 Bold Discounts is one of the best Shopify apps for BFCM as it offers various features to create and manage discounts and promotions on their online stores. It enables businesses to set up special pricing, apply discounts to specific products or collections, and run various types of sales campaigns.
Bonus tip💡
As one of BFCM strategies, use countdown timers and eye-catching banners to inform customers about these time-sensitive deals, encouraging them to act quickly.
17. Privy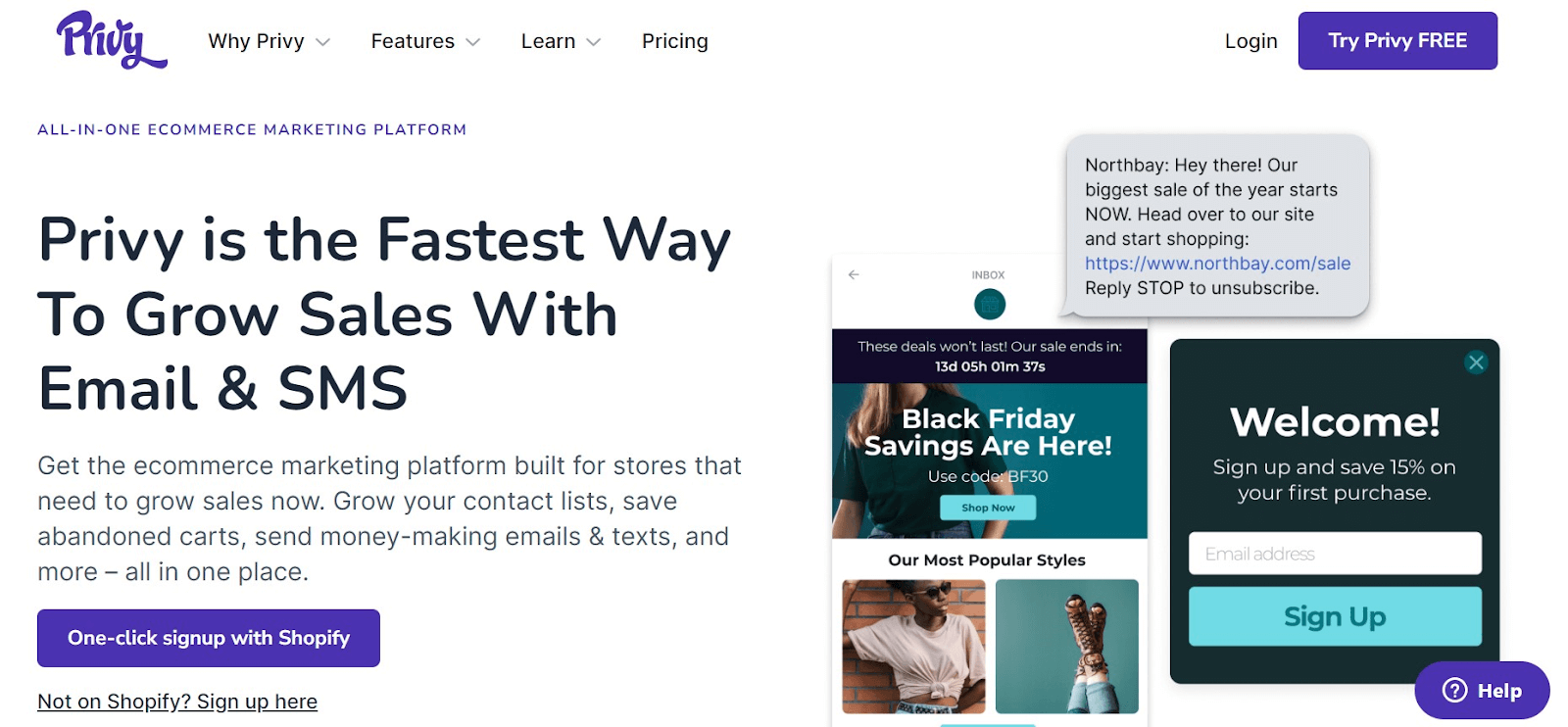 Privy is an all-in-one e-commerce marketing platform that specializes in helping online stores grow sales through email and SMS marketing. It provides tools to capture visitor information, reduce cart abandonment, and send effective email and text campaigns.
Privy provides easy-to-understand revenue reporting, allowing businesses to track the performance of their email and text marketing campaigns and make data-driven decisions.
Bonus tip💡
Utilize Privy's exit-intent pop-ups and cart abandonment email campaigns during BFCM. Offer discounts or incentives to persuade hesitant shoppers to complete their purchases, helping to recover potential sales.
18. Referral Candy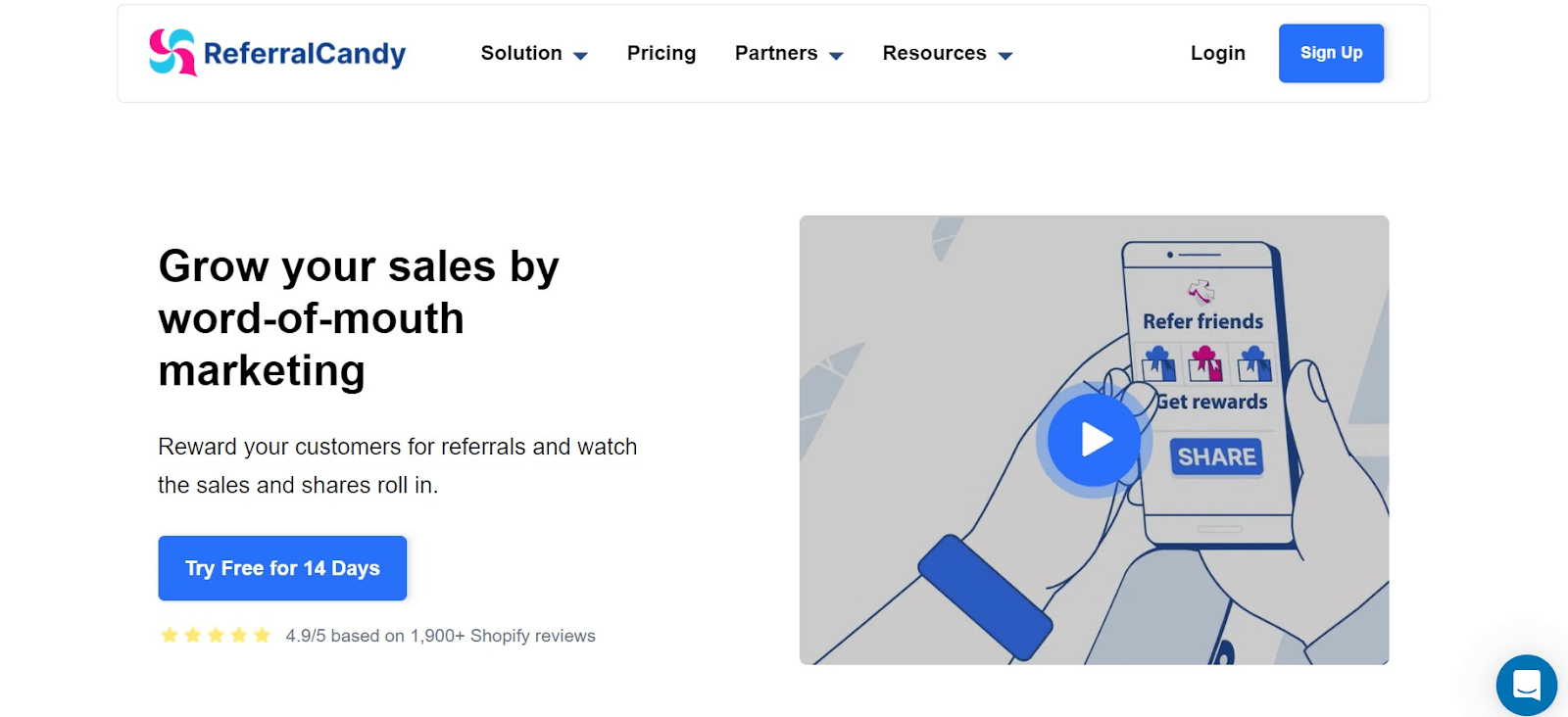 ReferralCandy automates the referral process by sending post-purchase emails, offering customizable rewards, and segmenting the audience.
It tracks key metrics and prevents fraud. ReferralCandy encourages customers to share their unique referral links and rewards them for successful referrals, ultimately driving revenue growth. It also integrates with marketing tools and offers excellent customer support.
Bonus tip💡
Encourage your existing customers to refer friends and family to your store with special BFCM rewards, expanding your customer base and increasing sales.
19. UpOrder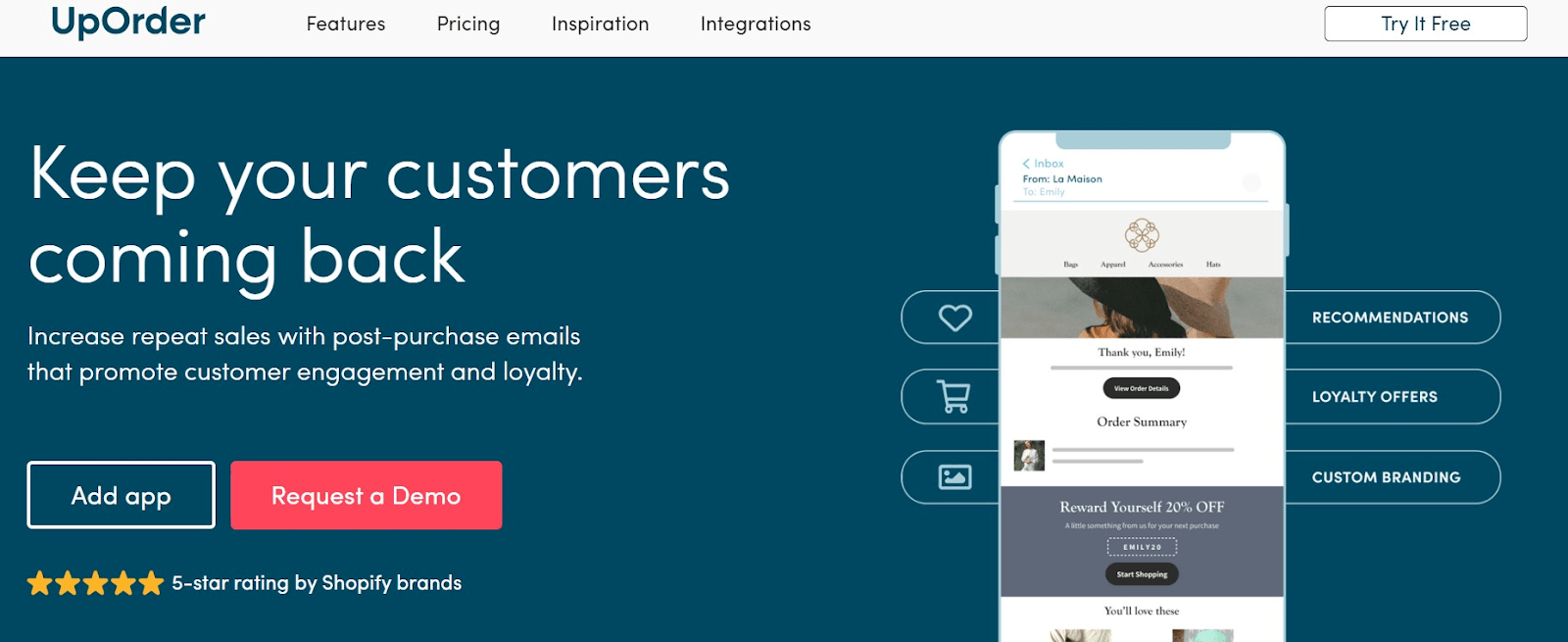 UpOrder is a post-purchase email marketing platform designed to boost customer engagement and loyalty for e-commerce brands. It is one of the best Shopify apps for BFCM as it offers customizable email templates, dynamic product recommendations, and automated campaigns to increase repeat sales.
UpOrder helps brands drive sales with personalized offers, recover and retain customers, and provides valuable insights for optimization.
Bonus tip💡
After customers make a purchase during BFCM, use UpOrder's post-purchase email marketing to upsell and cross-sell related products or complementary items. Maximize the value of each transaction.
20. Reamaze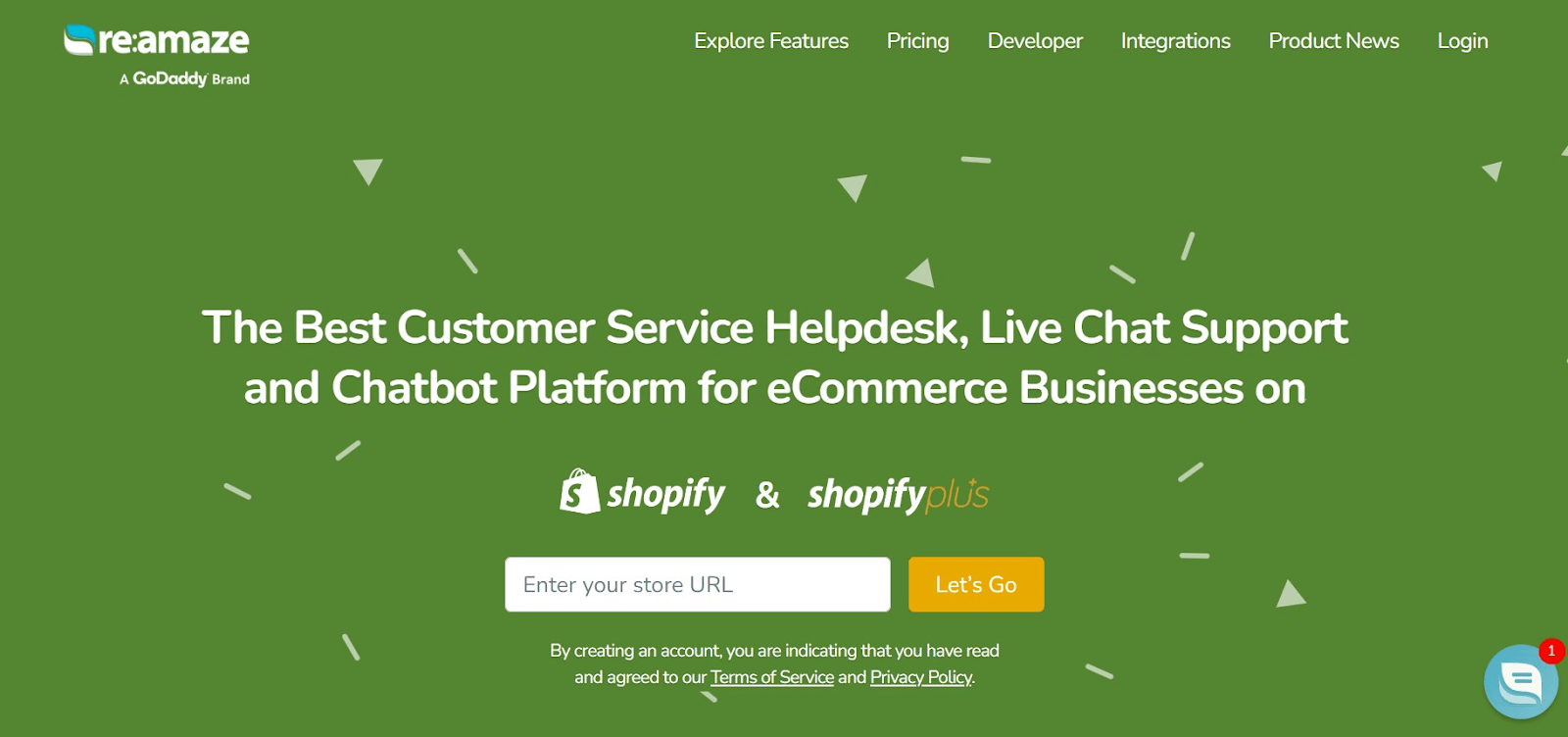 Reamaze offers a unified shared inbox for efficient team communication across multiple channels, including email, social media, and chat.
Reamaze helps businesses increase sales by reducing response times, support volume, and overhead costs while boosting customer engagement, satisfaction, and average order values (AOVs). Its customizable and flexible pricing options cater to businesses of all sizes, making it an all-in-one solution for customer support and growth.
Bonus tip💡
Ensure quick response times and effective problem resolution to enhance customer satisfaction, encourage repeat business, and boost average order values.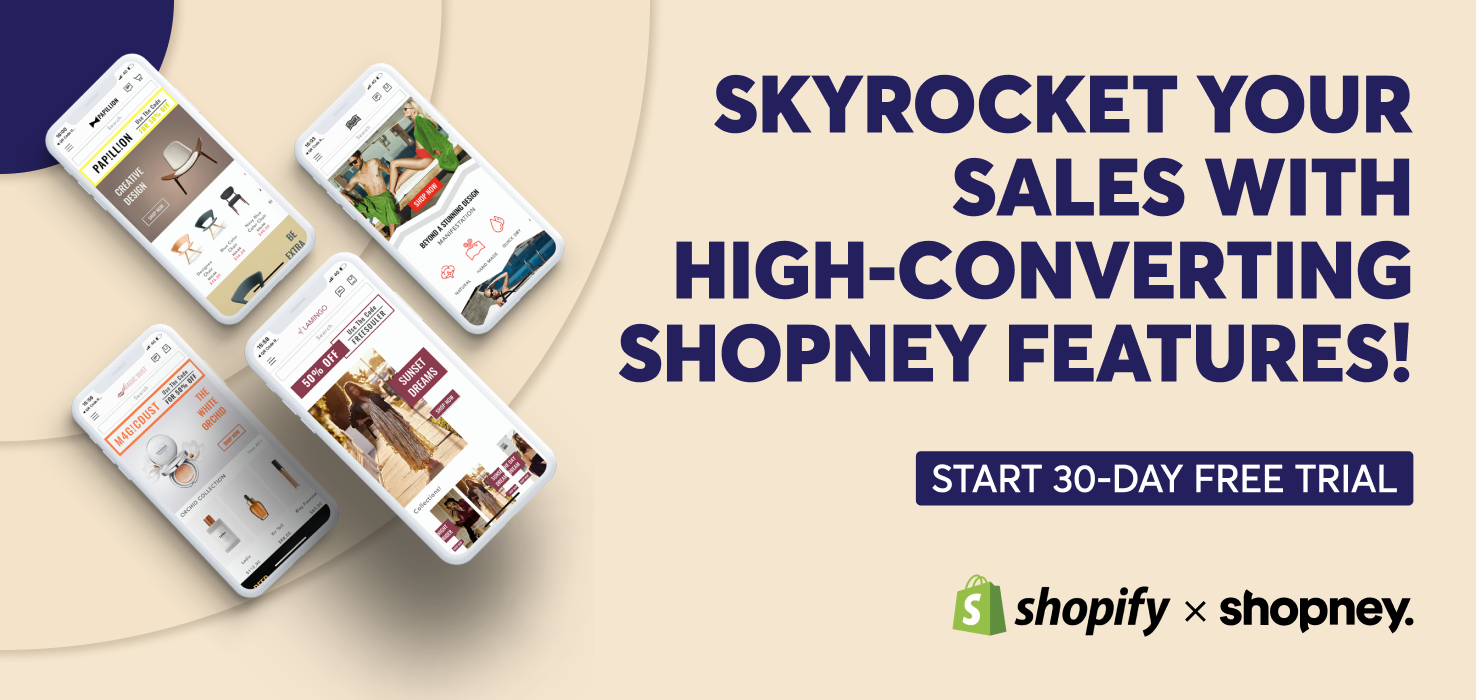 Conclusion
In your journey to supercharge your Black Friday marketing, remember that Shopney is here to support you every step of the way. Whether you need guidance in choosing the right apps or seamless integration of your mobile app with these Shopify apps, we've got you covered.
Explore our integrations page here to discover how we enhance your Shopify Plus store's capabilities.